TCM: Is there a compressor on site to air up once you have left the beach?
Jim: Yes, there's a compressor back at the exit of Sandy Neck with six to eight air hoses.  Provincetown also has one.  There's a box on the outside of the shed for a voluntary maintenance fee, and I usually donate a couple dollars.
TCM: After a weekend on the beach, is there anything you need to do to maintain or clean your truck and camper?
Jim: The first thing we do is go to a campground on the way out to dump our tanks.  I think it's twenty dollars for a non-resident to dump their tanks in most area campgrounds.  I then bring the camper home, take it off the truck, and take the truck to the local truck wash with a good under carriage spray.  I do that as soon as I can to get the salt off the truck.  Then I come home and hose the camper down on the side of the garage.  I'm not too concerned about the aluminum sided camper, but I have noticed some rust on the steel jacks.
When we're at the beach, we have a small piece of artificial turf and a bucket of water to get the sand off our feet before entering the camper.  When it's just Patti and I, it's not so bad.  When my four granddaughters visit us at the beach, it's a different story.  They get a lot of sand in the camper.  My son has a Jeep and sometimes brings them to the beach for the day.
TCM: There are two aspects of beach camping that seem the most difficult; airing down, and driving on the sand.  Any advice on those two topics?
Jim: Don't forget to air your tires down to the same pressure all the time.  Some people tend to get lazy and don't do it every time.  That's how you get stuck.  Several companies actually make automatic deflators.  A lot of rock crawling guys have them.  I have the ones manufactured by Smittybilt but Staun Deflators are also very good.
TCM: That sounds like a great idea.  How do the auto deflators work?
Jim: They are brass units that screw onto your tire valve stems.  When releasing air from your tires, they automatically shut off at your preferred PSI.  They're fully adjustable.  I have them set to air down to fourteen pounds and then shut off.  That allows me to air down all four tires at once.
Other requirements include carrying a paper copy of Sandy Neck Beach rules and regulations.  You also need to carry an up to date set of local tide charts with you.  High tides can sometimes catch you off guard and you don't want to be caught with your truck camper sinking into the ocean.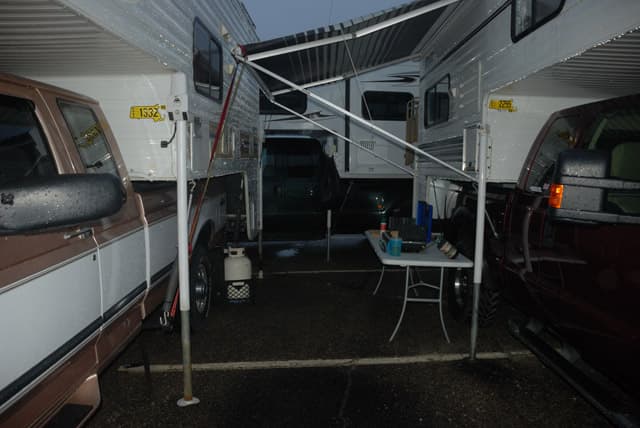 Above: Hurricane Danny in the Sandy Neck parking lot
TCM: An East Coast dealer once showed us pictures of a Lance Camper being swept into the ocean.
Jim: It can happen.  On Columbus Day weekend 2010, we almost got wet due to a rogue high tide.  Pictures of that weekend are available on the Beach Camping page of my website, www.justtruckin.net.  We had a tremendous astronomical high tide combined with a forty knot wind that pushed the tide even further onshore.  The incoming tidal waters cut off the trail in front of us so we couldn't get back to the main entrance.  We all moved up to the highest point on the beach possible and the water surrounded us.  That was a little too close for comfort.
TCM: That was lucky!
Jim: It sure was.  The busiest weekends on the beach are the Fourth of July weekend and the weekends before and after the Fourth.  Get there early or you can't get on the beach.  They don't have an actual number limit, but the Rangers will shut it down.
There are also endangered shore birds called the Piping Plover that nest on the beach.  They sometimes shut down or shorten the beach where the birds decide to nest.  For a month last year only one mile of the four and a half mile beach was open due to the Piping Plovers.  The Fourth of July 2010 was very difficult because of that too.
TCM: How do you know about these changing conditions?
Jim: The Sandy Neck Staff will put updates on their website, but it's not always updated.  I call ahead to see if there's a problem with availability.  We usually go out every other weekend.  We live about sixty miles from the beach and it's well worth the trip.
TCM: The auto deflators are a really good idea.  Do you have any other tips for beach camping?