TCM: How does your dog, Nooka, like camping?
Alex: Nooka loves camping!  She travels with me everywhere.  My dog has a lot of energy and is a positive puppy.  She's a two year old white shepherd that has an amazing knowledge about where home is, and she knows it's the camper while we're on the road.
TCM: What does she do while you're out kite boarding?
Alex: If our set-up is safe, she can stay out and play while I'm out surfing.  Nooka goes off on her doggie adventures while I'm kite surfing and, a couple of hours later, we meet up again.  I'm not going that far.  The best waves are fairly close to shore.  Usually I go out for an hour session, and then come in for a break.  I'll do that three or four times a day.  If there are lots of people near by, I'll leave her in the camper with lots of water and ventilation.  The camper really doesn't get hot where we camp.  Nooka is pretty much the happiest dog alive.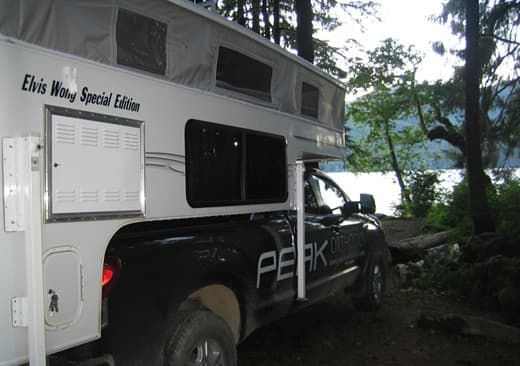 Above: The Elvis Wong Special Edition at Nitinat Lake, Vancouver Island, British Columbia
TCM: I saw that your camper is called, "Elvis Wong Special Edition".  Where did that name come from?
Alex: I'm a French Canadian from Quebec.  Elvis Wong originally comes from an old Quebec film back in the days of the Elvis impersonators in the mid 80s.  In the film, Elvis Wong showed up, stunned everyone, and became the guy everyone wanted to be.
Between my group of friends, Elvis Wong became an inside joke.  For us, "Wong" became a verb, like "Wong-ing" is an activity, like a way of life.  Elvis Wong is the guy that is there before you, doing what you want to do in front of you.
So I want to be Wonging everywhere in my life.  This camper was perfect for Wonging; you are there before everyone else, and you are there are as everyone is showing up.  This camper makes Wonging a reality.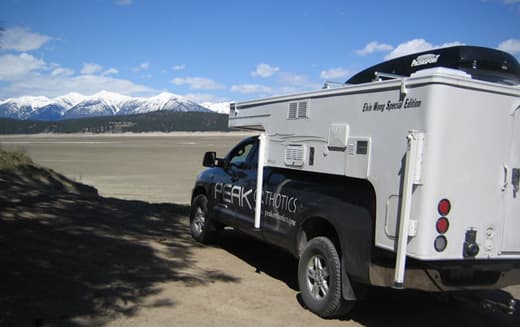 Above: Around Fernie, British Columbia; pretty spot overlooking the Columbia Valley and the south Rockies
TCM: That has to be one of the most unique answers in the history of Truck Camper Magazine.  Quite funny, and somehow, profound.  Is there anything else that you would like to add to your interview?
Alex: Last summer I went on a three month trip with my camper promoting my music, kite boarding, and other fun stuff.  I also brought my mountain bike and went rock climbing.  It was fun to have it all, enjoy the places I was at, and then move on.
To me, the camper is a crucial part of the experience and lifestyle I want to live.  The camper is an extension of my lifestyle.  It completes what I do so well.
Financially, the camper saves me money.  My whole camping bill and fees all last summer for three months was $100 dollars.  I made a game out of it for fun.  If I could Wong, I did.  It saved me a ton of money.
I'm getting ready to go out for the first time in 2012 this weekend, and I'll use the camper until late November.  It's my freedom machine, my base camp wherever I go, whether I'm rock climbing, kite surfing on the water at the spot, mountain biking, or playing music.  It's a no brainer, and it's a very enjoyable experience.