Laurie and Bruce Heimbigner share their stunning 18-month European, African, and Middle Eastern truck camping adventures in a Ford F-550 and Phoenix Camper. In their report, the Heimbigners share their preparations, critical apps, safety experience, route, roadside repairs, and the mind-bending wonders of Africa.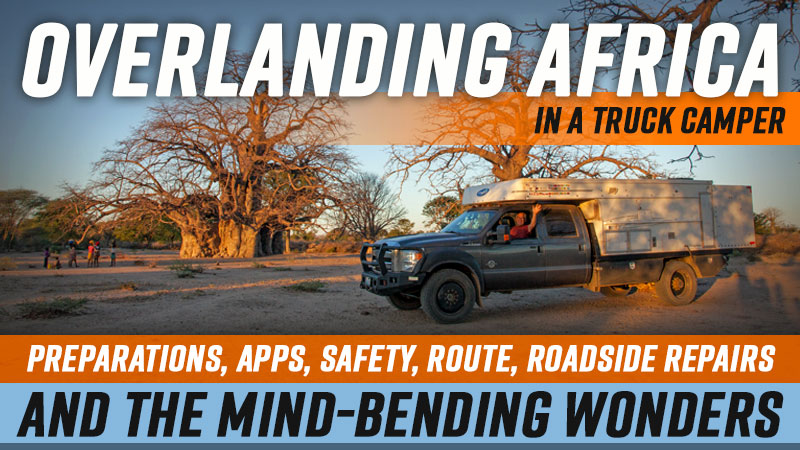 For those of us who fret about crossing the lower 48, Canada, Alaska or even Baja, Mexico, hang on. Laurie and Bruce Heimbigner took a trip to Baja merely to test their Ford F-550 and Phoenix Camper rig. The real challenge? A multi-month overlanding adventure around the continent of Africa with an encore journey across Saudi Arabia, Jordan, and Israel for good measure. Folks, that's not South Dakota, New Jersey, and Idaho.
In mid-2015, we interviewed Laurie and Bruce about their unique Phoenix Camper and attached garage (you read that right). Among the features and capacities are 100-gallons of fresh water, 130 gallons of diesel fuel, and the aforementioned garage with a motorcycle, two bicycles, two inflatable kayaks, two spare tires, two winches, dual air compressor, and a generator. The build was extensive that we needed two articles to give it justice.
Eight years later they have returned from multiple amazing adventures with a report that will inspire some, intrigue others, and have a few readers shout, "No way!" We had all of these reactions to their account, especially when we looked at their photography. Might the Heimbigners be the bravest and most daring truck campers among us? If not, they're sure high on that list. Holy cow.
Overlanding Africa In A Truck Camper
by Laurie and Bruce Heimbigner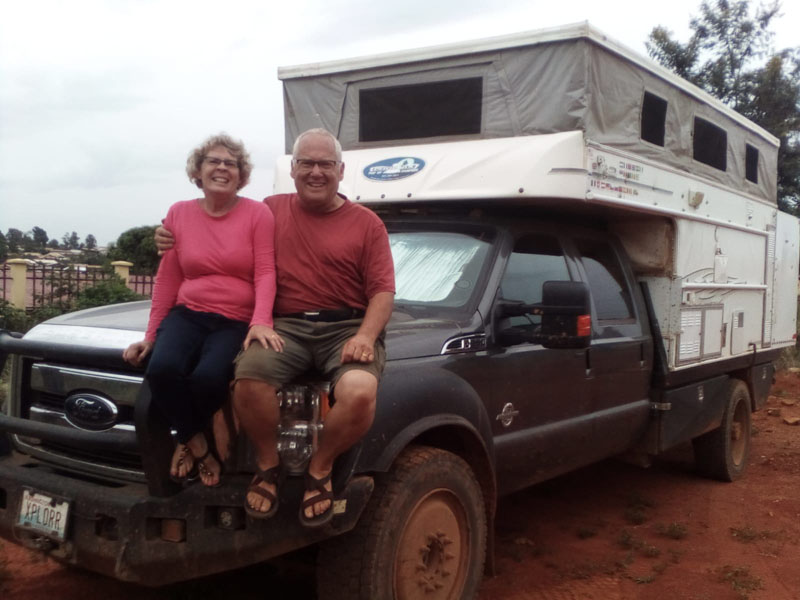 Above: Laurie and Bruce with their Ford F550 and Phoenix Camper
Before we took our rig to Africa, we designed and had Phoenix Campers build a pop-up camper that we call, "Livingstone". Our goal was a recreational vehicle that was heavy duty enough to carry what we wanted, comfortable enough to live in for multiple years in a variety of climates, narrow and low enough to traverse narrow roads and pass under low bridges, and that would fit in a shipping container. We also wanted to have all our belongings and equipment concealed from sight, and no places sticking out on the outside for people to grab onto and hitch a ride.
We started with a 2013 Ford F-550 cab and chassis 4×4 with a 200-inch wheelbase to allow for a camper and a "garage". Then, we added our Phoenix Camper with a 100-gallon water tank, multiple water filters for filling that tank, additional water filters and UV treatment for drinking water, and marine electronics that plug into any international system outside the truck. We also have a wet shower with a Nature's Head composting toilet so we didn't have black water, a North-South oriented queen-sized bed so we didn't have to crawl over each other (with storage compartments on each side of the bed as well as under the bed), lots of additional storage, and some small hidden storage areas for valuables.
To read a lot more about our rig, please read How To Build A World Ready Rig Part 1 and Part 2.
Preparation For Africa
We took two challenge trips to the Canyonlands National Park in Utah, and then drove the back roads of Baja, Mexico to find out where we could go and where we shouldn't go. After those trips, we ended up replacing the RV table base with a much sturdier sailboat table base, adding more brackets to hold the refrigerator in place, adding larger screws to the bed lifts, and creating easy access to our six Maxtrax recovery boards.
To further prepare, we also attended classes at two Overland Expos and one overland rally. These classes were invaluable in preparing us for overlanding. We also took a travel medicine/wilderness first responder course through Wilderness Medical Associates International taught by Bill Frederick. Those were very helpful skills to have as access to medical help is very limited in rural locations.
We read and reread, 'Overlander's Handbook' by Chris Scott, which filled in a lot of details. We attended a, 'The Art and Science of Marriage' class by the Gottman Institute. Overlanding full-time can be rough on a relationship and we wanted to make sure we did what it took to strengthen rather than damage our marriage.
We joined the Overlanding Africa Facebook group to find out about current experiences people were having in Africa, and to get advice from experienced overlanders. And we joined the Overlanding West Africa WhatsApp group for instant help and support.
In December 2017, we sold our home and left Pullman, Washington. From there, we traveled through Mexico for a five-month trial run. Upon returning to the United States, we swapped out our large heavy camping chairs, table, and canopy for smaller lighter versions.
We found a well-recommended shipping agent to handle the multitude of details that come with shipping a vehicle overseas. We always make our own travel arrangements, but shipping is so complicated that it is the one thing that we decided to leave to a professional. In August 2018, using that shipping agent, we shipped our vehicle from Halifax, Nova Scotia to Liverpool, England.
We drove through Europe, Africa, the Middle East, and then back to Europe when we shipped Livingstone home in March 2020 due to Covid-19. In two and a half years, we traveled 67,897 miles through 56 different countries.
Overlanding Africa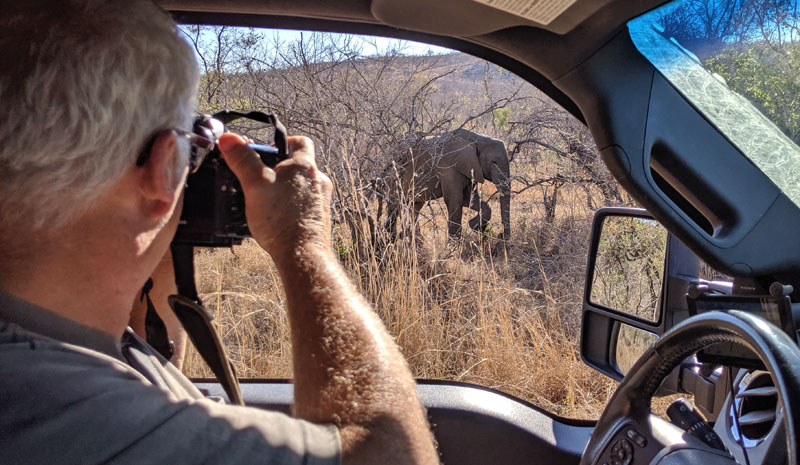 After much deliberation and research about which countries were safe to travel through and which were not (a situation that changes frequently due to the political instability of some African countries) the route we chose was to put Livingstone on a ferry from Spain to Morocco, and then drive south down the west coast of Africa to South Africa, and north up the east coast.
When we arrived in Africa, we didn't have any idea of when or how we were going to get out. We just knew that there are distinct rainy seasons on the west coast that switch as you pass from the northern hemisphere to the southern. We also knew that pretty much all of the roads that take you from the northern hemisphere to the southern on the west coast are dirt – or mud, if you do not choose your timing wisely.
Our goal was to cross the equator in Gabon in April or early May 2019. The clouds didn't get the memo that it wasn't supposed to still be raining. The deepest "pothole" we went through was over four feet deep! People who traveled after us just two weeks later had dry roads south of the equator, but deeper river crossings north of the equator.
On the downside, overlanding Africa was a challenging mix of trying to figure out what visas we needed for what country and where we should get them, what route we should take and when we should take it, and frequent requests of, "what do you have for me?" from the never-ending police checkpoints. We never paid a bribe. Instead, we offered a smile, a handshake, and, "friendship from America".
On the upside, we met incredibly kind and friendly locals who would never pass by if we were stuck but would stop and work with us until we were on the road again. Then they'd cheer and wave us off. We also made lifelong friends in the overlanding community who greeted us with enthusiasm and gave us advice whenever it was needed.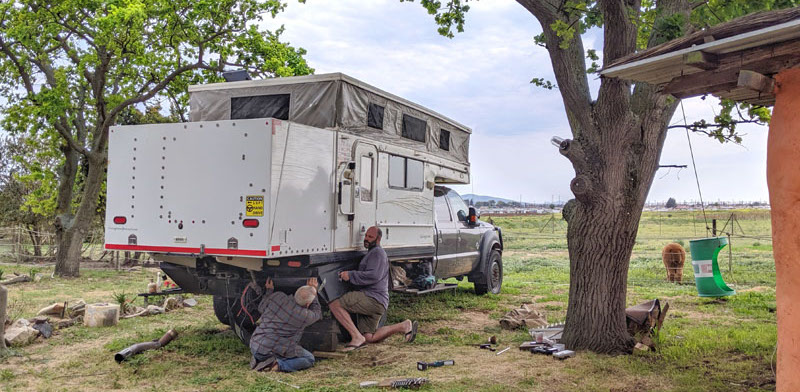 Then there was the never-ending variety in the incredible sights to experience, and the feeling of satisfaction with another challenge successfully overcome. As it turns out, with a positive attitude and advanced preparation, anyone can overland overseas. You don't have to be an expert.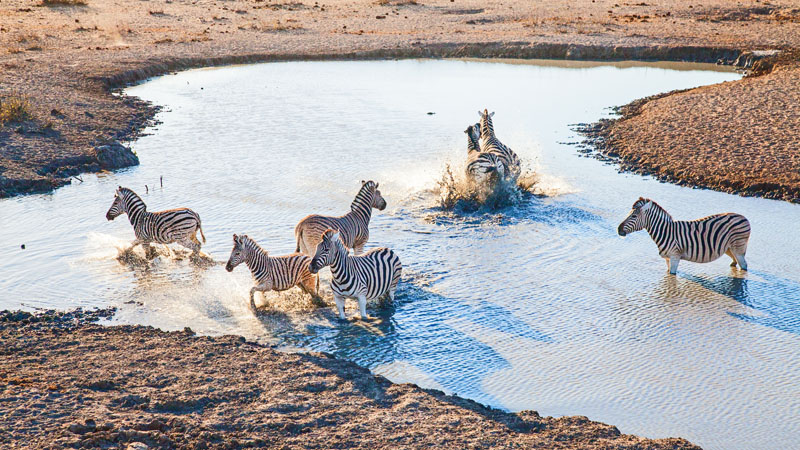 We really tried to think of things we couldn't find on the road and packed those (do you have a fly swatter?), but eventually, you will have to go shopping. Virtually every small town has produce stands and most have outdoor markets with a great variety of products all crammed together. What they don't have is an abundance of English speakers. Then it's time to play charades. After having to act out "toilet paper" and "eggs" (to the great amusement of the locals), we discovered that every major city in Africa actually has large western-style grocery stores where you can easily find everything you need – no charades needed. They also have nice meat sections that allowed us to stock our freezer. Bruce didn't have to turn to Plan B and butcher any small animals.
Essential Apps For Travel in Africa
We navigated primarily with our Garmin GPS, Google Maps, and Maps Me. We always routed using two different GPS systems because we found that they didn't always agree and one or the other took us on an imaginary route. When they disagreed we checked our paper maps to give us the big picture and determine which route made the most sense. We also shared our paper maps with travelers who had been where we were heading and had them circle places we shouldn't miss. Overall, the GPS units did a great job making navigation easy. The one thing they were never good at, though, was estimating our time of arrival. We were really happy when it was only twice as long to reach our destination compared to the estimate. Depending on road conditions, it usually took us three times and sometimes four times as long.
We weren't sure how to go about finding places to spend each night until a kind overlander introduced us to the iOverlander app. It is the most essential app we used aside from our GPS. It has a wealth of information entered by other travelers. Not only does it list formal campgrounds, but it lists informal campsites like gas stations, police stations, hotel or restaurant parking lots, and wild campsites that are usually tucked away out of sight on a road in the middle of nowhere. The app also lists a variety of services including laundromats, grocery stores, mechanics, and border crossings with detailed information about what's needed to cross each border.
Keeping connected was important to us. How were we going to contact people from the wilds of Africa? We found that it's actually quite easy. Most of rural Africa has never had landline phones, so they've totally embraced cell phones and generally have excellent reception. Our T-Mobile and Google-Fi worked everywhere for us until they cut us off after the first year. Then we just bought local sim cards with data which are readily available at borders. We usually used WhatsApp to interact with other travelers and our family and friends. It allows users to text, share photos, and chat or video chat and works over the internet rather than your phone carriers, so it works even when you have a weak connection.
To share what we were doing on our journey with anyone who was interested, we started a Facebook page called, "Livingstone Journal". We also did some things to keep connected with our family. We invested in two Garmin inReach Explorers. It's a satellite communicator that allowed our family, and each other if we were separated, to get hold of us or see where we were at any time. We also used it every Sunday to check in with family so they knew we were safe.
Another great app was the free PolarSteps Travel Tracker app. Whenever you enter the start of a new trip, it tracks all the data for the trip and prompts you to add photos and a journal entry for each place you went. Then it shares your trip with anyone you've given permission. When you end the trip, it summarizes the trip statistics then adds all the entries and photos you've entered and generates a very high-quality photo book that you can purchase. They were pricy, but we really enjoy looking back at them.
Our final favorite app for keeping connected is MyPostcard.com. You can choose from their templates or use your own photos to create postcards or greeting cards, then My Postcard mails them to your recipient for less than the cost of a purchased card and stamp.
Safety in Africa
Safety is always a concern, and happily, we were never in a situation that felt unsafe. We embraced this quote by Monika Wescott of The Turtle Expedition (who has been overlanding with her husband for over 40 years): "The essence of an adventure is not knowing how it's going to come out."
That said, our objective was to keep ourselves as safe as possible. To do that we took a variety of actions.
1. We hid everything that could be hidden, even while driving, and securely locked up the rest with big padlocks.
2. We spray-painted tension curtain rods black and put them in the camper window to look like bars. We avoided looking rich or touristy (which makes you a target) by wearing older clothes and wearing non-tempting silicone wedding rings as our only jewelry.
3. We carried a "throw-away wallet" with expired licenses and credit cards as well as an old cell phone in Livingstone's cab.
4. And most importantly we tried to be situationally aware at all times. We also used resources that provide security updates. We downloaded the US Department of State Smart Traveler app. You can look up countries you are going to visit to read current security updates and you can enter your travel plans so they know which country you are in. If you do that, they send you email travel advisories if situations deteriorate.
We did notice that the US State Department errs strongly on the side of caution. If the US security update was highly cautionary, we always double-checked at gov.uk/foreign-travel-advice. The British government is much more detailed in their advice including specifics about which areas need to be avoided. When we weren't sure, we also checked French and Dutch state departments. Always, locals and local police know the current situation and are invaluable sources of info (if you can find someone who speaks English).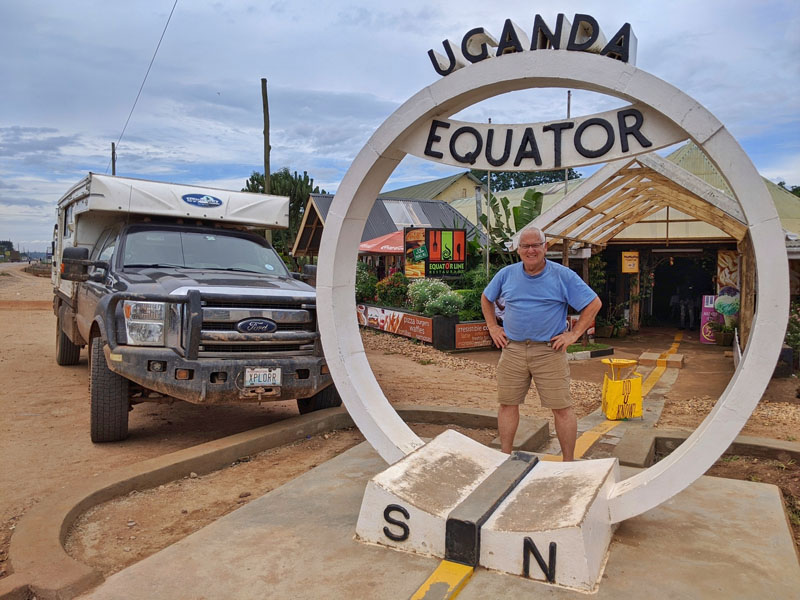 Above: Bruce and Laurie's second crossing of the equator
We spent a total of fourteen months driving through Africa, meeting wonderful people, and having amazing adventures.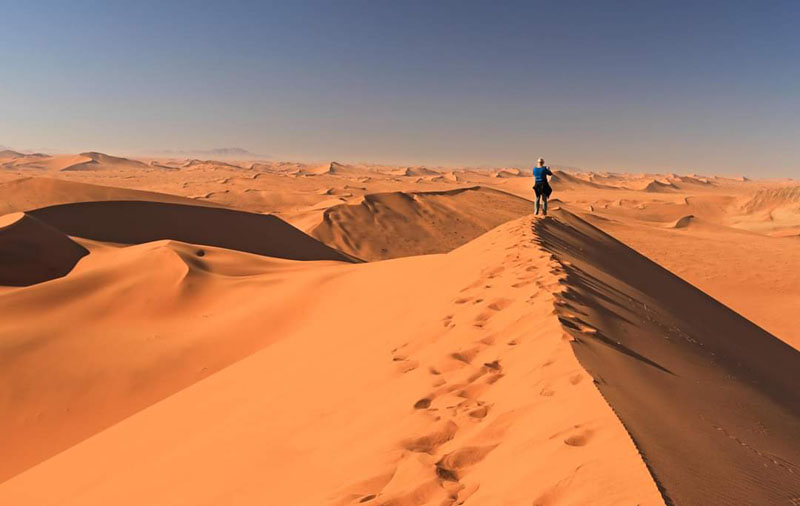 Above: Sand dunes in Sossusvlei, Namibia
Morocco with its majestic sand dunes and ancient souks swarming with buyers and sellers was one of our favorite countries, along with the stunning desolate beauty of Namibia and its indigenous people trying hard to hold on to their traditional ways of living.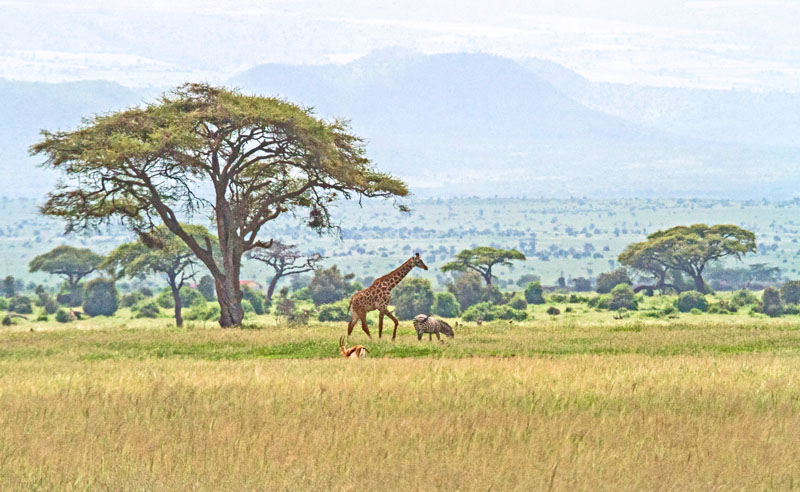 Above: The Amboseli Plains in Kenya
About the time we got to Kenya in late December 2019, we started researching how we were going to get out of Africa. By all accounts, Egypt is a wonderful place to visit, but is an overlanding nightmare due to paperwork, fees, and constant bribe requests.
Then we saw that, for the first time ever, Saudi Arabia had opened its land borders to non-Muslim foreign tourists traveling in their own left-hand drive vehicles. And it was just a ferry ride from Sudan. Problem solved, and a new and unexpected adventure awaited as we drove through Saudi Arabia, then Jordan and Israel before shipping Livingstone to Greece.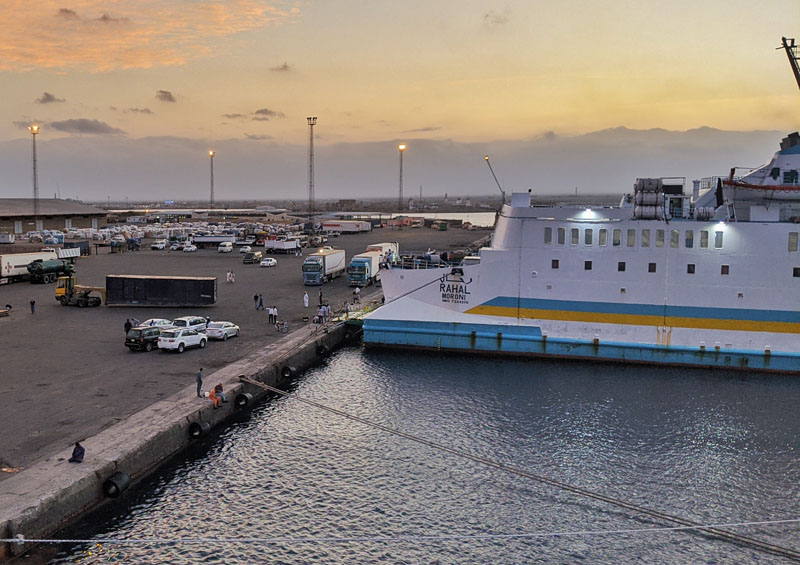 Above: Ferry from Sudan to Saudi Arabia was very modern
Looking back, overlanding Africa was an amazing adventure that can be done in whatever vehicle you want. It comes down to how you want to travel. We met two Japanese overlanders traveling on 125cc motorcycles that they could throw in the pack of passing trucks or canoes whenever they encountered problems, but they needed to find somewhere to eat and sleep on a daily basis.
We also met a couple in an enormous and luxurious German vehicle, but they were limited on where they could go due to their size and weight. Most overlanders we met drove smaller vehicles that went everywhere with relative ease, but they had small beds, no bathrooms, and no air-conditioned cabs.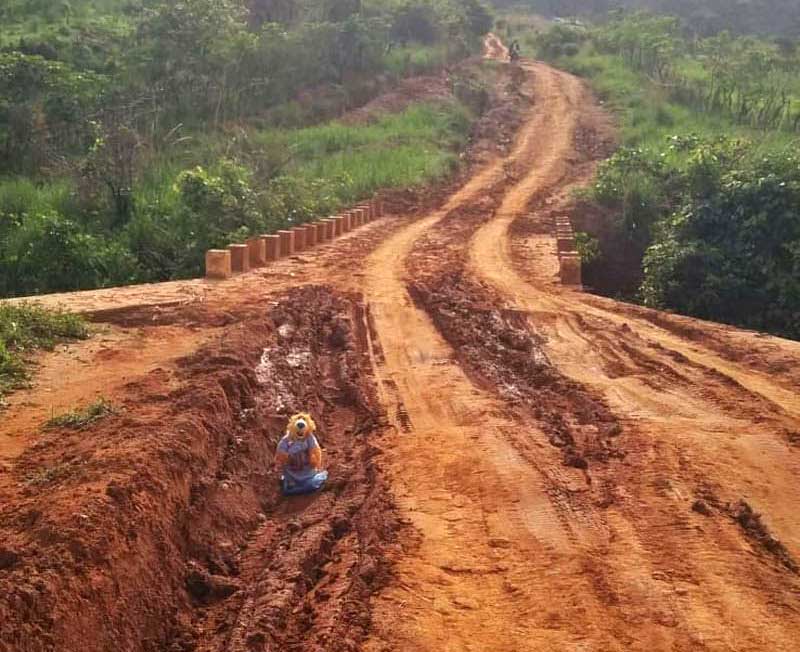 Our truck camper handled everything Africa had to throw at it including narrow rutted roads and insane traffic in cities. Sand presented our biggest challenge, and avoiding it became an obvious necessity. The semi tires can't be aired down because they'll overheat or pop off the rims.
Getting parts in Africa is a challenge no matter what vehicle you drive but, for the most part, Bruce planned very well (note to self: bring more spare brake pads than you think you'll need) and your own tools (which he did). While the truck was metric and everyone in Africa uses metric (but may not have larger-sized tools), the camper and the truck bed were not metric.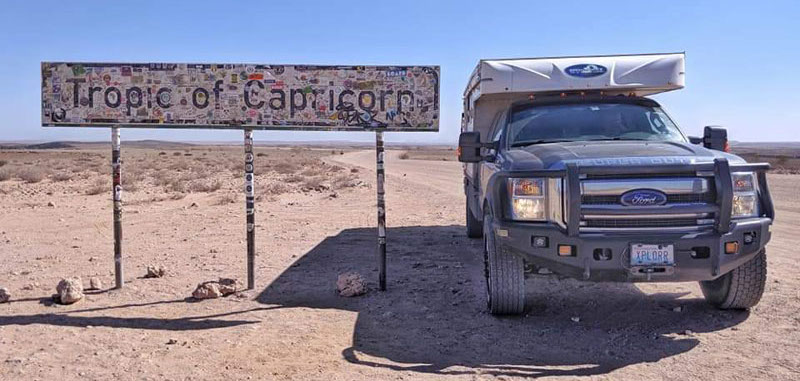 One thing that added an unexpected layer of complexity at every border crossing was our license plate: "EXPLORR". Almost no official was comfortable writing down only letters. We heard, "but what are the numbers?" over and over again. That said, we were, and still are, happy that we chose a truck camper. Livingstone took us where we wanted to go in the comfort that we didn't want to do without.
Our Route
Africa is really, really big, but that means there are an enormous number of places to explore and to camp.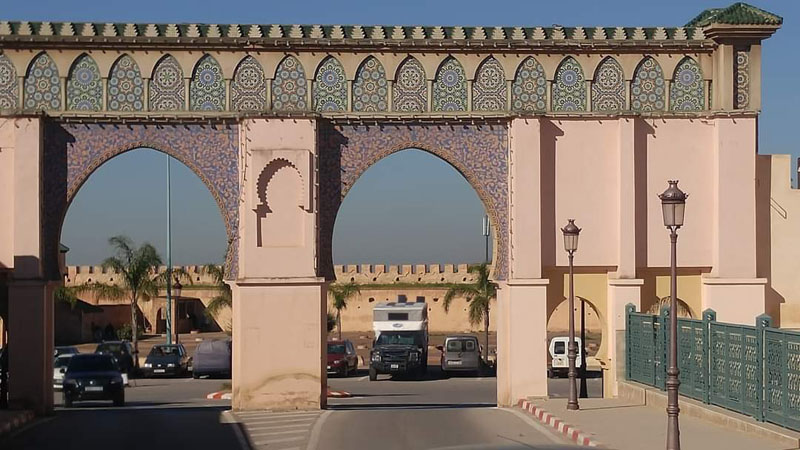 Above: Urban camping in Morocco
Morocco is such a beautiful and easy-to-navigate country that we spent two months there. In hindsight, we decided it's "Africa Light". Proceeding further south was like ripping a Band-Aid off a hairy arm!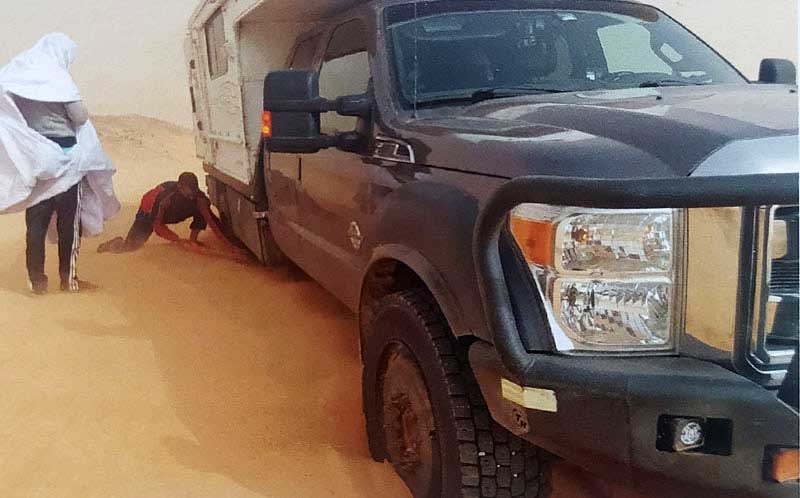 Mauritania had nicely paved highways and lots of sand dunes covering over the highways, some of which were as tall as Livingstone. There was a steep learning curve involved in the best way to get through them without getting stuck, with Mauritania holding the record for use: three times in one day!
In all but the most remote area, though, we never had to dig very long before someone came along. Since we are older they refused to just stand by while we were digging. They always took our shovels from us, then watched in fascination as Bruce got out our Maxtrax recovery boards and drove out of the hole.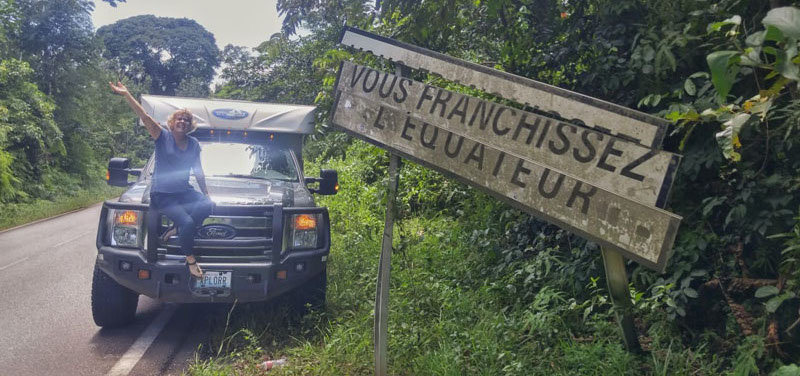 We had to take photos quickly at the equator because it was swarming with mosquitos! It was the only place where we encountered that problem, but it added some appropriate atmosphere to the moment.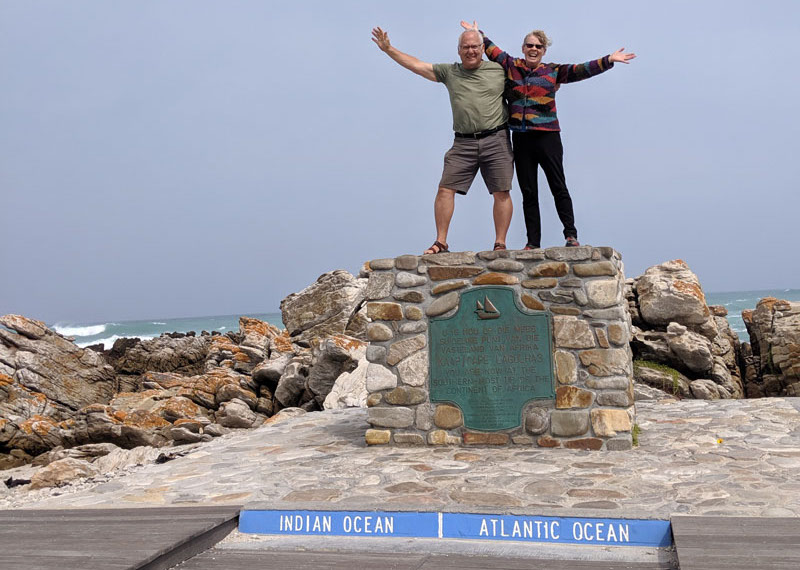 Arriving at Cape Agulhas, the southernmost tip of South Africa, felt like a huge accomplishment!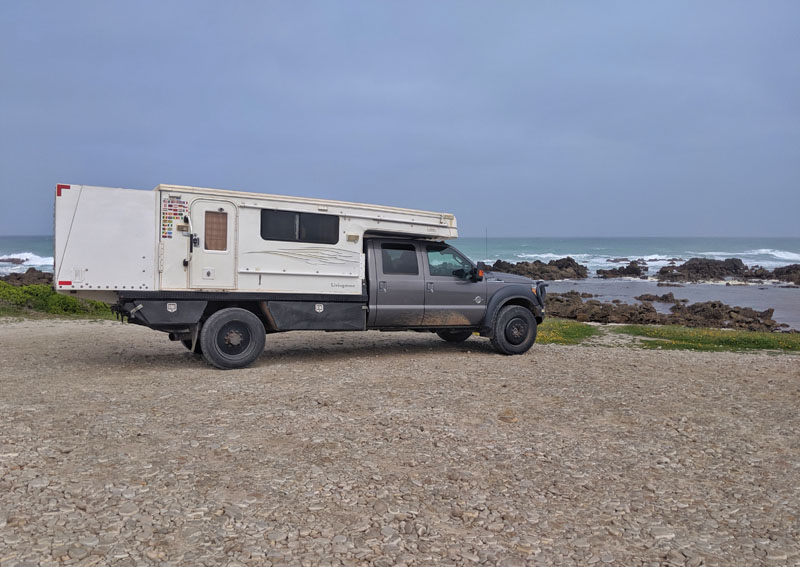 Livingstone wasn't allowed quite all the way to the point but went as close as Bruce could park.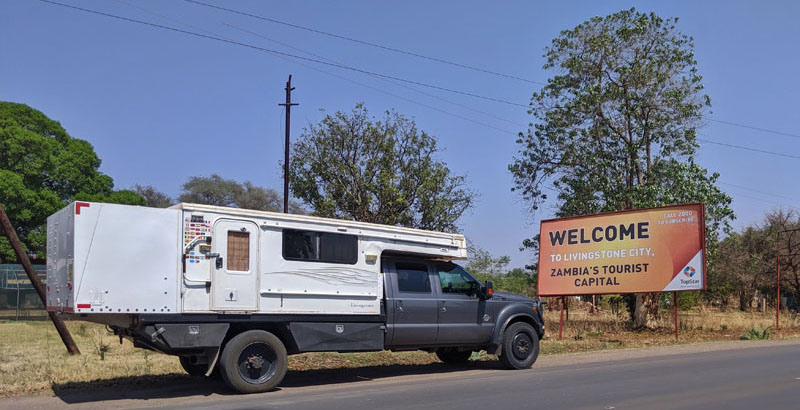 We were very excited to arrive at Livingstone, Zambia in Livingstone!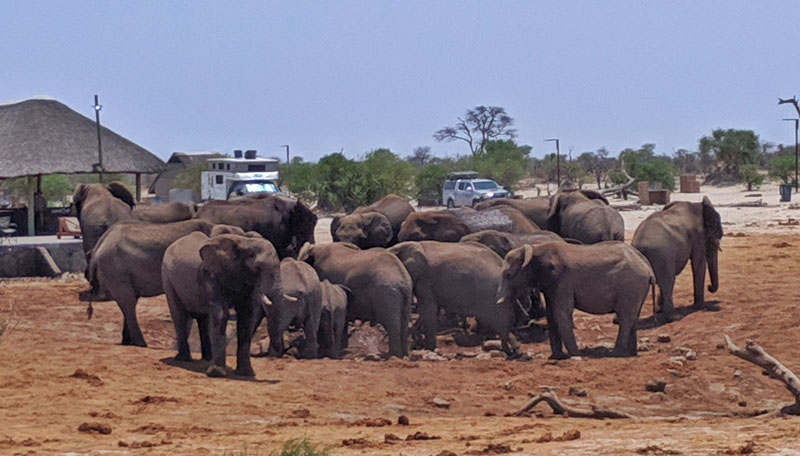 Elephant Sands in Botswana was pretty much our most awesome camping spot in all of Africa. A thirsty lioness even came to claim the tiny watering hole which added a level of drama to the excitement.  When we were in our camper, we were able to unzip the front of our pop-up's canvas so that we could take photos from the relative safety of Livingstone without mosquitoes getting in the way.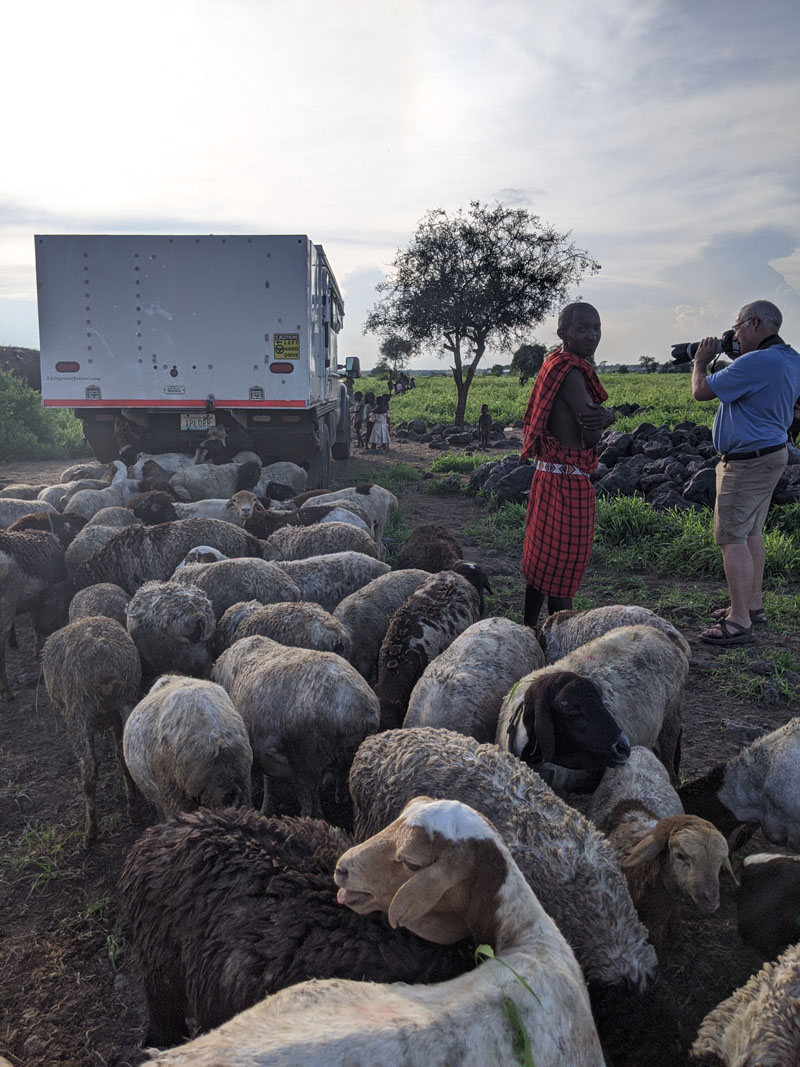 We spent the night just outside the thorn fence that surrounded his Maasai village. Goats and children were very interested in us.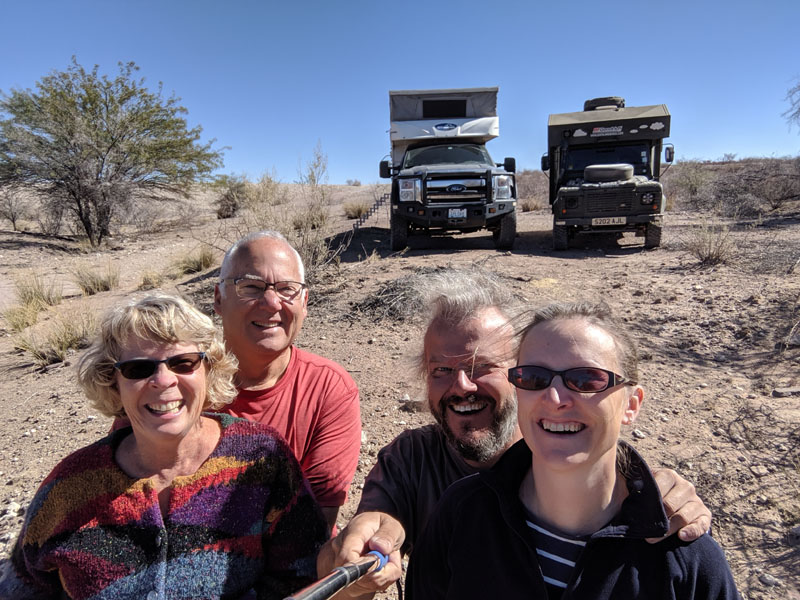 One of the favorite parts of our trip was meeting other overlanders who became our road family. Other than Morocco, we met no other Americans and were the only Americans to circumnavigate Africa that year.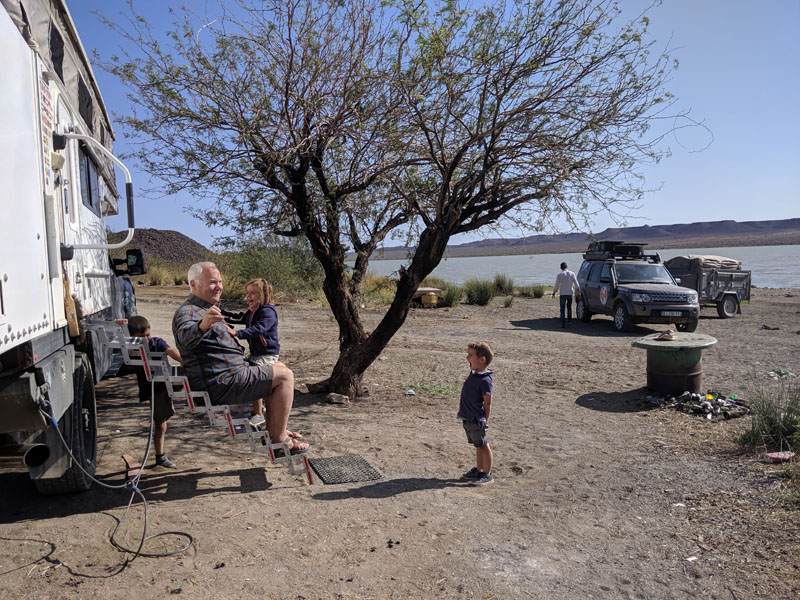 We ended up meeting and camping with this French family three different times and, even though the kids didn't speak English and we don't speak French, their kids became our French grandchildren and we had a great time playing with them.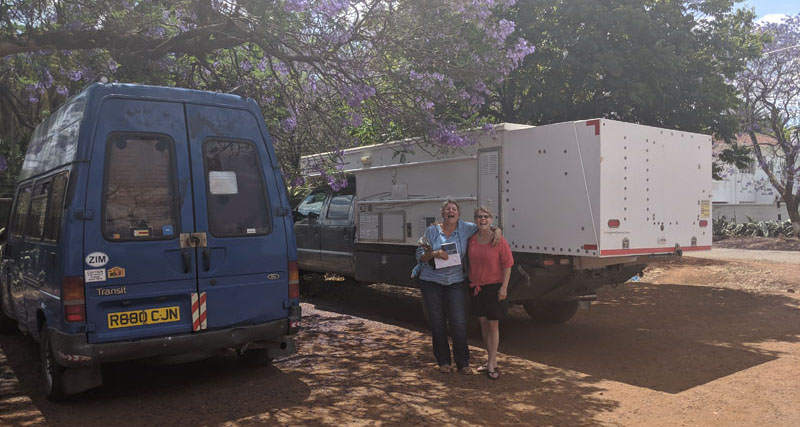 Dot was born and raised in Zimbabwe and drove her two-wheel drive Ford Transit, "Bluebelle" solo from Spain to Zimbabwe. We met her in Morocco and came across her again in Togo. We had all heard that the road from Nigeria to Camaroon was going to be the greatest overlanding challenge on our trip so we agreed to meet again and travel through Nigeria together. She is an amazingly skillful driver and went everywhere we went in two-wheel drive.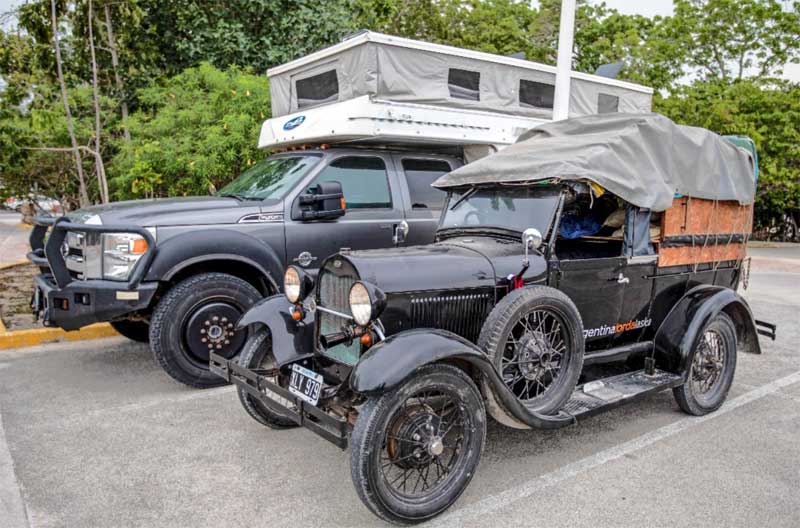 We met the driver of this 1923 Ford Model A on our shakedown trip in Mexico rather than in Africa, but their vehicle was too cool not to include it. Two Fords 90 years apart in age. The owner converted it into a camper and he, his wife, and his teenage son were traveling in it from Argentina to Alaska!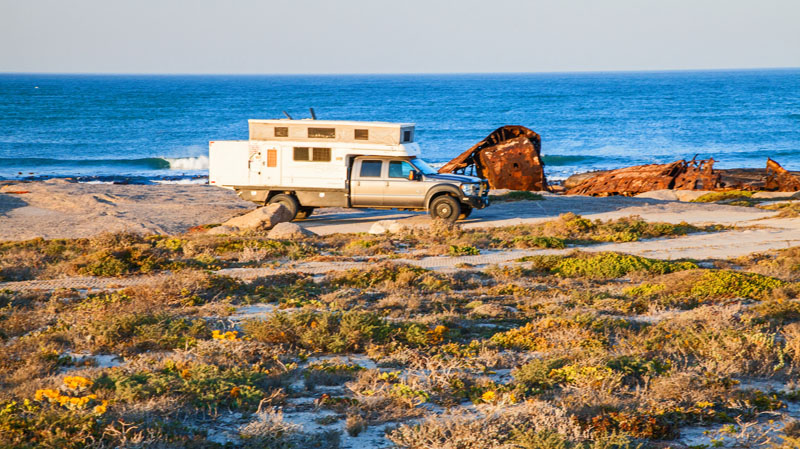 Above: Oceanside camping on the Skeleton Coast of Namibia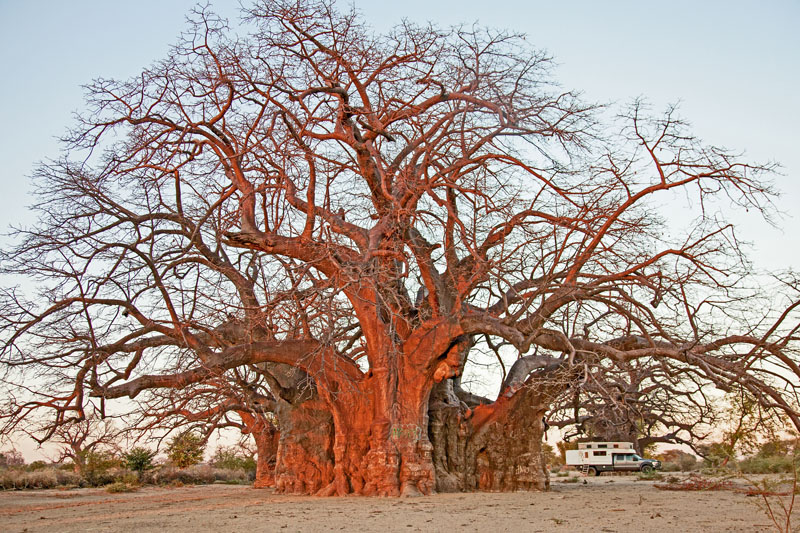 Above: Camping under a baobab tree in Angola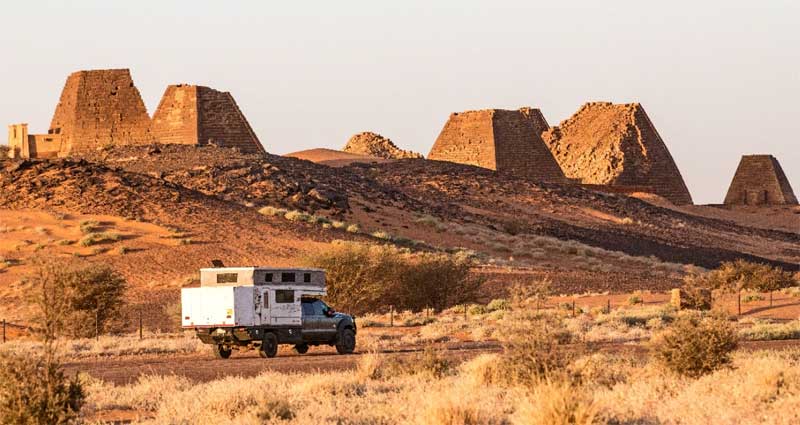 We didn't make it to Egypt, but we camped by these pyramids in Sudan.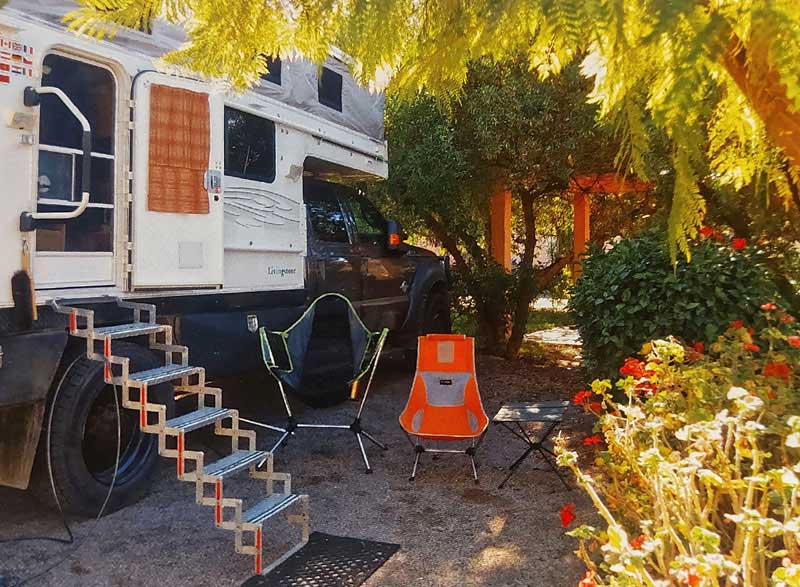 Most of the time we wild camped, but most countries had at least one really nice campground that catered to overlanders. It took us a number of countries to figure this out, but most campgrounds also provided a drop-off laundry service which was ever so much easier than washing laundry by hand!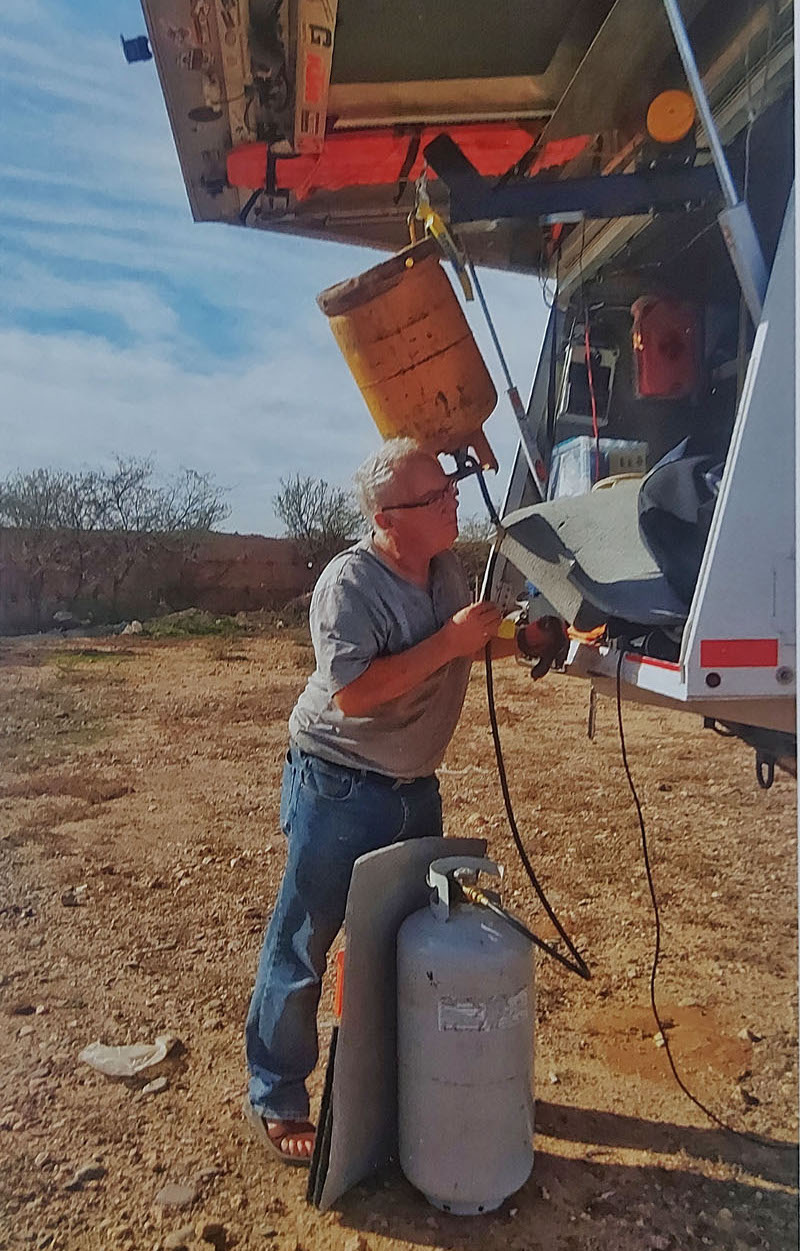 The first big hurdle we faced was refilling our propane tanks in Morocco. We couldn't find a business that was willing to fill our tank even though Bruce had brought a variety pack of adapters. He had planned ahead for this eventuality, though. He just bought a full tank, drove to an empty field (in case this went sideways), suspended their tank from the garage door, then poured the propane into our tank. Easy-peasy.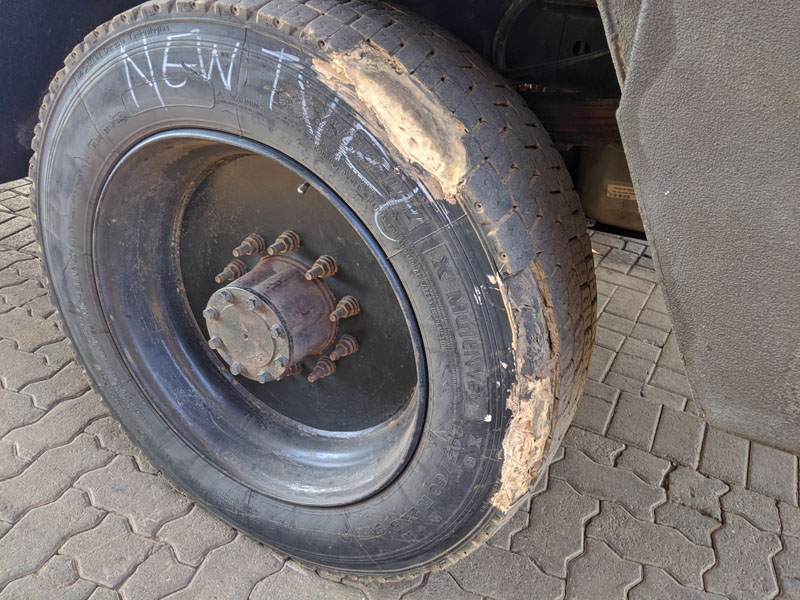 We installed new rear tires in Spain; African roads are really rough on tires. Bruce repaired the areas of tread that were peeling off our rear tire with marine adhesive. Thankfully the repair held and we were able to find two new tires in South Africa. The front tires held on until the Middle East and we were able to find two more tires that fit Livingstone in Israel. Neither set had the tread we would have preferred, but beggars can't be choosers.
Roadside Repairs

The sand in northwestern Africa was deadly to our brakes. Bruce ended up removing the rear brakes alongside the road in Mauritania, then got homemade pads in Senegal, and then a friend from America brought real brake pads to us in The Gambia.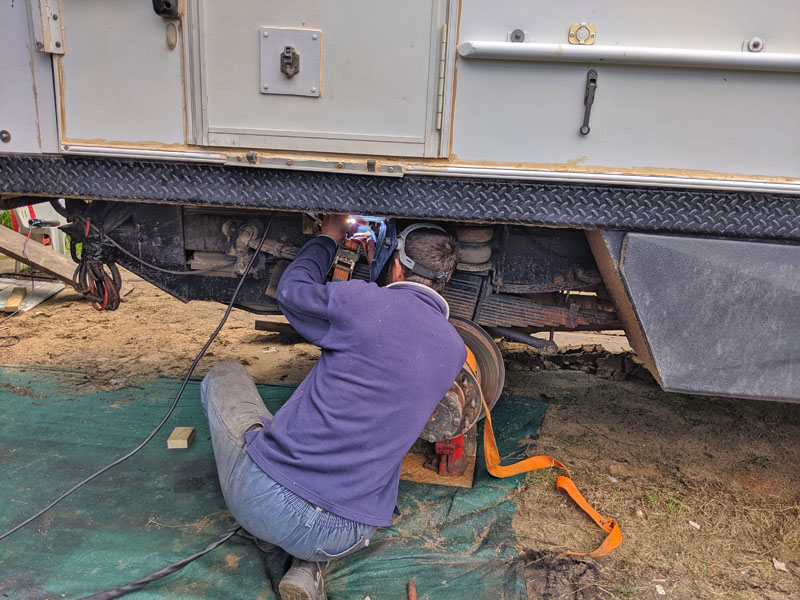 Occasionally we were lucky enough to find overlanding campgrounds with "shops" and skilled mechanics. Mostly, though, Bruce was a skilled mechanic. The sand had worn the overload spring stop completely off, a new one was manufactured for us in Cape Town, South Africa, and installed in the campground.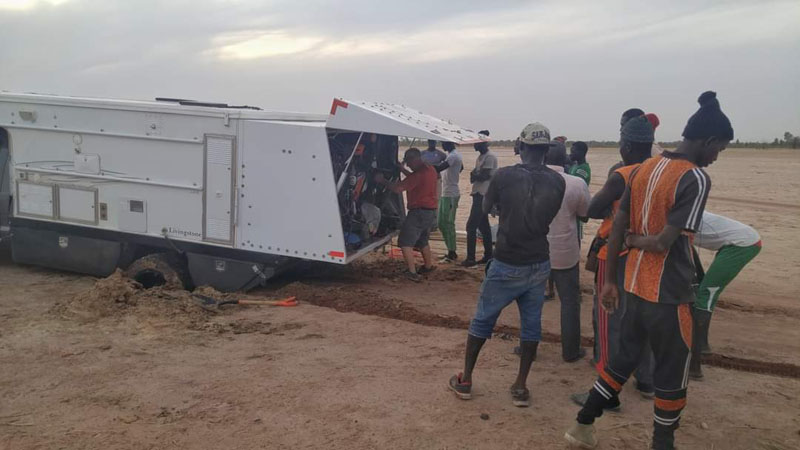 We were told in Mexico that you're not really stuck if you can get yourself out. If you use that definition, this was the only time we were stuck. We were driving on what looked like a solid sand road leading to the oceanside in Senegal when Livingstone broke through the sand and salt crust into the thick gooey tar-like muck below.
The Maxtrax disappeared immediately into the goo and it quickly became obvious we weren't budging even with 15 guys pushing. When that failed, one of our helpers ran and got an unloaded semi to come to tow us out. And when that failed, someone brought us a fully loaded semi that, after the guys helped us empty the garage, towed us out backward. After we were on solid ground again, not only did the guys help us reload Livingstone, but they also retrieved the Maxtrax out of the craters we had created in their road and even took them and washed them clean as new.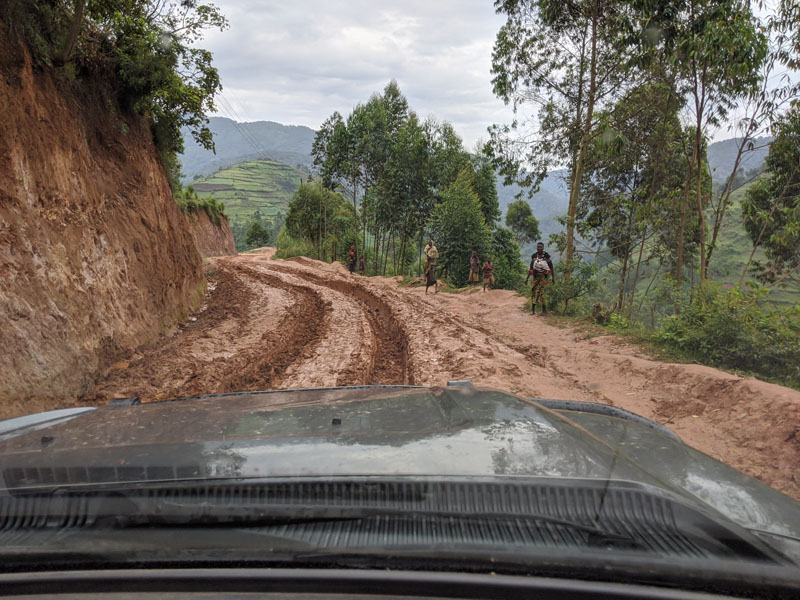 When we drove down this road in Uganda on our way to see gorillas, we had a strong suspicion that getting back up might be a challenge.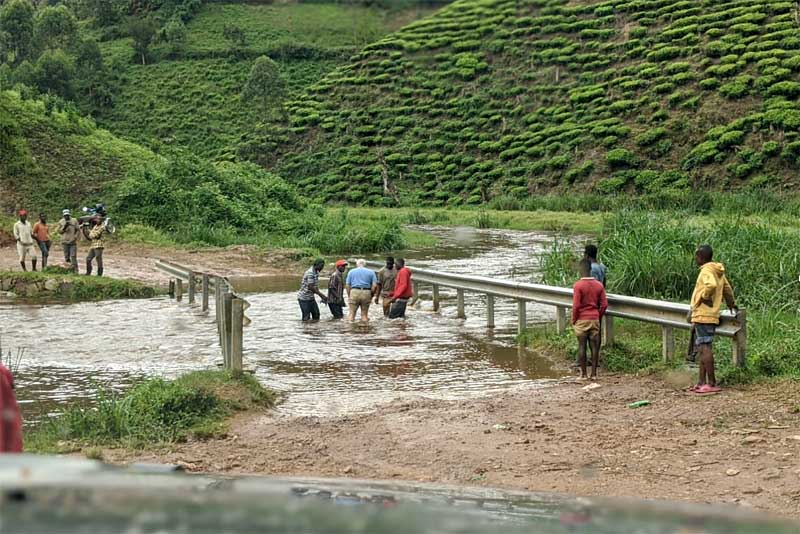 Then there was the "underwater bridge" to evaluate, with the help of the locals who were gathered to watch the fun of people crossing the river.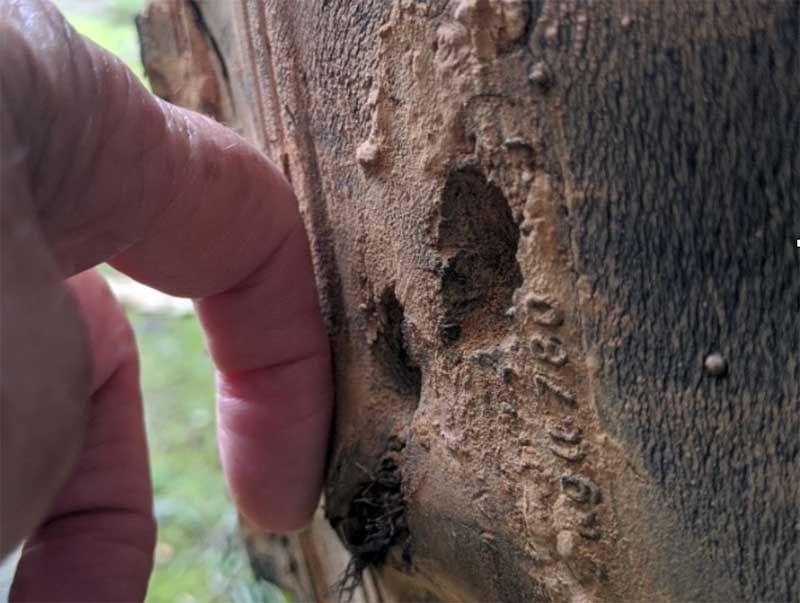 Then there was this discovery.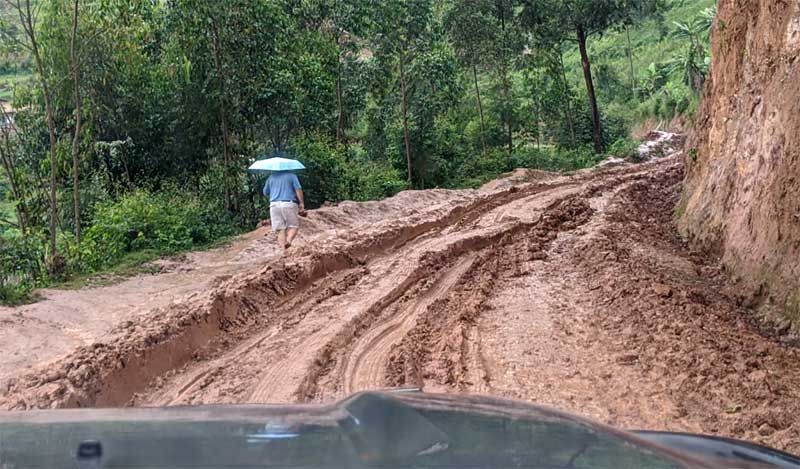 Then it started raining just before we had to drive up,"The Road". So Bruce walked up to evaluate, "the situation". Conclusion: getting stuck was inevitable. We could have waited there a couple of days for the road to dry, but where's the fun in that?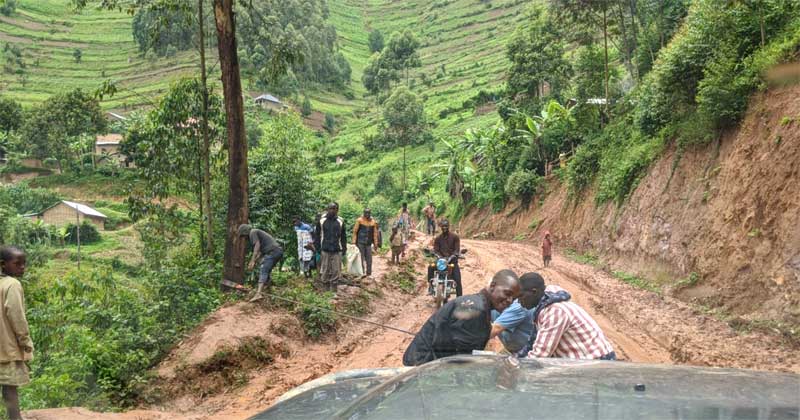 But it was ARA to the rescue (African Roadside Assistance)! With the help of cheerful volunteers, Bruce winched Livingstone to the closest tree.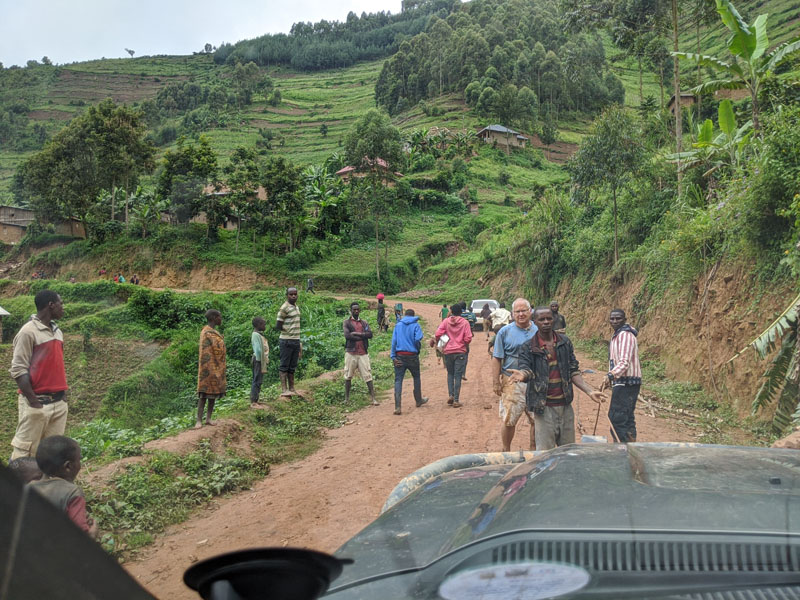 Then they winched Livingstone to a tree further down the road.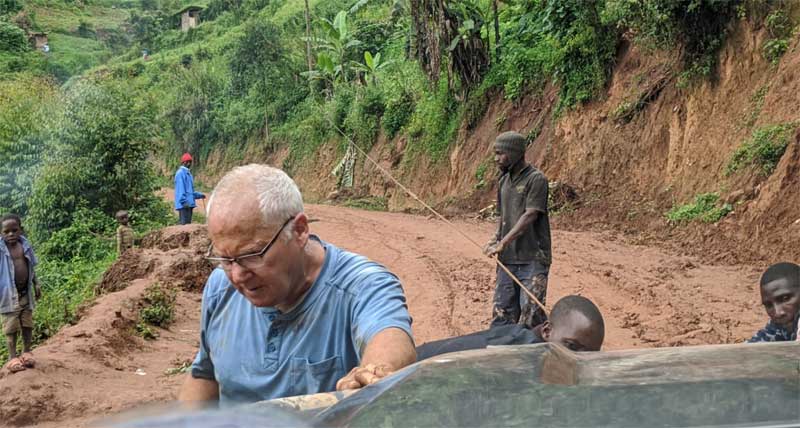 Then everybody watching the "self-rescue" gathered around to watch while Bruce went in Livingstone to get his wallet and negotiate with his helpers what a reasonable amount of compensation would be.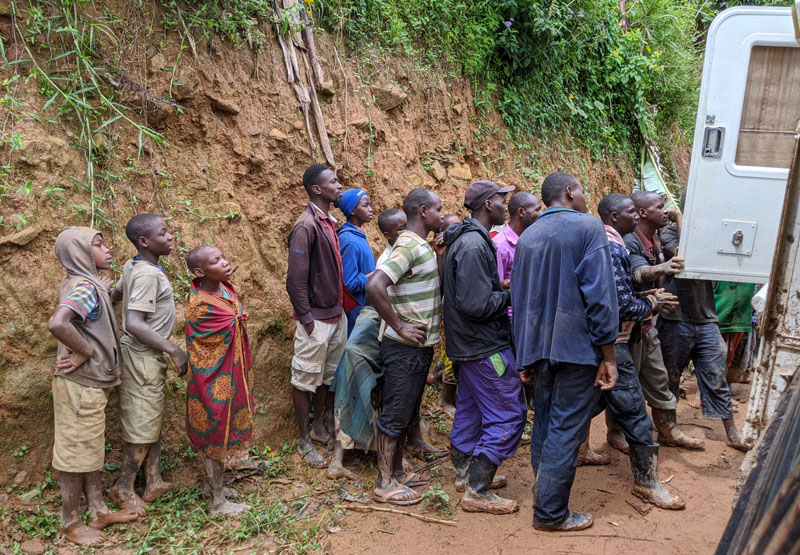 But getting to spend an hour in the middle of the jungle watching a family of gorillas made it all worth it.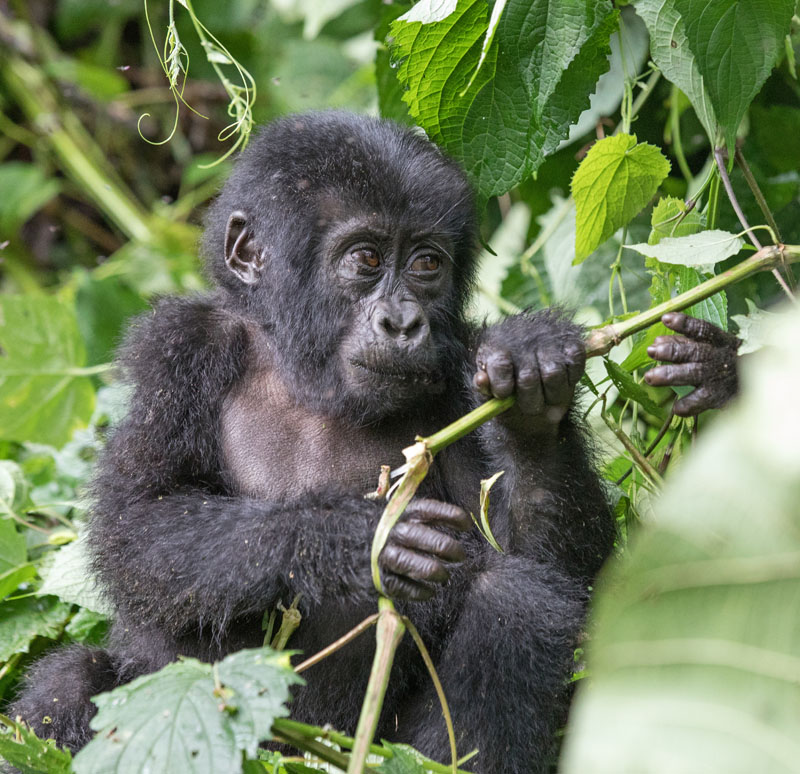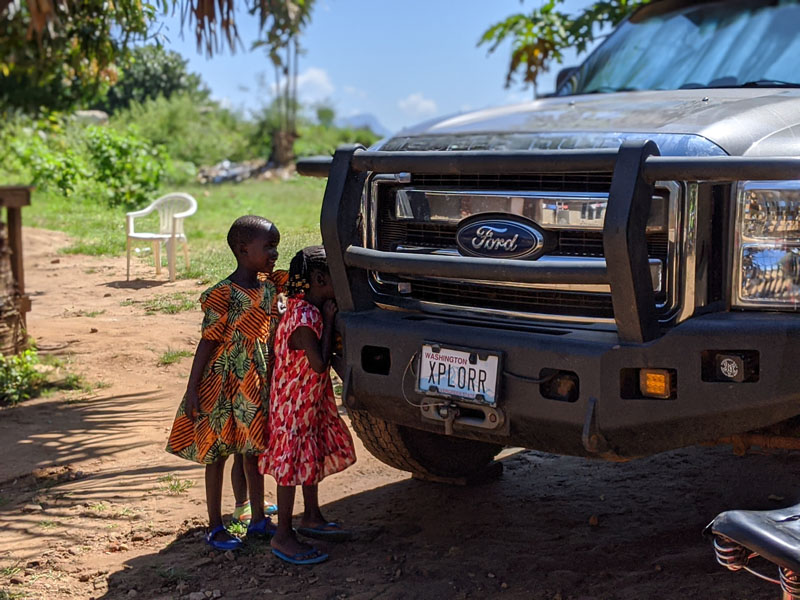 Little girls in Uganda used Livingstone's headlight as a mirror.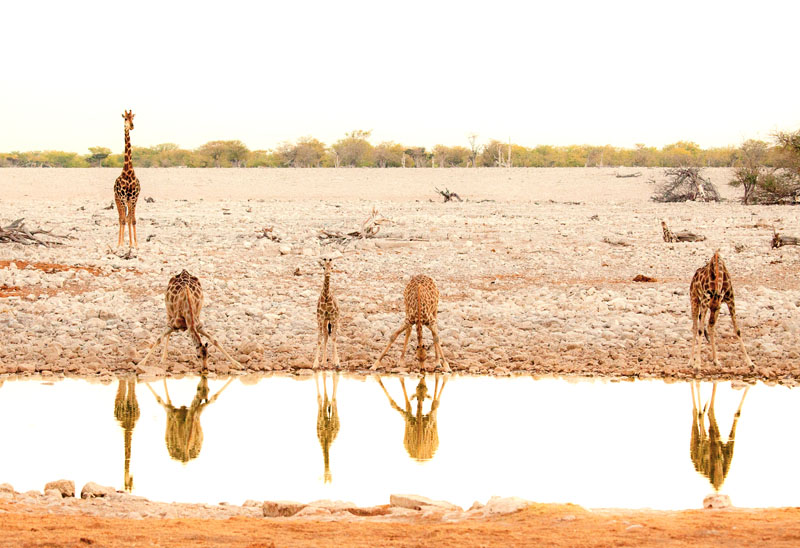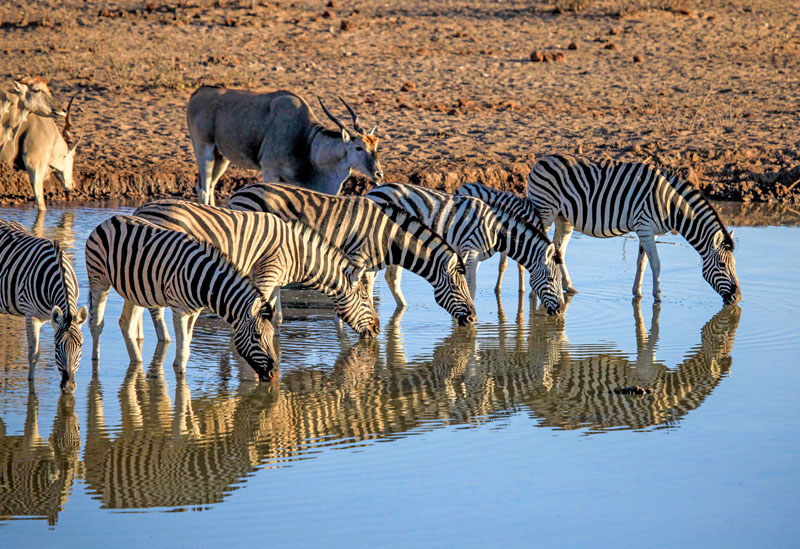 A lot of southern Africa made us feel like we were living in a National Geographic special.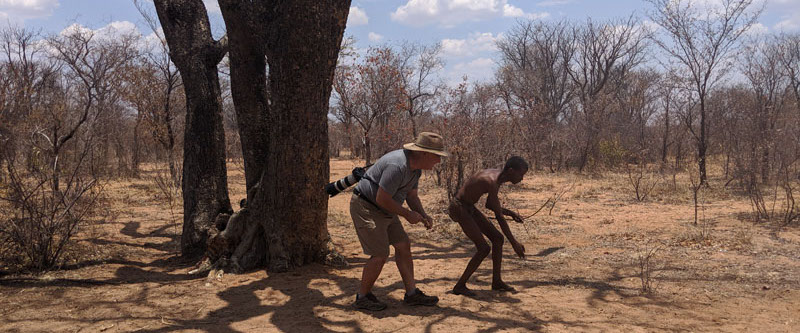 Bruce got a bow and arrow making lesson from some San bushmen in the Kalahari Desert (think 'God's Must be Crazy'), followed by a lesson on how to sneak up on game.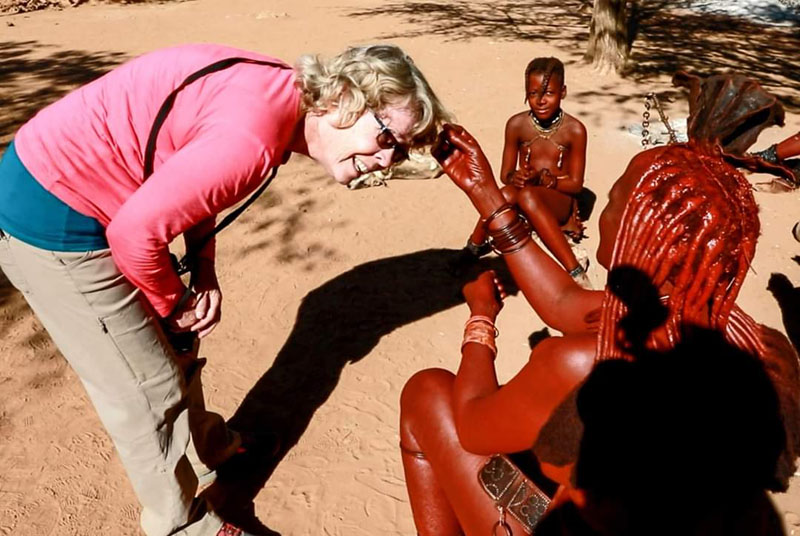 We visited a Himba village in northern Namibia where the women protect their skin and hair with ocher mixed with butter fat. Laurie asked one of the women if she could touch her hair. Then Laurie reciprocated. After the woman felt Laurie's hair and giggled, all of the women crowded around to feel her hair and skin and everyone erupted into laughs and giggles. They had never seen a woman with hairy arms because rubbing the gritty ocher rubs all their hair off.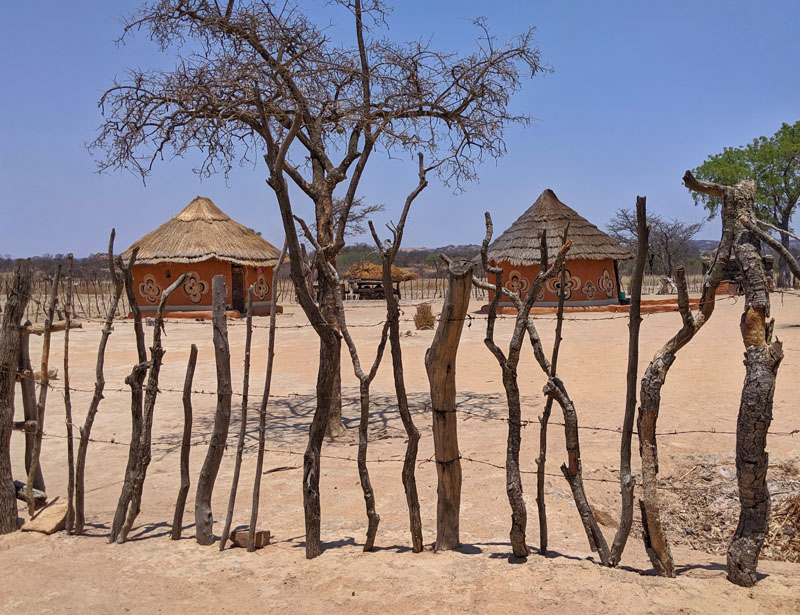 The women in some of the tribes near Bulawayo, Zimbabwe take great pride in decorating their homes, even though the "paint" will be washed away when the rainy season comes.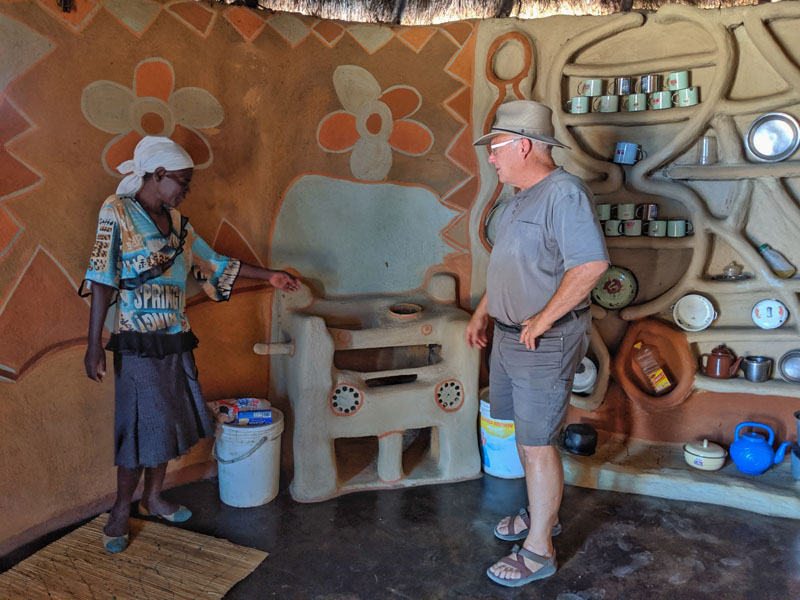 As amazing as the outside is, the inside is even more amazing. The stoves are designed to burn efficiently on only small amounts of firewood.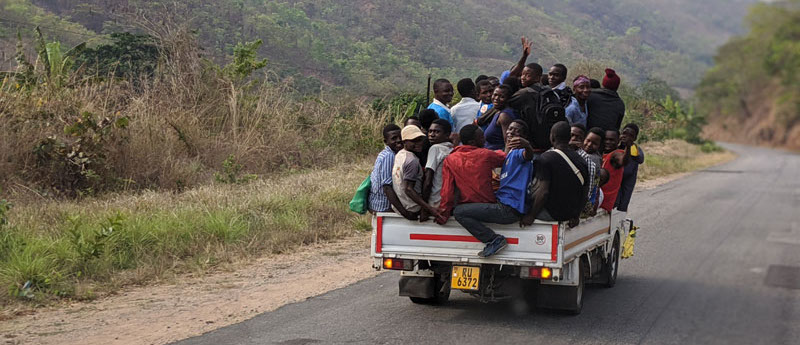 Uncountable numbers of people crammed on the back of trucks were a common sight.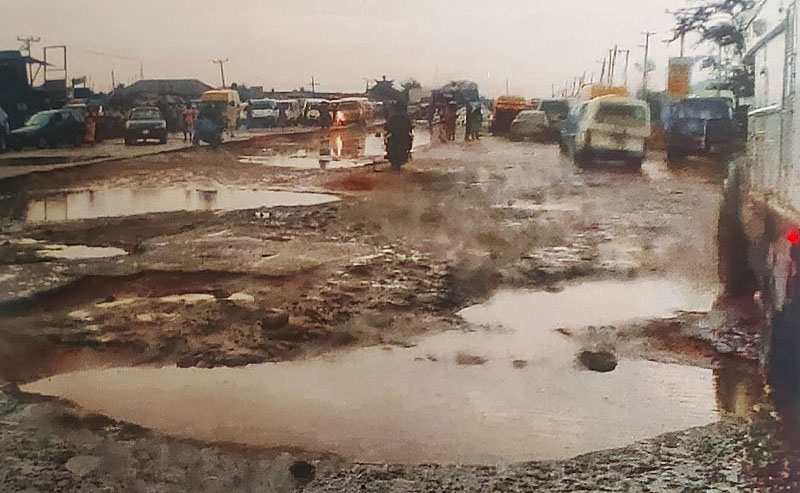 To our surprise, Nigeria got the prize for the overall worst roads in Africa. This is a four-lane highway leading between the border and the capital. The road basically looked like it had been bombed and "potholes" varied between a few inches deep to more than a foot deep. The rain made gauging the depth a guessing game.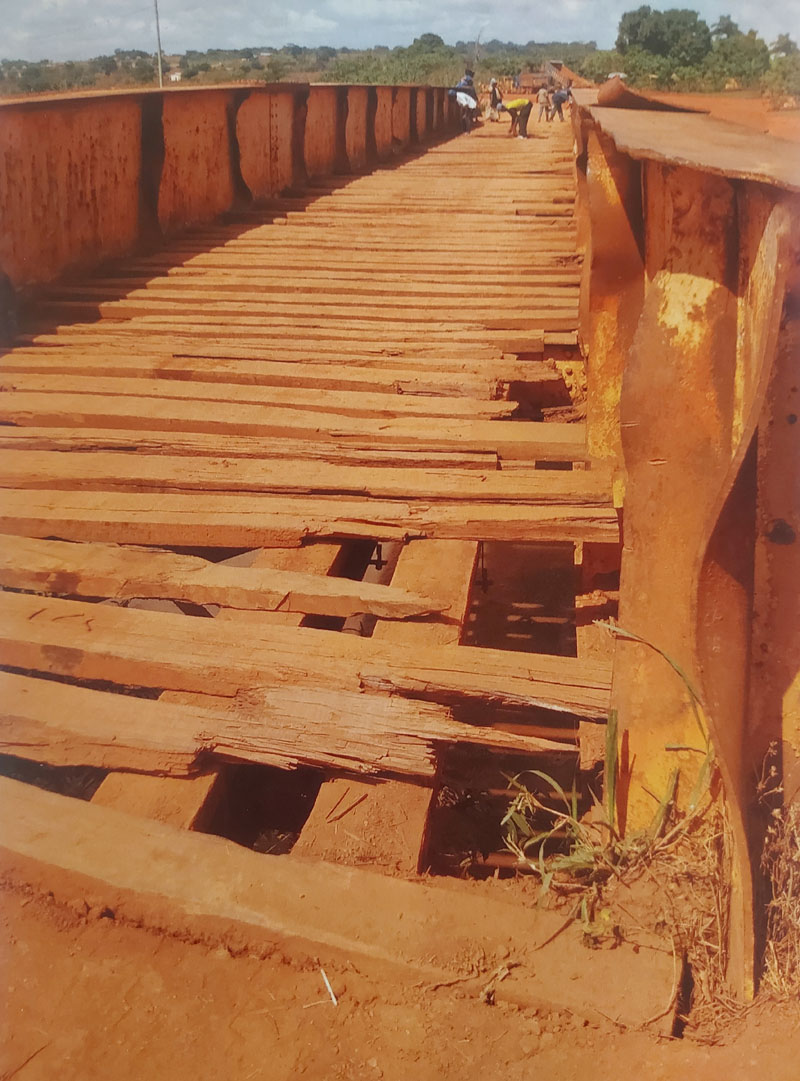 Bridges were often exciting.  We pretty much held our breath on this "bridge" in Camaroon. Actually, Laurie walked across both bridges, "so she could take photos".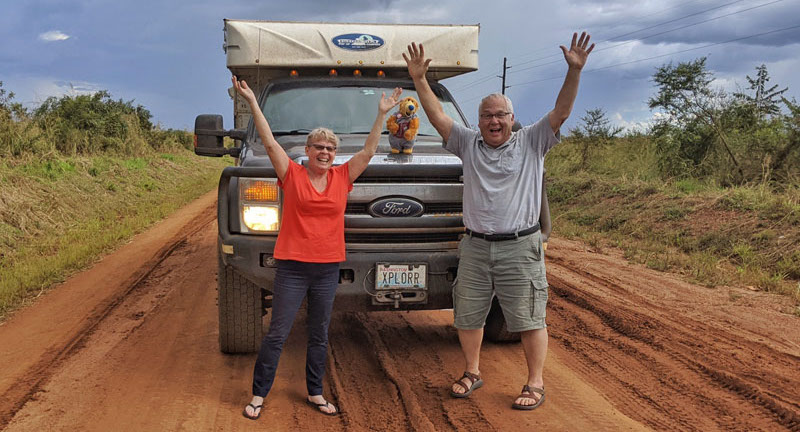 We celebrated our 1-year anniversary of driving through Africa in Uganda, just before getting on a ferry to cross the Nile River. ChaCha Bear (on the hood between our arms) came with us on our trip and we would send our grandkids photos of him having adventures.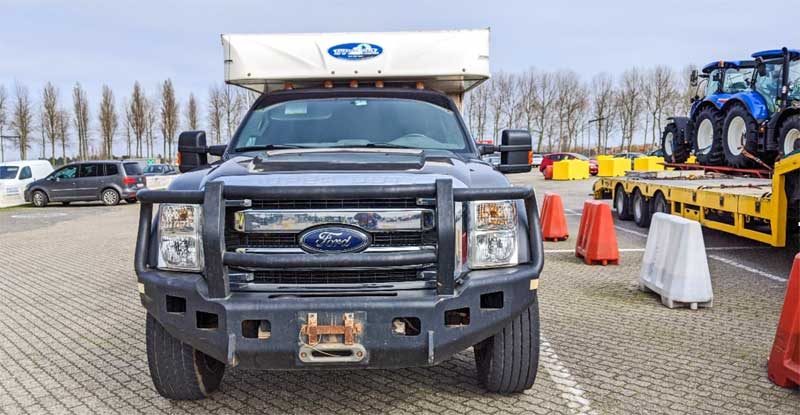 We shipped Livingstone RORO (roll-on/roll-off) both to and from Europe. To minimize theft they want the cab entirely bare of all possessions and everything on the outside removed—including the license plate which can be added to someone's collection. We didn't have any damage or theft in either direction.
Questions to Help Decide if Overlanding Overseas is Right for You:
1. Can you let go of preconceived expectations?
Itineraries and schedules don't leave room for exploring places fellow travelers and locals recommend. Plans for getting away from our vehicle together (including on our bicycles and motorcycle) didn't happen much because we couldn't leave Livingstone unattended if we weren't in a secure campground – which are few and far between in Africa and Laurie didn't feel comfortable going solo
2. Can you embrace constant change?
You need to be fluid, not flexible because sometimes flexible is too rigid.
3. Can you speak other languages?
Most of the West Coast of Africa speaks French. We speak only English and English speakers can be hard to find. Do you mind feeling stupid – on an almost daily basis? Can you adapt to being an illiterate person unable to speak or read the language?
4. Can you adapt to being culturally illiterate?
5. What about the family you're leaving behind?
We budgeted for Laurie to return to the USA twice yearly and Bruce once, but after the first year when it was time to return to Africa our grandchildren started telling us they didn't want us to leave. It turns out that missing our family was the emotionally hardest part of our trip, and we discovered that every full-time overlander we met either didn't have children or traveled with their children. Overlanders we met who had children or grandchildren limited their travels to around four months at a time and then stored their vehicle until they returned to the journey. That's how we plan to do it in the future.