The Heimbigners prepare a Ford F550, Phoenix Custom Camper, 100 gallons of water, 130 gallons of diesel, and 8,000 pounds of toys and equipment for a shipping container.

Most of us remember touching a classroom globe and excitedly spinning it round and round.  As the Earth spun, we imagined traveling to the places our finger traced.  When the globe wound down and stopped, we imagined visiting strange new places.  That is unless you ended up in midway into the Pacific Ocean, as I often did.
In those tender childhood moments, we're not worried about time or money.  We're not thinking about our security, health, or a need to stay connected with family.  We're totally free, and charging forward to explore the world literally turning before us.  Perhaps it's these moments in which we all begin to dream of seeing Africa, Asia, Antarctica, Alaska – or Arkansas for that matter.
What would happen if we all went back to that spinning globe?  This time, through the powers vested in Truck Camper Magazine, you were actually going where your finger landed.  If you hit water, you are allowed another turn, but you're going somewhere.  And yes, a truck camper is your vehicle, traveling home, and support system.
The globe stops turning.  You're pointing at the center of Africa.
Exactly what truck and camper combination will you choose?  How will you design that rig to handle the African terrain ahead of you?  And how will you train for this exciting globe trotting adventure?
Meet Bruce and Laurie Heimbigner.
Their fingers landed on Mexico, Central America, Australia, Asia, India, and Africa.  They're preparing their custom truck camper rig right now.  A shipping container is waiting.  Are you ready for this?  It's time to take the world for a real spin.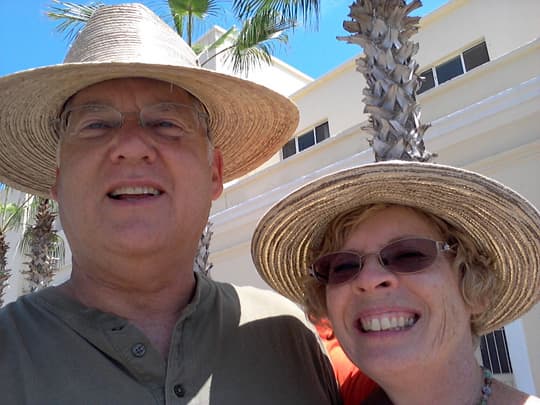 Above: Bruce and Laurie Heimbigner
TCM: What led you to ordering a pop-up truck camper from Phoenix Custom Campers?
Laurie: In June of 2012, we had to take a 2,500 mile round trip to the Mayo Clinic in Scottsdale, Arizona.  We threw a double bed mattress into the back of our fifteen passenger van so we wouldn't have stay in hotels.  Two nights of being able to stop wherever we wanted and sleep in relative comfort started us thinking the unthinkable.  Maybe it would be really nice to have a camper instead of pitching a tent and sleeping on the ground.
We have friends serving in difficult to reach areas overseas that we'd love to visit, so we wanted a high clearance vehicle that would allow us to travel over rough narrow roads in those remote areas.  Bruce also wanted something narrow and low enough to ship overseas inside a shipping container.  Those requirements excluded traditional RVs, as well as hard sided truck campers.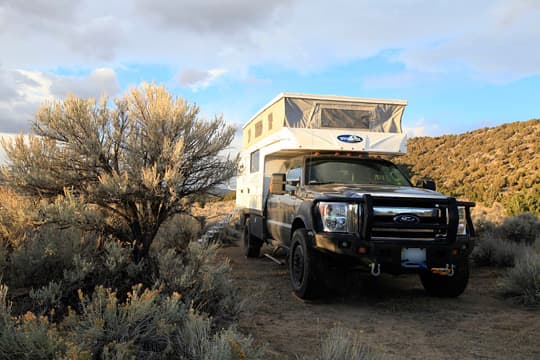 Above: Bull Lake Creek Road, one mile off US287 in Wyoming
Bruce: Most people taking this type of adventure would acquire a purpose built expedition vehicle, however, that didn't fit our plans, and especially our budget.  Since we had a pretty good idea what sort of bad roads we would be traveling, we knew we needed as much ground clearance as possible.  We also required something that wasn't too tall.  Tall vehicles are less stable both on the highway and on the trail.  We needed to be able ship our rig via a standard shipping container.  That meant our rig width couldn't exceed seven feet wide.
Because we plan to be overseas for six to nine years, we needed something relatively compact but with lots of storage for tools, equipment, and stuff.  We considered EarthRoamer, GXV, and Sportsmobile, but they were either way out of our price range, or didn't meet many of our requirements.
Next we considered traditional truck campers, but concluded they were generally too wide or too tall for our needs.  Then we thought about building our own, but decided we didn't have enough time or a place to build it.  We eventually concluded that having a custom pop-up flatbed truck camper with storage boxes underneath built by experts would best meet our criteria.
With an early estimate of 8,000 pounds of stuff, we needed something bigger than a pickup truck to haul the camper along with 130 gallons of diesel, 100 gallons of water, 10 gallons of gasoline, a motorcycle, two bicycles, two inflatable kayaks, two spare tires, two winches, dual air compressors, and a generator.  It also needed to be reliable or have readily available parts overseas.  We decided we wanted a new vehicle for reliability and safety.  We also wanted a vehicle that we could continue to use after we get back.  The Ford 550 met those criteria.