The Heimbigners prepare a Ford F550, Phoenix Custom Camper, 100 gallons of water, 130 gallons of diesel, and 8,000 pounds of toys and equipment for a shipping container.

Most of us remember touching a classroom globe and excitedly spinning it round and round.  As the Earth spun, we imagined traveling to the places our finger traced.  When the globe wound down and stopped, we imagined visiting strange new places.  That is unless you ended up in midway into the Pacific Ocean, as I often did.
In those tender childhood moments, we're not worried about time or money.  We're not thinking about our security, health, or a need to stay connected with family.  We're totally free, and charging forward to explore the world literally turning before us.  Perhaps it's these moments in which we all begin to dream of seeing Africa, Asia, Antarctica, Alaska – or Arkansas for that matter.
What would happen if we all went back to that spinning globe?  This time, through the powers vested in Truck Camper Magazine, you were actually going where your finger landed.  If you hit water, you are allowed another turn, but you're going somewhere.  And yes, a truck camper is your vehicle, traveling home, and support system.
The globe stops turning.  You're pointing at the center of Africa.
Exactly what truck and camper combination will you choose?  How will you design that rig to handle the African terrain ahead of you?  And how will you train for this exciting globe trotting adventure?
Meet Bruce and Laurie Heimbigner.
Their fingers landed on Mexico, Central America, Australia, Asia, India, and Africa.  They're preparing their custom truck camper rig right now.  A shipping container is waiting.  Are you ready for this?  It's time to take the world for a real spin.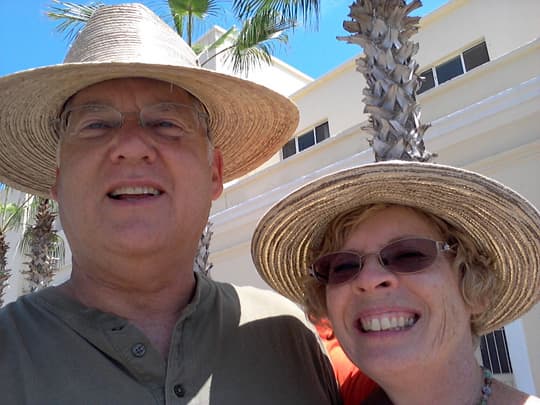 Above: Bruce and Laurie Heimbigner
TCM: What led you to ordering a pop-up truck camper from Phoenix Custom Campers?
Laurie: In June of 2012, we had to take a 2,500 mile round trip to the Mayo Clinic in Scottsdale, Arizona.  We threw a double bed mattress into the back of our fifteen passenger van so we wouldn't have stay in hotels.  Two nights of being able to stop wherever we wanted and sleep in relative comfort started us thinking the unthinkable.  Maybe it would be really nice to have a camper instead of pitching a tent and sleeping on the ground.
We have friends serving in difficult to reach areas overseas that we'd love to visit, so we wanted a high clearance vehicle that would allow us to travel over rough narrow roads in those remote areas.  Bruce also wanted something narrow and low enough to ship overseas inside a shipping container.  Those requirements excluded traditional RVs, as well as hard sided truck campers.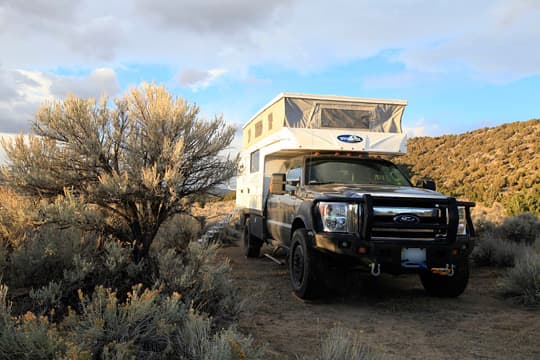 Above: Bull Lake Creek Road, one mile off US287 in Wyoming
Bruce: Most people taking this type of adventure would acquire a purpose built expedition vehicle, however, that didn't fit our plans, and especially our budget.  Since we had a pretty good idea what sort of bad roads we would be traveling, we knew we needed as much ground clearance as possible.  We also required something that wasn't too tall.  Tall vehicles are less stable both on the highway and on the trail.  We needed to be able ship our rig via a standard shipping container.  That meant our rig width couldn't exceed seven feet wide.
Because we plan to be overseas for six to nine years, we needed something relatively compact but with lots of storage for tools, equipment, and stuff.  We considered EarthRoamer, GXV, and Sportsmobile, but they were either way out of our price range, or didn't meet many of our requirements.
Next we considered traditional truck campers, but concluded they were generally too wide or too tall for our needs.  Then we thought about building our own, but decided we didn't have enough time or a place to build it.  We eventually concluded that having a custom pop-up flatbed truck camper with storage boxes underneath built by experts would best meet our criteria.
With an early estimate of 8,000 pounds of stuff, we needed something bigger than a pickup truck to haul the camper along with 130 gallons of diesel, 100 gallons of water, 10 gallons of gasoline, a motorcycle, two bicycles, two inflatable kayaks, two spare tires, two winches, dual air compressors, and a generator.  It also needed to be reliable or have readily available parts overseas.  We decided we wanted a new vehicle for reliability and safety.  We also wanted a vehicle that we could continue to use after we get back.  The Ford 550 met those criteria.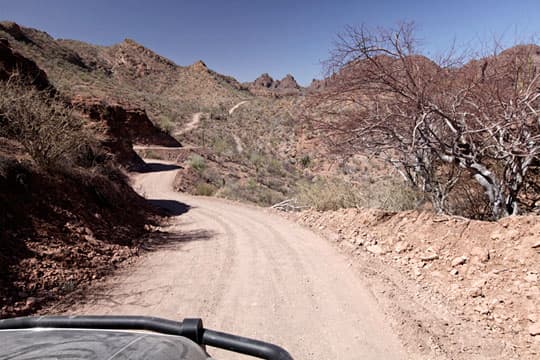 Above: The Heimbigner rig has 130 gallons of diesel capacity
TCM: Why do you need 130 gallons of diesel?
Bruce: We have four fuel tanks.  A thirty gallon tank can be used for either diesel or gasoline.  We need 130 gallons of diesel because we will be traveling overseas in areas where it could be difficult to find diesel fuel.  With our 130 gallon tanks, we have driven from eastern Washington to Santa Fe without refilling.  In the United States, the larger tank means we can buy the cheapest fuel.  Overseas is will be more about finding the fuel, not buying the cheapest fuel.
TCM: Is the 10 gallons of gasoline for your generator?
Bruce: Yes, for the generator and the motorcycle.
Laurie: The gasoline has been great with locals in Mexico.  We had over thirty gallons on our Mexico trip and we helped people by giving gas away.
Bruce: We've given away more gas than we use on our own.  It's been best for people in remote areas who don't have gas.
TCM: You're a traveling fuel station.  How did you go about designing your Phoenix Custom Camper?
Laurie: In October of 2012 we took a trip to Denver where we were able to visit three different camper manufacturers.  When we described what we wanted to Robby at Phoenix Custom Campers, he kept saying, "Yes, we can do that" and "Yes, that wouldn't be any problem".  Then we started sketching out a rough plan.  We were extremely excited to find a solution that was in our price range.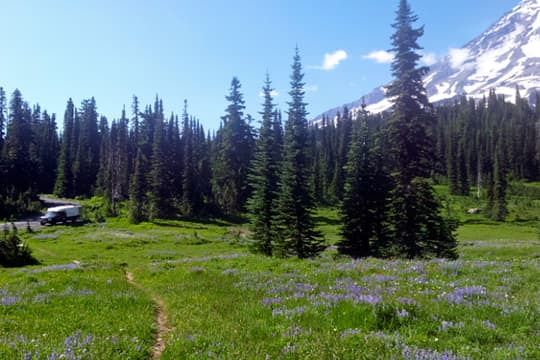 Above: Livingstone (center left) at Mt. Rainier
The tradition at Phoenix is to refer to each camper by name.  We named our camper Livingstone after the famous British missionary, explorer, and anti-slave activist, David Livingstone.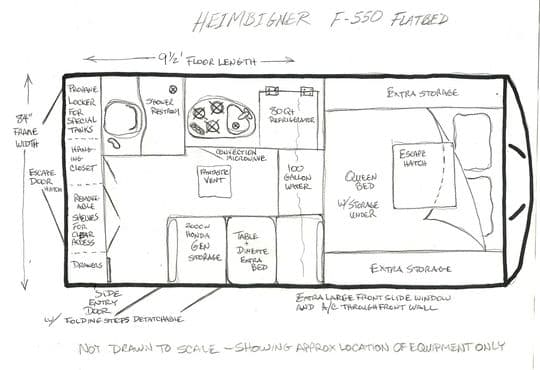 Above: Their floor plan – click to enlarge
TCM: That's a neat name, and an appropriate one.  Tell us what you were asking for when Robby said, "Yes, we can do that."
Bruce: A 7' wide, 10' long, side entry, flatbed camper was a big ask.  Our final design list for Phoenix was 67 items long.  I kept changing and updating items while the camper was being built.  Robby is very patient and accommodating.
Propane tank exchange, with different propane tank sizes, is the only viable option when traveling globally.  For this purpose, we needed a custom-sized propane tank locker that would fit any global tank size.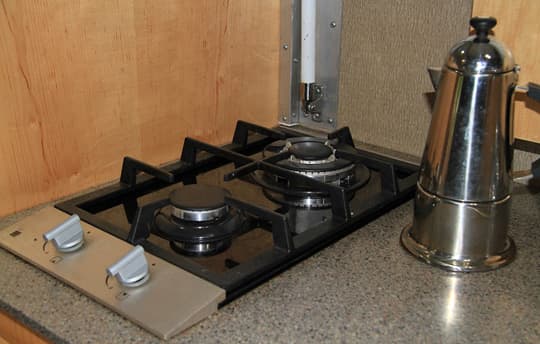 We didn't want a traditional camper stove top.  Instead we have a two-burner household unit which produces much higher BTU.  It also does require a bit of extra preparation to secure the gas grills when breaking camp.
We wanted at least 100 gallons of fresh water.  Robby worked that into the design so the water is in the camper, but out of the way.  A six-step water purification system was also built into the design.
Above: The interior of Bruce and Laurie's rig – click to enlarge
TCM: How did you go about designing a camper for global travel?
Bruce: We got a lot of information from different people who are traveling globally with vehicles.  We talked with people on the Expedition Portal website, and emailed a bunch of people who own Phoenix Custom Campers.  We also talked with people who took Ford vehicles overseas and people who built custom rigs who traveled around the world.  Everyone was extremely helpful.
We had our ideas, and Phoenix helped us build a better, safer, and easier to build camper.  They were very practical in coming up with solutions that fit our requirements.
Specifically, we wanted the sink certain way, and the stove in certain location.  Laurie wanted solid walls in the shower, and not soft walls.  Robby did a design and we went back and forth with more ideas.
Laurie: Robby was able to visualize and conceptualize what we wanted.  We wanted a north-south bed so that we didn't need to crawl over each other.  We wanted great deal of storage because we have to have everything with us.   There are dressers on each side of the bed and the bed lifts up for additional storage.  What Robby was able to design and build is simply awesome.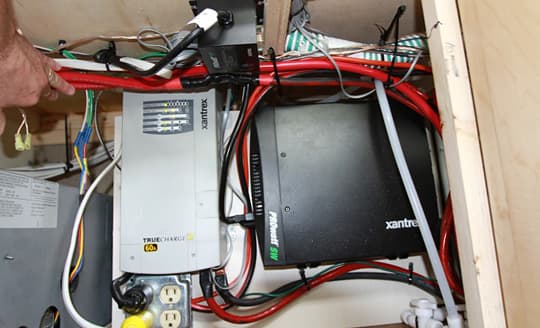 Above: Xantrex 60 amp inverter
We want to bake bread as we travel and opted for a convection microwave.  That kind of oven uses a lot of power so we needed a 2,000 watt (3,000 watt peak) inverter, which meant we needed a large AGM battery bank.
In the USA our power works with 110 volt or 220 volt.  Overseas we can use the 220 volt, 50hz power, but inside it is always 120 volt, 60hz.  The charging system is global and uses any kind of power.
We replaced the standard camper shower heads with kitchen sink sprayers to conserve water, yet they produce a good, satisfying spray.  They don't leak under pressure and you to have to press and hold the button to get any water.
We needed to avoid potential problems with an electric roof lift system.  Fortunately, the Phoenix roof lift system doesn't need power or complex mechanics.
Due to our being active photographers we needed to be able to walk on the roof and access the roof from inside the camper.  We have roof stabilizers we can place in the corners and an egress hatch over our bed.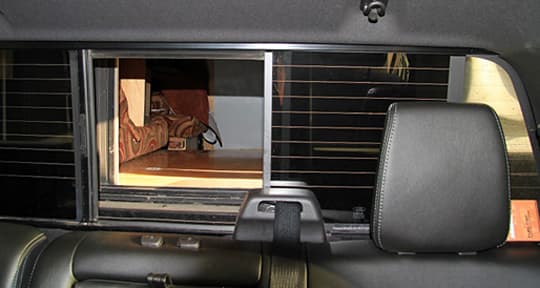 For emergencies and travel in African national parks, we need the ability to go directly from camper to truck, so have communicating windows that open between the truck and camper.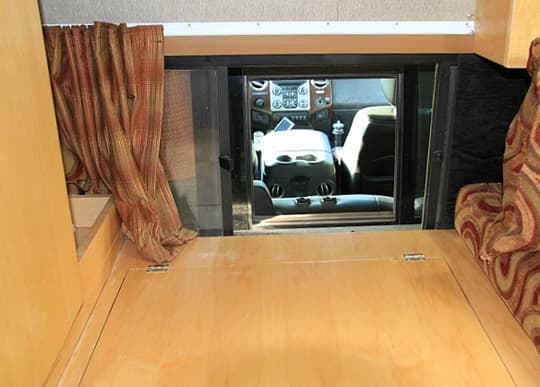 TCM: With this communicating window, can you can crawl through from the camper to the truck?
Bruce: It's like the old campers.  The rear window of the truck aligns to the front of camper.  I can barely squeeze through, but I can.  It's an emergency thing.  We want to be able to get through if we don't want to go outside.  We can get into the truck and take off.  In some of the national parks in Africa, people are not allowed out of the vehicle for their own safety, like if there's a lion around.  We would have to go directly back and forth.  It's an opening, but it's not to be used every day.
Laurie: It's a good diet plan!
TCM: That's funny.  You better not eat too much on your trip.  It's the Lion Diet.  What modifications have you made to your truck?
Bruce: Our truck was purchased new as a cab and chassis, and we added a flatbed.  To maintain our overall width at a container-friendly seven feet, the eight foot wide stock dual rear wheels had to go.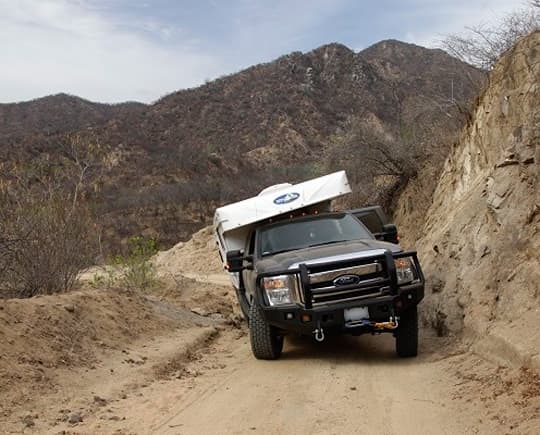 If you look at some of our four wheel drive road photos it looks like the camper is floating off the truck.  That is because the flatbed is not directly bolted to the truck frame but only attached by two hinge points at rear of the truck, allowing the bed to lift more than one foot above the chassis.
We had Les Schwab build custom wheels for 295/60R22.5 semi-truck tires (effectively lifting the truck two and a half inches higher than factory).  That meant enlarging the factory wheel wells by cutting into them and creating a larger opening.  That was a very nerve wracking procedure.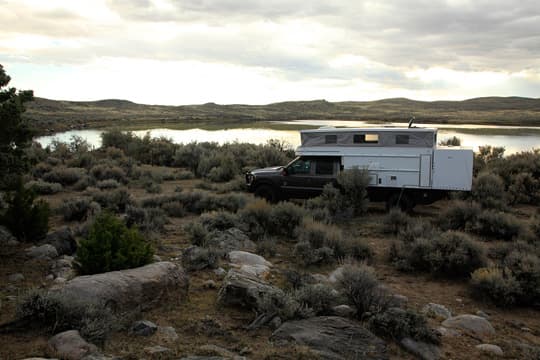 TCM: Tell us about the rear garage.  That's something we've never seen before on a truck camper rig.
Bruce: We wanted equipment and gear we carry to be hidden from view.  We also didn't want a place for someone to jump on our rig and steal a ride.
These stipulations necessitated a garage built into the back of the camper.  The garage encloses our motorcycle, kayaks, spare tires, and bikes.  The retractable Rock Slide Engineering step replaced the stock running boards.  The garage, in turn, created the need for a side entry into the camper.
Above: Close-ups of the rear garage – click to enlarge
The things we are most likely to need are by the garage door and easiest to remove, like our bicycles, camp chairs and table.  If I need the spare tires, I'd have to empty the entire garage.  Adjustable metal strap tie-downs inside the garage secure everything.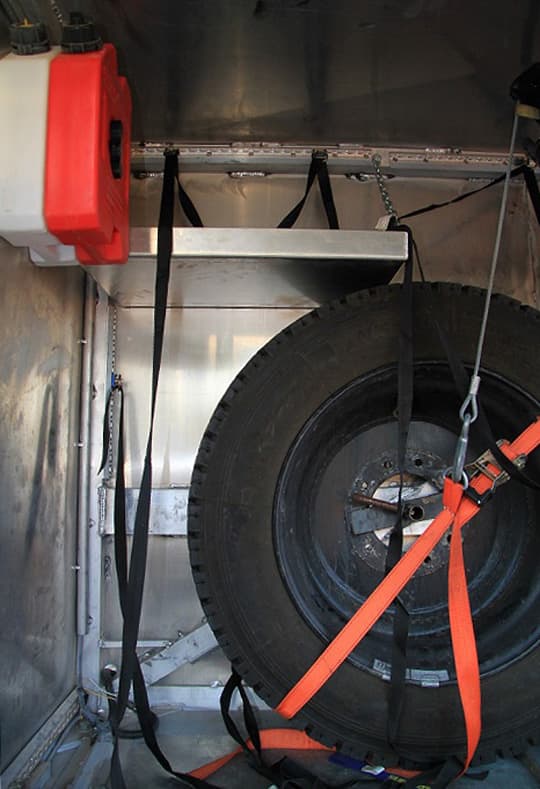 Laurie: There was no way to design it perfectly, but the garage gives us flexibility.  It's not really compartmentalized.  It's an empty box.
Bruce: The funny thing is that we never had a garage with our house, but now have one with our camper.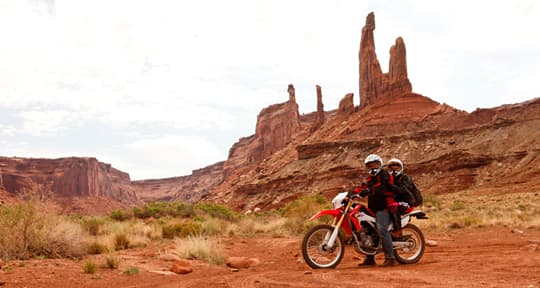 TCM: Tell us about your motorcycle, and what you use it for.
Bruce: We have a 2013 Honda CRF250L.  We wanted something big enough for the both of us to take trips around camp, and be fun enough for riding off-road.  We wanted a dual sport on or off road capable and licensed motorcycle.  We'd prefer a more powerful bike, but they are too to tall to sit on and wouldn't fit in our camper's garage.
We have made a bunch of modifications to it including: a small cargo rack, skid plate, Rotopax (extra gallon of fuel and water), bar end protection, eliminated the blinker bars, and replaced the massive Honda rear fender.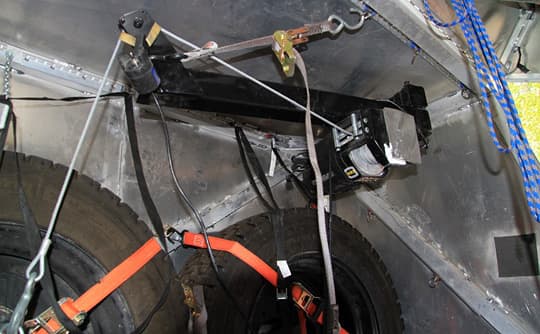 Above: The crane system that moves the motorcycle in and out of the garage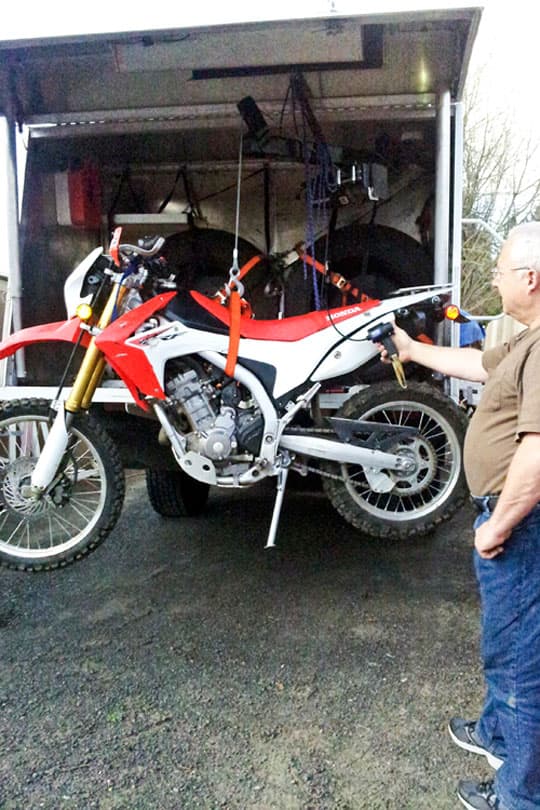 Above: The motorcycle being lifted into the garage
TCM: How do you get the motorcycle in and out?
Bruce: We had All-Fabrication in Pullman, Washington design and build a crane winch with a swing out arm.  It makes getting the motorcycle in and out of the garage very easy.
The motorcycle is 320 pounds, and the back of garage is three feet off the ground.  A ramp would not be possible. There's no way I could lift 320 pounds of motorcycle.  I knew we needed some kind of motor to get it up there.  So, we came up with this custom solution.  It works great!
Above: The outside storage boxes hold fuel, a generator, compressor, and lots of extra supplies – click to enlarge
TCM: What do you keep in the outside storage boxes?
Bruce: The truck bed, garage, fuel tanks, under bed boxes, and motorcycle lift were all built by All-Fabrication in Pullman, Washington.
We left the exact design to All-Fabrication.  We wanted to maximize space, and have the boxes bolted on to bottom of the bed.  Each box has specific uses and that use was designed in.  Instead of painted, they are bed lined inside and out.  That gives them protection because they're low and going to get rocks.
One small box houses switches and controls for fuel, the factory fuel tank filler, as well as spare parts, hydraulic jack, come-along, oils, other fluids.  The second small box contains electrical components, the scissor stairs, and leveling ramps.  One of the two large boxes holds the generator (which can be run in the box), extraction gear, compressed air ports, and tools.  The other large box holds our free standing shade, extraction gear, and other camp supplies.
We didn't want a large attached awning on our camper, so we bought a free standing shade with solid and mosquito screen sides.  Having large storage boxes helped with this decision and it worked great in Mexico.
Above: The scissor steps can be attached to the garage or the camper
Laurie: Bruce also brings his chainsaw.  We are prepared!   Our scissor stairs, for entering the camper, also hook to the back of the garage for Bruce to use when working in the garage.
TCM: What kind of locks are you using on your rig?
Bruce: Currently, we are using trucker locks on the boxes and garage.  Trucker locks are much heavier duty than standard RV locks.  In the future I will probably add additional locks for even more security.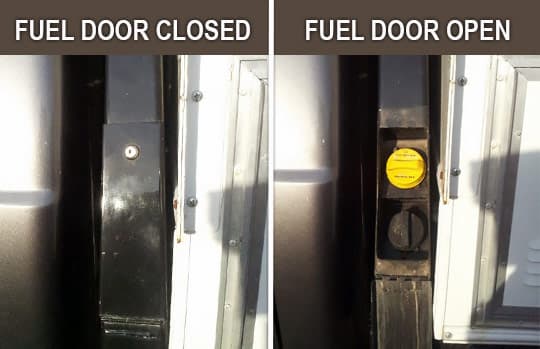 Above: The fuel fill is hidden in the storage area of the truck and has a heavy duty lock
TCM: Do you have any security cameras?
Bruce: Not yet, but I do have four cameras for off-road use – to be installed soon.  I'll have one in the front looking forward and one in the garage looking down, as well as two under the truck.  The video is seen in the cab.
Laurie: We'll use the camera to see big rocks and the wheels in the relation to a cliff.  If I'm outside marshaling our progress and I ask for my purse, it's a bad sign, things are too squirrelly for me.
On the White Rim Trail we had a situation where the camper was smashed against a cliff and there wasn't any room for me to get out.  And one time in Baja I almost asked for my purse, but I didn't.  I pressed through.  Bruce takes us on interesting adventures.
TCM: We've never quite been that freaked out, but we haven't been off-road quite like you have either.  How long did it take for you to put the entire rig together?
Laurie: Amazingly fast!  Every evening Bruce would be planning, thinking, and communicating with people.  It was about six months from time we planned it until we got our truck.  We ordered our camper in October and got it in March.
Bruce: Part of my research was when we were sailing and I wanted to sail around world.  So, the research had been going on for a long time.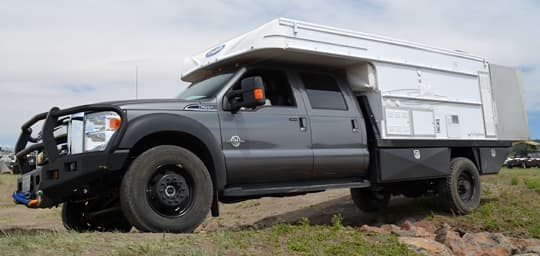 Above: Laurie driving the course at Overland Expo West
Laurie: We got the garage done last.  We took it in, and got it back the day before the Overland Expo.  It wasn't painted when you saw it, but now it is.
Bruce: We have had the rig two years and I'm still making modifications.  Hopefully we'll have it the way we want it before we leave on our big trip.
TCM: What modifications have you added in the past two years?
Bruce: Many of the smaller additions I installed myself like the TrailReady full-coverage bumper, front and rear SuperWinch-Talon 18.0 SR winches, two VaiAir 480C compressors, Steadymate 15546 series L track mounting hardware in the garage, eight Rigid Industries LED lights, as well as most of the special electrical equipment.
There is additional discussion about camper specs, wheels, tires, electrical issues and additional modifications I've made detailed in my Expedition Portal build blog.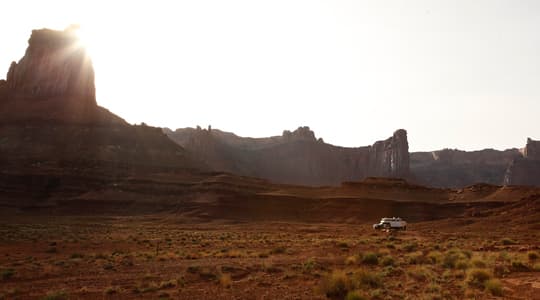 In How To Build A World Ready Rig: Part 2 the Heimbigners dive deeper into their incredible rig build, explore its capabilities and limitations, attempt to break it on the dirt roads of Utah and Mexico, and reveal the personal reasons for their multi-year continent-crossing itinerary.
Rig Information
Truck: 2013 Ford F-550, Lariat, Crew Cab, Long Bed, Dual Rear Wheel to Single Rear Wheel, 4×4, Diesel
Camper: 2013 Phoenix pop-up, all custom
Tie-Downs and Turnbuckles: Direct bolt to bed's frame
Suspension: Air Lift – Air boost springs front and rear, Hellwig sway bars front and rear