The Heimbigners do their best to break their Phoenix Custom Camper and Ford F550 while testing a compost toilet, pushing their off-grid systems, and avoiding piranhas.

It's probably safe to say that no one seeks out a compost toilet as their first choice.  No one decides to give up the flush-it-and-forget-it luxury of modern household plumbing and choose to go on coconut husk instead.  After all, coconuts make for delicious candy bars and interesting tribal swimwear, but why would anyone put them in a potty on purpose?
Then life presents an amazing opportunity.  Travel the globe in a four-wheel drive truck with a fully-self-contained truck camper.  You'll have everything you need with you, but nothing more.  Food, water, and life's basics could be hard to come by, so you'll need to use them sparingly.  Do this, and you can see the world.
As you think this over, you look for new ways to conserve in every way possible.  Water is your ultimate concern.  Without it, your trip is immediately over.  With it, and you can go further, for longer, and experience everything you've ever dreamed of.  How can you save water?
That's when you hear about this new compost toilet.  It separates number one from number two.  The number one can be disposed almost anywhere.  Number two gets enmeshed with – yes – coconut husk!  Here's the best part; composting toilets use no water.  Suddenly you can't wait to go number two on coconut husk.  Bring on the compost toilet!
Bruce and Laurie Heimbigner just read that introduction and thought, "That's about right."  I know this because they're (a) about to see the world, (b) in a truck camper, and (c) with a compost toilet that uses coconut husk (aka coconut coir fiber).  Fortunately, the compost toilet is not the only interesting solution they've found for the multi-year world-wide adventure before them.
This article picks up from How To Build a World Ready Rig Part 1.  For Part 2, the Heimbigners dive deeper into their incredible rig build, explore its capabilities and limitations, attempt to break it on the dirt roads of Utah and Mexico, and reveal the personal reasons for their multi-year continent-crossing itinerary.  Tip 1: Look out for piranhas!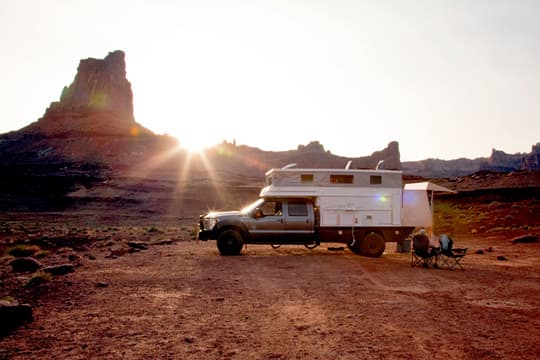 Above: First night on the White Rim Trail, Utah
TCM: Did either of you go tent camping or RVing when you were growing up?
Laurie: As kids both our families did a lot of camping in tents or small trailers and typically visited national parks or went fishing.  As adults, we've always loved getting out in nature and away from the crowds.  Before building this rig, we were primarily backpackers with occasional tent camping trips with the kids.
Bruce: For years I had the dream of sailing around the world.  After the kids left home, we took sailing lessons and bought a small sailboat that we could camp out with.  As we took sailing trips on bigger boats and explored farther from the coast, it became obvious that our opinions diverged about the sailing around the world.  That spawned the discussion about how we would both enjoy traveling around the world.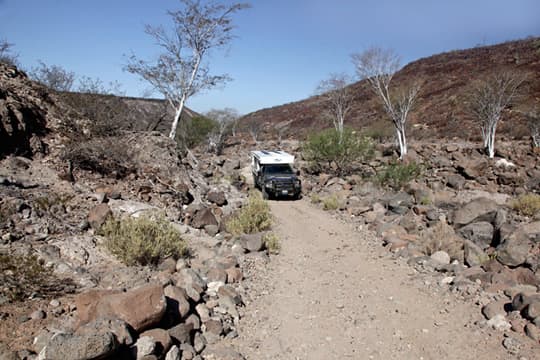 Above: South of San Ignacio, Baja
TCM: What is it that has you taking to the sea and wanting to travel the world?
Laurie: We both really enjoy being well off the beaten path, taking photographs, biking, kayaking, walking, and writing.  Our travel goals right now probably sound a little crazy.  We're attempting to test our limits, and break anything that is going to break.
TCM: You're trying to break your rig?
Laurie: Yes.  Since we plan to leave the country in the next two years, we figure that we need to find out where our weak points are so we break them where we can still easily replace them with something sturdier.  That way we'll learn what kind of places we can safely take Livingstone and what kind of places we should avoid.
TCM: How are you preparing to leave the country?
Bruce: Once we leave North America, we will be trying to avoid taking chances.  Our camper will be our home.  We are not going to want it compromised or damaged.  We will be cautious.