Truck Camper Magazine visits Phoenix Campers and explores a loaded Phoenix L2 Flatbed. Pound-for-pound, inch-for-inch, the L2 Flatbed is one of the most fully-featured and impressive self-contained pop-up campers we've ever seen. This one tempted even us hard side owners.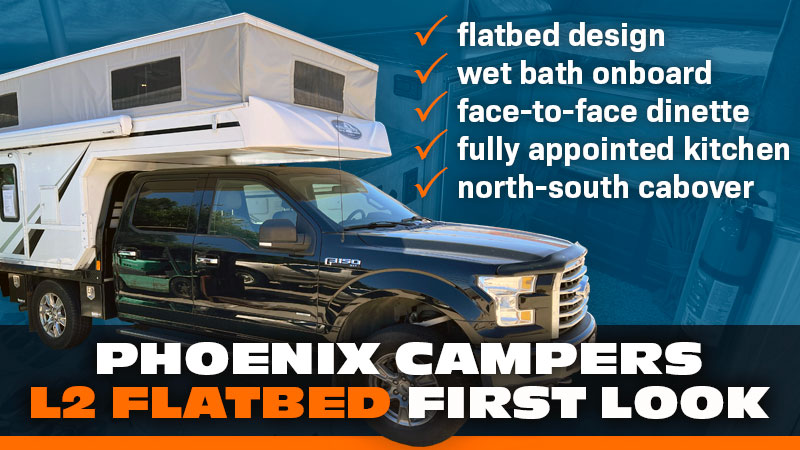 This summer, Robby and Cari Rowe, Co-Owners of Phoenix Campers, invited us to see a completed Phoenix Camper L2 Flatbed model at their Commerce City, Colorado factory. The L2 Flatbed is part of Phoenix Campers' seven-model line-up of customizable slide-in and flatbed campers, and happens to be a unit we hadn't seen before; at least not in person.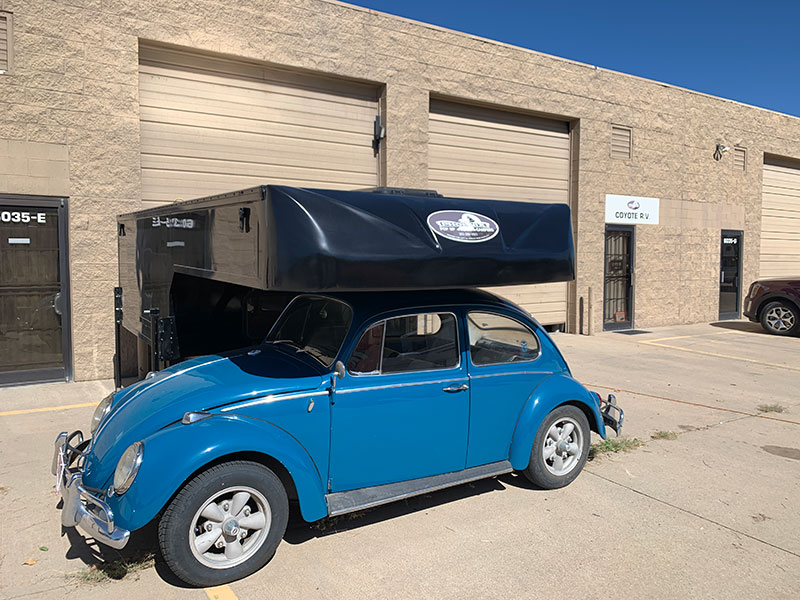 This was a fun surprise when we arrived. A few years ago, Cari gave her husband, Robby, the car of his dreams for his birthday; a vintage Volkswagen Beetle. Above we see Robby's prized bug using a completed Phoenix L1 as something of a carport. Hey Angela, I'm dreaming of a vintage Marantz 8B tube amp. And my birthday's coming up. Just sayin'.
Before we got to the L2, we wanted to tour the factory and see the team. Thanks to the pandemic, it had been a few years.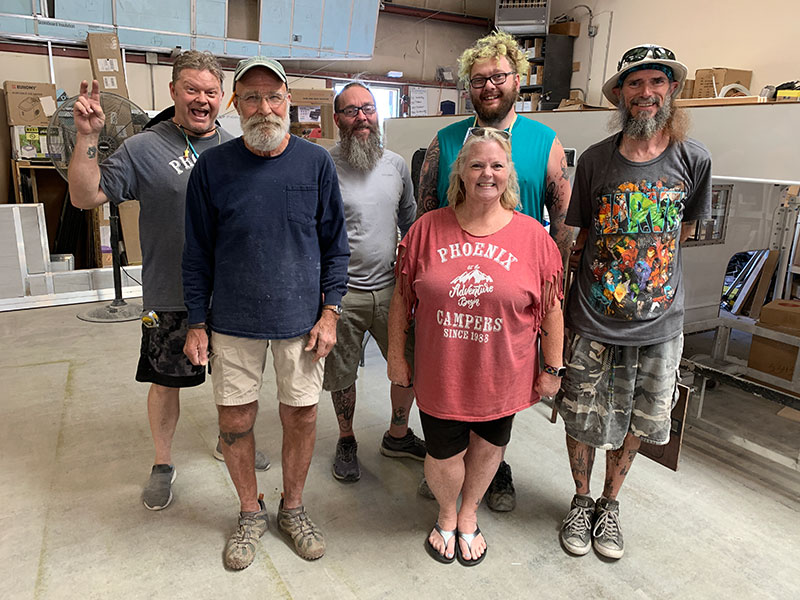 Back Row: Robby Rowe, Mike Rittlinger, Daniel Pfeiffer, Jr Mitchell, Front Row: Brian Ellingson, Cari Rowe, Not Shown: Peggy Rowe, Sydney Leivo, Nick Howe
Phoenix Campers has always been a small team of builders with a limited number of bespoke pop-up campers that are custom fit to the customer's truck. That's their niche and they've stuck to it.
On this visit, we found five production team members (including Robby) working on sold customer units. Cari was taking care of the front office working with customers and keeping the business on track.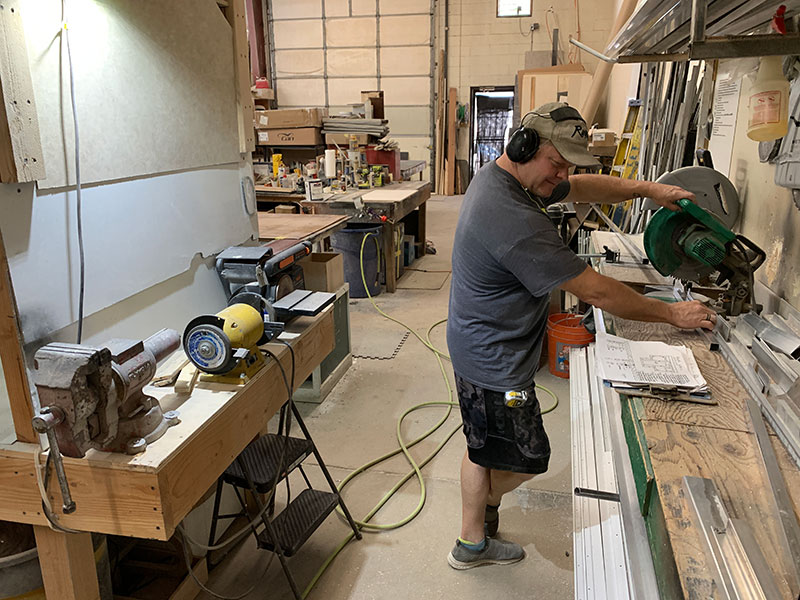 Above: Robby Rowe cuts aluminum to camper plans
It's always good to spend a day in a factory observing the process, talking to the team about details, and generally absorbing a company's manufacturing vibe and culture. Even nearly seventeen years into this gig, it's still endlessly fascinating to be in a factory setting to learn.
So what's the vibe and culture at Phoenix Campers? It comes from the top. Cari and Robby are very relaxed, engaging, and focused and the team follows their lead.
It doesn't hurt that Robby has the ability to make a Phoenix Camper from start to finish. When we first visited Phoenix Campers in 2007, Robby was working by himself, making two campers at a time, and literally signing each unit as a reflection of his pride and craftsmanship. We've visited Phoenix Campers about a half dozen times since and we have always found Robby working in the factory. Maybe not every day and maybe not all the time, but he clearly loves building truck campers.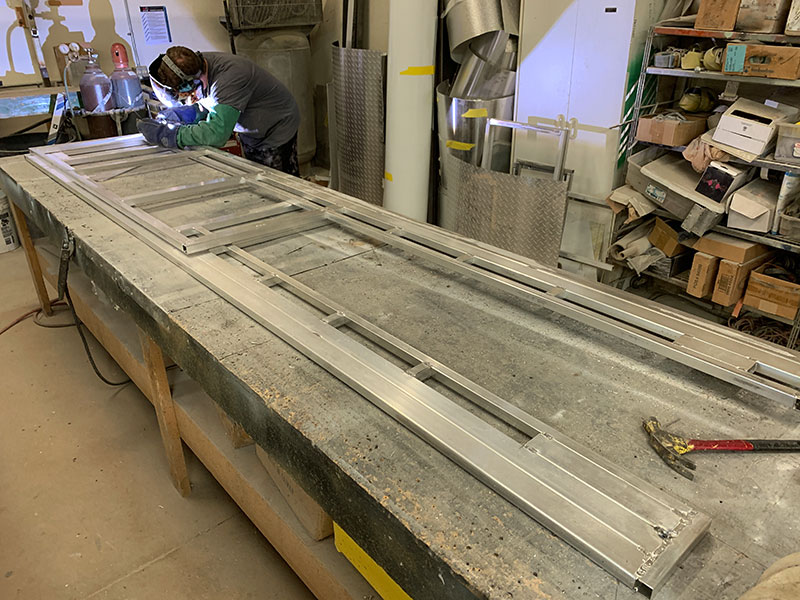 This time we found Robby cutting aluminum and welding a camper frame (see above). Since their founding, a signature feature of Phoenix Campers is their double-welded aluminum frames and cages. Specifically, every Phoenix Camper frame joint is welded inside and outside for strength.
In addition, Phoenix Campers uses angled aluminum corner gussets to reduce lateral racking and joint stress. Robby likens their completed frames to shark cages. I happen to be a Great White myself, and wouldn't dare attack a Phoenix aluminum frame.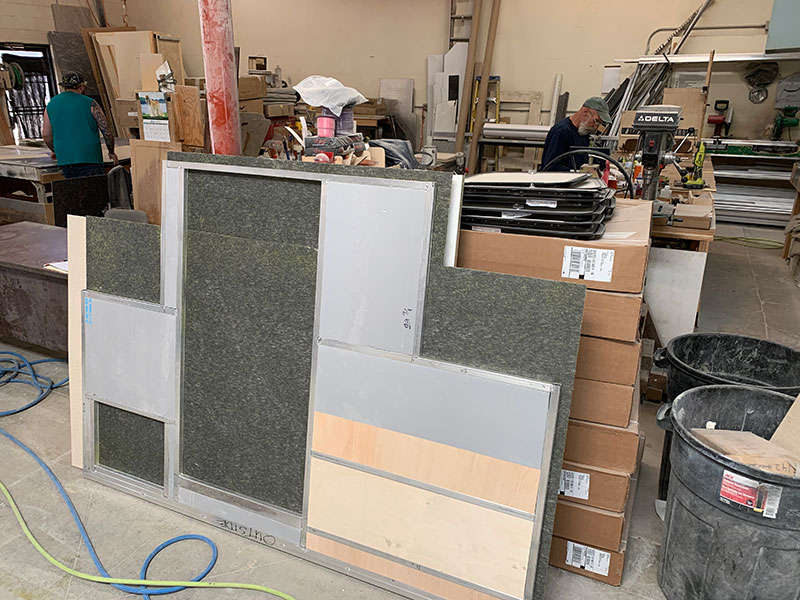 As I spent time in the Phoenix factory, Daniel completed an aluminum framed side wall with Azdel composite paneling, polystyrene insulation (Dow R5), and backing to support exterior weighted components.
The Azdel composite paneling is a good example of the gradual improvements Phoenix Campers has made over time. They also utilize Thermi-Lite fiberboard composite board to further eliminate wood from the exterior wood from the body of the camper.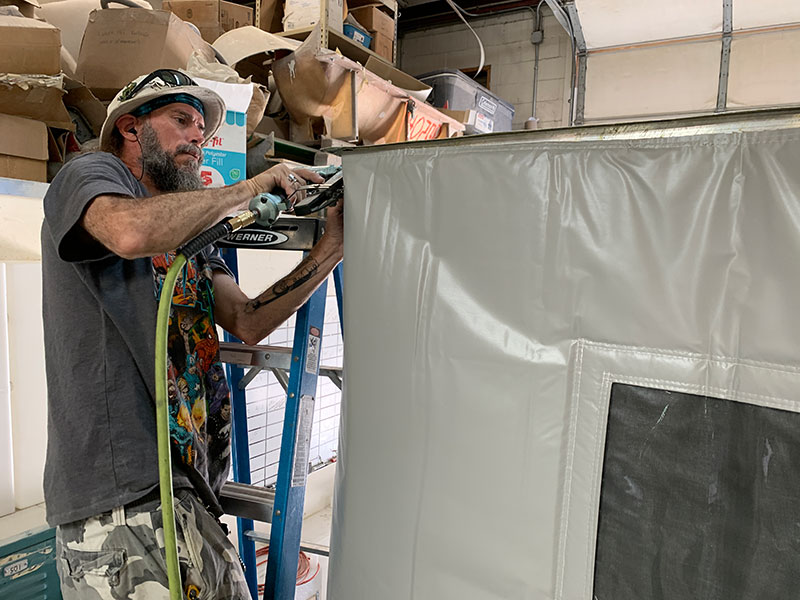 Toward the front bay doors we found Jr installing a soft wall. The soft walls in Phoenix Campers are a little more rigid than what we see from some competing pop-up manufacturers. For example, when you open a Phoenix Camper soft wall window, you have to fold the window material rather than roll it. This rigidity is due to the triple-layer liner which includes a double foil/single bubble insulation they use in their soft walls.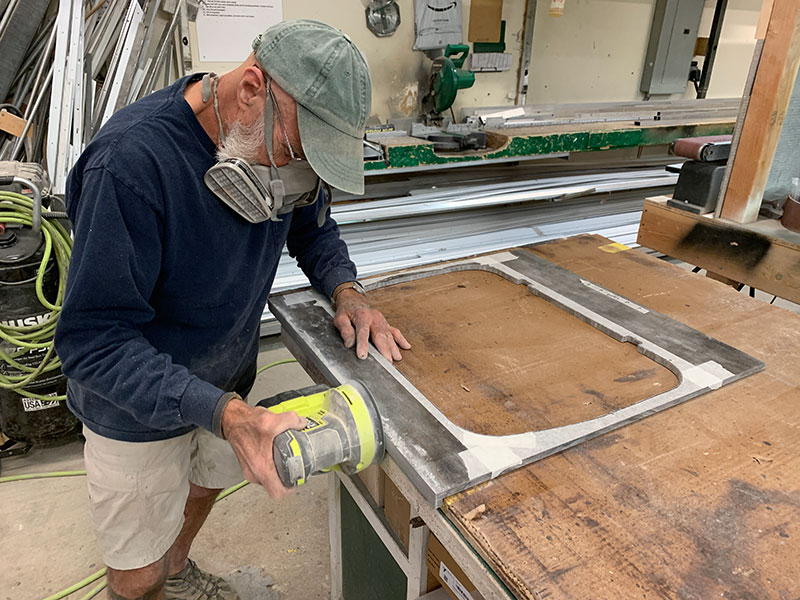 Another signature feature of Phoenix Campers are their solid surface countertops and tables. During our visit, Brian sanded a solid surface countertop with progressively fine-grit paper. He explained the process of cutting and preparing the material is very time-intensive, but yields spectacular results.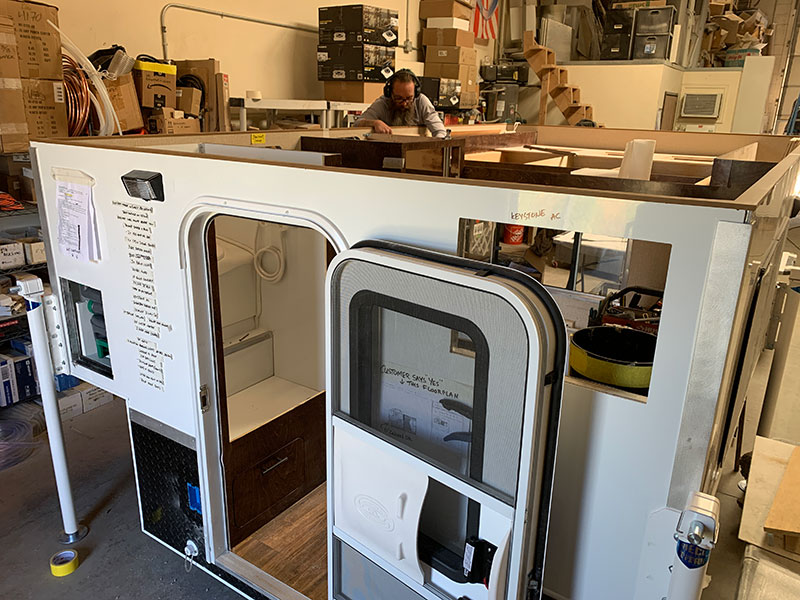 Phoenix Campers may have narrowed their product focus to specific models, but the options and available customizations within those models can be extensive.
Above, Mike is working on a camper interior with detailed paperwork attached to the unit. The paperwork contains the features, options, and any custom requirements the customer has selected. This is the old school, but effective way the Phoenix production team keeps which camper gets what features straight during the course of manufacturing.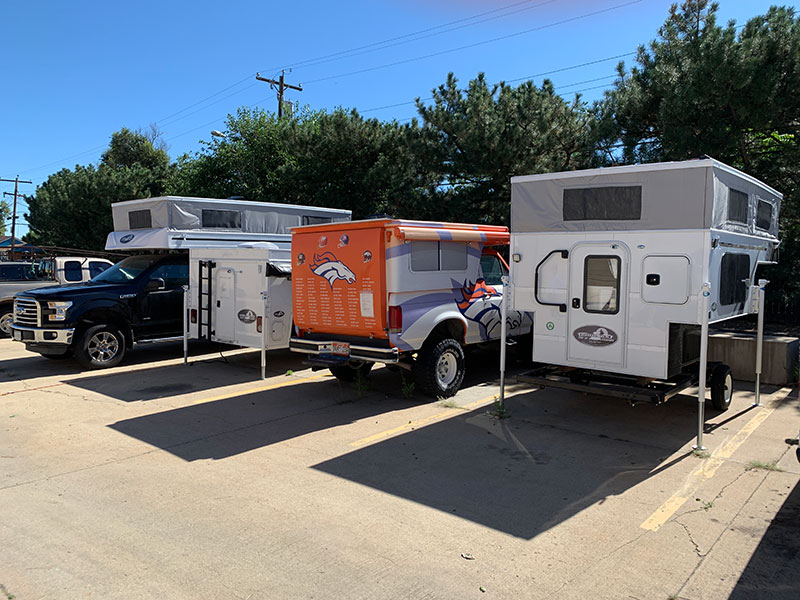 Outside of their production facility were new Phoenix Campers awaiting customer pickup, and a few used and (new) demo units for sale. You might recognize Robby's famous Bronco Bronco unit. And yes, it's for sale.
Phoenix Campers L2 Flatbed First Look
One of the demo campers in the row was a Phoenix L2 Flatbed model. Phoenix Camper had the unit mounted on a Ford F-150. It's intended for full-size trucks; half-tons and up.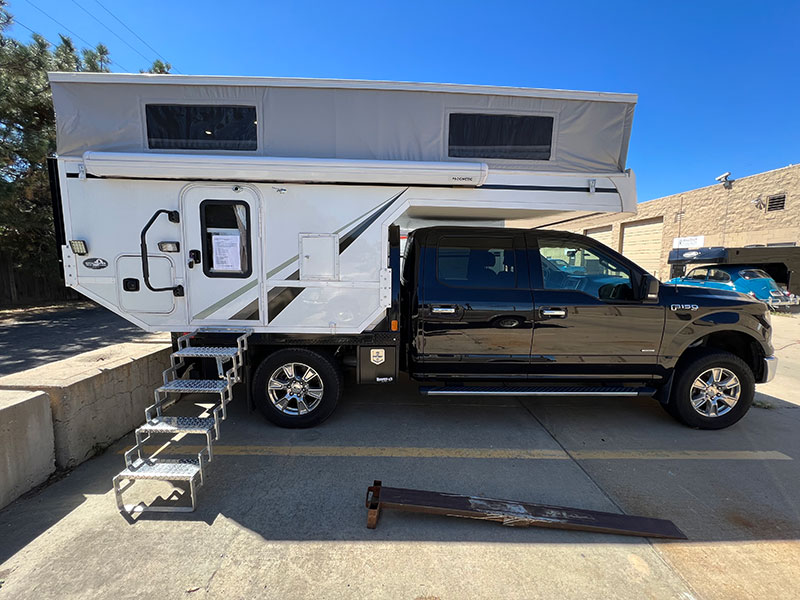 At first blush, the camper looked sharp with its wind-cheating fiberglass front nose cap, modern geometric graphics, monstrous 10-foot Dometic 9500 awning, and lower flatbed storage compartments. This rig would not be out of place with some of the showstoppers we saw at the Overland Expos this year.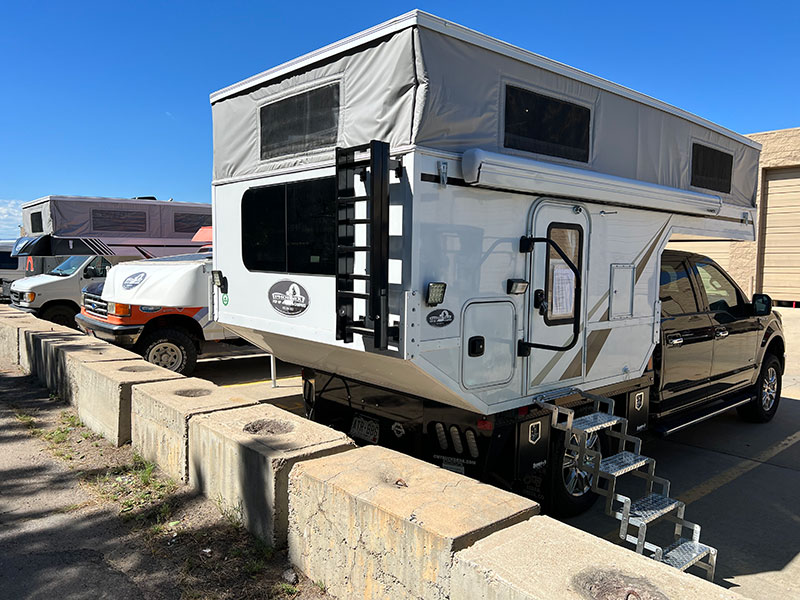 The rear of the unit features a Phoenix Lighten Up Ladder. The all-aluminum and welded Lighten Up is a product that Phoenix Campers has been making for their own units for years and decided to offer as a separate product.
You will also notice the rear departure angle. Robby grew up off-roading with truck campers long before overland was overland. His father, Dave Rowe, literally built the first Four Wheel Camper in 1973 and founded that legendary company in his family garage. With a half-century of pop-up camper building experience (1973-2023), Phoenix Campers are designed and built for off-road durability and performance.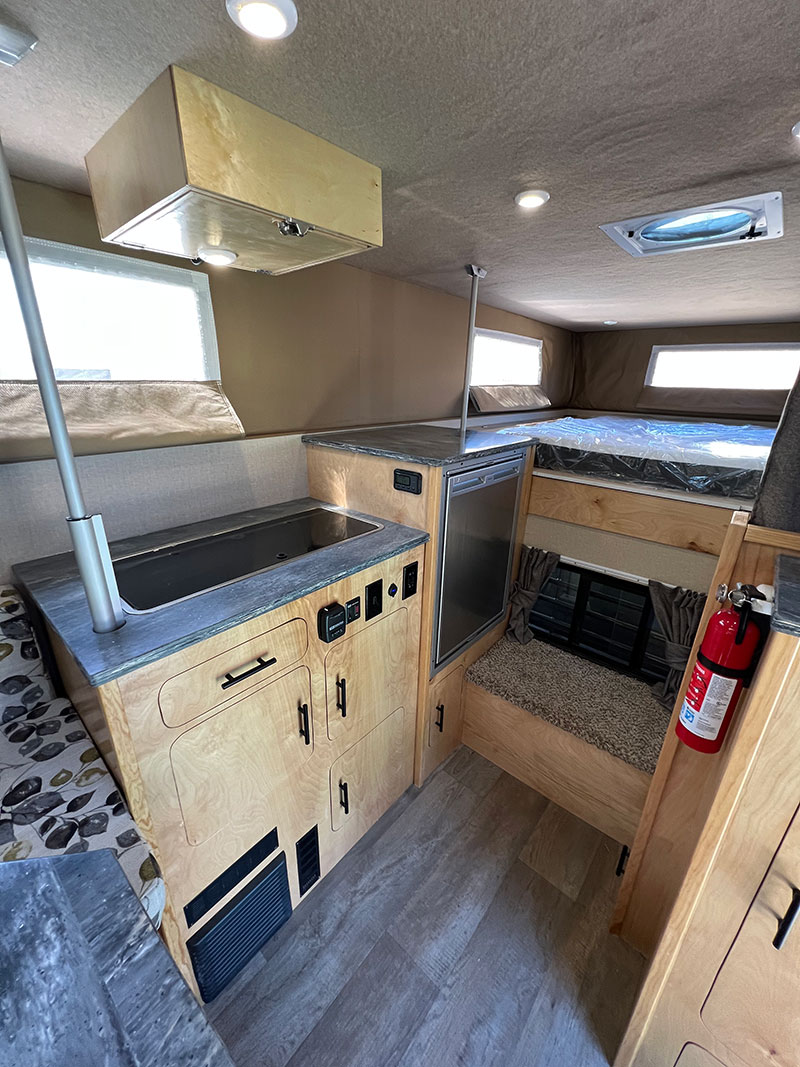 Stepping into the L2, I was presented with what impresses me the most about Phoenix Campers; Robby's ability to design all the features of a traditional truck camper (dinette, kitchen, bathroom, and cabover) into a short bed floor plan. He makes it look easy. Even better, he makes it look good and keeps things practical. Just look at the storage on tap in the kitchen area.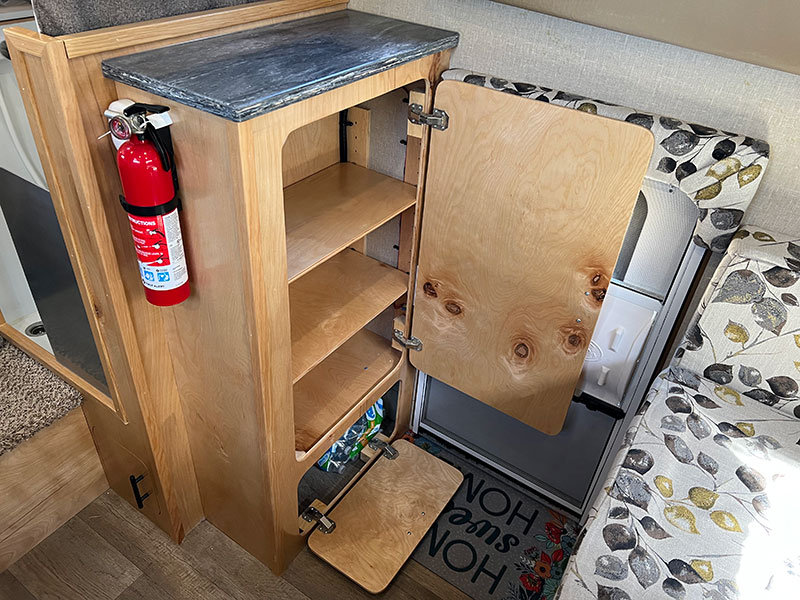 Speaking of storage, there's a cabinet just inside the entry door with movable shelves for anything from dry goods to clothing. I also appreciated the drop-down compartment door at the bottom for items that might be needed within reach of the doorway; small umbrellas, dog leashes, flashlights, etc. That's the kind of design touch that comes from real-world camping.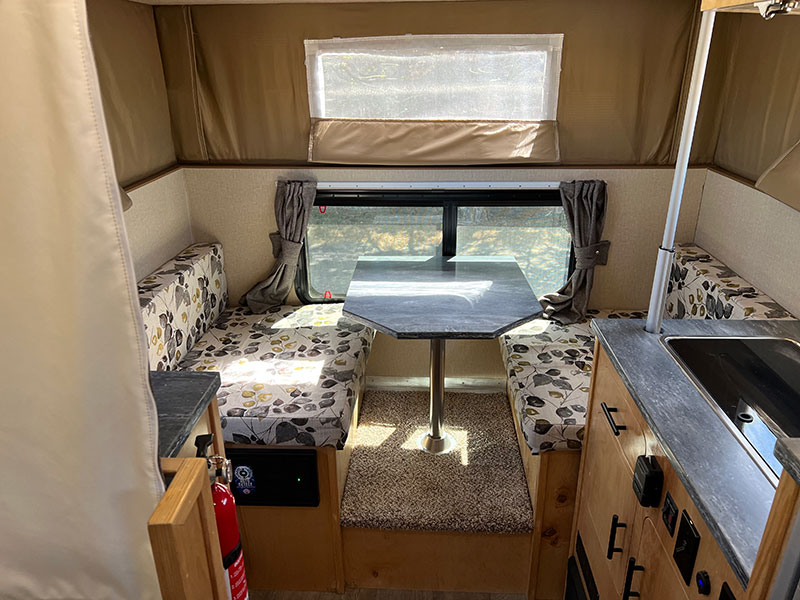 The rear face-to-face dinette was comfortable and offered a good amount of leg and table space. However, the lower window was at an odd height for viewing anything other than the ground behind you. The upper window was just low enough for me (at 6'3') to see out of. Shorter folks will be stuck looking mostly down, but they will appreciate all the light these windows bring in. Regardless, it's fantastic to have a relatively full-size face-to-face dinette in a short bed pop-up camper.
You may also note the location of the power center and fuse panel under the passenger-side dinette seat. This is a fairly easy spot to access this vital component. When things go wrong electrically in a camper, this is the first place to check.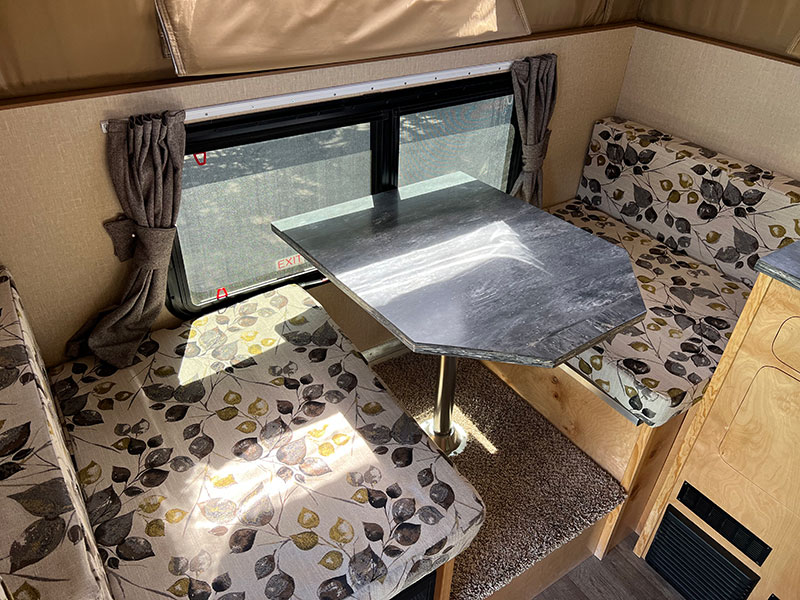 Phoenix Campers allows its customers to choose their fabrics, solid surface countertops, flooring, and more. The choices displayed in this L2 were coordinated well with a keen balance of modern and traditional aesthetics.
If this were our camper, we might ask that they leave the table a full rectangle for the additional table space. We may even ask if there's a way to get a slightly larger table overall. That's the kind of custom option that Phoenix Campers welcomes.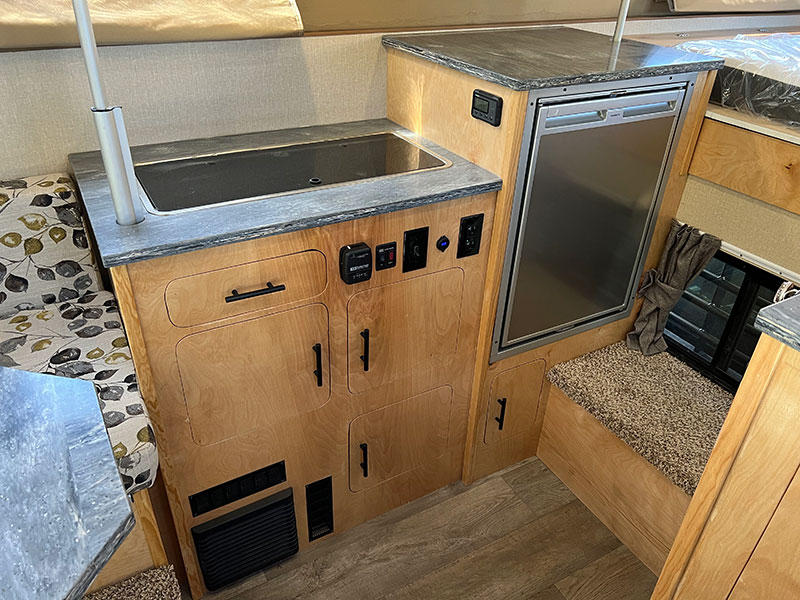 The kitchen showcases the kind of compact utility that Phoenix Campers has become known for. In this picture you can see the combination glass top cooktop and sink, upsized (from standard) Dometic 3.8 cubic foot 12-volt compressor refrigerator, propane furnace controls, water heater switch, 12-volt and 110-volt outlets.
The stainless steel, glass, and solid surface materials help to give the kitchen area a high-end presentation. Many modern homes use the same materials throughout their kitchens.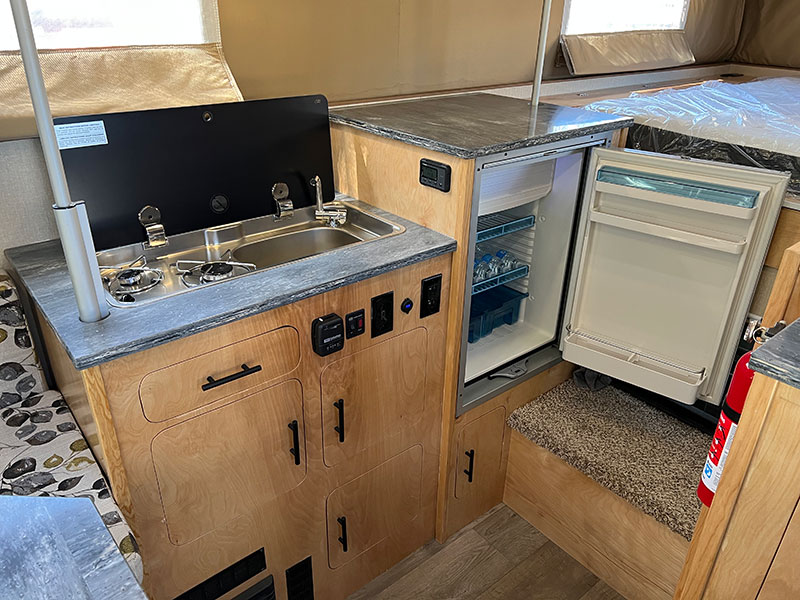 Look closely again and you'll see the electric lift mechanism emerging from the countertop (top right). This kind of detail is how Robby designs campers that have features you wouldn't expect in a camper this size. I also love the way the standard birch cabinetry has rounded drawer and cabinet faces; elegant and highly functional. In an industry that often lacks design personality, Phoenix Campers instantly stands out.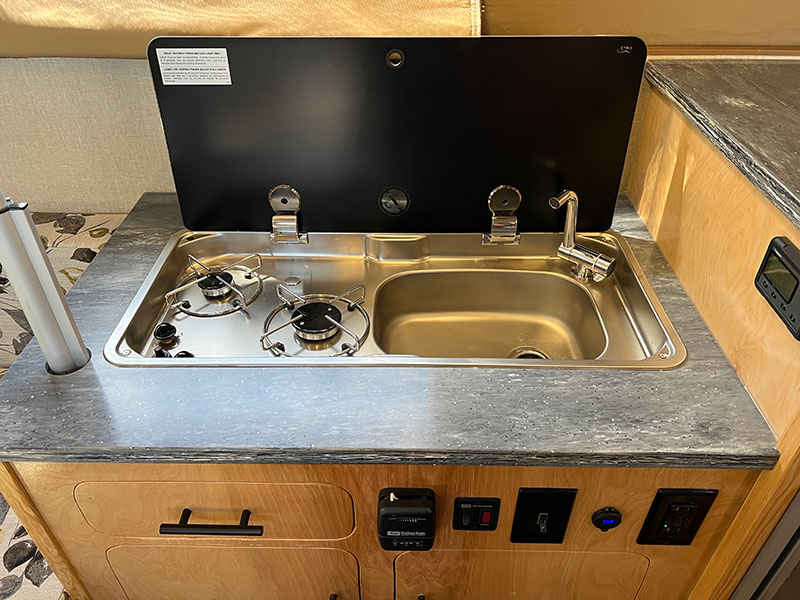 Combination propane cooktop and sink appliances have revolutionized the form and function of small camper kitchens. Here we have a larger example of this concept with two burners spread out enough to possibly be useful for two smaller pots/pans, and a sink that's large enough to wash small dishes, pots, and pans. Size your pots, pans, and dishes accordingly (small), and this efficient set-up should work well.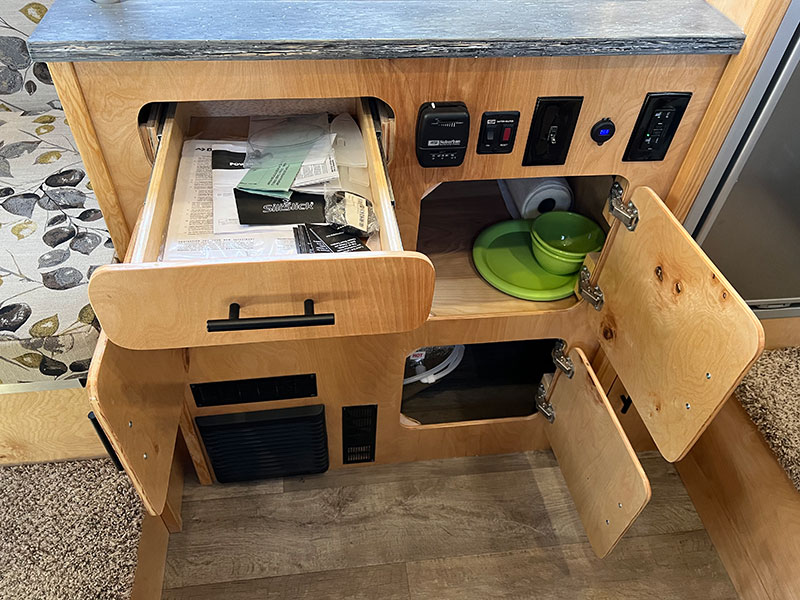 The Phoenix Campers team understands the importance of storage and has provided as much as possible in their L2 flatbed. Also, note the stainless steel cabinet hinges and drawer slides. This cabinetry is built to last.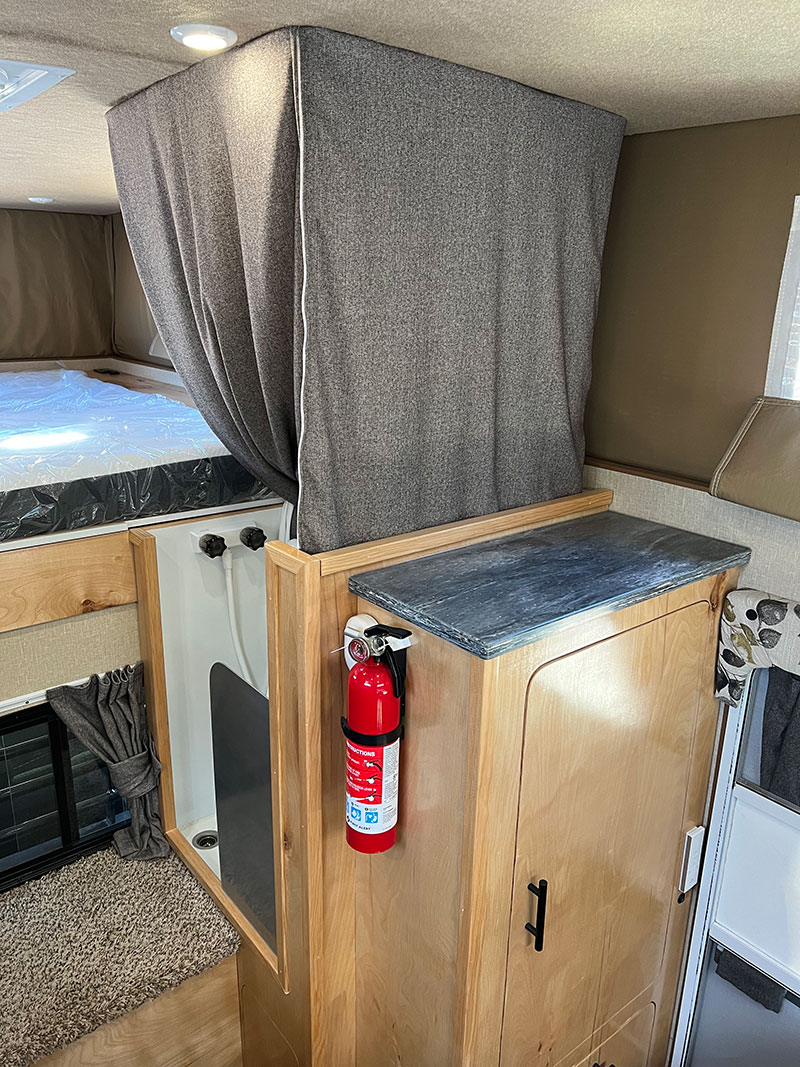 Directly across from the kitchen is a wet bath including a Thetford cassette toilet and shower. While not unique to Phoenix Campers, having a wet bath with an inside shower and cassette toilet in a short bed pop-up truck camper is incredible.
It's tight quarters in this wet bath, but all the functionality needed is on tap. I would recommend anyone looking at this camper to sit on the toilet to check the leg room and stand in the shower to check the height. Of course, that's our advice for every truck and camper. Have a seat.
The coordinated grey panel (center bottom), shower knobs, and privacy curtain help to make the bathroom a visually distinct area in the camper. There are a lot of camper manufacturers who tell us they can't put a decent wet bath in a small camper. This design disproves that and does it with style.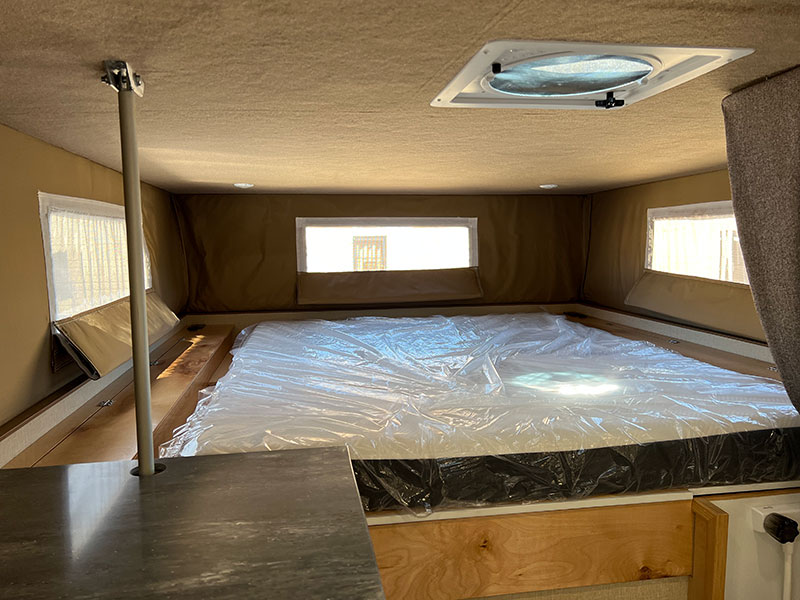 The north-south cabover has a queen-size mattress, two cabover-length hampers, and underbed storage that lifts with a gas strut. Having a north-south bed means not having to crawl over your significant other to exit the cabover, and creates more storage opportunities.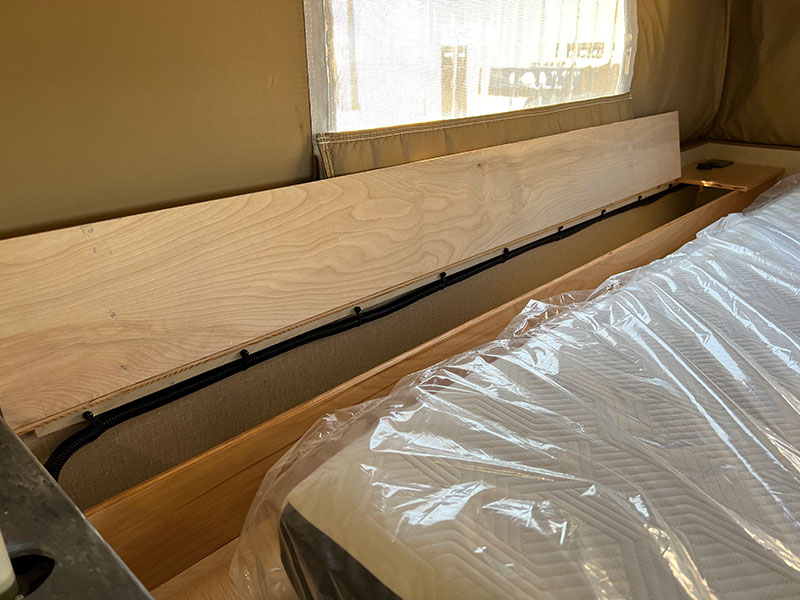 Speaking of cabover storage, the hampers on either side of the unit will swallow a lot of clothing and sundries. The hamper in our camper cabover is less than half this size and fits a ton of socks, underwear, books, and beyond. With the storage shown above, you could have shirts, pants, and even sweatshirts if you rolled them up.
Add the under-bed storage and you have at least as much storage as most folks (including us) have in our hard-side camper cabovers. Heck, you'd probably have more.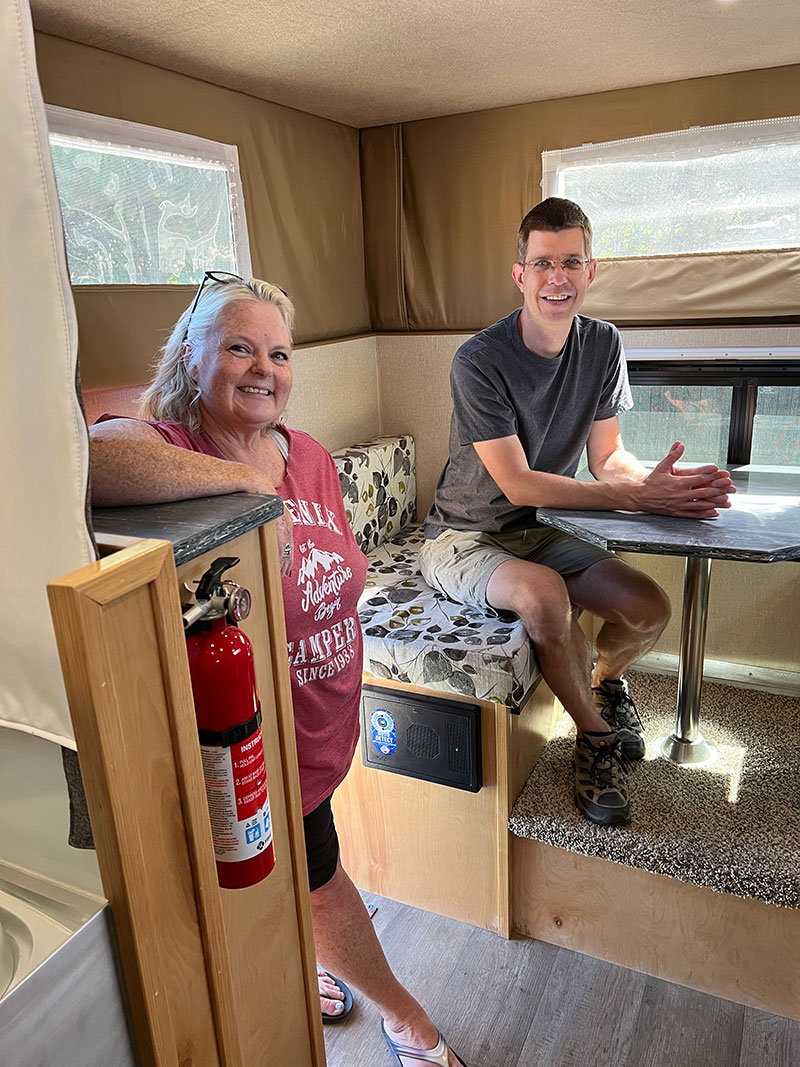 Angela took a picture of me and Cari in the Phoenix L2 Flatbed moments before the above photographs were taken. This shows the kind of space there is inside the unit. The L2 Flatbed is surprisingly open and comfortable; even with three adults in the camper.
An Important Conversation About Custom
During our visit, we had the opportunity to talk to Robby and Cari about how they're currently approaching custom orders. Over the past few years, Phoenix Campers has focused their offerings on seven proven slide-in and flatbed pop-up camper models, but they want Truck Camper Magazine readers to know they still offer a ton of customizations. They won't do anything, but, within the realm of their seven models, they have more custom capabilities than any pop-up camper company in North America.
Also from our conversation, we strongly suggest listening to Robby and Cari about what they recommend. Since they have built hundreds of custom campers for customers, they know what works, and what doesn't. Put another way, that new-fangled appliance or electrical component may seem like the best thing ever, but please listen to the Phoenix team carefully before making a commitment. With decades of custom camper building behind them, Phoenix Campers knows custom; what to do, and what not to do.
For Angela and I, the biggest surprise (other than Robby's awesome VW Beetle) was how we were comfortable in the L2 Flatbed. It's rare that we spend time in a camper other than our own and say, "We could do this." Having the face-to-face dinette, cassette toilet with privacy curtain, inside shower, nicely appointed kitchen area, and north-south cabover with ample storage really tipped the balance. We would struggle to adjust to the capacities, but the L2 Flatbed impressed us. Are we trading in our beloved 11-foot hard side? Nope, but we were tempted.
Click here to explore Phoenix's Build Your Own System.  Click here to request more information from Phoenix Campers.