Flatbed Conversion Kits turn any slide-in into a flatbed-compatible camper with enormous exterior storage. Lighten Up Ladders are a fully-welded aluminum alternative to mass-market RV ladders. It's a Phoenix double feature!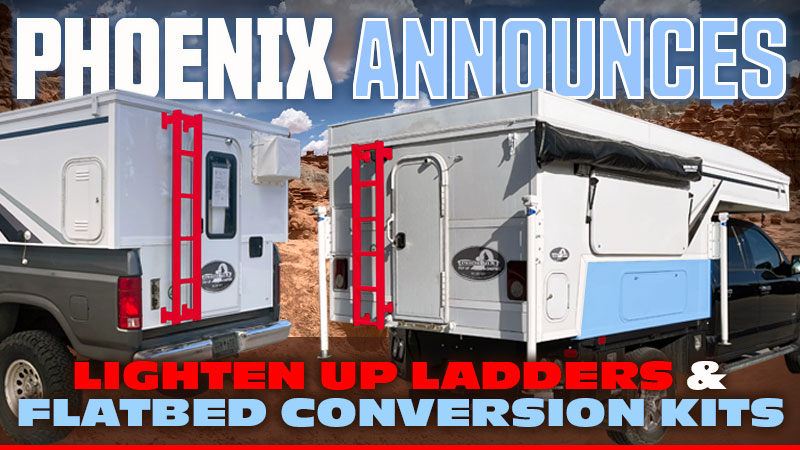 "Necessity is the mother of invention."
The Plato proverb came early in our interview with Robby and Cari Rowe, Co-Owners of Phoenix Campers, and accurately explains why we're talking about two new products from the Colorado pop-up camper manufacturer today.
Over decades of building truck campers for trucks other manufacturers wouldn't dare, the Phoenix Campers team needed to overcome many design obstacles and challenges. In that process, they developed solutions to make each truck and camper work. Some of these solutions were repeated and became part of the Phoenix way of building campers.
Phoenix Campers is now turning two of these proven solutions into products; Flatbed Conversion Kits and Lighten Up Ladders. Unlike their pop-up campers, you can order these products from anywhere and have them shipped directly to you for installation. Or you can visit the Phoenix team in Colorado and have them take measurements and install the product. The choice is yours.
Like nearly everything Phoenix Campers builds, the Flatbed Conversion Kit and Lighten Up Ladders address very specific needs within the truck camper and RV marketplaces. Have a slide-in that you want to use with a flatbed camper? Phoenix now offers the Flatbed Conversion Kit. Want a stronger and safer ladder on your truck camper or RV? Phoenix now offers Lighten Up Ladders.
To find out more about the Flatbed Conversion Kits and Lighten Up Ladders, we talked to Robby and Cari Rowe, Co-Owners of Phoenix Campers.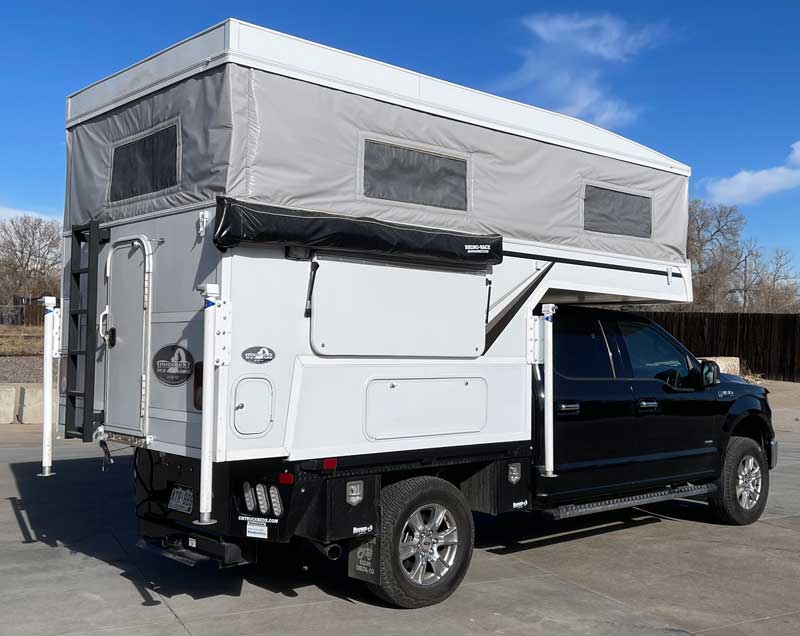 Above: A Phoenix Flatbed Conversion Kit installed with a slide-in camper and flatbed truck
Where did the Flatbed Conversion Kit product originate?
We built a demo slide-in camper sized for mid-sized trucks, but the overall camper was very well equipped. To properly support the size and weight of the demo camper, we matched it with a full-size half-ton flatbed with a riser.
When we put the slide-in camper on the half-ton flatbed, the exposed sides looked funky. To fix the presentation, we created the Flatbed Conversion Kit. Boxing in the sides and adding compartment doors gave the rig an enormous amount of exterior storage. It also made the rig look fantastic. Necessity, as they say, is the mother of invention.
More truck camper enthusiasts are matching slide-in campers with flatbeds and want the resulting rig to look right. Our Flatbed Conversion Kit not only makes the rig look sharp but also creates useful exterior storage on both sides of the rig.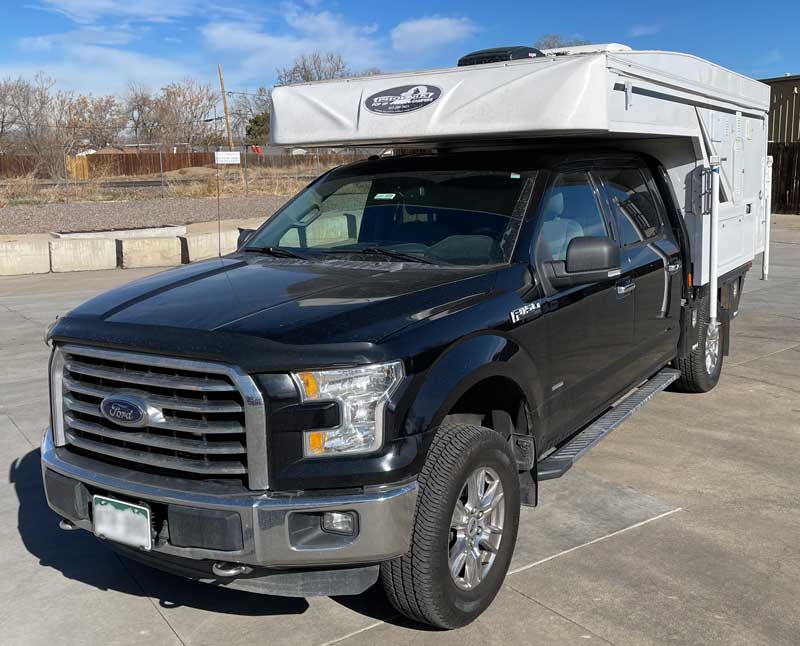 Why would someone consider the Flatbed Conversion Kit over storage boxes or a complete flatbed storage system?
At a similar price and lower weight, the Flatbed Conversion Kit gives your rig a nicer fit and finish. The popular generic storage boxes fit in the available space but don't continue the lines and dimensions of your camper or flatbed. The Flatbed Conversion Kit creates a more seamless-looking presentation.
We can customize a Flatbed Conversion Kit to emulate the finish of your truck camper whether it's flat fiberglass or aluminum siding. When completed, it will look more like a continuation of your camper body.
Another important advantage is that the Flatbed Conversion Kit does not require a permanent installation. The kit can be removed when your camper is not loaded on your truck, or if you decide to go to a slide-in again someday.
"Another important advantage is that the Flatbed Conversion Kit does not require a permanent installation."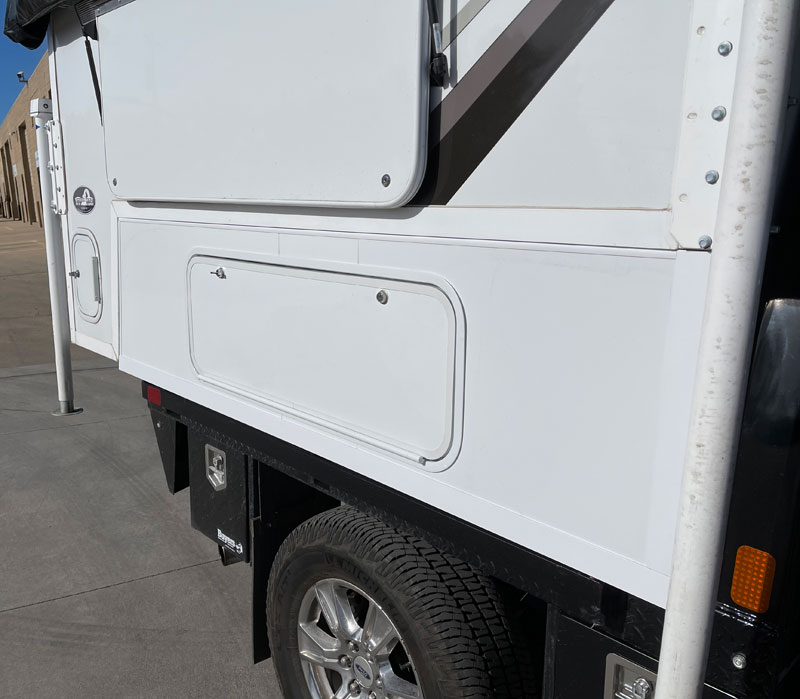 Above: The Phoenix Flatbed Conversion Kit (with the storage compartment door) installed under the wing of a slide-in camper
What are the Flatbed Conversion Kit panels and doors made from?
The standard version is made with 1/2-inch plywood with a thick fiberglass face on the outside and black exterior paint on the inside. Then we trim the product with powder-coated aluminum.
As an upgrade, we can use a SpaceAge Synthetics fiber-reinforced panel. SpaceAge Synthetics is a non-wood composite board, similar to Coosa, and is not susceptible to water intrusion.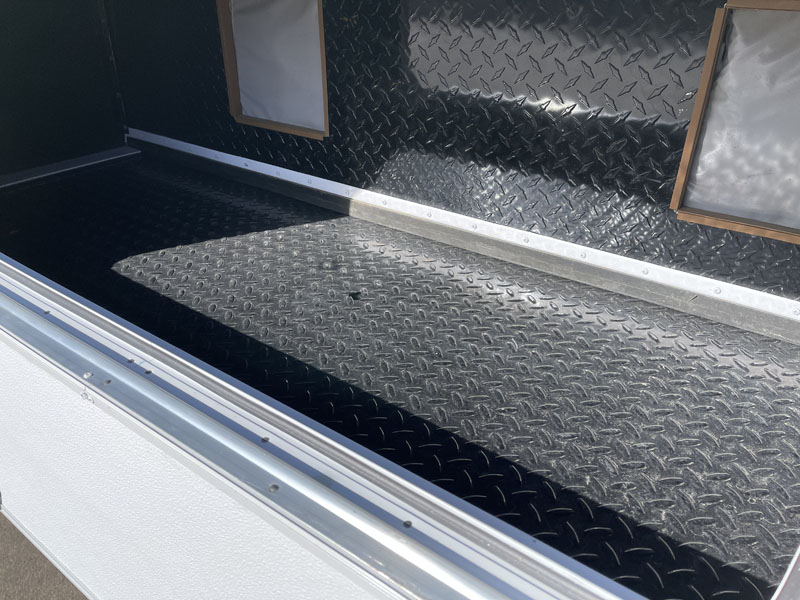 Above: The exterior storage created by the Flatbed Conversion Kit
How is the Flatbed Conversion Kit installed?
For a simple, sturdy, and lightweight installation, we use 1×1-inch aluminum angle that's screwed into the bottom of the camper body and then into the Flatbed Conversion Kit panels. The bottom of the panels have thick weather stripping that compresses against the flatbed.
The first time you install the Flatbed Conversion Kit panels, you may need to line the trim on the panels flush with the edges of the camper. That's a simple process of getting the panels in place and then putting in a few screws and then you adjust until you lock the location. It might take a customer 30-minutes to complete the first time installation, but then it should get easier and faster with each installation; especially with the screw holes set at the right points.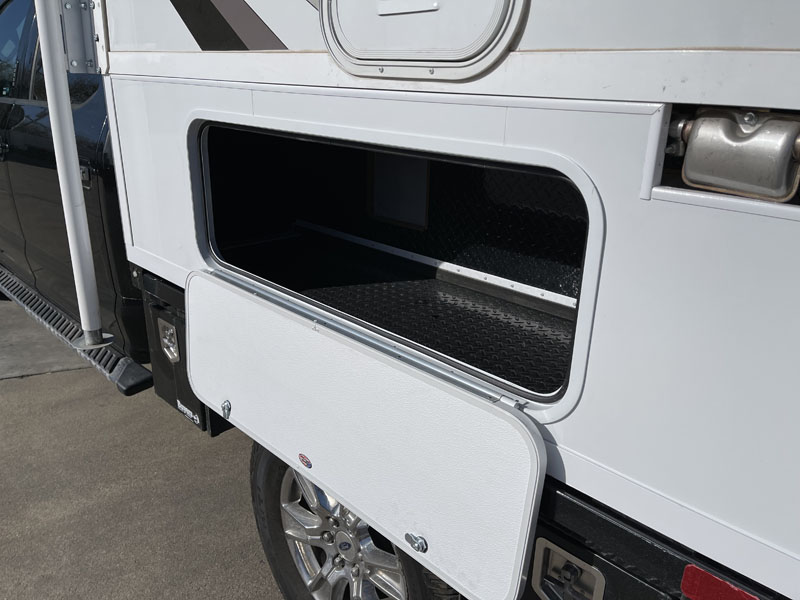 Are there any options for different compartment doors?
We can order different size doors, but we recommend the standard doors for overall strength and versatility. You can fit large items through the standard doors.
Another option is to hang the doors so that they swing down with chains to create a table. We did this with the demo camper and it works well.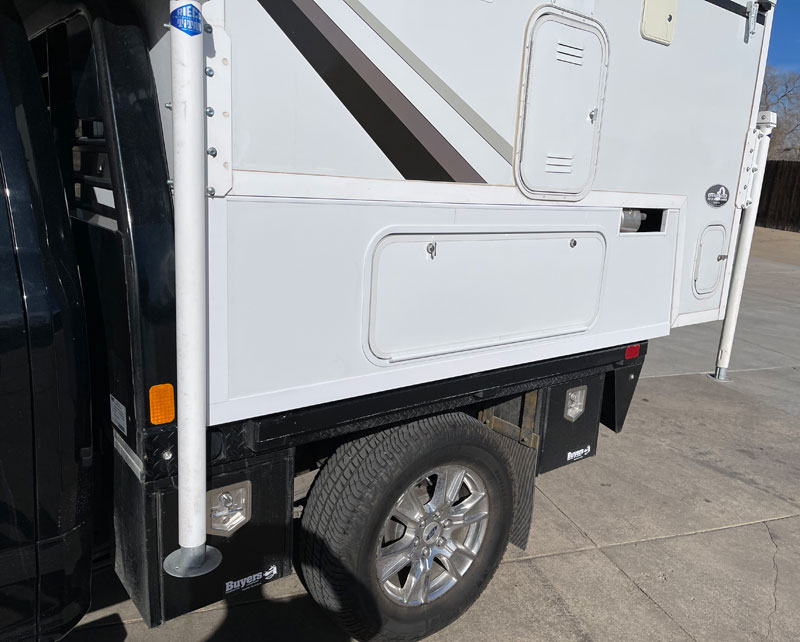 How does a customer order a Flatbed Conversion Kit?
To get the ball rolling, send us a short description and photograph of your truck, flatbed, and camper. For example, you might have a Ford F-350 with a 7-foot flatbed and a hard side camper and you want the camper finish style matched. With that information, we can figure out the needed materials and get you a quote.
From there we can work with you on the required measurements. Some customers take pictures with a tape measure against their rig. Some customers have complex curves that need to be worked with. For that situation, cardboard traces of the curves can be mailed to us. Both approaches work well. We have a number of ways to work with customers to make sure we get the measurements right. We make the process as painless as possible.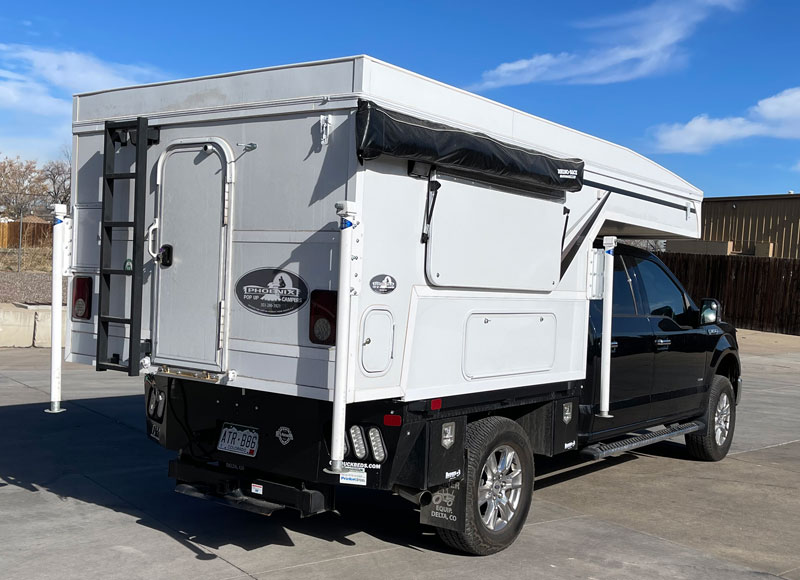 Are the Flatbed Conversion Kits one set price?
The standard Flatbed Conversion Kit is $1,200. The SpaceAge composite material would be a $250 upgrade. Special finishes including automotive paint jobs add about $1,000. Bigger doors, double doors, and the swing-down table would also be an extra charge.
Do customers need to come to Phoenix Campers to have the Flatbed Conversion Kit installed?
No. We can ship the kit to you. You can also come to the factory and have it installed.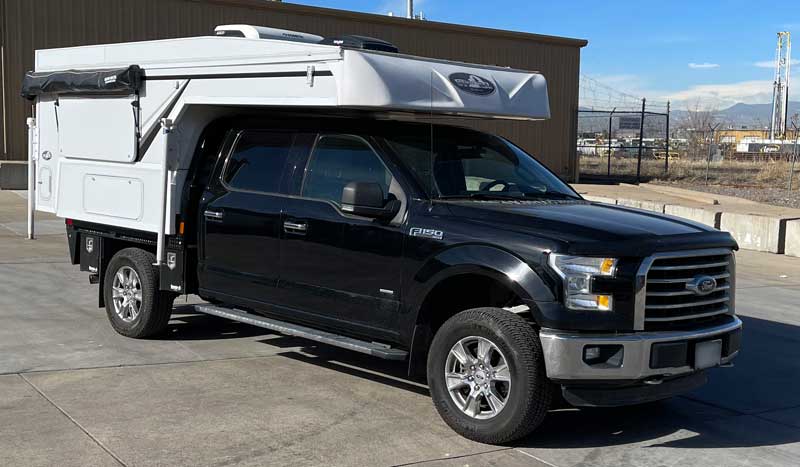 What's your turnaround time on the Flatbed Conversion Kit?
As of now, it's about 30 days. Delivery times vary according to the number of orders we have in process. We'll go over your delivery time on the day you place your order.
Is there a warranty for the Flatbed Conversion Kit?
We have a one-year warranty on manufacturing defects.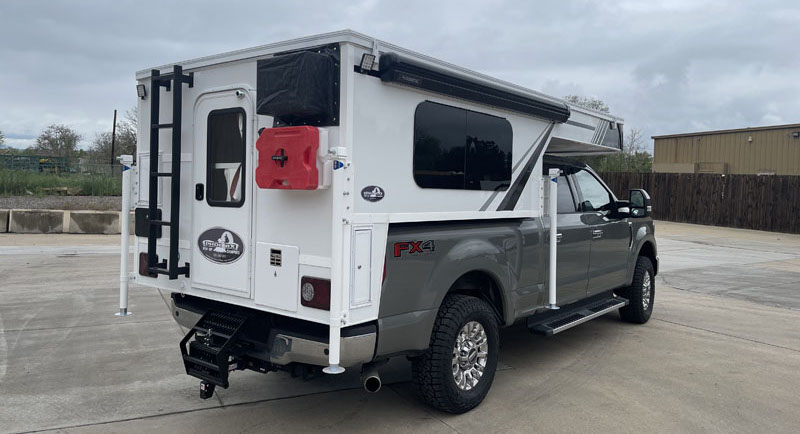 Above: A Lighten Up Ladder installed on a Phoenix pop-up camper
What's the back story on the Lighten Up Ladder?
We used to buy ladders from a national RV parts supplier that required that we order ten or twenty of a particular size. Since our campers are all different sizes, that didn't work for us.
When customers ordered campers with a ladder, we would custom build them one. Since we've been custom building ladders anyway, we figured we would make them available.
Is this product intended to replace existing ladders, or for campers that don't already have a ladder?
Both. If you are looking at replacing a ladder or you want a new custom ladder, our Lighten Up Ladder will work. For the existing ladder replacement, our mounting plates are extra large, so they should cover up old mounting points. It may look like you never had another ladder once our ladder is installed.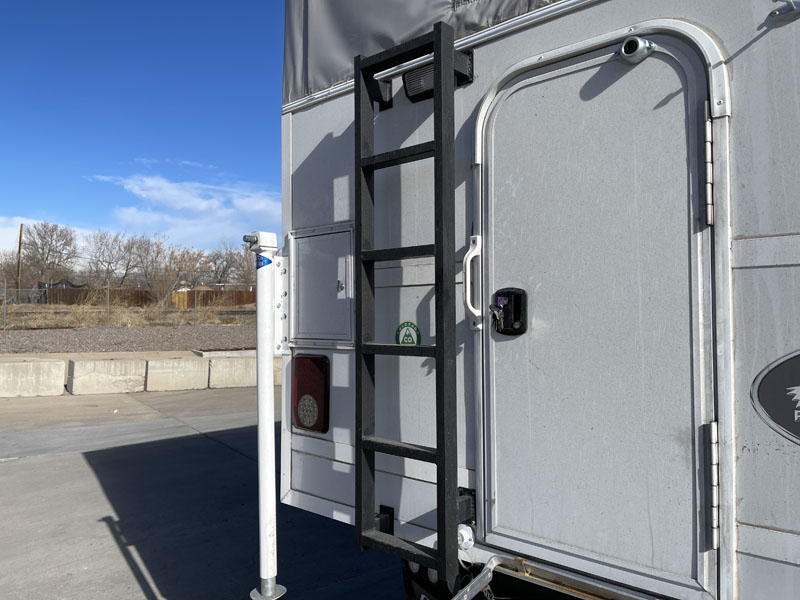 Above: Lighten Up Ladders are custom made for your hard side or pop-up camper
How are Lighten Up Ladders made?
We start off with high-quality 1×2 radius-corner rectangular aircraft-style aluminum tubing with no harsh square corners. Next, the ladders are welded all the way around. When a ladder is completed, it's powder-coated black and installed with our 1/8-inch by 2-inch aluminum mounting plates. They're exceptionally strong, lightweight, and trustworthy.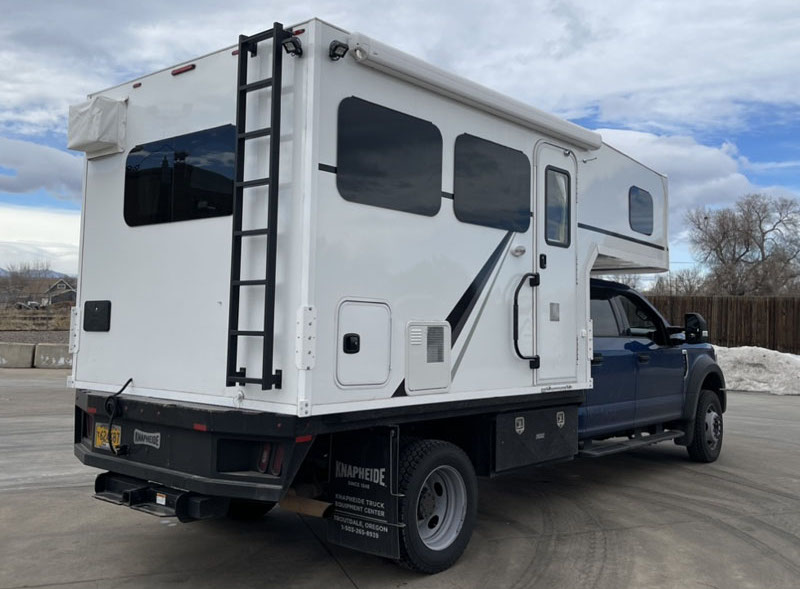 Above: A Lighten Up Ladder on a hard side Phoenix Camper
Are the ladders better than what you were getting before?
The ladders we used to buy had round tube runners on both sides and one screw on each side of the foot rung. A person's weight was supported by two screws. The screws are usually hiding under a plastic cap so you don't even think of it.
Those ladders are pretty trustworthy and I wouldn't worry if you have one, but our ladders are 1×2 and welded around the joint on both ends. They are welded to the runners and it solidifies the entire ladder as one big piece. It's similar in weight to the other ladders, but stronger.
If you own a hard side camper, you might want the wrap-over legs that go onto the roof. We can do that wrap-around for hard sides if you want to replace a ladder like that. The pop-ups make contact only on the top and bottom. We realize when you have a taller ladder that's 7-8 feet long, you need more mounting points, so we add another one about halfway. There are three sets on the wall and then on the wrap-over, so it will be strong.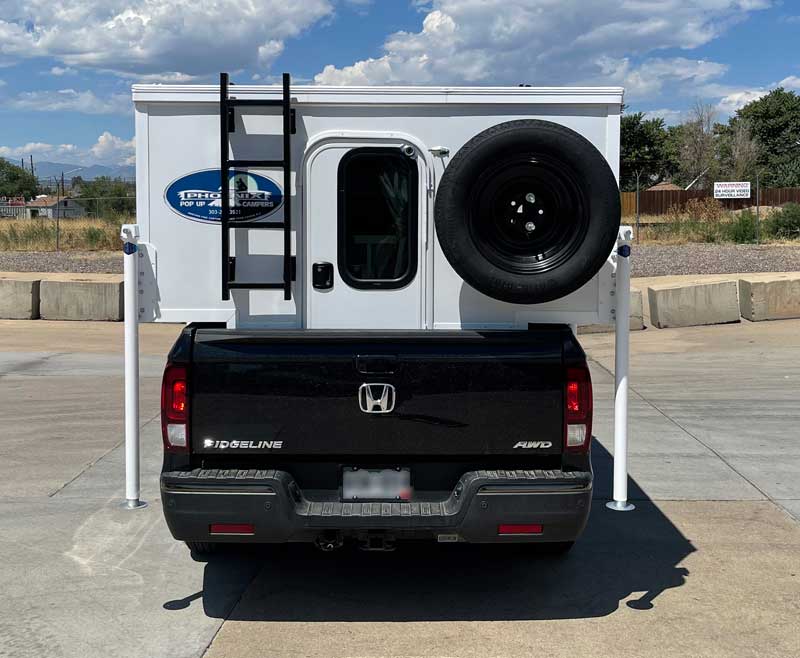 Are there any options for the Lighten Up Ladder?
We offer a simple ladder that you can customize the size and attachment points. There are no accessories included, however, most normal ladder attachments should work with our ladders.
We can also build you a folding ladder. Some of the new-fangled overland campers have departure angles up high. A traditional ladder stops at the vertical flat wall and then the bottom of the ladder is about 5-6 feet to the ground. We have done folding ladders where the lower section folds against the upper section and it folds down to use it. That is ideal for departure-angle campers.
How does a customer order a Lighten Up Ladder? What's the process?
You can contact us here or on our website and we'll send you a quote. There is a place on our website to view different ladders. You can figure out pricing there. You pay by the foot, a shorter 3' ladder is a lot less than a 5' ladder that goes up and over.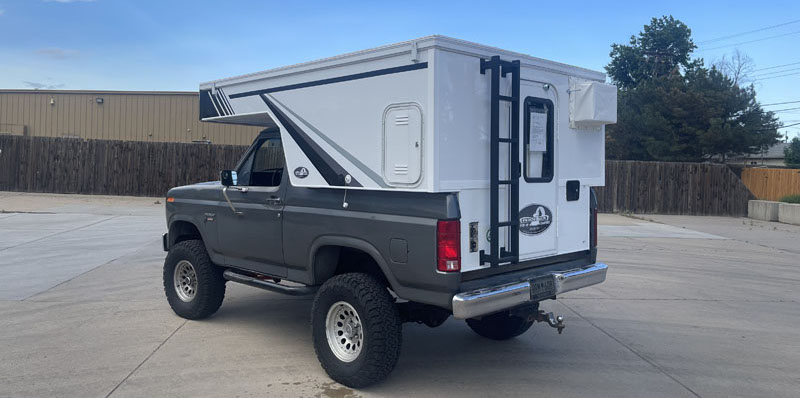 Are the Lighten Up Ladders one set price? What is the price for a Lighten Up Ladder?
The price of the ladders is $89 per foot. For now, we're throwing in simple customizations like the wrap-over-to-roof or if the ladder needs one side longer than the other for an angled upper wall.
For a fold-up ladder, like on the back of a departure angle camper, or for a super high truck, the price is by the foot for the total extended ladder length, plus $50 for the folding apparatus/hardware.
You can also check out our website lightenupladders.com website. At the top, there is an icon labeled "sizing and pricing".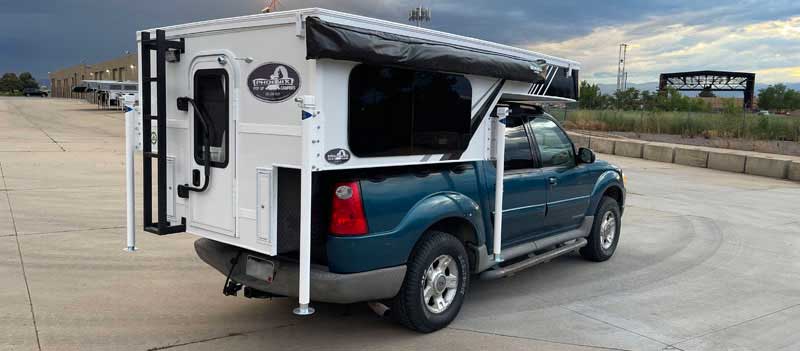 Do customers need to come to Phoenix Campers to have the Lighten Up Ladder installed?
This is definitely a box-and-ship product. If you want to make an appointment and have us measure it, that's fine. For the most part, you order it and we ship it to you. For the ladder, after the custom measurements are sent in, at present order levels, it takes about a week to manufacture. Then, we'll ship it to you.
When it arrives, to install it, you put a small amount of silicone glue on the backside of the mounting plate, rest it against the wall, and screw it on or bolt it through the wall for an even stronger installation.
Is there a warranty for the Lighten Up Ladders?
They have a one-year warranty on manufacturing defects.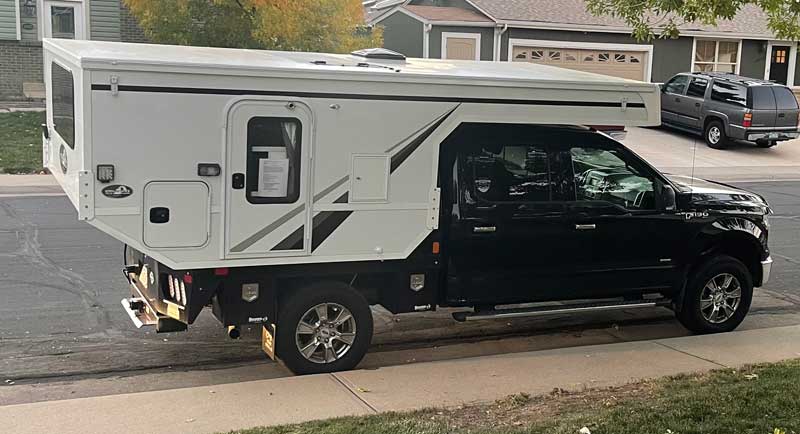 Above: The 2022 Phoenix Demo 8.5 Flatbed L2
Is there anything else about the Flatbed Conversion Kit or Lighten Up Ladder products that you'd like to add?
That covers the two products, but I want to tell your readers about three specially-priced Phoenix Campers we have ready to go.
The first camper (shown above) is a new and well-equipped 2022 Phoenix L2 flatbed that comes with a full warranty and a huge show demo discount. It's 8.5-feet long and includes a restroom with a toilet and shower, refrigerator, furnace, water heater, stove, front-to-back cabover sleeper, and more. It needs a full-size truck and a 7-foot flatbed. As a new demo unit, it comes with our full warranty.
The second camper (shown above) is another new demo Phoenix L2, but this one is for a full-size 5.5-foot or 6-foot short bed truck; Ford F-150, Toyota Tundra, etc. This L2 also has a restroom with a toilet and shower, refrigerator, furnace, water heater, stove, and queen-size cabover bed. Again, this demo L2 comes with our full warranty.
The third camper (shown above) is a very lightly used super duper deluxe, 8-foot Phoenix L2. It has a 7 cubic foot refrigerator, television, convection oven, induction cooktop, front-to-back sleeper, and a lot more.
All three Phoenix campers are on our website and are available now with considerable discounts.
Click here to request information about Lighten Up Ladders and/or Flatbed Conversion Kits.