If someone said you were "Wonging" you might take offense.  That is unless you're Alex Paquin, and it's so right to be Wong.  Clearly, Elvis has left the pavement.

Alex Paquin uses his Phoenix camper like Superman uses a phone booth.  Faster than a speeding bullet, Alex dashes into his Phoenix camper and emerges with his mountain bike to hit the trails with more power than a locomotive.  In a flash, Alex returns to his Phoenix camper, feeds his trusty sidekick Nooka, and darts out to climb mountains and leap tall boulders with a single bound.  Back from the boulders, Alex races into his Phoenix, changes into a super wet suit, and goes kite surfing across the waves and into the air.  Look!  Up in the sky!  It's Alex Paquin!
Okay, we made all that up.  But Alex really is a kite surfer, mountain biker, and rock climber.  He's also a talented musician, successful entrepreneur, and an avid truck camper.  But that's all this about Elvis Wong?  The only one who can straighten this out is Alex himself.  It all starts with a toy hauler.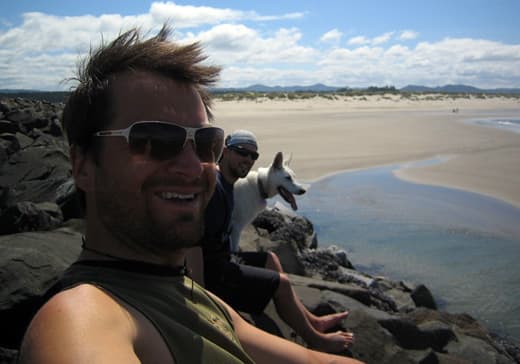 Above: Alex Paquin, his friend Kevin Hatch, and Nooka in Florence, Oregon
TCM: How did you get into truck camping?
Alex: I had a toy hauler for a couple of summers.  I didn't like the fuel economy of towing the toy hauler, plus it really didn't fit my lifestyle.  With the toy hauler, I always had to plan where I was going.  I didn't like having to pay for a campground every night where I was stuck with 1,000 different people.  Camping with the toy hauler was a nightmare.
That's why I got a truck camper.  I laughed last summer because there was a big line of people at the Oregon sand dunes trying to get camping spots.  The truck camper works way better.  I can go everywhere, camp anywhere, and I am never concerned about turning around.  If your truck can go, you can go.  When I had the toy hauler, I always had to have a plan.  With my camper, I'm free.
Around British Columbia, where I live, there are a lot of dirt roads going through wild places.  We explore these areas, camp for the night, travel for a bit the next day, and camp for the night.  Our home is everywhere rather than renting a camp site every single time.
TCM: What led you to a Phoenix pop-up truck camper?
Alex: Wind resistance is important to me.  I am a kite boarder, so I go to really windy places.  The places I go rock my truck like you wouldn't believe.  I could have bought a diesel and a hard side truck camper, but I like the overall height of my rig.  It has a low profile and gets into tight places.
The molded front nose of the Phoenix is aerodynamic which minimizes wind resistance.  Overall, gas consumption is probably 20% different with the camper loaded, which is pretty substantial, but it was 50-60% different with the toy hauler.
TCM: Do you miss the storage you had with your toy hauler?
Alex: Honestly, I don't feel any more constricted in the Phoenix than I did with the twenty-four foot toy hauler.  I took the back seat out of my truck and now have the back area of the truck for all of my music equipment, which includes multiple drums and instruments.  I also have big speakers, a full PA, and a mixing board.  It took me hours to figure out how to pack it.
I also have all of my kite boarding, rock climbing, and mountain biking equipment in my rig.  It must be super roomy to fit all of that.
My bikes fit on the rack on the back, my boards and kites are in the Thule rack on the roof, my climbing, biking and kiting gear fit into their respective bins, which are lined up over the pantry\closet unit inside the camper gear. It took a bit to figure out, but it was well worth it since I have an open camper and uncrowded feel.
TCM: Tell us about your custom Phoenix truck camper.
Alex: I have a kitchen, toilet, shower, hot water, dual propane tanks, and windows all the way around the pop-up section so I can feel like I'm outside.  I get a good breeze through and lots of light.  I have a Thule rack on the roof for my kite boards.  It's convenient to have them on the roof and not on the camper floor.
Three full grown adults can be in my camper playing cards.  There's plenty of room.  I also have a tail light skirt area that locks for extra gear and a bike rack hitch on the back of the truck.  Part of the bike rack hitch goes flat and provides me with a nice step to get into the camper.
TCM: Kite surfing the Oregon coast looks amazing.  How did you learn to do that?
Alex: I have been kite surfing now for three years.  I'm really committed.  I got into kite boarding when I saw it in 2003 for the first time.  I thought it was cool, but left it alone.  A few summers later, I went to Oregon to rock climb, and saw people kite surfing again on the Columbia River at Hood River.  I went to the wind surfing shop there, and they sold me a trainer kite and DVD.  I thought I'd give it a shot.
Then I asked around and bought some old kites off of somebody, booked a trip to Mexico, got a few lessons from Elevation Kiteboarding in La Ventana, and away I went.  I've probably been kite surfing 300 days since I started three years ago.  My main spots are near where I live in southern Alberta.  Those are the go-to spots where the wind is consistent and offers world class lake sailing.
I like to go to the Oregon coast in the summer and spend a couple of weeks.  In southern Oregon there are some really good places to go.  It's cold, shark infested water, but it's really good action, with strong consistent wind.
I also go all over Vancouver Island.  There are a lot of different spots on the western Canadian coast, it is a pretty rugged place. I'm always exploring, trying new places and spots.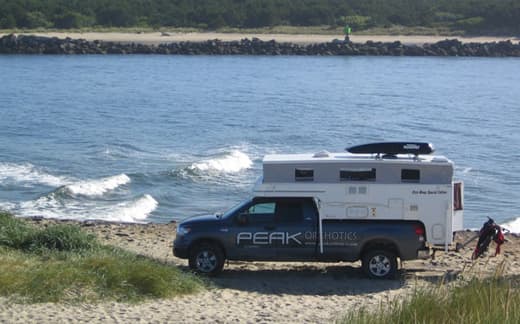 Above: "Wonging" at the south Jetty in Florence, Oregon
TCM: Do you take your truck camper for these kite boarding adventures?
Alex: Yes, the truck camper works perfectly for kite boarding.  I take the truck camper wherever I go.  For the simple things like changing into my wet suit, my truck camper base camp is right there.  It's a warm out of the wind place to change.  We surf in some horrible conditions where it's just above freezing, so having a shelter is crucial.  I even launch my kite right off of my camper.
TCM: You own your own business.  Do you work while you're on the road?
Alex: I own a manufacturing business.  When I travel, I am still able to see all of our orders, review every single order, approve them and send them to the shop from anywhere.  I just have to be in cell range.  It is great.
Pretty much all the billing and bookkeeping can be done on the road.  Being self employed, I couldn't take three months off last summer.  I'd work a good session every few days.  I was in my camper reviewing orders in the morning, having coffee, playing outside in the afternoon.  It was pretty cool.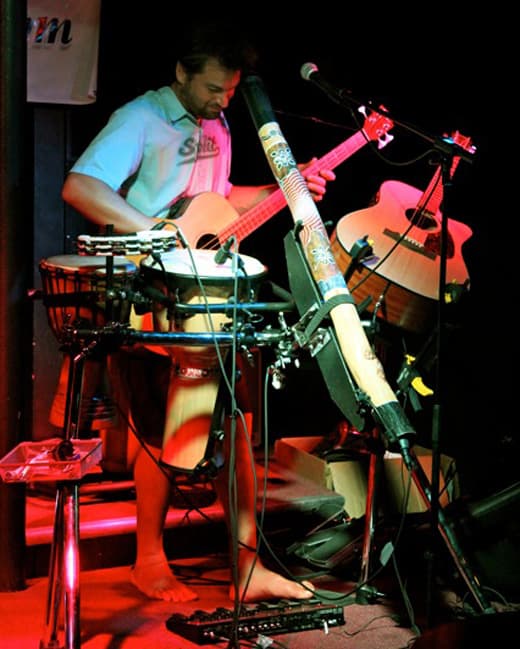 Above: Alex playing live in Port Albernie, British Columbia
TCM: You're also a musician.  Do you use your camper when you play?
Alex: I'm a singer, songwriter, and one man band. What I do is called multi instrument live looping, which is where I record a track on the spot, play it back on itself, switch instrument, and keep building songs in this fashion. Most of my songs are originals, but I do play covers.  Then I throw in a few of mine.  I performed probably a dozen shows last summer, and then a bunch of around the campfires.  That's probably my favorite place to play with a few people with guitars.  We have a good time.  Music is all about fun and I have a good time either way.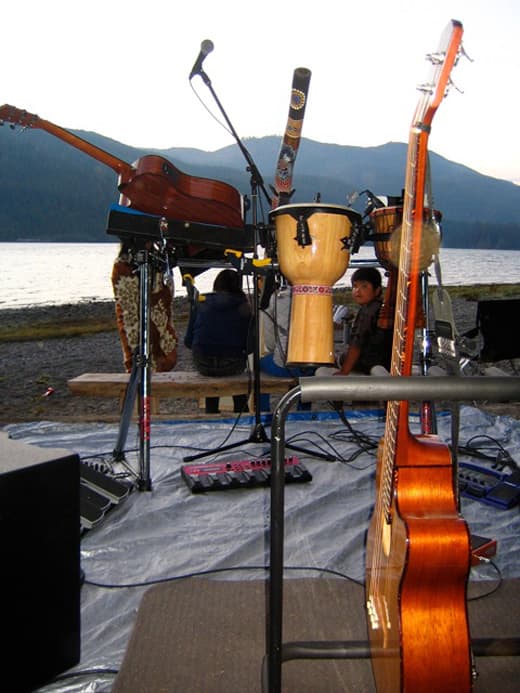 Above: Windfest getting ready for a show
Check out Alex's music site at www.alexfrog.com.
Above: Alex's dog, Nooka

TCM: How does your dog, Nooka, like camping?
Alex: Nooka loves camping!  She travels with me everywhere.  My dog has a lot of energy and is a positive puppy.  She's a two year old white shepherd that has an amazing knowledge about where home is, and she knows it's the camper while we're on the road.
TCM: What does she do while you're out kite boarding?
Alex: If our set-up is safe, she can stay out and play while I'm out surfing.  Nooka goes off on her doggie adventures while I'm kite surfing and, a couple of hours later, we meet up again.  I'm not going that far.  The best waves are fairly close to shore.  Usually I go out for an hour session, and then come in for a break.  I'll do that three or four times a day.  If there are lots of people near by, I'll leave her in the camper with lots of water and ventilation.  The camper really doesn't get hot where we camp.  Nooka is pretty much the happiest dog alive.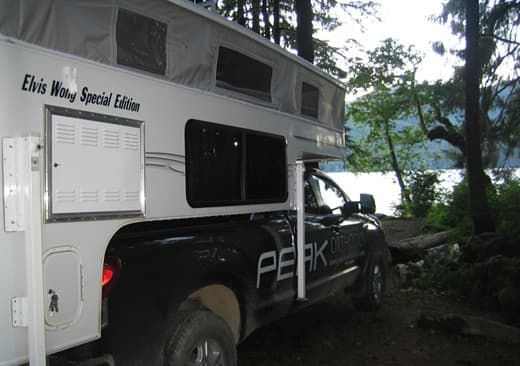 Above: The Elvis Wong Special Edition at Nitinat Lake, Vancouver Island, British Columbia
TCM: I saw that your camper is called, "Elvis Wong Special Edition".  Where did that name come from?
Alex: I'm a French Canadian from Quebec.  Elvis Wong originally comes from an old Quebec film back in the days of the Elvis impersonators in the mid 80s.  In the film, Elvis Wong showed up, stunned everyone, and became the guy everyone wanted to be.
Between my group of friends, Elvis Wong became an inside joke.  For us, "Wong" became a verb, like "Wong-ing" is an activity, like a way of life.  Elvis Wong is the guy that is there before you, doing what you want to do in front of you.
So I want to be Wonging everywhere in my life.  This camper was perfect for Wonging; you are there before everyone else, and you are there are as everyone is showing up.  This camper makes Wonging a reality.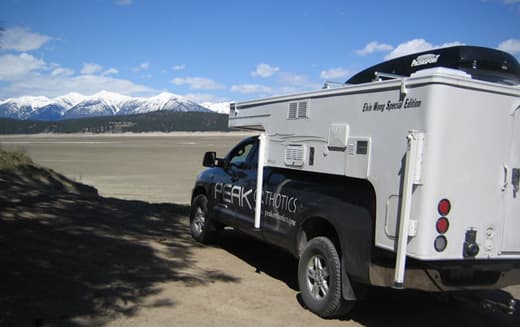 Above: Around Fernie, British Columbia; pretty spot overlooking the Columbia Valley and the south Rockies
TCM: That has to be one of the most unique answers in the history of Truck Camper Magazine.  Quite funny, and somehow, profound.  Is there anything else that you would like to add to your interview?
Alex: Last summer I went on a three month trip with my camper promoting my music, kite boarding, and other fun stuff.  I also brought my mountain bike and went rock climbing.  It was fun to have it all, enjoy the places I was at, and then move on.
To me, the camper is a crucial part of the experience and lifestyle I want to live.  The camper is an extension of my lifestyle.  It completes what I do so well.
Financially, the camper saves me money.  My whole camping bill and fees all last summer for three months was $100 dollars.  I made a game out of it for fun.  If I could Wong, I did.  It saved me a ton of money.
I'm getting ready to go out for the first time in 2012 this weekend, and I'll use the camper until late November.  It's my freedom machine, my base camp wherever I go, whether I'm rock climbing, kite surfing on the water at the spot, mountain biking, or playing music.  It's a no brainer, and it's a very enjoyable experience.