If someone said you were "Wonging" you might take offense.  That is unless you're Alex Paquin, and it's so right to be Wong.  Clearly, Elvis has left the pavement.

Alex Paquin uses his Phoenix camper like Superman uses a phone booth.  Faster than a speeding bullet, Alex dashes into his Phoenix camper and emerges with his mountain bike to hit the trails with more power than a locomotive.  In a flash, Alex returns to his Phoenix camper, feeds his trusty sidekick Nooka, and darts out to climb mountains and leap tall boulders with a single bound.  Back from the boulders, Alex races into his Phoenix, changes into a super wet suit, and goes kite surfing across the waves and into the air.  Look!  Up in the sky!  It's Alex Paquin!
Okay, we made all that up.  But Alex really is a kite surfer, mountain biker, and rock climber.  He's also a talented musician, successful entrepreneur, and an avid truck camper.  But that's all this about Elvis Wong?  The only one who can straighten this out is Alex himself.  It all starts with a toy hauler.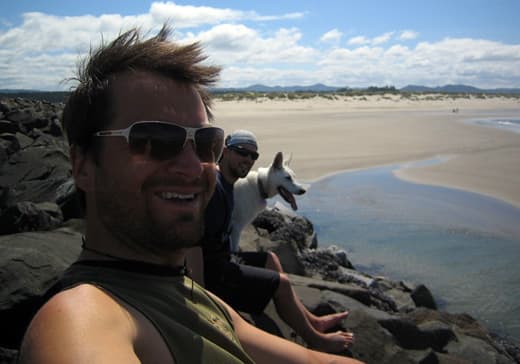 Above: Alex Paquin, his friend Kevin Hatch, and Nooka in Florence, Oregon
TCM: How did you get into truck camping?
Alex: I had a toy hauler for a couple of summers.  I didn't like the fuel economy of towing the toy hauler, plus it really didn't fit my lifestyle.  With the toy hauler, I always had to plan where I was going.  I didn't like having to pay for a campground every night where I was stuck with 1,000 different people.  Camping with the toy hauler was a nightmare.
That's why I got a truck camper.  I laughed last summer because there was a big line of people at the Oregon sand dunes trying to get camping spots.  The truck camper works way better.  I can go everywhere, camp anywhere, and I am never concerned about turning around.  If your truck can go, you can go.  When I had the toy hauler, I always had to have a plan.  With my camper, I'm free.
Around British Columbia, where I live, there are a lot of dirt roads going through wild places.  We explore these areas, camp for the night, travel for a bit the next day, and camp for the night.  Our home is everywhere rather than renting a camp site every single time.
TCM: What led you to a Phoenix pop-up truck camper?
Alex: Wind resistance is important to me.  I am a kite boarder, so I go to really windy places.  The places I go rock my truck like you wouldn't believe.  I could have bought a diesel and a hard side truck camper, but I like the overall height of my rig.  It has a low profile and gets into tight places.
The molded front nose of the Phoenix is aerodynamic which minimizes wind resistance.  Overall, gas consumption is probably 20% different with the camper loaded, which is pretty substantial, but it was 50-60% different with the toy hauler.
TCM: Do you miss the storage you had with your toy hauler?
Alex: Honestly, I don't feel any more constricted in the Phoenix than I did with the twenty-four foot toy hauler.  I took the back seat out of my truck and now have the back area of the truck for all of my music equipment, which includes multiple drums and instruments.  I also have big speakers, a full PA, and a mixing board.  It took me hours to figure out how to pack it.
I also have all of my kite boarding, rock climbing, and mountain biking equipment in my rig.  It must be super roomy to fit all of that.
My bikes fit on the rack on the back, my boards and kites are in the Thule rack on the roof, my climbing, biking and kiting gear fit into their respective bins, which are lined up over the pantry\closet unit inside the camper gear. It took a bit to figure out, but it was well worth it since I have an open camper and uncrowded feel.
TCM: Tell us about your custom Phoenix truck camper.
Alex: I have a kitchen, toilet, shower, hot water, dual propane tanks, and windows all the way around the pop-up section so I can feel like I'm outside.  I get a good breeze through and lots of light.  I have a Thule rack on the roof for my kite boards.  It's convenient to have them on the roof and not on the camper floor.
Three full grown adults can be in my camper playing cards.  There's plenty of room.  I also have a tail light skirt area that locks for extra gear and a bike rack hitch on the back of the truck.  Part of the bike rack hitch goes flat and provides me with a nice step to get into the camper.