Above: The new Milner with the electric lift mechanism
At the time we were going out to Flaming Gorge, Utah quite a bit and keeping our canoe, kayak, and chairs on the roof.  That worked great, but we had to take everything off the roof if we wanted to lift the roof and use the camper.  An electric roof works even with the canoe, kayak, and chairs loaded.  Hallmark had also done a number of things to make their new campers look more modern and convenient.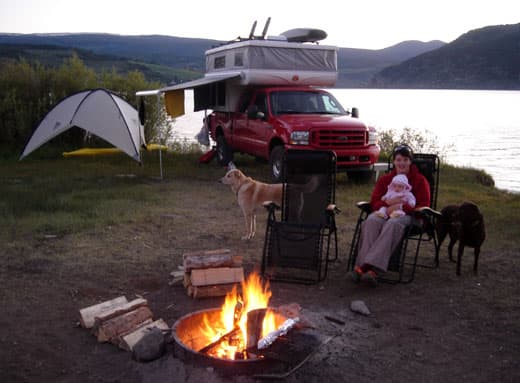 Above: Rhys's first camping trip, Green Mountain Reservoir Colorado
TCM: It looks like your kids have grown up truck camping.  Was it a challenge taking your kids camping as infants?
Matthew: You just adapt.  When we had kids, we were not going to change what we enjoy doing.  I see so many people who have kids and then don't do anything.  Not us.
Our daughter was camping at 11,000 feet when she was six months old.  Of course we tested her first before taking her to those altitudes.  She was born at 5000 feet, but altitudes can be an issue with young children.  Honestly, without the truck camper we would not have been able to do it.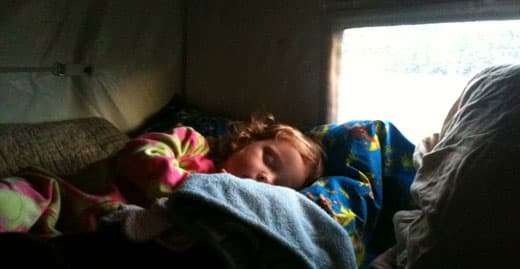 Above: Nap time in the camper
When our son was born, it was a little more challenging.  When one wakes up, it wakes the other up and you're screwed.  We didn't camp a lot when our son was really, really young.

Then I bought a Land Cruiser to tow behind our camper.  My wife made a mattress that fit into the back of the Land Cruiser and my daughter and I would sleep in the Land Cruiser while my son, wife, and our dogs would sleep in the camper.  That way the kids didn't wake each other up.  Now we've got it dialed in so we can go camping all the time.
I teach sport's performance rehab techniques.  Monday is my day off.  If I don't work on the weekend, I can get Friday through Monday off.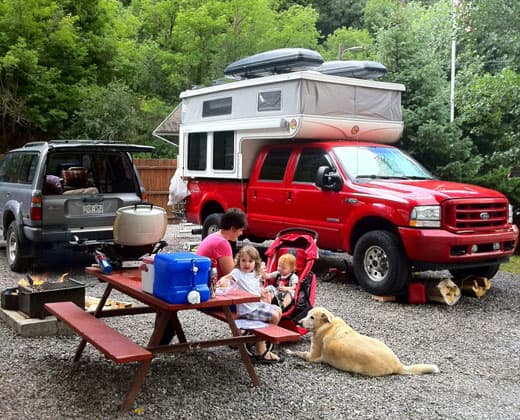 Above: Camping in Ouray, Colorado at the 4J+J+J+J Campground
When the kids see me packing up they get so excited.  They love camping.  We take them on four wheel drive roads and they love it.  They'll even fall asleep.  My wife wasn't sure about it at first, but the kids were out cold in ten minutes.  I think you get used to what you do on a regular basis.
Everything is always in the camper, ready to go.  My camper is in the backyard and it's always set up as a guest room.  Our guests will say, "We'll stay in the camper".  I have a summer set up and a winter set up.  I have two storage containers I keep everything in.  We even keep the refrigerator on and stocked.  It's only a little of packing when we go from winter to summer stuff.
I couldn't imagine not having a camper.  It's awesome!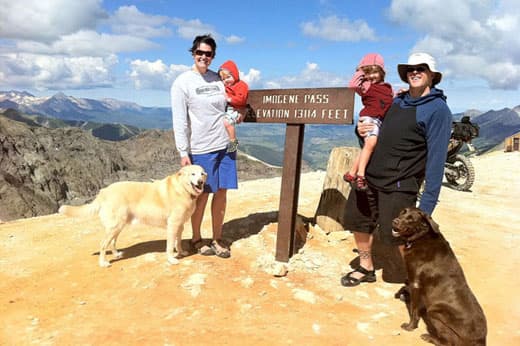 Above: Jennifer, Ryker, Rawlings on the left Rhys, Matthew, and Brenly on the right