Truck Camper Magazine reviews a Hallmark Milner, a pop-up truck camper for short bed or super short bed half-ton trucks.  After nearly a half-century of evolution and refinement, is the Hallmark Milner still competitive?

As the son of a history teacher, I like to begin a review with relevant quotes from the management team, insights from the designers, and big picture industry perspectives.  You know, the TCM deep dive.
This simply isn't possible with a camper that first debuted in 1969, a full 38-years before the first TCM electrons flew and three years before I landed.  Putting this moment into context, 1969 is the year that Neil Armstrong set foot on the moon and a certain music festival opened on a dairy farm in Woodstock, New York.
Perhaps the confluence of space exploration and artistic expression was the perfect inspiration for this Hallmark camper to emerge.  Whatever it was, it's unlikely that the Hallmark team envisioned their new creation would still be in production nearly five decades later.  They were probably wondering what was for dinner that evening, and regretting not making a trip to New York to see The Who, Hendrix, and Santana.  Man was I born at the wrong time.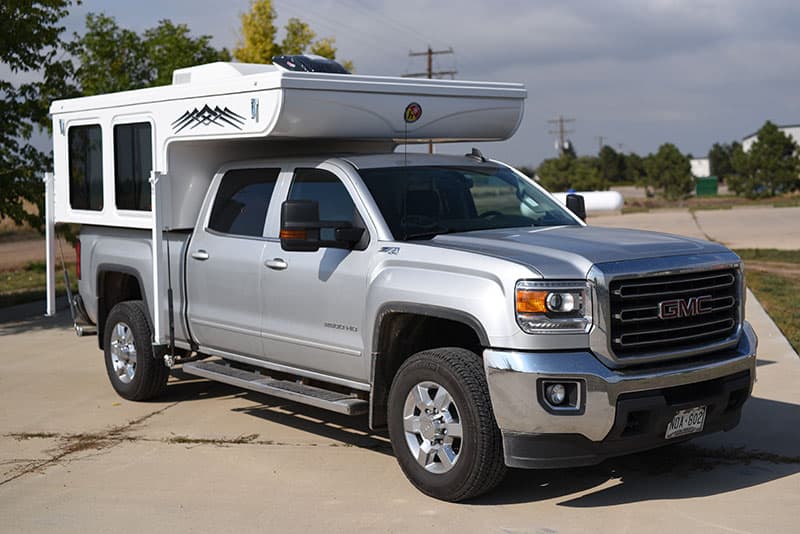 At its core, the Hallmark Milner remains a traditional pop-up truck camper; simple dinette, modest kitchenette, propane heat, east-west cabover, and no bathroom.  Over the years, modern materials and features have edged into the cut sheet and option list, but the basic floor plan has endured.  The Milner is both proudly old-school and cutting-edge – just like Hallmark itself.
Andy Ward, third generation at Hallmark RV, had a more succinct statement for the Milner when we visited Hallmark this past October.  "You can't break the Milner," he declared.  "It's nearly indestructible."  Well Andy, there's one obstacle the great Hallmark Milner hasn't yet conquered – a no holds barred Truck Camper Magazine review.  Let's begin.
Hallmark Milner: Traditional or Modern Pop-Up?
There are actually two prominent styles of pop-up truck campers; traditional and modern.  Traditional pop-ups provide a very basic feature set; simple dinette, modest kitchenette, propane heat, and an east-west cabover bedroom.  Traditional pop-ups often appeal to tent campers who want to get off the ground, and off-road enthusiasts who want a simple and lightweight rig to go where nobody else dares.
Modern pop-up truck campers start with the concept and features of a traditional pop-up and add a separate bathroom, a built in RV flush toilet or cassette toilet, and other more typical RV-style amenities.  These additions add comfort and convenience, but also weight and potentially more long-term maintenance issues.
Using the above definitions, the 2017 Hallmark Milner under review is decidedly a traditional pop-up truck camper.  What's interesting is where the option list starts to blur the traditional versus modern definitions.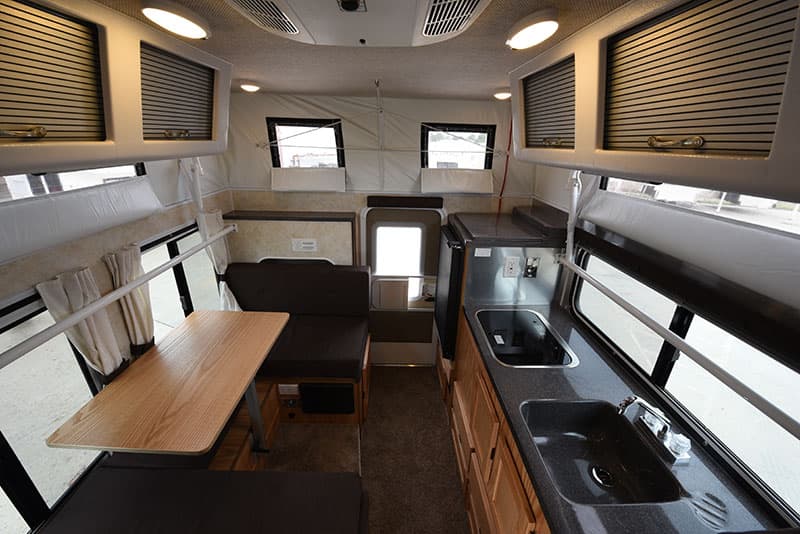 For example, you can order the Hallmark Milner with an optional Laveo dry flush toilet and cutting-edge components like 200-watt solar panels, lithium batteries, and a Bluetooth DVD audio/video system that would have been science fiction back in 1969.  Furthermore, the Hallmark Milner employs molded fiberglass exterior walls, molded fiberglass countertops, and LED lighting as standard features.   Forty-eight years later, the Milner may still be a traditional pop-up, but it's more than kept up with the times.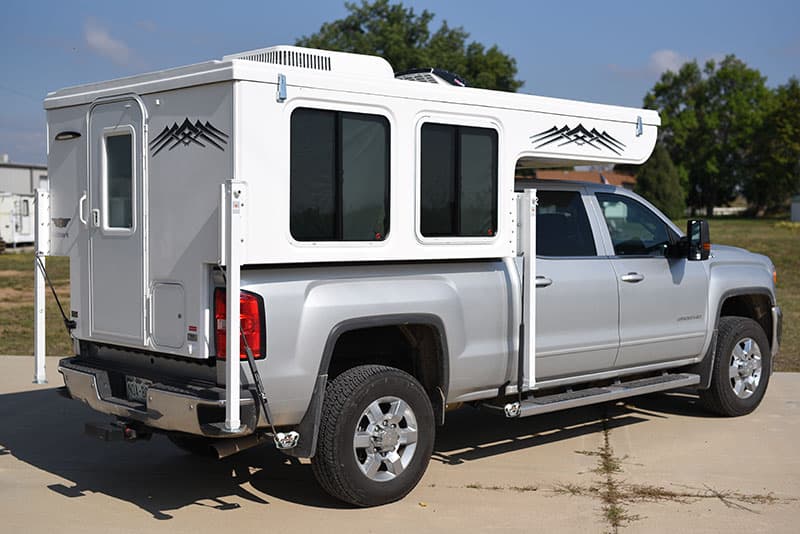 Allow me to state this another way.  The Milner was originally designed to provide off-ground camping comfort with the durability to survive the most rugged terrain Colorado's backcountry could offer.  In the years that followed, Hallmark has advanced the materials and components that make the camper, but never changed that essential formula.  You can add some modern pop-up features with their option menu, but the Milner remains a durable off-road machine.  Same as it ever was.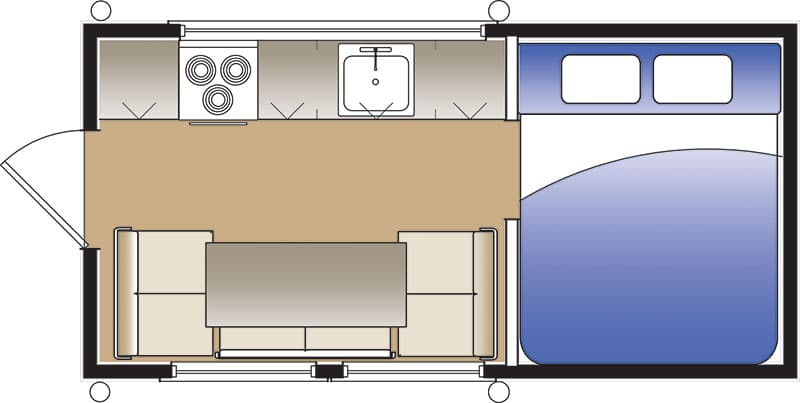 Floor Plan Evaluation
Immediately inside the rear entry door Hallmark has placed a small cabinet with pull-down door and switches for the interior lights.  After a spectacular sunset hike, it's good to know exactly where the interior light switches are and be able to reach them just inside the entry door.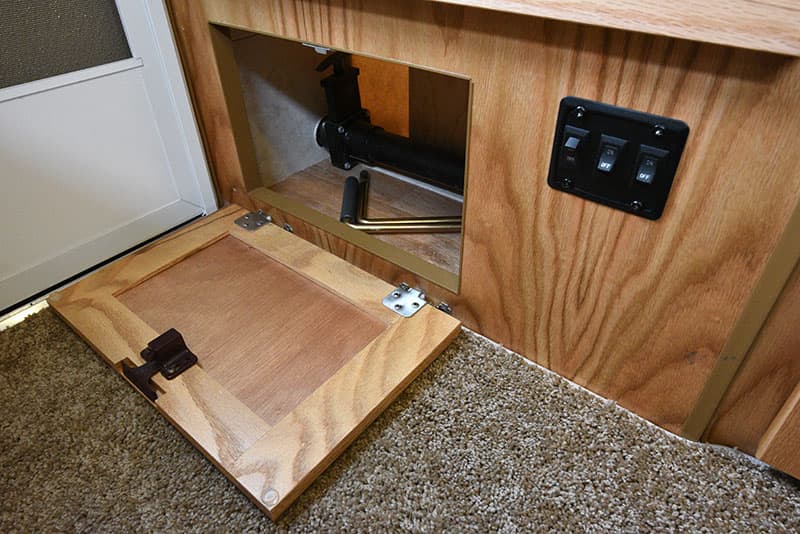 The cranks inside the cabinet are for the exterior Happijac jacks and the manual roof lift.  For speed and ease of operation, most Hallmark owners will likely use a cordless drill for the jacks and roof lift system.  At Hallmark headquarters, they use a Dewalt cordless drill.  For Milner owners, the entry way cabinet makes for a handy location to keep such a drill.
Ideally we would also find a battery disconnect switch here.  Having the battery disconnect just inside the entry door is slowly becoming a standard design feature across the truck camper marketplace.  For winterizing, light, and convenience, the ability to quickly connect or disconnect the main battery system from the doorway makes good sense.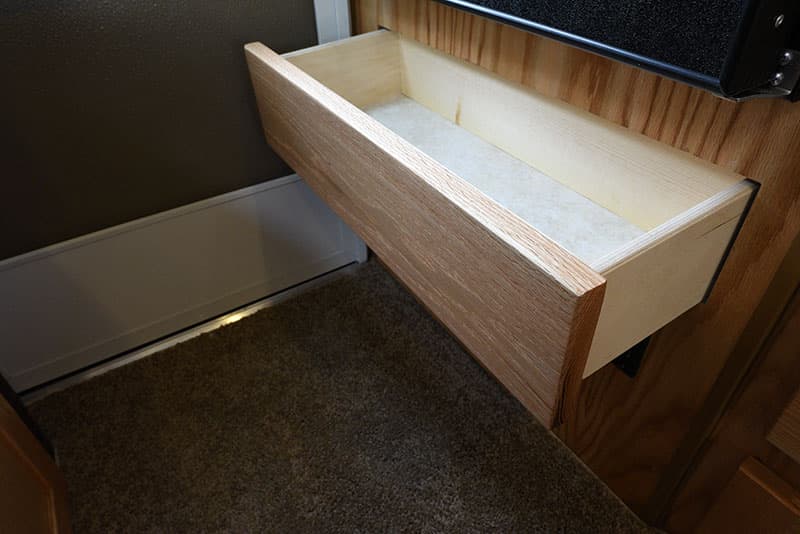 Above the pull-down cabinet and light switches is a small pull-out drawer.  I can envision this space being used for flashlights, pet leashes, and/or dry food storage.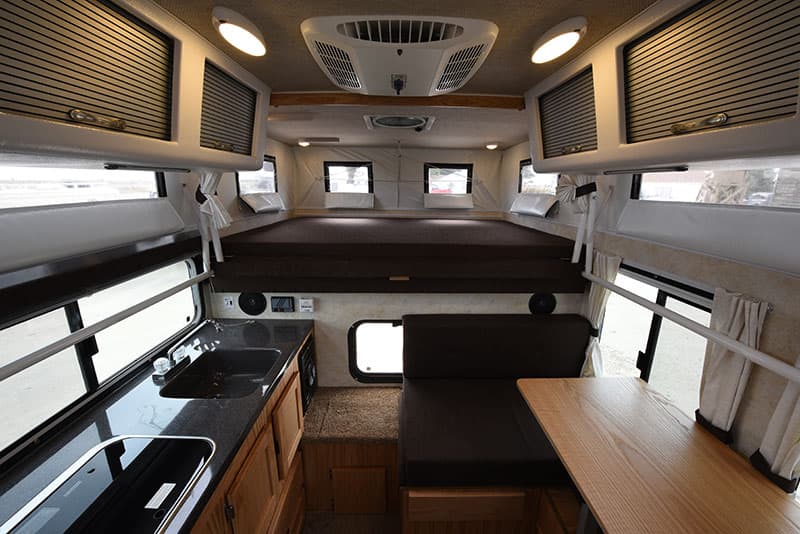 Once the pop-up roof is raised, the windows are opened, and the lights are turned on, the Hallmark presents a bright and well organized living space.  The kitchen is on the driver's side, the dinette is on the passenger's side, the standard east-west cabover is straight ahead, and luxury materials and features are everywhere.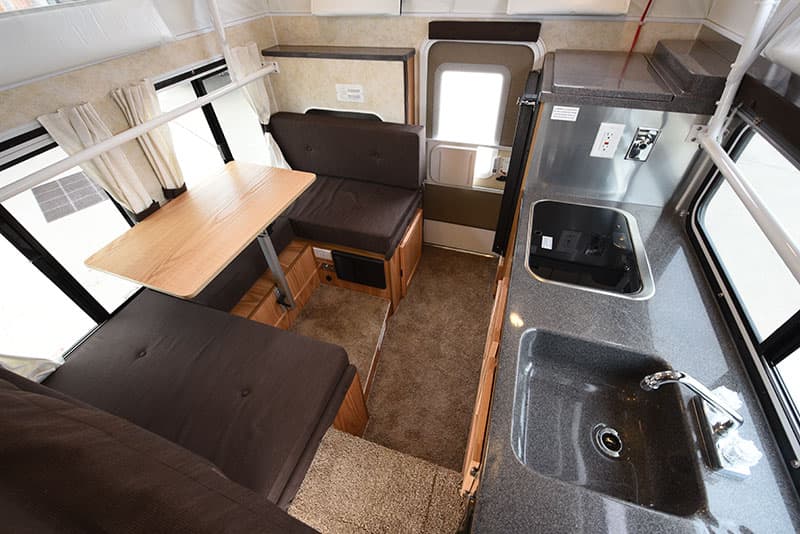 There's a surprising amount of floor space and walking around room inside the Milner.  This sense of space is aided by the Lagun table leg system that moves the dinette table to the passenger's side when not in use.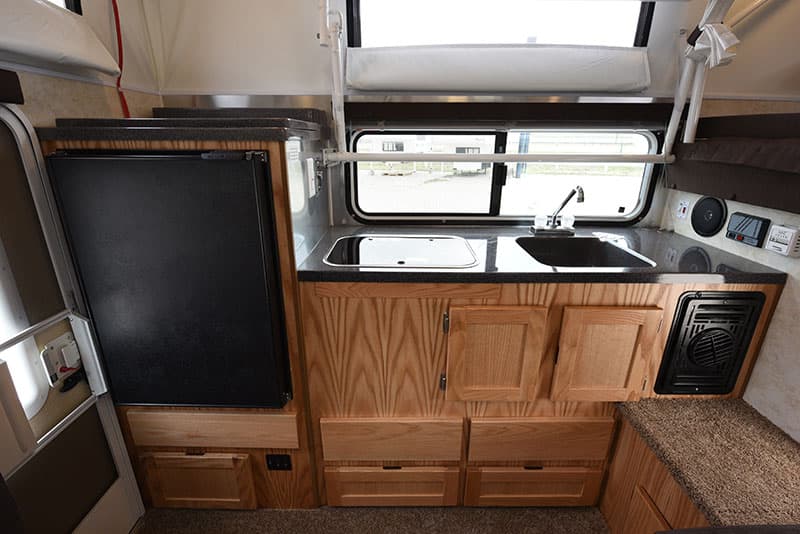 In this photograph you can see the full width of the Milner's kitchen.  As you can see, the Milner comes standard with a cooktop, sink, and refrigerator.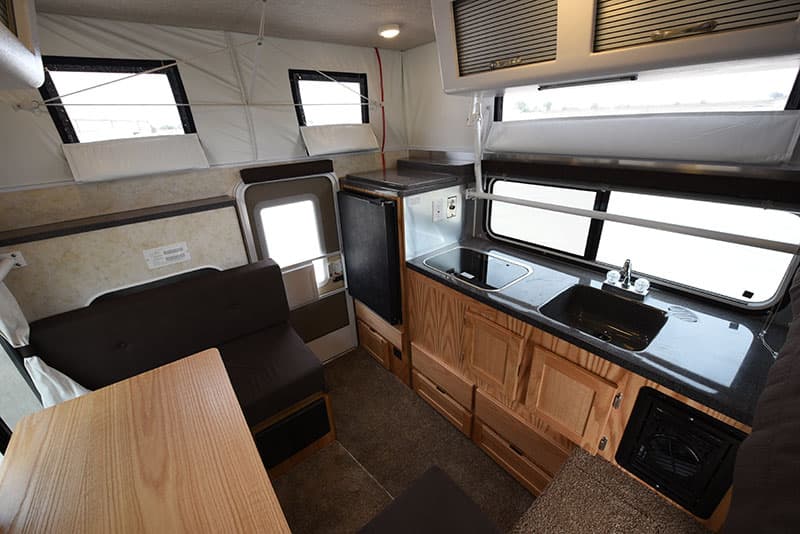 The Hallmark Milner comes standard with one heck of a premium 12-volt refrigerator.  The Nova Kool R4500 is a two-way AC/DC 4.3 cubic foot design featuring the highly-regarded sealed Danfoss compressor.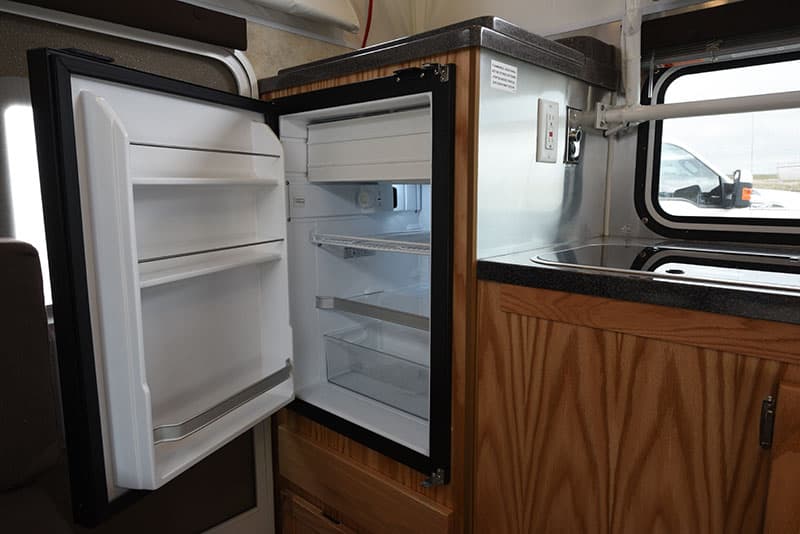 Danfoss compressor refrigerators are known to be incredibly efficient at 12-volts, not to mention exceptionally quiet, rugged, and maintenance-free.  The Nova Kool R4500 also features a positive latch system, tall bottle storage, magnetic door gaskets, stainless fasteners and hinges, low battery protection, and a two year warranty.  For a camper that's designed to go off-road and off-grid, you couldn't ask for a better standard refrigerator.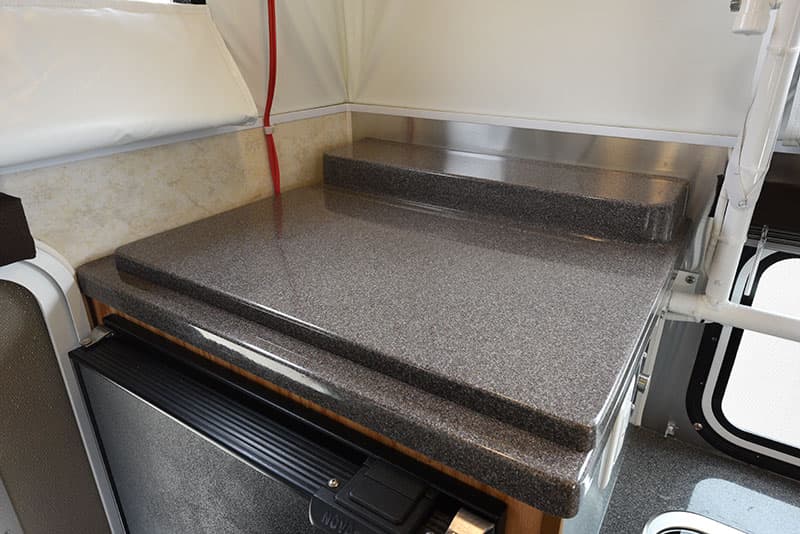 On top of the Nova Kool R4500 is a pull-up vanity.  The vanity and lid are made from molded fiberglass and feature the same attractive granicote aesthetic found in the kitchen area.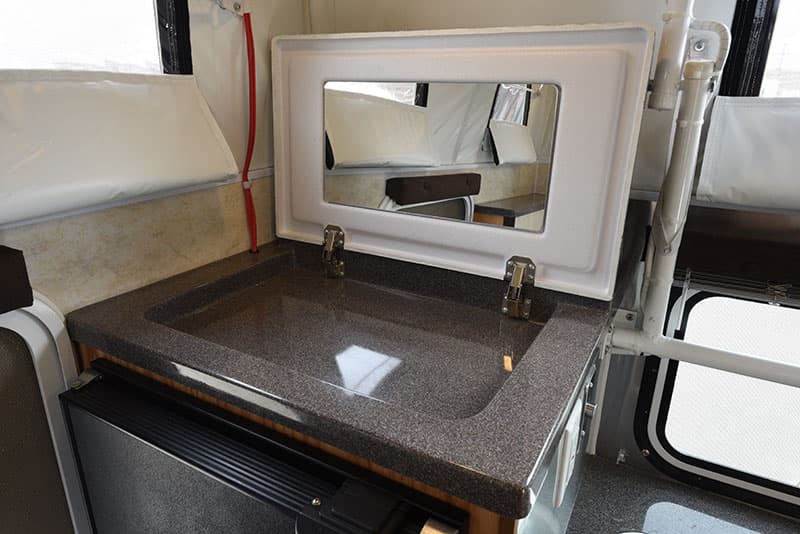 The underside of the vanity lid has a large mirror to help you stay presentable.  Just because you're boondocking in the boonies doesn't mean you don't care about your cowlick.
The inset well under the mirror seems taylor-made for toiletries.  A hairbrush seems obvious, but I can envision keeping toothbrushes, toothpaste, and razors in this space as well.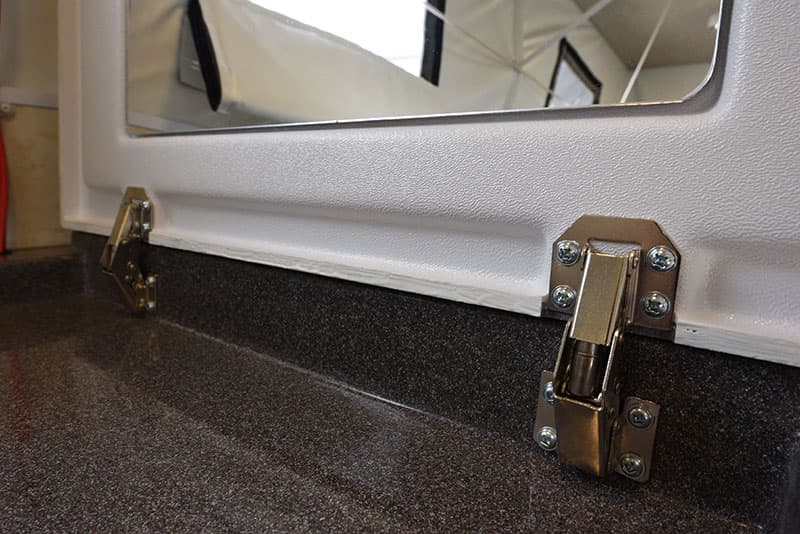 At every turn Hallmark's focus on quality, durability, and longevity is on full display.  Just look at the steel hinges Hallmark has employed for the vanity.  These hinges should provide decades of worry-free service.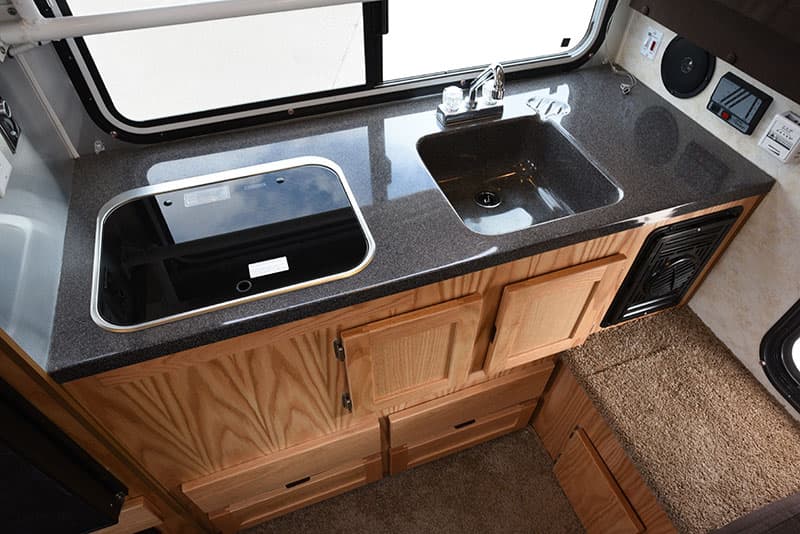 The fiberglass granicote countertop, optional flush-mount stainless steel SMEV cooktop, and inset sink are simply gorgeous.  With the cooktop closed, there's ample counter space for meal preparation and washing dishes.  Even with the cooktop open, there's still a decent amount of counter space to the left and right of the sink.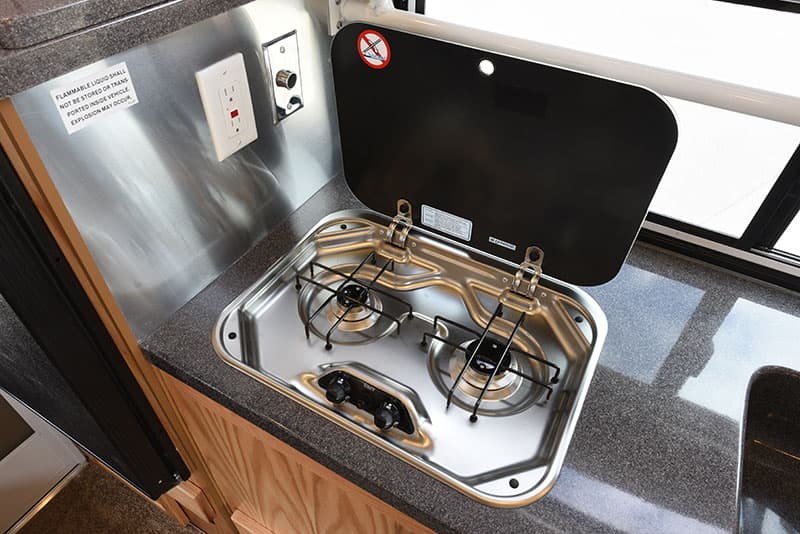 The optional two-burner stainless SMEV steel cooktop is manufactured in Italy for both the RV and marine industries.  For off-grid efficiency, the SMEV is designed to use 33-percent less propane while providing higher cooking temperatures (up to 5,900 BTU).  For durability and safety, the top is made from heat resistant safety glass.
As with the Nova Kool refrigerator, the SMEV is one impressive and high quality feature of the Hallmark Milner.  This is exactly the kind of component you want when you're miles from civilization; modern and durable.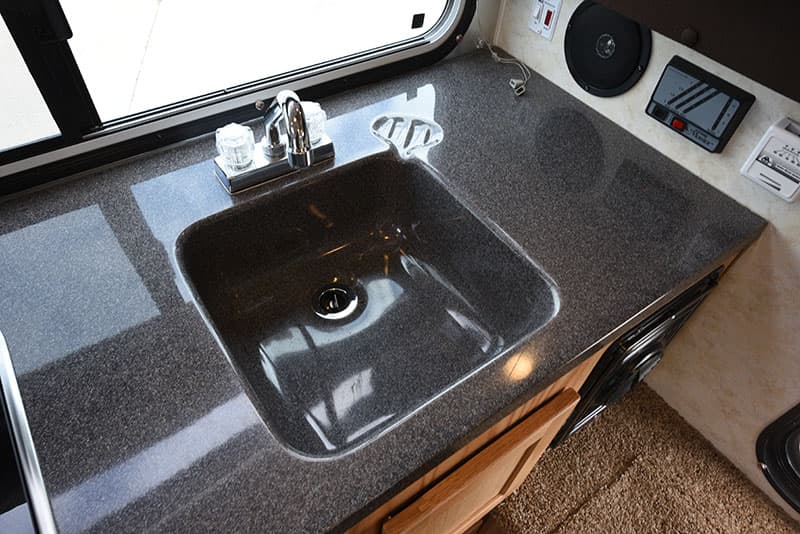 The single basin sink will make quick work of daily dishes and is large enough for washing full-size pots and pans.  Some folks might prefer a two basin sink, but the space required would consume too much counter space.  Hallmark has struck the right balance here.
The kitchen faucet is perfectly functional, but it lacks the sleek high-end presentation of the SMEV cooktop next door.  We would like to see the SMEV modern aesthetic and quality carried over to the faucet.
We also have some concerns about inset molded sinks.  Fiberglass and granicote are extremely durable, but there's no way to replace the molded sink should it become damaged.  It would be easy to drop a wet pan at the wrong angle and possibly chip the granicote.  For inset molded sinks like this, we recommend a protective PVC sink liner to help prevent potential damage to the granicote or fiberglass.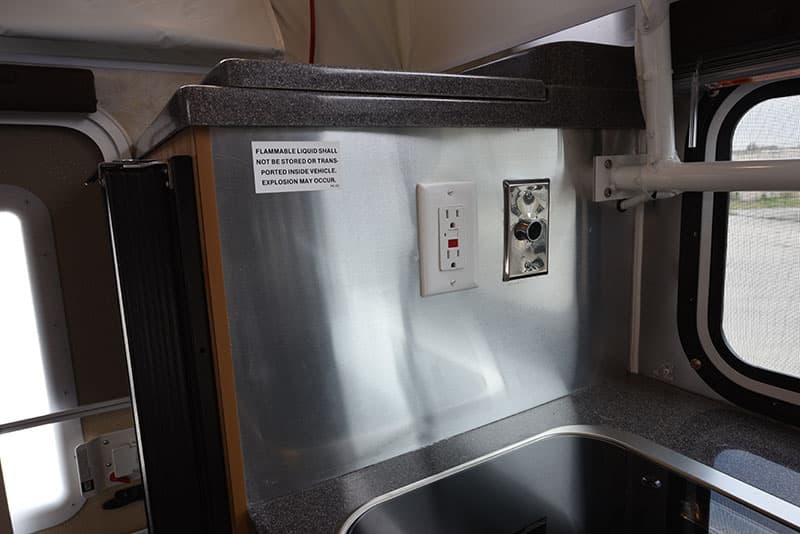 To the right of the SMEV cooktop is a 110-volt GFI outlet and a 12-volt outlet.  The location of the 110-volt outlet is perfect for coffee makers and other kitchen appliances when using shore power, a generator, or suitable house battery bank and inverter system.
The 12-volt outlet is certainly welcome, but we would like to see two USB outlets added to this location.  USB outlets would instantly turn the vanity above into a convenient charging station for smartphones and tablets.  This change would make a practical and appreciated addition to the standard Milner build.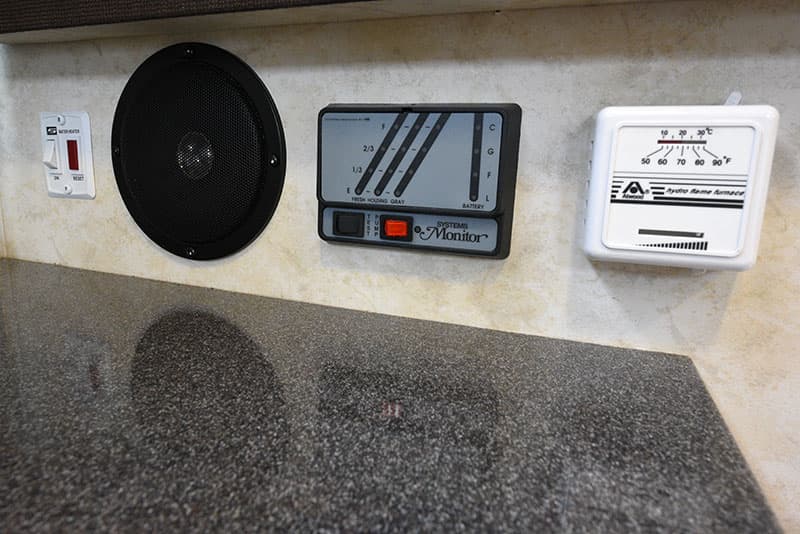 To the left of the kitchen sink is the Suburban water heater switch, one of two stereo speakers, an integrated water pump / tank monitor / battery monitor panel, and the Atwood furnace thermostat.
The location and presentation of these panels and switches is excellent.  Standing at the kitchen counter, you can comfortably view, reach, and operate these daily use items.  On a brisk morning, you could check the fresh tank and battery levels, turn on the water heater, and crank up the heat – all in a few seconds.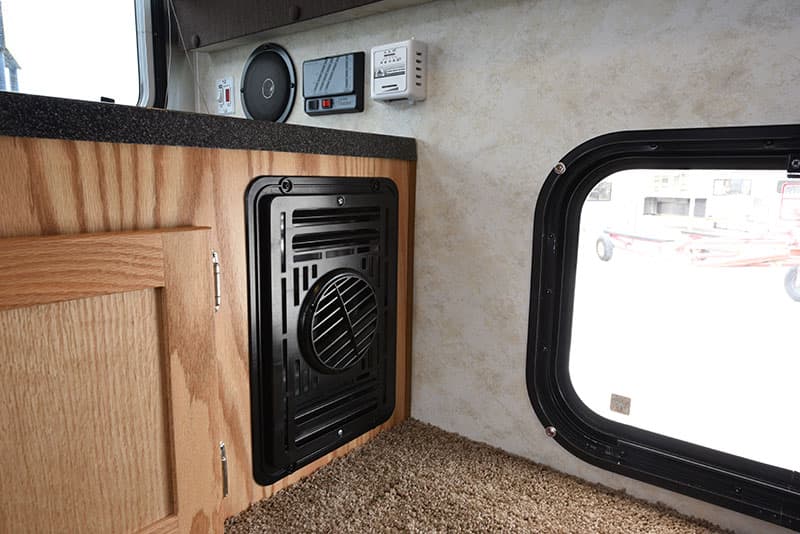 Under the panels and switches is the business end of the Atwood heating system.
Back in November of 2011, we took a Hallmark pop-up to Rocky Mountain National Park.  With nighttime temperatures dipping into the 30s, we were quite concerned about freezing our proverbial tails off.  Well, the propane heating system and soft wall insulation in that Hallmark darn near cooked us.  If you're at all concerned about staying warm in a Hallmark pop-up, don't be.  If you have propane, you'll be toasty warm.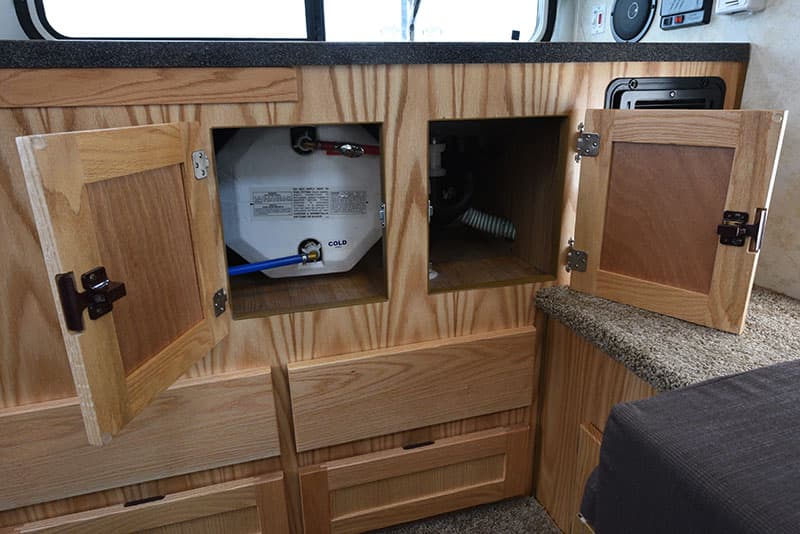 We took a peek under the sink and found the water heater tank on the left and under sink plumbing on the right.  There's a little room here for storage, but not much.  An owner would also need to be careful that nothing stored here would damage the water heater or plumbing while in transport.
We would look for a trash container that could fit under the sink and hold a plastic grocery bag.  Maybe Hallmark knows of a container that fits into this space, or could build one for their customers.  Either way, we encourage all truck camper manufacturers to look at their campers and ask, "Where does the customer put their trash?"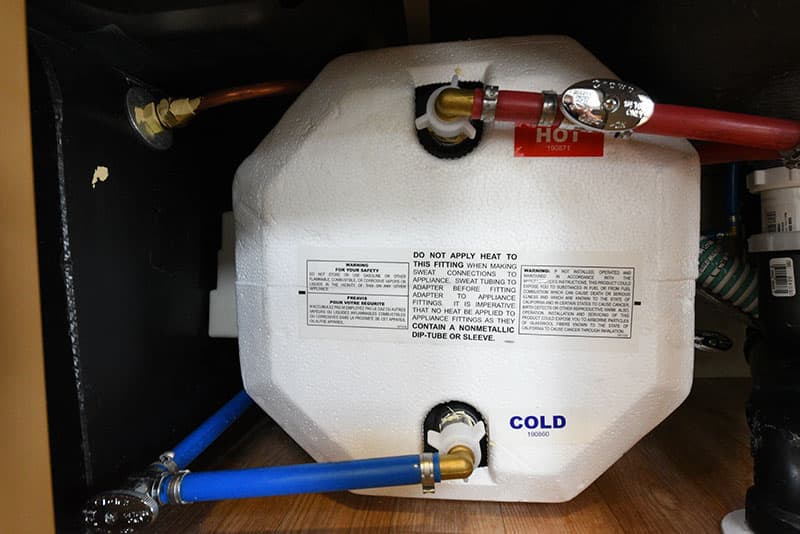 Upon close inspection, the plumbing materials, fittings, and installation in the Hallmark were all first rate.  The PEX plumbing lines are blue for cold, red for hot, and utilize high-quality fittings.  This is excellent work.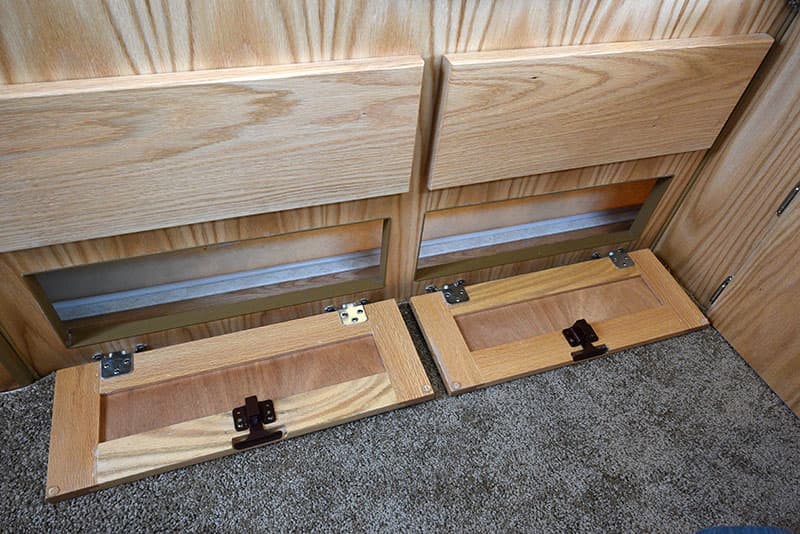 The customer who ordered this particular Milner made some changes that altered the usual two drawer and cabinet arrangement in the lower kitchen cabinetry.  For this reason, the drawer fronts shown above don't actually open and the drop-down cabinets offer little storage.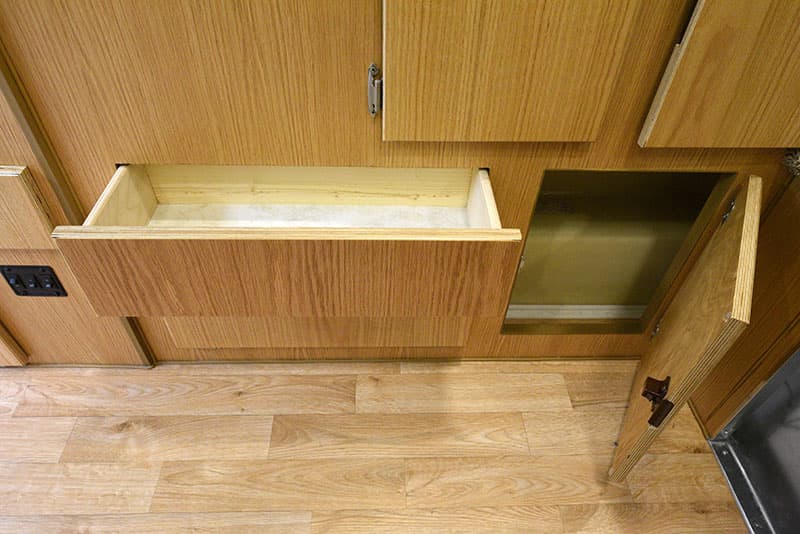 This photograph is from a standard Milner and shows the normal lower cabinetry configuration.  Note the two pull-out drawers and the slightly more useful cabinet.
Keep in mind that the standard features on a Hallmark Milner have been refined for decades.  The feedback from thousands of Milner owners has made the standard Milner build very hard to beat.  There's always room for improvement, but you need to be extremely careful when changing a proven design like this.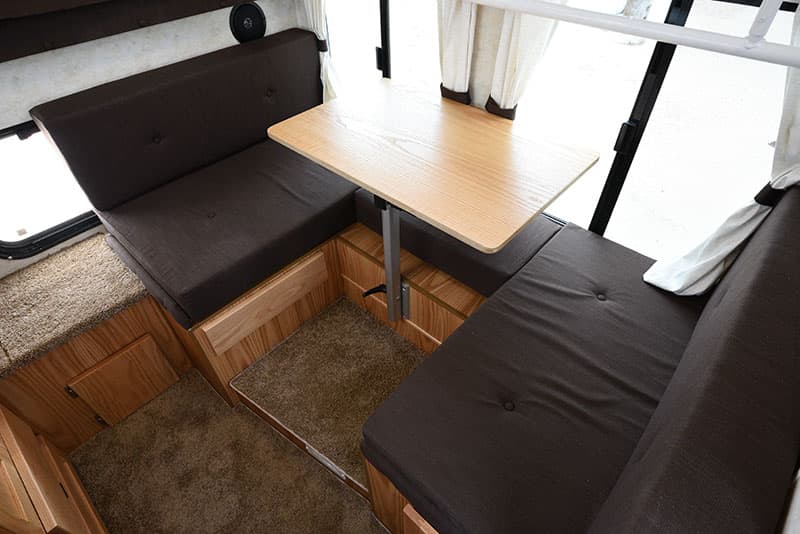 Opposite the kitchen area on the passenger's side is a large dinette.  Technically, this is U-shape dinette, but most Hallmark owners are couples who will use this as a standard face-to-face dinette.
For their optional table leg system, Hallmark has employed the anodized aluminum Lagun table leg system.  The Lagun leg is height and position adjustable with a series of three hand locks.  The hand locks allow the table to be swiveled away and locked for travel, or swiveled forward and locked for use.  Once locked, the Lagun holds its position and is quite sturdy.
The build quality of the Lagun system is rock solid adding to Hallmark's growing list of premium features.  The Lagun's ability to swivel away from the main living area is another big plus.  Just be aware that the hand locks and positioning take some practice.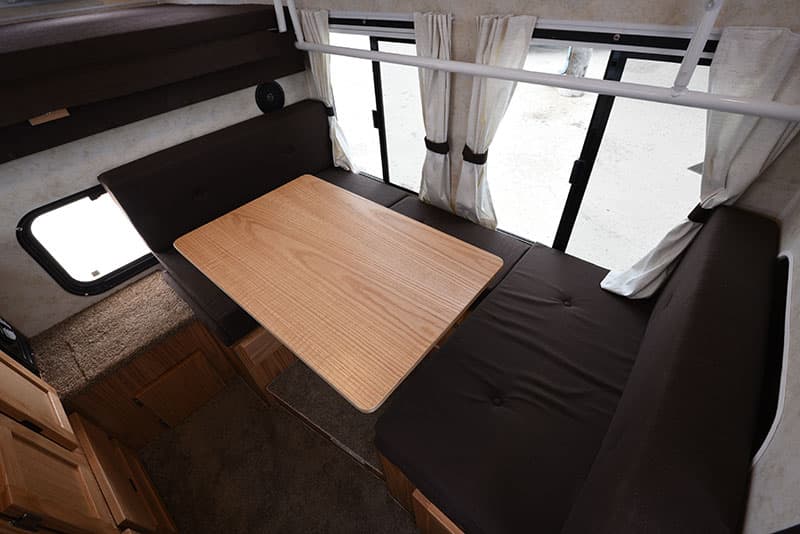 In the out position, the Milner's Lagun table offers just enough room for meals, cards, and map sessions.  We would prefer a larger table for our dueling laptop magazine work.  Thankfully, most folks aren't going to be working in their Hallmark and will likely prefer the position flexibility and interior space the Lagun system offers.  That said, Hallmark could offer a larger table option for those of us who need big surfaces.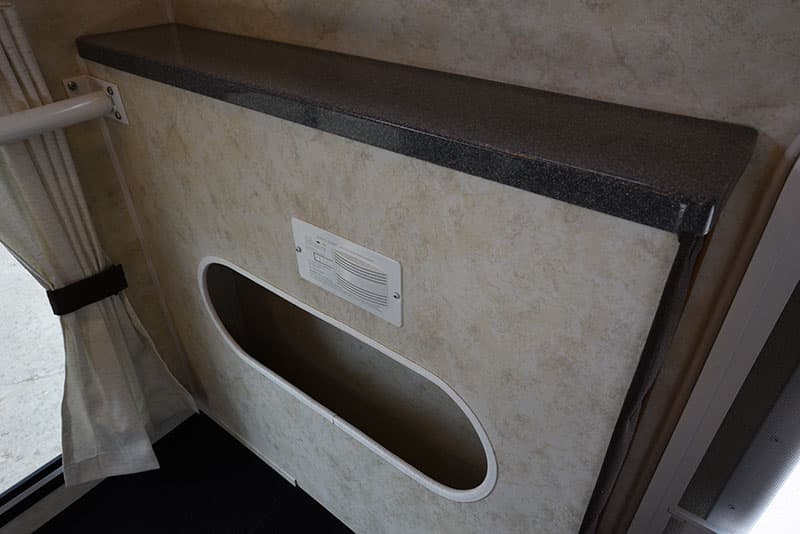 Behind the forward-facing dinette seat is a unique storage cubby.  The top third of the oblong opening is exposed when the seating cushion is in place.
While we would never turn down a storage opportunity, it's not clear what this cubby would be used for.  The first thing I want to do is sit across from it in the dinette and throw balled socks.  Score!
Obviously that's not what Hallmark has in mind, so I invite them to share what they and their customers have used this cubby for in a Manufacturer's Response.  Otherwise, I'd like to see this space given a better storage solution.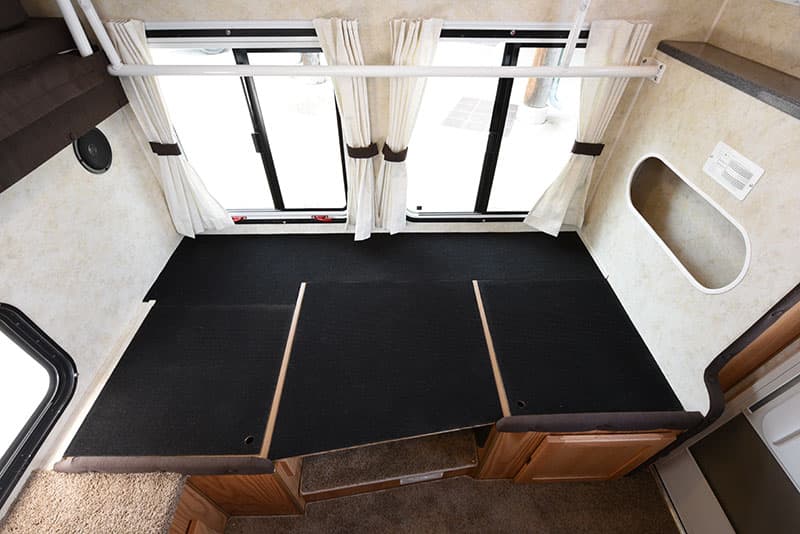 To make the dinette into a bed, you first have to remove the Lagun leg and table.  Once you're familiar with the Lagun locks and system, this is a relatively quick process.
For the review photography, I removed the table and leg together and placed them on the bed.  In an actual camping situation where the cabover bed was needed, you would need to disassemble the table and leg from one another, store the table in the handy ceiling cradle above the cabover, and place the leg on the floor or kitchen counter.
I found the center board for the middle part of the dinette's bed in the cabover under bed storage area.  It neatly fit into position and created a strong foundation for the converted dinette bed.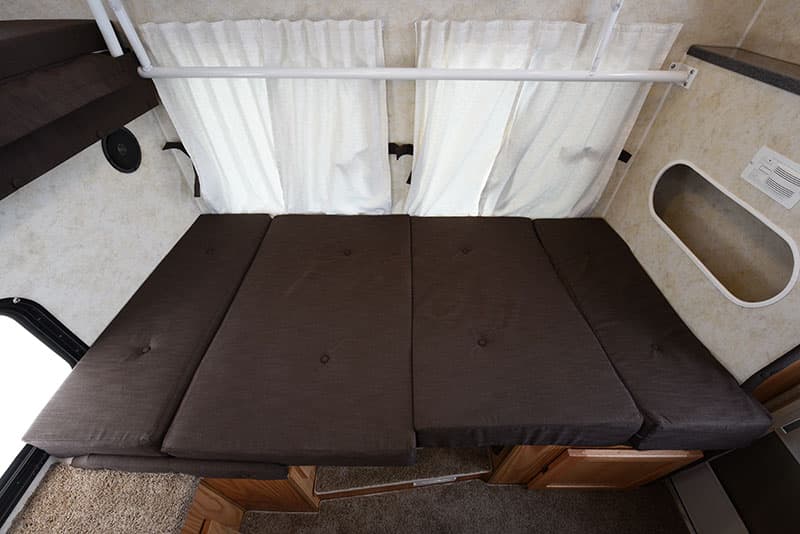 Then the dinette cushions were laid flat to create the bed.  The cushions took a little convincing to settle, but made into a 73.5-inch by 37-inch bed.
Hallmark has their own cushion department and the care and quality-control was immediately evident.  These are firm but comfortable cushions that should break in just enough for additional comfort and then last for years.  Far too often lower dinette seat cushions are too thin.  Not here.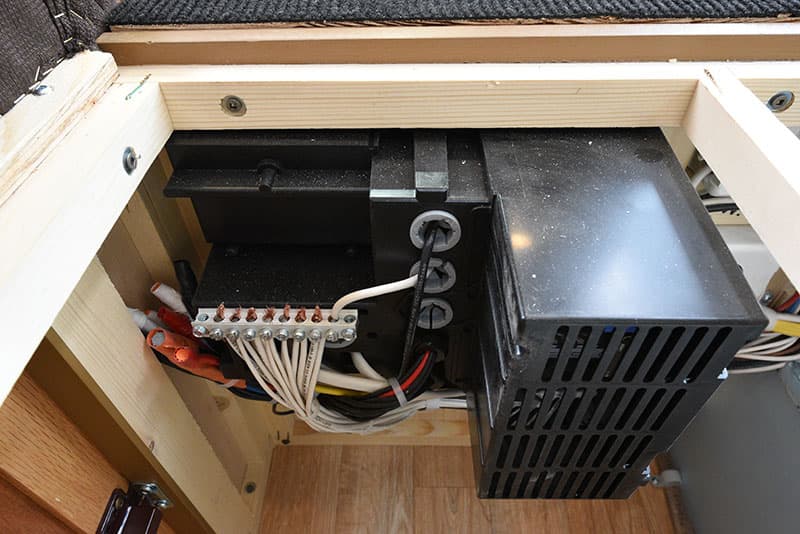 When I went to put the dinette back together, I noticed finger holes in the forward and rear-facing seat boards.  When I lifted the rear-facing board, I found the closed drawer located underneath it.  When I opened the forward-facing board, I discovered the back of the fuse panel and converter system.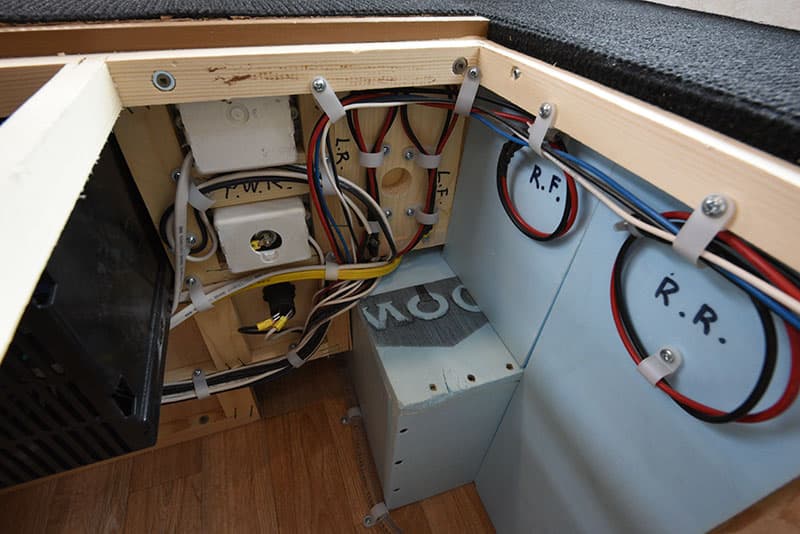 The workmanship on display here is incredible.  The wires are all the proper lengths, tied-off, secured, and easy to follow.  If this area needs future maintenance, this is what you want to find.
Also note the DOW R10 foam insulation.  This is not only a high-quality material, but it's installed with precision in an area some customers might not notice.  When a company does work like this under a dinette seat, you know they have a proud culture of quality.  Well done, Hallmark.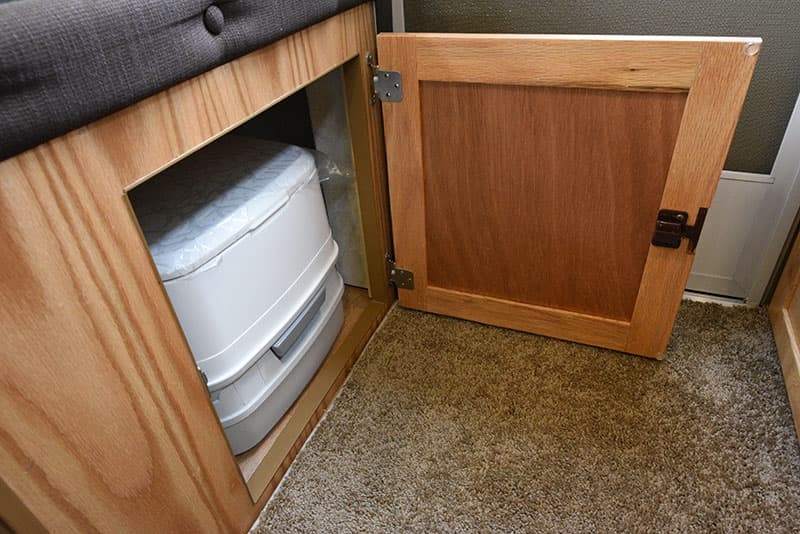 Also nestled under the forward-facing dinette seat was an optional porta-potty.  This porta-potty is accessed by a cabinet door sized specifically for this purpose.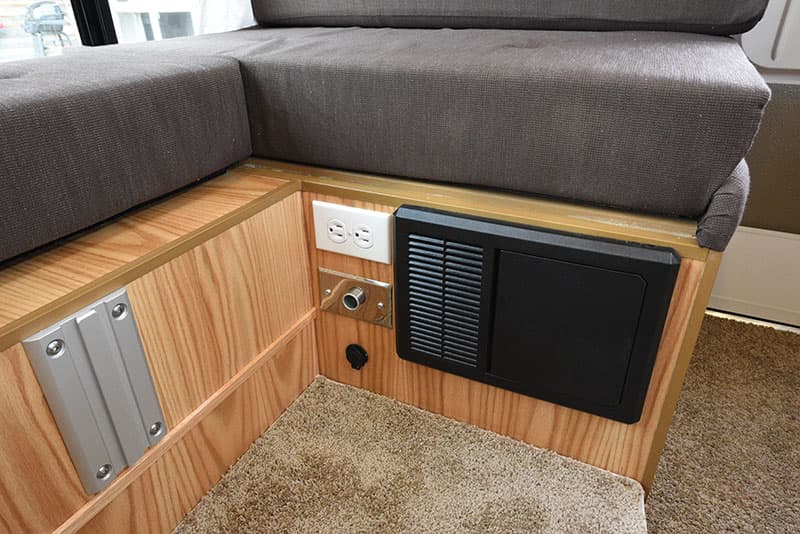 With the seat boards and cushions back in place, I turned my attention to what's under the dinette table.  The forward-facing side features a 110-volt outlet, 12-volt outlet, and two USB outlets.  You can also see the Lagun table's attachment point.
It's fantastic to have all three outlet types in the dinette area.  Like most folks, we plug our smartphones in to USB outlets every day to charge.  The 110-volt outlets would also be handy for charging laptops, cameras, and other gear.
I would like to see these outlets be more accessible.  Ergonomically speaking, accessing these outlets would mean bending down and over.  Why not place the outlets higher and make them easier to reach?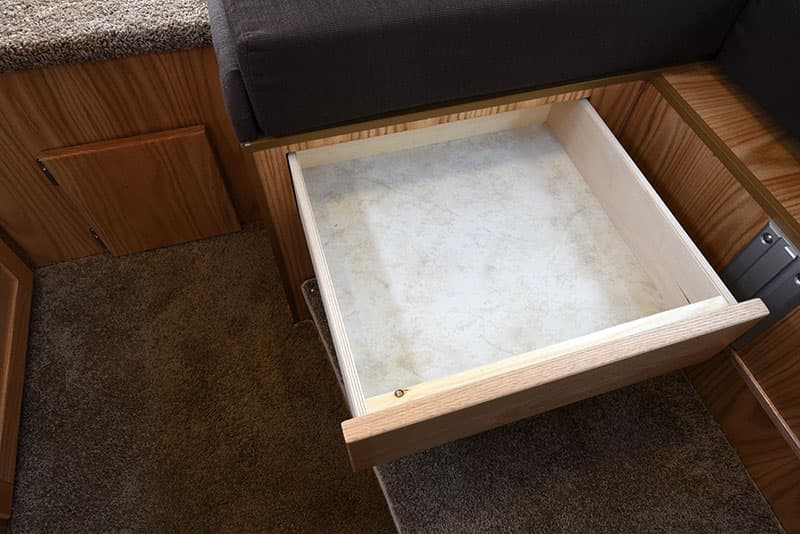 The rear-facing side has a large pull-out drawer.  I was actually surprised when I found this storage opportunity and even more surprised as it pulled out, and out, and out.  This is a nice drawer!
I can see owners putting pens, paper, books, maps, stamps, and other daily dinette items in this area.  We are always reaching for a piece of paper to write a grocery list or a to-do reminder.  We also write a lot of postcards from the road.  This drawer seems perfect for such items.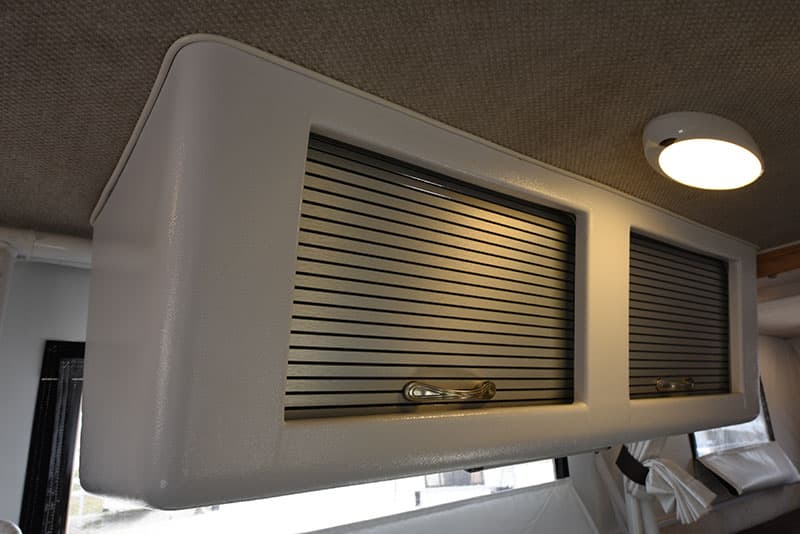 The upper cabinetry in a pop-up truck camper must be lightweight and nestle into the lower camper's body when the pop-up roof is lowered.  This is why you don't find upper cabinetry in a pop-up cabover, or heavy upper cabinetry in a pop-up camper's main living area.
Hallmark RV's upper cabinetry solution is optional and consists of two identical heavy-duty white plastic cabinets attached mid-ship on either side of the Milner.  When we weighed the plastic cabinets side-by-side with the solid-wood cabinets they replaced, we found the plastic cabinets were a full 26-pounds lighter.
For day-to-day convenience, the white cabinets also offer enough storage opportunities to accommodate cups and dishes, dry foods, or other items needed within quick grasp.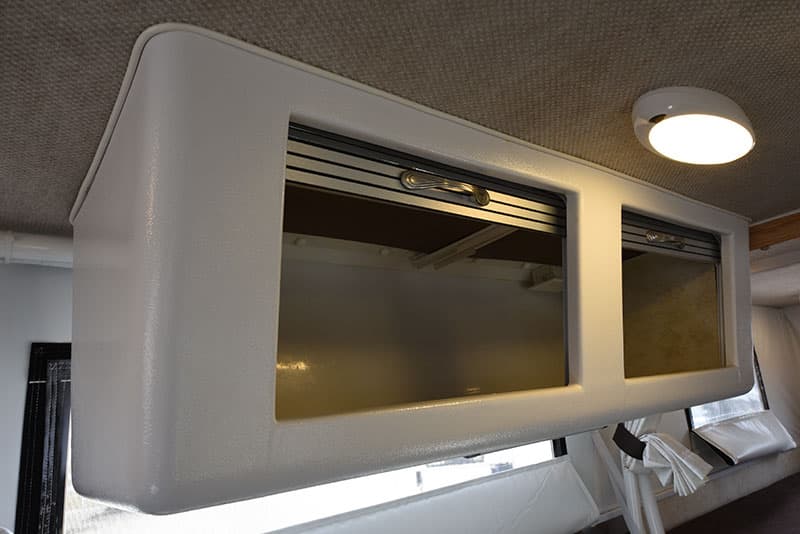 Rather than employ solid wood cabinet doors for their upper cabinetry, Hallmark uses joined rolling-slats that easily retract up and into the cabinet.  If you have ever opened a roll-top desk you know exactly how this clever cabinet construction operates.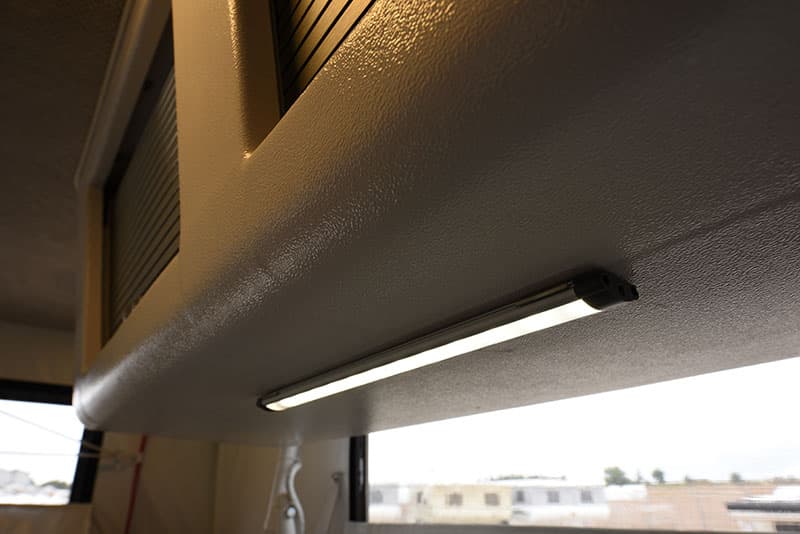 The underside of both upper cabinets feature an elegant LED strip light that offers three levels of brightness that are selected by touch.  As the photography for this review was done in the daylight, I was unable to see if the light output of this LED light strip was sufficient for meal preparation and washing dishes, but it certainly appeared bright enough.
What did concern me was the apparent fragility of the light.  Located above the stove and sink, this is a high traffic area and this admittedly cool-looking LED might not do well if accidentally bumped.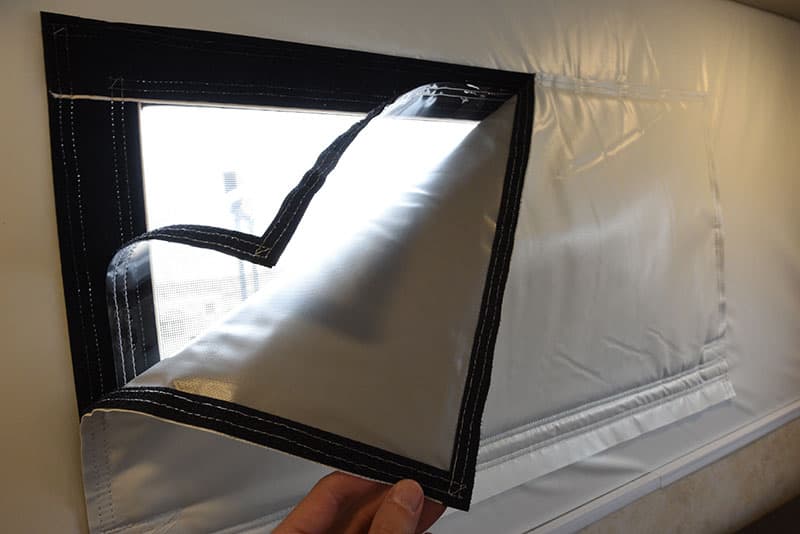 There are three tiered layers to a Hallmark soft wall's window.  From the outside in there's a UV-rated automotive clear plastic, tight-pattern bug screen, and an insulated soft-wall panel.
Each of these layers pulls open with a satisfying heavy-duty velcro ripping sound.  More importantly, the layers re-adhere quickly and with impressive grip.  These window layers are not going to open unless you want them to.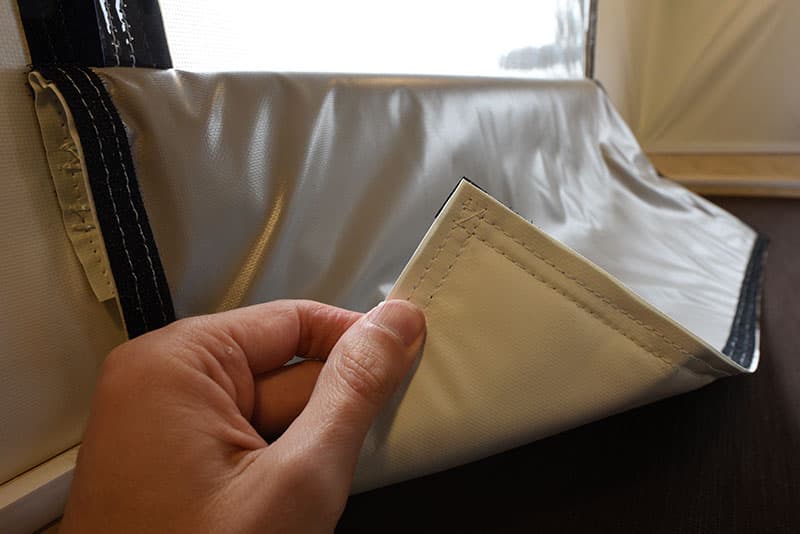 Inside the grey soft wall vinyl there's a layer of insulation.  This weather barrier is further enhanced by high-quality double stitching done on-site at Hallmark RV.  Once again, the window and vinyl stitching reveals a company that cares about quality and builds their products to last.  Very impressive.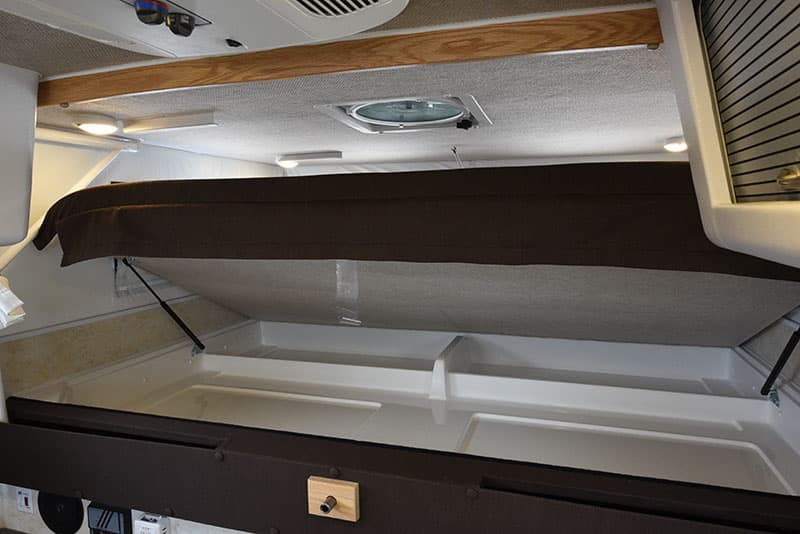 Accessing the Milner's enormous under bed storage area is a cinch.  Simply grasp the clear plastic handle located front and center on the mattress tray and lift the bed with the assist of two gas struts.  In two seconds the mattress tray and mattress are held firmly in the up position revealing a solid fiberglass mold with three large storage areas.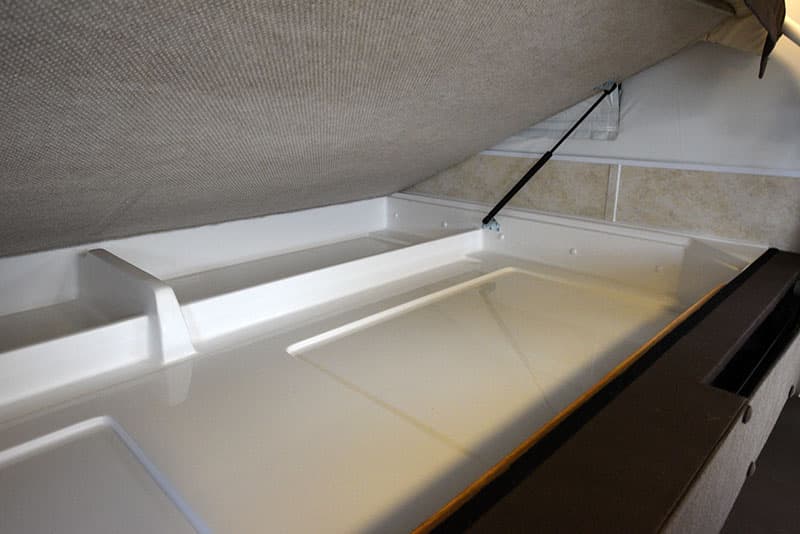 The design of the under bed fiberglass mold not only offers storage for your clothing and camping supplies, but also provides additional structural strength for the camper itself.  Once loaded with your stuff, the under bed storage also provides a degree of insulation for the mattress above it.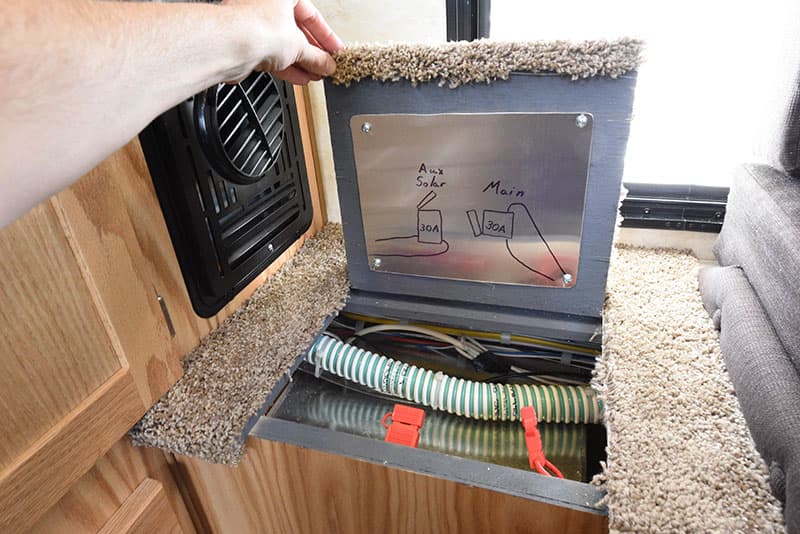 The carpeted step to the cabover has a pull-up compartment with a main 30-amp fuse and fuse holder.  This main 30-amp fuse acts like a battery disconnect for the entire unit.  When you want to disconnect the camper's battery, you remove the 30-amp fuse in the main 30-amp fuse holder.  Also shown in this image is a second 30-amp fuse and fuse holder for the optional auxiliary solar panel system.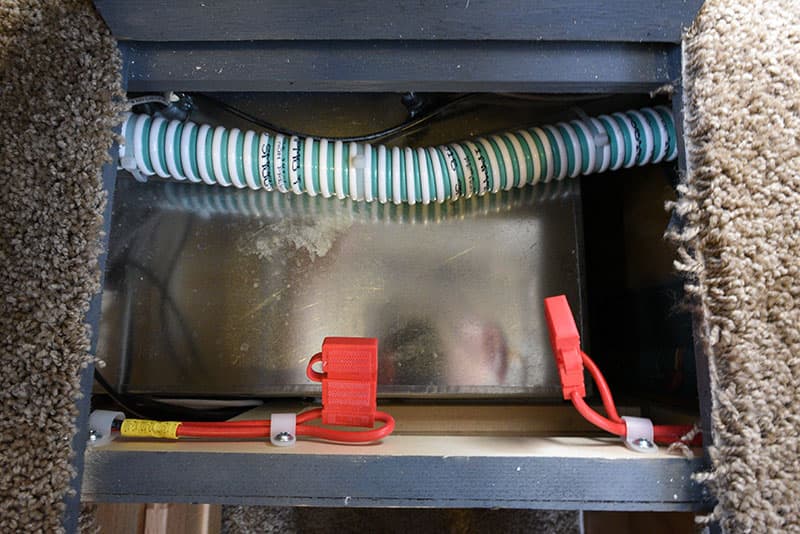 The metal box under the two 30-amp fuse holders contains two standard 6-volt AGM batteries.  For Hallmark to provide two 6-volt AGMs as standard is both phenomenal and class-leading in the pop-up truck camper marketplace.
AGM batteries are sealed and do not require routine maintenance like flooded lead acid batteries.  It is ideal for truck campers like the Milner that are designed with front wall exterior battery compartments.  As a side note, we installed two Interstate AGM batteries in our camper in January of 2015 and have had no issues.  We love our AGMs.
Having the batteries in an exterior compartment on the front wall puts the approximately 120-pounds of batteries as low and far forward as possible.  This helps to move the center of gravity down and forward.  This is particularly important with an off-road destined camper like the Milner.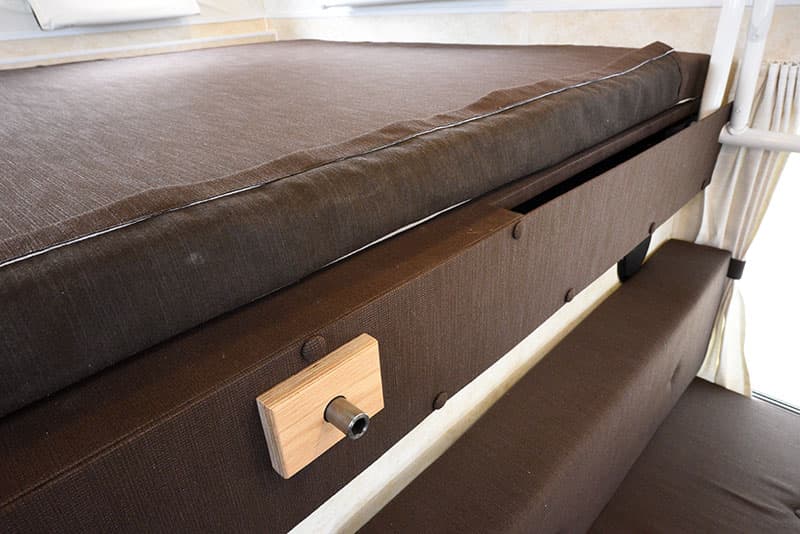 The Hallmark Milner comes standard with a manual crank lift system.  The lift system gearing is accessed under a fabric flap dead center on the interior front wall of the cabover.  In the above photo, the flap is lifted to show the gearing access point.
You can either hand crank the roof up and down, or use a power drill.  The power drill puts the top up and down in less than a minute with minimal effort.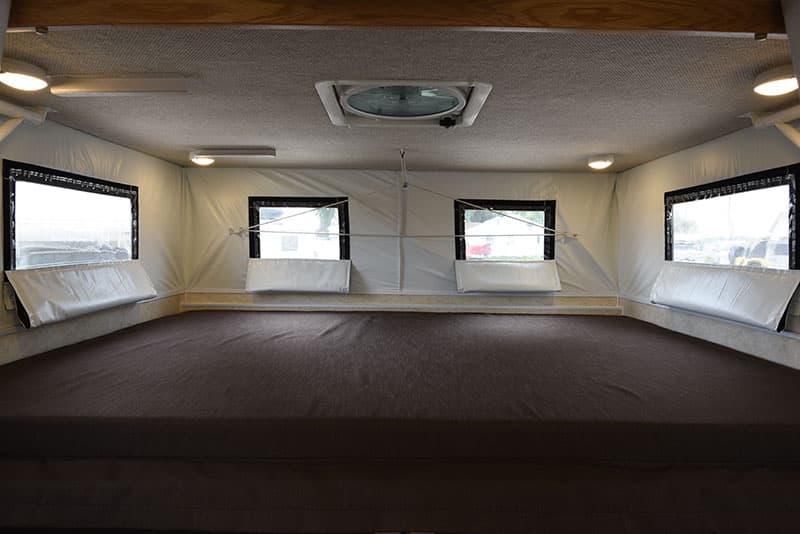 The standard east-coast cabover in the Milner is wide open with four windows, four LED lights, and one Fantastic Fan.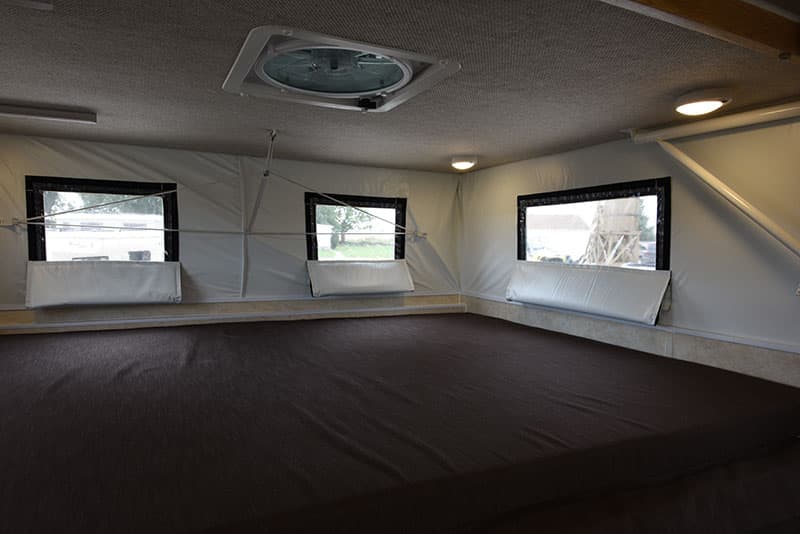 The mattress cushion is the same high-quality foam used for the dinette providing a good balance between firm support and comfort.  When we camped in a Hallmark in 2011, we were delighted at how comfortable we were sleeping in the cabover.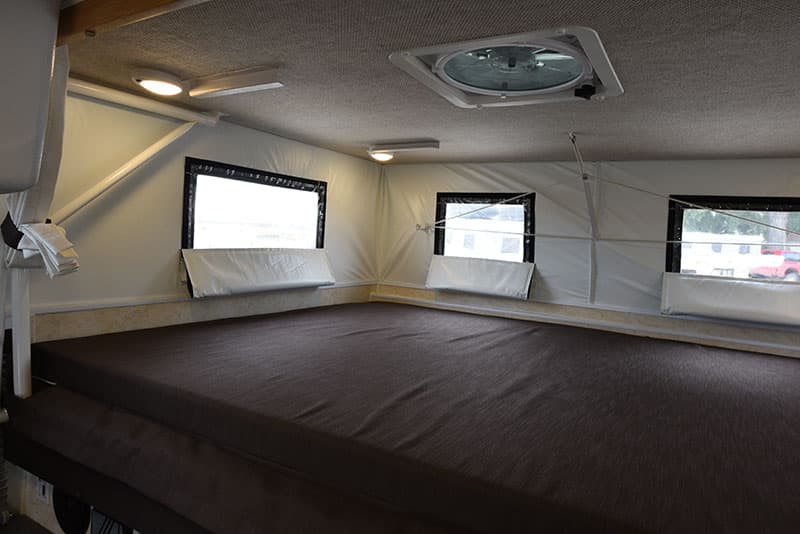 There's really not much to talk about in the cabover as there's no cabinetry (except the storage underneath).  You might notice the dinette table's cradle on the driver's side ceiling, and the out-of-the-way pop-up roof supports and soft-wall pull-in bungees.  That's really it.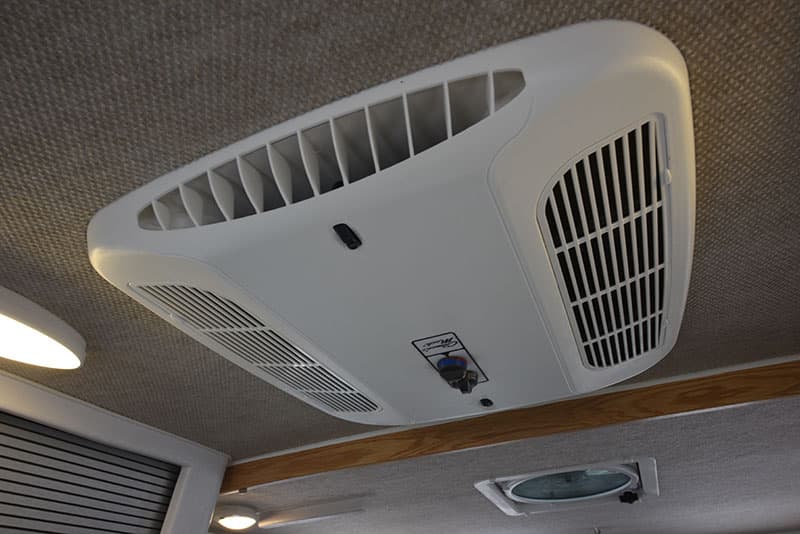 Crawling out of the cabover you'll be face-to-face with the optional 9,000 BTU Coleman Mach air conditioner.  Having a full-size air conditioner on the roof turns the Hallmark Milner into a true four-season camper.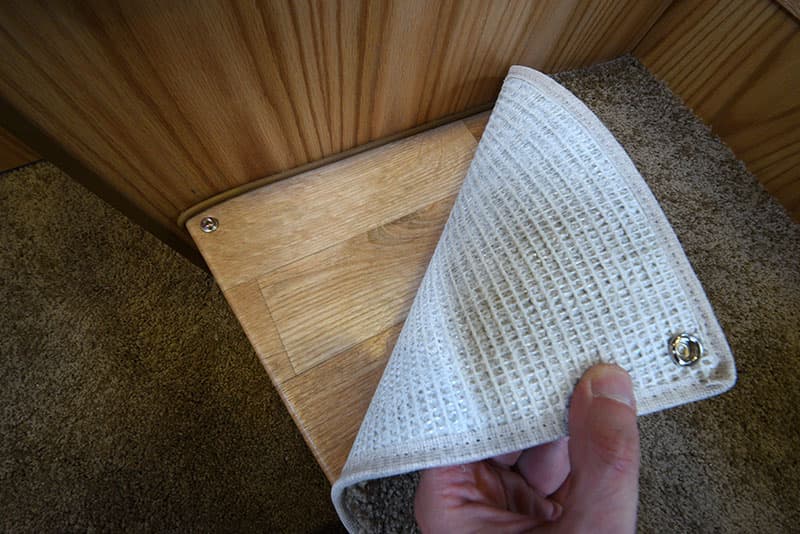 I always take my shoes off when photographing a unit for review.  Not only do I want to avoid getting any dirt in the camper, but I often have to position myself in odd positions to get the right shot.  Someday we'll put a GoPro in a unit when I take pictures and we'll all have yet another good laugh at yours truly.  The things I do for this magazine!
In real life, not everyone takes their shoes off when they get into their truck camper.  We explore all kinds of terrain and track in all kinds of dirt.  With this in mind, Hallmark's snap-in carpet seems to be asking for trouble.  For ease of cleaning, I would much prefer a vinyl floor and carpet runner.
Capacities
| | |
| --- | --- |
| Capacities | |
| Fresh | 30 gallons |
| Grey | N/A |
| Black | Optional Porta-Potty or Dry Flush |
| Water Heater | 3.8 gallons |
| Propane Tanks | 20 pound tank |
| Batteries | Two Batteries |
Hallmark has a set of highly accurate Intercomp scales at their Fort Lupton, Colorado factory and will weigh a finished Hallmark camper for any customer who requests it.  We applaud Hallmark for having scales on hand and offering this vital information to their customers.  No one should buy a camper without knowing what it truly weighs.
Taking things a step further, we would like to encourage Hallmark to commit to weighing each and every finished Hallmark camper that leaves the factory and document the dry with options weight on and/or with the unit itself.  We would also like to encourage Hallmark to mark the center of gravity on the exterior of their units.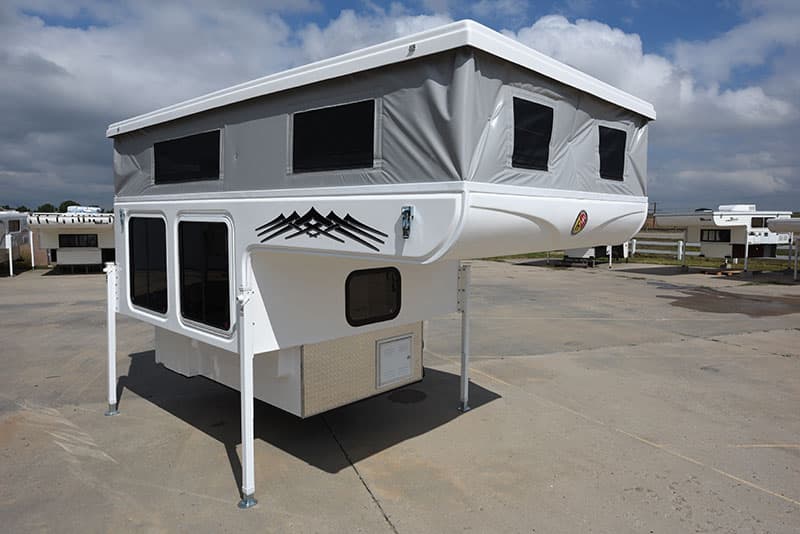 Hallmark reports the base dry weight of the Milner at 1,212 pounds.  This reflects a Milner without any options.  You could order a base Milner at this weight, but chances are you will need at least a few options to meet your truck camping requirements.  We expect a fully-optioned Milner would weigh two to three hundred pounds more.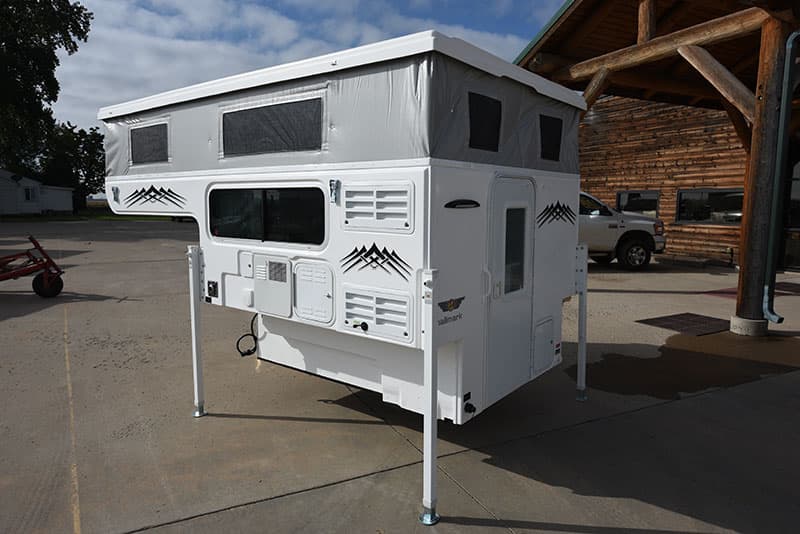 The shortest Hallmark pop-up campers are the Milner and La Veta at 80-inches.  These campers are also the shortest Hallmarks in overall length at 140-inches.  If you're looking for the most compact short bed Hallmark campers available, the Milner and La Veta are it.
All Hallmark campers are 83-inches wide.  While not the narrowest pop-up truck campers on the market, 83-inches is a relatively narrow width for a pop-up truck camper.  Being narrow helps Hallmark truck campers keep the base weight in check and improves the off-road capabilities of the units.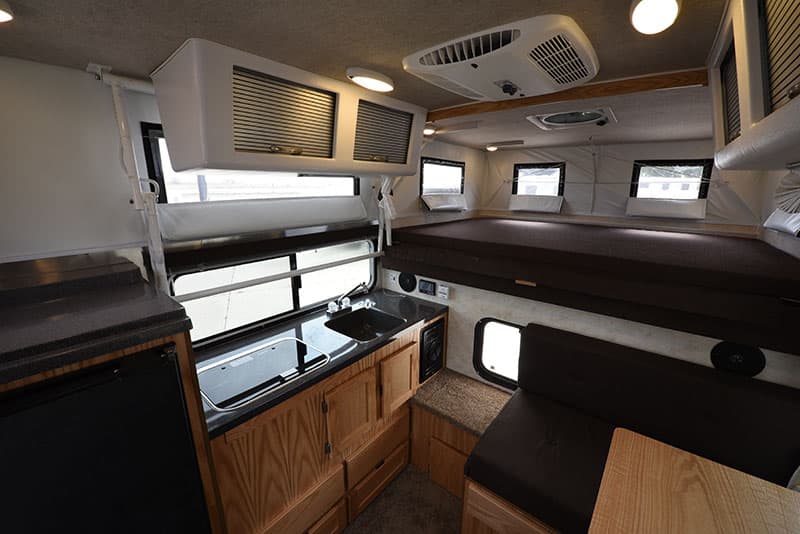 The 6.8-feet of interior height helps to give all Hallmark interiors a open feel.  At 6'3", I was able to comfortably stand in the Milner with headroom to spare.  I was not able to fully sit up in the cabover, but that would be a tall order in a pop-up truck camper.
Specifications
Specifications
Dry Weight
1,212 pounds
Wet Weight*
2,144 pounds
Floor Length
80″
Overall Length
140″
Width
83″
Interior Height
80″ top up
60″ down
Exterior Height
84″ top up
64″ down
Center of Gravity
31″
Truck Type
Short Bed
The Hallmark Milner holds an impressive 30-gallons of fresh water, plus an additional 3.8-gallons of fresh water in the water heater.  While some might prefer more fresh water capacity, more than 33.8 gallons (281.9 pounds) of fresh water would put the Milner's half-ton compatibility at risk.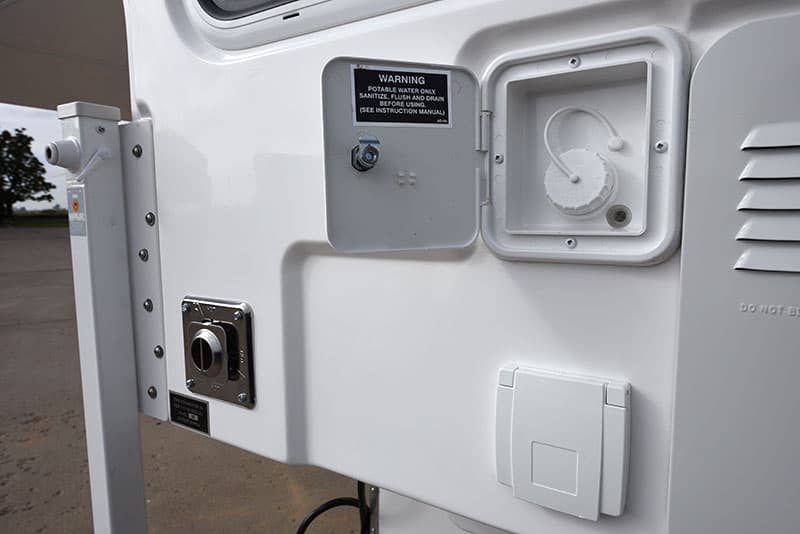 As the standard Milner does not feature a built-in toilet, inside shower, or bathroom sink, the only draw on the 33.8-gallons of fresh water are the kitchen sink and outside shower.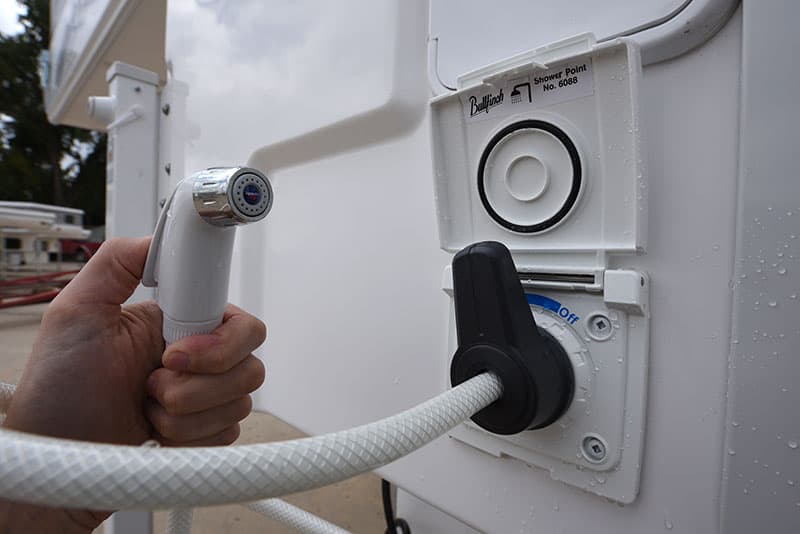 It's unlikely that Milner owners will use the outside shower on a daily basis.  Most truck campers are also very conservative in their sink water usage for hand washing, teeth brushing, and dish washing.
With this perspective, it's plausible that the 30-gallons of fresh and 3.8-gallons of hot water would last well over a week for two people.  Besides, if you're camping off-road and off-grid, it's only you and possibly your significant other who would care or notice about your aroma.  Just remember to use the outside shower before heading back into town.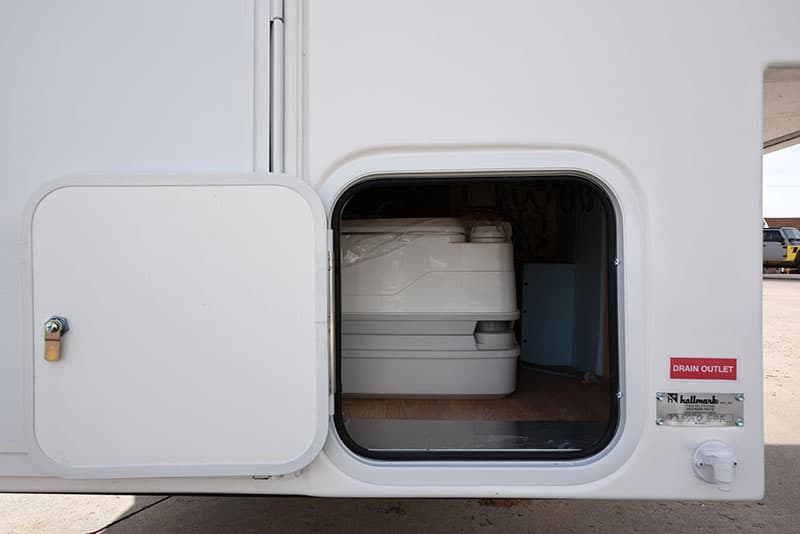 Hallmark does offer an optional porta-potty (shown in the review unit) or Laveo dry flush toilet for the Milner.  The Laveo dry flush toilet operates without water or chemicals and encapsulates waste in liner bags.  Then you dispose of the bags.  For those who camp far from anything resembling a campground, or don't want to do what the bears do, the optional porta-potty or Laveo dry flush toilet are excellent options.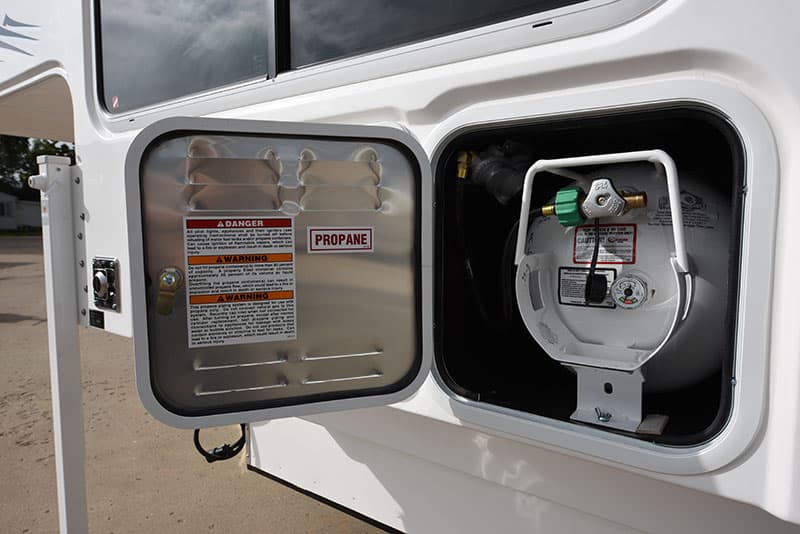 The Hallmark Milner features one 20-pound horizontal propane tank.  The advantage of the horizontal tank is its ability to efficiently fit into the Hallmark design.  The downside of a horizontal propane tank is that it's not exchangeable and will require filling at propane stations.  On balance, we have 20-pound horizontal tanks in our project truck camper and have found propane filling stations relatively easy to find.  Thank you, Google Maps.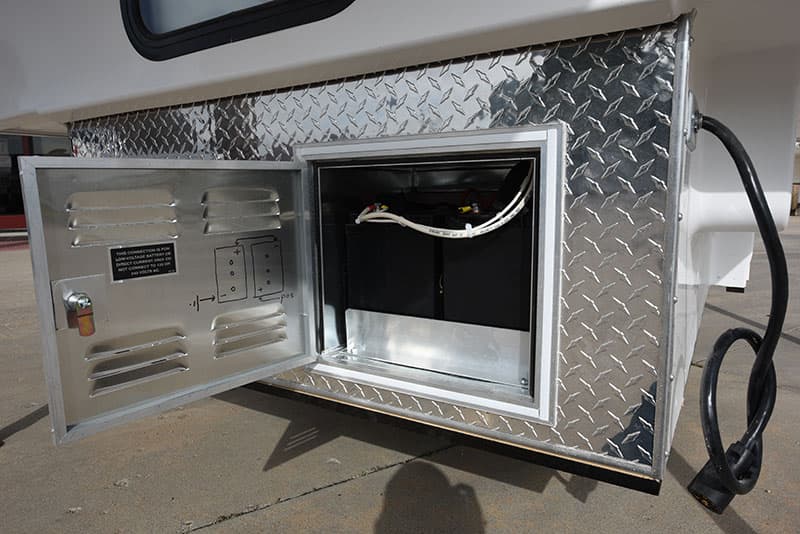 The Hallmark Miner has a front wall battery compartment for two standard 6-volt AGM batteries.  The front wall battery compartment requires the camper to be unloaded in order to access the batteries.  Thankfully, the standard AGMs do not require maintenance.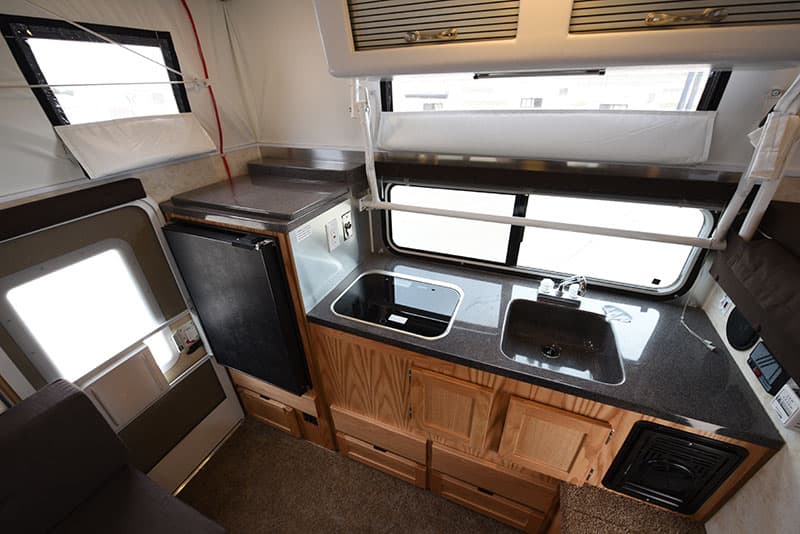 We have not camped off-grid with compressor refrigerators and would advise talking with Hallmark about the draw of the installed compressor refrigerator versus the amp hours on tap with two 6-volt AGM batteries.  We have known many truck camper owners who have raved about the efficiency of their compressor refrigerators, but we cannot advise from experience how long this specific battery and refrigerator set-up will run.  Hallmark is more than welcome to submit a Manufacturer's Response on this topic.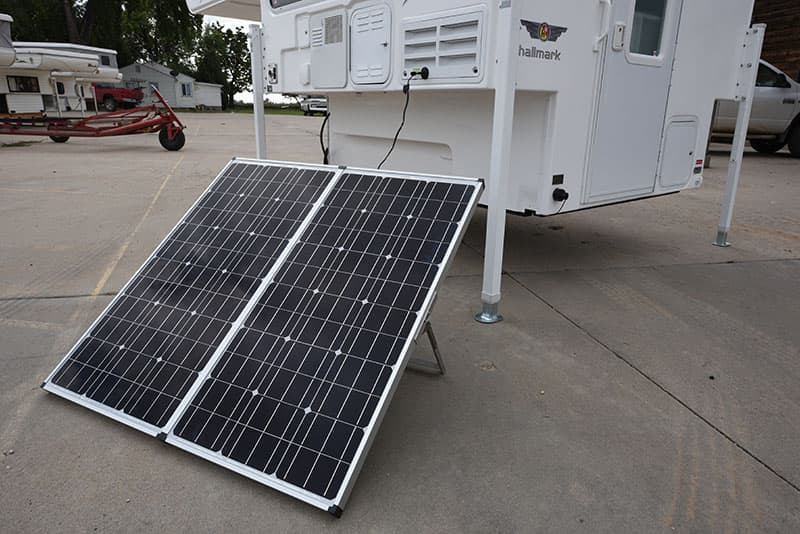 Above: The Milner under review had the optional portable Zamp solar panel
Wet Weight Calculation
Using the standardized Truck Camper Magazine wet weight calculation, let's run the numbers on the 2017 Hallmark Milner.
Base Dry Weight
Hallmark Milner: dry weight, 1,212 pounds + 30 gallons fresh, 250.2 pounds + 3.8 gallon full hot water heater, 31.7 pounds + 30-pound full propane tank, 27 pounds + 2 batteries, 130 pounds + stuff, 500 pounds = 2,150.9 pounds
Fully Optioned Weight
Based on our conservative calculations, we estimate the weight the options in the Hallmark Milner under review at 115 pounds.  Adding that weight to the 1,212 pound base weight we arrive at 1,327 pounds.  Now let's put this dry with option weight into the Truck Camper Magazine wet weight formula.
Hallmark Milner: dry weight, 1,327 pounds + 30 gallons fresh, 250.2 pounds + 3.8 gallon full water heater, 31.7 pounds + 30-pound full propane tank, 27 pounds + 2 batteries, 130 pounds + stuff, 500 pounds = 2,265.9 pounds
Truck Recommendations
As the Hallmark Milner is a short bed pop-up truck camper, we are going to adjust the 500 pounds of stuff weight in the wet weight calculations to 250 pounds.  Given the size and storage capacity of the Milner, 250 pounds of stuff weight is more reasonable.  This adjustment puts the base wet weight of the Milner at 1,900.9 pounds, and the wet weight with options of the review unit at 2,015.9 pounds.
Before we get to the realities of payload matching the Hallmark Milner to a half-ton pickup truck, repeat after me, "Truck dealers order features, not payload reachers".
Truck dealers order trucks focused on the configuration, options, and packages the average customer wants and completely ignore the negative consequences these decisions have on payload (and towing) capacity.
As a result, it is common to see brand new half-ton trucks on dealer lots with payload capacities less than 1,500 pounds.  The last dealer-ordered batch of 2017 Ford F150s we saw had payloads hovering around 1,200 pounds.  Seriously.
What this means is this; as a community, truck campers should almost never buy a truck off a dealer lot.  When we shop trucks, we need to first calculate the wet weight with options of the camper we are looking to match, and then custom-order a truck with the configuration, options, and packages that get us to that number – or better.
The other solution is to completely over-truck.  It may seem ridiculous to recommend a three-quarter or one-ton truck in the context of a pop-up camper review, but you'll be almost guaranteed to have sufficient payload, and capacity to spare for towing boats, Jeeps, or whatever else your heart desires.  Plus, if you ever decide you want a bigger camper, you'll have the payload to do it.  If I had my way, every truck camper owner would over-truck.  We certainly did.
Coming back to Earth, if you want to payload match the Milner to a half-ton, the simple answer is to custom-order a half-ton with a focus on payload.  For the 2,016 pound wet weight of the Milner under review, this is as easy as going to your preferred truck dealer and saying, "I want a half-ton short bed truck with at least 2,016 pounds of payload – or more."  If they say, "Don't worry about payload" or the dreaded, "You'll be fine", find another truck dealer.
Ford continuously wins our bi-annual Dream Truck Survey, so I matched the Milner under review to a 2017 Ford F150 with the specifications our readers want; crew cab, and four-wheel drive.  According to the Ford website, a 2017 Ford F150 XL short bed, 4×4, Super Crew, 3.5L EcoBoost V6 offers 2,650 pounds of payload capacity.  This payload capacity requires Ford's Heavy Duty Payload Package with 18-inch wheels.  Just be careful to not load this truck configuration with more than 634 pounds of additional options and packages.  It's amazing how that can happen.
The Verdict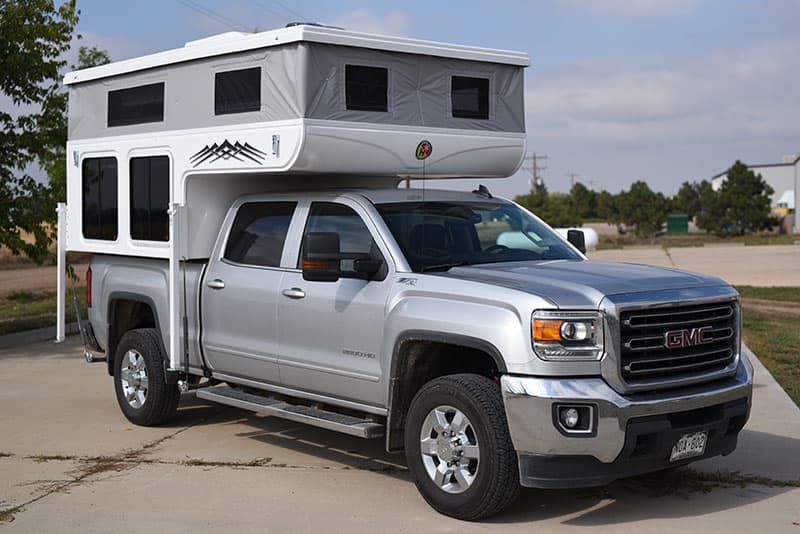 I presented a very direct question in the introduction to this review, "After nearly a half-century of evolution and refinement, is the Hallmark Milner still competitive?"  After a thorough evaluation, I believe this question sells the Milner short.  Not only is the Milner competitive, but it clearly represents a state-of-the-art in traditional pop-up truck camper design.
Keeping things in perspective, the Hallmark Milner is not the lightest in its class, nor is it the most affordable.  That stated, the Milner offers a level of build material (the incredible molded fiberglass exterior walls and phenomenal one-piece molded fiberglass roof), cutting-edge appliances, and overall comfort that the lighter and/or more affordable competition can't match.  You definitely get what you pay for with the Hallmark Milner.
This is not to say that the Milner is perfect.  I was disappointed to not find a battery disconnect by the entry way door.  Yes, you can pull the fuse under the cabover step, but that seems unwieldy for a premium camper.  I also have an issue with the size of the dinette table that comes with the optional Lagun table system.  We would certainly want a bigger table.
We also nit-picked the possible fragility of the LED lighting under the optional upper cabinetry, the location of outlets, and the practicality of the removable rug.  Some of this is obviously my personal opinion, and other items are ripe for a Manufacturer's Response.  Either way, there is always room to improve a truck camper, even one that has evolved for 48-years.
If I had one piece of advice for anyone who orders a Hallmark Milner it's this; think long and hard before adding too many options.  The base Milner design represents decades of feedback from thousands of Hallmark customers.  Talk to the Hallmark team about exactly what you want to do and let them advise you on what options you truly need and – more importantly – which ones you can skip.  As a third-generation family-owned company that really uses their products, they are the experts on the campers they build and the lifestyle it represents.
For the traditional pop-up truck camper enthusiast, the Hallmark Milner is a must-see.  You will need to travel to Hallmark in Fort Lupton, Colorado to experience a current Milner in person, but that comes with the added benefit of meeting the Hallmark team and touring their factory.  Just make sure you're serious about a Hallmark before you go.  After seeing a Hallmark Milner in person, you'll probably be placing an order.
Pros
Half-ton compatible if carefully matched – see Truck Matching above
Extremely high build quality throughout the unit
Excellent quantity and quality of interior storage
Molded fiberglass exterior walls and one-piece fiberglass roof are class-leading
Standard compressor refrigerator and two 6-volt AGM batteries
48-years of design and material evolution are clearly evident
Cons
Battery disconnect would be better located by the entry door
Optional Lagun table system is highly versatile, but table top may be too small
LED lighting under upper cabinetry appears vulnerable to bumps
Odd storage cubby behind forward facing dinette needs definition
Outlet locations could be more convenient and offer additional USB
Removable snap-in carpet seems impractical (dirt) for daily use
Model Information
2017 Hallmark Milner
MSRP: $26,900
Warranty: 5-year structural warranty
Hallmark Manufacturing, Inc.
12524 Weld County Road 25.5
Fort Lupton, CO 80621
Phone: 1-877-659-5753
Request A Hallmark RV Brochure
Web: hallmarkrv.com
Quality, Customer Service, and Long-Term Reliability
Truck Camper Magazine inspects all reviewed truck campers for design, material, and quality issues and reports what we find.  However, since Truck Camper Magazine reviews only brand new truck campers, our reviews do not address long-term quality, customer service, or reliability.
To learn about a brand's long-term quality, customer service, and reliability, Truck Camper Magazine recommends talking directly with truck camper owners at truck camper rallies and online via truck camper forums and truck camper owners groups.
Please be sure to balance your gathered feedback across multiple sources including direct correspondence with the truck camper manufacturers and your closest truck camper dealers.
If you are new to truck campers, start in our Truck Camper Newbie Corner.