After the first snow of the season, we ventured into Rocky Mountain National Park in a Hallmark Cuchara XL pop-up truck camper.

The thought of camping overnight in a pop-up truck camper, in Rocky Mountain National Park, in mid-October, literally gave me the chills.  Like Ralphie's, "You'll shoot your eye out" warnings in A Christmas Story, I kept hearing a little voice in my head repeating over and over, "You'll freeze your tushies off".  I hate being cold.
When I called Matt Ward at Hallmark RV about my concerns, he assured me that their campers would keep us warm at temperatures well below anything we would face.  He even told me that we could literally bake ourselves if we kept the heat on full blast.  Given my concerns, turning the Hallmark into a portable life-sized easy bake oven sounded great.  Bring on the heat.
Of course monitoring the temperature of our hind-quarters wasn't the only purpose of our trip to Denver.  We were eager to finally take out a Hallmark pop-up truck camper and put it through as many paces as we could find.  And where better to do that than Rocky Mountain National Park?
In the days leading up to our trip, it snowed in Rocky Mountain National Park and high temperatures were dipping into the lower to mid thirties.  This was going to be interesting.
DAY 1: Tuesday, October 12th
When an alarm clock goes off at 3:30am, there had better be a darn good reason for it.  On Tuesday, October 12th, the pre-dawn buzzer signaled the beginning of our much anticipated trip to Denver.  Before the day was through, we would be driving a Hallmark Cuchara XL deep into Rocky Mountain National Park.
An hour later we were at Baltimore Washington International Airport and doing the TSA hokey pokey.  Put your left shoe in, take your laptops out, put your right shoe in, and shake all your six ounce bottles out.  I love airports.
At least we were flying Southwest; the tickets were direct, our bags flew free, and the flight left on time.  Somehow we even arrived an hour early at Denver International Airport.  How the heck did they pull that off?  If you have to fly, Southwest rocks.
By the time we got our suitcases in Denver, Bill and Matt Ward of Hallmark RV arrived to pick us up.  What service!  We threw our suitcases into the back of Matt's truck and headed right to Hallmark HQ.
Upon our arrival, we caught up with Debbie Ward, Andy Ward, Randy Wass, Jody Bolin, Mike Hastings, and the whole Hallmark team.  The culture at Hallmark is very family oriented and we always feel like old family friends when we visit.  In fact, we've talked to many Hallmark customers over the years who have told us of their own warm reception at Hallmark and ongoing friendly communications with the company.
But enough with the pleasantries, we're on a mission.  Matt showed us the Hallmark Cuchara XL we were borrowing and Bill handed over the keys to his Dodge Ram 2500.  Yes, we were about to take out the President's truck for a few days.  It felt a little bit like borrowing Dad's car to go to the prom.  You know, that "I can't get a scratch on this vehicle" feeling?  Bill even cleaned it out for us.
As Angela unpacked our suitcases into the camper, Matt showed me some unrelated top secret special order Hallmark projects for upcoming stories.  For now, all I can say is that Hallmark continues to push boundaries and explore just how custom a custom Hallmark can be.
Matt is usually the person who walks Hallmark customers through their new camper and makes sure they understand how it works.  Hallmark even has a special checklist that they hand to the customer to make sure every aspect of the camper and its operation is covered.  For example, if Matt forgets to cover how the water heater works, the list prompts the customer to ask about the hot water heater.  The manual that comes with a Hallmark is equally impressive and demonstrates Hallmark's attention to detail and care for the owner experience.
After Matt's camper demonstration (more on that later), we said our goodbyes to the Hallmark team, jumped on Colorado State Highway 66, and headed straight for the Super Walmart in Longmont.  We needed food and supplies for the following few days and the Super Walmart was right smack dab on the way to Rocky Mountain National Park.
This may sound odd, but there is a very real sense of excitement for me when Angela and I are loading up a truck camper's refrigerator with food.  It's as if a full camper refrigerator says, "Now you're ready to go truck camping".  To be clear, I don't actually hear voices form camper refrigerators (I'm not quite that nuts), but a full refrigerator is often the final key ingredient to our truck camping adventures.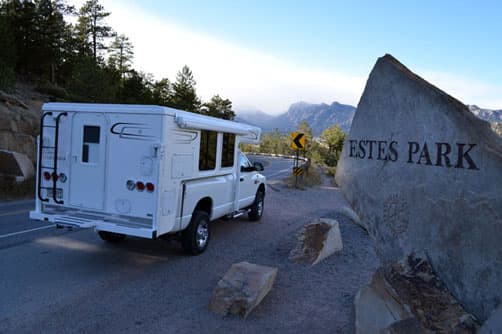 Turning back onto 66 towards Estes Park, we watched the snow capped Rocky Mountains in front of us grow bigger and bigger.  Just before we entered the town of  Estes Park, we stopped for a camper picture with the Estes Park sign and then pulled into the Estes Park Visitors Center about a mile down the road.  There we received confirmation that Trail Ridge Road was indeed closed due to icy conditions.  Hopefully the road would open the next day or we would need to change our plans.
A few miles west on Route 36, we turned into the Beaver Meadows Visitors Center.  Angela got another stamp in her National Parks Passport and asked about the campgrounds in the park.  The ranger informed us that all but one campground in the National Park, Moraine Park, was already closed for the winter.  More plans dashed.  We were starting to wonder if the park was trying to tell us something, or if we had planned this trip too late in the year.  Too late now, we're going.