Matthew: One of my first trips was to Engineer Pass and Cinnamon Pass in the spring.  I remember driving the Alpine Loop over the mountain and dropping into Lake City.  I had no idea what I had gotten myself into.  The road was no wider than the rig and the turning radius of my truck was horrible.  When I reached the switchbacks on the pass everything was on the floor.  It took me ten hours to go fifteen miles.
TCM: Wow!  That sounds like a nightmare.
Matthew: It was.  When I reached the top of Engineer Pass, I freaked out.  Then I continued on the southeast facing side of the pass.  There were massive snow walls on the pass and deep mud.  At that point I was committed and literally could not turn around.  There were sections of road with 1,000 foot drop offs.  More than once I thought about what an idiot I was.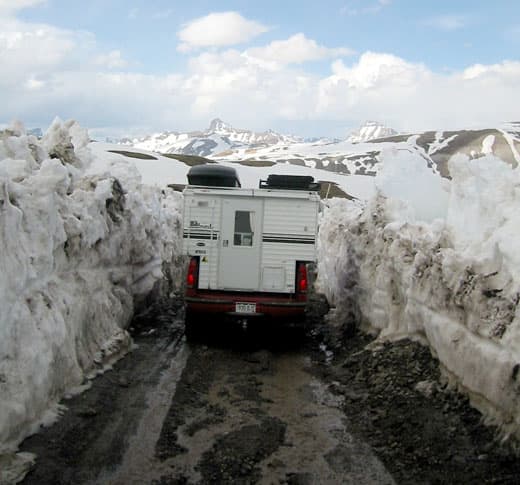 Above: East side of Engineer Pass
Eventually I reached Lake City.  The people there looked at me and shook their heads.  It took me two days to get over Engineer Pass.
That night I found a place to camp next to a sign that reads, "Henry David Thoreau's Cabin".  Five hundred feet down there was a big flat grass area.  If you look in our first anniversary picture, that's where we camped.  We go back there every Memorial day and Labor day.
TCM: That's quite a story.  How did your wife and you get started camping together?
Matthew: The first time my wife came out camping with me we went over that same pass I just told you about.  She said, "What are you doing?  This isn't even a car road.  What are you doing?"  Now it's an annual thing every Labor day.  A lot of times for Memorial day all the campgrounds are still snowed in.  That's when we started going to Lake McConaughy in the Spring where there's no snow.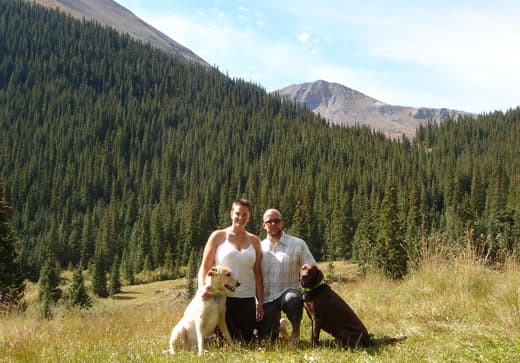 Above: Matthew and Jennifer's wedding in Ouray, Colorado
TCM: How did you use your Hallmark for your wedding and honeymoon?
Matthew: Let me back up a little.  The August before we got married we went on a motorcycle trip with my brother.  My brother and I rode our motorcycles and she followed us in the truck camper rig.  Whenever we stopped, I'd say, "Let's get married here" and she'd say, "No, I'm not getting married again".
The week before Memorial weekend in 2006, I said to her, "We're going to southern Colorado and we're getting married this weekend".  She said, "Okay".
Immediately I had the ring made.  Then I found out that you don't need an official to marry you in Colorado.  You can marry yourselves.  So we went to Southern Colorado for the weekend to get married.  The day before we left we went to the courthouse.  You sign some papers, and then turn them in within seven days of getting married.
Our ceremony was sitting by the campfire in Ouray, Colorado with the dogs.  We said what we needed to say, and we were married.  We put the dog's names down as witnesses.
The next day we turned in the paperwork.  Then we drove over the pass and went back to the flat grass area at Beaver Pond.  That's where we had our honeymoon for seven days.
TCM: That's too funny that the dogs were the witnesses!  Love it.  When did you get your second Hallmark?
Matthew: We bought our new Hallmark in 2008.  We wanted the electric lift mechanism and the one-piece carbon fiber reinforced fiberglass roof.