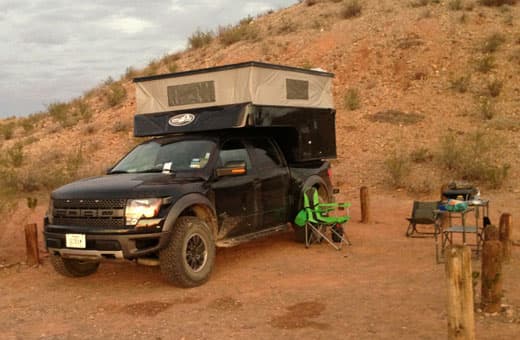 Above: In the above photo the jacks are removed from Sam's camper
TCM: In some of your photography the jacks are removed form the camper.
Sam: I actually remove the jacks all the time.  I only keep them on if I'm planning on taking the camper on and off.  They are easy to take on and off.  There are five screws on each jack.  They're heavy and without them there is less drag.  It also gives me more ground clearance and better miles per gallon.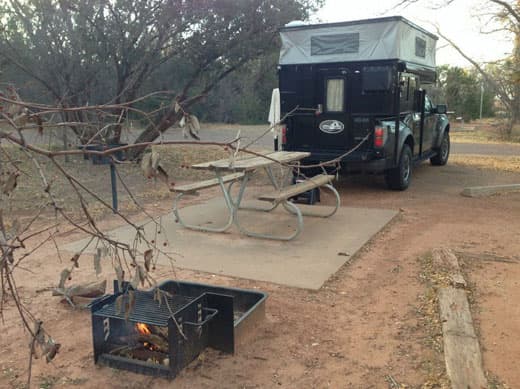 Above: Camping in Texas, notice that the camper fits inside the five and a half foot bed
TCM: How does the camper fit on the Raptor's five and a half foot short bed?
Sam: The camper fits entirely inside the bed with the tailgate closed.  I use the backup camera in my tailgate and the trailer hitch.  I love having the backup camera on the tailgate for off-roading and parking.  The tailgate serves as a front porch to store firewood, trash bags, or muddy boots after a day of exploring.
Some may have concerns over being locked in by someone shutting the tailgate with you inside, but a simple Master Lock on the hinge alleviates that potential situation.  Additionally, the locking tailgate provides extra protection for my generator and gear stored inside the camper.  We can lock the tailgate if we're away from the camper which adds security.
Above: Sam and Ashley in Rocky Mountain National Park, Colorado
TCM: Other than off-roading, what do you and Ashley like to do when camping?
Sam: We like to go to concerts and sporting events a few hours early and tailgate.  We tailgate at Dallas Cowboys, Dallas Mavericks, and Rangers games.  With the awning and the bathroom, it's really nice to have the rig.
We want to really use our camper because a lot of money went into it.   Too many people buy RVs and only use them a few times.  Then they sell them or they go unused.  We use our Phoenix Camper.  It gives us the freedom to do more.
TCM: You have two dogs that travel with you.  How does it work having two dogs in a five and a half foot camper?
Sam: We're huge dog people.  Our dogs, Daisy and Murphy, run our lives.  The dogs have the two person dinette as their bed, but they still jump on the bed with us.  It's tight, but we're a close family.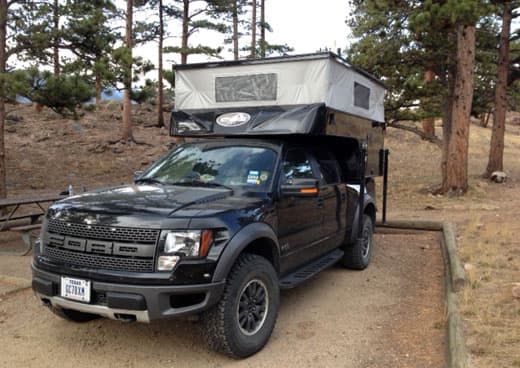 Above: Camp spot at Big Bend National Park
TCM: What are you getting for fuel economy with the Ford Raptor and Phoenix Camper?
Sam: Unfortunately, the Ford Raptor gets terrible fuel mileage.  It's a 6.2 liter V8 with bigger tires than a stock Ford F150.  I was getting fourteen miles per gallon without the camper and twelve miles per gallon with the camper.
The PULSE SC is low profile design which really helps with wind drag.  I also use tow/haul mode on the truck.  It's slows the truck down and helps with driving in the mountains by delaying shift points and providing engine breaking.  When you own a four wheel drive truck or a Jeep, you're going to sacrifice some fuel efficiency.