Hallmark RV debuts the 2018 Hallmark Nevada, a long bed 8.5-foot flatbed pop-up truck camper for full-size trucks.  If you're looking for a pop-up with serious capacities, this Hallmark has two fresh tanks, two grey tanks, and more.  A lot more.

Many truck camper enthusiasts have wondered about the possibilities of a flatbed approach.  By eliminating the pickup sidewalls and wheel wells, you would have a wide open platform.  That means more floor space, more storage, and more design opportunities for dinettes, bathrooms, kitchens.  Of course you also lose the versatility of a standard pickup truck.  That's the flatbed compromise.
Customers have asked Hallmark RV about a flatbed pop-up truck campers for many years.  While it may seem like a no-brainer to give customers what they want, Hallmark's unique molded fiberglass construction does not allow for quick or easy new model development.  To be blunt, new fiberglass molds are a very costly investment.  And getting a new model right takes a considerable amount of management and production time.
Consumer demand for a flatbed finally eclipsed these concerns this past fall.  It started when three separate Hallmark customers placed orders for a flatbed model.  With even more customer interest in the pipeline, Hallmark had the impetus to design a new camper and build the required flatbed fiberglass molds.  The result of this considerable effort is the all-new 2018 Hallmark Nevada.
There are a few firsts attached to this new camper.  The Nevada is the first flatbed Hallmark and the first truck camper that we know of with dual fresh water tanks.  It's also really interesting to see how the flatbed approach impacted the storage and utility of this full-size pop-up camper.
To find out more about the Hallmark Nevada, we talked to Matt Ward of Hallmark RV.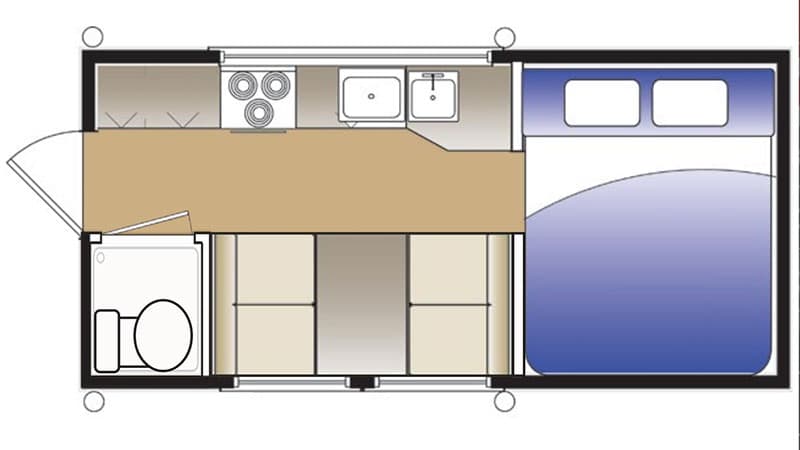 Hallmark Nevada 8.5 Specifications:
The 2018 Hallmark Nevada 8.5 is a pop-up, wet bath truck camper made for long flatbed trucks.  The interior floor length of the Hallmark Nevada 8.5 is 107-inches, the interior height is 6.5-feet, and the center of gravity is 43-inches.  The Hallmark Nevada 8.5 has two 27-gallon fresh tanks, 26-gallons of grey capacity, a 4.75-gallon black tank, and a 6-gallon hot water heater.  It can accommodate two or three batteries and has one or two 20 or 30-pound propane tanks.  Hallmark is reporting the base weight of the 2018 Hallmark Nevada 8.5 to be 2,400 pounds.  The base MSRP for the Hallmark Nevada 8.5 is $62,000.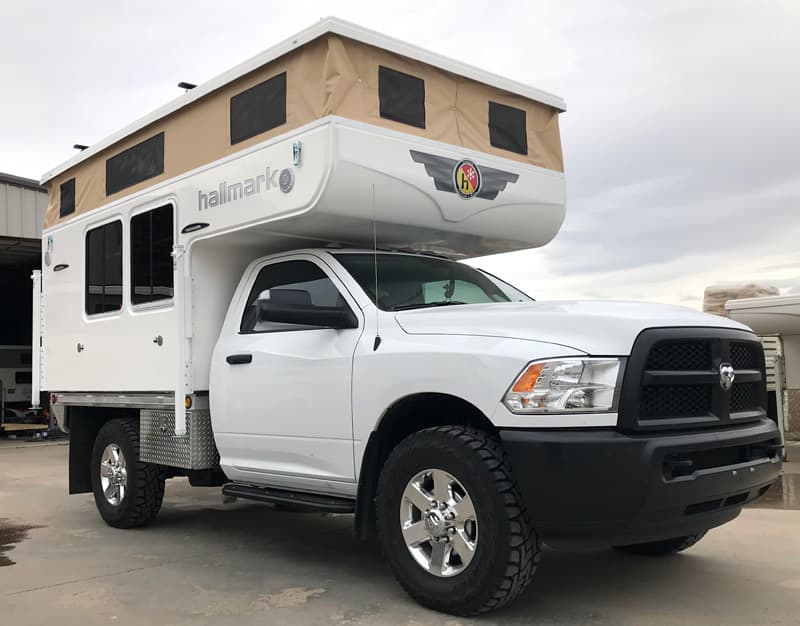 Above: The 2018 Hallmark Nevada flatbed pop-up truck camper.  All photos courtesy of Hallmark RV and James Langan (owner of the Nevada pictured above)
TCM: Why is Hallmark debuting a flatbed pop-up truck camper?
Matt: We had a lot of requests for flatbed campers at Overland Expo West 2017.  Since then, over 40 people have approached us about building a flatbed model.  Before we might have had three or four people ask about flatbeds in a given year.  The sharp increase in flatbed demand prompted the new model.
TCM: That's interesting.  Why do they want a flatbed pop-up truck camper?
Matt: People want to almost full-time off the grid in a pop-up camper.  To do that, they need increased holding tank, propane, and battery capacities.  The capacities of a standard pickup bed camper cannot compete with what's possible with a flatbed camper.  By going to a flatbed pop-up truck camper, we can accommodate the larger capacities these customers are asking for.  A flatbed design also allows for more interior space and storage with a smaller footprint.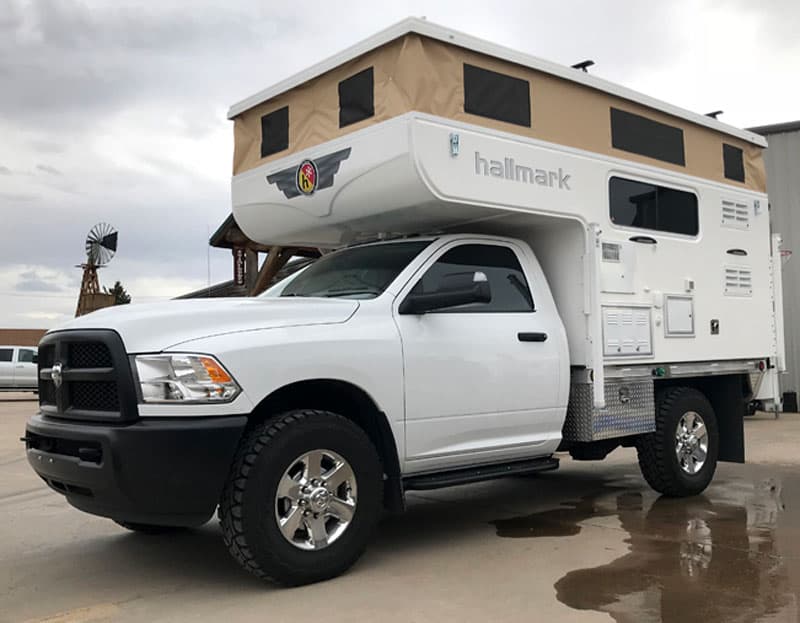 TCM: Before we talk in detail about the Nevada, let's talk about the flatbed truck.  What kind of truck does a customer need for a flatbed Hallmark?
Matt: A three-quarter-ton or one-ton truck is required.  A half-ton truck should not be considered.  These customers are looking for options and capacities which equals more weight.
Putting a flatbed truck together is a big commitment.  We want to make it as easy to do as possible.   A safe approach is to talk to AT Overland or Highway Products.  They build custom flatbeds for our campers.
Another option is the production Hillsboro 2000 Series flatbed; an aluminum flatbed made in Kansas.  The starting cost for the Hillsboro 2000 is around $3000.  With options it can be as much as $5,600.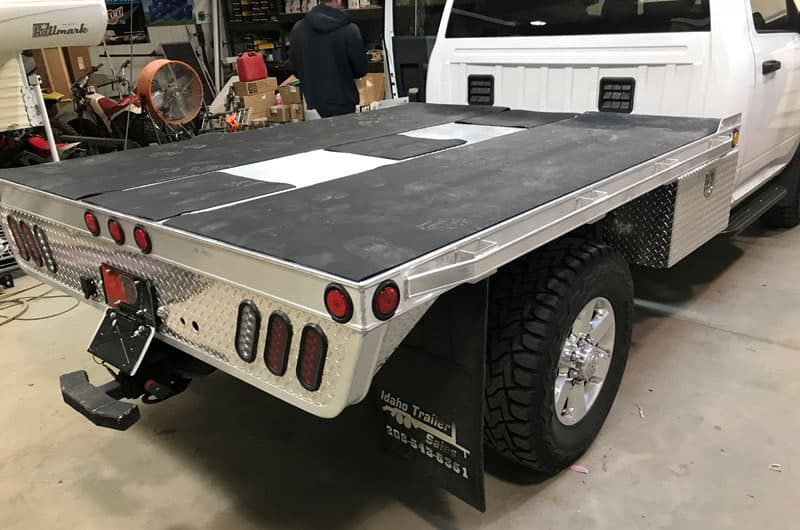 Whether you have a Ram, Chevy, or Ford, Hillsboro 2000 Series flatbeds will go on short or long bed trucks.  The only difference is the way it sits on the frame rails.  The Ford would be a little taller.
Before a customer places an order, I will talk to them about the flatbed to make sure that everything is right.  We don't want you showing up to pick up your camper with the wrong flatbed.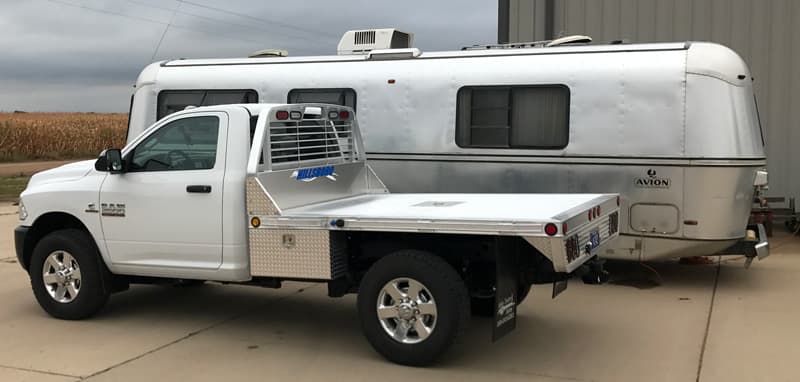 TCM: Should Hallmark flatbed pop-up truck camper customers purchase a cab and chassis truck, or can they start with a standard pickup?
Matt: You can start with a pickup truck with a bed and take it off.  Before you start, I recommend that you call us first.  If you buy a Hillsboro 2000 Series flatbed with you must have the removable headache rack.  As long as you have the removable headache rack, it will fit with no problems.   AT Overland and Highway Products will also build a flatbed to meet our requirements.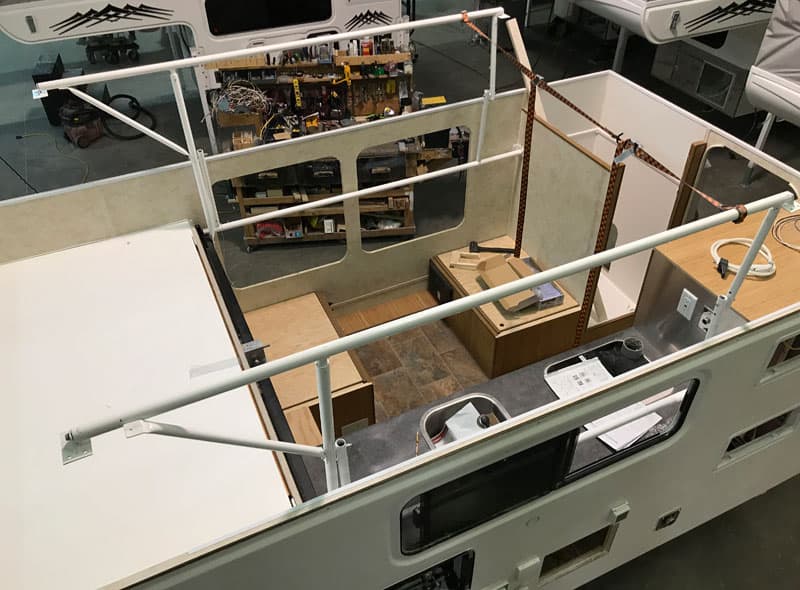 TCM: Let's talk about your new flatbed camper, the Hallmark Nevada.  Is Nevada floor plan a new design, or is it based on another Hallmark model?
Matt: The Nevada floor plan is based off the Hallmark Ute, which is an 8.5 foot floor plan.
The dimensions of the dinette and bathroom got changed quite a bit.  The Ute dinette is 5'7", which is the smallest dinette dimension we have.  With the Nevada flatbed, we were able to turn the bathroom sideways instead of front to back.  That allows us to build a 6'9" dinette.  The only reason that increase is possible is the flatbed.
TCM: Many of us have wondered about how a flatbed approach would affect camper floor plans and capacities, so it's fun to hear about the actual design results.  Speaking of which, tell us about the design and development of the Nevada.  Was it a challenging process?
Matt: The beauty of it is that it wasn't.  By starting with the Ute floor plan and utilizing our time-tested and proven materials, components, and manufacturing techniques, we knew exactly how this camper needed to be designed and built.
The biggest challenge was the roof lift system.  The fulcrum points changed because we lowered the cabover.  Lowering the cabover changed where the lift system needed to sit in the camper.  Now the roof doesn't need to lift as far and the fulcrum points are different.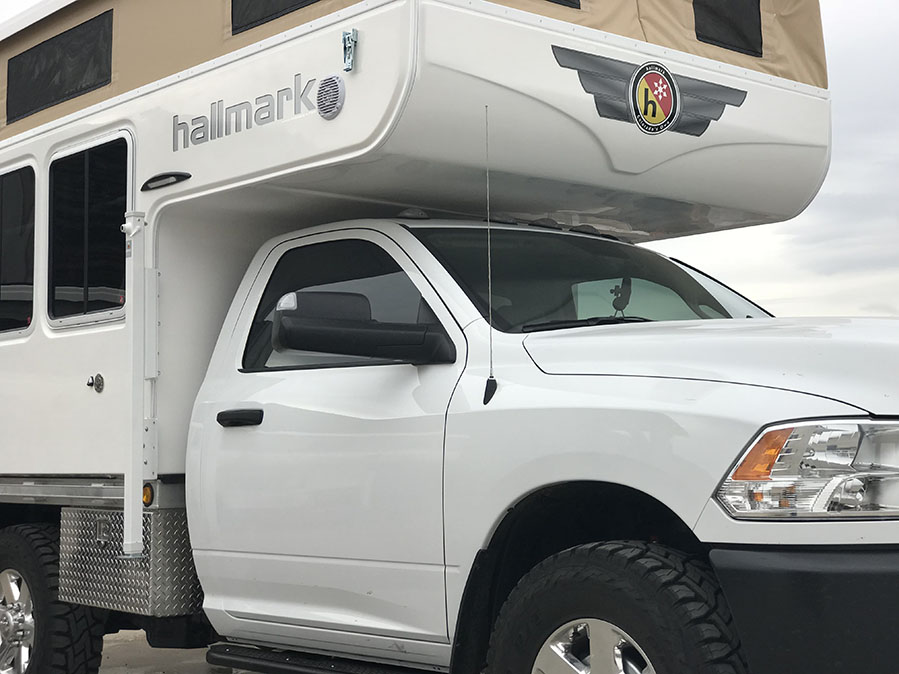 TCM: Just to be clear, the flatbed floor starts at a higher point, so you lowered the cabover?
Matt: That's correct.  When you put a standard truck camper on a flatbed truck, it raises the bed and cabover by at least 2-inches.  We did not want an extra 2-inch gab between the truck cab roof and the underside of the cabover.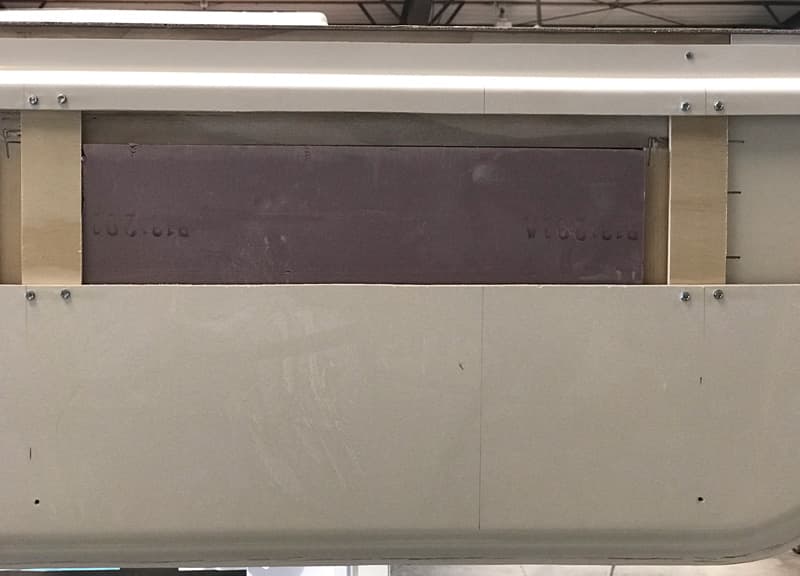 We took advantage of this increased flatbed height and lowered the cabover.  Beyond the elimination of the gap, lowering the cabover also lowers the interior entry into the cabover bedroom.  It also creates more headroom in the cabover.
Our normal campers sit at 64-inches with the top down.  This camper is no different.  It's also at 64-inches.  If we put a Ute and a Nevada side-by-side, you would see that the cabover height is essentially identical.  The Nevada cabover is thicker due to the raised flatbed, but the height is the same.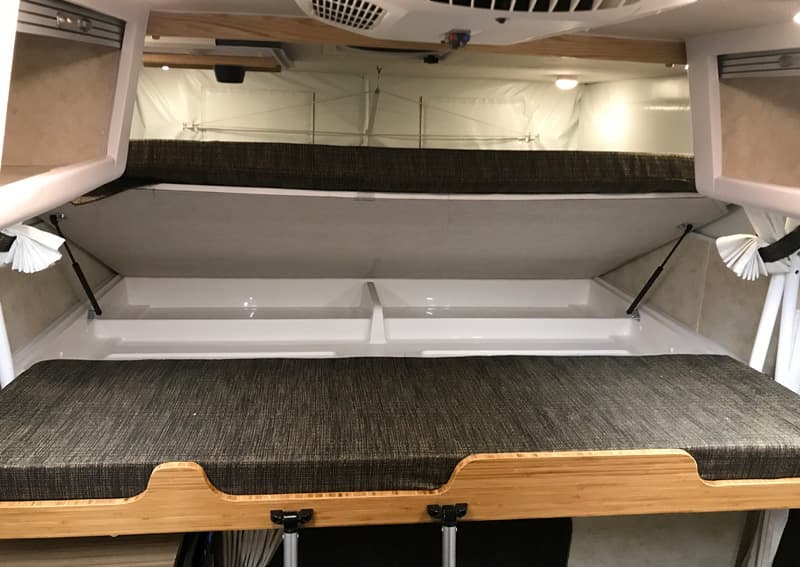 TCM: One of our favorite design features of Hallmark truck campers is the fiberglass under bed storage area.  Does the Nevada cabover design have this storage feature?
Matt: Yes, the Nevada has the fiberglass under bed storage area.  We also offer the optional north-south cabover with extended under bunk storage and side bed storage.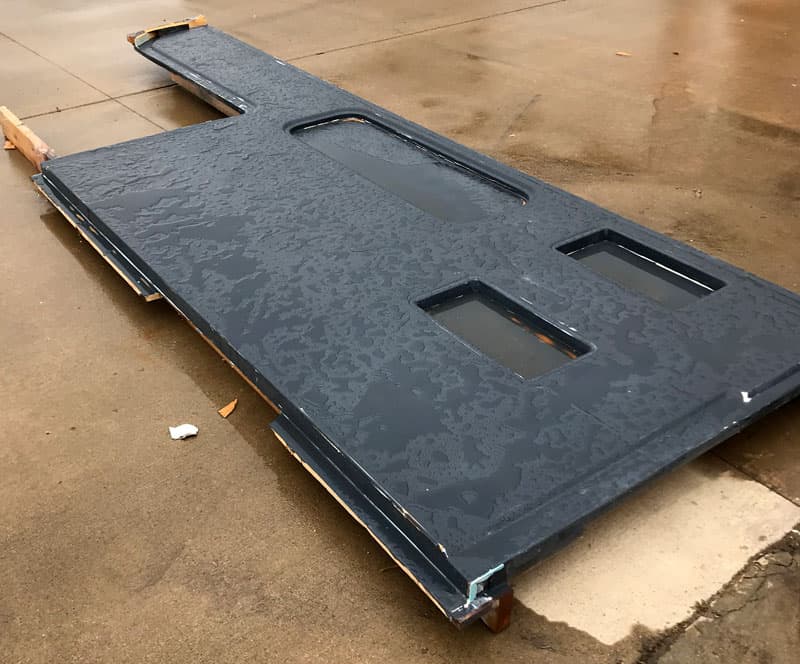 Above: The sidewall model Hallmark built for the mold design
TCM: For strength and durability, Hallmark's sidewalls, rear walls, front wall, cabover nose, and roofs are all hand-laid gel-coat fiberglass.  Did the Nevada require all new fiberglass molds?
Matt: Yes, we built new molds for the Nevada.  Since the Nevada was based off the Ute, the design process was easier.
The fit of the roof was critical.  We did not want to change our proven roof design.  We kept the same roof width, height, and length for the flatbed campers.  The 8.5-foot roof is the same as the Ute.  The 8-foot roof will be the same as the Guanella.  The 6.5-foot roof will be the same as the Milner.  The extended bunk model roofs will fit as well.
To create the flatbed, we needed to drop the cabover and sides.  You might think we could start with the Ute's mold and just change it, but you can't do it that way.  We had to build a model the way we wanted the camper to look.  Then our fiberglass partner, C.F. Maier, built a fiberglass mold from our model.
The process of building molds is an extremely time intensive and expensive process.  The new molds for our flatbed campers cost hundreds of thousands of dollars.
TCM: That's quite an investment.  Does that include the molds for the 6.5-foot, 8-foot, and 8.5-foot models?
Matt: Yes, it does.  At this point the 8.5-foot molds are complete.  That has been the most requested flatbed size, so we started there.  Plus, shrinking a design is a lot easier than growing a design.  The big investment was the 8.5 molds.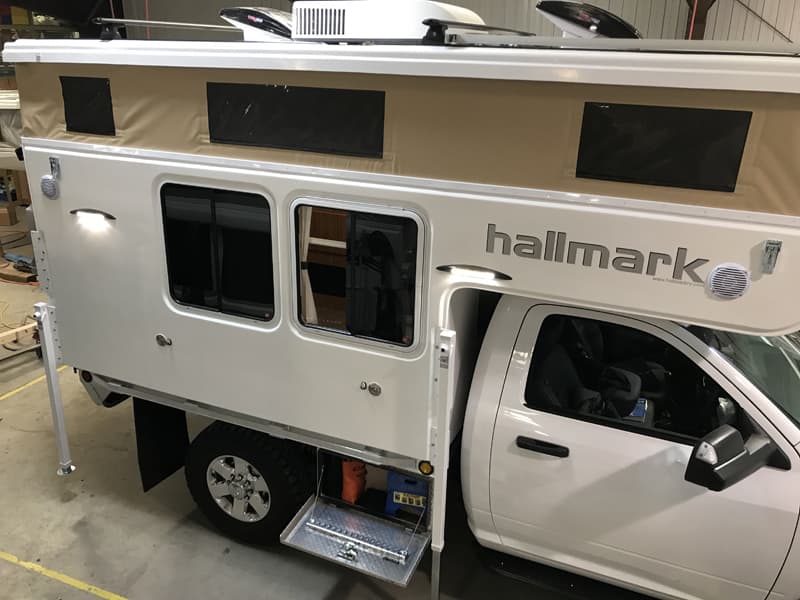 TCM: While we're on the subject, why does Hallmark build with fiberglass side walls and roofs?  It would obviously cost significantly less to build hung wall or laminated walls like the majority of truck camper manufacturers.
Matt: We use hand laid fiberglass because it has superior durability and longevity.  It's the best way we know to build a truck camper.
Our one-piece molded roofs are leak proof, have no seams, and will outlast your house.  We've have customers who had their cars totaled and house roofs destroyed by a hail storm, but their Hallmark's roof survived.  They needed new roof vents, but the Hallmark fiberglass roof itself was fine.
TCM: That's incredible.  Why does Hallmark prefer hand laid fiberglass to the chop gun fiberglass employed by the fiberglass hard side manufacturers?
Matt: With a balsa core, hand laid fiberglass is stronger.  Hand laid fiberglass is also more controllable.  When you spray chop gun fiberglass, it's hard to control the thickness of the fiberglass.  You might get too much or not enough.
With hand laid fiberglass you have total control of the thickness.  You can also select different fiberglass sheeting with different weaves.  It's very intentional and, as a result, you use less material.  Our hand laid fiberglass roof and sidewalls are lighter than they would be if we used chop gun fiberglass.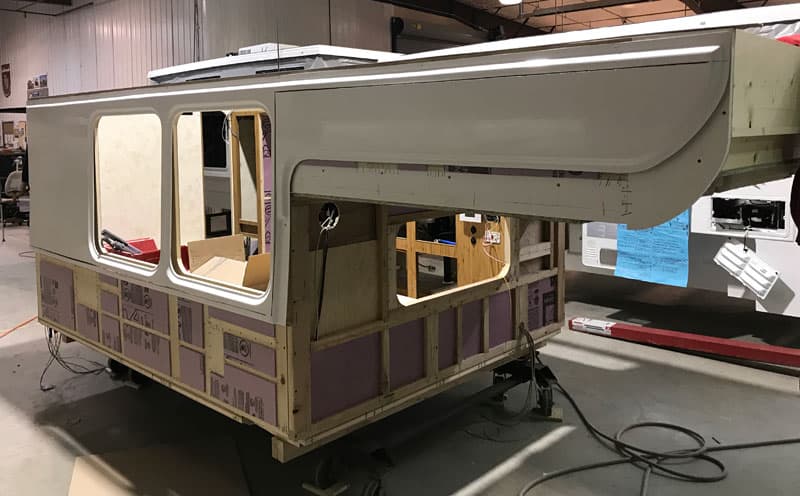 TCM: How is the Nevada framed?
Matt: All Hallmarks are shelled on the outside with our fiberglass composite and framed with wood.  Wood is almost impossible to beat for flexibility, insulation, weight, and holding fasteners into cabinetry.  Long term, aluminum and man made composites don't hold together as well as a wood camper does.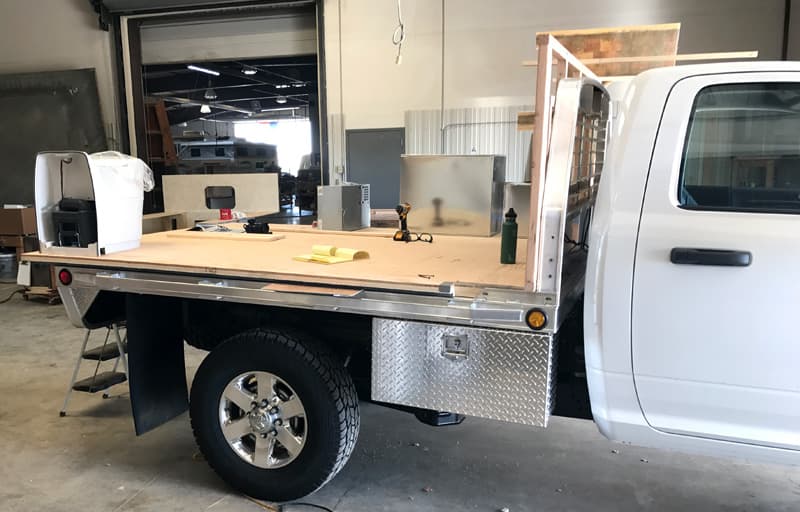 Above: Laying out the flatbed floor plan
TCM: Some readers might question that last statement with concerns about wood rot.  How would you address these concerns?
Matt: No matter what you have for framing in your truck camper, you always need to care for the product or it won't last.  Chris Craft boats are made from wood and people have used them for decades.  They last for years even in high humidity.  Wood is a fine product.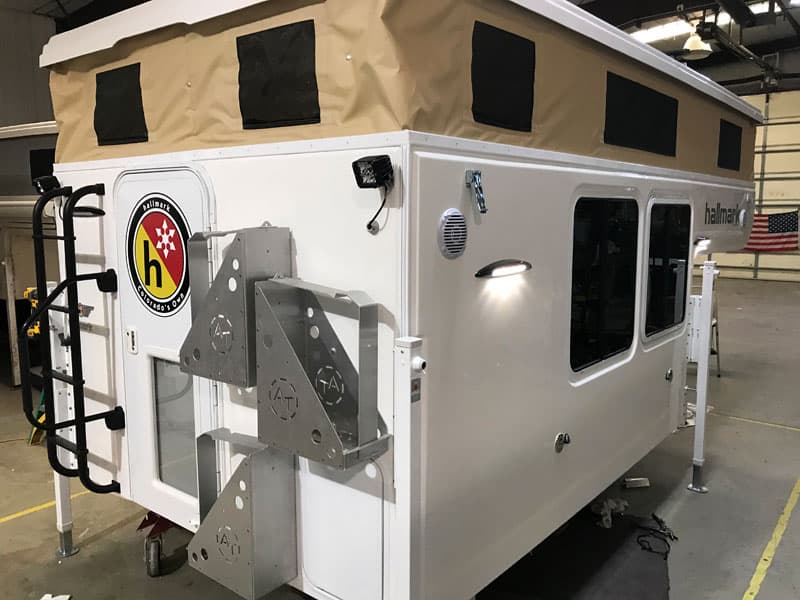 TCM: Most flatbed designs are side entry floor plans.  The Hallmark Nevada is a rear entry model.  Why did you decide to make the camper a rear entry camper?
Matt: There are some great side entry floor plans that offer wonderful amenities.  But, when you ask the consumer what they really want in a flatbed, it's all about increasing capacities; larger living areas, larger bathrooms, larger refrigerators, larger holding tanks, larger propane tanks, and larger battery compartments.
With too many side entry camper designs, you lose the capacity you are trying to gain.  The side entry actually defeats the purpose of going to a flatbed.
With our rear entry camper design, the Hallmark Nevada gives you 50 gallons of water and a big bathroom.  You can get a 6.2 or a 7.2 cubic refrigerator.  You can have dual 20-pound or 30-pound propane tanks.  Every capacity is significantly larger.  For the Nevada, capacity was the name of the game.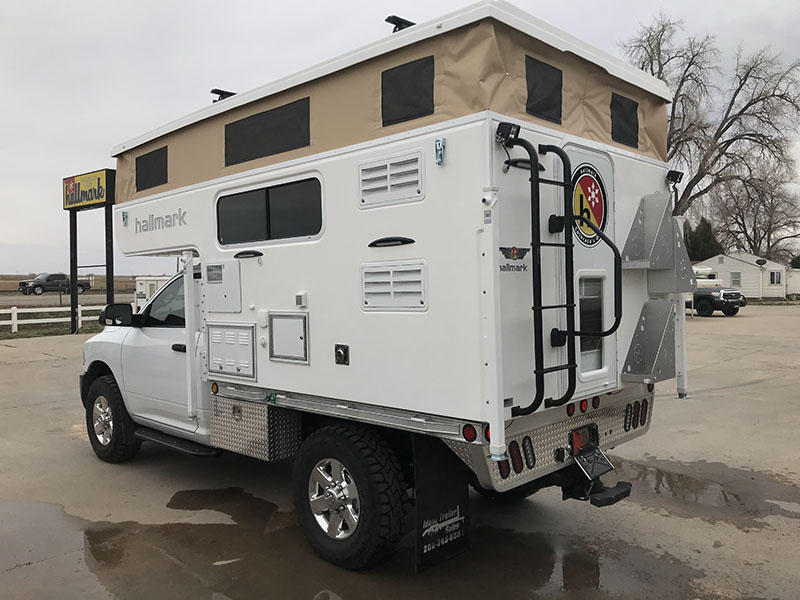 TCM: The entry door appears to be about four feet off the ground.  How does someone get into the Nevada?
Matt: We recommend the Torklift GlowStep scissor step system with their All-Terrain landing gear.  If you don't lift your truck, a four step Torklift GlowStep system should be all you need.  If you have a lift on your truck, it could be a five or six step system.
If you go to AT Overland or Highway Products for your flatbed, you could have a step system built into the truck's bed.  With the Hillsboro 2000 Series flatbed, you will need a scissor step system.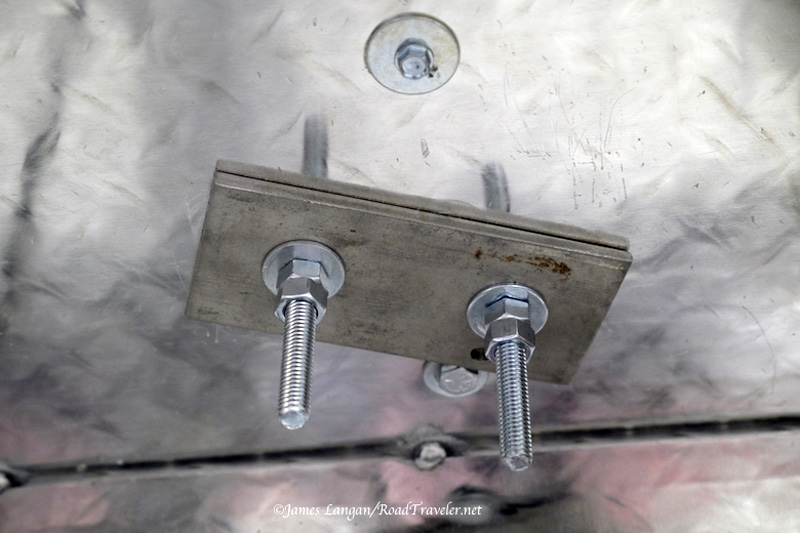 Above: Bolting down of the Hallmark Nevada truck camper, photo courtesy of James Langan
TCM: How does the Nevada tie-down to the camper?  In the pictures there are no tie-downs or turnbuckles shown.
Matt: Flatbed campers are pinned or bolted down.  We decided to bolt down the camper in four locations.  The flatbed has a U-strut system with two holes in each location.  There is a stainless steel metal strap on the camper and another stainless steel metal strap on the flatbed that goes across an I-beam.  The camper is being sandwiched on this I-beam.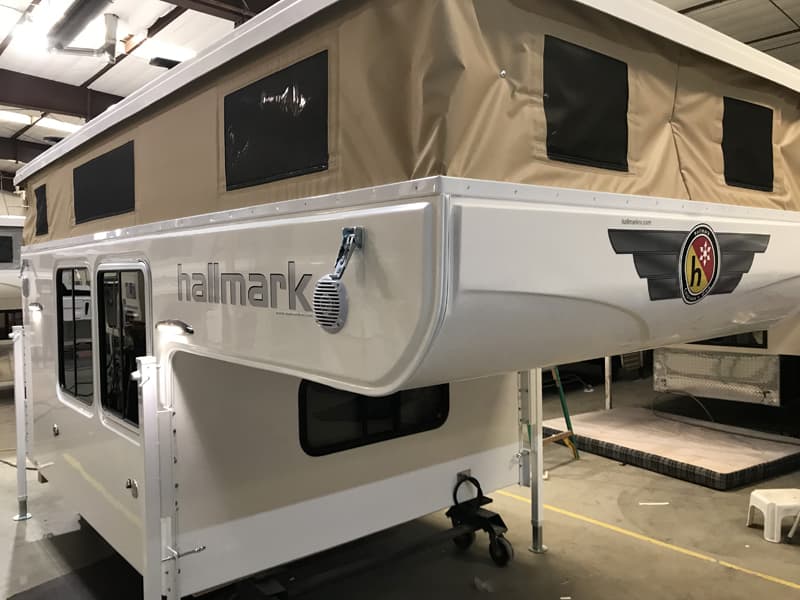 TCM: The Nevada in the photography has optional desert tan military soft wall fabric.  What are the advantages of this fabric versus Hallmarks standard three layer Weblon soft wall?
Matt: On this first Nevada we installed a tan military soft wall to make it different.  It's a military tenting material that is stronger and more heat and cold resistant.  It is also infrared resistant to block thermal imaging, not that our customers would be concerned with that feature.
The optional tan military soft wall adds about $1,000 to the cost of the unit.  We expect most flatbed customers will opt for our standard three layer Weblon soft wall.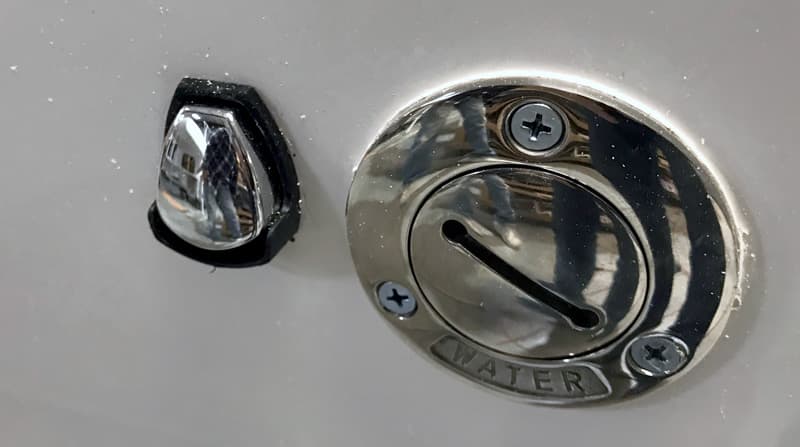 TCM: Were there any other new materials, components, appliances, or processes used in the development of the Hallmark Nevada?
Matt: We used yachting water fills and yachting overflow kits for the water system.
A non-flatbed Hallmark has a water fill way above grade, so we don't need to worry about water coming above the fill.  The Nevada has an optional 54 gallon water system that is barely above grade.  We needed a system that would seal as you fill the tank with water.  The yachting water fills and yachting overflow kits work perfectly.
We also added bypass valves on the dual fresh tanks so a customer can shut one tank when they don't want to carry as much water.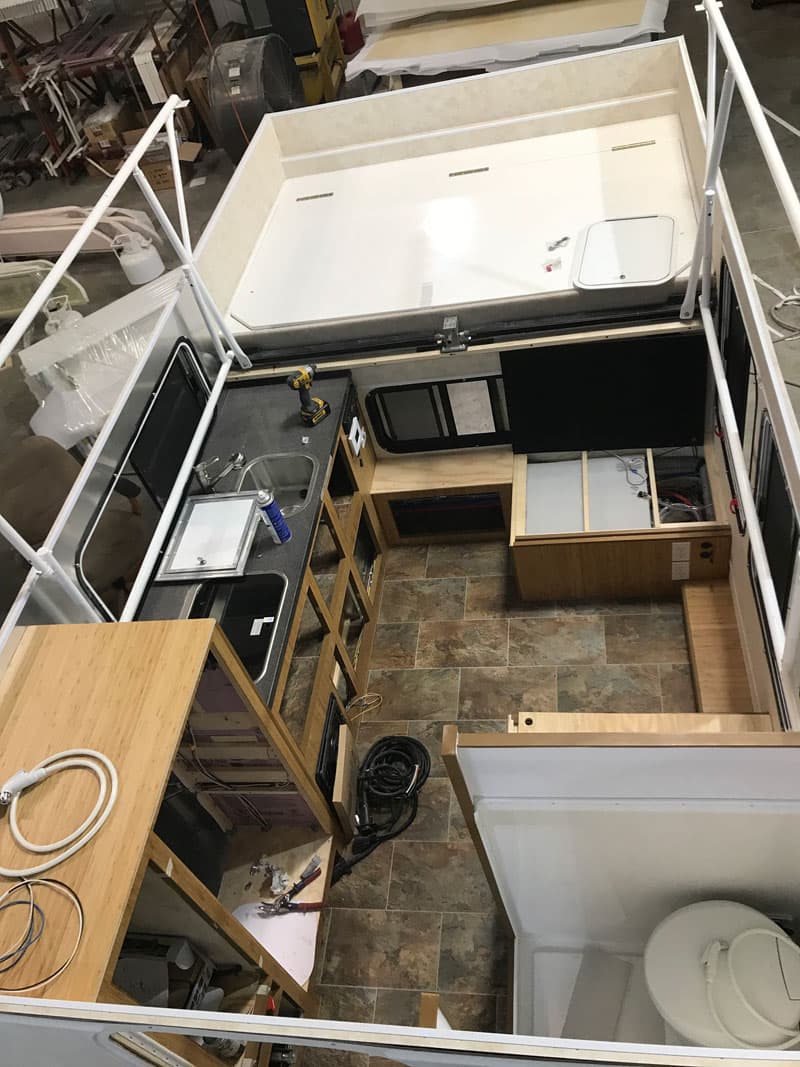 Above: You can see one of the fresh water tanks under the dinette seats
TCM: There is more than one fresh water tank?
Matt: Yes, we have used two 27 gallon tanks in this camper for a total of 54 gallons of fresh water.
TCM: Why not just have one large tank?
Matt: The reason for two tanks is because of the way the dinette is laid out.  If we had one giant tank, it would have eaten up a lot of room and forces us to redesign the space.
By splitting the capacity into two 27 gallon tanks, we were able to put them in the normal location; front and rear of the dinette.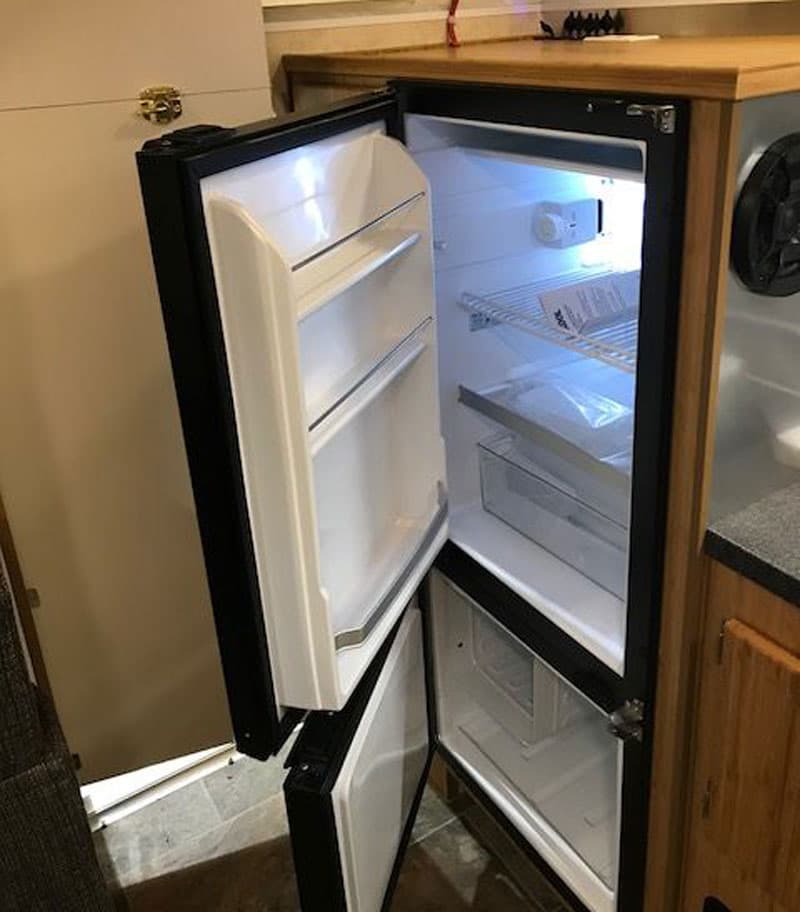 TCM: Two fresh tanks?  That's a first.  Tell us about the double-door refrigerator.  That's one we haven't seen before.
Matt: Increasing the capacity of the refrigerator was important.  We use a Nova Kool RFU6200 6-cubic foot, 12-volt compressor refrigerator in the Nevada.  It is an over-under refrigerator that has the refrigerator on top and the freezer below.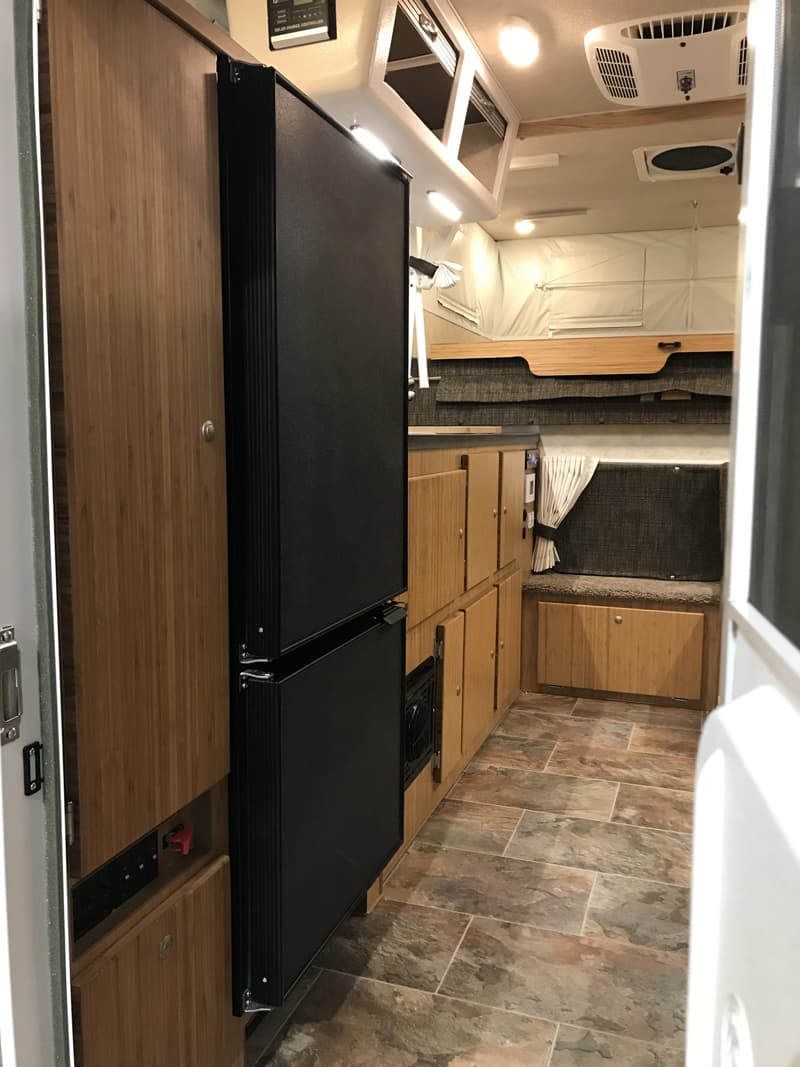 TCM: That's a big 12-volt compressor refrigerator.  What's the efficiency of that model?
Matt: Typically, the larger the refrigerator, the more the efficiency goes down.  For example a 3-cubic foot refrigerator may draw 2-amps and a 4-cubic foot may draw 4-amps.  As you go up, the amps significantly go up.
The Nova Kool RFU6200 is only 5.2-amps.  For such a big refrigerator, that's a reasonable amp draw.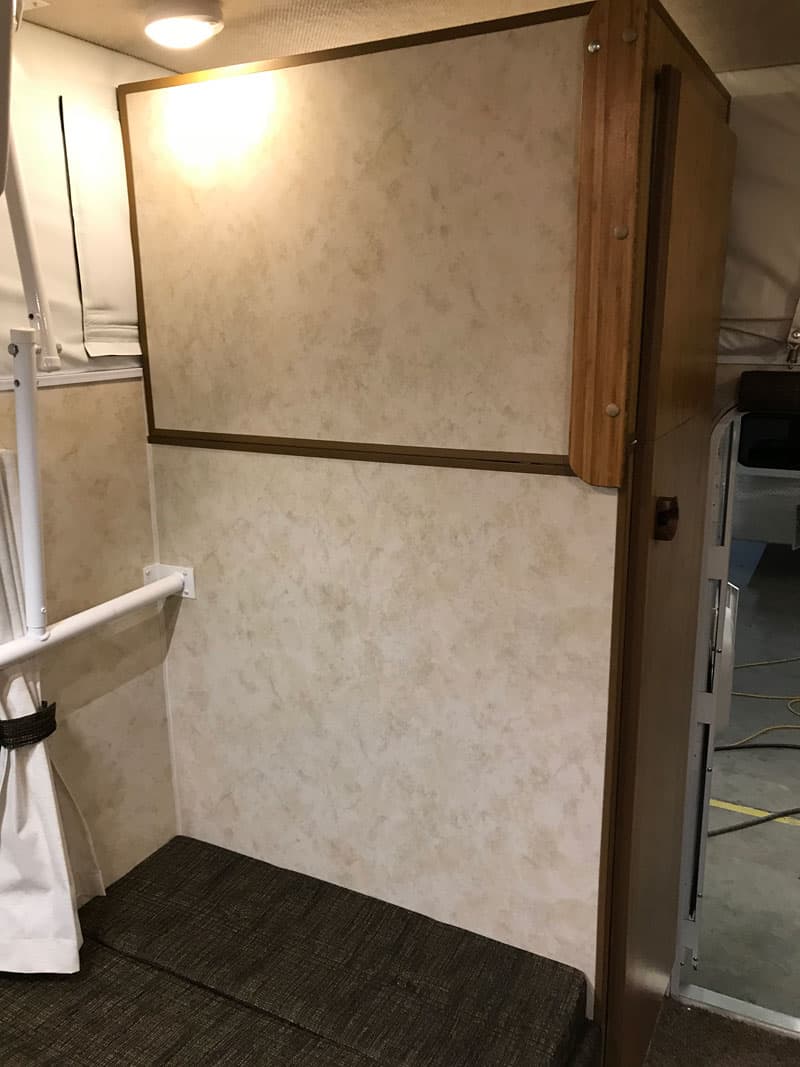 TCM: The hard wall wet bath appears to be a new design.  Tell us about the wet bath.
Matt: We used the same shower stall from the Ute, but it's turned sideways and we eliminated the sink.  For our Ute model, we are often asked, "Why do you put the sink in the bathroom when there is another sink a few feet out the door?"  For the Ute, the sink is baked into the design because of the propane compartment below it.
With the Nevada flatbed, we could turn the bathroom sideways and had other places for the propane and plumbing.  We were able to eliminate the sink and make a big open shower stall.  The Nevada has our largest shower stall.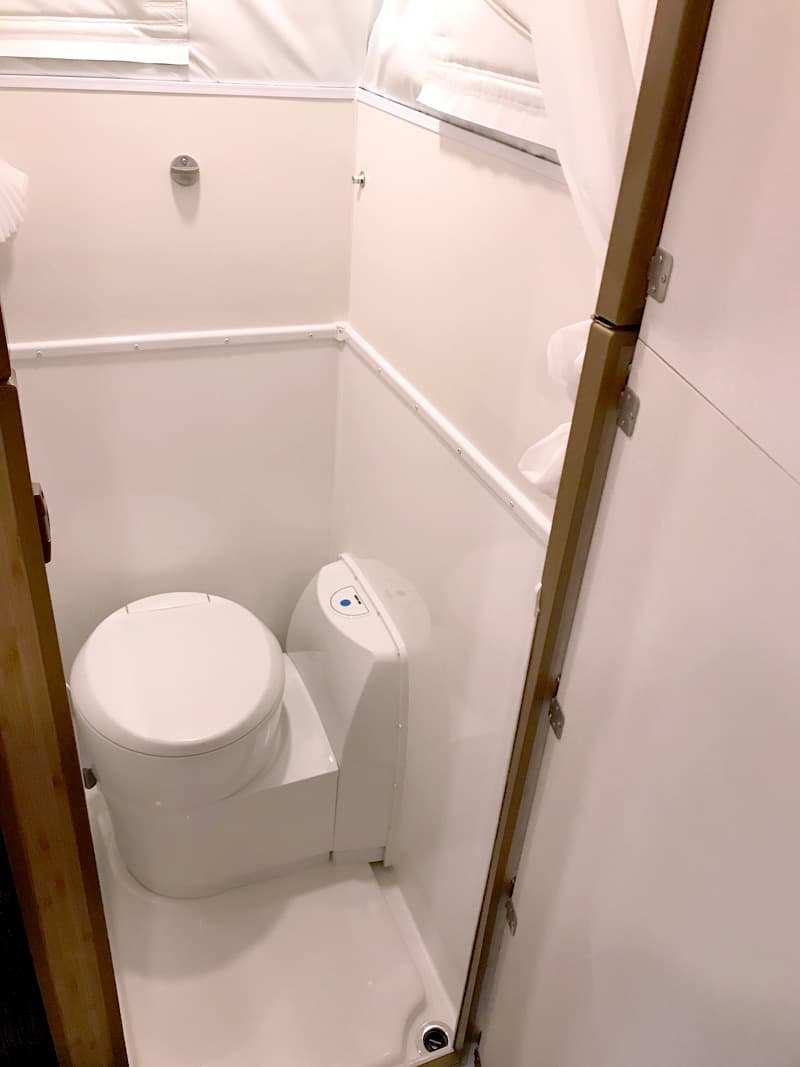 TCM: What's the height of the shower stall?
Matt: The height of the bathroom stall depends on the size of the grey tank.  The one that is pictured in this article is at 6'4" but, if you want more shower grey tank capacity, it would have a 5'8" shower.  The grey tank for the shower is directly under the wet bath.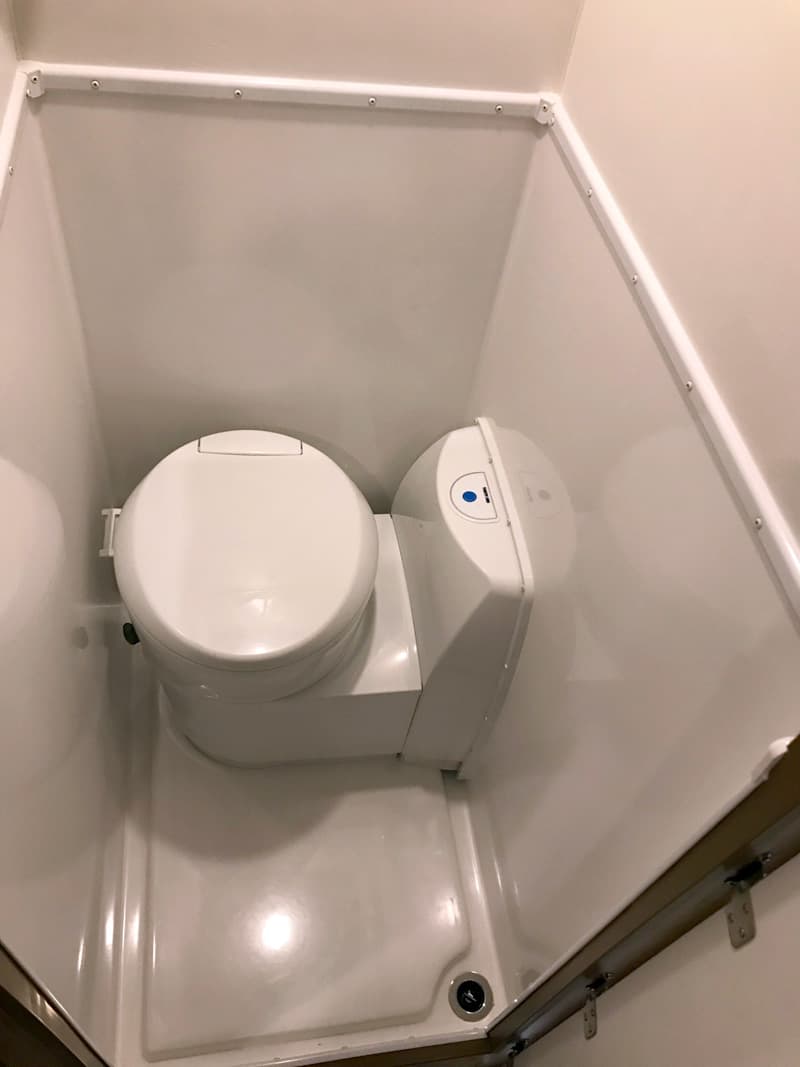 TCM: What model cassette toilet is that, and what's the black tank capacity?
Matt: It's a Thetford C-220 cassette toilet with a 4.75 gallon black tank capacity.
TCM: Will you be offering the Nevada with a standard RV flush toilet and a larger black tank?
Matt: We will not offer a standard RV flush toilet and larger black tank in the Nevada.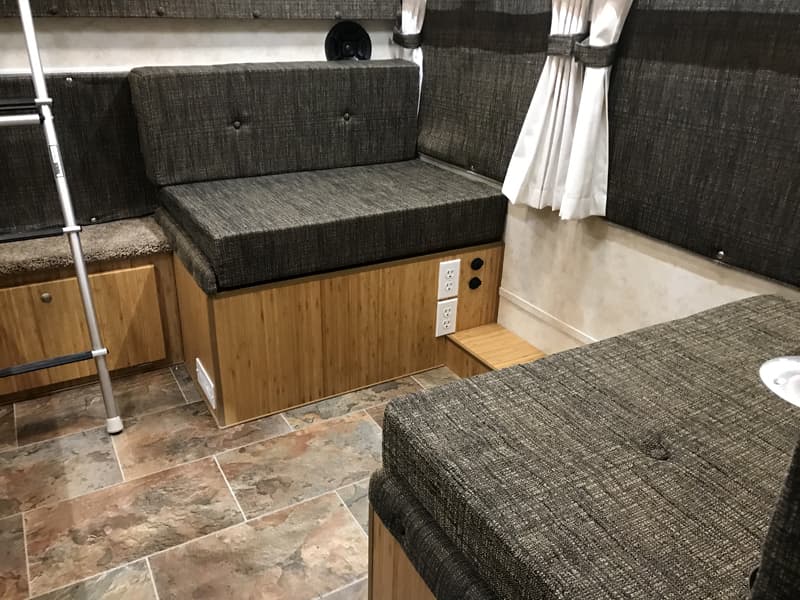 TCM: You previously told us about the larger 6'10" dinette.  What tables are available for the Nevada dinette?
Matt: We have a couple different options for the dinette table; the Lagun adjustable and swiveling table or a standard pedestal table.  In the first Nevada we installed a pedestal table.  The dinette is large enough to put a dual or a single pedestal table if you want a bigger or more stable table.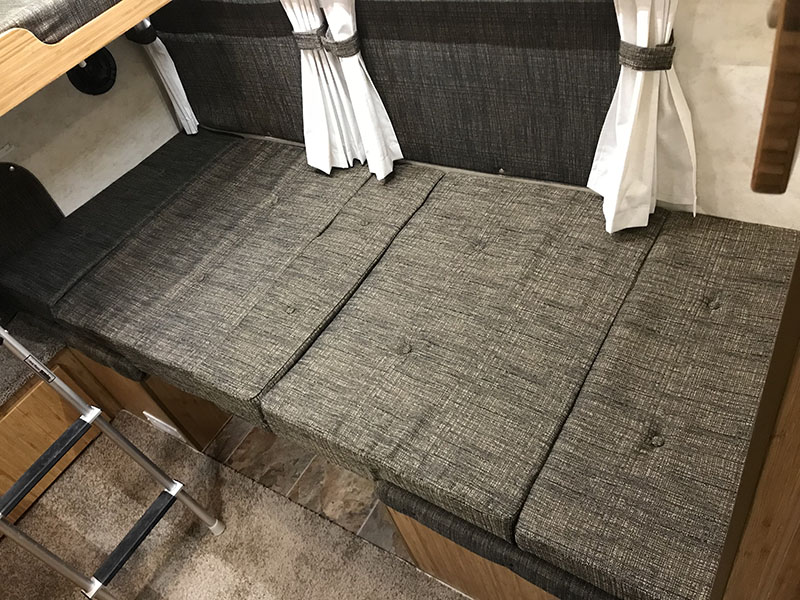 TCM: What are the dimensions of the converted dinette bed?
Matt: The dinette bed is 81" by 39".  We widened the dinette slightly for more room when you're sitting in the dinette.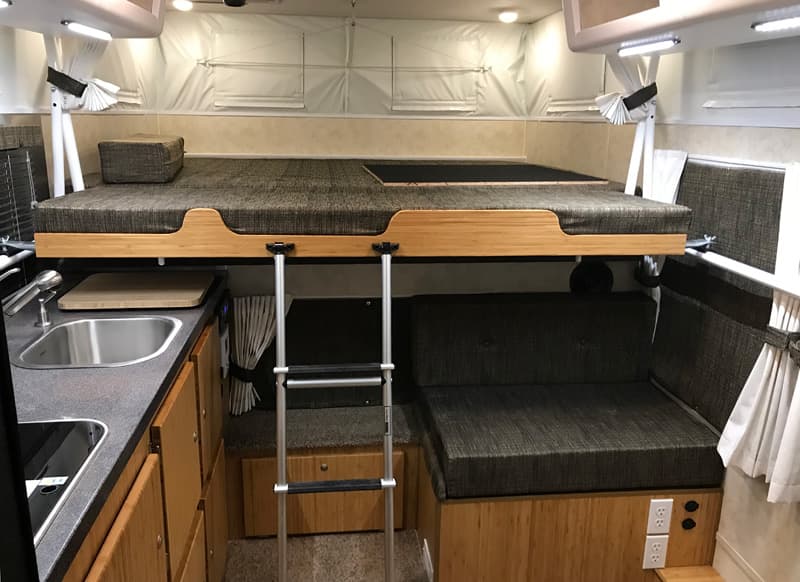 TCM: Is that a pull-out bed in the cabover?
Matt: We call that a pull-in bed and it's an option we offer.  It gives you a 78 by 80-inch King bed when it's pulled out.  The pull-in option comes with a short ladder.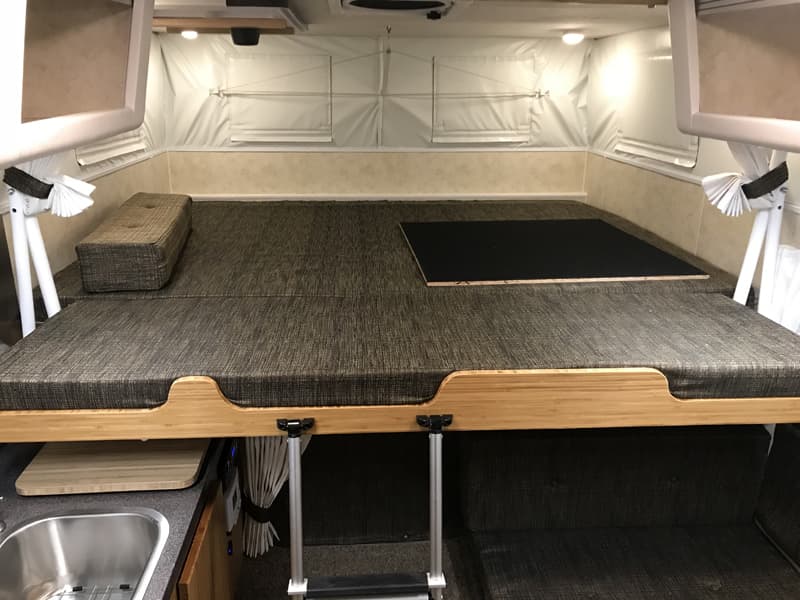 The standard east-west bed for the Nevada is 60 by 80-inches.  We also offer a north-south 76 by 60-inch bed with side storage.
TCM: What are the available interior fabric choices?
Matt: We use RV fabrics from RVFabric.com.  There are a lot of choices to pick from there.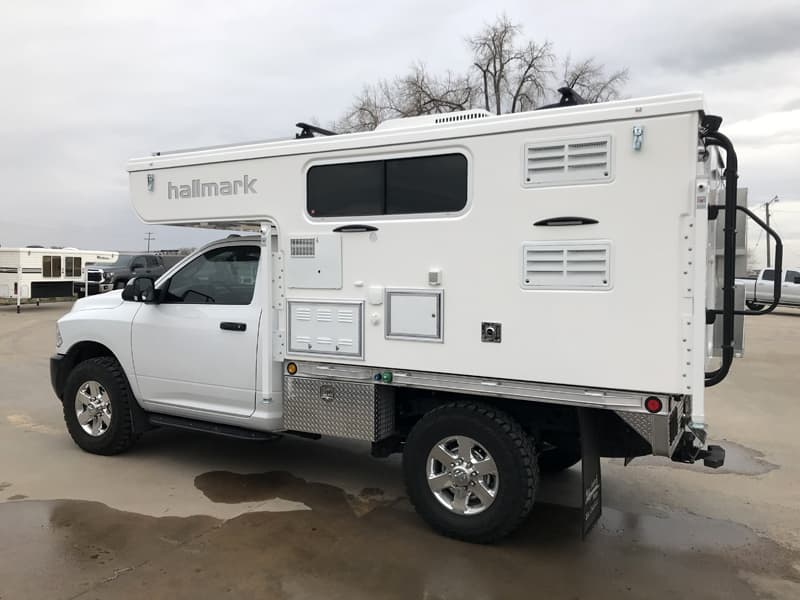 TCM: What type of windows are standard; single or dual thermal pane?
Matt: We're offering Hehr single pane, tempered safety glass windows.  Customers can get dual pane thermal widows as an option, but they are heavier.  People who buy pop-up truck campers usually want to keep them light, and the dual-pane windows add a lot of weight.
TCM: Tell us about the pop-up mechanism on the Hallmark Nevada.
Matt: Almost everything we have been building features our Super Manual Lift.  The Super Manual Lift is powered by a cordless electric drill instead of a built-in electric motor.  It can also be hand cranked.
The Super Manual Lift is powerful enough to lift air conditioners and things you attach to the roof.  Electric motors can fail and require more maintenance.  We wanted strength and overall leverage which is why we recommend the Super Manual Lift system.  It's what we use in 90-percent of our campers.
TCM: Is the Hallmark Nevada a basement model?
Matt: We considered building a basement, but the flatbed is already raised 2-inches.  That raises the center of gravity.  Adding a basement would raise the center of gravity even further.  We didn't want to do that.  We want the Nevada to have all the benefits of a pop-up truck camper.
If you put a Nevada next to a Cuchara, it's no bigger.  The center of gravity top to bottom is the same.  That was important to keep the Nevada rigs easy to drive.  From our first driving tests with the Nevada, it handles exceptionally well.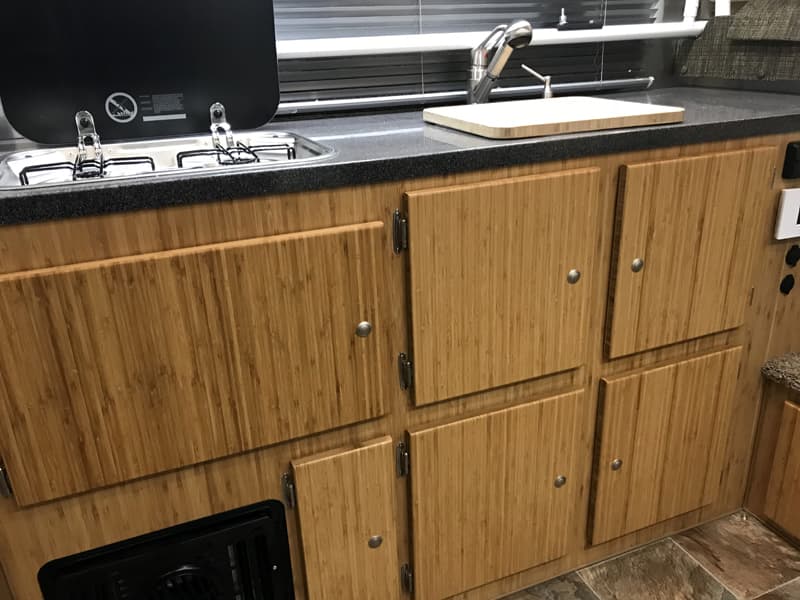 TCM: On your website, it says that the Nevada can have a 30 gallon, 40 gallon, or 54 gallon fresh water tank.  Are all of these tanks available on every model?
Matt: If you just want a single tank, we offer a 30 gallon tank.  If you want a larger tank, but not dual tanks, we have an L-tank that increases capacity up to 40 gallons of water.  The L-tank changes the way the dinette to more of a U-shape dinette instead of the opposing face-to-face dinette.  The dual fresh tanks that give you the 54 gallon capacity.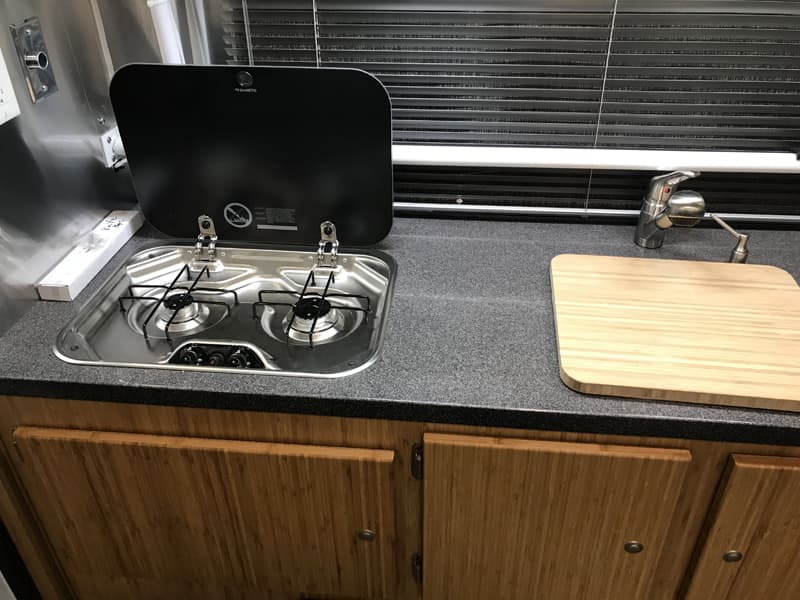 TCM: How does the Nevada have a 14 gallon and a 12 gallon grey tank?
Matt: There are two grey tanks.  One is below the shower in the bathroom and one is under the sink in the kitchen.  Each grey tank has its own dump valve with a garden hose attachment.  Pull the gate valve and the grey comes out.  You can bring along a covered bucket or a portable grey tank to dump the tanks.
TCM: What is the propane tank size and capacity on the Nevada?
Matt: One neat part of the Nevada's configuration is that you can have either horizontal or vertical propane tanks.  You can have dual 20-pound or 30-pound tanks.  There are a lot of possibilities.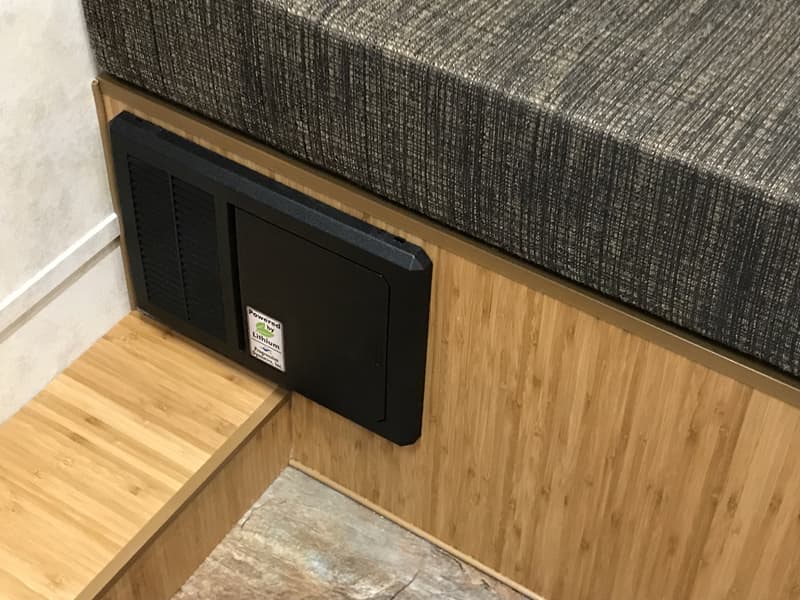 TCM: How many batteries does the Hallmark Nevada have, and where are they located?
Matt: The batteries are on the front or driver's side of the camper, depending on the batteries you want to install.  The camper is set up for two batteries.  If you want three, the batteries will be on the front wall of the camper.  We can install AGM, lithium or wet cell batteries.
I recommend AGM batteries for the majority of our customers.  We have a lot of experience with AGM batteries, and they are proven and reliable in the field.  They also require very limited maintenance.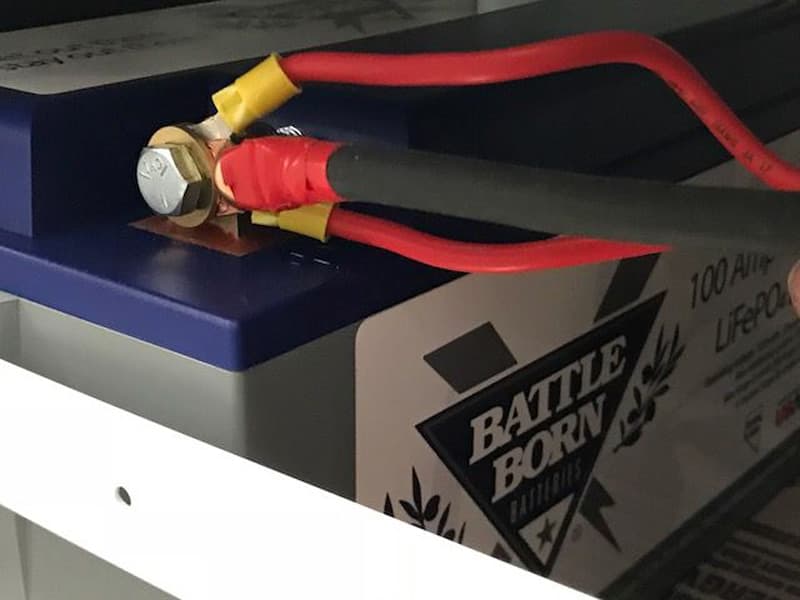 I also like lithium batteries because they cannot be overcharged.  Their lifespan is ten times normal batteries.  Our experience with lithium batteries so far has been good.  The drop off in power is non-existent until the end of the battery.
One disadvantage is that lithium batteries have not been out for that long, so we do not know about long term usability.  Lithium batteries also don't like to charge if it's under freezing.  We install them in sealed heated compartments with doors to avoid that from happening.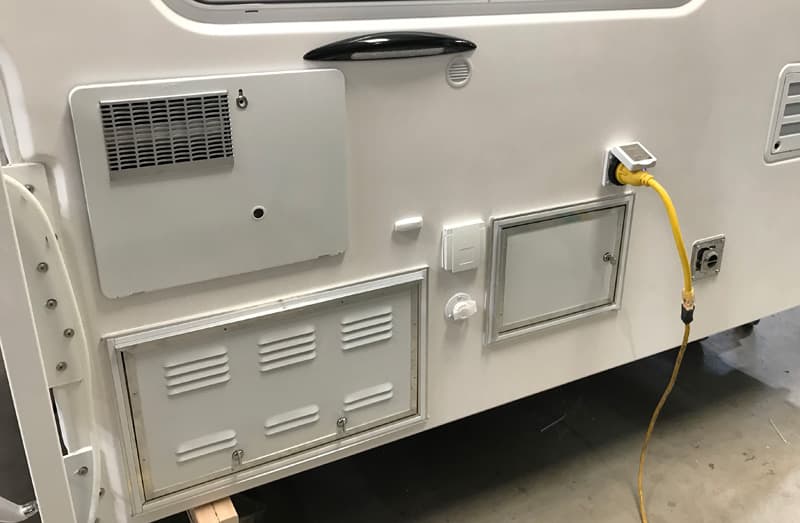 Above: The battery compartment and water heater
If you decide on lithium batteries, we have to know that you are gong to use them for.  We employ a Progressive Dynamic converter that's dialed in for the batteries.  We are also offering as an option Xantrex inverters that are set to lithium specifications.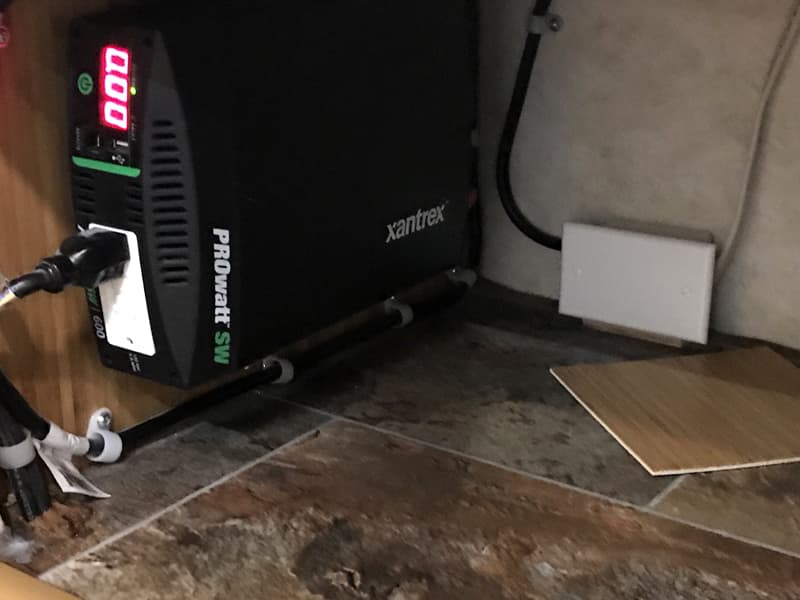 TCM: Cost has long been the hangup with lithium batteries.  What lithium battery do you recommend, and what do they cost?
Matt: We specifically use 100-amp hour Battle Born lithium batteries.  They are made in the USA in Reno, Nevada.  Also, a 100-amp hour Lithium is comparable to a 200-amp hour AGM battery.
The cost is almost $1,000 per battery.  They are not cheap, but it could be that you replace your AGM batteries three times in the same amount time.  Then, it becomes more realistic.
TCM: Does the Nevada have a built-in battery disconnect, water heater bypass, and low water drains?
Matt: The water heater bypass, outside shower, and low drains are built into every camper.  We are in the process of getting a battery disconnect.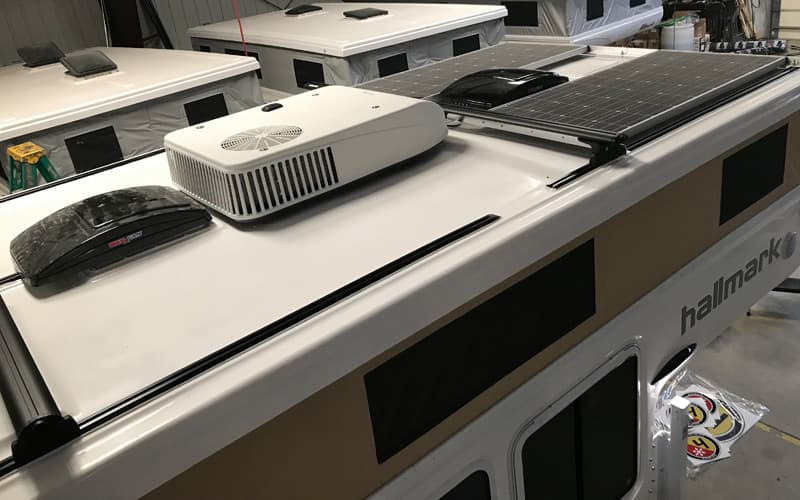 TCM: A battery disconnect is something we highly recommend for all truck campers.  What options do you expect most people to typically select for the Nevada?
Matt: Most Nevada customers will order the solar option.  If you go with the larger 12-volt Nova Kool compressor refrigerator, you need at least a 320-watt solar system.
If you have a smaller refrigerator, then 200-watts of solar would be good.  We could add up to 700-watts of solar if that's what you want to do.  A standard propane gas refrigerator is also available, but we recommend the compressor refrigerators for off-grid camping.
We try to put everything in the Hallmark Nevada as standard like AGM batteries that people would want.  The 50 gallon fresh tank is also standard unless you choose the smaller tank options.
Other options include the Coleman Mach 8 air conditioner, roof racks, exterior lights, and awnings.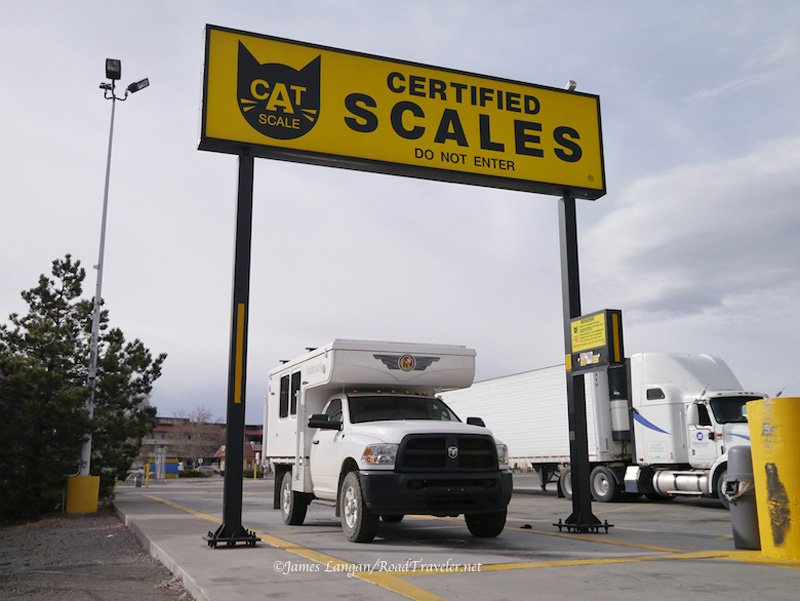 Above: Getting the CAT scale weight of the Hallmark Nevada truck camper, photo courtesy of James Langan
TCM: What does the Hallmark Nevada weigh?
Matt: It was CAT scaled at 2,400 pounds without the pull-in bunk or water.  It did have dual 20-pound propane tanks, batteries, an air conditioner, rack system, and AT cans.
TCM: Where is the center of gravity on the Nevada 8.5?
Matt: The center of gravity on the Nevada 8.5 is 43".
The Nevada is a long bed truck camper.  If you have a short bed, I recommend the 6.5 foot model.  The 8-foot model can work on either a short or long bed truck since short bed flatbeds are 7-feet.
TCM: Tell us about the Hallmark RV warranty for the Nevada.
Matt: We have a five year structural warranty on all Hallmark Campers.  The appliances are warrantied by their manufacturer.
TCM: What is the MSRP for the Nevada?
Matt: The MSRP of the Nevada 8.5 is $62,000.
Most of that cost is from the built-in technology and the volume of these campers that will be built.  We can only build one a month.
TCM: How does someone option and order a Hallmark Nevada?
Matt: Contact me to get a PDF with standard and option features.  Before you place an order, I need to talk to the customer about the flatbed to make sure that everything will be a good fit.  We don't want you showing up with the wrong flatbed.  If you go the custom bed route with AT Overland, Mario Donovan will contact me first.  If you choose Highway Products for your flatbed I will be contacted by Joe Powell.  If you choose a production flatbed from Hillsboro you must stick with the 2000 series and a removable headache rack.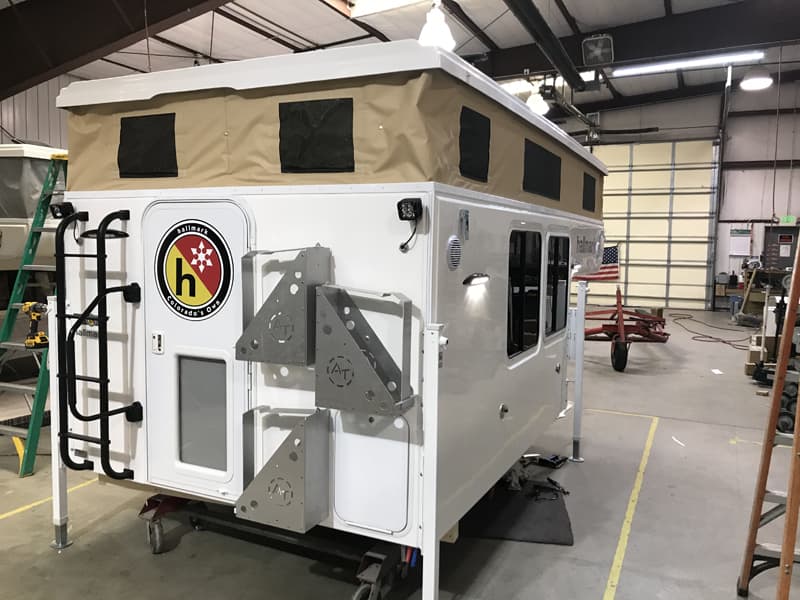 TCM: What kind of wait is there for production?
Matt: At this point we have a six month wait time for a Nevada.  During the busy times, that could be up to eight months.
TCM: Where can someone actually see the new camper?  Will Hallmark RV have a Nevada on display at the factory?
Matt: We have a Hallmark Nevada here at our Fort Lupton, Colorado factory.  There will also be one at Overland Expo West from May 18-20, 2018.
TCM: What else will Hallmark have on display at Overland Expo West?
Matt: We will be taking my brother, Andy's new truck.  It's set-up for extreme off-road.  It's Andy's craziest truck yet.  The Milner we're putting on his truck is designed to be bounced around to the extreme.
On my truck we'll have a standard Hallmark Guanella camper.  Dad will be taking a Hallmark K2 that's more custom.  And, of course, the Nevada will be there as well.
TCM: Is there anything else about the Nevada that you would like people to know?
Matt: The Nevada is not experimental.  Everything we did on the Nevada is tried and true from Hallmark.  It is a different camper, but all the components are things we've done in the past that have worked.  This is a reliable overland camper.
From a simplicity standpoint, I really like what it is.  From a drivability and off-grid standpoint, you can push it to an extreme, and it's very usable and drivable rig.  It will get you into the backcountry for long periods of time.  I'm excited for people to see it.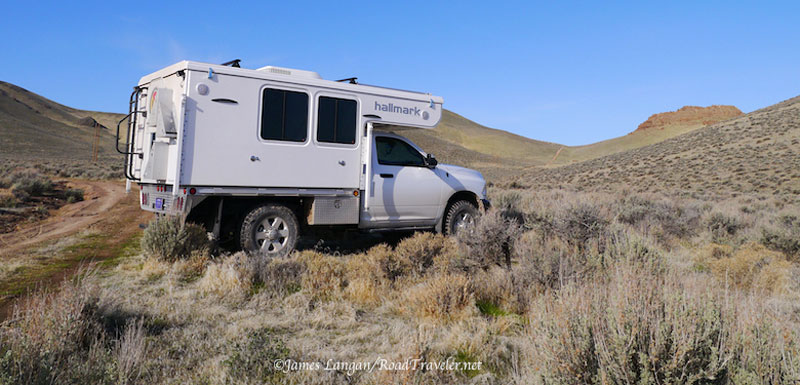 Above: The Hallmark Nevada camping in Nevada, photo courtesy of James Langan
TCM: Why did you name this camper the Nevada?  Everything else Hallmark builds is named after features in Colorado.
Matt: We called it the Nevada because James Langan, @RoadTraveler, was the first person we built the Hallmark Nevada flatbed camper for and he lives in Nevada.  Plus, Nevada is big and wide open like this camper. James was instrumental in setting up his flatbed truck so we could start this project.  He will also be posting about his adventures and impressions about the Nevada on RoadTraveler.net.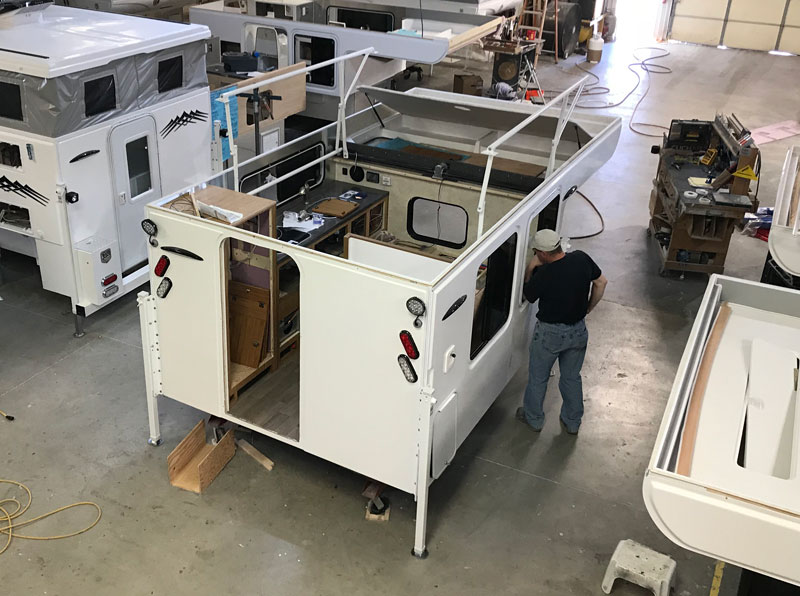 Above: The Hallmark Utah 8.0 flatbed pop-up truck camper in production right now
The flatbed 8.0 will be called the Utah, and the flatbed 6.5 will be called the Colorado.  Currently, we have three flatbeds here at the factory under construction.
For more information about Hallmark Campers visit their website at hallmarkrv.com.  Click here to request more information about Hallmark's flatbed campers.