Hallmark RV debuts the 2018 Hallmark Nevada, a long bed 8.5-foot flatbed pop-up truck camper for full-size trucks.  If you're looking for a pop-up with serious capacities, this Hallmark has two fresh tanks, two grey tanks, and more.  A lot more.

Many truck camper enthusiasts have wondered about the possibilities of a flatbed approach.  By eliminating the pickup sidewalls and wheel wells, you would have a wide open platform.  That means more floor space, more storage, and more design opportunities for dinettes, bathrooms, kitchens.  Of course you also lose the versatility of a standard pickup truck.  That's the flatbed compromise.
Customers have asked Hallmark RV about a flatbed pop-up truck campers for many years.  While it may seem like a no-brainer to give customers what they want, Hallmark's unique molded fiberglass construction does not allow for quick or easy new model development.  To be blunt, new fiberglass molds are a very costly investment.  And getting a new model right takes a considerable amount of management and production time.
Consumer demand for a flatbed finally eclipsed these concerns this past fall.  It started when three separate Hallmark customers placed orders for a flatbed model.  With even more customer interest in the pipeline, Hallmark had the impetus to design a new camper and build the required flatbed fiberglass molds.  The result of this considerable effort is the all-new 2018 Hallmark Nevada.
There are a few firsts attached to this new camper.  The Nevada is the first flatbed Hallmark and the first truck camper that we know of with dual fresh water tanks.  It's also really interesting to see how the flatbed approach impacted the storage and utility of this full-size pop-up camper.
To find out more about the Hallmark Nevada, we talked to Matt Ward of Hallmark RV.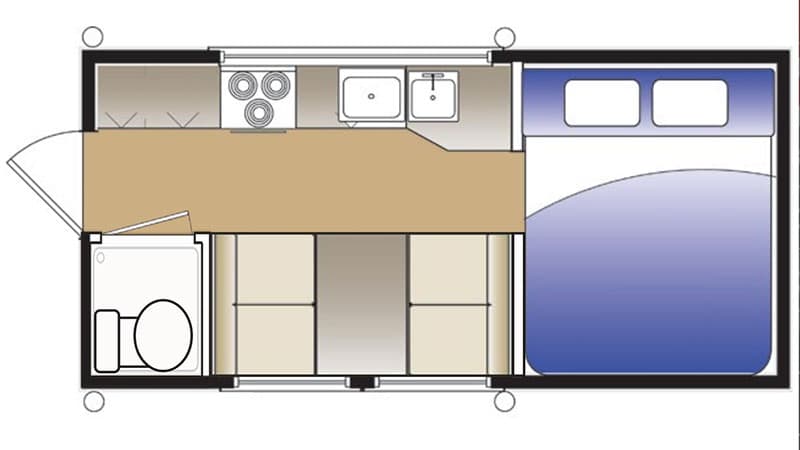 Hallmark Nevada 8.5 Specifications:
The 2018 Hallmark Nevada 8.5 is a pop-up, wet bath truck camper made for long flatbed trucks.  The interior floor length of the Hallmark Nevada 8.5 is 107-inches, the interior height is 6.5-feet, and the center of gravity is 43-inches.  The Hallmark Nevada 8.5 has two 27-gallon fresh tanks, 26-gallons of grey capacity, a 4.75-gallon black tank, and a 6-gallon hot water heater.  It can accommodate two or three batteries and has one or two 20 or 30-pound propane tanks.  Hallmark is reporting the base weight of the 2018 Hallmark Nevada 8.5 to be 2,400 pounds.  The base MSRP for the Hallmark Nevada 8.5 is $62,000.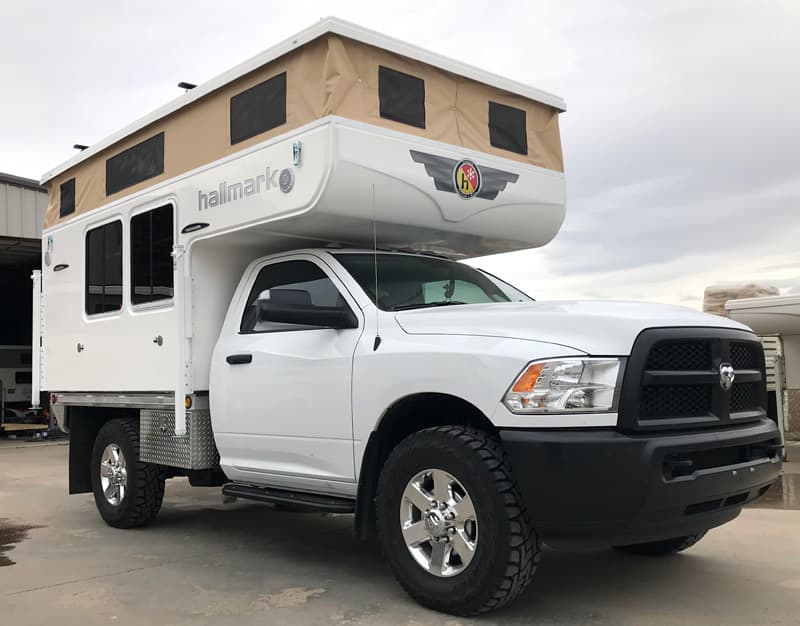 Above: The 2018 Hallmark Nevada flatbed pop-up truck camper.  All photos courtesy of Hallmark RV and James Langan (owner of the Nevada pictured above)
TCM: Why is Hallmark debuting a flatbed pop-up truck camper?
Matt: We had a lot of requests for flatbed campers at Overland Expo West 2017.  Since then, over 40 people have approached us about building a flatbed model.  Before we might have had three or four people ask about flatbeds in a given year.  The sharp increase in flatbed demand prompted the new model.
TCM: That's interesting.  Why do they want a flatbed pop-up truck camper?
Matt: People want to almost full-time off the grid in a pop-up camper.  To do that, they need increased holding tank, propane, and battery capacities.  The capacities of a standard pickup bed camper cannot compete with what's possible with a flatbed camper.  By going to a flatbed pop-up truck camper, we can accommodate the larger capacities these customers are asking for.  A flatbed design also allows for more interior space and storage with a smaller footprint.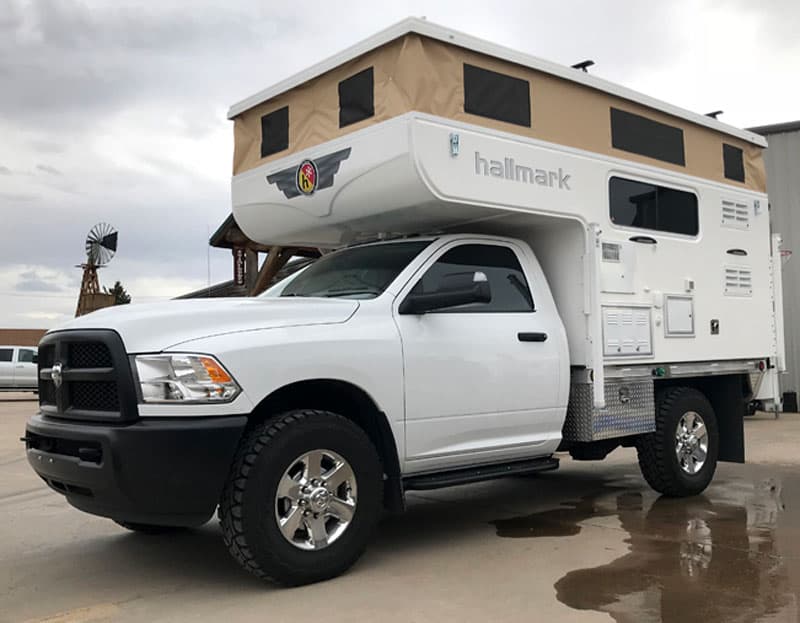 TCM: Before we talk in detail about the Nevada, let's talk about the flatbed truck.  What kind of truck does a customer need for a flatbed Hallmark?
Matt: A three-quarter-ton or one-ton truck is required.  A half-ton truck should not be considered.  These customers are looking for options and capacities which equals more weight.
Putting a flatbed truck together is a big commitment.  We want to make it as easy to do as possible.   A safe approach is to talk to AT Overland or Highway Products.  They build custom flatbeds for our campers.