Jessica May and Joel Crawford of Torklift International tell us about their GlowSteps and how they take scissor step technology to the next level.

Right now, Angela, Harley, and I are living full-time in a truck camper.  Everyday we are using hundreds, if not thousands, of individual products, systems, and technologies that come together to make a modern truck camper.  Most of them are completely invisible, until they're not.
Perhaps it's a propane tank that runs out, or a refrigerator door that opens when you're driving, or a fuse that blows.  In the three times we've crossed the United States and Canada in a truck camper, we've experienced just about everything.  Of course I shouldn't say that because something else will happen, like the Dodge check valve that died on our way to Florida last January.  There's always something.
For this story we take a close look at a specific product and system that most of us take for granted on a truck camper, the rear entry steps.  Torklift has taken the time and care to revisit traditional scissor steps and make a better mousetrap.  And they've managed to keep the cost and weight down in the process.
What does this mean?  It means that there's now another system that can go back to being invisible, doing it's job well and reliably, and with increased safety.  To find more about Torklift's GlowSteps, we talked with Jessica May and Joel Crawford of Torklift International.
Left to right: An installed GlowStep system, an installed GlowStep system glowing at night, and Joel Crawford showing off a GlowStep system and display.
TCM: Before we talk about the GlowSteps, tell us how you came to work for Torklift.

Jessie: It wasn't that long ago actually.  I have a background in marketing in the chocolate industry.  When the economy tanked in 2008, Jay Taylor, our General Manager, hired me.  I have horses that I tow so I certainly knew about Torklift.  It's great to work for a company with amazing growth opportunities, good management, and awesome coworkers.  This is really my dream job.

Joel: I originally came to Torklift to train for another job.  I then moved into managing our packaging and shipping for two years.  Now, I've moved into our sales manager position where I hope to find a good permanent home for a long time to come.  This is my tenth year here at Torklift.  They've taken good care of me and my fellow employees.
TCM: Do you go truck camping?
Jessie: I have, but I'm more likely to be in a hammock with my horse trailer.  Adding a truck camper is in my long term plan for my rig though.  I have access to the company camper and look forward to using it.

Joel: I took our company truck camper to the Oregon dunes last year.  I have a fifteen foot trailer that I haul quads to the dunes near Tillamook, Oregon.  As employees, we're allowed to take the company truck camper out anytime.  It's an old Fleetwood.
TCM: Having a company camper is a great idea.  During your training at Torklift, did you get to install a tie-down system?
Jessie: I get to do a lot of cross training, time permitting.  I've certainly been under a truck and installed Torklift tie downs.  Last week I assembled the turnbuckles we manufacture.  There is a fluid environment here and we all need to know the technical aspects of what we do.

Joel: I have 100% done everything.  Sometimes there's a curveball here and there, but I get past it.
The above photos show the stainless steel hardware used to bolt the GlowSteps and an individual GlowStep ready to add to an existing GlowStep system.
TCM: Let's talk about the GlowStep system.  What are some of the problems with scissor steps that Torklift wanted to solve?
Joel: If you look at other scissor steps on the market, most are single hinged on the sides.  Ours are double hinged for significantly increased strength and stability.  Another improvement we have made is using bolts instead of rivets.  The rivets used on other brands of scissor steps often become loose and unstable.  The GlowSteps are through bolted with stainless steel hardware.  Not only does this increase the strength and stability, but it also allows the owner to take away or add a step to their GlowStep system.
Jessie: The GlowStep system is the only step system on the market that allows you to add or subtract steps.  To make the GlowStep system light, we use T6061 aluminum.  T6061 is the same grade of aluminum that they use for manufacturing aircraft.  It's the lightest and strongest aluminum available.
Joel: Another way we have been able to make the GlowSteps lighter than the competition is by using computer aided engineering software.  Using the software and our years of manufacturing experience, we were able to remove material from the steps while increasing the strength of the system.
Another important improvement we made is our SureGrip extrusion.  The SureGrip surface is literally manufactured into the steps.  Most steps use grip tape or diamond plate on the steps.  You really can't compare our GlowStep system to any other step out there.
TCM: So the SureGrip surface is designed into the manufacturing of the step?

Joel: Yes.  The aluminum is heated and pushed into a die with the SureGrip surface.  Not only is the SureGrip surface superior to a grip tape or diamond plate for safety, but it will also last a lifetime.
TCM: Tell us about the glow elements on the GlowStep.  Are they just stickers?

Jessie: The glow element is the same exact tape that they use on aircraft to indicate emergency exits.  Just five minutes of artificial or natural light on the tape gives you up to ten hours of glow.  That glow can make a big difference when using the steps at night.

TCM: What camper brands are compatible with the GlowStep system?
Jessie: GlowSteps work with all makes and models of truck campers.  On some camper brands, like some Lance Camper models for instance, they have a scissor jack mount built into the camper.  There are threaded studs below the doors that are specifically designed for a scissor mount.  Our horizontal universal mounting bracket is designed to work with those mounts.  We also have a vertical surface mounting bracket.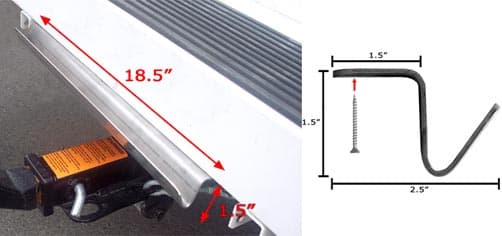 The above photo and illustration show the horizontal installation of a GlowStep system.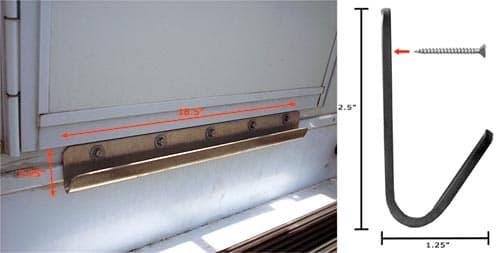 The above photo and illustration show the vertical installation of a GlowStep system.
TCM: Are GlowSteps manufactured by Torklift in Kent, Washington?

Joel: Something we try to do at Torklift is keep everything in house so we have control over the quality.  The step extrusion is coming from Postal, Washington and the brackets, hinges, and welding are done in house on a our custom designed fixtures.  All assembly is done here in Kent, Washington.
Jessie: GlowSteps are one hundred percent made in the USA, which means we have real quality control.
TCM: Is the GlowStep system a user installed product or should a dealer install it?

Jessie: Torklift prides itself in no drill, do it yourself installations for our products and the GlowSteps are no exception.  Torklift does not sell retail, so you need to go to a brick and mortar store.  We like to support our brick and mortar dealer locations.  They will follow up the sale with quality service.
TCM: How does someone add a step to their existing Glowstep?
Joel: It's as simple as removing a couple of bolts, adding in the step, and re-bolting it back together.  It should take fifteen to twenty minutes tops.  You just need a normal socket and an open end wrench.  That's it.

TCM: How does the GlowStep system mount to the camper during use?
Joel: The mount bracket is installed on the camper and features a hinge that the GlowStep sits in when in use.  When in transit, you take the GlowSteps off the bracket by folding the steps up like an accordion and stowing it inside your truck or camper.
TCM: What is the weight of the GlowStep system?
Jessie: The three or four step systems are about 17 and 20 pounds respectively.  Three or four step systems are the most popular application.  The six step is twenty-six pounds and that's the biggest GlowStep system available.  The two step is only fourteen pounds.
TCM: What is the weight capacity of the GlowStep system?
Joel: 325 pounds for the two, three, or four step systems.  The five and six steps have a capacity of 250 pounds.  Although there is a solid safety margin built in, we do not recommend exceeding the listed capacities.
TCM: What does the GlowStep system cost?

Jessie: The MSRP on the three step GlowStep system is $232.  The four step GlowStep system is $270.  Additional GlowSteps are $68.

TCM: What does an owner need to do to care and maintain their GlowSteps?
Jessie: It's similar care and maintenance to any other metal type items.  If they are muddy, wipe them off.  Aluminum is stainless, so just keep your GlowStep system clean and dry.

TCM: What does the lifetime guarantee on the GlowStep system cover?
Joel: All Torklift products have a lifetime guarantee.  The lifetime warranty on the GlowStep covers any manufacturing defects, hinges that are bent or bolts that may break.  We want to have the products in our customer's hands for a long time.
Jessie: It's a guarantee for as long as the original owner has the GlowStep system.
TCM: Should GlowStep system owners bring them inside for storage over the winter?
Jessie: Yes.  It's a good idea to bring them inside to reduce any additional wear you would have on it.
Joel: No metal is 100% non-corrosive.  We designed the GlowStep system using stainless steel and aluminum which will give our customers the best lifespan using the best materials known to man.
TCM: Thank you Jessie and Joel.  Keep us in the loop with any further developments at Torklift.
Jessie: You're welcome.  And we certainly will.
Joel: Thank you for the interview.
For more information about the Torklift GlowStep system, visit www.torklift.com.