TCM: Were there any changes to the 8.4 after building the prototype?
Rick: There were some minor adjustments, but honestly the camper was ready for the production line right away.  Everything came out right the first time.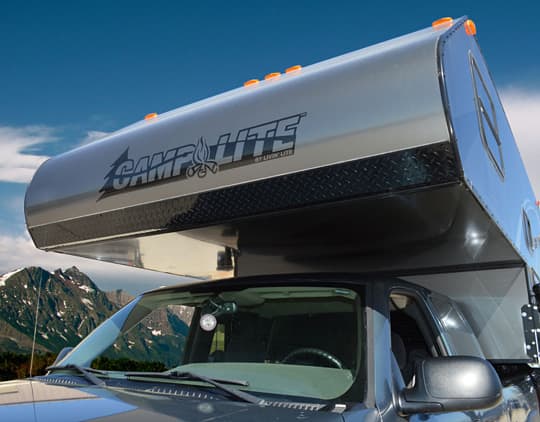 Above: The rounded orbit front nose is new for 2014 CampLite campers
TCM: Did you update the interior or exterior, or change the construction method or materials for the CampLite 8.4?
Rick: We have made some important changes to our entire truck camper line over the past year.  These changes are now featured in the 8.4.
For starters, we now feature a rounded orbit front nose instead of a squared-off overcab.  That change made a big difference aesthetically, and likely will help with the aerodynamics.  Further improving the overall look of our campers, we updated and refined the exterior graphics back in December.  Customers can also option for side and rear awnings, something we didn't offer before.  A CampLite truck camper coming off the line today looks a lot more modern than the CampLite campers from just a year ago.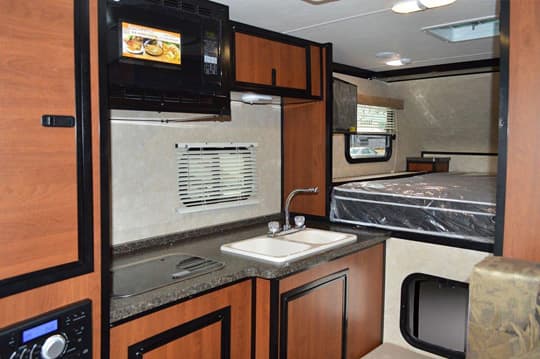 Above: Cherry cabinets in the kitchen area of the CampLite 8.4
On the interior we went from aluminum cabinets to Azdel composite in Maple or Cherry.  We also went from aluminum corner trim to a black polycarbonate outer trim.  On the floor we now use a high-traffic vinyl flooring material on top of our trademark aluminum floor.  An optional Heki skylight is also available for the overcab and seven cubic foot refrigerators are available for our larger models.  These updates and options help make the interior look much more inviting.
One of the most important things we offer now is a Winterization Package for our basement models; the 6.8, 8.4, 8.6, 10.0, and 11.0.  The Winterization Package includes ducted heating in the basement, and 12-volt heating pads on the fresh, grey, and black tanks.  Those two changes help to ensure your tanks and plumbing will not freeze.
Additionally, we added another layer of Azdel on the roof and exterior walls during lamination.  That adds approximately another layer of R3 insulation factor with the winterization package.
With CampLite product, there is not a sliver of wood in the unit.  Everything is aluminum or some form of composite, which makes the whole unit impervious to rot.  There is no steel, except for the screws.  There will be no rot or rust issues with a CampLite product.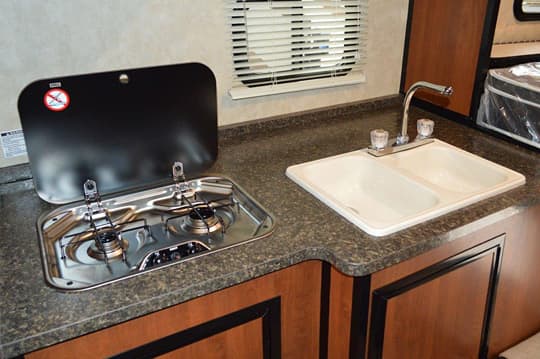 Above: The CampLite 8.4 countertops in chocolate granite
TCM: What are the available interior fabric and countertop choices?
Rick: Our countertops have a chocolate granite look.  We do offer an upgraded Living Package that includes leatherette seating and cushions.  And of course you can choose between Maple and Cherry Azdel interior cabinet colors.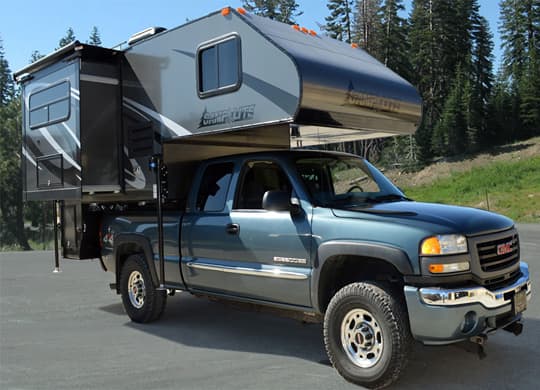 Above: CampLite uses Schwintech slide mechanisms for their slide-out campers.  The 2015 CampLite 8.4 above is shown on a truck for demonstration purposes only.  For proper truck and camper matching, read "Matching a Truck and Camper".
TCM: What slide mechanism does the 2015 CampLite 8.4 use?