After a decade-long absence from truck camper production, K-Z RV returns as the new management team for Livin' Lite.  In addition to a new factory, new model changes and new floor plans are on tap for 2017.
After Thor Industries purchased Livin' Lite from founder Scott Tuttle in August of 2013, Livin' Lite moved factories and changed management teams twice.  The first move disrupted production for months causing significant supply issues for Livin' Lite's CampLite, Ford, Quicksilver, and Jeep branded products.
The second move occurred this past March when K-Z RV took over the management and production for Livin' Lite.  With careful planning and preparations, K-Z reported that production was down for only a week and that Livin' Lite travel trailer and truck camper products were already moving down a dedicated Livin' Lite production line.
That sounds fantastic, but all too often big companies purchase smaller companies and let the bean counters cheapen the product quality for quick profits.  Talking to passionate Livin' Lite dealers and owners, this is certainly a major concern with Thor's acquisition and the two subsequent factory and management moves.
As you're about to read, K-Z RV is determined to avoid this outcome and return Livin' Lite to the 100-percent no-wood concept that made the company one of the most successful RV start-ups in recent history.  They also have a list of material, appliance, and design improvements in the works, and at least two all-new models for 2017.
To find out how K-Z RV plans to return Livin' Lite to full strength, and then take the company to the next level, we talked to Dave Boggs, General Manager for Livin' Lite.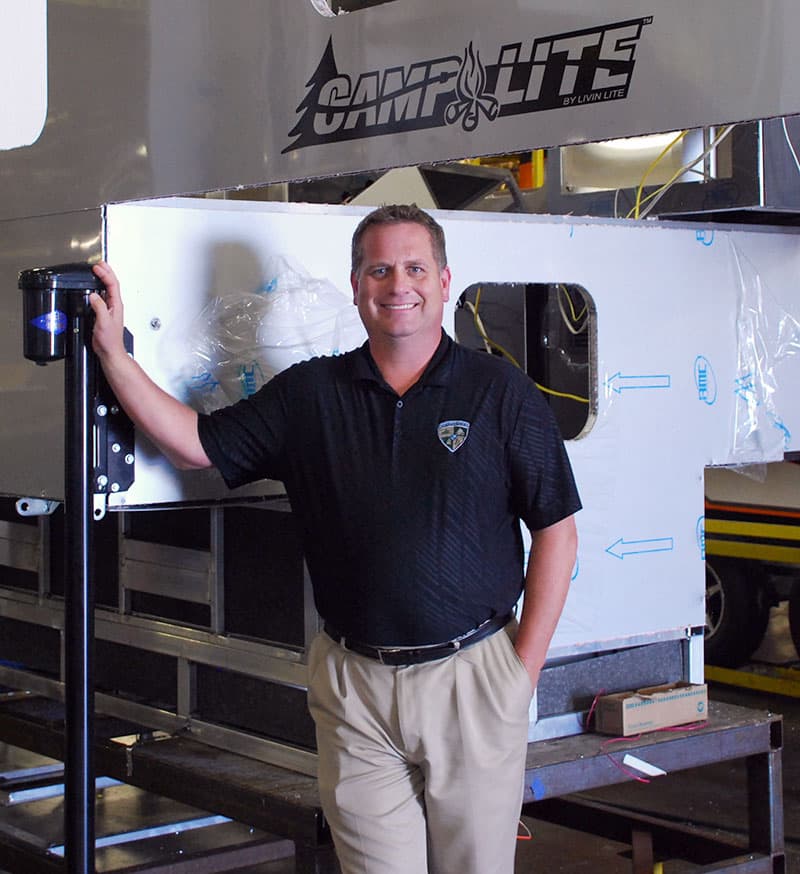 Above: Dave Boggs, General Manager for Livin' Lite
TCM: Congratulations on your new position as General Manager for Livin' Lite.  Tell us about your history in the RV industry, and how you came to work for K-Z RV.
Dave: It's been a journey.  I grew up tent camping with my three older brothers in my parent's station wagon.  Then we got a truck topper in the late 1970s.  That was my first experience with camping in the back of a pickup truck.  The topper was a very basic set-up by today's standards.
Out of college, I worked with an Elkhart area marketing company and had several RV manufacturers as clients, including a Thor company.  That eventually led to a position at K-Z RV as the Director of Marketing.
Now with four kids of my own, my family goes camping at least four weeks a year in one of our RV products.  What better way to learn our products than to use them?  These experiences lead to purpose-built features that go into every product line we manufacture.
TCM: It's good to see industry leaders using the products they manufacture.  We'll have to get you and your family into a CampLite truck camper down the road.  What is the connection between Thor Industries, K-Z RV, and Livin' Lite?
Dave: Livin' Lite and K-Z RV are separate manufacturers that share a management team and operate under our parent company, Thor Industries.  This structure allows for a wide range of advantages and efficiencies including product development, product audits, and tremendous purchasing power.
Quality is another benefit.  For example, we are very particular about the suppliers we partner with.  We deal only with the best, but not necessarily the cheapest.  Our vendors need to uphold the same standards we do as a company.  The end users get a better product that way.
Thor Industries bought K-Z in April of 2014.  Since then, Thor has stayed out of our day-to-day operations.  We remain a standalone company.
TCM: About ten years ago, K-Z (under the brand Sportsman) made a decision to get out of truck campers.  What's the history with K-Z and truck campers?
Dave: I can tell you a story about truck campers and K-Z's founder, Mr. Daryl Zook.  Mr. Zook first RV was a truck camper that he sold to a dealership in Iowa.  He invested his entire life savings into this camper, which blew off his truck while delivering it, and exploded into a thousand pieces.  Like a true entrepreneur, he did what it took to build another camper and make his delivery.
Today, K-Z has over 400 employees.  The company was founded on his inspiring work ethic and manner, and how he took care of his customers.  Mr. Zook has been a good steward to the K-Z community and team.
I wasn't with the company when that decision was made to get out of truck campers, so I don't know why they stopped making them.  Truck campers are a new market and opportunity for us.  We realize that we're not going to build 10,000 per year, but we can definitely build 500 to 1,000.  It's a strong niche.
K-Z has the most DSI (Dealer Satisfaction Index) Awards of any trailer company out there.  Our dealers are very happy with K-Z and our sister brand Venture RV.  We are now using that same level of product quality and service with Livin' Lite and its dealer base.
TCM: Why did Thor move the Livin' Lite brand from Crossroads to K-Z?
Dave: Crossroads absorbed Livin' Lite about 18 months ago.  Unfortunately, Livin' Lite wasn't a good fit with Crossroads and the factory move was very disruptive to production.  Then Keystone, another Thor company, absorbed Crossroads.
That created the opportunity for the K-Z management team to take over Livin' Lite.  Livin' Lite is the only Thor company that builds tent campers and truck campers.
We are now fully dedicated to the success of Livin' Lite.  Livin' Lite is a great fit here with K-Z.  The decision was a no brainer.  We were lucky to get this opportunity.
TCM: You mentioned the production disruption when Livin' Lite moved from their original factory to Crossroads.  Now that Livin' Lite has moved again to K-Z, how are you going about getting the Livin' Lite production back on track?
Dave: The move to Topeka, Indiana and the subsequent product delays left a sour taste with Livin' Lite dealers and customers.  The factory was down for much longer than expected.
For this latest move, we were down for only one week.  Prior to the move, we built open units to keep our dealers stocked.  We had everything in the new factory set up and in place prior to the move.  Better planning limited our down time.  Livin' Lite units are on our production line right now, and shipping.
TCM: Were you able to retain any of the original Livin' Lite production team?
Dave: Absolutely.  We have original Livin' Lite team members on the production line and kept most of the employees from the Topeka plant.  At K-Z, we also have the longest standing production workers in the industry.
We did lose some of the Livin' Lite production team because of the distance between the factories.  The extra eight miles dissuaded some employees from following the move.
This is a relatively low volume product.  If we can build five to six units per day, that's fantastic.  That means we're not pressed on the production line and can focus on quality.
TCM: K-Z manufactures ultra-lite, lite, and luxury travel trailers, fifth wheels, and toy haulers.  These towable RVs are manufactured using traditional RV techniques and materials.  In contrast, Livin' Lite was founded with the concept of 100-percent wood-free, all-aluminum and composite construction.  What are you doing to ensure the concept that made Livin' Lite successful continues under K-Z management?
Dave: Shortly after taking on Livin' Lite, we called the Livin' Lite dealer base and asked what they needed to be more successful with Livin' Lite products.  They said they wanted a return to the no wood, all-aluminum and composite DNA Livin' Lite was founded on.  They also wanted the European-style acrylic thermal pane windows back.
Last Fall, the old management team replaced the aluminum cabinetry with wood cabinetry.  They also eliminated the European-style acrylic thermal pane windows in favor of less-expensive single pane glass windows.
With that clear dealer feedback, the first thing we did was return to the aluminum cabinetry and European-style acrylic thermal pane windows.  We want to retain the no wood brand identity of Livin' Lite in the marketplace.  We are getting back to the original DNA that made Livin' Lite successful.
TCM: For the record, will the K-Z manufactured Livin' Lite products be 100-percent wood-free?
Dave: Yes, but we will still offer two wood interior packages.  The dealer and customers will have the option of all-aluminum cabinets, or aluminum cabinets with real wood fronts and doors.
As a buyer, you can have it your way.  The wood packages do soften up the interior, but gets one step away from the rot-free durability Livin' Lite is known for.
The rest of the Livin' Lite structure is the same; all-aluminum and composites.  Unless you order a wood cabinetry interior, there is no wood in a Livin' Lite product.
TCM: Every manufacturer has a standard dealer build that defines the majority of what customers find on factory lots.  Will the Livin' Lite standard dealer build be aluminum or wood cabinetry?
Dave: It's too early to determine.  If our dealers and customers mostly order all-aluminum cabinetry, that will become our standard build.  The marketplace will decide.  I can tell you that our dealers are very excited to have aluminum cabinets back.
TCM: If the demand warrants it, could CampLite campers get their own dedicated production line at K-Z?
Dave: Absolutely.  We have the room within our complex.  Tent campers currently have their own production line, and we could do the same with truck campers.  In fact, there's actually space within the tent camper building.
We currently build travel trailers, truck campers, and toy haulers on the same line and are starting with batch runs.  At the previous factory, every other model was different on the production line.  With batch runs, we can find more efficiency as we build a run of truck campers, and then build a run of travel trailers.  Building runs also helps with purchasing and quality control.
TCM: Will K-Z weigh each individual truck camper and have that factory-shipped weight recorded inside of each unit?
Dave: Yes.  Some manufacturers throughout the RV industry post what they want a unit to weigh.  We actually weigh each unit at the factory and post that weight inside the unit.
TCM: Will K-Z mark center of gravity on the units?
Dave: Absolutely.  We will also put center of gravity information on our website.
TCM: What is the situation with previously existing Livin' Lite dealers?
Dave: If we have an established Livin' Lite dealer, they can remain a Livin' Lite dealer.  They deserve right to keep the product.  If a K-Z dealer is interested in Livin' Lite and there is no dealer in their territory, they can become a Livin' Lite dealer.
TCM: Are valid Livin' Lite CampLite warranties being honored by K-Z?
Dave: We are honoring all valid Livin' Lite CampLite warranties.  That has not changed.
We can even lean on K-Z dealers for help in some circumstances.  If you're on the road and need warranty work, we can direct you to a K-Z dealer for help.  The K-Z relationship has expanded the warranty service areas for Livin' Lite.  Our dealers are great partners with us.
TCM: What is K-Z's approach to quality control?
Dave: Our sales team, upper management, and product design team all camp.  During those experiences, we look at every facet from the frame to the seat cushions.  We want to produce products that meet our expectations, and that we would like to purchase and use ourselves.
To improve quality control, we build as much as we can in-house.  We empower our production line employees to stop and fix things that are wrong.  We don't want to deliver anything that isn't right when we can fix it here.
We also analyze our warranty claims.  For example, we create a list of the top 10 warranty claims and fix those issues one by one at the factory.  When that list is complete, we analyze our warranty claims again and create a new top 10 list.  With a human-built product, we are always going to have warranty claims, but we make sure to take care of our customers, and respond rapidly.
TCM: Will there be any changes to the Livin' Lite warranty?
Dave: Not at this time.
TCM: Earlier you mentioned that you're working on some new models.  When can we expect to see new CampLite truck camper model introductions?
Dave: Right now our engineering department is taking Livin' Lite back to its original no-wood DNA.  Once that is completed, we will have a solid foundation of Livin' Lite products.
We have two new half-ton truck camper designs in engineering right now.  They're already drawn up by engineering but haven't been implemented yet.  I am hoping to announce them at the industry show in Louisville, Kentucky this December.
TCM: Other than returning to the original no-wood concept, will you be making changes to the products?
Dave: We are going back to the original slam latches for the aluminum cabinets.  They are an industrial-grade product and will last.  They're not cheaper, but they are better.  People want to take their truck campers off-road.  Having a latch that won't open makes a huge difference.
We are working on a new composite fiberglass floor that's lighter and more durable.  We are working on significantly more durable interior cushions.  Further improvements will be made in the lamination process.  We opened a new 70,000 square foot lamination plant about a year ago.
TCM: With these changes, what kind of weight savings should we expect to see for the CampLite truck camper line?
Dave: It's a little early to tell.  We have a prototype going on the line this week, but it will be some time before it's finalized and weighed.  Our goal is significant weight savings across the truck camper line.
TCM: K-Z's towable products range from ultra-light to luxury.  Will you have the same scope for your truck camper line?  Might we see a double and triple slide luxury CampLite truck camper in the future?
Dave: Once we are better known with dealers and buyers, we will certainly consider luxury and multi-slide models.
My experience is to go where the demand is in the market.  If you're in tune with the market and plan correctly, that's the best way of doing business.
TCM: What's going on with Ford Campers?
Dave: We actually had a conference call on Monday with Ford Motor Company.  The previous Livin' Lite management team did not have an open communication channel with Ford.
We have re-engaged Ford and reopened that line of communication.  We are now learning what they want to see in the product and we are looking to move forward.
It's a reset and reboot.  We're in research and development with Ford products and looking at all of our Ford lines; truck campers, travel trailers, and toy haulers.  For example, the Ford truck campers looked phenomenal, but they were mostly too heavy for Ford F-150 trucks.  We are going to address that.
TCM: Now that Livin' Lite is settling in at K-Z, what's your vision?  Where do you want to take this brand over the next five years?
Dave: Just because a customer wants a lightweight camper doesn't mean they want a basic camper.  They also want the nicer amenities, and that's where I see CampLite truck camper products going.  Customers want higher-end and higher-quality truck campers and travel trailers.
We also need more user-inspired features if we are going to grow the market.  With the right dealers, I believe we will see success fairly quickly.  We are going to grow, but not so fast to have quality suffer.  We don't want to be the biggest company.  We want to be the best company.
TCM: We are excited to visit K-Z and see the new Livin' Lite production line for a factory tour article.  Is the Livin' Lite factory open to the public for tours?
Dave: We are open for factory tours.  Factory tours are 1:30 pm every Tuesday.
TCM: When can we expect to see 2017 Livin' Lite products arriving at dealerships?
Dave: It's already happening.  The first Livin' Lite products from the new factory are getting delivered now.  Our production manager did extremely well with the move.  It was seamless.  We are currently just four to six weeks out with production.  That's fantastic for any RV manufacturer.
To request a CampLite truck camper brochure, click here.