This is the story of how CampLite and Ford truck campers blazed a trail of innovation through the truck camper marketplace, and then went out in a fog of mismanagement, non-communication and confusion.  What a waste.

In July of 2010, Scott Tuttle, the Founder and President of LivinLite, debuted a line of all-aluminum and composite hard side truck campers in Truck Camper Magazine.  Scott's 100-percent wood-free construction concept was both simple and radical.  Even today, very few RV manufacturers attempt to manufacture 100-percent wood-free products.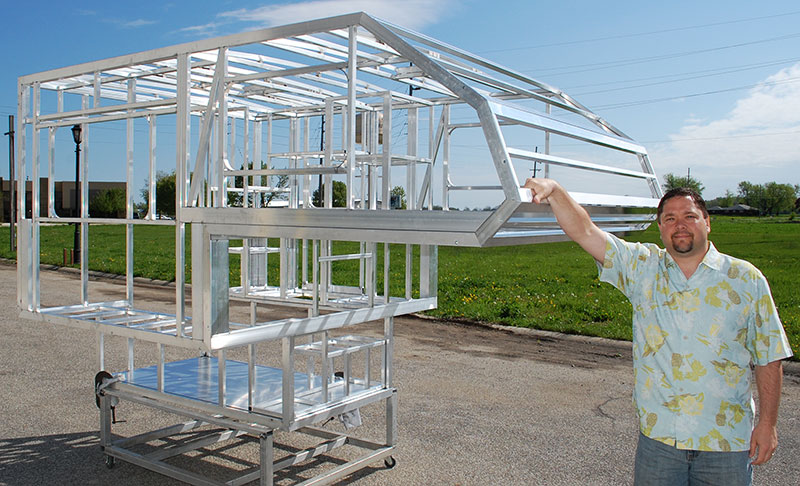 Above: Scott Tuttle, Founder of LivinLite, with the first CampLite aluminum truck camper frame
CampLite was LivinLite's truck camper brand.  The first CampLite truck camper to roll off the LivinLite production line was the CampLite 5.7 (see above), an extremely basic, short bed, all-aluminum and composite, hard-side truck camper.  Just as Scott had envisioned, the 5.7 was completely wood-free.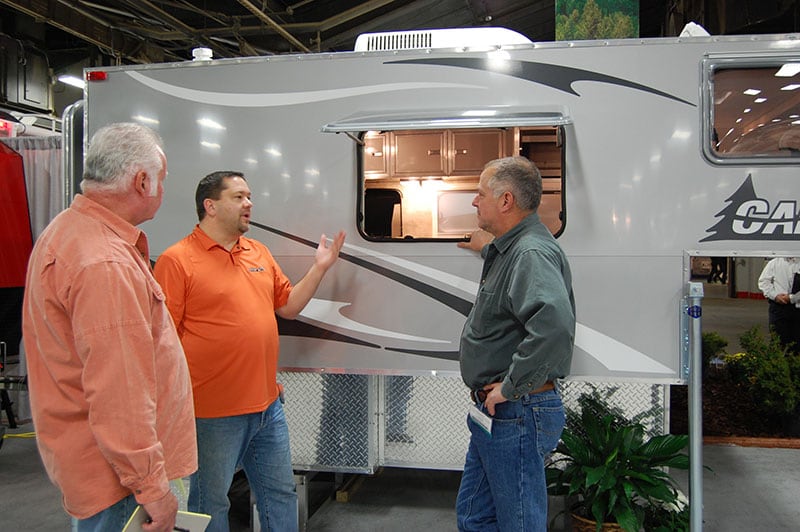 Above: Rick Barna and Scott Tuttle of LivinLite RV present CampLite truck campers to Bill Penney of Truck Camper Warehouse at the 2010 National RV Tradeshow in Louisville
The interiors of the first CampLite truck campers were extremely sterile.  Early CampLite models drew comparisons to ambulances and other industrial vehicles; a far-cry from the refined interiors of the competition.
With feedback from dealers and consumers, Scott and his team made their wood-free interiors warmer and more comfortable with each iteration.  In 2010, 2011, and 2012, new and improved CampLite interiors debuted two and even three times a year.  Each time they added more warmth and comfort.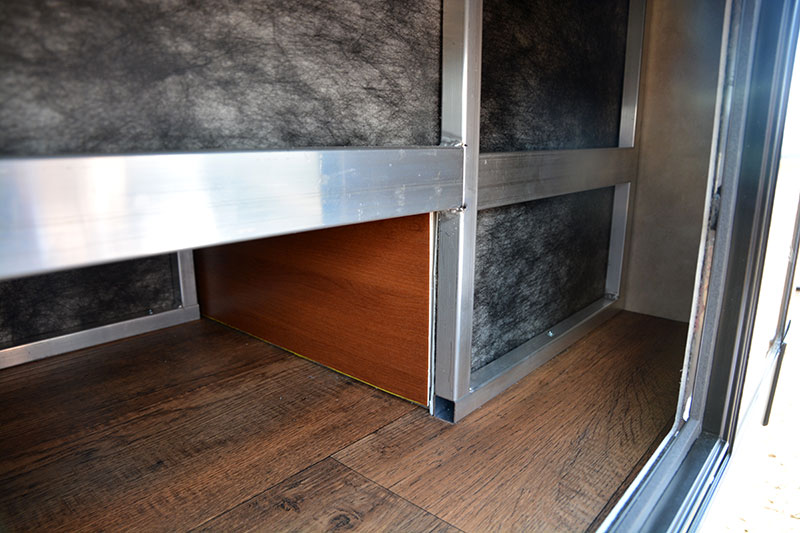 Above: LivinLite warmed their interiors by utilizing Azdel composite panels with a wood-look.  This image shows the aluminum framing and the Azdel exterior (wood-look) and interior (grey)
No longer easily mistaken for medical transports, LivinLite and CampLite products performed and sold well.  Dealers loved telling the "wood-free" sales story, and customers loved hearing it.  By 2013, LivinLite RV was ranked #963 on the Inc. 5000 list with a 2012 revenue of $16.4 million.
Thor Acquires LivinLite
Thor Industries announced their acquisition of LivinLite August of 2013.  As one of two powerhouse mega-corporations in the RV space, Thor Industries is well known for buying smaller RV manufacturers.
Initially, the Thor acquisition seemed to make no difference to the company.  Scott remained at his post, the company remained in Wakarusa, Indiana, and dealers reported inventory arrivals and sales.  Then Ford happened.
Ford Truck Campers

The excitement surrounding LivinLite RV hit its absolute peak on November 25th, 2014.  On that day, Scott Tuttle publicly announced a new partnership with Ford Motor Company to build Ford branded, all-aluminum truck campers.  The Ford partnership news sent shock waves throughout the entire RV industry.
In an exclusive interview with Truck Camper Magazine, Scott discussed the 18-month process of working with Ford Motor Company including Gordon Platto, Chief Designer of the 2015 Ford F-150.   Scott also revealed the very first Ford truck camper design sketch (see graphic above) including a Ford-designed fiberglass front nose cap and windshield.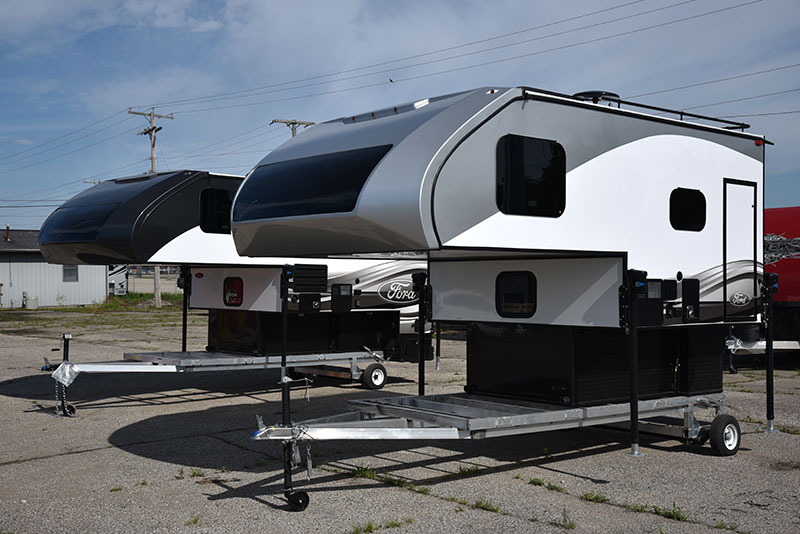 Above: Ford branded truck campers at the Crossroads RV plant in July of 2015
Ford Motor Company was directly involved with the design, but Ford Campers were nearly identical to existing CampLite models.  More than a simple re-badging, the Ford campers incorporated the Ford nose cap, Ford exterior graphics, and Ford interior materials.  They shared CampLite floor plans and core construction, but everything else was Ford-specific.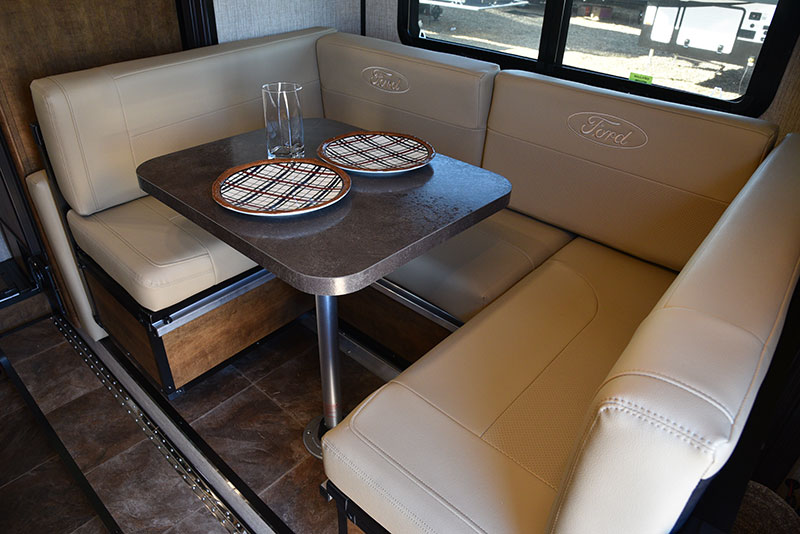 Above: Ford truck camper interiors featured stitched Ford logos and Ford fabrics
In our conversations with Scott during that time, we learned that Ford Motor Company had promised to use the Ford branded campers (and towables) in Ford print and broadcast advertising and marketing.  To the best of our knowledge, no Ford branded RVs were ever featured in a Ford print ad or television spot.
LivinLite at the Crossroads
Thor moved LivinLite under their Crossroads division, and then moved the entire production plant to Crossroads facility in Topeka, Indiana.
The Topeka location was just far enough from the original Wakarusa factory to discourage many members of the original LivinLite management and production teams to follow.  Scott was still involved as part of a two-year acquisition agreement, but was no longer managing day-to-day operations.
The disruption from the factory move and team changes to LivinLite's production was immediate.  LivinLite dealers started to report not being able to get LivinLite, CampLite and Ford product and voiced frustrations with the changes to their points of contact.
At the annual industry-only Elkhart RV Open House that September, LivinLite showcased CampLite and Ford truck campers in the Thor display.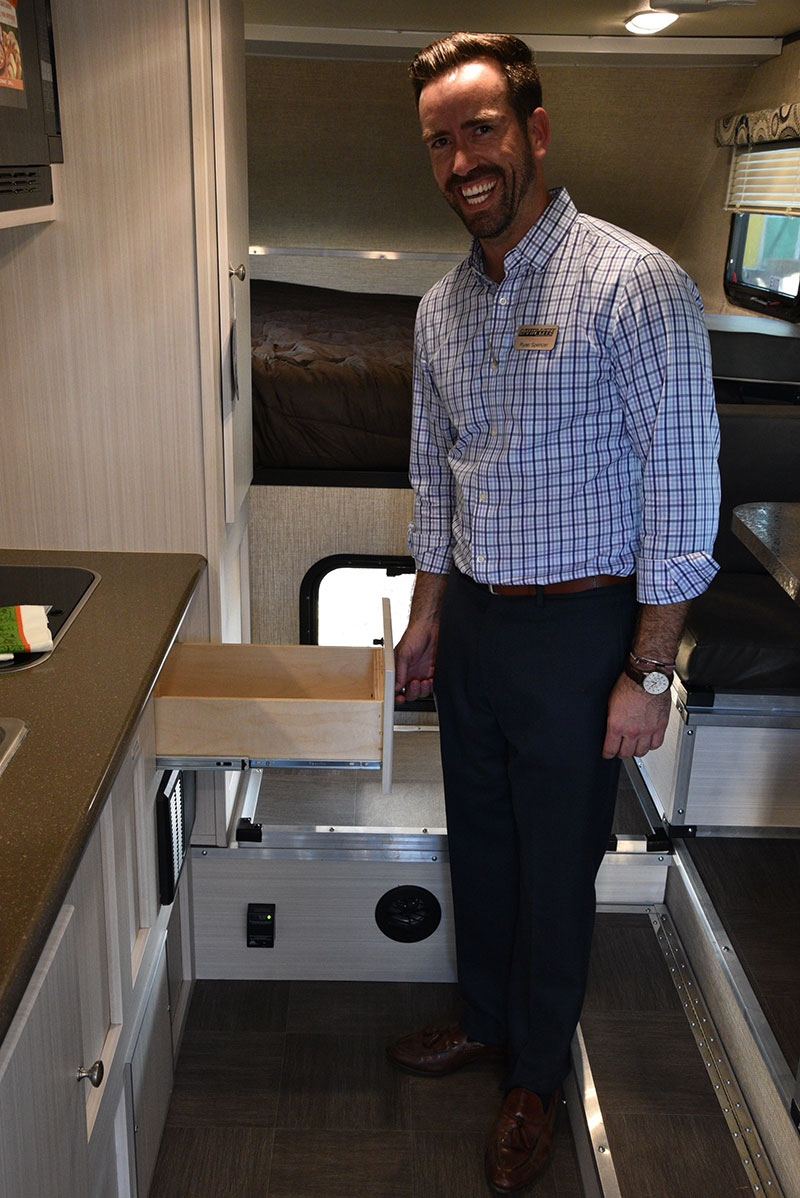 Above: Ryan Spencer of Crossroads RV presents the new CampLite interiors for 2016
At the event, the new Crossroads-LivinLite team showed us two additional Ford truck camper floor plans; the Ford 9.2 and 8.4S.  They also launched all-new interiors incorporating wood and drawers into the units for the first time.
K-Z RV Takes On LivinLite
Under Thor's Keystone division, the K-Z RV brand took over the LivinLite and CampLite production from Crossroads RV in mid-2016.  K-Z RV fits under Keystone in the Thor Industries organization.
To once again get to the bottom of what was happening with LivinLite, CampLite, and Ford, we contacted the decision makers at K-Z RV for information and an on-the-record interview.
On August 30th, 2016, we published a detailed interview with Dave Boggs, General Manager for K-Z RV.  Dave discussed K-Z's LivinLite/CampLite/Ford takeover and did his best to clear the air around these three brands.
Dave bluntly stated that he was excited about truck campers as a, "strong niche" and believed the K-Z culture and team were exactly what the floundering LivinLite and CampLite brands needed to return to glory.  Dave explained that the LivinLite and CampLite teams from Crossroads had been brought over to K-Z, and that CampLite truck camper production had resumed.
Dave added that he was dedicated to the wood-free 100-percent aluminum and composite construction trail Scott Tuttle had blazed.  Crossroads RV had backtracked on this point with wood-faced cabinetry and other wood interior accents.  According to Dave, wood had been a non-starter for LivinLite, CampLite and Ford.  Finally, Dave committed to Ford RV products, but wanted to redevelop the entire LivinLite, CampLite, and Ford lines to be lighter and more efficient for production. All of this sounded fantastic.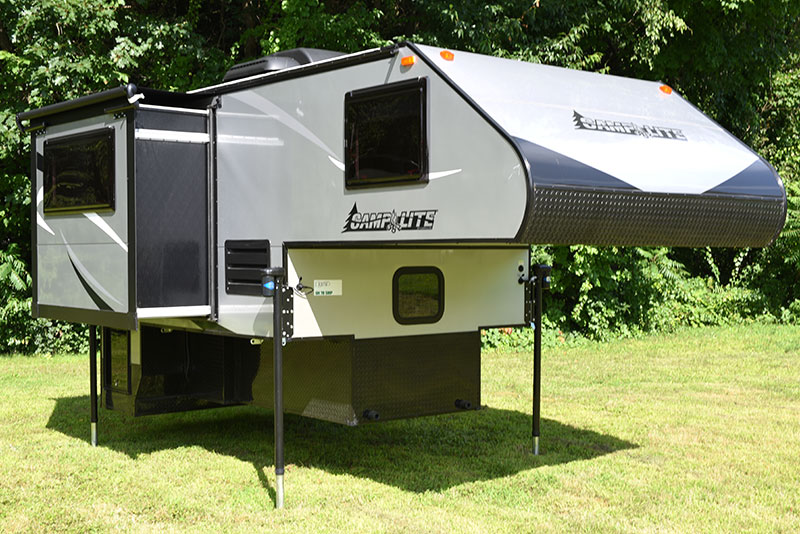 Above: One of the final produced CampLite truck campers; a 2017 CampLite 8.4S
Wandering Into the Abyss
After that interview, we heard nothing from K-Z RV.  No emails.  No phone calls.  No press releases.  Nothing.  Worse, it was rare that we would get a return call or email from the company.  It didn't take long before LivinLite and CampLite dealers started calling us asking if we had any luck communicating with the manufacturer.
At the following Elkhart Open House, we did our best to talk to the K-Z RV decision makers, but they made themselves largely unavailable, or didn't have the authority to comment.
When the RV industry media reported the demise if the LivinLite brand this past February, we could not get anyone at K-Z RV to confirm or deny the story.  In fact, it took weeks to get someone to respond to us at all, and then the answer was extremely vague.
Internally we had many discussions about reporting this information, but publishing the demise of a domestic manufacturer without confirmation from the company is not a responsible act.  The RV media story reported comments from LivinLite dealers, but had no direct LivinLite RV (or Thor) source.   To go public with the story, we wanted confirmation.
The Death of LivinLite, CampLite, and Ford RV
Sadly, that confirmation arrived earlier this week.  We can now confirm that Thor Industries and K-Z RV are terminating the LivinLite, CampLite, and Ford RV brands.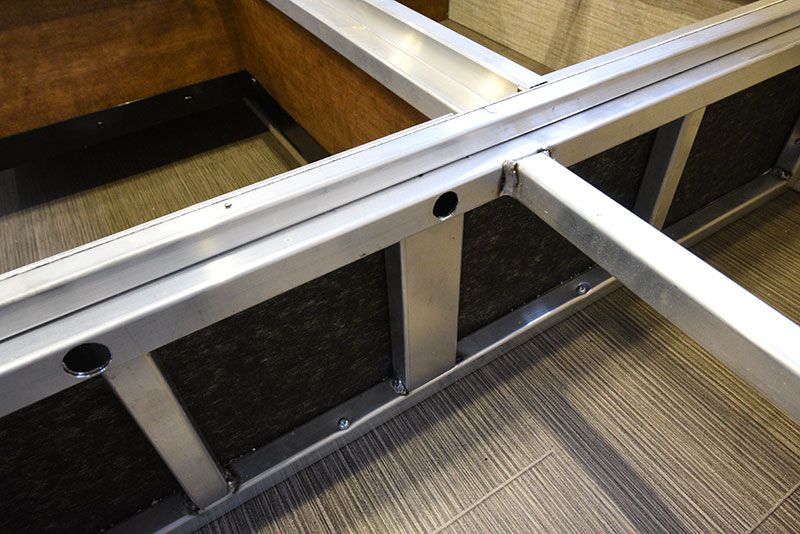 Scott Tuttle's wood-free, all-aluminum and composite vision remains one of the most important RV industry innovations of the past decade.  Without a doubt, LivinLite and their product line inspired the truck camper marketplace to step up its material science and push harder into the possibilities of wood-free construction.
The real irony in all of this is that the dealers wanted LivinLite and CampLite products. We heard time and time again from dealers, "We love the product, but we can't get it."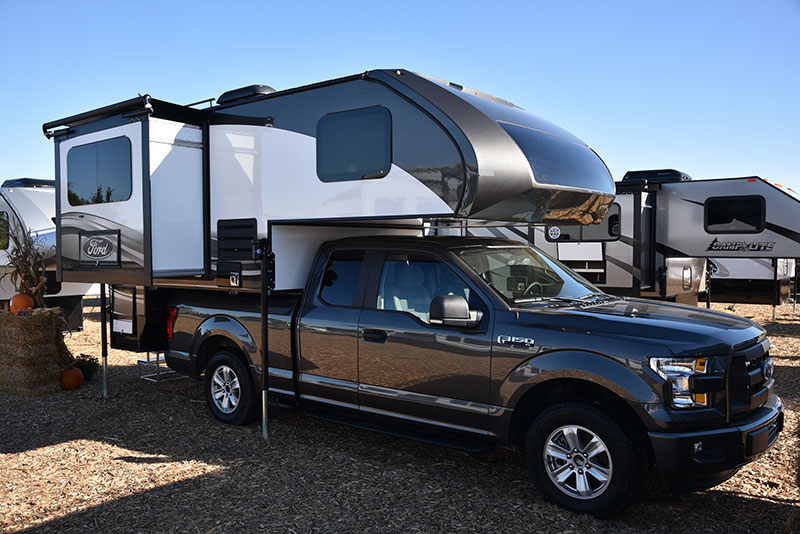 Ford truck campers are another story.  Dealers and consumers were excited about the idea of Ford Motor Company getting involved with the truck camper marketplace, but were not sold on paying more for a Ford-branded product.  The question we often heard from readers was, "Why would I buy the Ford when I can buy the nearly identical CampLite for less?"
Adding to the woes for the Ford RV line, it debuted during Thor's musical management and factory chairs.  Very few Ford-branded units ever saw the light of day.  We've only seen about a dozen, and that includes industry events and factory visits.
So what really happened with LivinLite, CampLite, and Ford RV?  We'll probably never know the whole story, but there are several theories heard around the industry.  First, perhaps Thor acquired LivinLite to take it out of the marketplace.  One way to kill a competitor is to buy them.
That scenario is unlikely given what Thor likely paid for LivinLite, and the efforts they put into moving the company multiple times.  If they wanted LivinLite gone, they could have turned off the lights on day one.  That didn't happen.
It's more likely that LivinLite RV and CampLite and Ford truck campers died of neglect.  Scott Tuttle was the visionary who believed in his company and made it successful.  His original management and production teams believed in him and his vision.  Their focused determination and winning culture resulted in a nearly unprecedented multi-year growth story.  Without Scott and his passionate team, LivinLite, CampLite, and Ford truck campers were doomed.
Sadly, this concludes the story of one of the most dynamic and exciting truck camper manufacturers of the past decade.  What a waste.