Ford Motor Company partners with Livin Lite RV to design and develop an all-new aluminum truck camper to match their all-new aluminum bodied 2015 Ford F150.

Brimming with news he could no longer contain, Scott Tuttle, President of Livin Lite RV, pulled us into a CampLite fifth wheel at the annual Elkhart open house this past September.  As we sat down, Scott asked to be off the record, and then told us the biggest news to hit the truck camper world in decades; Ford Motor Company was partnering with Livin Lite to debut a line of Ford truck campers.
Stunned by this announcement, we listened intently as Scott explained the process of working with Ford's new aluminum F-150 design team, and some preliminary concepts of what this camper would be.  Nothing would be announced until the partnership was announced by Ford, but then Scott would grant us the exclusive.  To say that we were excited by the news would be an understatement.
This is not Ford's first foray into truck campers.  In 1973, Ford debuted the American Road, a molded-fiberglass truck camper that was decades ahead of its time.  The 11.5 foot Ford American Road was designed to match Ford trucks and featured a basement with heated and insulated holding tanks, a full-booth face-to-face dinette, sprayed on urethane foam insulation, and a 100,000 mile, 40-degree below zero durability test – in 1973!
Please join us in welcoming Ford back to the exciting world of go anywhere, camp anywhere, tow anything truck campers.  It's only been forty-one years, but who's counting?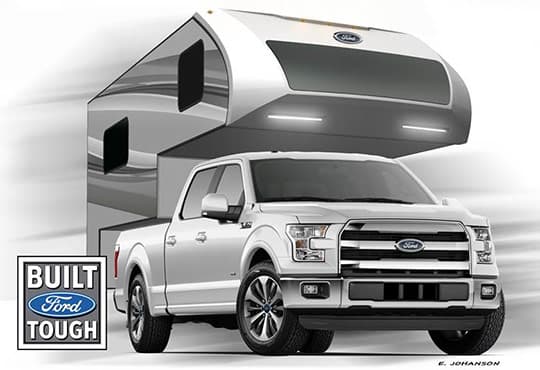 Above: The official Ford illustration of the Ford truck camper shown mounted on the aluminum-bodied 2015 Ford F-150
We spoke to Scott Tuttle, President of Livin Lite, about working with Ford Motor Company, and the all-new Ford truck camper.
TCM: This is very exciting news Scott.  How did the Ford truck camper project come to be?
Scott: After we developed an aluminum Jeep-branded trailer for Chrysler, our contacts there in Detroit were talking with Ford, and it came up that the new F-150 was going to be built out of aluminum.  From there the conversation grew to where we were asked to come up to Detroit to meet with the Ford marketing guys and this thing just started to steamroll.
We have been working on this project for about eighteen months.  It involves an extensive licensing agreement as Ford does not develop products without a license.
During the design phase, we were extremely fortunate to work with Gordon Platto, Chief Designer for the new Ford F-150, and his design team.  Gordon and his team are rock stars in the auto industry, and they had to sign-off on anything relating to the new F-150, including this camper.
As things developed, the Ford design team became so interested in the project that they actually worked with us to sketch out designs for the truck camper.  Their designs were directly based on the CAD drawings of the aluminum Ford F-150 and directly incorporated the design cues from the new truck.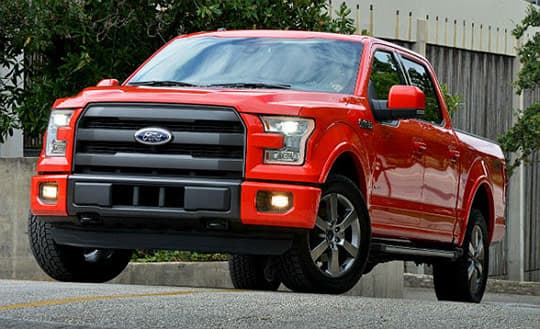 Above: The aluminum 2015 Ford F-150.  Photo courtesy of Ford Motor Company.
TCM: What can you tell us about the Ford truck camper currently in development?
Scott: The Ford truck camper will incorporate a new and unique fiberglass front nose cap as depicted in the sketch.  The exterior of the camper will be fiberglass with full-body paint to match the 2015 Ford F-150.
The interior of the camper will feature beautiful hardwood cabinet doors and drawers over our all-aluminum construction.  The main structure of the camper will be all-aluminum and composite.  The interior will also feature Ford F-150 looking fabrics.  When the consumer goes from their 2015 Ford F-150 to their Ford truck camper, it will have a similar look and feel as their truck.  The Ford truck camper will be a premium product.
TCM: Will the Ford truck camper feature a fresh floor plan?
Scott: Livin Lite has added three CampLite truck camper floor plans in the past three months, so we feel that we have a size and style for everyone.  The Ford truck camper will be based on the proven CampLite floor plans already in production.  From that foundation, the Ford truck campers will add the lines and styling of the 2015 Ford F-150, including the new fiberglass nose cap and other design cues from the new truck.
TCM: Did you say truck campers plural?  Will there be more than one Ford truck camper?
Scott: Yes, there will be more than one Ford truck camper.  There will be a Ford F-series of campers.  The guys who have a Ford F-250 or F-350 will also have a Ford truck camper to match to their Ford trucks.  The design lines will work with those models as well.  All of our truck camper floor plans will work well as Ford truck campers.

TCM: Will these campers be sold through Ford dealers, or through Livin Lite's dealers?
Scott: The Ford truck campers will be sold through Livin Lite truck camper dealerships.  There will likely be some Ford dealerships who will also carry the Ford truck campers, but those Ford dealerships are already Livin Lite dealers.  Bozeman RV in Bozeman, Montana is such a dealer.  We anticipate that other Ford dealers who also sell RVs will want to participate.
We want Ford truck campers to be mainstream.  To help make that happen, we may see more automotive dealers to become Ford truck camper dealers.
TCM: When do expect the first Ford truck camper to be debuted?
Scott: Right now we're aiming to have the first Ford truck camper ready in January.  It should be on dealer lots a month or two after that.
Ford is standing behind the new camper and will be advertising it.  We are looking forward to seeing the Ford truck camper on the aluminum 2015 Ford F-150 at SEMA and the major auto shows.
TCM: That would be exciting.  Is there anything else you can add to the announcement at this time?
Scott: Today we are announcing the partnership with Ford Motor Company, and talking about what's coming.  That's all I can talk about for now.  We will debut the new Ford truck camper in Truck Camper Magazine.  Look for that announcement, and photography, in the new year.
The Ford F-150 has been the number one selling vehicle for more than twenty years.  It's truly an honor to be associated with Ford, and their extremely successful F-150 product.
For more information, you can read the official press release from Ford Motor Company here: https://media.ford.com/content/fordmedia/fna/us/en/news/2014/11/25/ford-and-thor-livin-lite-team-to-license-ford-branded-recreation.html