LivinLite reveals two more 2016 Ford truck camper models; the 9.2 long bed non-slide, and the 8.4S short bed slide-out.  Here's a behind-the-scenes look nose cap to bumper.

When we visited the LivinLite factory this past July we saw two Ford truck campers, the 2016 Ford 8.6 and 6.8.  These exact units went on a promotional dealership tour immediately after our visit and were featured a week later in the article, "2016 Ford 8.6 and 6.8 Truck Campers".
Above: 2016 Ford truck campers on display at the Elkhart Open House
When we asked Ryan Spencer, General Manager for LivinLite, about Ford production, he stated that they were gearing up to produce two more models for the Elkhart Open House that September; the 9.2 and the 8.4S.  After the Open House, LivinLite would schedule a production run to fill dealer orders placed at the event.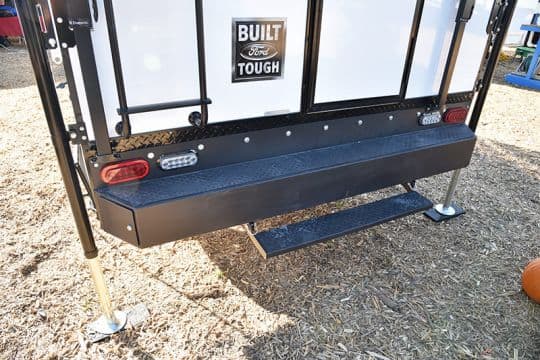 Above: The standard aluminum bumper for 2016 Ford truck campers
Well, we drove out to the Elkhart Open House eight weeks later and yes, they did indeed have two more Ford truck campers.  On display were the 2016 Ford 9.2, 8.6, 8.4S, and 6.8.  We were particularly interested to see the 2016 Ford 8.4S, the first slide-out Ford truck camper.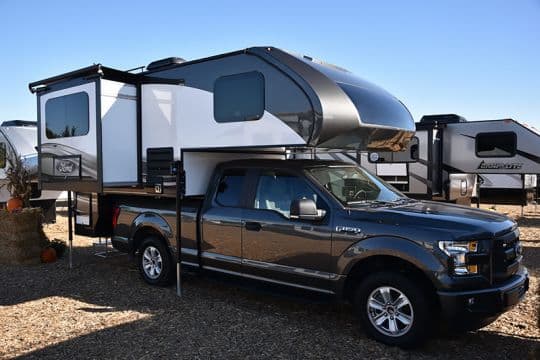 Above: The 2016 Ford 8.4S, the first slide-out Ford truck camper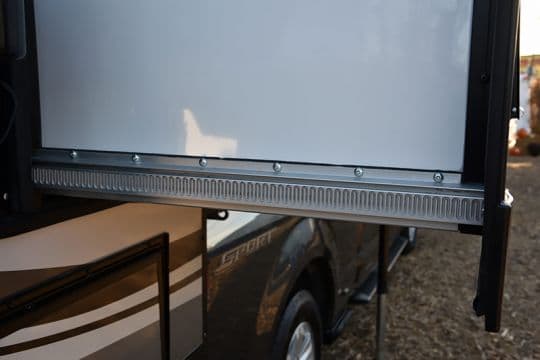 Above: The 2016 Ford 8.4S uses a Schwinteck slide mechanism
Above: Ford branding is prominently featured on the 2016 Ford truck camper line
LivinLite reported that the dealer reaction to the Ford units at the Elkhart Open House was strong, and a production run was in the works.  We overheard a number of dealers who were chomping at the bit to get both CampLite and Ford truck camper inventory.  One even bought the units on display to ensure he would get the product.
Above: The Gordon Platto designed front windshield follows the contours of the 2015 Ford F150, also designed by Platto
Taking a step back from the production delays, the Ford truck campers are visually quite impressive.  The front windshield is a real stand out.  The Ford nose cap and windshield gives the Ford campers one of most appealing front noses in the business.  It doesn't hurt that Gordon Platto, Chief Designer for the aluminum F-series, had a significant hand in its design.
Above: The interior of the 2016 Ford 8.4S – click to enlarge
Inside the front windshield really opens up and brightens the feel of the Ford camper line.  The Lariat-look leatherette seating, solid surface countertops, and real wood cabinetry fronts and doors turn the notch up further.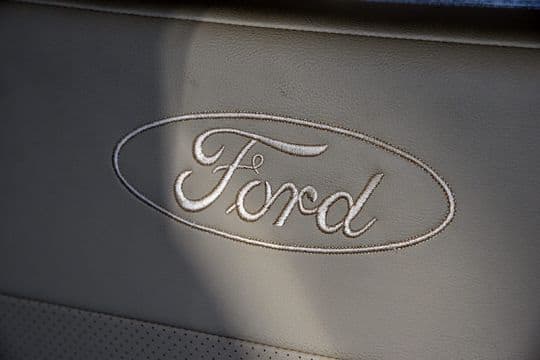 This is not a the cold, bare-bones, aluminum and composite CampLite aesthetic we met years ago.  This is a design with more than a toe in the luxury camper pool.  Most importantly, the Ford campers remain wood-free beyond the wood cabinetry's fronts and doors.