TCM reviews a CampLite 8.6 hard side, non-slide, wet bath truck camper designed for long bed trucks.  Is that a face-to-face, full-wall, two-top dinette?  And what's UltraHeat?

In the first week of March, we visited D&H RV Center in Apex, North Carolina for the first time.  We were eager to meet the team, see their facility, and review one of the five CampLite truck campers they had on display.  At first, I was determined to review the 8.4S slide-out model debuted last June, but then something else caught my eye.
As you might imagine, we like exploring truck campers.  When we're at a dealership, it's not unusual for us to start opening doors and checking out truck campers for an hour – like two kids in a candy store.  In this spirit, I was opening the CampLite truck camper doors, taking a quick look, and going to the next when… what the heck is that?
I cleaned my glasses.  It was still there.  I blinked my eyes.  It was still there.  I checked my phone to make sure it wasn't April Fools.  It wasn't, and it was still there.  How could this be?
Before me, in all of its glory, was a two-top, full-wall, face-to-face dinette in a non-slide truck camper.  I know, big deal, right?  But this is something Angela and I have wanted to see for years; a restaurant-style two-top dinette, in a non-slide.  No ubiquitous leg cramping half-table U-shape dinette here.  We're talking a real two-top people!
And that was it, I would review the 8.6.  As I looked around the unit, I saw a number of other interesting design decisions that were sure to challenege and excite the readership.  For starters, it has the only cabover we've ever seen that's both East-West and North-South.
What?  Let's get started.
Do You Have Anything In Silver Frost?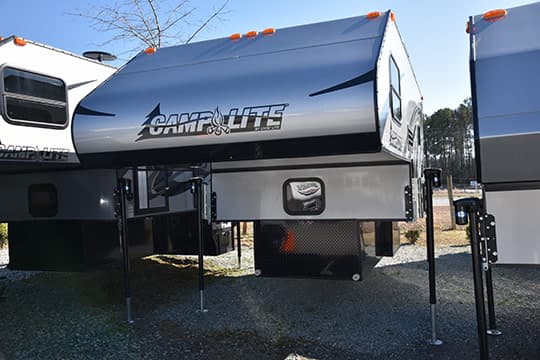 CampLite truck campers are unique in that they are available in colors other than white.  Manufactured entirely out of aluminum and composite materials, the aluminum exterior is available in Medium Charcoal Grey, Beige Metallic, Light Pewter, Black, Crystal White and, yes, Silver Frost.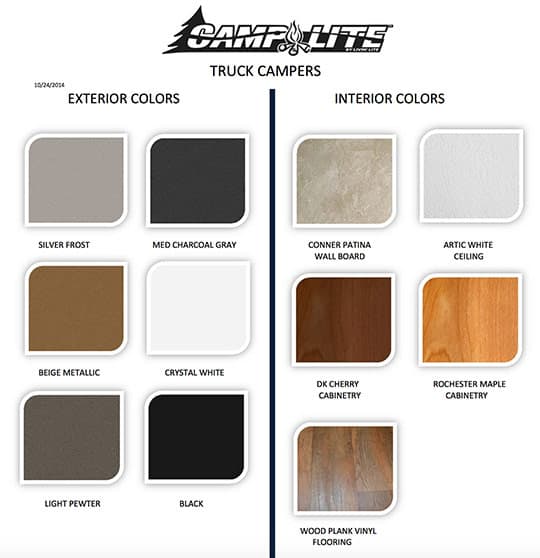 Everything was black and silver on the CampLite 8.6 we reviewed at D&H RV Center.  The aluminum siding, graphics, trim, and even the optional Rieco-Titan electric remote jacks were black.
The CampLite 8.6 we reviewed had Rieco-Titan swing-out brackets installed.  While the 8.6 would certainly work on a properly specified single rear wheel truck, it never hurts to put more truck under a camper than it needs.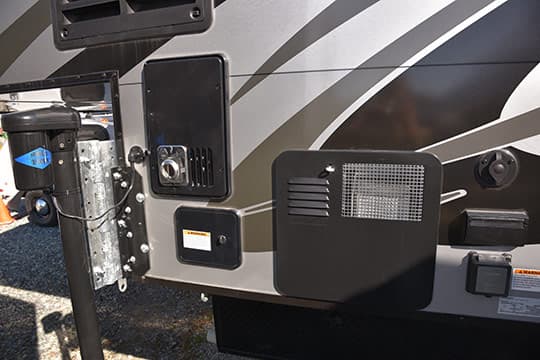 On the driver's side front is the refrigerator vent, Atwood heater vent, fresh water fill, city water connection, Suburban water heater access panel, coax cable television input, a 110-volt outlet, and a 30-amp marine grade detachable short power connection.  The presentation was neat and well organized.
We Approve This Propane
The 2015 CampLite 8.6 features two 20-pound vertical propane tanks on the rear driver's side.  This is our preferred tank orientation and size.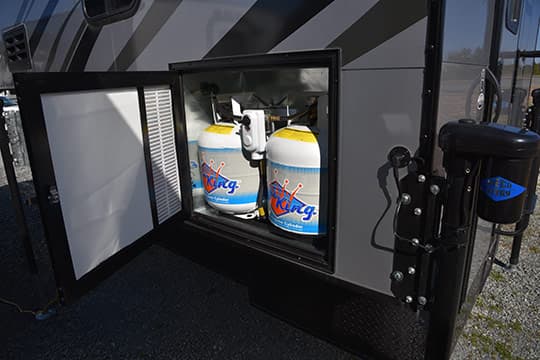 20-pound vertical tanks are relatively easy to unload for re-filling, and lift back into position.  While we would prefer you maintain your own tanks for quality reasons, you can exchange 20-pound vertical propane tanks at any Home Depot, Lowes, and many other locations.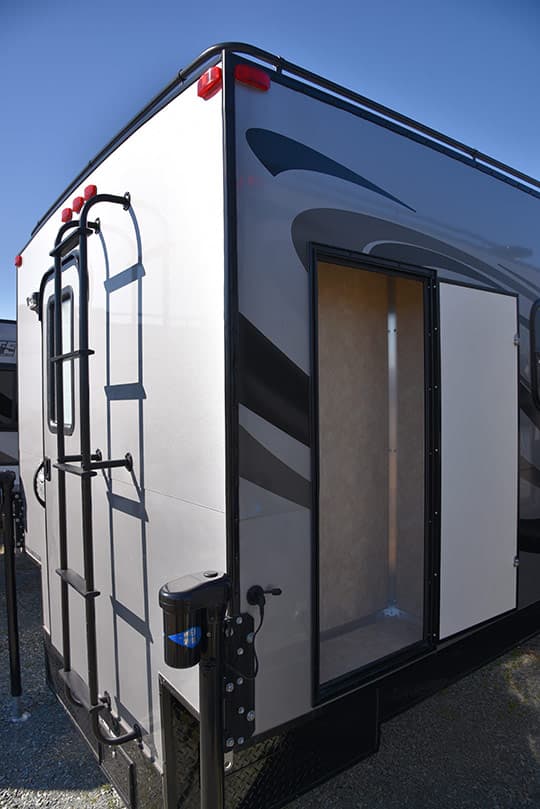 On the passenger's side of the 8.6 is an exterior storage compartment.  This is an exceptionally large compartment, which is always welcome, but has us wondering exactly what it would be used for.  My initial thought would be to add a peg board system and hang the 30-amp power cord, fresh water hose, tools, and various adaptors in this space.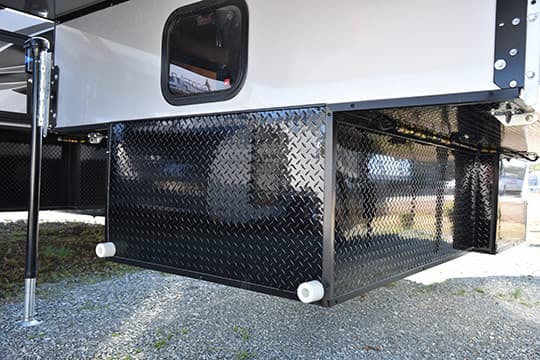 The front wall features a window.  Unfortunately, there isn't a corresponding window on the camper entry door allowing the driver to see straight through the camper.  That's a feature we would like to see incorporated into future versions of the 8.6.
Introducing the ZEV
The rear of the CampLite 8.6 features a ladder, porch light, entry grab handle, and the sewer control access compartment on the lower right.  Since the 8.6 does not feature a built-in step system, a scissor step system – like Torklift International's popular GlowSteps – will need to be installed once the camper is matched to a truck.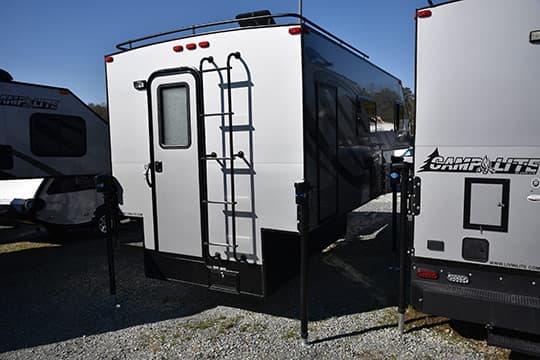 While some folks might prefer the non-branded look, I would prefer to see a CampLite logo on the rear of the camper (like the unit on the right).  If not, a future owner could always get the 17-piece "Zombie Outbreak Response Team" automotive sticker set and tell everyone their rig is a ZEV – Zombie Escape Vehicle.  Link: Zombie Escape Vehicle automotive stickers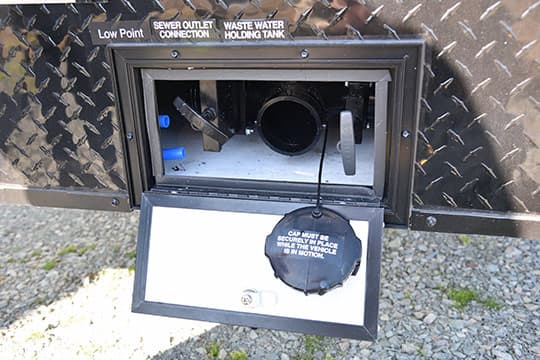 The insulated dump compartment contains both the color-coded knife valves for the grey and black tanks, and also the dump itself.  This makes sense since the 8.6 is designed to go just beyond the tailgate with no overhang, perfect for towing.
Our concern with this compartment is that dumping in general is not always the neatest activity.  Not to be too graphic, but this compartment may need to be cleaned now and then.  Of course this is not a problem when the camper is wood-free.  Just hose it out, and let it dry.
Note: Please do not hose out any other brand of truck camper.  Hosing is strictly for wood-free, all-aluminum and composite CampLite products.  Even then, hosing should done carefully.
One thing we didn't find on the CampLite 8.6 was a designated sewer hose compartment or tube.  Maybe we missed it, or maybe it's something that's installed after the camper is matched, but it was nowhere to be found on the 8.6 before us.
Our Standard Weight Sticker Warning
According to the exterior weight sticker, the dry weight of the CampLite 8.6 is 2,095 pounds.  Do we believe this?  Absolutely not.  We're not questioning LivinLite's integrity, but we make it a practice to never believe an exterior weight sticker.  They are almost always low, and fail to include options of any kind.  As one industry leader said to us recently, "Some companies put what they wish their campers weigh, not what they actually weigh."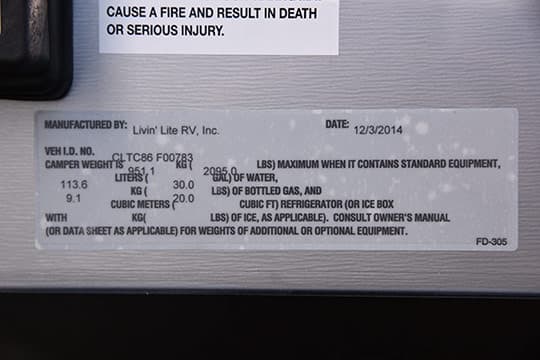 When we back out the water weight (250.2 pounds) and 20-pound propane weight (only one tank is included) from the posted sticker on the CampLite 8.6, we get a 1,824.8 pound dry weight.  That sounds reasonable for a hard-side truck camper of this length and floor plan.  Given that this camper is well optioned (microwave, air conditioner, etc.), it's possible that the actual dry weight is one to two hundred pounds more.
Our strongest recommendation is to not assume anything when it comes to camper weight for any truck camper make or model.  Before making a new or used camper purchase, have the dealer weigh it on a portable racing scale system like the Intercomp E-Z 500, or take it to a local CAT scale.  No dealer should hesitate to fulfill this request and help you make a safe and proper truck and camper match.
Matching the 2015 CampLite 8.6
Before we talk about a proper truck for the 8.6, let's run the numbers using the TCM Buyers Guide wet weight calculation, and CampLite's supplied dry weight:
CampLite TC8.6: dry weight, 1,824.8 pounds + 30 gallons fresh, 250.2 pounds + 6 gallons full hot water heater, 50 pounds + 2 x 20-pound full propane tanks, 40 pounds + 1 battery, 65 pounds + stuff, 500 pounds = 2,730 pounds
Fully optioned, wet, and loaded with everything you'll want to take with you, it's possible that this camper could be pushing 3,000 pounds, or more.
Above: A few days after we left D&H RV Center, a customer bought the very 8.6 we reviewed and just happened to have a Ram 3500 dually just like ours.  Thank you to D&H RV Center for these truck photos.
After talking to a number of long time readers who are now researching their second and even third truck campers, I've had a slight change of heart when it comes to matching.  Now I believe the best course of action is to go as big as you can.  Even if you only need 3,000 pounds of payload now, go for the one ton with 4,200 pounds of payload.
Even better, get a dually with 5,000 pounds of payload or more (our 2014 Ram 3500 has 5,851 pounds of payload).  That way you will have the truck you need when you want to upgrade in a few years.  You will thank yourself later.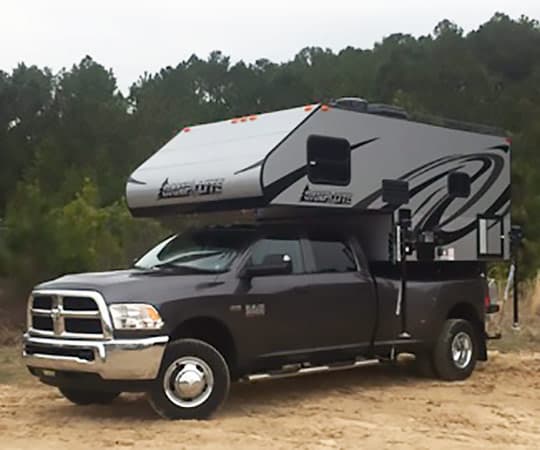 Above: Notice that the 8.6 does not overhang the back of the truck or go past the tailgate area of the truck.
The other route to take is to get the truck you need.  For the CampLite 8.6, that probably means a three-quarter ton truck.  If you go for a diesel engine, four wheel drive, crew cab, and all the upgrades and trim packages, you may even need a one ton.  If you can go gas, two-wheel drive, and a regular cab, you could special order a half ton with 3,000 pounds of payload.  It won't be on the lot, but it's possible.
My advice: If you can, buy the truck you'll want for your next camper.  Go big.  Even if you don't want a bigger camper later, you might decide to tow a boat, or a bigger boat.
Center of Gravity Matters
As a magazine, we believe it's important that center of gravity is accurately measured and marked on every new truck camper, as it left the factory.  A center of gravity sticker alerts consumers to the importance of center of gravity for a safe truck and camper match.  Center of gravity should always be forward of the rear axle.
Unfortunately, LivinLite does not mark center of gravity on their truck campers.  We implore LivinLite, and any other manufacturer that does not currently use COG stickers, to reconsider posting center of gravity on every truck camper they sell.  If they make this change, we will celebrate the news with a story in Truck Camper Magazine.
The Disappearing Slide
Angela and I both walked into the 8.6 and thought – for a split second – that it was a slide-out model.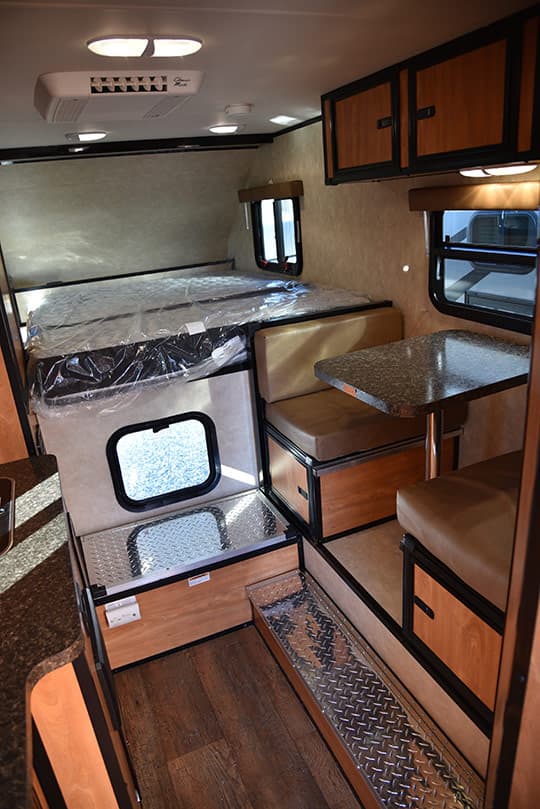 Once you get past the wet bath in the passenger's side rear, the floor plan opens up.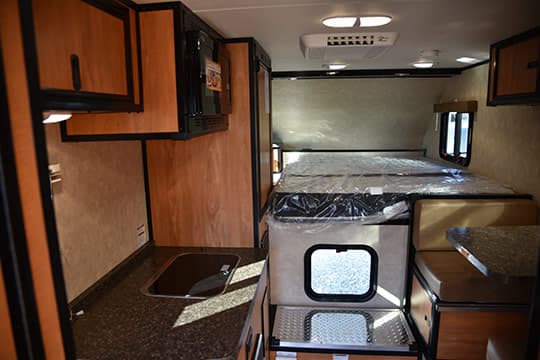 Then the two-top booth-style dinette tricks the eye into thinking, "Is that a slide-out?"  For a long bed camper that stops just past the tailgate, the 8.6 feels open and spacious.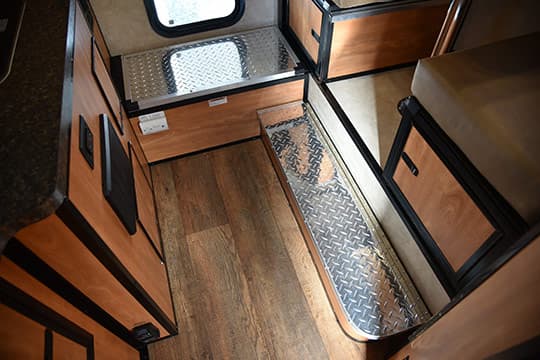 The faux wood floor laminate has just enough of the Rochester Maple cabinetry color (Dark Cherry is also available) from the faux wood Azdel and black from the painted aluminum trim.
We like the faux wood floor, especially when you consider that CampLite floors were shiny aluminum just a few years ago.  It still is under the laminate, but the aesthetic, and feel under-foot, is a huge improvement.
BREAKING NEWS: We Use Toilet Paper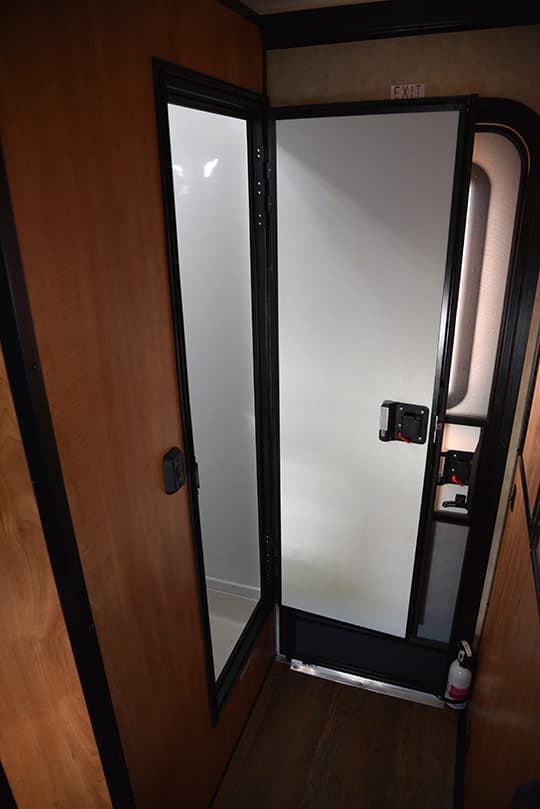 The wet bath in the 8.6 is a phone booth-sized space with a flush toilet, wall-mounted mesh pouch, shower faucet controls, shower head, LED light, and a fan.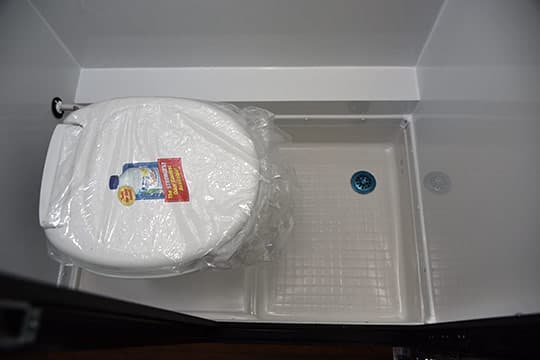 There is no sink, water-proof place to store a toilet paper roll, or storage of any kind – unless you count the mesh pouch.
I don't think I'm in the minority when I say that (a) I use toilet paper, (b) I like toilet paper to be readily available in the bathroom, and (c) it should be nice and dry before use.  Since, to the best of my knowledge, the 8.6 does not have a solution for this, I found one.
On Amazon, there's a suction cup water proof toilet paper holder and dispenser for $12.10!  Hey CampLite, maybe this item should be standard for the 8.6?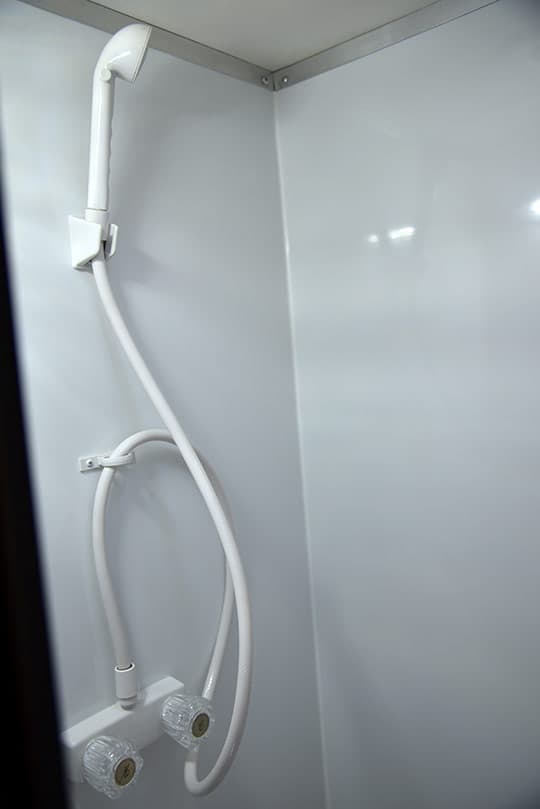 I do like the physical size of the 8.6 bathroom.  There's plenty of leg room for the toilet, and shower space for showering.  Of course you should always sit on camper toilets and stand in the shower when auditioning a new camper.  Your comfy toilet sit or acceptable shower space may not be mine.
Above: The wet bath LED light, mesh pouch, and fan – click to enlarge
The 8.6 is also available with a cassette toilet.  It's funny how many folks wrinkle their nose when we say cassette toilet, until we explain their versatility.  For example, if you want to camp in the winter when RV dumps are closed, or you want to camp in places where dump stations are few and far between, a cassette may be the right choice.  The trade-off for the cassette option is that you lose the large exterior storage compartment on the driver's side.
In addition to the water proof toilet paper dispenser, I would add a few Command Hooks in the bathroom for towels, and possibly a shower rod to hang towels.  If anyone from the industry is reading this, please think about where wet shower towels will be hung to dry in your campers.
A Very Important Closet
Directly across from the bathroom on the rear driver's side is one of the most impressive storage closets you'll ever see in a non-slide truck camper.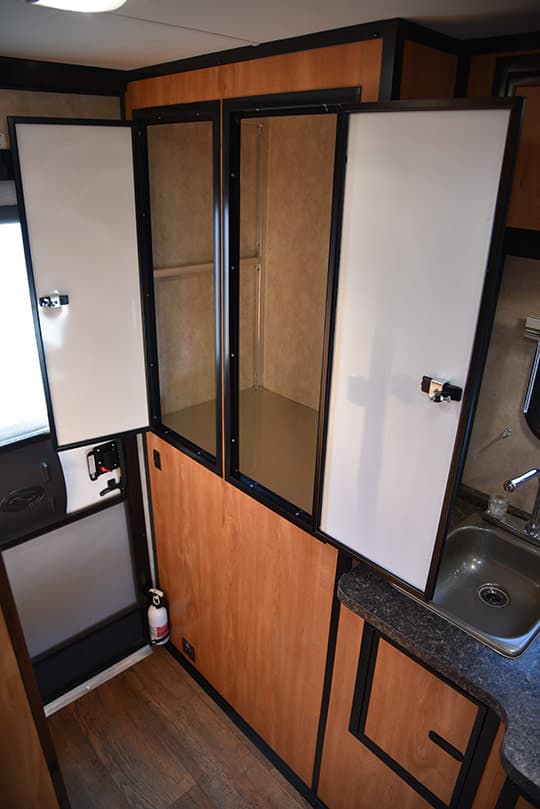 Given the relative lack of storage opportunities in the bathroom, this double-door storage area will likely need to accommodate a lot more than the typical winter coats and hanging shirts.
Perhaps one side could be dedicated to hanging items and clean towels (folded and placed at the bottom of the closet), while the other could hold a plastic multi-drawer unit.  These drawers could contain bathroom supplies and toiletries, and more.  The point here is that this storage area is of critical importance to the day-to-day lifestyle of using this camper.  Use it wisely.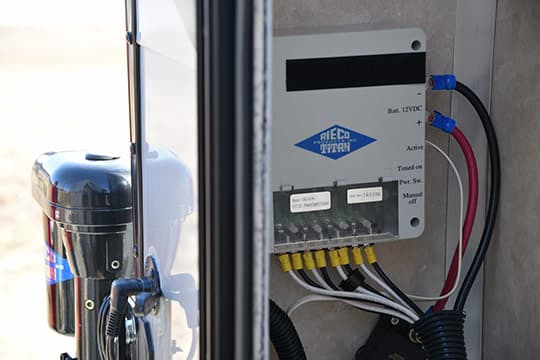 The rear closet also contains the controller for the optional Rieco-Titan jacks.
O Spatula, Where Art Thou?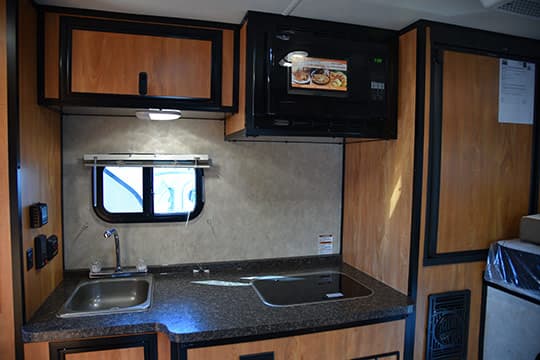 Overall, the kitchen in the 8.6 presents an open and highly usable cooking workspace with  ample counter top room and a simple but capable cooktop and sink set-up.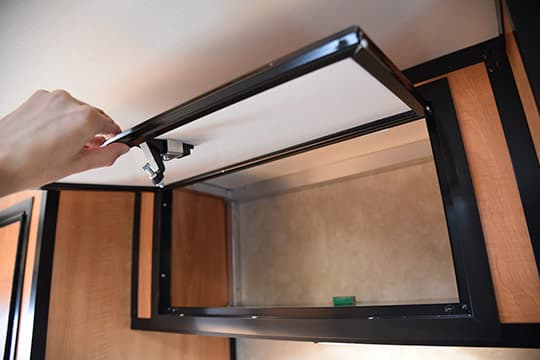 The upper kitchen features a cabinet (shown above) and a standard convection microwave.  Let there be no doubt that the microwave in the 8.6 would turn into food storage.  In campers past we have been known to keep bread, pretzels, and paper towels in the microwave.  With storage at a premium in this camper, the microwave would be pressed into extreme food stuffing service.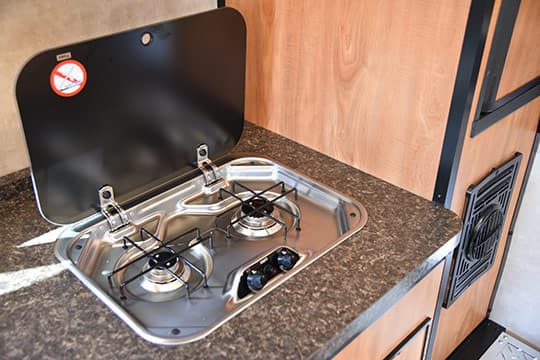 How many times have you used all three or four burners on your truck camper cooktop?  I can't remember ever using more than two burners in a camper.  Most folks don't even use their ovens.  With that in mind, the two-burner SMEV – a Dometic brand since 2007 – in the 8.6 makes perfect sense.  We have used SMEV cooktops in the past and, while their controls take a little getting used to, they work well and get the job done.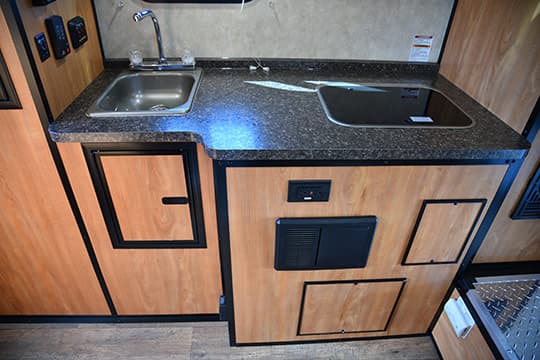 The lower kitchen area is very attractive with dark laminate counter tops, two-burner stainless steel and glass-top range, single basin sink, and a high faucet.  The counter top offers plenty of food preparation space for a camper this size.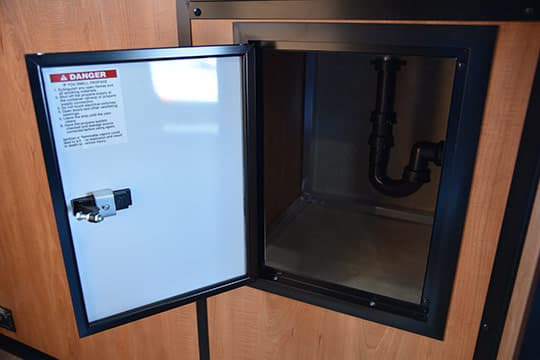 What's missing in the kitchen area is storage.  There is a compartment under the sink for plumbing access and some storage, but that's it for lower drawers and cabinets for silverware, utensils, or food.  An owner could put their utensils in a plastic container under the sink, but this space may also be needed for cleaning products, food storage, or possibly a small trash can.
I'm honestly not sure where CampLite had in mind for knives, forks, and spoons – never mind pots, pans, and the all important spatula!  Who goes camping without a spatula?
Bring the UltraHeat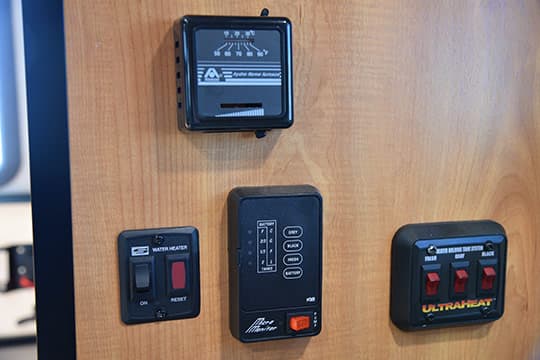 On the left side of the lower kitchen is the Atwood thermostat, Suburban water heater switch, tank monitor, and something we haven't seen in a truck camper before – a set of UltraHeat holding tank heater switches for the fresh, grey, and black tanks.
UltraHeat tank heaters are electric heating elements that attach to the side of a RV holding tank and prevent the water from freezing.  According to the UltraHeat website, their tank heaters have built-in sensors that heat the tanks only when temperatures approach 44 degrees.  Even better, 8.6 owners can tell their significant others, "Hey baby, I have a truck camper with UltraHeat."  That gets them, every time.
Face-To-Face With A Two-Top
For many years we have wondered why the manufacturers don't build more face-to-face dinettes in non-slide truck campers.  Some folks like U-shape dinettes, but we believe most of us would prefer to sit across a standard dinette table; just like we do at home and at restaurants.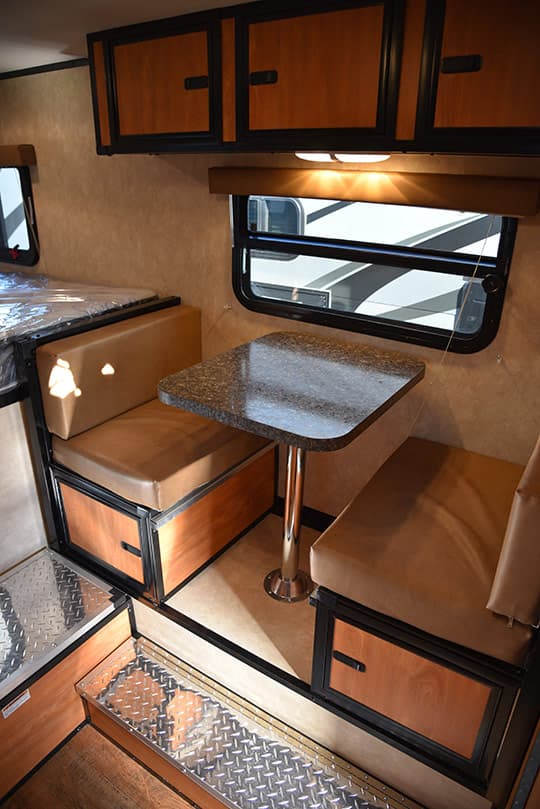 Non-basement camper designs could simply incorporate a platform to raise the dinette area over the wheel wells giving the camper a to-the-wall, booth-style dinette.  I would bet a big box of Cheerios that 75 out of 100 potential truck camper customers would prefer this booth-style layout to the traditional U-shape dinette we commonly see.  Which would you prefer if you walked into a restaurant, a two-top booth-style dinette, or a U-shape dinette of the same dimensions?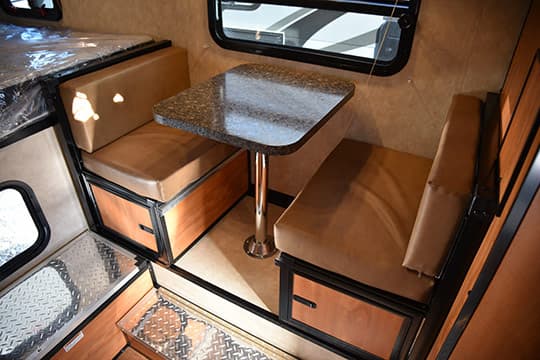 This is the kind of conversation Angela and I have when we borrow yet another camper with a tight U-shape dinette.  We want to be able to sit with our legs near the wall.  We want a bigger and more solid and stable table.  We want to sit across from one another.  A U-shape dinette gives you the flavor of these qualities, but a booth-style dinette gives you the whole meal.
All of this flashed through my mind when I saw the two-top booth dinette in the 8.6.  There it was!  Someone had actually done it, and I was going to review it.
You Can't Handle the Booth!
Later that afternoon we told Dave Hofert, Co-Founder of D&H RV Center, that we had photographed the 8.6 for a review, and how excited we were at the two-top booth-style dinette.  We were surprised to find it, but it certainly wasn't the first time we "discovered" a truck camper feature or change the industry hadn't yet told us about.
"Actually, I had LivinLite do that custom, for D&H RV Center.  Normally, the 8.6 gets a L-shaped bench, but we think the two seat dinette is more comfortable and a better solution," said Dave.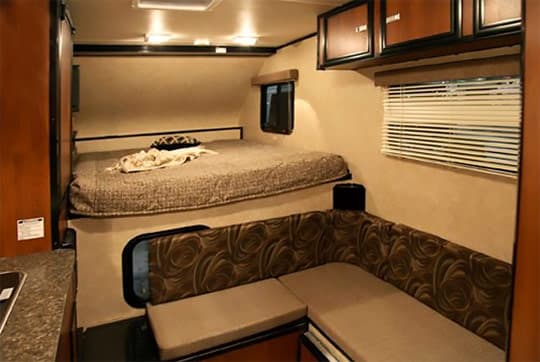 Above: This photo shows the CampLite 8.6 with the standard L-shaped bench.  Photo courtesy of LivinLite RV.
That was not the response I was hoping for.  I am disappointed that this is not a standard build, but something tells me it will become a standard build.  Even if that's not the case, this camper is proof that LivinLite will build this feature.  I believe this booth-style dinette deserves to be accepted as a serious alternative to the standard 8.6 bench seat.
Now that I've talked up this booth-style dinette, let me take it down a notch.  The dinette table is a bit loose, and small.  Angela and I turned the table length wise, which looked to be just enough for our usual "Battleship" style laptop-to-laptop workday set-up.
The single table post works well, but the table isn't as rock solid like we like it.  We would prefer that the table also locked into the side wall horizontally.  That would give it the stability we need as we type, sometimes feverishly, to create the fine electrons of Truck Camper Magazine.
Above: The two-top dinette converts into a short bed (click to enlarge)
Enlarging the table size would eliminate the dinette bed feature, but it's fairly short.  By removing the cushions, removing the table top, removing the single-post table leg, re-installing the table top between the dinette seats, and placing the cushions flat, the dinette in the 8.6 does make into a bed.
That said, at 58" the resulting bed is too short for most grown adults, but might be perfect for a small child, small dog, or cats up to 16 pounds – not that I know any.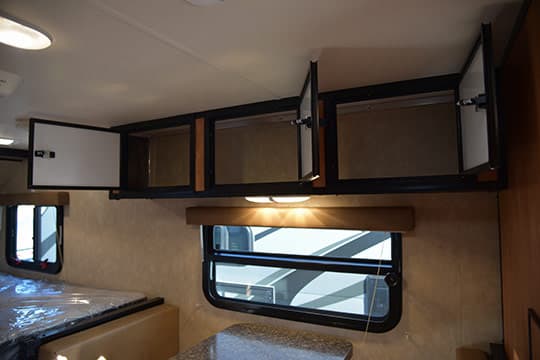 Above the dinette is a storage compartment accessed by three equal-sized cabinet doors.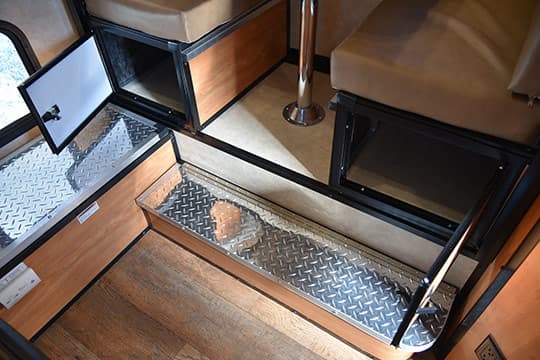 The dinette seats also have storage compartments under the seats.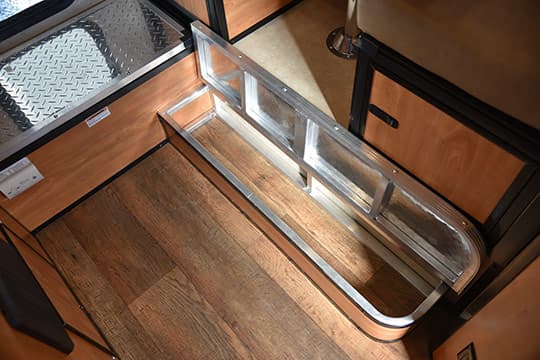 And under the under seat storage is a pull-up storage area under the step-up to the dinette (try to say that three times fast).  There really is a decent amount of storage in the 8.6, it's just not where storage typically is in a truck camper.
Water Pump Access To Love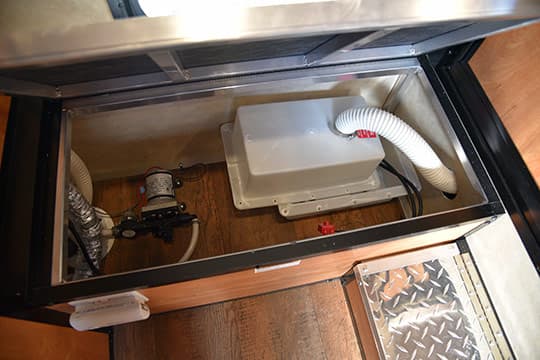 The step up to the cabover lifts up to reveal the water pump and a sealed battery box.  I was absolutely thrilled to see the water pump so easy to locate and access.  The water pump in our camper is hidden behind a panel, tucked under the shower pan, and – after eleven years – is in need of replacement.  Experiencing this reality makes me want to stand outside and cheer when I see a manufacturer, as LivinLite has done, make the water pump so dead-simple and easy to get to, and service.  Thank you LivinLite.  I love this.
What I don't love quite as much is an interior battery box.  I would much prefer an exterior compartment for the battery; no box necessary, and easier to access for battery maintenance and/or removal for winterizing.  The good news is that this battery box is itself quick to access, uncluttered, and relatively simple to open and close.  We have certainly seen worse.
Some folks remove these battery boxes and replace them with sealed AGM batteries.  If you have children, or grandchildren, that might be tempted to open this area while exploring your camper, I would be concerned about having an open battery so accessible – AGM or otherwise.  With the sealed box in the CampLite 8.6, a child's direct access would be restricted.
This compartment is also begging for storage mods.  With the water pump out in the open, it's not recommended to just put stuff in this area, free to encounter the water pump while driving.  However, a plastic tray or two could be mounted inside this area, offering storage, and helping to muffle the growls of the water pump.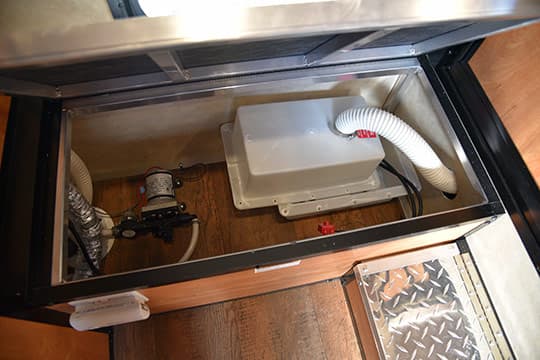 The installation of the water pump looks clean and well finished.  However, given the pump's central location, it may make a considerable amount of noise when in use.  The water pump in our camper almost sounds like a built-in generator when it's running.  If this happens, a popular remedy is to insert a mouse pad under the pump, and install pipe insulation around any vibrating PEX pipes.
The Optional But Highly Recommended Coleman Mach
The optional high-efficiency Coleman Mach air conditioner will run on a portable 2,000 watt gas generator; a favorite combination of ours.  Considering the kind of weather some of us see throughout the year, having a portable generator for home and camper use is a good idea.  Get one, and you can use it at home, or on the road.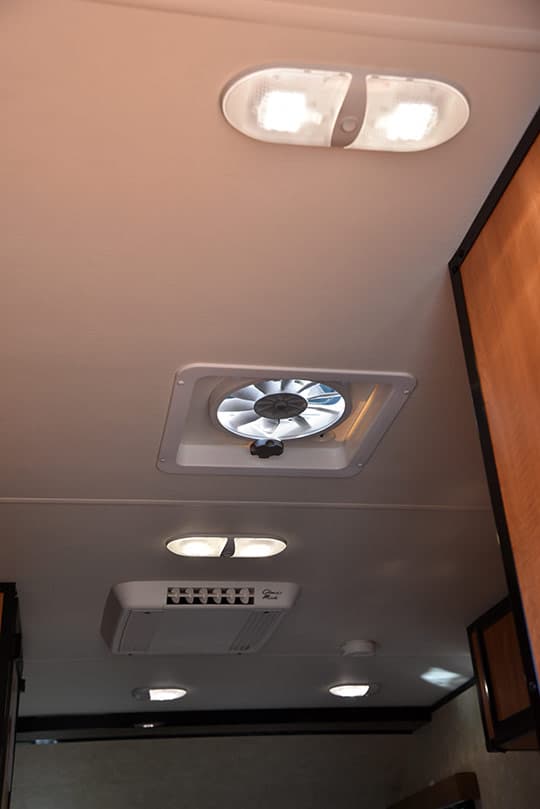 The CampLite 8.6 is also all-LED inside and out, and features a fan in exactly the right location for cooking, and cooling.
East-West vs North-South
Over the past two decades, the East-West truck camper cabover has fallen out of favor.  In an East-West cabover, the occupants sleep across the width of the camper, with their heads on the driver's side, and their feet on the passenger's side, or vice-versa.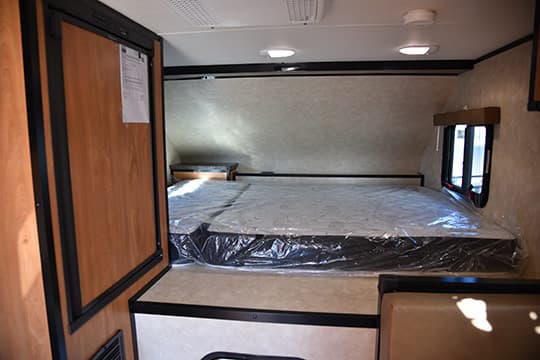 An East-West configuration can allow for a shorter and lighter-weight cabover, but it often means less storage, and having to climb over one's sleeping spouse to get out.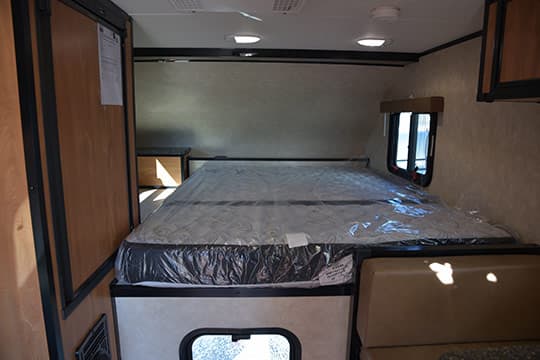 A North-South cabover avoids these mid-sleep spousal situations by allowing one to scoot down and get out at any time.  It also offers more storage opportunities via the cabover sides.  For these reasons, North-South cabovers now dominate the hard-side truck camper market, and are increasingly popular in pop-up campers as well.
So how is it that the 8.6 is designed to be either a North-South or an East-West cabover, and why?  The first question is easy; the queen-sized mattress will fit in the cabover East-West or North-South.  It's actually quite easy to do this, as evidenced by the fact that we did it.
The second question – why? – is more interesting.  For some, it will be a preference.  Some folks will prefer the easy egress, and the bed-side storage created by the North-South configuration.  North-South would be our preference for these reasons.
Then again, the East-West orientation creates a large shelf area where you could place items including duffle bags for clothing.  Owners may also be able to find additional storage solutions for this space, but I'm not sure I would leave anything there during transport.
Lift Your Mattress For Beer
The other consideration for the North-South versus East-West debate is refrigerator access.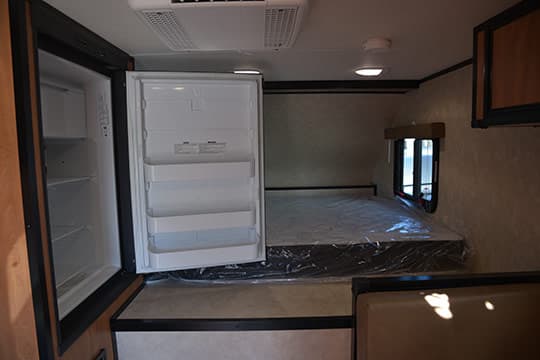 In the East-West configuration, the refrigerator door is unobstructed.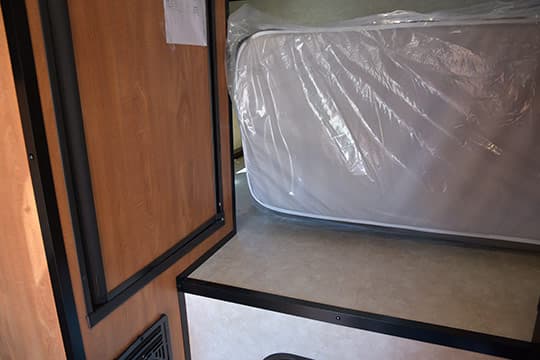 In the North-South configuration, the refrigerator door is blocked – except for one important detail.  The lower fifth of the mattress supplied with the 8.6 is physically separate from the rest of the mattress.  That's right, you could pick it up, put it on your back, and tell everyone you're Mattress Man.  Or, you can lift it up before opening the refrigerator.  Brilliant!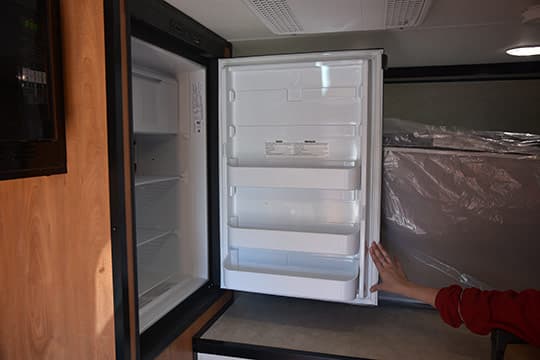 My only concern comes from truck camping experience.  Our cabover bed is often covered in layers – mattress cover, heated mattress pad, pillow topper, sheets, and blankets and/or quilts.  With these layers installed and tucked, it may be tough to lift the mattress.
More likely, it will require one hand holding the mattress and layers up, while the other gets the beer and hoagies out of the fridge.  That's right, I was born in raised in the suburbs of Philly where we eat hoagies – not subs, heros, wedges, grinders, bombers, zepplins, or spuckies.  Hoagies are us, with soda.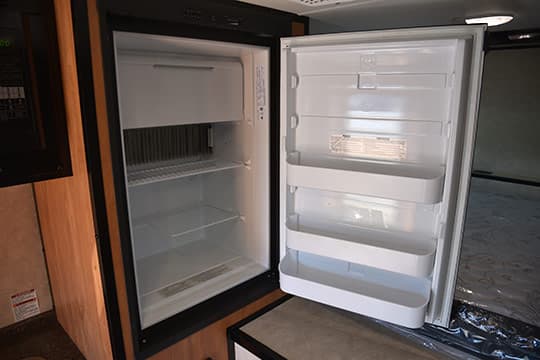 The refrigerator in the CampLite 8.6 is a three-way, four cubic-foot refrigerator.  While this is a relatively small refrigerator, it seems right-sized for this floor plan.
If you're considering long distance trips, a smaller refrigerator might meet more frequent trips to the grocery store.  We think the 8.6 buyer is more likely to be a short term or long-weekend user, so this smaller refrigerator won't be an issue.  We have used campers with a refrigerator this size, and learned to adapt quickly.
Choose Your Own Cabover
The good news is that an owner of the 8.6 can try both cabover configurations and find what works best.  Or, they can change it up now and then.  No other camper that we know of has this option.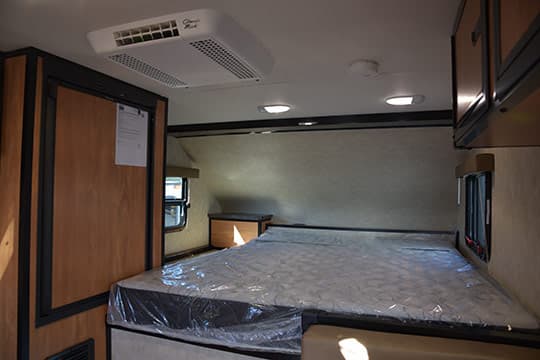 The down side of LivinLite not deciding on North-South or East-West is that you don't get the potential storage benefits of either.  In other words, LivinLite didn't put storage on the cabover sides in a typical North-South configuration.  Nor did they put additional storage along the front nose for when the camper is in an East-West configuration.
For cabover storage, you will need to get creative.  Maybe duffle bags are your bag.  Perhaps you can build your own cabinets, or find the perfect solution at the Container Store, or Bed Bath and Beyond, or beyond.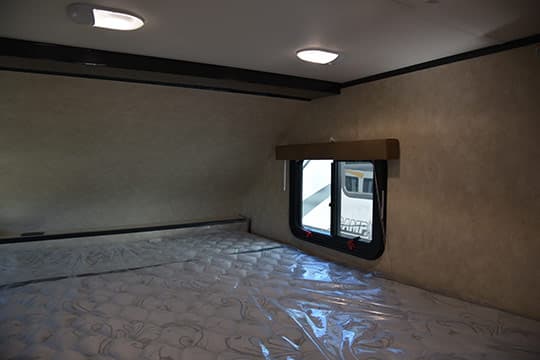 The cabover features two windows, one on either side for the all-important cross ventilation.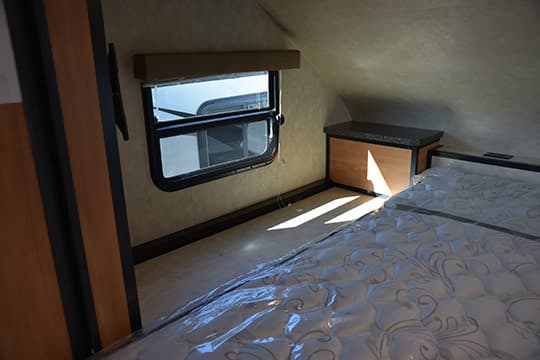 The driver's side window is a vertical crank-out, perfect for a little air when it's raining.  The passenger's side doubles as the escape hatch and features a slider.
The overhead LED lights in the cabover seem to line-up well for the North-South configuration.  Since that's the vastly more popular orientation for hard side truck campers, this makes sense.
At 34" (from top of mattress to ceiling), the cabover height in the CampLite 8.6 is impressive for a camper of this size.  I was able to sit up and be comfortable in the 8.6 cabover.
Wrap It Up
There is a lot to like about the 2015 CampLite 8.6.  First, the wood-free all-aluminum and composite construction prevents many of the common pitfalls of long-term truck camper ownership.  For this reason alone, some folks will drive to their nearest CampLite dealership, and buy the floor plan that best suits their needs.
The fact that the 8.6 goes just beyond the tailgate, and stops, makes it a perfect candidate for a towing truck camper rig.  According to our 2015 reader survey, almost 76% of our readership tows something behind their truck camper.  Over 42% tow a boat for goodness sake.  If you're in this majority, the tailgate length of the 8.6 could be very enticing.
At around 3,000 pounds, the projected wet weight is very reasonable for a wide assortment of long bed trucks.  With this wet weight, and its tailgate length, this camper is open to all kinds of trucks and towing applications.  We're talking about a seriously robust, versatile, and compatible build and design here folks.
My main reservations about this camper are with its awkward storage.  It feels like a camper that was designed with the above criteria in mind, but without thinking about the day-to-day life of actually being in the camper.  Where does the silverware go?  Where do the towels go?  Give us more options for our T-shirts, socks, and underpants.  We all camp with underpants, right?
All kidding aside, the 2015 CampLite 8.6 is an impressive camper.  Even better, I can see it improving – especially if LivinLite embraces the booth-style dinette, and works on the storage.  Give this camper another evolution, and it will be a serious non-slide, long-bed contender.
Quality, Customer Service, and Long-Term Reliability
Truck Camper Magazine inspects all reviewed truck campers for design, material, and quality issues and reports what we find.  However, since Truck Camper Magazine reviews only brand new truck campers, our reviews do not address long-term quality, customer service, or reliability.
To learn about a brand's long-term quality, customer service, and reliability, Truck Camper Magazine recommends talking directly with truck camper owners at truck camper rallies and online via truck camper forums and truck camper owners groups.
Please be sure to balance your gathered feedback across multiple sources including direct correspondence with the truck camper manufacturers and your closest truck camper dealers.
If you are new to truck campers, read our Newbie Corner.  To request more information on the CampLite 8.6 request a brochure.