TCM reviews a CampLite 8.6 hard side, non-slide, wet bath truck camper designed for long bed trucks.  Is that a face-to-face, full-wall, two-top dinette?  And what's UltraHeat?

In the first week of March, we visited D&H RV Center in Apex, North Carolina for the first time.  We were eager to meet the team, see their facility, and review one of the five CampLite truck campers they had on display.  At first, I was determined to review the 8.4S slide-out model debuted last June, but then something else caught my eye.
As you might imagine, we like exploring truck campers.  When we're at a dealership, it's not unusual for us to start opening doors and checking out truck campers for an hour – like two kids in a candy store.  In this spirit, I was opening the CampLite truck camper doors, taking a quick look, and going to the next when… what the heck is that?
I cleaned my glasses.  It was still there.  I blinked my eyes.  It was still there.  I checked my phone to make sure it wasn't April Fools.  It wasn't, and it was still there.  How could this be?
Before me, in all of its glory, was a two-top, full-wall, face-to-face dinette in a non-slide truck camper.  I know, big deal, right?  But this is something Angela and I have wanted to see for years; a restaurant-style two-top dinette, in a non-slide.  No ubiquitous leg cramping half-table U-shape dinette here.  We're talking a real two-top people!
And that was it, I would review the 8.6.  As I looked around the unit, I saw a number of other interesting design decisions that were sure to challenege and excite the readership.  For starters, it has the only cabover we've ever seen that's both East-West and North-South.
What?  Let's get started.
Do You Have Anything In Silver Frost?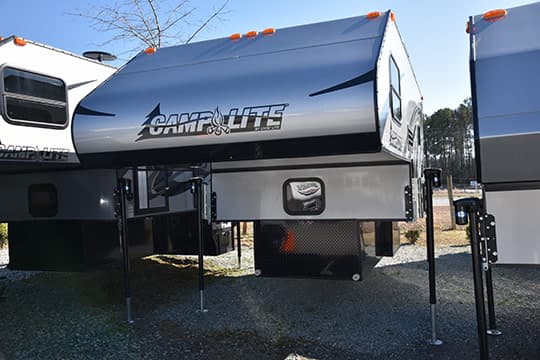 CampLite truck campers are unique in that they are available in colors other than white.  Manufactured entirely out of aluminum and composite materials, the aluminum exterior is available in Medium Charcoal Grey, Beige Metallic, Light Pewter, Black, Crystal White and, yes, Silver Frost.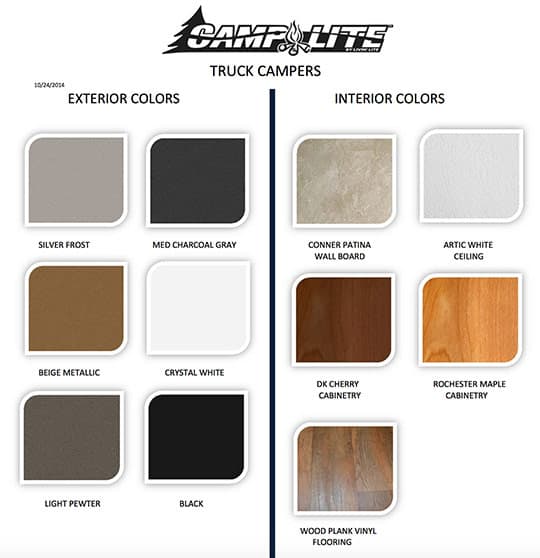 Everything was black and silver on the CampLite 8.6 we reviewed at D&H RV Center.  The aluminum siding, graphics, trim, and even the optional Rieco-Titan electric remote jacks were black.
The CampLite 8.6 we reviewed had Rieco-Titan swing-out brackets installed.  While the 8.6 would certainly work on a properly specified single rear wheel truck, it never hurts to put more truck under a camper than it needs.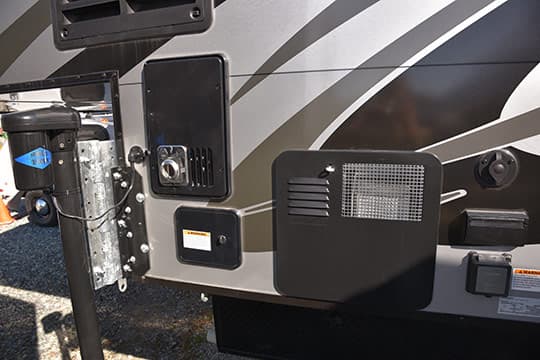 On the driver's side front is the refrigerator vent, Atwood heater vent, fresh water fill, city water connection, Suburban water heater access panel, coax cable television input, a 110-volt outlet, and a 30-amp marine grade detachable short power connection.  The presentation was neat and well organized.
We Approve This Propane
The 2015 CampLite 8.6 features two 20-pound vertical propane tanks on the rear driver's side.  This is our preferred tank orientation and size.