Scott Tuttle, President of Livin' Lite, gives us the inside story on why he's launching a new line of wood-free all-aluminum hard-side truck campers. No staples included.

One of my favorite things about publishing Truck Camper Magazine is getting to know the movers and shakers behind the truck camper industry.  Each brings their own unique history, perspective, and vision to the marketplace which is clearly reflected in their companies and the truck campers they build.
Scott Tuttle, President of Livin' Lite, is a perfect example of this phenomenon.  Over a decade ago, Scott had a vision for a wood-free, all-aluminum, entry-level, ultra-lightweight pull-behind pop-up.  His pull-behind pop-ups would be priced under almost everything on the market, so light that even a car could pull them, and all-aluminum so you could wash them out with a garden hose without fear of rust or rot.
Nothing about his vision was traditional and Scott knew it would be an uphill battle to gain acceptance with RV dealers.  With the focus, determination, and hard work only true entrepreneurs bring to the table, Scott made his vision a success in the marketplace.
Now Scott has turned his sights on bringing his unique building techniques and business model to the truck camper market.  If the past is any indication for the future, Scott Tuttle is about to make a significant impact on the truck camper industry and community.
TCM: Livin' Lite may be new to the hard side camper market, but you've been in the RV industry for some time.  Tell us how you got into the RV business.
Scott: I started in the RV industry in mid-1980s working for Mallard Coach.  I had gone to college for graphic design and developed the brochures and marketing for Mallard.  After working for Mallard, I went to work for Gulf Stream Coach as their Director of Advertising and Marketing.  Then I started my own advertising agency and worked with five or six RV companies on their marketing efforts, brochures, and websites.
At the same time, I was talking to some friends in RV business about starting our own RV manufacturing company.  In the summer of 2003, we started Livin' Lite Recreational Vehicles.   Soon after, in the Fall of 2003, I started a second company, Heartland RV with a few other friends.
TCM: What was the original vision behind Livin' Lite?
Scott: The concept behind Livin' Lite was to design all-aluminum ultra lightweight tent campers.  Wood-free recreational vehicles that were light enough to be pulled by small cars had never been done in the RV industry.  We were also focused on building RV products for the entry level family.  At the time, the RV industry was leaving this market behind as it made pull-behind pop-ups bigger and more expensive.
Around the year 2002 a pull-behind pop-up would cost $10,000 to $12,000 and was so heavy that you needed a full-size pickup truck to pull it.  We designed the Quicksilver to cost in the $5,000 to $7,000 range and be lightweight enough to be pulled with a car.  The all-aluminum construction meant the products would not rot or rust.  It took some time to get the dealers to understand the opportunity our products represented, but the consumers got it right away.
TCM: So what happened with Heartland RV?
Scott: As Livin' Lite got off the ground slowly, Heartland RV took off quickly and it didn't take long for Heartland RV to take up all of my time and energy.  Heartland RV ended up being one of the fastest growing RV companies of all time and demanded the vast majority of my time.  Because of that, I had a GM run Livin' Lite on a day to day basis for me, while I focused on Heartland.
TCM: Wow.  Are you still working at Heartland RV?
Scott: No. I sold my interest in Heartland RV in 2008.  It was a real transition to go back to Livin' Lite with just $500,000 in revenue a year.  I moved Livin' Lite to my hometown, Wakarusa, Indiana, and settled down to what I thought would be a quieter lifestyle.  Then the factory literally burned down on the first night after the company moved.  That was October 1st, 2008.  All of our materials, tools, and machinery literally melted.
TCM: That must have been devastating.  How did Livin' Lite recover from that?
Scott: We actually rebounded quickly and started ordering parts the very next morning.  Two weeks to the day after the fire, our first unit rolled off the line.  We rebuilt our facility in the first half of 2009 and moved into a new factory in July of 2009.
Then we started to expand into larger tent campers and enclosed toy haulers.  In 2009 we developed our first hard side travel trailer under the CampLite name.  Again these products were all-aluminum from the frame to the flooring to the cabinetry to the roof.  There's not a splinter of wood in our travel trailers and they are light enough to be pulled by most cars, minivans, and cross-over vehicles.
Above: The Camplite CLTC 5.7 prototype with a Chevy Colorado (top center) and Ford Ranger (top right).  The inside of the CLTC 5.7 features all-aluminum cabinetry.
TCM: So what brought you to the truck camper market?
Scott: About four years ago we debuted our first truck camper model which is basically a box that goes into the back of a truck that expands with a soft-top tent.  It can sleep two adults and two kids.  It's basic and was priced to be very affordable at $3,200.
The dealers who carried it started to ask us if we would consider building a hard side camper using our all-aluminum construction techniques.  That brings us up to July of 2010 with the debut of our new Camplite truck camper, the CLTC 5.7.  The response has been pretty exciting so far.
TCM: Let me back things up a bit.  After your tremendous success at Heartland RV, why did you want to get back into the game with Livin' Lite?
Scott: I really believed in the Livin' Lite business model and our mission to bring entry level campers to the market with basic amenities.  In the beginning, most RV dealers in America didn't get it.  That just inspired me to show them that there was a market for our campers.
When fuel prices went up in 2008 and 2009, Livin' Lite's sales went through the roof.  In 2009, Livin' Lite grew 500%.  We went from being a $500,000 company to a $3,000,000 company in one year.  We were catering to the entry level market who wanted low cost and light weight campers.  We had the right product at the right time.
TCM: As a magazine that's always looking to bring new people to the truck camper market, we're very interested in entry level products.  That said, the entry level market is often ignored by the truck camper industry in favor of larger and more expensive campers.  Who are you really targeting with your products?
Scott: Thirty-four million people went tent camping in 2009.  That's my primary target audience.  These folks may want a $20,000 to $30,000 camper, but we can sell them our hard side truck camper for $8,999.  Best of all, it fits an S10, Ranger, or Colorado and doesn't overload their payload capacity.  The dry weight for the CLTC 5.7 is only 950 pounds dry with out options.
Being light weight means getting enjoying better fuel mileage, which is a big part of people's budgets.  Best of all, the all-aluminum construction means our camper will look exactly the same in ten years.  There's nothing to rust or rot.
TCM: That weight seems almost too good to be true.  Can you send us a certified scale ticket for the camper?
Scott: Yes.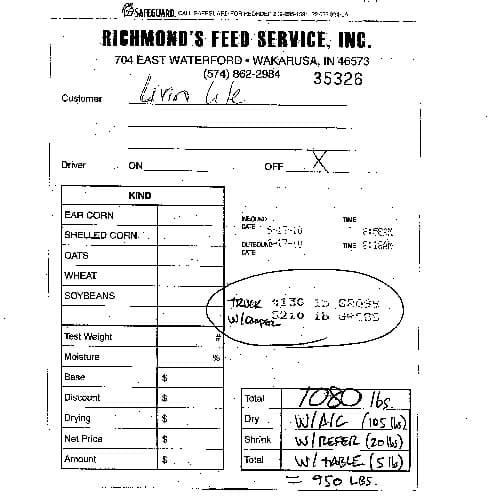 Above: Shortly after our interview, Scott sent us the above weight ticket showing the total weight of the CLTC 5.7 with air conditioner, refrigerator, and table at 1,080 pounds.
TCM: And what do you think the CLTC 5.7 will weigh with typical options?
Scott: Loaded with an air conditioner, refrigerator, first aid kit, and table, the camper would be about 1,050 pounds.
Above: Truck Camper Magazine visited the Livin' Lite factory in April and watched their team cut and weld every component out of aluminum.
TCM: How do address concerns over how aluminum conducts cold and sweats?
Scott: Our products are insulated, laminated, and vacuum bonded.  They're a lot like a cooler.  If you you heat or cool them inside, they will keep that temperature pretty well.
If the temperature is drastically different outside, you should have a vent open to prevent condensation.  That's true for any RV no matter what the framing materials and construction techniques used.  The difference is that condensation in my unit will not cause any problems.  In other company's units, condensation will destroy it.
When it comes to heating and cooling, we can heat and cool as well as anybody.  Our condensation will roll off the aluminum outside.  On other campers, it could be another story.
Above: Livin' Lite builds their camper floors out of 100% aluminum (top row and bottom row center).  The roof in the new Camplite truck camper features a bow truss design (bottom right).
TCM: Tell about your production methods for the hard side campers.  Are they vacuum bonded like your other products?
Scott: Yes, utilizing all aluminum tubing, interior skin and exterior skin.  We then use a lot of stainless steel fasteners to secure the sections together and no staples.
TCM: No staples?
Scott: No wood.  No staples.  Other companies build their entire products out of wood and staples.  Our products are tubular aluminum screwed or welded into other tubular aluminum.  Structurally our products will be sound for a long, long time.
We had a CampLite travel trailer that wasn't properly secured by a transportation company and it rolled off the transport and into a ditch.  It was actually a great thing to happen because we were able to show dealers and consumers how the trailer was perfectly sound and relatively undamaged.  If that trailer had been made of wood, it would have been completely destroyed.  Our products will stand the test of time.
TCM: What is your pricing strategy for your hard side truck campers?
Scott: Camplite will target the entry level as much as possible.  Of course someone can always build a cheaper product with wood.  It's a much less expensive material.  Customers know that you get what you pay for.  I'm interested in the customer who wants the best value for their money.  We also back our products with a three year structural warranty.
Another market that looks very promising for CampLite is overseas.  Our dealer in Australia is very excited about our hard side campers especially since our first model will fit the smaller trucks that are so common there.  Europe is an equally fruitful market for our lightweight hard side.  Like Australia, they really only have smaller trucks.
TCM: When can domestic customers see the CLTC-5.7 at Camplite dealerships?
Scott: The CLTC-5.7 model will start showing up in August on dealer lots.
TCM: What can you tell us about the CLTC-8.7?  Has that camper been prototyped yet?
Scott: We will start prototyping that camper in a few weeks, but it won't be available until at least September.  We will also have the camper for you to see at the industry show in Louisville in December.
TCM: Will you be debuting more hard side truck camper models this year?
Scott: We're going to start out with these two light-weight entry-level campers.  Down the road we may get into larger floor plans with more amenities.  For now, we're focused on getting the entry-level models right.
TCM: Where do you see CampLite truck campers going in the next few years?
Scott: It's really the same vision that I've always had for all Livin' Lite products.  We want to get the campers onto more and more dealer lots and make them readily available to the consumers.  I wish I could make more dealers understand the demographic we're going after.  There's a market waiting for simple, light weight, all-aluminum campers.  The consumers get it.
TCM: Thank you, Scott.  Let us know when the CLTC-8.7 is ready and we'll be sure to debut it here in Truck Camper Magazine.
Scott: That sounds great.
To learn more about CampLite truck campers, you can request a brochure.