TCM talks to Rick Barna of LivinLite to introduce the all-new 2015 CampLite 8.4, a hard side, short bed, slide-out truck camper made entirely from aluminum and composites.

In the RV industry, most new products are directly inspired by what's already selling well in the marketplace and what customers are asking for.  If the competition is doing well with a particular floor plan, chances are that floor plan will be copied, again, and again.  This should be self-evident to anyone who has given even a cursory look through the floor plans in our Buyers Guide.  It's just part of the business.
What cannot be easily copied is a company's manufacturing process, expertise, and culture.  It's often impossible, or simply not feasible, to copy every aspect of manufacturing and material employed by the competition.  Besides, building in a unique way is what often distinguishes one manufacturer from the next.  If every company built their campers with identical manufacturing processes and materials, RVs would become a commodity product.  We see this very situation in some parts of the travel trailer business.
LivinLite surveyed this environment a few years ago and went where no one else dared; wood-free, all-aluminum and composite construction.  Just mentioning this construction method can sell some RV prospects at thirty-paces.  Never mind what the product looks like inside or out, they want a wood-free RV, and they want it now.  As far as they're concerned, everything else is rotten.
The good news is that LivinLite has managed to make their 100% aluminum and composite campers more and more aesthetically pleasing with each generation of product.  They are now at the point where they can "borrow" a popular floor plan from the marketplace, apply their wood-free construction process, and have a truly unique and competitive camper.
With that, we introduce the 2015 CampLite 8.4, LivinLite's wood-free take on an already popular floor plan.  To take us through the camper, we talked to Rick Barna, Vice President of Dealer Relations for LivinLite.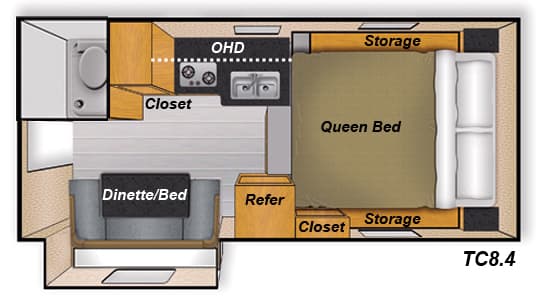 2015 CampLite 8.4 Camper Specifications
The 2015 CampLite 8.4 is a hard side, single-slide, wet bath truck camper made for short bed trucks.  The interior floor length of the 2015 CampLite 8.4 is 8'1" and the interior height is 6'8″.  The 2015 CampLite 8.4 has a 30.5 gallon fresh tank, a 17 gallon grey tank, a 13 gallon black tank, and a 6 gallon hot water heater.  It can accommodate one battery and has two twenty-pound propane tanks.  LivinLite is reporting the base weight of the CampLite 8.4 to be 2,750 pounds.  The base MSRP for the 2015 CampLite 8.4 is $27,019.
Above: The exterior of the CampLite 8.4 – click to enlarge the photos
The 2015 CampLite 8.4 above is shown on a truck for demonstration purposes only.  For proper truck and camper matching, read "Matching a Truck and Camper".
TCM: Does the new 2015 CampLite 8.4 replace any older models in the CampLite line?
Rick: No.  The CampLite 8.4 is actually a totally new model for our 2015 truck camper line.  Ever since we introduced our 100% wood-free, all-aluminum and composite truck campers back in 2010, customers have been asking us to build a slide-out model for short bed trucks.  Short bed slide-out models also sell very well in the marketplace.  With our lightweight, no rot construction methods, we are certain that the CampLite 8.4 is going to be a strong seller.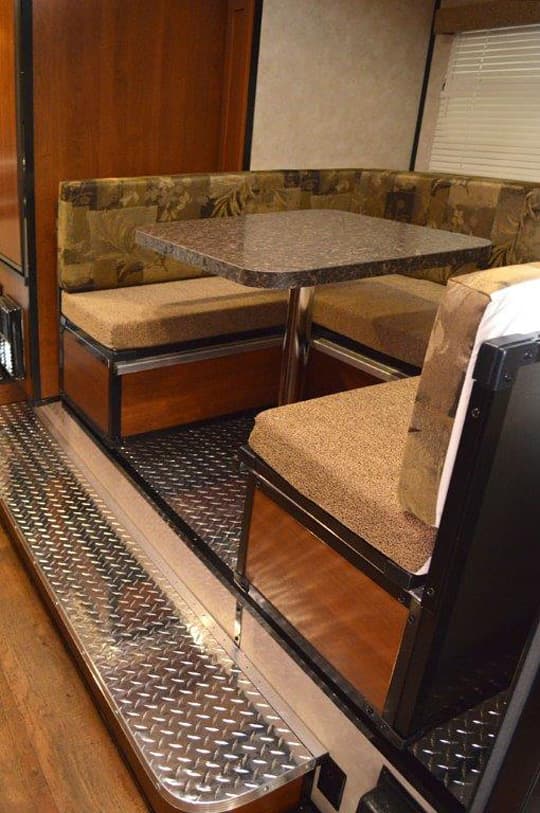 Above: The CampLite 8.4 is a short bed, slide-out model.  This photograph shows the dinette slide-out and diamond plate step and lift-up storage area.
TCM: Tell us about the design and development of this camper.  Napkins or computers?
Rick: The 8.4 got started when I asked Gary Peters, Engineer for LivinLite, to design a short bed slide out model.  From there, Gary modeled the floor plan on his computer.  Gary is an excellent engineer and does all of our floor plan modeling.
Once the floor plan was complete and approved, we built a prototype.  We build our prototypes off the production line until we feel confident that they're right.  Once the prototype is approved, we will start a run down the production line.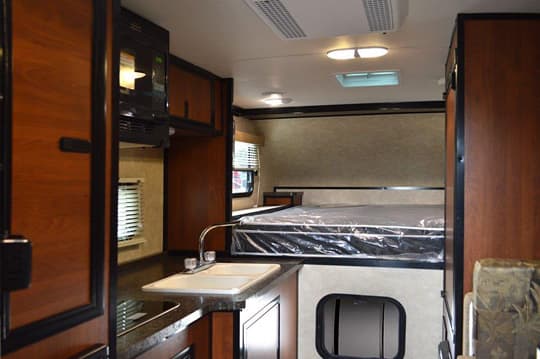 Above: Standing at the back door looking towards the front of the unit