Northwood Manufacturing is stepping up the standard features in their 2014 Arctic Fox truck camper line including stainless steel appliances, a systems monitor command center, all-LED lighting, and more.

As a magazine, we have visited every truck camper manufacturer from coast-to-coast multiple times over the past seven years.  From those experiences, one thing we can confirm is that every truck camper manufacturer has a unique culture that dictates the manufacturing materials, process, and final truck camper product that company produces.  In the truck camper business, culture matters.
Northwood Manufacturing offers us a particularly good example of how company culture affects the end product.  Where other manufacturers focus their culture on innovation, technology, or the bottom line, Northwood focuses like a laser on quality.  It's not that Northwood doesn't have a focus on innovation, technology, or the bottom line (they certainly do), but the over riding cultural focus at Northwood is strongly bent towards maintaining and improving product quality.
As a direct result of Northwood's focus on quality, we don't see a lot of new truck camper floor plan introductions from Northwood each year.  They currently have six floor plans in production, some of which have been improved and refined for over a decade.  More evidence of Northwood Manufacturing's focus on quality is demonstrated by their multiple levels of truck camper quality control including a final two-hour quality control review for each and every truck camper that leaves the line.
True to form, Northwood Manufacturing has a list of refinements and nice upgrades for their 2014 Arctic Fox truck camper line; stainless steel appliances, an upgraded mattress, a new systems monitor command center, all-LED lighting inside and out, and something called a seat step.  To learn more about these updates, we talked to Donald Cochran, Director of Sales, and Mick Pickler, Camper Production Manager.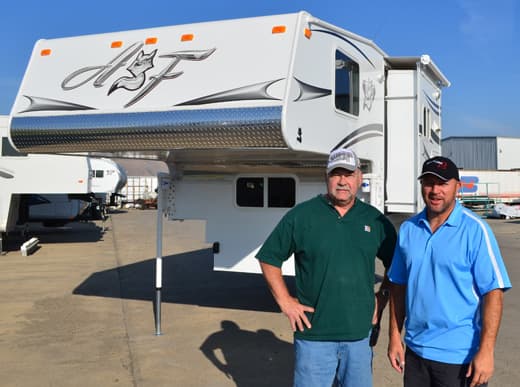 Above: Mick Pickler, Camper Production Manager, and Donald Cochran, Director of Sales, in front of a 2014 Arctic Fox 996
TCM: What's your position at Northwood Manufacturing and how did you come to work for the company?
Donald: I am the Director of Sales for Northwood Manufacturing.  I started my career in the RV business at Fleetwood Enterprises.  I worked with Fleetwood for sixteen years moving up in the ranks.
When Fleetwood left the travel trailer business, there was a Southwest Sales Manager position available at Northwood Manufacturing.  That's when I got started with Northwood.  Now I am the Director of Sales and I am responsible for all RV sales at Northwood Manufacturing including the United States and Canada.  I have five District Sales Managers on my team each with a designated territory.
Above: 2014 Arctic Fox truck campers on the production line. Click to enlarge.
TCM: Do you go truck camping?
Donald: My father had a truck camper when I was a kid and we went truck camping as a family.  I also represented truck campers when I was at Fleetwood Enterprises and got to know the product well.  Since then, I have taken our Arctic Fox truck campers out camping.  We love truck campers.
TCM: Are there any Arctic Fox truck camper models being discontinued or new models being announced for 2014?
Donald: Our Arctic Fox camper line up is the same for 2014.  We have the 1150, 1140, 992, 990, 811, and our newest model, the 996 double-slide.  We are always looking at new floor plan possibilities, but we don't have any new models to announce at this time.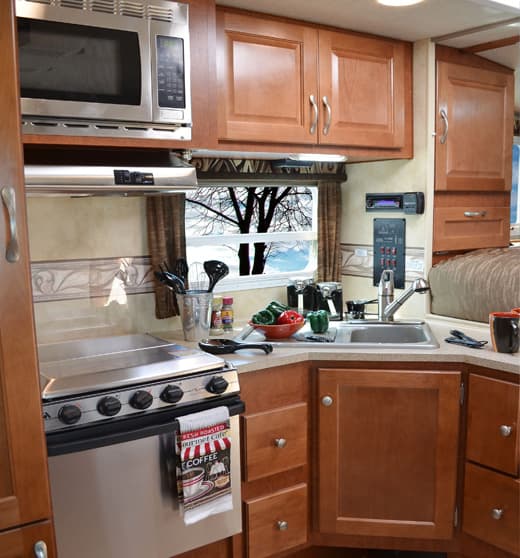 Above: Stainless steel appliances in a 2014 Arctic Fox kitchen
TCM: For 2014, Northwood is announcing some significant standard feature upgrades.  Tell us about the new stainless steel appliances.
Donald: Last year we had an incredible response from dealers and customers to our Arctic Fox Milestone Edition.  When we were developing our 2014 changes, we were very excited to put some of the features of the Milestone Edition into our 2014 truck campers as standard features.  For example, the stainless steel appliances from the Milestone Edition are now standard in our 2014 Arctic Fox truck camper line.