Ralf Kintzel is a Heavy Duty Mechanic who traveled to his industrial customers in his Chevy Kodiak. When his work took off to fly-in and fly-out appointments, he transformed his old work truck into something magnificent.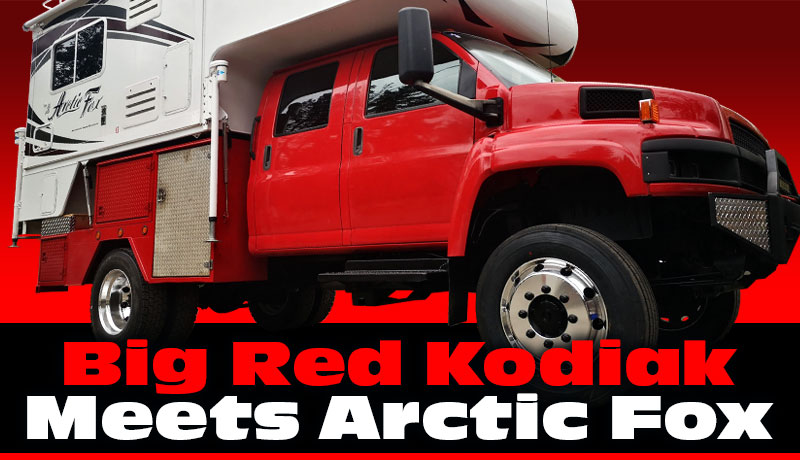 We're not exactly breaking news when we state how expensive pickup trucks have become. Trucks have essentially doubled in price since we first got into this wonderful hobby in 2005, and they weren't cheap then. Today it's unusual for a new truck and camper to break $100,000 USD / $137,000 CAD. That was practically unheard of when we got started.
Skyrocketing truck prices are a big reason why we've seen a number of fellow truck campers take the truck they already had for work and convert it to a truck camper truck. What's fun about this approach is that the trucks folks sometimes have for work aren't exactly your standard pickup. Think SEMI truck campers, fire truck campers, and beyond. As the saying goes, work with what you've got.
Ralf Kintzel is a Heavy Duty Mechanic who often travels to his customers. In his mobile mechanic days, he used a Class 5 Chevy Kodiak 5500 beast of a truck to carry his tools and equipment. Then his work changed to be more fly-in and fly-back than drive to and from. So what did he do with his huge Kodiak work truck? Hmmm…. There has to be something 'ol Big Red can be used for. Oh, wait!
Ralf's trusty Kodiak has undergone major surgery and traded in its workload for something a lot more fun. Big Red, meet Arctic Fox. Here's the story behind Ralf's amazing Kodiak and Arctic Fox rig, and the transformation it has required.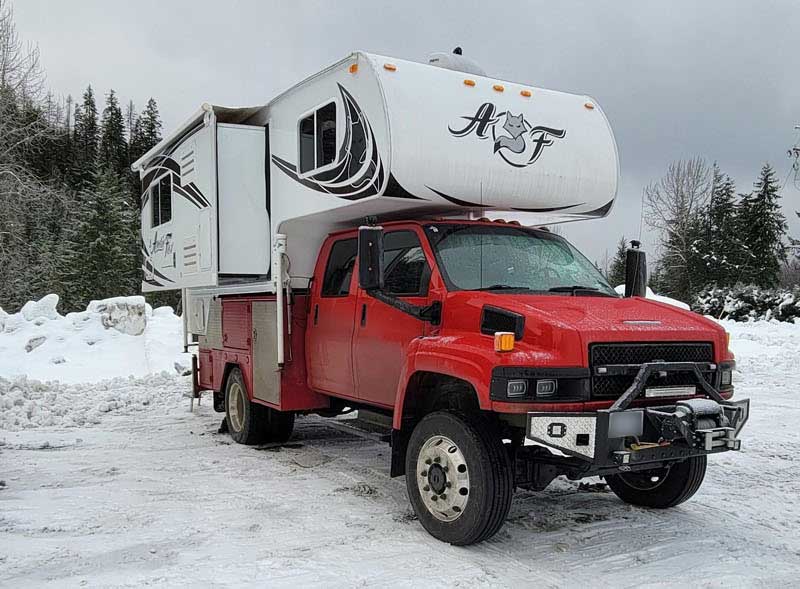 You had an unusual path to truck camping. Tell us about it.
I was born in Germany and apprenticed as an Auto Body Technician and an Auto Mechanic. For Auto Body Technicians, the apprenticeship it's three and a half years including written and practical tests. After the final test, you are certified and you are going to make the big bucks.
I later immigrated to Canada in 1994. Canada didn't accept my German certification so I decided to go to back to school to become a Heavy Duty Mechanic. I became a Red Seal certified Heavy Duty Mechanic and a fourth-year Industrial Mechanic.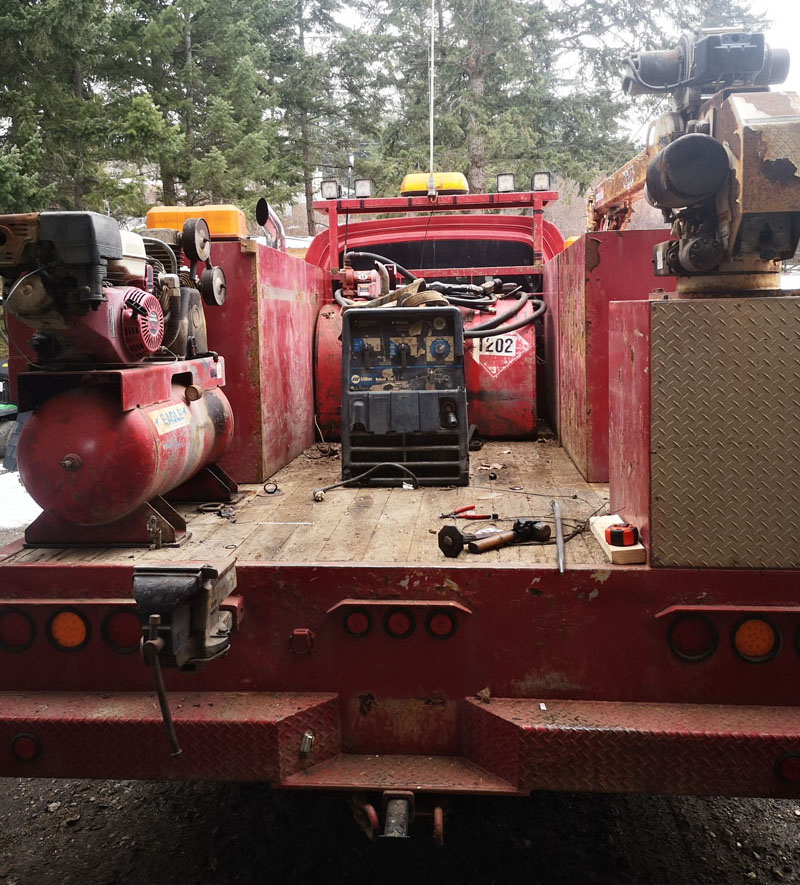 As you can see in some of the pictures, my Chevy Kodiak was used as my mechanic truck. It has a crane and welder installed. As a Mobile Mechanic, I fixed tractors and trucks and could do anything from welding to cutting to repair.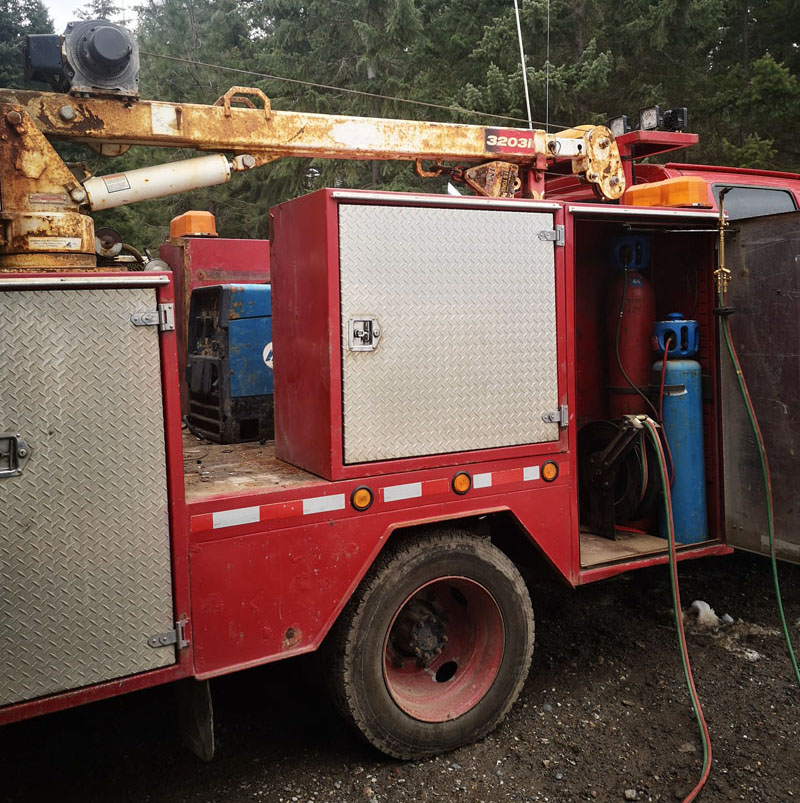 I no longer work as a Mobile Mechanic. Now I fly in and out for jobs. For example, I'll fly to St. John and then home for a week. That's the reason I retired the truck in 2017 after almost a decade of using it for work.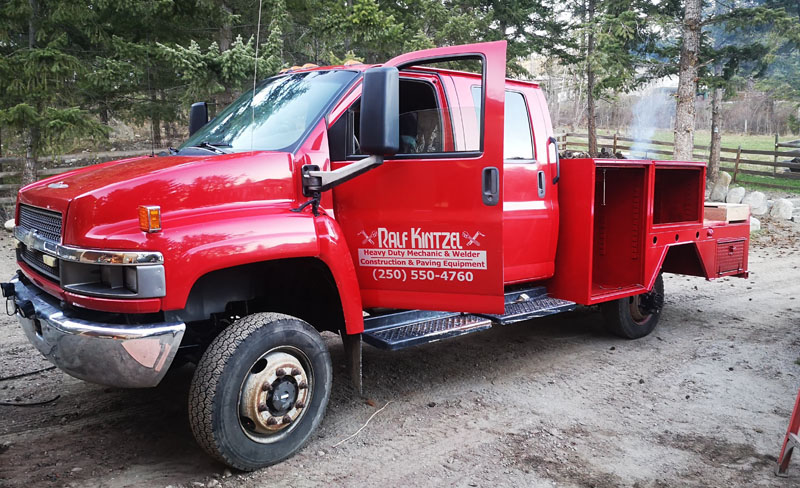 We don't see too many Chevy Kodiak truck camper rigs. How is it set up?
It's a 2005 Chevy Kodiak Top Kick 5500. It has a 6.6 Duramax diesel, a custom 5-inch turbo down exhaust system with an exhaust brake and EGR delete, and a 10-foot flat deck truck bed with integrated custom toolboxes.
The truck and the flat deck have a custom 250 liter (66 gallon) fresh water tank, all LED lights, 2,000-watt gas generator, 12,000-pound winch, four cameras, and a 2000-watt inverter. I added brand new heated air seats to the truck to make things more comfortable and an air compressor to air everything up.
I also installed an exhaust brake. An exhaust brake is like an engine brake. Some Ram diesels have an exhaust brake. In the mountains, it prevents brakes from overheating.
I bought the truck in 2006 with 9,000 kilometers (5,592 miles).  In 2016, I installed a brand new engine at 280,000 kilometers (173,984 miles) due to engine failure.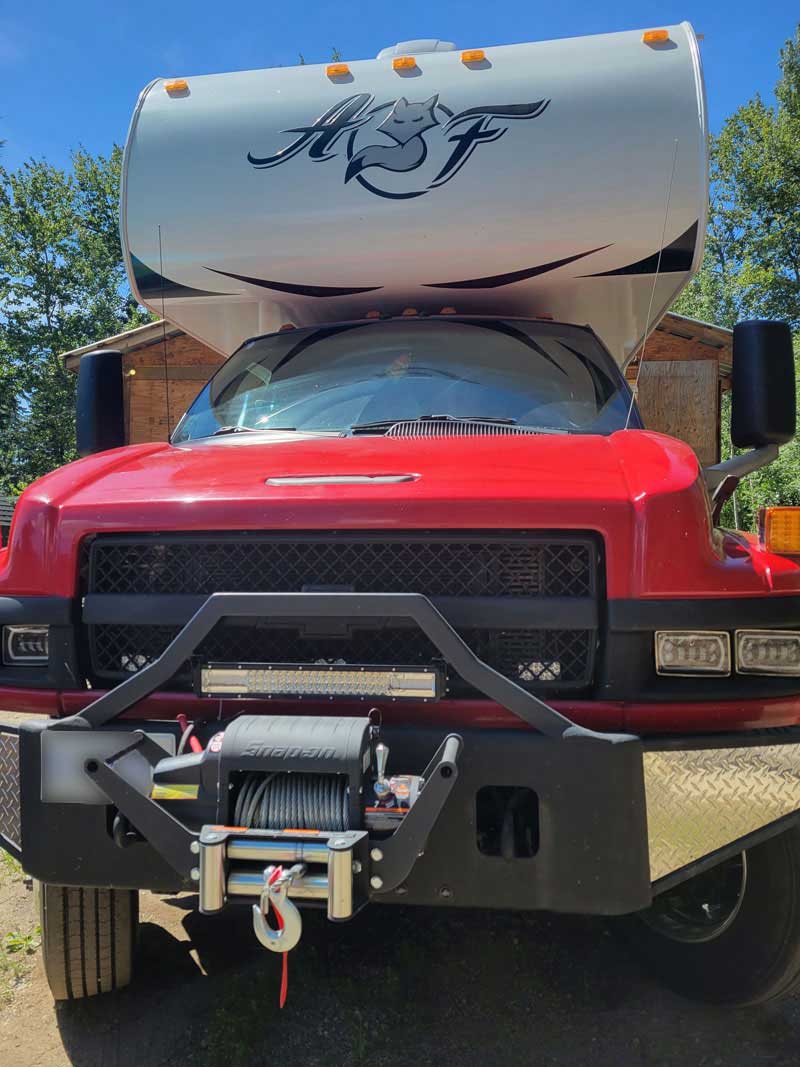 We also don't hear about engine replacements too often. How many kilometers/miles do the Kodiak engines typically last?
The original engine should have lasted longer than 280,000 kilometers. Usually, a Kodiak's diesel engine would last at least 600,000 kilometers (372,000 miles).
Throughout the time I've had my Kodiak, I have de-rusted the chassis, put in new brakes, installed new shocks, and done routine oil changes. Everything is fixable if you know how. I constantly do inspections like making sure the wiring and drivetrain are good. This truck should run strong for another ten years.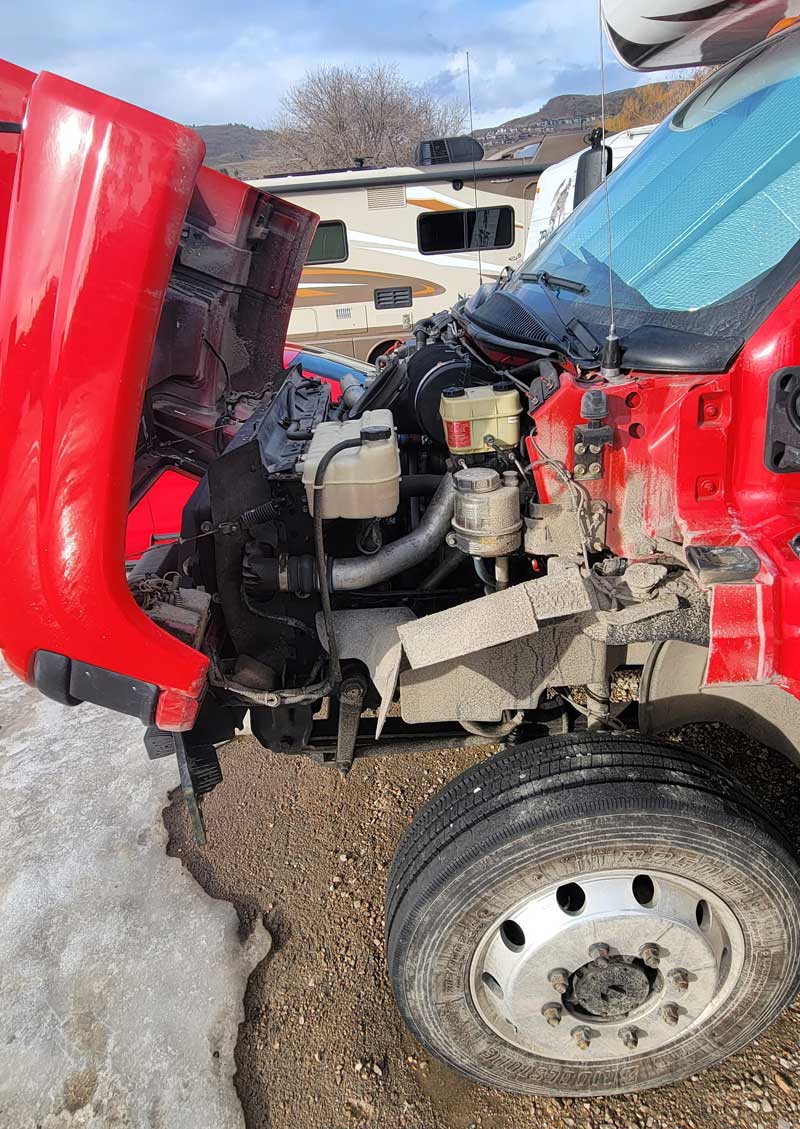 Is maintenance more difficult on a Kodiak versus a more standard pickup?
Actually, maintenance is easier on a Kodiak because of the big hood that opens up in the forward position. I can climb in and easily access the engine. The other part on the inside of the vehicle that's handy is the dog house.
Dog house?
The dog house in the Kodiak is an access area that opens up access to the engine. It's called a dog house because it's a big cover in the middle of the cab. I can take it off and I have huge access to my engine. In the Kodiak, we're sitting halfway on our engine.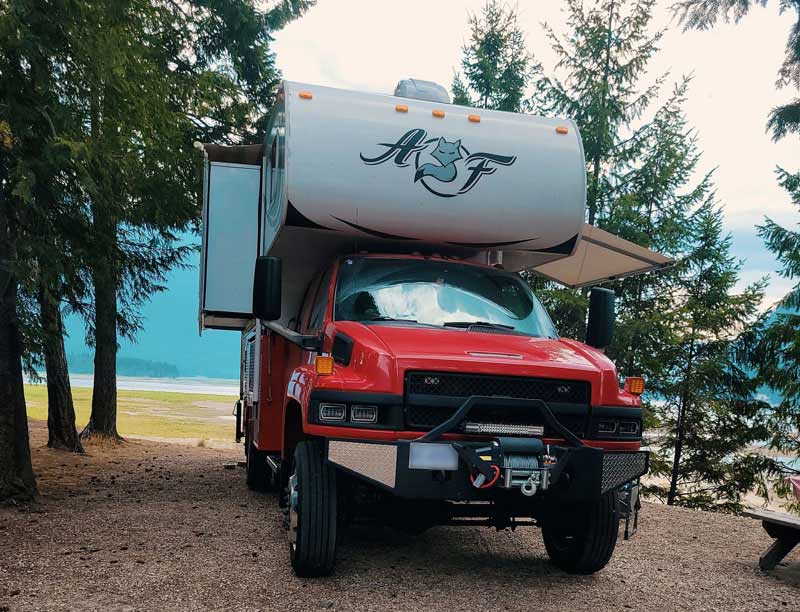 When did your Arctic Fox enter the picture?
Prior to this camper, I had two pull-behind trailers, one motorhome, and two truck campers. I started with a smaller hard side truck camper on a regular pickup truck. It was an older non-slide unit that we bought used and fairly cheap.
In 2019, I saw a 2018 Arctic Fox with a slide that was being sold used. It was big and comfortable and has everything we need. They were originally asking $55,000 Canadian (approximately $40,000 USD). After three days of negotiating, they delivered it from 200 kilometers (124 miles) away for $48,000 (approximately $35,000 USD).
After delivery, the Arctic Fox was sitting in my garage. I looked at my Kodiak and cut everything off from the welding equipment to the cutters.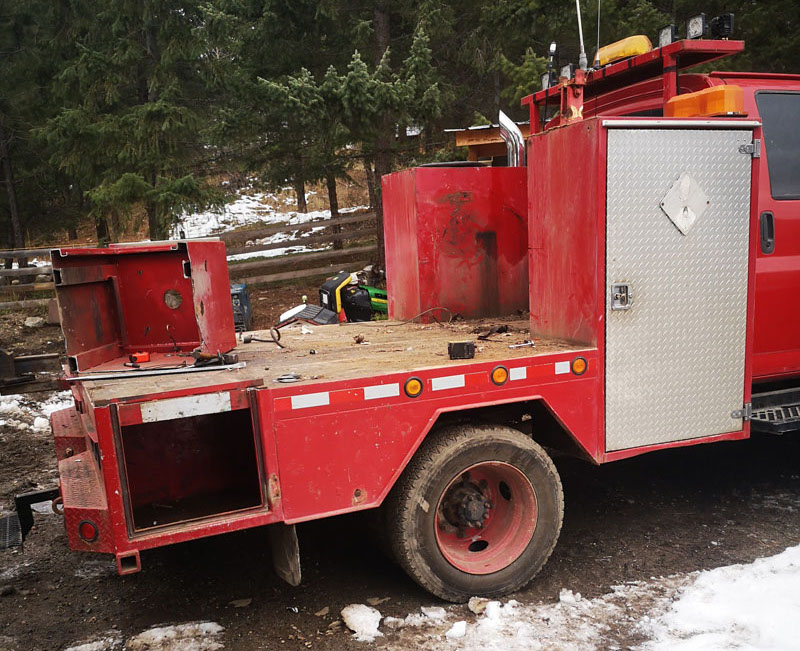 Then I customized the toolboxes. The main problem was the cabover. It was too low to fit over the Kodiak truck cab. Specifically, I had to figure out how much to lift the camper off the bed to clear the cab.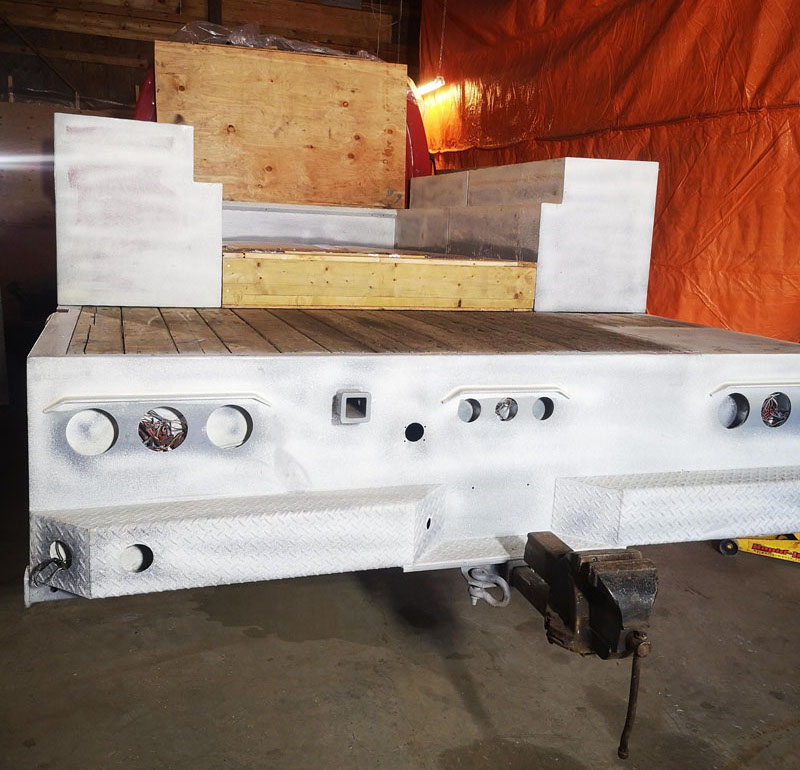 In the end, I had to raise the bed by 7-inches. I built the frame, lifted the truck camper up, and created additional storage in the platform. Then I had the idea to install a custom-made external water tank that I bought online. It measures 6.5-inches by 4-feet by 2-feet and has a fresh water capacity of 250 liters (66 gallons). My truck camper is sitting on the frame. Inside the frame is the custom fresh water tank.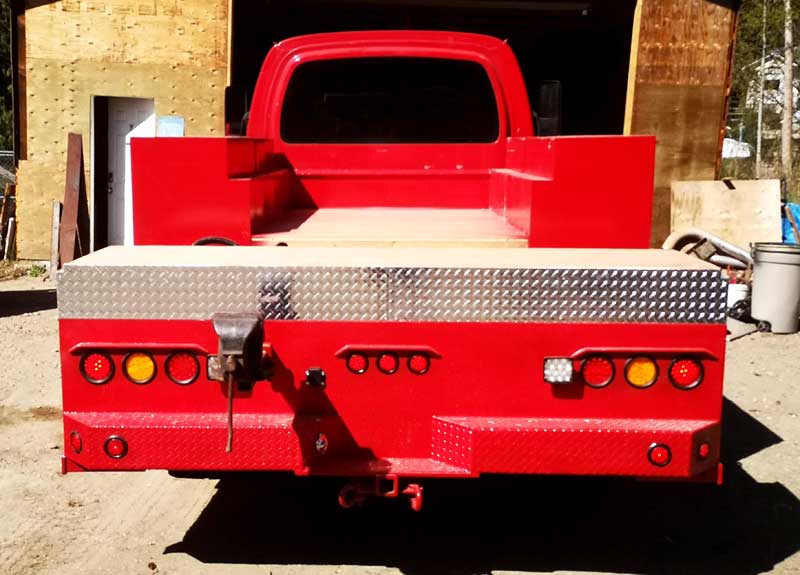 There's a gap between the frame where the water tank is located and the end of the camper. There's another frame underneath. In that gap, I put skis, a chainsaw, and other tools. It's like a toolbox under the camper.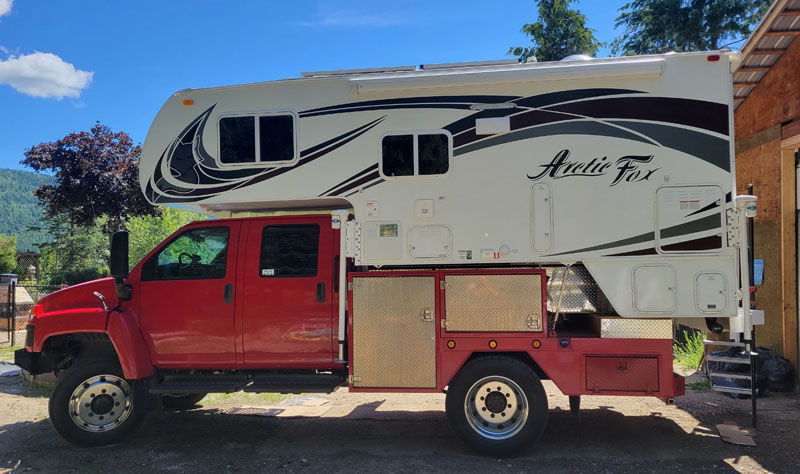 There's support and a frame on the end. From side-to-side, it provides 8-feet of storage. On the outside, there is an aluminum door to close it up.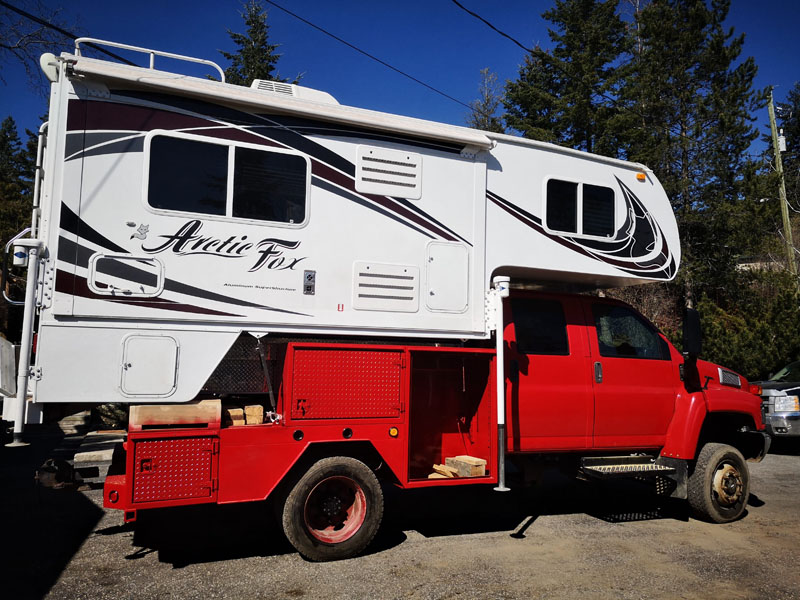 You also see lots of storage boxes. The original mechanical storage boxes I used for work were modified so that the camper could fit.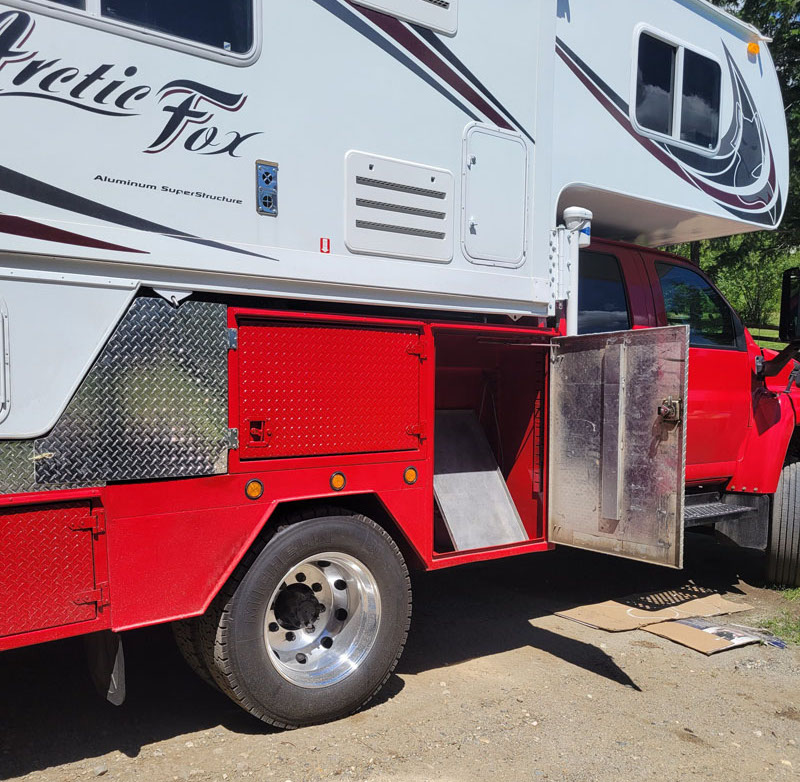 The tie-down points had to be changed on the camper, especially the front ones.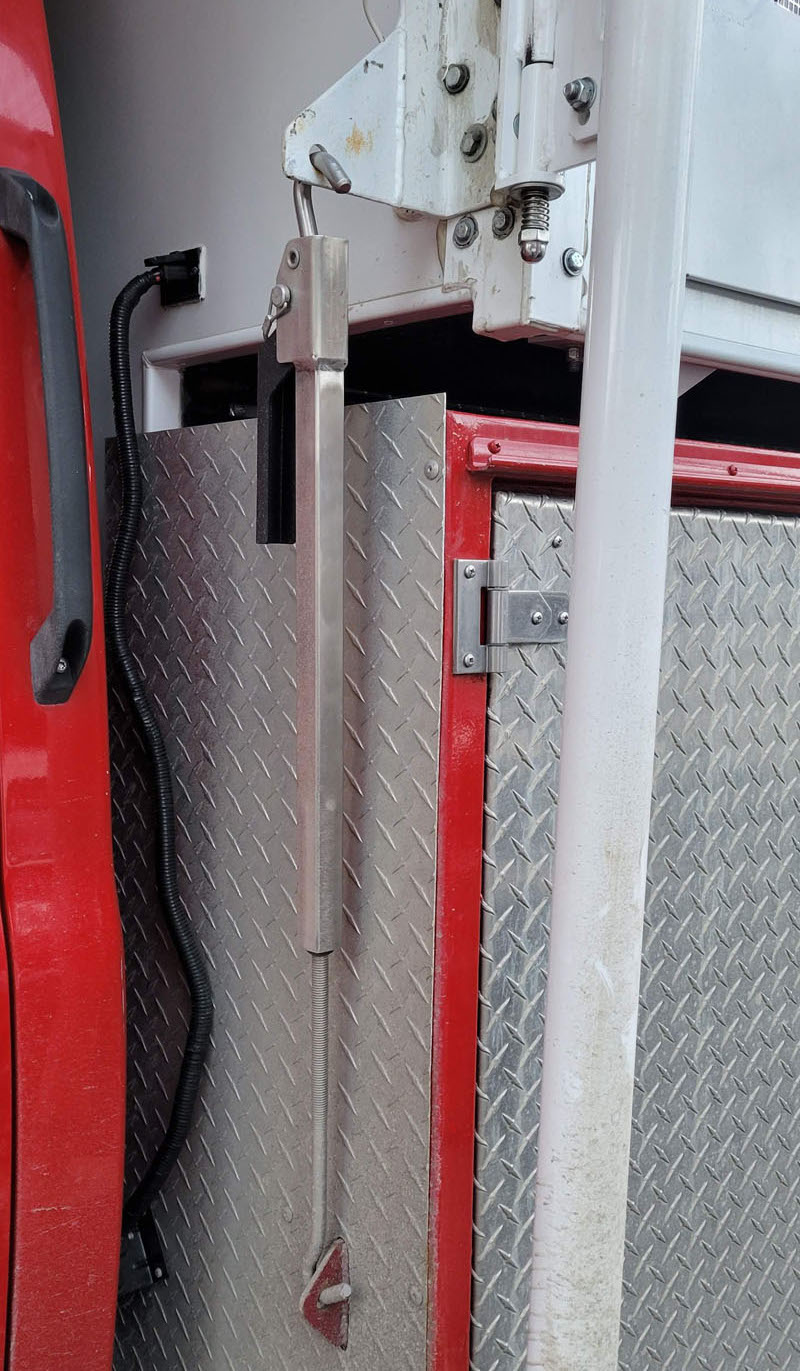 They are custom. The Torklift Fastguns work with the custom tie-down points.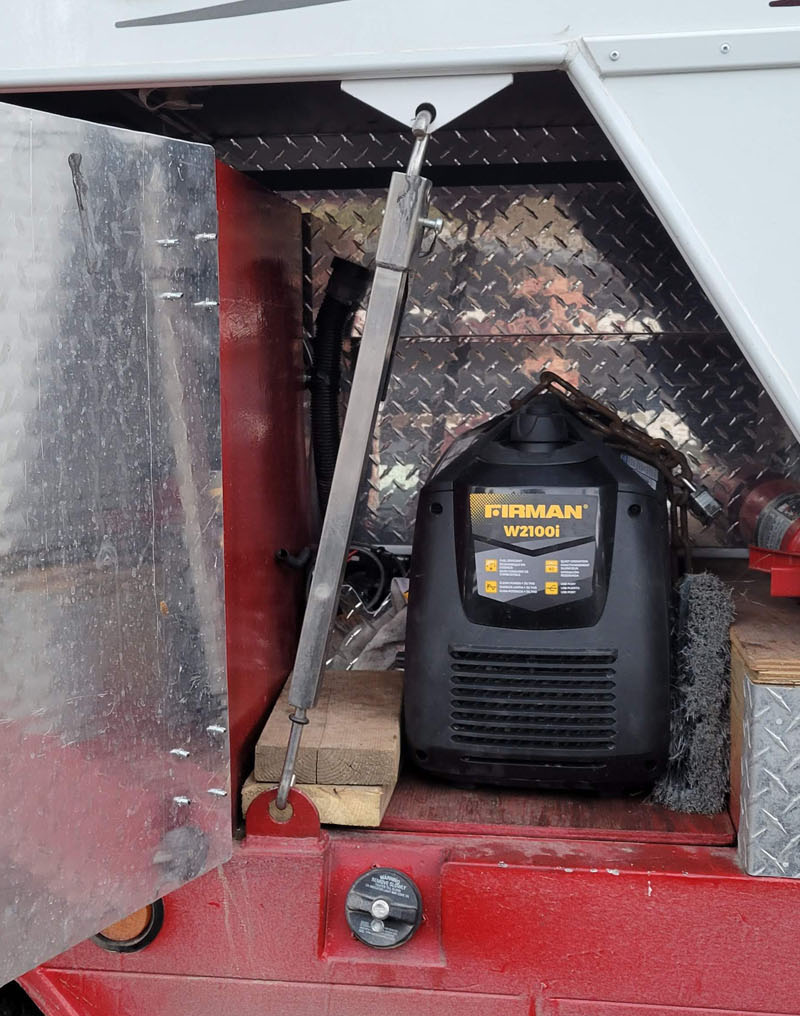 The original camper comes with a two-step system. Because of the height of the Kodiak, I had to extend the step system by three more steps.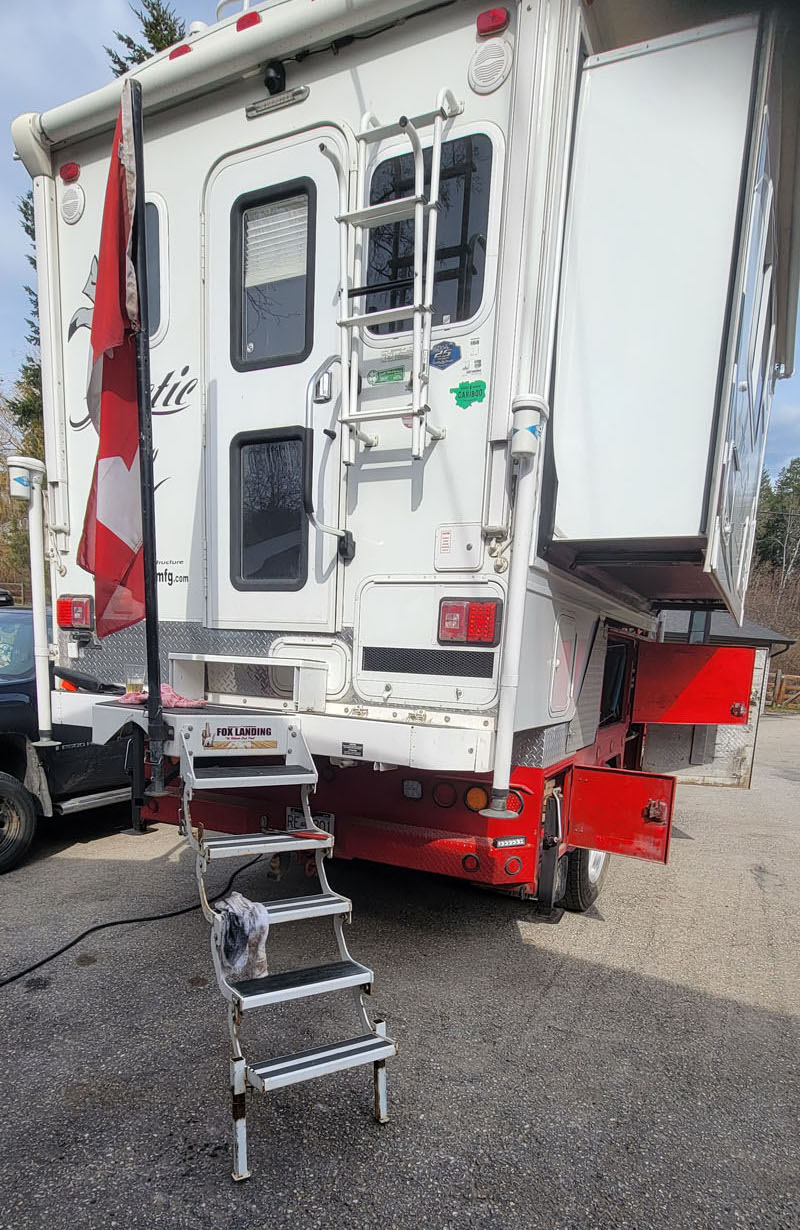 Seven inches is a lot to raise a camper. How tall is your rig?
I have 275/70 R 22.5 tires on aluminum rims. When I finished putting on the wheels and then the camper on top, my rig was at 14-feet. The legal height 13'6", so I was 4-inches over the allowed height. To solve this, I took the air conditioner off and installed a Fantastic fan in its place. That brought my height down to 13'3". That's where I am right now.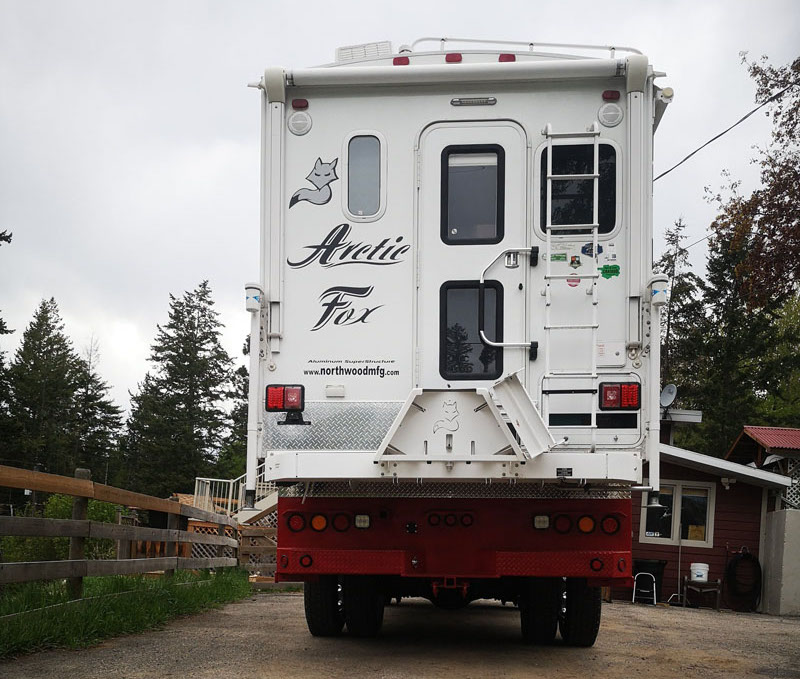 How far from the ground is the Fox Landing system?
An estimate is that the Fox Landing is at 5-feet. In one of the pictures, I am under the slide standing straight up. I'm 5'11" and it's no problem to walk underneath the slide.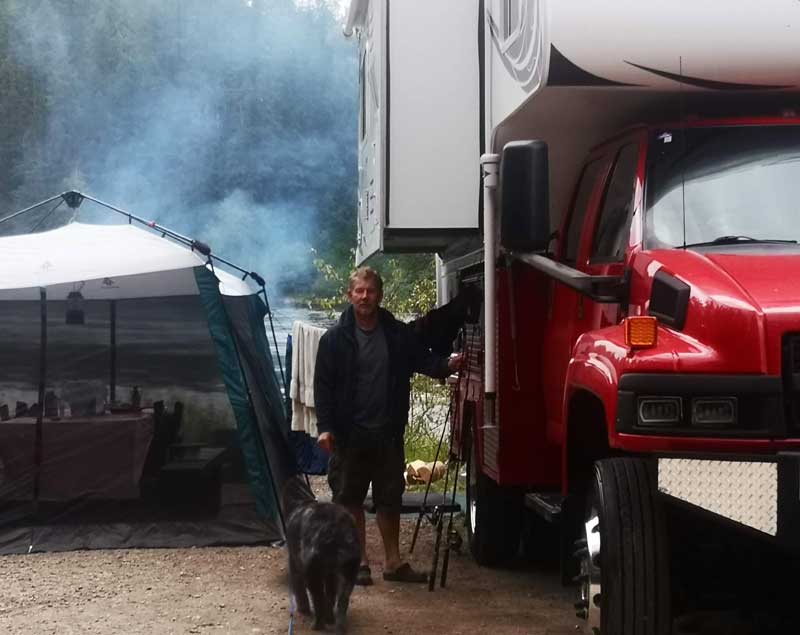 Have you had any sway issues with the overall height being 13'3"?
Everything heavy including the holding tanks and batteries is pretty low. The truck also weighs a lot so my center of gravity is also low. The 250 liters of water filled up under the camper is a lot of weight. The rig doesn't sway much when we're driving or going around corners. The Kodiak is a Class / 5500 so it can handle the weight, no problem.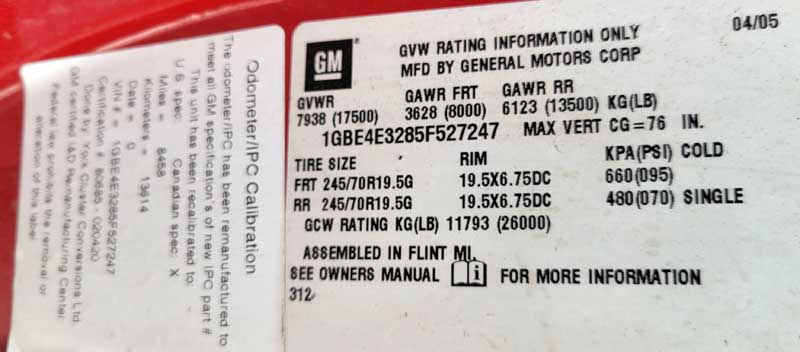 What's the GVWR and payload capacity of your Kodiak?
After I was finished, with all the modifications on the flat deck like the storage boxes (empty) and secondary water tank (empty), I went to a registered scale.
The truck weighs empty (curb weight) 4,820 kilograms (10,604 pounds). The GVWR is 7,938 kilograms (17,500 pounds). Subtracting the two, you get my cargo capacity of 3,118 kilograms (6,859 pounds).
The Arctic Fox 1150 weighs 2,300 kilograms (5,100 pounds) wet, so I have an additional 818 kilograms (1,799 pounds) for tools, bikes, extra propane tanks, a paddleboard, firewood, wine, beer and fresh water.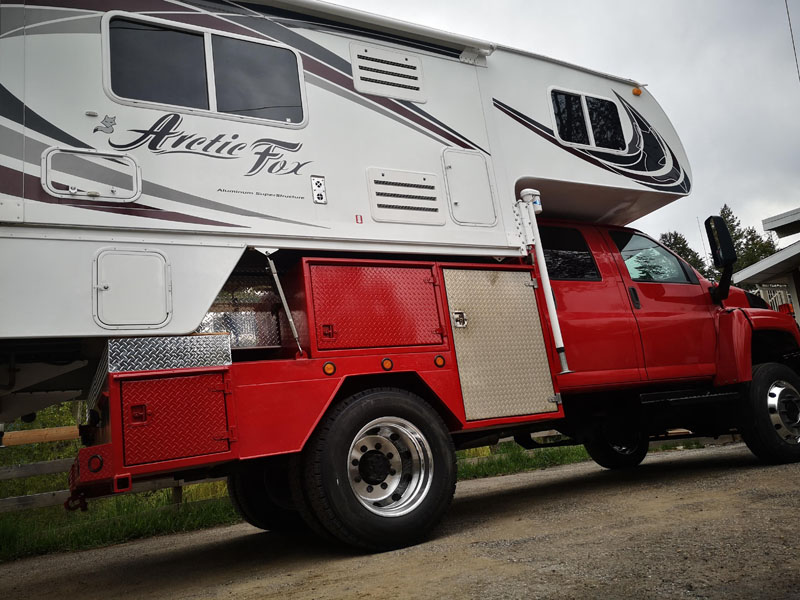 How does the Kodiak handle the camper?
Driving and handling a Kodiak is easier than driving a regular pickup because the turning radius is better. Big Red, as I call my truck, is easy to drive around.
It's also a little wider at 8-feet. And there are challenges like getting into parking spots. I have a Class 1 license so I'm very comfortable driving it. I also have two backup cameras on the truck; one is low and one is higher up. There are cameras on each mirror and we have a dash camera on the windshield.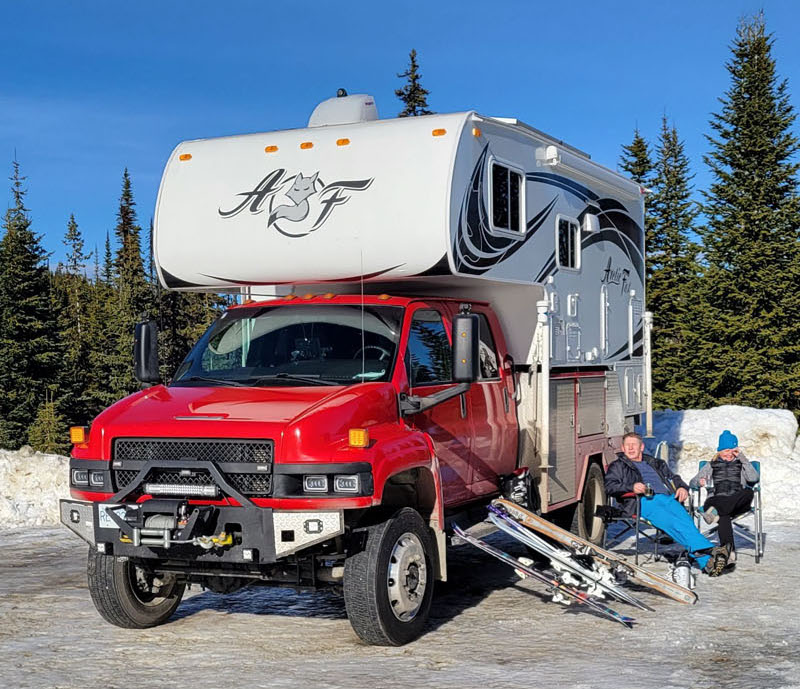 You said earlier that your truck has a generator and an inverter. So, do you have generators and inverters in your truck and your camper?
Yes. My Arctic Fox 1150 came with a 2,500-watt propane generator. I installed a 3000-watt inverter in my camper and, at the moment, I have two 100-amp-hour lithium batteries and 300-watts of solar.
In the truck, I have a 2,000-watt inverter and a 2,000-watt generator. The truck comes with three batteries to start up the engine. I installed the inverter to use my impact gun or drill and to charge up the batteries. The truck generator is like a suitcase generator that runs on gasoline as a back up. In the winter, if it's -20 degrees Celsius (-4 Fahrenheit) and we stay for a while, we want to have a back up; and a back up of the back up. We don't want to run out of power or not be able to start our truck.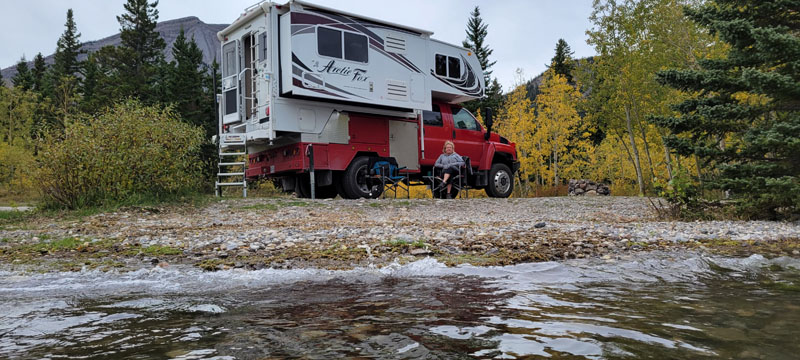 What do you enjoy doing when you go out truck camping?
We go on outdoor adventures; fishing, hiking, taking our dog for a walk, and socializing. We camp in the summer and the winter whenever we have a chance. Our Arctic Fox has held up well in the wintertime. Last year we went a lot of places at -15 and -20 Celsius; during the coldest nights and snowstorms.
My dream is to go across Canada. British Columbia is a big province, so we'll stay local since diesel has been high. Another trip we want to do is to go see Alaska. I don't know when, but we will go to Alaska.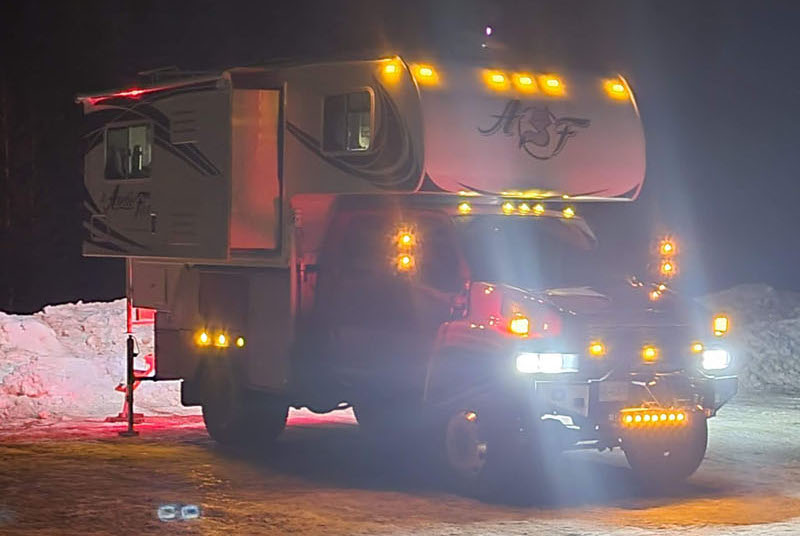 I bet it's tough to go anywhere and not have folks want to talk to you about your rig.
That's true. Everywhere we go from a grocery store to a gas station, people are ask questions. We just pull up to a red light and people are looking at it. Wherever we are out people ask, "Where can I get one like this?" We get a thousand questions. It's fun!
Ralf Kintzel's Rig
Truck: 2005 Chevy Kodiak 5500, 4×4, dually, diesel, long bed
Camper: 2018 Arctic Fox 1150
Tie-Downs and Turnbuckles: Torklift Fastguns
Suspension: Billstein shocks