CampLite debuts the first 100% wood free, all aluminum and composite slide out truck camper on Earth.  It even has a dry bath with a separate shower room.

Just three years ago LivinLite debuted their first truck campers.  They were 100% wood-free, aluminum and composite truck campers, but suffered an unfortunate interior aesthetic that could only be described as cold and austere.  The LivinLite team immediately asked us for our honest feedback, which they took as constructive criticism to improve their products.
At the annual industry trade show in Louisville, Kentucky, the LivinLite team always brings their next generation products.  Every year, LivinLite shows another significant leap forward to warm their interiors and adapts to consumer demands for more comfort and amenities.  And with each new model year debut, they again ask for our honest feedback.
Which brings us to the topic of this article, the 2013 CampLite TC11.  The second we walked into the 2013 CampLite TC11, we knew Scott and the LivinLite team had made another important step forward.  Not only is the TC11 the first CampLite with a slide and the only truck camper available with a split dry bath and separate shower room, it's also a demonstration of how far CampLite truck campers have come.
There's still a way to go before CampLite truck campers have the interior warmth of the leading luxury brands, but this is certainly not the cold and austere interior we saw three years ago.  As Angela said when she first stepped into the TC11, "I can see us actually using one of these".  For CampLite, that's another first.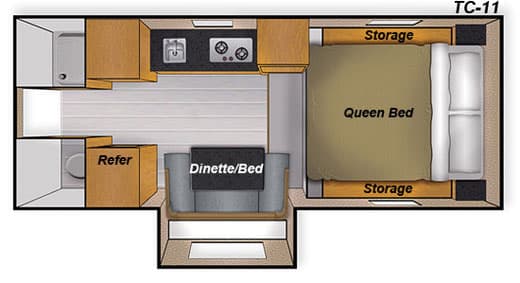 CampLite TC11 Camper Specifications
The 2013 CampLite TC11 is a hard side, single-slide, dry bath truck camper made for long bed trucks.  The interior floor length of the 2013 CampLite TC11 is 11'6" and the interior height is 80″.  The 2013 CampLite TC11 has a 30.5 gallon fresh tank, a 17 gallon grey tank, a 14 gallon black tank, and a 6 gallon hot water heater.  It can accommodate two batteries and has two twenty-pound propane tanks.  LivinLite is reporting the base weight of the CampLite TC11 to be 2,595 pounds.  The base MSRP for the 2013 CampLite TC11 is $27,719.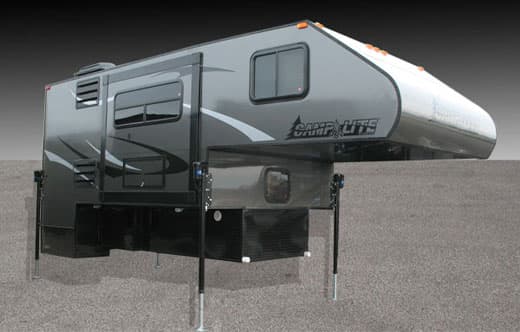 The following is an interview with Scott Tuttle, President of LivinLite RV, on the 2013 CampLite TC11 single slide.
TCM: Before we talk about the TC11, tell us what changes have been made to CampLite truck campers for 2013?
Scott: We have introduced two new CampLite truck camper models for 2013, the CampLite TC8.6 and Camplite TC11.  We have also expanded on TC6.8.  People asked for a similar camper for an eight foot bed, and that is the TC8.6 that you saw at our open house in Elkhart this past fall.
We continue to fine tune our truck camper interiors.  For 2013 we are powder coating the interior aluminum trim black and offering two new wood cabinetry colors; a lighter maple, and a rich, dark cherry.  The response has been so strong to the black powder coated trim and dark cherry cabinetry that I would predict that we are going to build the majority of campers with that interior combination in 2013.  It really works.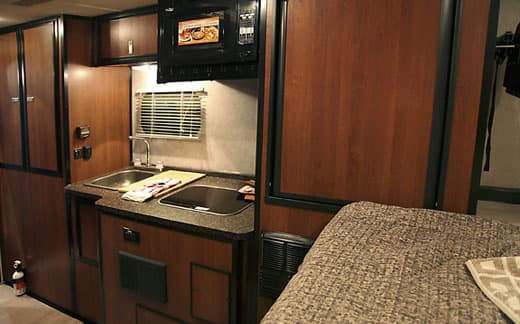 Above: The CampLite TC8.6 with the dark cherry interior
TCM: We can vouch for that having seen that combination at Louisville.  Have you made any changes or updates to LivinLite's 100% wood-free, all-aluminum and composite material list or construction method?
Scott: No.  The aluminum is still aluminum and the Azdel composite is still Azdel composite.  Our materials and construction methods are dialed in.  Now we're focusing on the aesthetics and livability of the campers, and making slight improvements and adjustments.
Quite frankly, there's nothing built like our CampLite truck campers in the truck camper market.  The more customers and dealers we run into, the more we hear horror stories of wood campers rotting out.  It's not just the wood frame that you need to be concerned about, it's any wood including cabinetry and trim.  There are campers out there with three slide-outs that run $70,000 that will eventually rot out.
Our core values of building without wood is very important to our retail customers.  People will overlook all kinds of things like multi-slides and special gizmos to have a rot free camper.  They're buying a wood-free product which represents a tremendous value proposition for their investment.  The response has been phenomenal.  You could say that customers are "coming out of the wood work" to purchase our campers!