CampLite debuts the first 100% wood free, all aluminum and composite slide out truck camper on Earth.  It even has a dry bath with a separate shower room.

Just three years ago LivinLite debuted their first truck campers.  They were 100% wood-free, aluminum and composite truck campers, but suffered an unfortunate interior aesthetic that could only be described as cold and austere.  The LivinLite team immediately asked us for our honest feedback, which they took as constructive criticism to improve their products.
At the annual industry trade show in Louisville, Kentucky, the LivinLite team always brings their next generation products.  Every year, LivinLite shows another significant leap forward to warm their interiors and adapts to consumer demands for more comfort and amenities.  And with each new model year debut, they again ask for our honest feedback.
Which brings us to the topic of this article, the 2013 CampLite TC11.  The second we walked into the 2013 CampLite TC11, we knew Scott and the LivinLite team had made another important step forward.  Not only is the TC11 the first CampLite with a slide and the only truck camper available with a split dry bath and separate shower room, it's also a demonstration of how far CampLite truck campers have come.
There's still a way to go before CampLite truck campers have the interior warmth of the leading luxury brands, but this is certainly not the cold and austere interior we saw three years ago.  As Angela said when she first stepped into the TC11, "I can see us actually using one of these".  For CampLite, that's another first.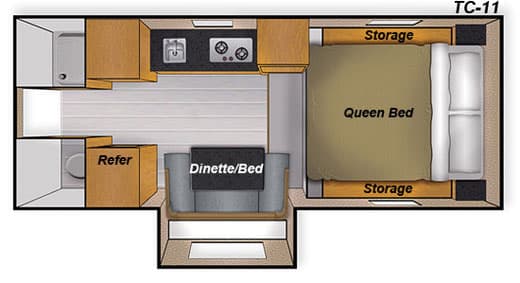 CampLite TC11 Camper Specifications
The 2013 CampLite TC11 is a hard side, single-slide, dry bath truck camper made for long bed trucks.  The interior floor length of the 2013 CampLite TC11 is 11'6" and the interior height is 80″.  The 2013 CampLite TC11 has a 30.5 gallon fresh tank, a 17 gallon grey tank, a 14 gallon black tank, and a 6 gallon hot water heater.  It can accommodate two batteries and has two twenty-pound propane tanks.  LivinLite is reporting the base weight of the CampLite TC11 to be 2,595 pounds.  The base MSRP for the 2013 CampLite TC11 is $27,719.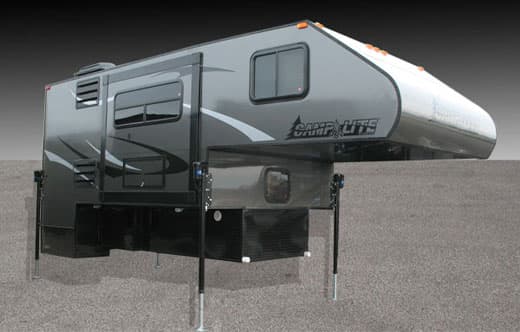 The following is an interview with Scott Tuttle, President of LivinLite RV, on the 2013 CampLite TC11 single slide.
TCM: Before we talk about the TC11, tell us what changes have been made to CampLite truck campers for 2013?
Scott: We have introduced two new CampLite truck camper models for 2013, the CampLite TC8.6 and Camplite TC11.  We have also expanded on TC6.8.  People asked for a similar camper for an eight foot bed, and that is the TC8.6 that you saw at our open house in Elkhart this past fall.
We continue to fine tune our truck camper interiors.  For 2013 we are powder coating the interior aluminum trim black and offering two new wood cabinetry colors; a lighter maple, and a rich, dark cherry.  The response has been so strong to the black powder coated trim and dark cherry cabinetry that I would predict that we are going to build the majority of campers with that interior combination in 2013.  It really works.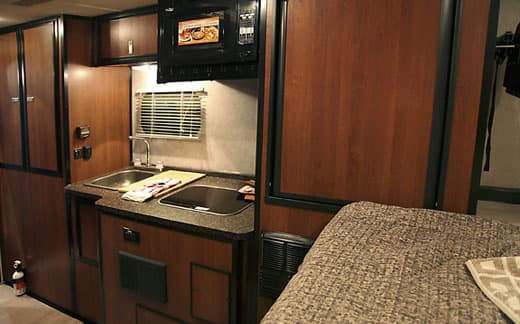 Above: The CampLite TC8.6 with the dark cherry interior
TCM: We can vouch for that having seen that combination at Louisville.  Have you made any changes or updates to LivinLite's 100% wood-free, all-aluminum and composite material list or construction method?
Scott: No.  The aluminum is still aluminum and the Azdel composite is still Azdel composite.  Our materials and construction methods are dialed in.  Now we're focusing on the aesthetics and livability of the campers, and making slight improvements and adjustments.
Quite frankly, there's nothing built like our CampLite truck campers in the truck camper market.  The more customers and dealers we run into, the more we hear horror stories of wood campers rotting out.  It's not just the wood frame that you need to be concerned about, it's any wood including cabinetry and trim.  There are campers out there with three slide-outs that run $70,000 that will eventually rot out.
Our core values of building without wood is very important to our retail customers.  People will overlook all kinds of things like multi-slides and special gizmos to have a rot free camper.  They're buying a wood-free product which represents a tremendous value proposition for their investment.  The response has been phenomenal.  You could say that customers are "coming out of the wood work" to purchase our campers!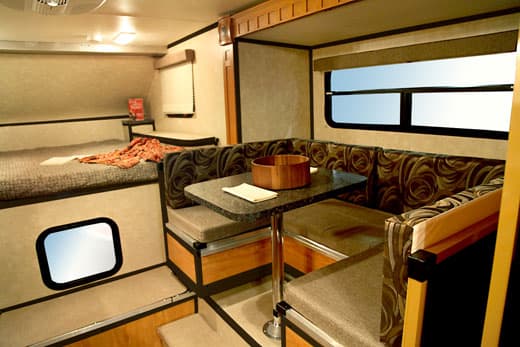 Above: The CampLite TC11 slide-out with the lighter maple cabinetry and black trim
TCM: That's funny, "coming out of the wood work".  Did you need to strengthen the side wall on the TC11 to accommodate the slide-out?
Scott: We have slide-outs in our travel trailers, so we know what to do structurally to support a slide-out.  On the TC11, we beefed up the tubular aluminum around the slide opening.  There is three inch tubing instead of inch and a half tubing.  Beyond that, no additional strengthening was necessary.  Our frames are already 100% welded aluminum.
TCM: Why did you choose the Schwintek slide-out system?
Scott: We've been studying the Schwintek slide-out system for a couple years now.  When we got into slide-outs for our trailers, the Schwintek system was proven, and the aluminum construction fits into our construction philosophy.
There are no wires and guides on the Schwintek slide-out system.  It's not hydraulic.  Almost all the hydraulic systems involve steel, which we don't want to use because of their weight.  The cost and functionality of the Schwintek system is great for our light weight, wood-free units.
TCM: How far out does the slide-out extend in the TC11?
Scott: On the TC11, the slide extends twenty-four inches, which opens up the TC11 a couple of feet inside.  It makes a big difference in floor space and gives the TC11 a sense of more open spaciousness inside the camper.
TCM: Why a slide out for CampLite truck campers?
Scott: I think building a slide model truck camper was the natural progression for CampLite.  We want to provide truck camper models that will appeal to different segments of the truck camper marketplace.  We started with small truck campers and have gone to larger truck sizes.  Even now we continue to get requests from consumers for larger truck camper floor plans.  Our dealers are equally excited to offer a slide-out model.
TCM: Where did the idea for a split dry bath and separate shower room come from?
Scott: That idea came about from wanting a roomier bathroom.  Obviously, there is limited space to work within a truck camper.  A dry bath with a toilet separate from a shower gives you more space.
We studied traditional dry baths.  They take up to a quarter of the interior floor plan of some truck camper models.  In a truck camper, that's a lot of space.
When we put the shower on one side, and the commode on the other, we gained the features of a dry bath (commode room floor is dry), more privacy, and less of a footprint on the overall design.  It's a unique way to solve the problem.
I think the split bathroom design is the result of our team not being long-time truck camper guys.  We have a fresh approach to truck camper design and problems.  We look to solve these problems with different solutions and often ask, "Why don't we do it this way, or that?"
Honestly, it didn't take a rocket scientist to make this floor plan happen.  We had to make room for holding tanks, figure out how to plumb it correctly, and figure out what to do with stuff on the outside, like propane tanks and the generator box.  We moved the propane tanks as far forward as possible for a better center of gravity.  We really weren't trying to get creative with the floor plan, but this was the best way to maximize space.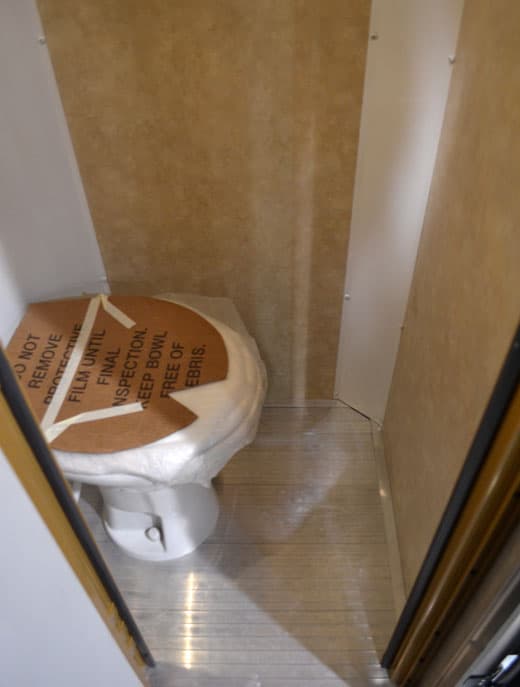 TCM: The only thing missing from the commode room is a bathroom sink.  Why not include a bathroom sink?
Scott: It's about finding a sink that will fit our design and layout.  There are a lot of European sinks that would fit the bill, but getting them to the United States is a challenge.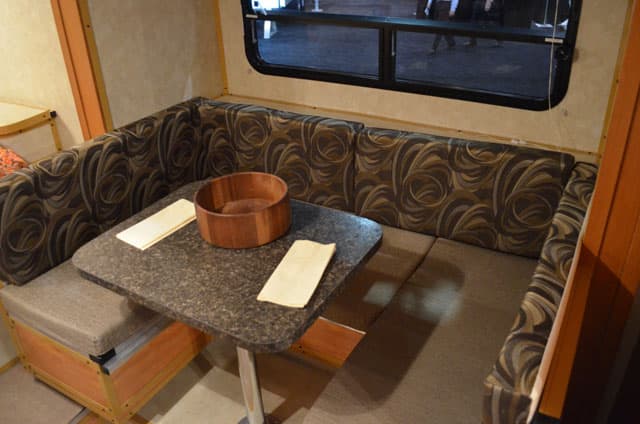 TCM: Why did you make the dinette a U-shape dinette rather than the traditional face-to-face dinette?
Scott: I think mostly because we wanted to have exterior storage.  Unless we got rid of the storage on the outside, we wouldn't be able to have feet space going across for a face-to-face dinette.
Most of folks who buy this camper will be couples.  They may have kids or grandkids that join them, but mostly it's just couples.  For two people, the U-shaped dinette works great.  They can sit across from each other, and still have the benefits of exterior storage and room for kids or grandkids when they come along.
TCM: Does the dinette convert into a bed?
Scott: Yes it does.  It's similar to a queen size bed.
TCM: The tank sizes in the TC11 are 30.5 gallons fresh, 17 gallons grey, and 14 gallons black.  How did you determine these tank sizes?
Scott: The holding tank sizes were determined by what size tanks we could fit in the design.
TCM: Does the TC11 feature a basement?
Scott: No, the TC11 is a non-basement floor plan.  The black and grey holding tanks are in the rear where the skirt drops down.  The fresh tank is under the step up into the cabover bed area.
TCM: Are the holding tanks heated?
Scott: No, but we have never made a claim that our truck campers are four season units.  Most of our customers are using their campers from April to October or follow the warmer weather for camping.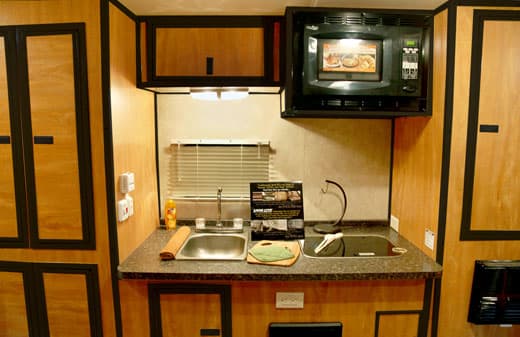 Above: The kitchen of the TC11 with the convection microwave
TCM: A convection microwave is standard in the TC11.  Can you also get a traditional oven?
Scott: We haven't done traditional ovens in our campers, but if someone wanted one, we can talk to them about it.  We have a two burner stove and a convection oven/microwave.  We would handle a request for an oven on a one by one basis.
TCM: Which generators can the exterior portable generator compartment accommodate?
Scott: The generator compartment is designed for a Honda eu2000i or a Yamaha ef2000is portable generator.
TCM: Are electric remote controlled jacks standard on the TC11?
Scott: Rieco-Titan remote controlled electric jacks are standard.
TCM: What is the base dry weight of the CampLite TC11?  With standard build features?
Scott: The base dry weight of the CampLite TC11 is about 2,700 pounds.  It would be 2,595 pounds without the air conditioner and other options.
TCM: What is the base MSRP for the CampLite TC11?
Scott: The MSRP for the Camplite TC10 is $27,719.
TCM: The available option list for the CampLite TC11 is relatively short; two different air conditioning units are available, removable carpet matts, digital TV antenna, 19" flat screen TC, high powered fan/vent, custom cabinetry color, and black trim package.  Tell us about the two available air conditioner options; a 9.2 BTU low profile air conditioner, and the 13.5 BTU low profile Penguin air conditioner.
Scott: The Coleman Polar Cub is the 9.2 BTU low profile air conditioner that can be run off the Honda 2000 generator.  If you want to run your air conditioner off a Honda or Yamaha 2000 generator, go for the Polar Cut 9.2.  The larger one (13.5 BTU) is the Dometic product, and some choose this for the larger models.
TCM: Is the TC11 currently available at CampLite dealerships?
Scott: We've only built a few that are available, but we're taking most of our dealer orders now.  They will be on all of our truck camper dealer lots in the Spring.
TCM: Will there be more CampLite single slide and possibly multi-slide truck camper floor plans in the near future?
Scott: I think that's coming down the road.  We may someday think about building a kitchen slide-out on our 11 foot camper.  We may build a side door model.  We will probably be looking into those floor plans in six months for a debut in the fall.  We'll try to have something new to show you next year in Elkhart.  We're always open for suggestions.
TCM: Is there anything else going on at LivinLite or with CampLite truck camper line that you want to share?
Scott: Just that we're going to continue to get better at what we do.  CampLite truck campers are not going to stand still.  Continuous product improvement is our goal.  In fact, our truck camper designs are now influencing our travel trailer designs.  Both are doing well.
For more information about the TC11 or other CampLite truck campers, request a brochure.