The Alaskan Camper feature rig for Overland Expo West presents an economical and highly versatile solution for a flatbed truck and a traditional camper design.  Box it up.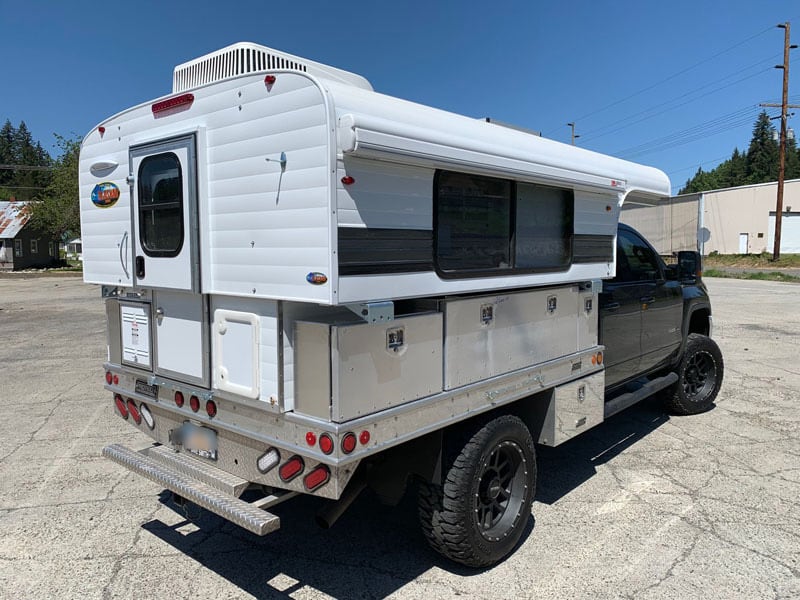 Like SEMA, Overland Expo is often dominated by cost-no-object builds.  While these rigs – like the SEMA vehicles – are often spectacular and entertaining, they are hardly cost-effective for the majority of off-road and overland enthusiasts.
This is why we are quite enthused about what Alaskan Campers is bringing to Overland Expo West this year.  Rather than focus on impressing the casual observer with another wallet-busting build, the Winlock, Washington company is presenting something far more practical.
In a nutshell; utilizing a standard (non-flatbed) Alaskan Camper with a locally-sourced modular aluminum flatbed and custom aluminum box system.  The twist?  Maximum versatility and storage at a (comparatively) affordable price.
Now, to be clear, nobody should say that a $10,000 modular flatbed system is inexpensive.  Nor should we make light of the fact that Alaskan's feature rig would be somewhere north of $90,000 with all the showcased trimmings.  That's not lunch money.
Then again, some of the Overland Expo set-ups will tip the scales at well over $200,000.  Some will brag about their vehicles costing a half-million, or more.  And the funniest part?  Those mega-buck monstrosities often can't go where this Alaskan rig can go.
To find out more about the Alaskan Camper feature rig for 2019 Overland Expo West, we talked to Bryan Wheat, President of Alaskan Campers.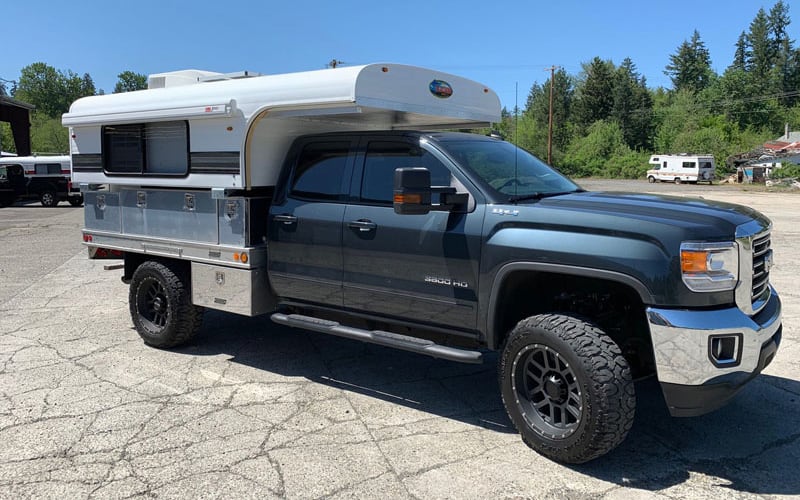 Tell us about the feature rig Alaskan Camper is bringing to Overland Expo West this year.
For Overland Expo West last year we debuted an all-new model; the side-entry Alaskan Flatbed 8.5. That camper was exceptionally popular at the event and sold a few months later.
The customer who bought that camper did not buy the matching truck, so we have taken a different approach to the flatbed concept for this year's Expo.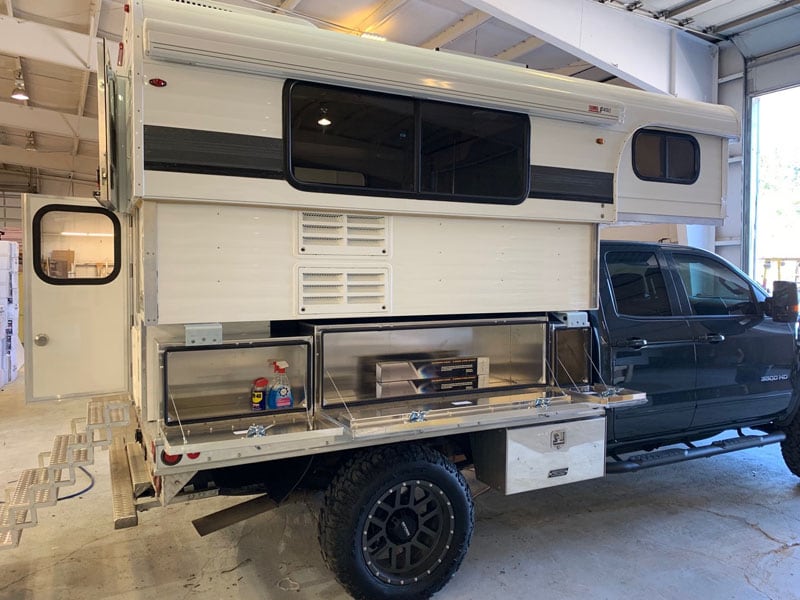 Rather than build another flatbed Alaskan, we have matched the flatbed truck to a standard Alaskan 8.5 cabover front dinette. This is one of our most popular Alaskan configurations; a time-tested and proven floor plan.
We added an air conditioner and solar panels, but it's otherwise a standard build.
To fill the voids on the passenger's and driver's sides, we contacted ProTech, the same company that built the flatbed for us last year. ProTech is out of Vancouver, Washington and has been fantastic to work with.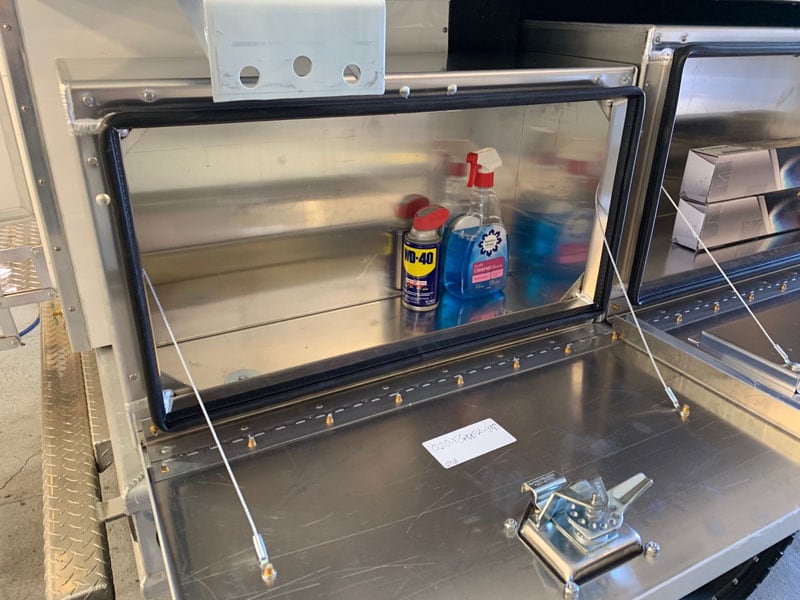 Are the ProTech boxes off the shelf or were they custom made?
They are custom made for Alaskan Campers. After we took the necessary measurements, ProTech built a set of aluminum storage boxes that perfectly fill the space between the flatbed deck and the camper.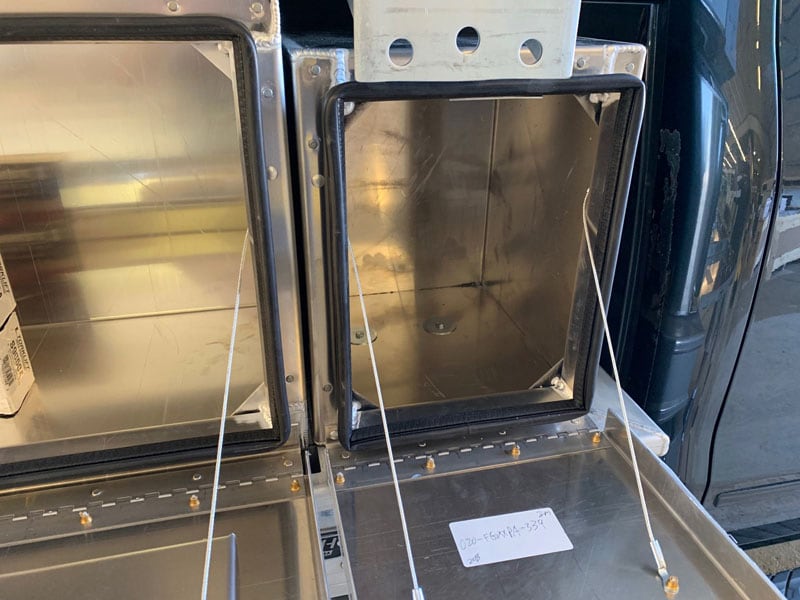 How are the boxes attached to the flatbed?
The boxes are bolted right through the flatbed. They are very secure.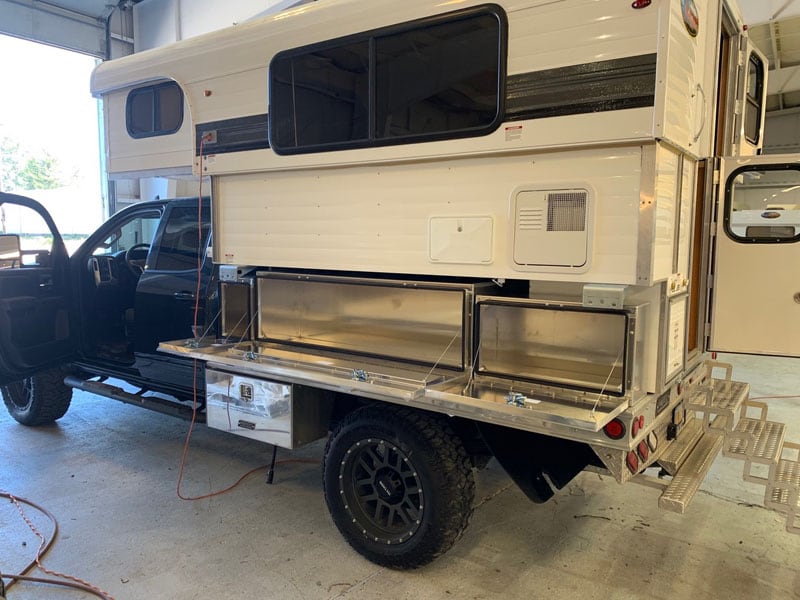 Are the boxes identical on both sides of the rig?
Yes, the boxes are identical on the driver's and passenger's sides.
The resulting exterior storage is nothing less than remarkable, especially when you consider the lower ProTech boxes that were part of the original flatbed design.
Personally, I much prefer this approach. A standard Alaskan Camper is much easier to resell than a flatbed model, and the ProTech boxes offer an incredible amount of storage and versatility.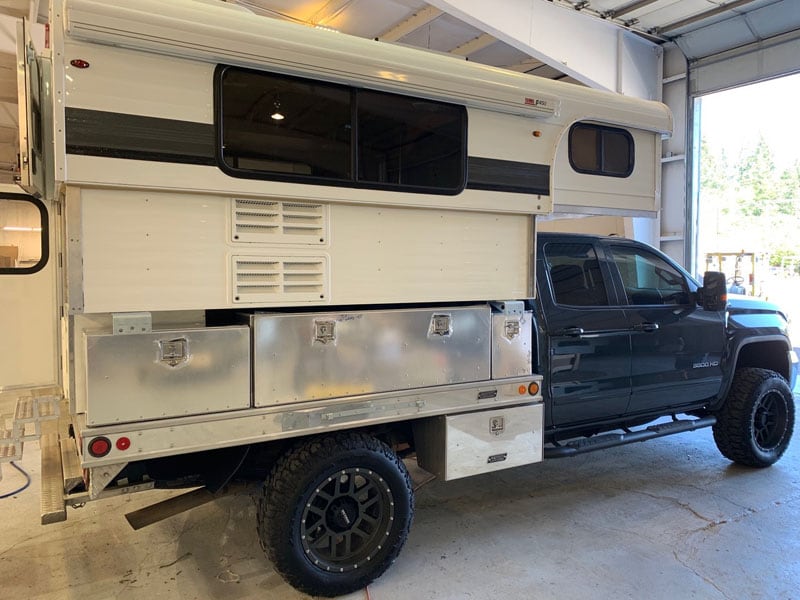 You will notice that the ProTech boxes in the photos still have their protective plastic film on them. We'll be removing that once we reach the Overland Expo so the boxes will look shiny and new.
That makes sense. Are you bringing any other Alaskan Campers to Overland Expo West?
In addition to this rig we are bringing an Alaskan 6.5. There will also be some Alaskan Camper owners there with their rigs. Meeting our customers is by far the best part of the event.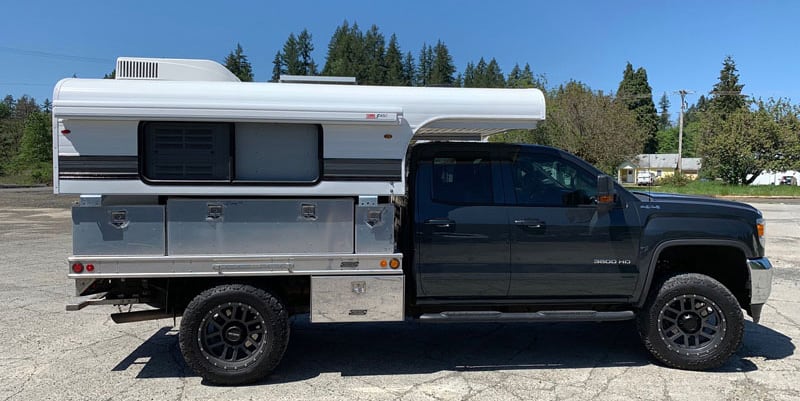 If someone wants to purchase a similar rig to the one you have developed, what would it cost?
All totaled, the ProTech flatbed, lower boxes and upper boxes is just north of $10,000. The Alaskan 8.5 cabover front dinette is around $39,500. I don't have the numbers on the truck, but the whole rig is available; truck, camper, and flatbed with storage. If someone is interested, please contact us.
For more information on Alaskan Campers, please visit their website at alaskancampers.com. Click here to request an Alaskan brochure.