Alaskan Campers announces its first new floor plan in six years; a hard side pop-up for short bed trucks; the Alaskan 6.5.  It's a leather sofa camper that sleeps four!

Outside of the food industry, there aren't too many companies that launched a product fifty years ago – or more – that's still in production today.  That list gets extremely short if you eliminate companies that have changed their products substantially over time.  Even Chris-Craft boats and Vespa scooters swayed to current trends, and changed their classic products over time.
Not Alaskan Campers.  Alaskan builds their hard side pop-up truck campers essentially the same way they did when the company was founded fifty plus years ago.  They even look the same.  We don't recommend taking bets on an Alaskan Camper's birthday from fifty paces.  Unless you work there, it might be impossible to tell.
Speaking of working there, the crew at Alaskan has rolled out their first new floor plan in six years; the 2015 Alaskan 6.5.  This new for 2015 Alaskan Camper is designed to work with short bed truck campers, and is light enough to be considered a match for late model half-tons with 2,000 pounds of payload.
To get the inside scoop on this new Alaskan, we talked to Bryan Wheat, President of Alaskan Campers.
2015 Alaskan 6.5 Specifications:
The Alaskan 6.5 is a hard side, pop-up truck camper that is made for short bed trucks.  The interior floor length of the Alaskan 6.5 is 76″ and the interior height is 6'4″.  Alaskan is reporting the dry weight of the Alaskan 6.5 at 1,483 pounds with standard features.  The fresh water tank in the Alaskan 6.5 is 27 gallons.  The camper accommodates one battery and one horizontal twenty-pound propane tank.  The base price MSRP for the Alaskan 6.5 is $25,899.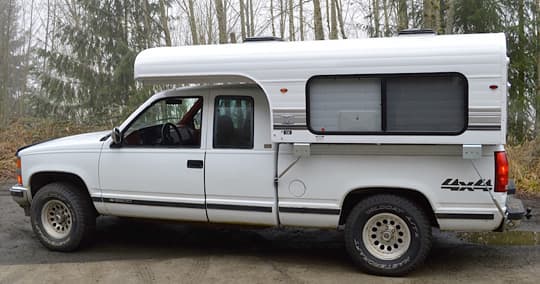 Above: The 2015 Alaskan 6.5.  The floor plan was not yet available at time of publishing.
TCM: Does the new 2015 Alaskan 6.5 replace any older models in the Alaskan line?
Bryan: The 6.5 is an all-new Alaskan Camper that we're adding to our hard side pop-up truck camper line.  We got the idea for the 6.5 at the Pacific Northwest Sportsman's Show in Portland, Oregon in 2014.
We took an Alaskan 10 and an 8.5 to the show, two of our bigger models for long bed trucks.  Most of the people at the show were hunters and fishermen with half-ton, short bed trucks.  They kept asking us if we made anything that would work for their trucks.
With this feedback, we set out to build a lighter weight Alaskan Camper for short bed half-ton trucks.  On average, our campers are about nineteen to twenty pounds per inch, so the only real way to make our campers lighter is to build them shorter.
The 6.5 is the result of this effort.  It weighs 1,483 pounds, which is compatible with many half-ton trucks.  Our seven foot model also works on some half-tons but, at 1,740 pounds with full propane and a water heater, it's better suited to three-quarter tons.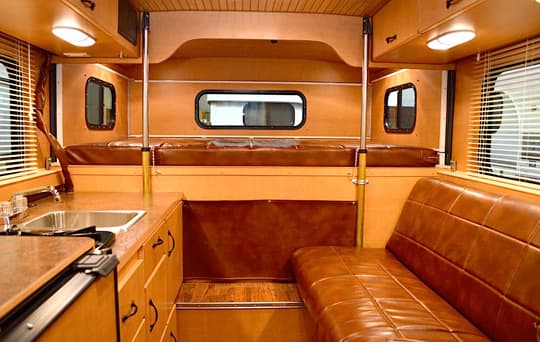 Above: The interior of the 2015 Alaskan 6.5, the door looking forward
TCM: It's interesting that Alaskan Campers are about nineteen to twenty pounds per inch.  How do you weigh your campers?
Bryan: We take our campers to a local certified scale.  We weigh the truck empty, then weigh the truck and camper together.  To find the camper weight, we subtract the weight of the truck from the truck and camper weight.  With five gallons of water and a full propane tank, the 6.5 came in at 1,483 pounds.
I actually guessed the weight within three pounds.  We had a bit of a bet here at Alaskan about what it would weigh.  Don't tell my team, but I cheated by knowing the nineteen to twenty pounds per inch rule.