Alaskan Campers debuts the Alaskan Flatbed Side Entry, a hard side pop-up truck camper with an all-new side entry floor plan.  Alaskan Campers has also upgraded their hydraulic cylinders and is now installing Truma combination water heater and furnace units in the flatbeds as an option.

In the truck camper industry, six emails often lead to a lot of trouble, and opportunity.  For example, a potential customer emails Alaskan Campers with a request for a flatbed model.  She has some interesting ideas, but it's definitely not a standard build.
It will take considerable time and resources to construct what she wants, but Alaskan is a custom shop.  In response, Alaskan emails a quote.  It's quickly accepted – via email.  Three emails, and we're off.
When the camper emerges from the factory a few months later, it's a stunner.  "That came out really nice" thinks the Alaskan team.  Then they return to work on standard Alaskan models.  They won't see one of those again, or so they think.
Email four fires away, "Your Alaskan flatbed side entry camper is ready.  You can pick it up next Friday."  Email five immediately RSVPs.  It's a date!
About six weeks go by.  The customer is very happy.  In fact, she's so happy that she posts photos of her new camper on social media and various internet forums.  Then it happens.  The notorious sixth email.
"I saw this flatbed Alaskan Camper on the internet.  Can you build me one?"
And so it begins.
We have seen a few Alaskan flatbed one-offs over the years, but never a side door entry.  As you're about to see, the flatbed and side door open up a number interesting possibilities.  Form here on out, you can email Alaskan Campers and request a flatbed side entry model without raising so much as an eyebrow.  Well, maybe one.
To find out more about the Alaskan Flatbed Side Entry, we talked to Bryan Wheat of Alaskan Campers.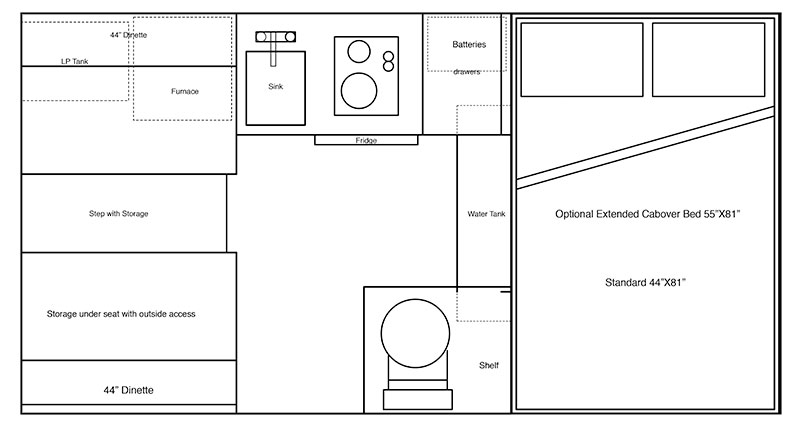 2018 Alaskan Flatbed 8.5 Specifications:
The Alaskan Flatbed Camper is a hard side, pop-up truck camper that is made for long bed trucks. The interior floor length of the Alaskan Flatbed is 100″ and the interior height is 6'3″. The overall width is 89″ and the overall length is 162″, including the extended cabover. Alaskan is reporting the dry weight of the Alaskan Flatbed at 1,800 pounds with standard features. The Alaskan Flatbed has a 27 gallon (optional 54 gallon) fresh water tank, a 4.75 gallon black tank, a 4 gallon water heater, and no grey tank. The camper accommodates two Group 31 AGM batteries and one horizontal twenty-pound (optional 30-pound) propane tank. The base price MSRP for the Alaskan Flatbed is $33,769.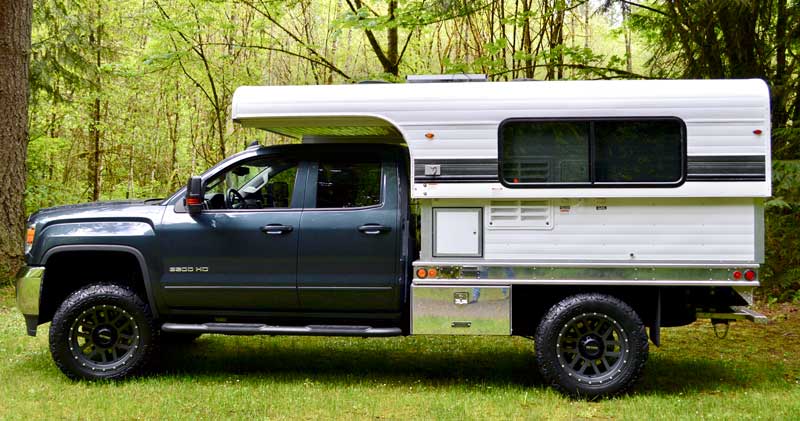 TCM: Alaskan has built one-off custom flatbed truck campers for customers in the past. What's different about this new model?
Bryan: Alaskan has been building rear entry flatbeds since 1992. This is our first side entry model, a concept the pop-up truck camper industry seems to be going towards.
There are a few stand-out advantages to this floor plan. First, you can mount motorcycles, bicycles, and racks off the back of the truck easier.
Second, the combination of the flatbed and the side door gives the camper a lot more interior room. You no longer need to scoot around one another in a narrow aisle. This camper is wide open inside.