General Motors completely abandons pickup truck standards with their first full-size Silverado all-electric truck.  Our instant truck camper compatibility analysis came down to one word.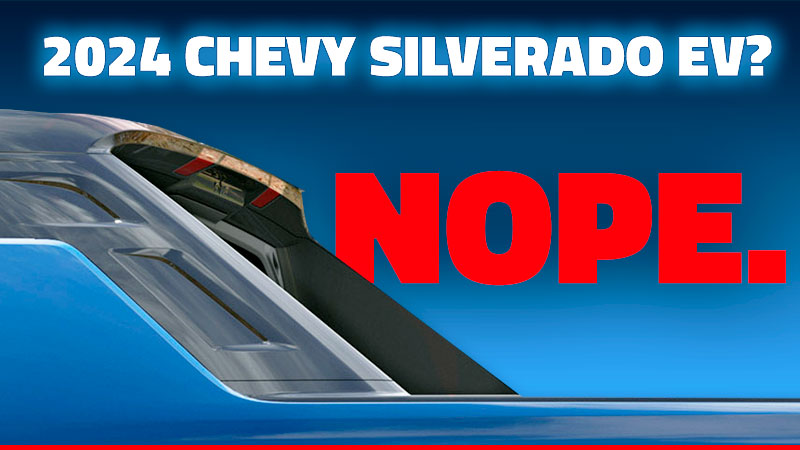 The synapse fired the instant I saw the angled fins needlessly protruding into the truck bed of the 2024 Chevy Silverado EV.  One word; "Nope."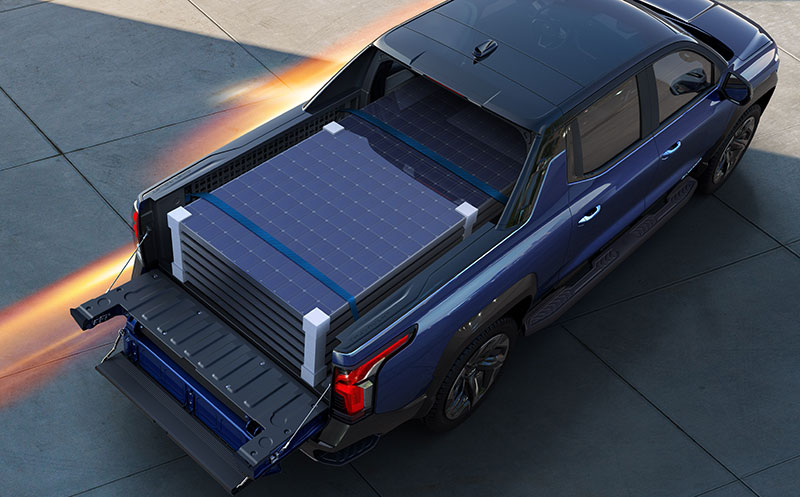 Above: Note the angled fins that block any production truck camper from being loaded into this design
Once again, we're looking at an electric vehicle that calls itself a pickup truck, but fails to conform to the pickup truck bed standard required for truck campers.  Especially heartbreaking is that this announcement doesn't come from some start-up like Rivian, Canoo, Bollinger, or Atlis.  This is from General Motors, and under their revered Silverado brand no less.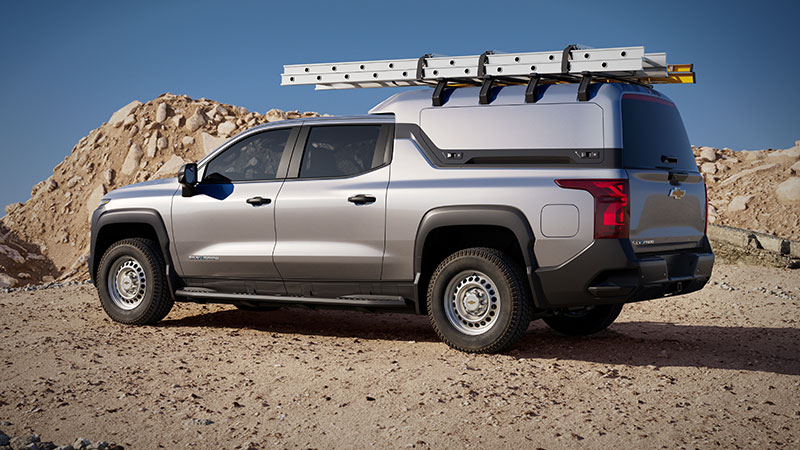 Above: Even truck caps will need to be redesigned for the 2024 Chevy Silverado EV
There isn't a single production truck camper made today that can fit the 5.9-foot bed and offending flippers of the forthcoming 2024 Chevy Silverado EV.  Nor is there one in the history of truck camper production.  Not one.  Yes, Phoenix Campers can build a custom camper that will fit this future truck, but all production campers are a no-go.
So what the heck is GM thinking with this new truck?  That's revealed in the first few seconds of GM's jaw-dropping announcement video (see below).  Nicole Kraatz, Chief Engineer for Chevrolet Battery Trucks boldly states, "The Silverado EV doesn't just set the standard for all electric pickups, it sets the bar for traditional truck capability and completely reimagines what a truck can be."
Above: GM's video introducing the 2024 Chevy Silverado EV
GM goes on boast how there's absolutely nothing from current Silverado models in this new truck.  Nothing.  Evidently, they threw out anything resembling a pickup truck standard and created a new one; the 2024 Chevy Silverado EV.  Decades of their own experience and refinement to pickup truck design were apparently executed at the feet of progress and electrification.
The Broader Threat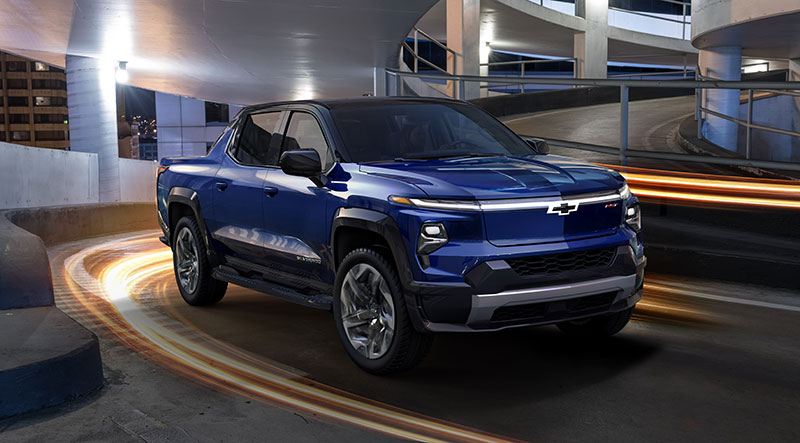 Now maybe this new truck will be an addition to the full-size Silverado truck roster and they will announce a standard-conforming full-size pickup in the future.  That stated, I see no indication of this and would suggest the Silverado badge is a concerning sign that they're not intending to offer a standard EV pickup.  After all, they could have called this a Chevy Avalanche leaving the Silverado brand for standard-conforming pickups.  That seems like a fairly obvious choice and a rather ominous decision.
Disappointing Specs For Truck Campers
When we focus on the most relevant specifications for truck campers, the news doesn't improve.  The WT (Work Truck) offers a meager 1,200-pounds of payload and the uber-optioned RST model offers 1,300-pounds.  That's lower than a gas Silverado 1500 (1,820 to 2,280-pounds) and lower than Ford's F-150 Lightning EV (approximately 2,000 pounds).
From the bed design to the scant payload numbers, it's hard not to postulate that a truck camper wasn't anywhere in GM's thought process.  Or maybe we should get the hint?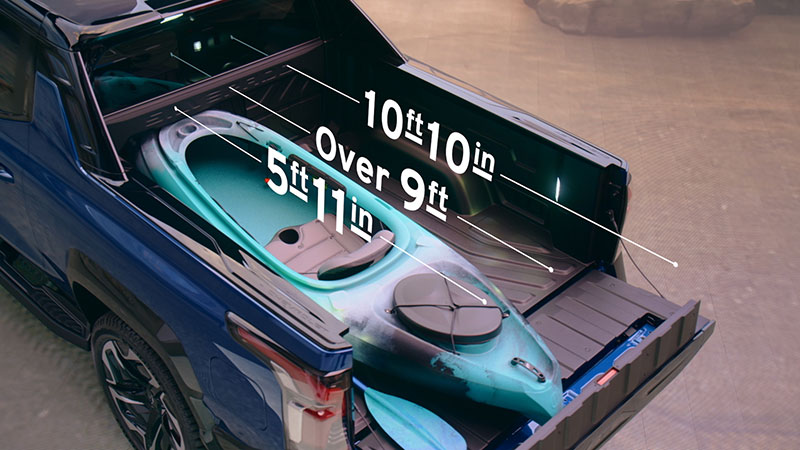 Above: One bed size to rule them all?  Uh oh.
Taking off my truck camper hat everything becomes a bit brighter.  The 2024 Chevy Silverado EV RST offers an impressive 400-miles EV range, 664-horsepower, 100-miles of range from 10-minutes on a fast-charger, 0-60 in 4.5 seconds, folding mid-gate, and 10.2kW onboard power.  You know, the usual wow-factor of, "reimagined" EV vehicles.  I believe this truck will be a huge success for the general public.  Outside of our niche, it has serious game.  For truck campers, it's a lost cause.
A Hopeful Epiphany
Back in the early days of truck campers, the pitch to consumers was, "If you already have a pickup truck, you already have half of a truck camper rig.  You can use your current truck as a daily driver, and then load a truck camper and go camping."  This pitch worked for decades and still resonates for many truck camper buyers today.
Fast forward to the mid-2000's and it became clear that a large percentage of truck camper owners bought a truck specifically for their truck camper.  This happened because mid-size and full-size half-ton trucks (the most popular daily drivers) simply didn't offer the payload capacity needed for the increasingly well-appointed truck campers.  The introduction and explosion in the popularity of slide-outs in truck campers was probably the nail in the coffin for the, "Already have a pickup?" pitch.
Since a growing number of truck camper consumers are already buying specific trucks for their intended truck campers, perhaps the design conflicts presented by the emerging crop of electric trucks can be side-stepped.  Put another way, future truck campers can be promoted as only compatible with specific pickup truck makes, models, and configurations.
In the example at hand, a lightweight pop-up truck camper might be compatible with the pickup standard-conforming Ford F-150 Lightning EV, but not the fin-featured 2024 Chevy Silverado EV.  Rather than a deterrent, I believe consumers would welcome this direction.  Even the most passionate GM fan would have to concede that the Silverado EV excluded itself from a truck camper match.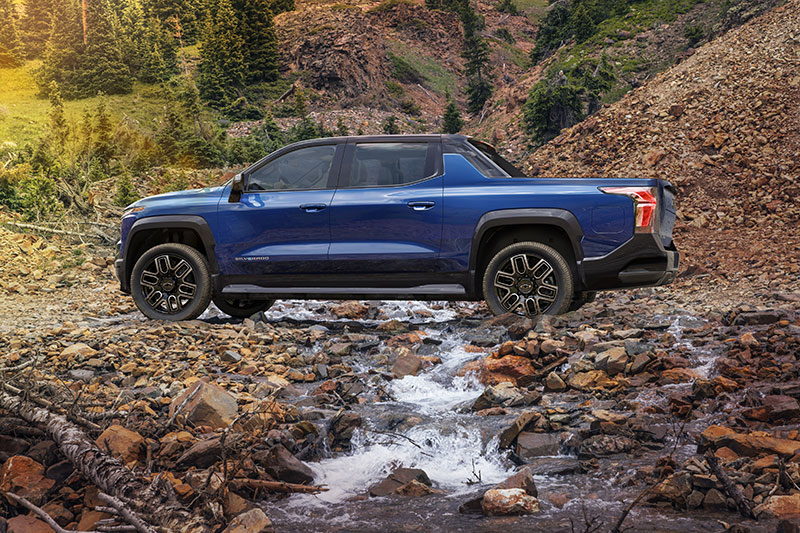 Fin
In my struggle to describe what that shape is on the back of the Silverado EV cab I thought, "Fin".  As in shark fin.  Of course, "Fin" is also the french word for, "end".  As in the threat this fin represents for truck campers and their 70+ year relationship with General Motors.  If this fin is GM's future, we may be looking at the end of that romance.
It's hard to imagine that the time-tested and proven pickup truck bed standard is about to be abandoned by every manufacturer across their entire pickup lineup.  For the next decade or so, I believe there will be pickup trucks that are design-compatible with future truck campers.  All we have to do is embrace the changing landscape, and start building campers for what is likely to become a narrowing number of pickup makes and models.
In the meantime, I want to again urge truck camper industry leaders to heed, "The Truck Camper Collision Course With Electric Trucks" and start thinking about how to adapt.  The 2024 Silverado EV is one more sign that this slow train is coming.