After the less than positive electric truck results in the 2022 Dream Truck Survey, we explore the challenges to electric trucks and campers. Electric rigs may be inevitable, but the current path has a few shorts.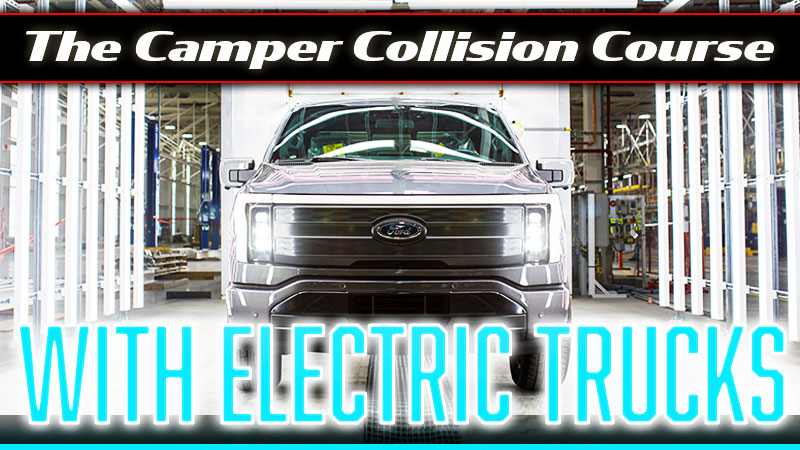 In mid-September, we revealed the results of the sixth bi-annual Dream Truck Survey.  In light of the automotive industry's push towards all-electric trucks, we added three questions about interest and purchase intent for this rapidly emerging category.  The results were brutal.
Only one-third of our readers responded that they were, "Very Interested" or, "Somewhat Interested" in electric trucks.  Slightly more stated that they would buy an electric truck, "as soon as possible", "in the next 5 years", or, "in the next 10 years".  Roughly 65-percent of our readership gave electric trucks a hard pass.
We were not surprised by the lack of affection for electric trucks.  Every time we publish an electric truck announcement we get pointed reader emails and social media comments.  Some of these statements are more pro-gas or diesel battle cries than specific EV put-downs.  Others bring up a veritable Gordian Knot of issues plaguing electric vehicle technology, its impact and implications.
On balance, I believe some of the negative response towards EV trucks would fade if and when the big three – Ford, Ram, and GM – produced three-quarter and one-ton all-electric trucks.  For the moment, that's a big "if".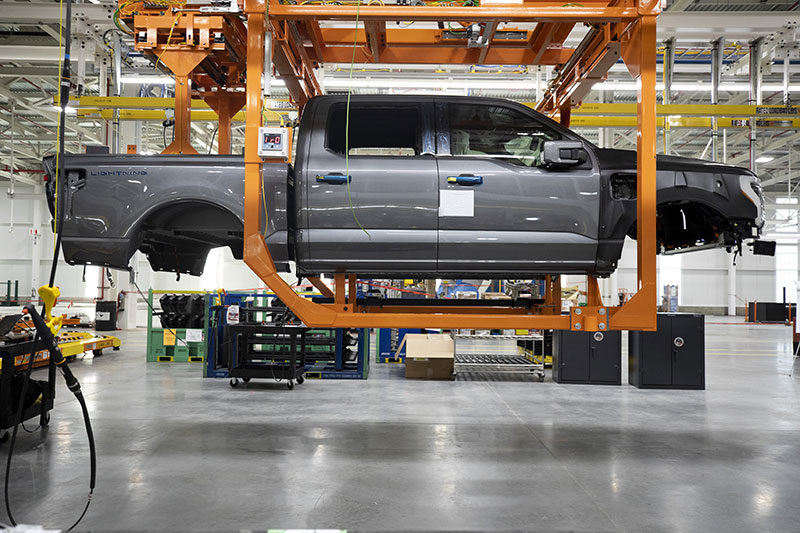 Above: The Ford F-150 Lightning in pre-production at the Ford Rouge Electric Vehicle Center in Dearborn, Michigan
Ford is preparing its half-ton F-150 Lightning but announced last November that they have no current plans for an electric SuperDuty F-250 or F-350.  GM and Ram have both confirmed full-size electric trucks are in development, but no word on three-quarter or one-ton variants.
It's difficult to be enthusiastic about electric trucks when the major players don't make (or plan to make) EV models that will work with modern full-size truck campers.  I suspect that news will change.
EV Collision Course: Cost, Technology and Infrastructure
There remains an extensive list of challenges to the successful widespread adoption of electric vehicles; high vehicle cost, limited vehicle range, extended charging times, the need for more electric charging stations, varying electricity and charging fees, the impact of increased demand on the grid, sourcing rare earth materials, the potential for lithium battery fires, battery disposal, and the need to replace the fuel tax if vehicles are increasingly all-electric.
If you put any one of these challenges into Google News you'll discover scores of inventors, businesses, and governments from around the world investing heavily to solve them.  From breakthroughs in solid-state batteries, to building networks of charging stations, to well-funded automotive manufacturers (like Ford) preparing to build millions of electric vehicles, these issues are being taken head-on.
This means the stated challenges to electric vehicles will likely be conquered; probably within the decade.  Like landing a rocket on a barge, it's a matter of people, priority, and investment.  With the people, priority, and investment behind electric vehicles, it's time to prepare for an electric vehicle future.  Challenges or not, EV trucks are coming.
EV Collision Course: Design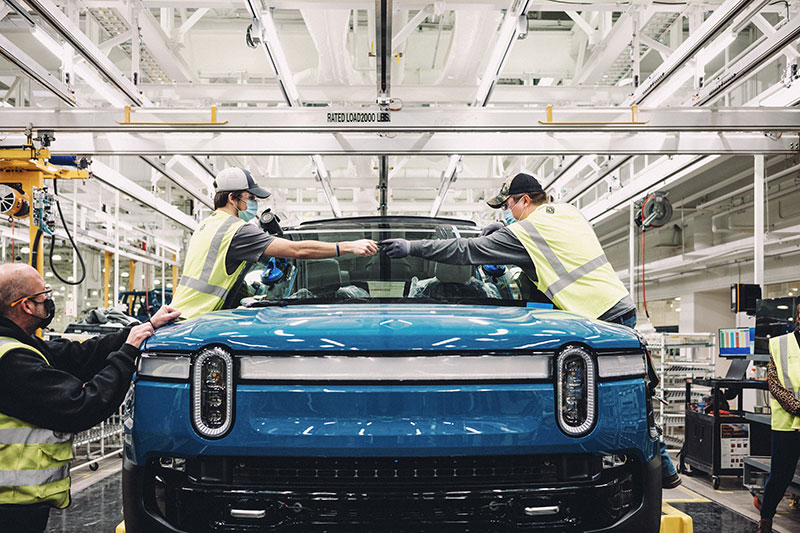 Above: Rivian R1T electric pickup in production in Normal, Illinois
Which brings us to the focus of this article.  For well over half a century, truck campers have been production-line built for internal combustion engine-powered pickup trucks.  The great majority of these trucks have a standardized shape and offer either a six or eight-foot bed.  Yes, there are a myriad of caveats to that statement, but overall a pickup truck is a well-defined platform.
So what happens when the automotive industry (EV upstarts to the majors) reimagines the pickup?  We've already seen the EV upstarts – including Tesla and Rivian – throw the established pickup shape, design and standard bed sizes out of the "bulletproof" window.  And that's putting it nicely.
The consensus within the truck camper marketplace is that (a) the EV truck upstarts are nothing more than a sideshow and (b) the automotive majors will produce full and mid-size electric pickup trucks with the established pickup truck shape and bed sizes.  There may be dimensional changes, but nothing the truck camper industry can't adapt to.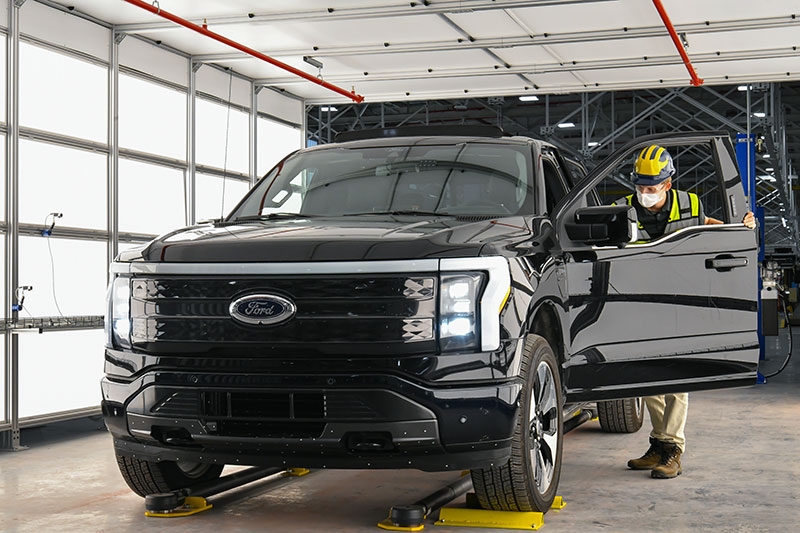 That stated, even the majors have made concerning pickup design deviations in recent history, especially with bed, rail, cab, and tailgate dimensions.  If the truck camper industry is to transition to an all-electric truck future, it will need to be even more vigilant towards truck design developments.  The most successful truck camper companies in the future may be the ones who are able to adapt their products the most.
EV Collision Course: Lifestyle
Putting aside concerns about electric vehicles and their designs, there remains a number of issues facing electric trucks and the truck camping lifestyle.
I've often thought about how an electric truck would impact our own truck camping adventures.  You may have different lifestyle concerns, but here are three concerns we have on this topic.
1. The Electric Charging Station Tour
"Hello my name is Gordon and I have range anxiety."
Although it doesn't happen often, there are times when we barely make it to a fuel station.  We have never run out of gas while truck camping, but we've admittedly cut it close a few times.  There was that time in Arizona…
If we ever did run out of gas, we could call roadside assistance – or hoof it to a fuel station, get a few gallons of gas in a jerrycan, hoof it back to the truck, and get us to a fuel station for a proper fill-up.  You can't exactly do that with an electric truck.
With an all-electric truck, we would need to be aware of the level of charge left on the truck.  This required level of attention might turn our truck camping adventures into an electric charging station tour.
Would we need to plan our route based on where the next charging stations are located?  And would we need to plan our schedule based on how long it takes to charge our electric truck?  There are no five-minute fill-ups in EV world.  At least not yet.
2. The Campground Electric Hookup Tour
It's inescapably obvious that campgrounds with electrical hookups could present a perfect charging solution for electric trucks and RVs.  Pull in, hook up to 30 or 50-amps, and let the truck and camper charge as you stay overnight.
The issue here is two-fold.  First, you took what was a charging station tour and made it into a campground electric hookup tour.
One of the reasons we bought a truck camper was to avoid crowded and expensive campgrounds.  When we do check into a campground, it's usually one without hookups in or near a destination.  If we had to seek out electrical hookups at campgrounds every night, it would ruin an important part of what we enjoy about truck camping.
Second, charging an electric truck is going to consume a lot more electricity.  The campground will not only need to cover that additional cost but will justifiably see that service as an added benefit of your overnight stay.
That means already expensive private campgrounds (where most of the electrical hookups are) will charge more, perhaps a lot more.  In the past year, we've seen private campgrounds increase their prices up to 20-percent, or worse.  If you think campground prices are already through the roof, wait until they add, "charging station" to their list of services.
3. EV Off-Road, Off-Grid and Towing
The tagline of Truck Camper Magazine is, "Go Anywhere. Camp Anywhere. Tow Anything" for a reason.  In our reader surveys, these are the three top reasons why people buy and own truck campers.
"Go Anywhere" means on pavement or off-road.  On pavement, electric trucks should be able to travel from charging station to charging station like electric vehicles successfully do today.  Off-road is another story.
If you have 200-miles of electric range, you should have enough to travel a 150-mile off-road trail loop or go out 75-miles and back.  I'm being conservative to allow for traveling to a charging station upon your return.
However, what happens if you travel 125-miles on that trail loop and find the trail is blocked?  Or if you go out 50-miles and get stuck in the mud?  If you burn through too much battery getting unstuck, you could be in trouble.
Now maybe there will be emergency battery packs – imagine a lithium RotopaX – to get you out of situations like that.  Or maybe off-road electric truck owners will bring a portable generator and fuel for emergency situations.
Towing is a potential challenge as it will reduce the range of an electric truck – just as it does for internal combustion trucks.  So will loaded campers.  In fact, the impact of camper weight and towing on electric truck range and performance is completely unknown and should probably be its own category of concern.  Will a loaded camper and a boat in tow kill the batteries in half the time, or make little difference?
A Tough Road For EV Trucks and Campers
This article began as a personal exercise to see if I could pinpoint the specific reasons why 65-percent of Truck Camper Magazine readers strongly rejected electric trucks in our survey.  As Publisher, it's important to understand why a majority of truck campers are negatively positioned towards a powerful automotive trend.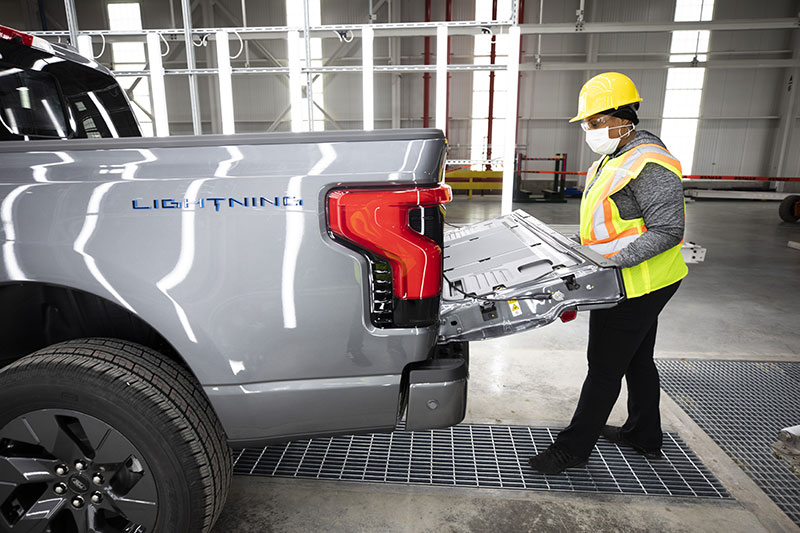 Despite the challenges, I remain optimistic that electric trucks will be produced with standard bed sizes and payload capacities our industry can work with.  The pickup bed and stated 2,000-pound payload capacity of the Ford F-150 Lightning EV (and its incredible demand) are certainly good signs.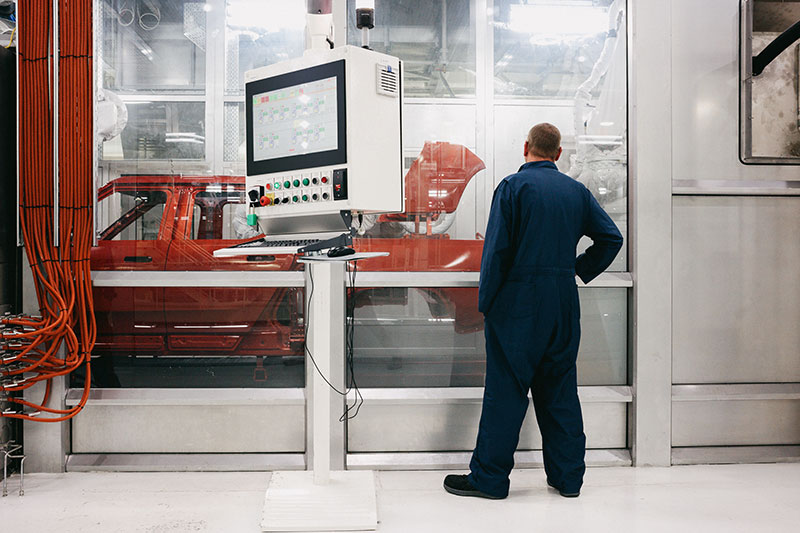 I'm also excited about some of the unique capabilities of electric trucks.  Christian Seabaugh of Motortrend recently published an audacious article titled, "Shocker: 2022 Rivian R1T Proves Electricity is Better Than Gasoline for Off-Roading".  Christian cites the smooth delivery of the R1T's 835-horsepower and 908-pound-foot of torque, independent electric motors, and off-road drive modes.
I think as more of us experience these capabilities, the more electric trucks will be accepted in the truck camper marketplace.
Pop the popcorn.  The EV truck and camper debate is going to rage on, and for good reason.  There is no clear path forward.  There are some serious challenges to overcome, not to mention lifestyle concerns that shouldn't be ignored.  That stated, there appears no stopping the arrival of electric trucks.  I didn't title this article, "The Camper Collision Course with Electric Trucks" for nothin'.  Like it or not, we need to be talking about it.