This week Ford released a torrent of information and no less than eight videos on the all-electric F-150 Lightning truck.  Here's our initial reaction to this important new full-size pickup, and its implications for the truck camper marketplace.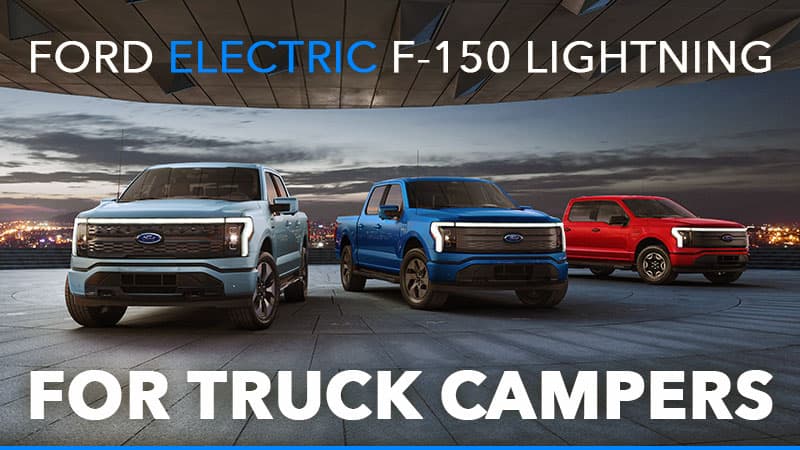 Let's get a few obvious things out of the way upfront.
First, we are well aware that not everyone is exactly excited about electric trucks.  We get your emails and see your posts on social media.  We also remain skeptical of electric trucks, especially when it comes to their practicality and the wide range of distant terrain and extreme climate many truck campers enjoy.
That stated, electrification appears to be the future of the entire automotive industry.  Hardly a week goes by when we don't hear of another car company declaring the impending demise of the internal combustion engine.  As such, we need to follow and study how this massive sea change will impact the future of our truck camper industry and lifestyle.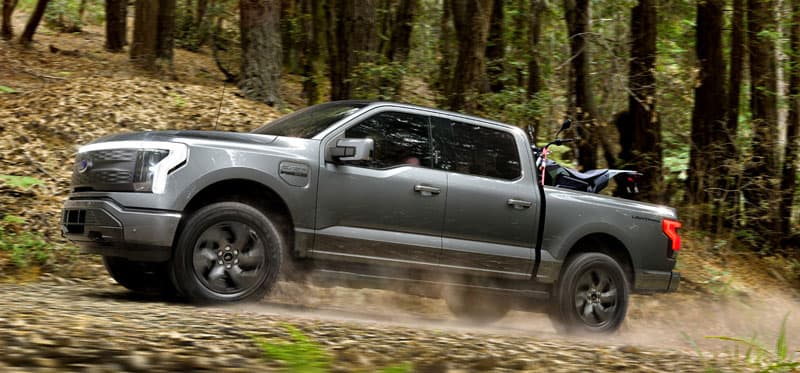 Second, Ford's new F-150 Lightning (shown above) is a full-size pickup truck.  Thankfully, Ford opted not to redesign the dimensions of the F-150 itself, but rather focus on changing that standard platform to all-electric.  After enduring the painfully obtuse dimensions of the Tesla Cybertruck, GMC Hummer EV, and the Canoo, we applaud Ford's adherence to the standard pickup truck form factor.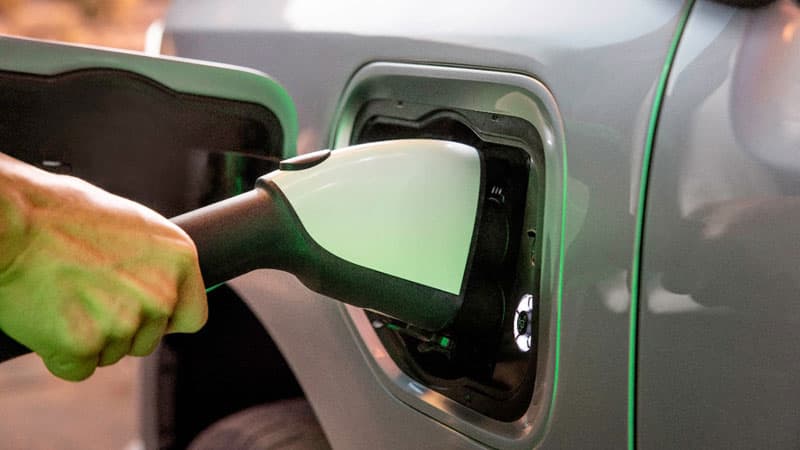 Above: Ford is including a home charging solution with every F-150 Lightning
Third, we are somewhat disappointed, but not exactly surprised at the new truck's stated maximum 2,000-pound payload capacity.  Like all trucks, that number will likely be based on a very specific and carefully optioned F-150 Lightning.  From what we have gathered, the required options are 18-inch wheels, the Max Tow Package and probably nothing else.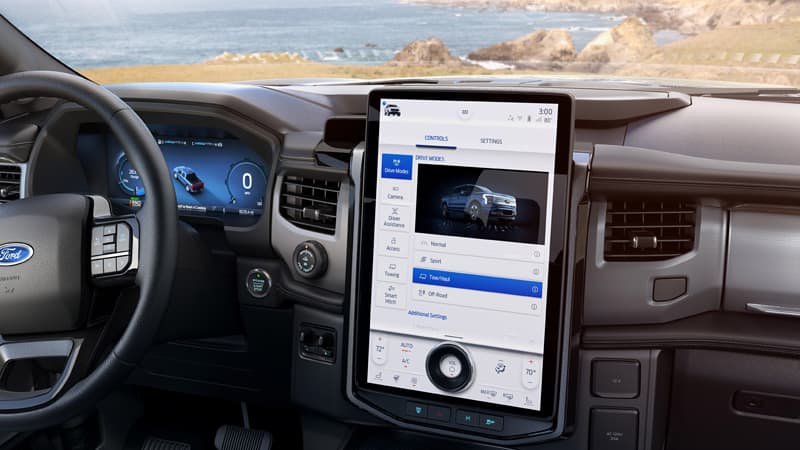 Above: A new 15.5-inch touchscreen dominates the Ford F-150 interior
Put another way, to see 2,000-pounds on the payload capacity sticker of a Ford F-150 Lightning, you will probably need to special order the truck.  For now, the limited capacity means the Lightning is really only viable for lighter pop-ups and extremely lightweight hard sides.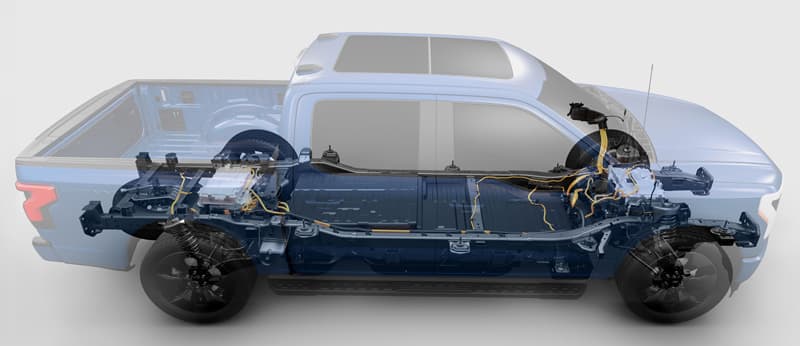 Above: As you can see, under the relatively familiar sheet metal, this is an entirely different truck.  No engine.  No fuel tank.  No Transmission.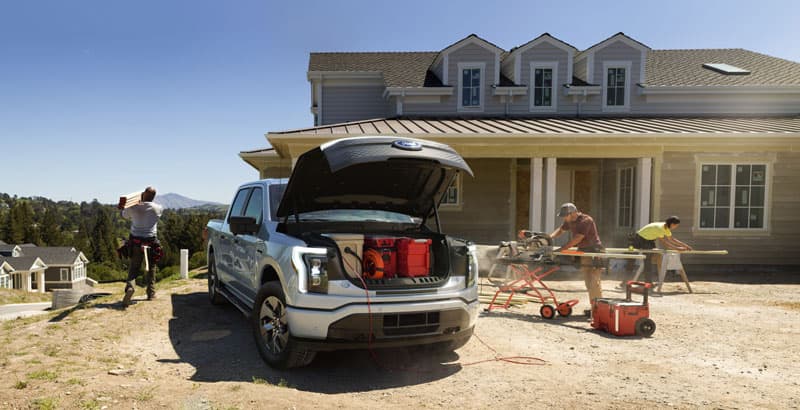 Above: What the frunk?  This isn't your F-150, much less your father's.
Here are the important details:
2,000-pound maximum payload capacity (with 18-inch wheels and Max Tow Package)
230-mile range standard, 300-miles with extended range battery option
Projected 563-hp and 775-lb-ft torque
0-60 in mid-4-second range (with extended range battery)
The all-new frame features the strongest steel in a F-150
Independent rear suspension for ride comfort
Over-the-air updates for software enhancements and issue fixes
BlueCruise hands-free driving on the highway
Pro Power Onboard for up to 9.6 kilowatts of plug-in power
$39,974 MSRP entry price, XLT starts at $52,974
Available spring 2022 – accepting $100 reservation deposits now*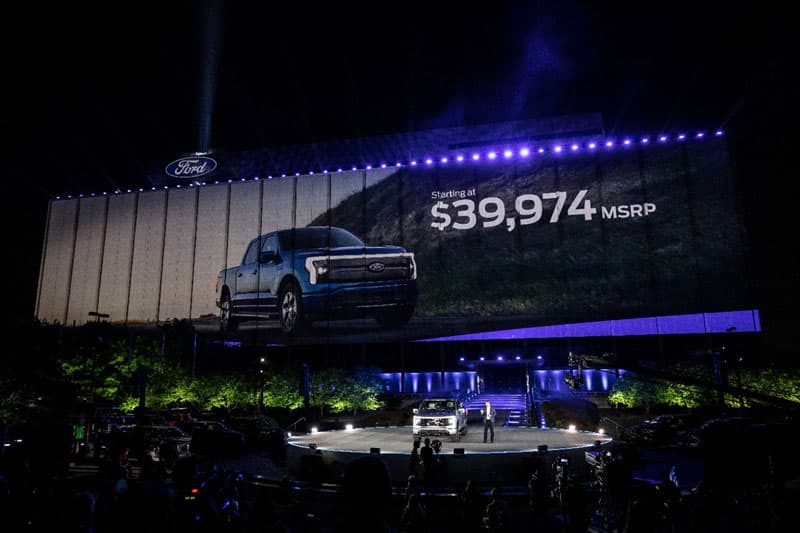 *Ford already has over 20,000 orders for their all-electric F-150.  And counting…
Next: The Electric SuperDuty
The main Ford event for truck campers will be the electrification of the Super Duty series; F-250 and F-350 and beyond.  Those trucks are most certainly deep in development.
Until their debut, the F-150 Lightning is mostly a wait and see.  It could be a game-changer for lightweight pop-ups and most basic of hard sides, but I wouldn't place those reservation deposits just yet.
For more information about the Ford F-150 Lightning (including eight videos), check out the Ford Media Page.