Last week GM took the wraps off the 2022 Hummer EV, the self-described first all-electric super truck.  Could this electron-fueled monster – and other uniquely designed electric trucks like it – threaten the future of truck camping?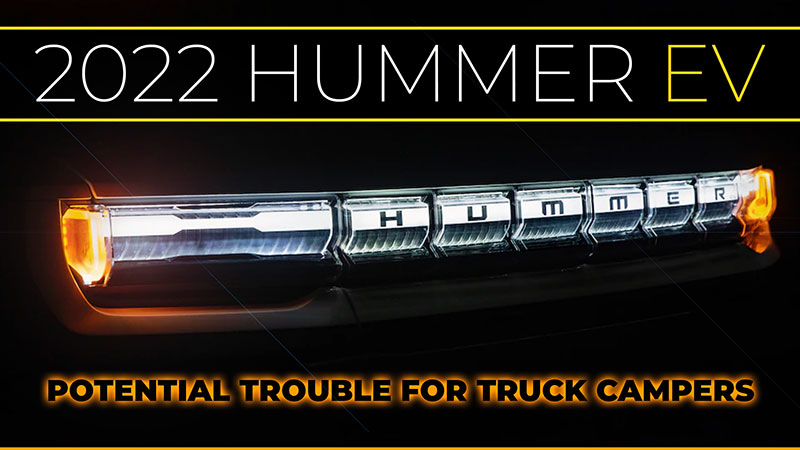 General Motors has finally taken the electric blanket off their all-new 2022 Hummer EV, and it's nothing less than a complete relaunch for the Humvee gone mainstream brand.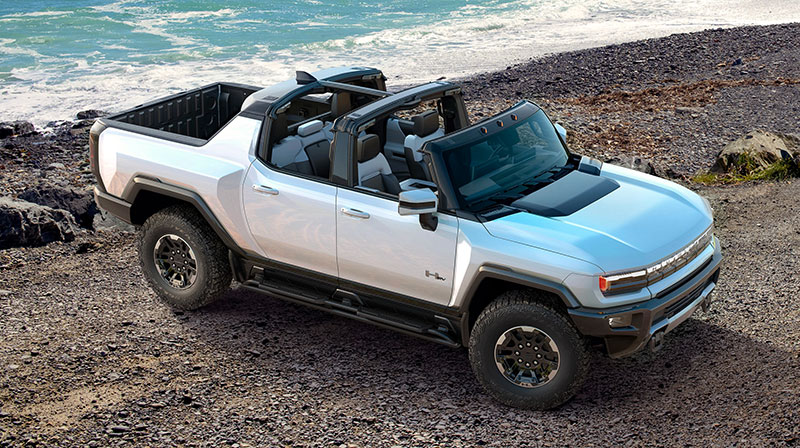 First up, GM has employed their proprietary Ultium modular battery technology for the Hummer EV.  This is a variant of the increasingly ubiquitous skateboard (integrated wheels and motors with a flat battery underbody) that represents the current approach to all-electric vehicle manufacturing.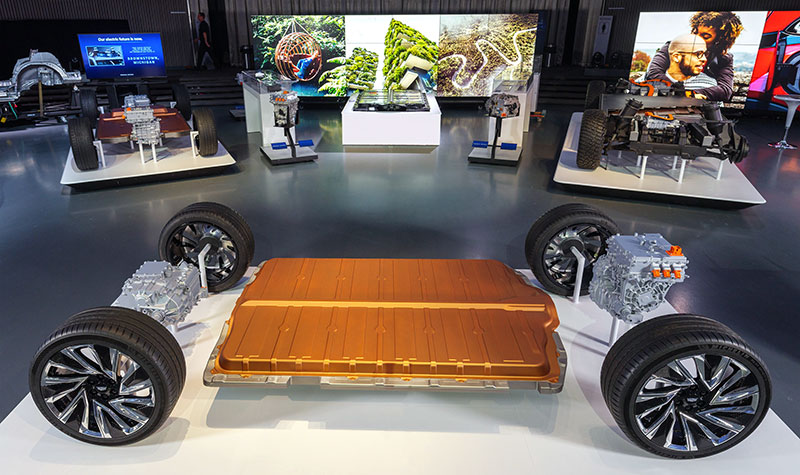 The Hummer EV's 24-module, double-stacked Ultium battery (shown above in an earlier GM prototype) offers up to 350-miles per full-charge.  The 800-volt DC fast charging capability adds 100-miles of range in approximately 10-minutes.  That's about the amount of time it takes to fill our RAM 3500 with fuel.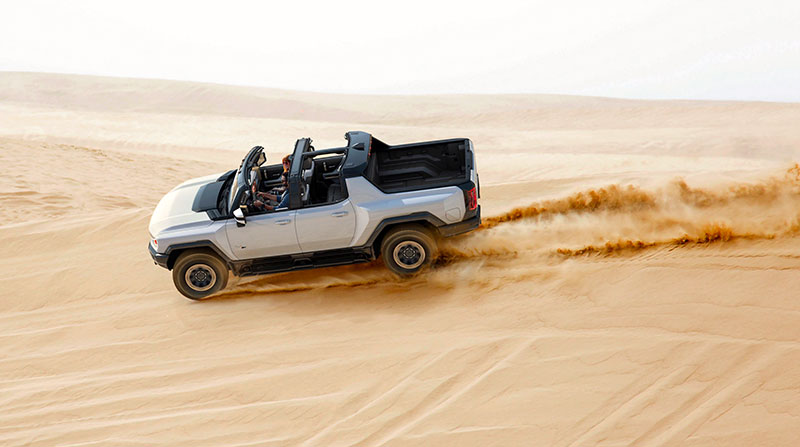 The three-motor Hummer EV Edition 1 (shown above) has a blistering 1,000 horse-power.  When the Hummer EV is put into GM's, "Watts to Freedom" mode, this truck can reportedly accelerate from 0-60 miles-per-hour in 3-seconds.
Hopefully the steering and braking systems are up to that kind of insanely rapid acceleration.  Otherwise, this "Watts to Freedom" mode might be come known as, "Watts to Walls" or, "Watts into Walmarts" or, "Watts were we thinking?"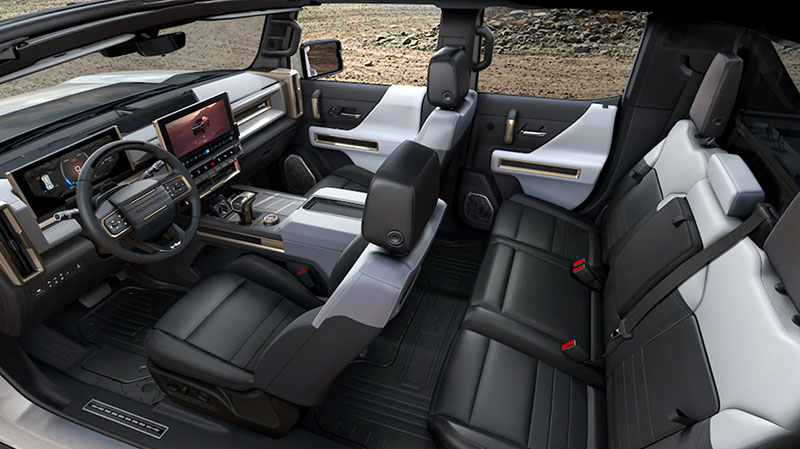 The entire automotive press openly guffawed at GM's claimed 11,500 pound feet of torque for the Hummer EV.  According to more reasonable calculations, it's more like 800 lb-ft.  That's still an extremely impressive number, but less likely to unfurl the asphalt as GM's fantasy figure.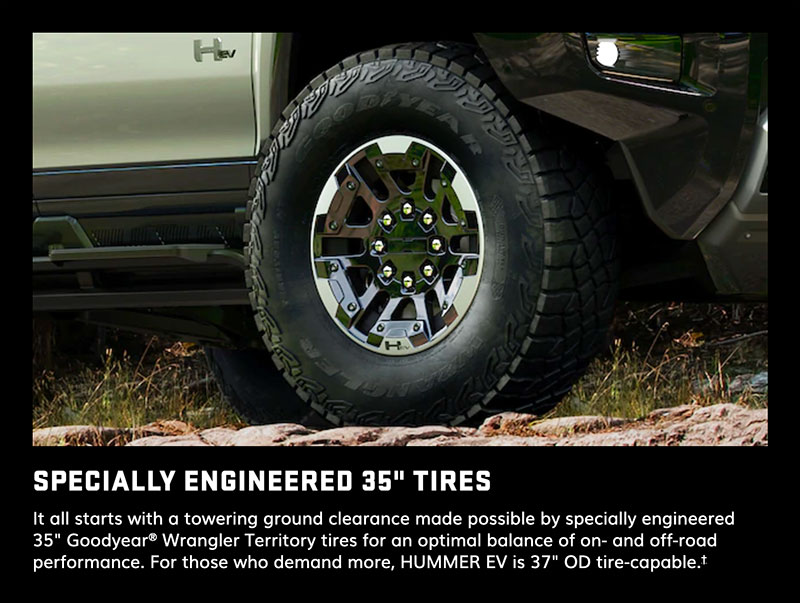 The Hummer EV sports some impressive 35-inch Goodyear Wrangler Territory mud-terrain tires.  An adaptive air-suspension system with 6-inches of travel further improves ground clearance, approach and departure angles.  Let there be no doubt that GM envisions the Hummer EV as a serious off-road machine.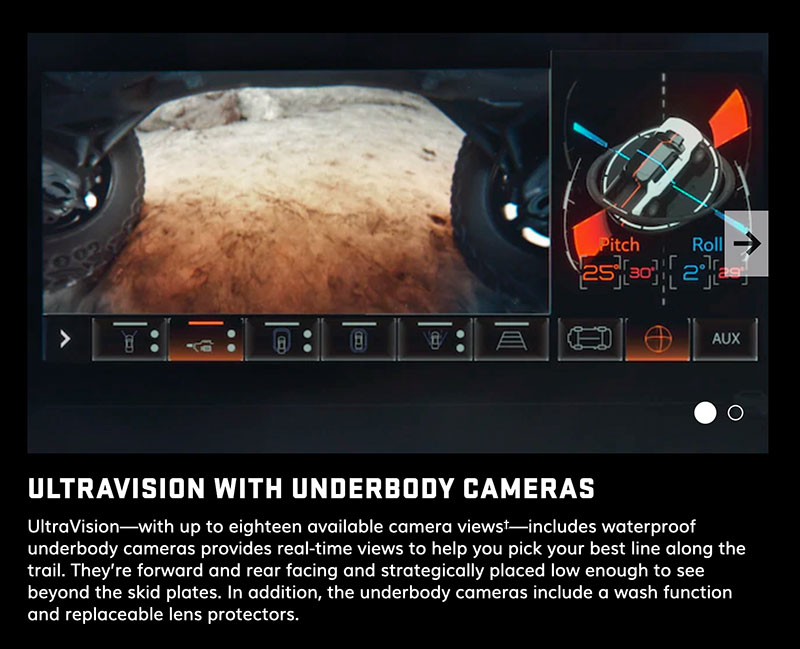 To protect the Ultium batteries during off-road adventures, the Hummer EV features metal underbody skid plates.  You can also "watch" what's going on under the Hummer EV with front and rear underbody cameras.  Additional cameras give you 18-additional views around the truck.
Above: Play the video above to see the Hummer EV's crab walking feature
If you're still yawning, the Crabwalk feature might get your attention.  With four-wheel steering, the rear wheels can angle in the same direction as the front wheels – at low speeds.  This allows the truck to literally drive diagonally.  So long three-point turns.  Hello crabwalk!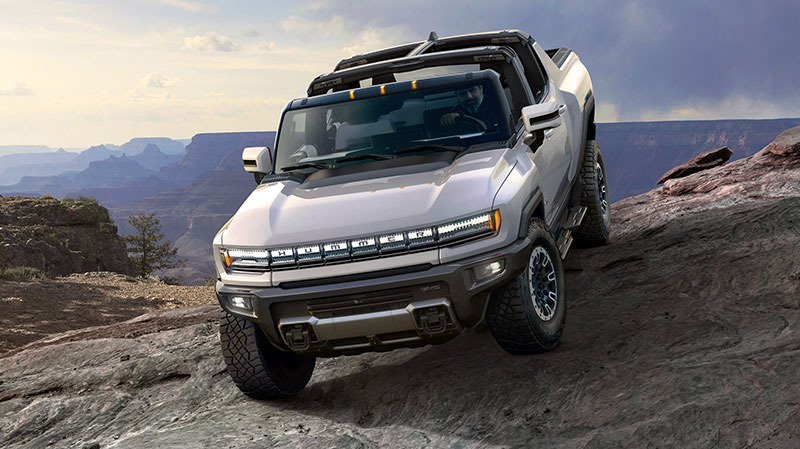 Is anyone else wondering how, "crabwalking" could affect loading and unloading a camper?  With all the cameras and the increased maneuverability, loading could be easier.  And being all-electric means no exhaust to worry about for loading inside an RV garage.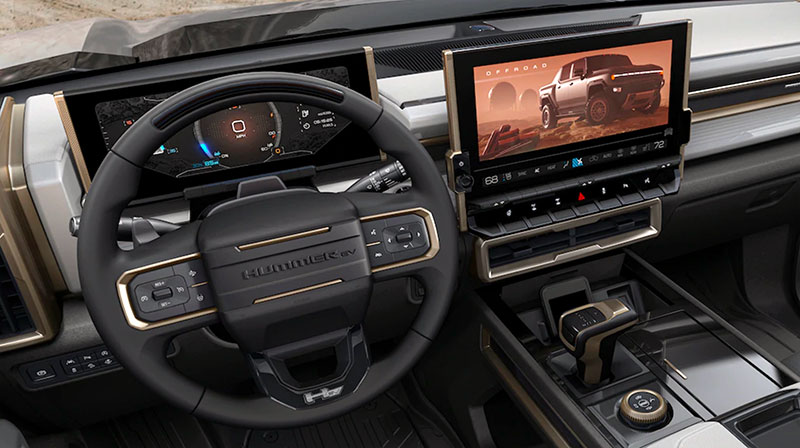 Inside the Hummer EV is a huge 13.4-inch infotainment screen and a 12.3 inch digital instrument cluster.  In addition to all the cameras, the screens can display a number of important details for off-roading including tire pressure and pitch and roll angles.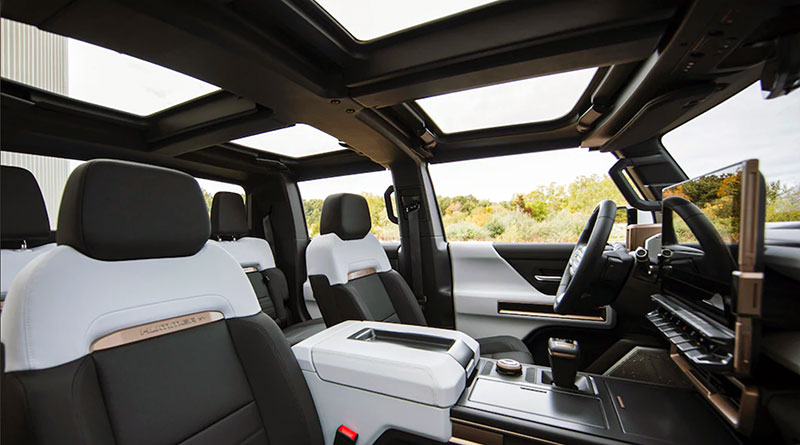 A three-piece removable open-air roof system is made possible by the rigidity of the aforementioned skateboard platform.  The transparent roof panels can be removed and stored in the, "fronk".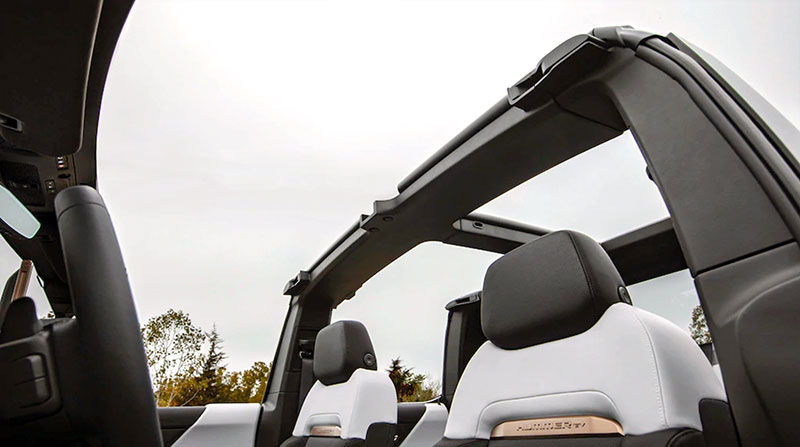 You can even remove the center pillar for a wide open view of the heavens.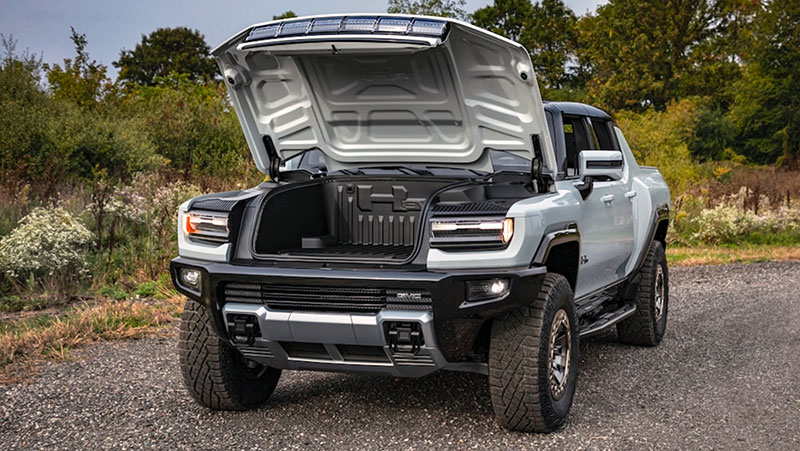 Above: The Hummer EV hood opens to present a front truck.  Aka, a fronk.
For the old-school internal combustion folks among us, a fronk is the space that's created when an all-electric vehicle doesn't require an engine, transmission, radiator, alternator, fluid reservoirs, filters, belts and dipsticks.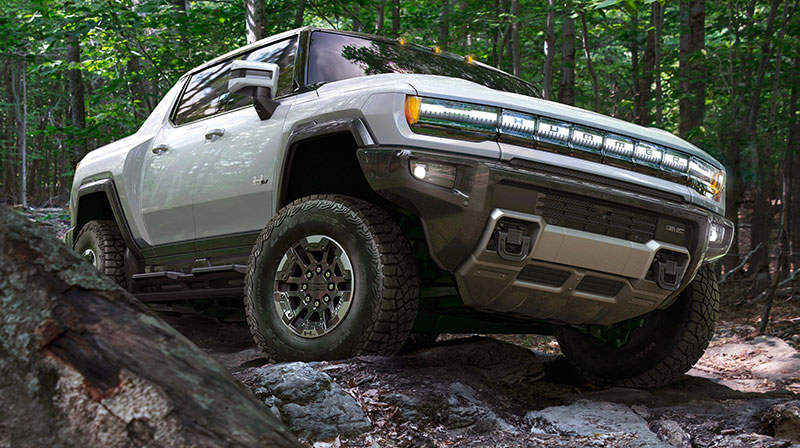 Does the Hummer EV self-drive?  A little.  GM's SuperCruise allows for hands-free highway driving.  It's essentially one more step beyond Adaptive Cruise Control.  Hal isn't driving you to Yellowstone yet, but that's coming.
Hummer EV Edition 1: Sold Out
As is the trend in new electric vehicles, the Hummer EV is coming to market in four different configurations including a very limited – as in already sold out – $112,595 USD launch version.
That's an astounding price tag for any truck, never mind one that practically nobody has seen, driven or reviewed.  Yes, the Hummer EV Edition 1 will be fully loaded, but it should be at that price.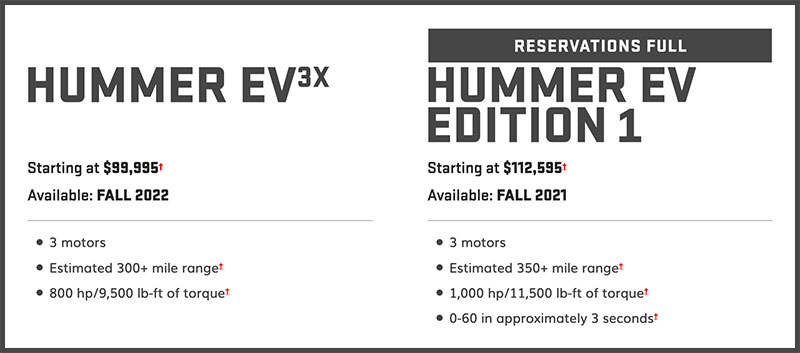 What's even more insane is the projected launch date for the more down-to-Earth $79,995 base model – Spring of 2024.  Why GM needs three-and-a-half years to debut the Hummer EV base model is anyone's guess.

In the meantime, the three-motor Hummer EV-3X ($99,995) arrives in the Fall of 2022, and the two-motor Hummer EV-2X ($89,995) in the Spring of 2023.
I'm hoping these jaw dropping prices are a reflection of GM's premium re-branding of Hummer and not marketplace-wide all-electric truck price escalations to come.  Imagine if future all-electric trucks make diesels look cheap.  No thanks.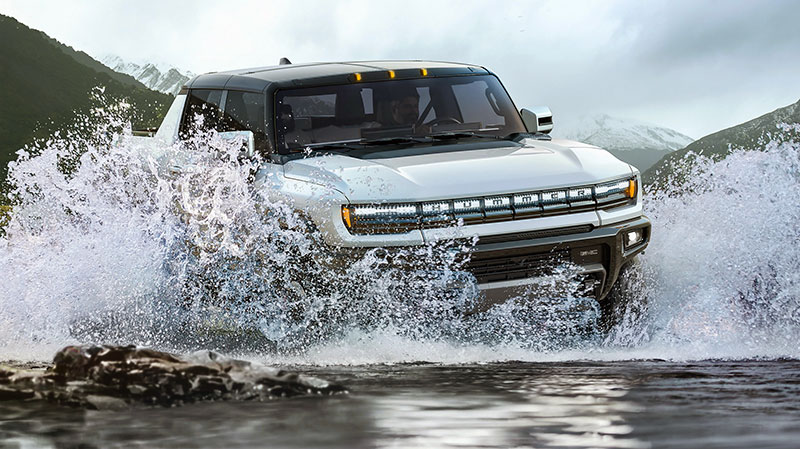 Why The Hummer EV Misses The Truck Camper Mark
I was tempted to make this the shortest Truck Camper Magazine article in history.  In a nutshell, is the Hummer EV a truck camper relevant truck?  No.
After reviewing the design and released specifications of this admittedly interesting new truck, that was my first and lasting impression.  For nearly every facet of our niche market, it's a miss.
In particular, the non-standard truck bed dimensions make it a non-starter for a truck camper.  As it is, the Hummer EV is more of an all-electric alternative to the Jeep Gladiator than anything resembling a real pickup truck.
The sheet metal looks like a smoothed over mashup of a Hummer H2 and a Chevrolet Avalanche.  Like those two vehicles, the small and uniquely designed pickup bed is practically an afterthought – certainly not something the production truck camper market can do too much with.
That's a real shame as I believe the average truck consumer would have been more excited about a Hummer truck that fit the traditional mini or full-size truck shape, bed dimensions and specifications.  Hopefully such a Hummer EV model is on GM's design board.
Potential Trouble For Truck Campers
If nothing else, the Hummer EV showcases another re-imagining of the future pickup truck design.  Not just all-electric, but also unique in every design facet.
And that's where the potential trouble comes in.  The whole concept of truck campers depends on a set of standard pickup bed dimensions.  For example, long beds are 8-feet, and short beds are between 5 and 6.5-feet.  Bed rail and tailgate openings are all within a narrow range the truck camper companies can design around and accommodate.
But what if all of that goes out the window?  Specifically, what if future trucks have bed dimensions that don't adhere to the old standards?  And what if – like the Hummer EV – future truck beds are just too small for a truck camper?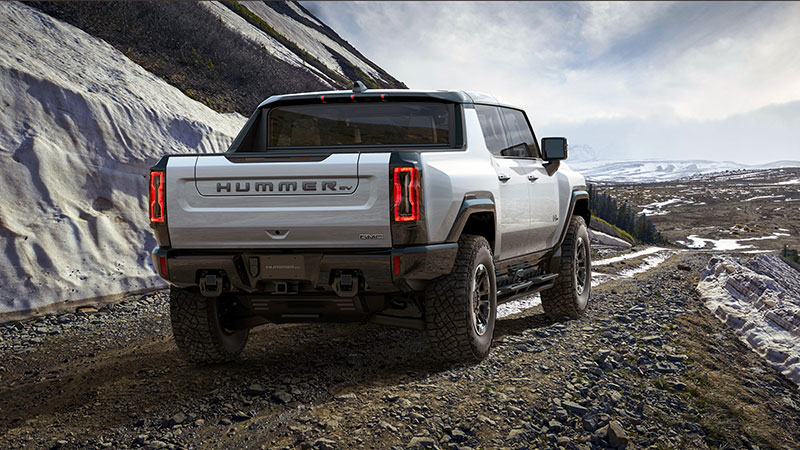 Even a quick glance at Hummer EV, Tesla Cybertruck, Rivian R1T and Bollinger B1 reveals this emerging possibility.  All four have uniquely shaped truck beds; length, width, height, cab height, tailgate size and opening, etc.  And all of the beds are quite small.
If electric trucks with unique truck bed dimensions become the popular norm, production line campers could become the proverbial square pegs to a myriad of non-conforming truck bed holes.
On balance, Ford and GM are currently working on full-size and traditionally designed all-electric trucks.  RAM hasn't made any electric truck announcements yet, but is likely to follow suit.
I fully anticipate all-electric Ford F-350, Chevy Silverado 3500 and RAM 3500 models to debut over the next few years.
And no mainstream truck manufacturer is taking about discontinuing traditional gas and diesel trucks.  The full-size truck market, for the foreseeable future, is here to stay.