Ford Motor Company reveals the horsepower, torque, payload and towing data for their upcoming 2020 Ford F-Series Super Duty trucks and the numbers are groundbreaking.  Looking for best-in-class payload?  And what's this Tremor?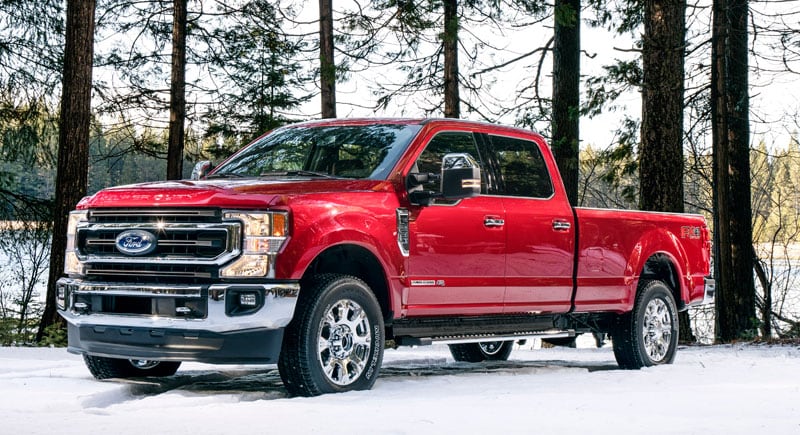 This article is an update to, "2020 Ford Super Duty For Truck Campers".  For more information about Ford's 2020 F-series, check out the announcement.
Ford announced their 2020 F-Series Super Duty trucks last February and teased the automotive universe with a new 7.3-Liter gas engine, a new 10-speed TorqShift transmission, and significant updates to their 6.7-Liter turbo-diesel – but no horsepower, torque, payload or towing data.
That's like meeting the girl of your dreams and not getting her cell number.  Or seeing an impossibly cute kitty cat listed online for adoption with no shelter contact information.  Or finding a delicious ice cream store on a hot august day, but it's closed.  You get the idea.  Ford left us hanging in horsepower, torque, payload or towing suspense.
Horsepower and Torque
Seven months later, Ford has finally announced the long-awaited numbers at the State Fair In Texas.  Let's start with the horsepower and torque data.

The standard 6.2-Liter V8 gas produces 385-horsepower and 430 lb-ft of torque.  The all-new 7.3-Liter V8 gas produces 430-horsepower and 475 lb-ft or torque.  And the updated 6.7-Liter V8 turbo-diesel produces 475-horsepower and a whopping 1,050 lb-ft of torque.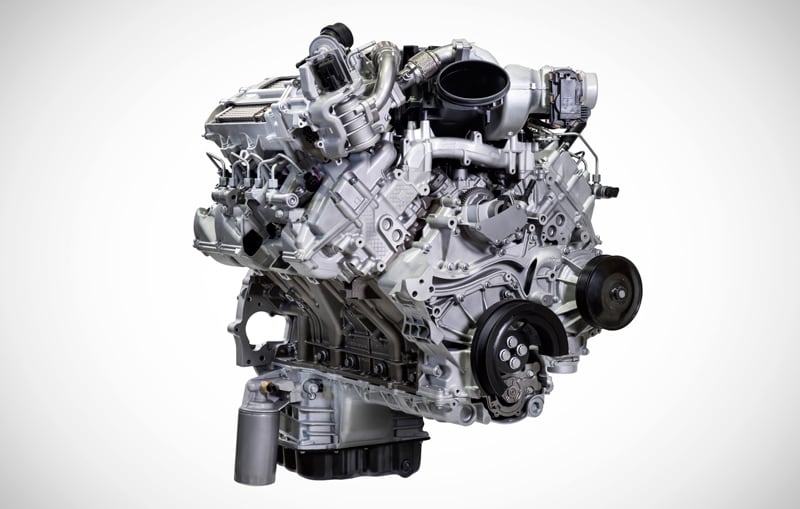 Above: Ford 6.7L Power Stroke turbo-diesel engine
The die-hard diesel guys will be excited to know that the new Ford turbo-diesel offers 50 lb-ft more than Ram's Cummins and 140 lb-ft more than GM's Duramax.  If you need the most torque-insane pickup truck, you can stop reading.  The 2020 Ford F-series turbo-diesel is your huckleberry.
For those who prize lower-cost and higher payload capacity, Ford now offers two strong gas engine options.  The 6.2-Liter is a carry-over from 2019 and offers the highest value and payload potential.  If we were looking at a new Ford Super Duty, we would start there.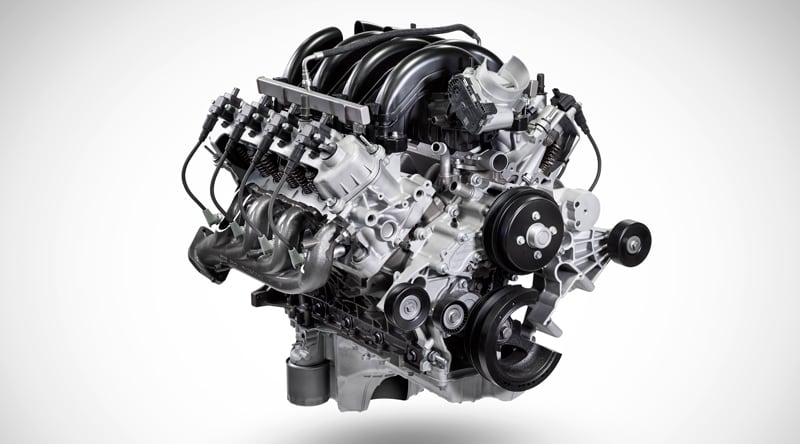 Above: Ford's 7.3L V8 gas engine
The all-new 7.3-Liter actually approaches the turbo-diesel for horsepower (430 hp gas vs 475 hp diesel) and beats Ram's 6.4-Liter V8 gas (410-horsepower) and GM's 6.0-Liter V8 gas (360-horsepower).  On the torque side, Ford's turbo-diesel destroys the new 7.3-liter gasser, but nothing tops Ford's new diesel torque rating.
Now before you announce the diesel as the obvious choice, our Ram 3500 6.4-Liter gas (410-horsepower and 429 lb-ft torque) gets our 4,700-pound truck camper up and down mountain grades just fine.  It also costs $10,000 less than the diesel option (or better) and is much lighter in weight for significantly more payload capacity.  I expect a match up between Ford's diesel and gas trucks would show much the same results.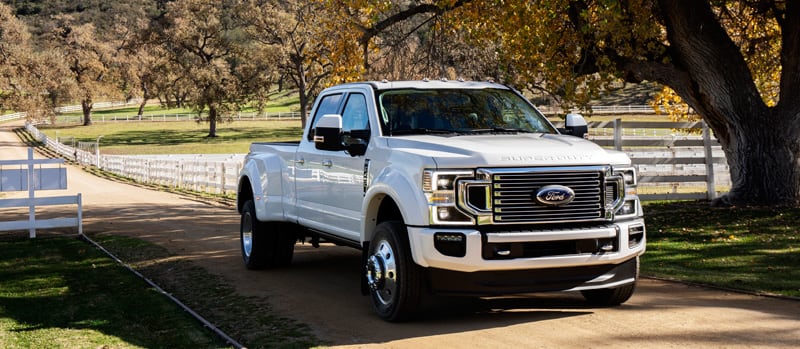 Unless you are towing heavy loads or have to blast up that mountain grade at speed, consider the gas engines.  For everyone else, please pass us on the left.
Towing and Payload
Ford was very excited to announce their best-in-class towing and payload data.  The 2020 Ford F-450 now offers up to 37,000-pounds of towing capacity.  Ford also stated that the 2020 F-350 and F-250 will offer towing capacity improvements.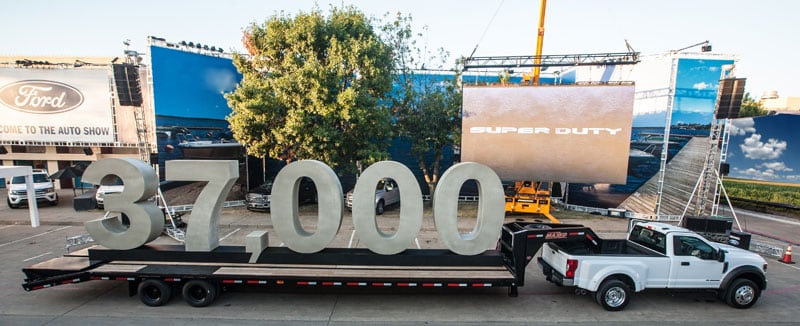 As truck campers, we are much more interested in the maximum payload numbers.  Ford did not disappoint with an astonishing 7,850 pounds maximum payload potential.
And let's stop right there.  Some individuals will see that number and think they can just purchase a 2020 Ford F-series Super Duty and be fine.  With payload numbers like that, there's no worries right?  Not so fast.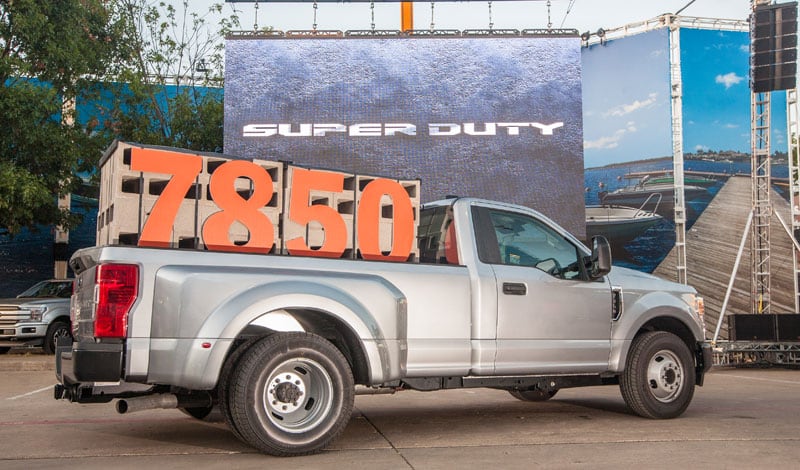 Look closely at the Ford truck showcased in Ford's release and you'll notice it's a 2020 Ford F-350 regular cab dually with the standard 6.2-liter gas engine.  Undoubtedly it's a 2-wheel drive base work truck with no options to subtract capacity from the payload number.  Unless that's the exact truck you want, you won't see a payload capacity anywhere near that high.
That said, Ford's 2020 maximum payload number is important in two ways.  First, it's higher than GM (7,442-pounds) and Ram (7,680-pounds).  Second, it means the same truck configuration will have more payload capacity, year over year.  If you have a 2019 Ford F-350, that exact same truck as a 2020 Ford F-350 will have more payload capacity.
None of this tells you the exact payload capacity of the truck you want to buy.  For that, you'll have to wait until Ford publishes detailed specifications on their new 2020 F-series.
Even then, you don't really know the payload capacity of a truck until you open the driver's side door and look at the yellow and white, "Tire and Loading Information" sticker.  Whenever possible, check there first.
Truck Camper Fitment Warning Remains
Over the past few weeks a number of key truck camper industry leaders have approached us with concerns about these new 2020 Ford F-series Super Duty trucks.  With crossed fingers hoping for no dimensional changes, they are chomping at the bit to put their tape measures on these new trucks.  As of now, it doesn't appear there are any exterior dimensional changes to the sheet metal (cab height, rail height, etc.), but that has not been confirmed.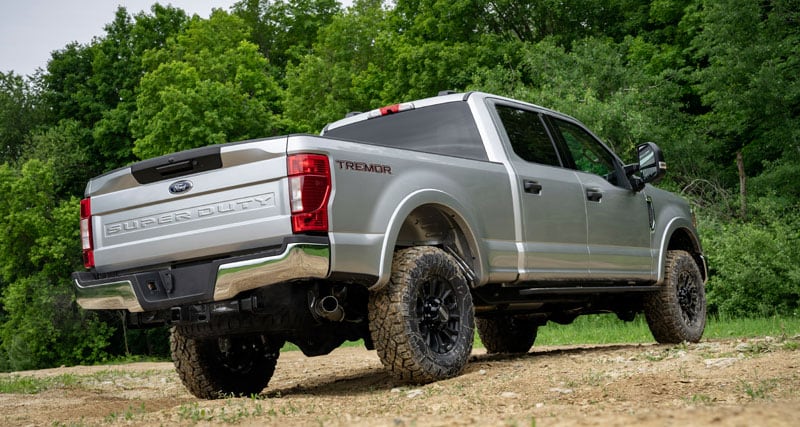 You might recall that the 2017 Ford Super Duty trucks sent the entire truck camper marketplace running for their proverbial blueprints.  Many truck camper manufacturers had to literally change the lower third of their campers to accommodate the 2017 Ford redesign.  In the meantime, dealers were building riser kits and spacers to make older campers fit the 2017 Ford Super-Duty beds.  None of us need a repeat.
I remain most concerned about Ford's new 2020 Super-Duty tailgate, tail lights and bumper.  These elements are absolutely critical to truck and camper fitment, and Ford has make some big changes to all three.
Will the new tail lights contact inside rear overhangs?  Will the new tailgate opening impede loading a camper?  Will the new bumper meet the camper before the truck bed?
Those of us who have been in the business long enough have seen all of these scenarios play out.  Careful measurements and keen eyes usually spot the conflict before contact.  Then riser kits, rubber mats and various spacers solve the problem(s).  It's not ideal, but even our rig requires a rubber horse mat to clear our 2018 Ram's bed rail incline.  Improvise, adapt and go truck camping.
Hopefully all will be in the clear, but don't assume anything.  The best advice is to follow the fitment instructions in, "How To Match A Truck and Camper".  While you're at it, do the simple math for camper weight, truck payload and center of gravity.  Follow that article, and you'll be on track.
All-New Tremor Off-Road Package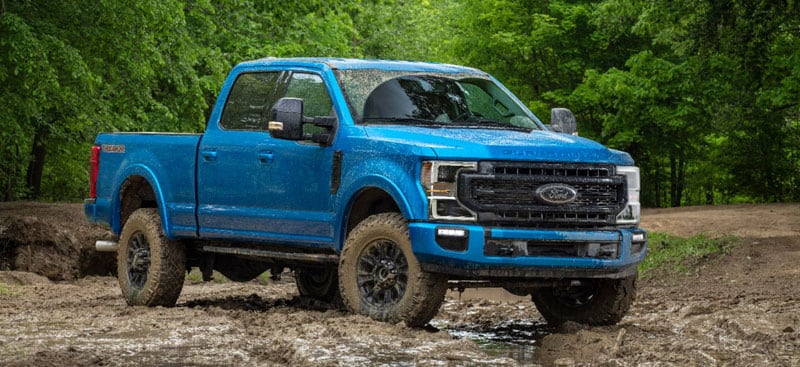 In addition to the above data, Ford announced the Tremor Off-Road Package.  The package includes a lift, high-volume dampers, modified springs, Dana front limited-slip differential, locking rear differential, a mode for rock-crawling, and 18-inch wheels with Goodyear Wrangler Duratrac all-terrain tires.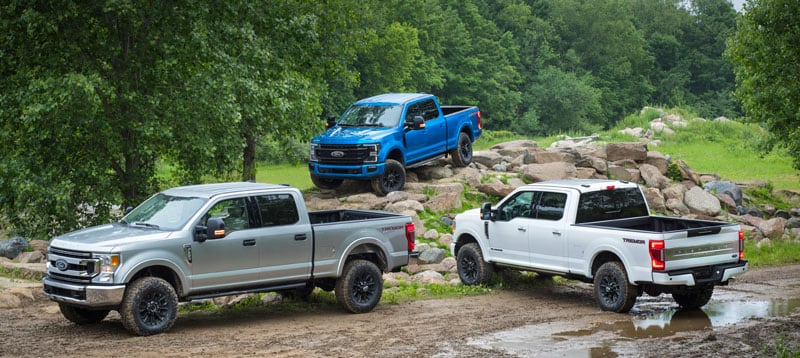 The Tremor Off-Road Package is only available with the 7.3-Liter gas engine or the 6.7-Liter turbo-diesel with a crew cab configuration.  Payload tops out at 4,210-pounds with the 7.3-liter gas engine, so this package is best suited to lighter hard side and pop-up truck campers.  Towing maxes out at 15,000-pounds.  When it rolls off the line, we'll take another look at this new off-road ready machine.