Ford announces the 2020 Ford F-250 and F-350 trucks with a new 7.3-Liter gas engine, enhancements to the 6.7-liter diesel, a new 10-speed TorqShift transmission, a hands-free trailer backup assist feature, and exterior and interior design updates.

In the lead up to the 2019 Chicago Auto Show, Ford Motor Company announced the 2020 Ford Super Duty updates.  The big news is under the largely-unchanged aluminum sheet metal; an all-new gas engine, updated Power Stroke diesel, and a new 10-speed TorqShift transmission.  Let's dig in.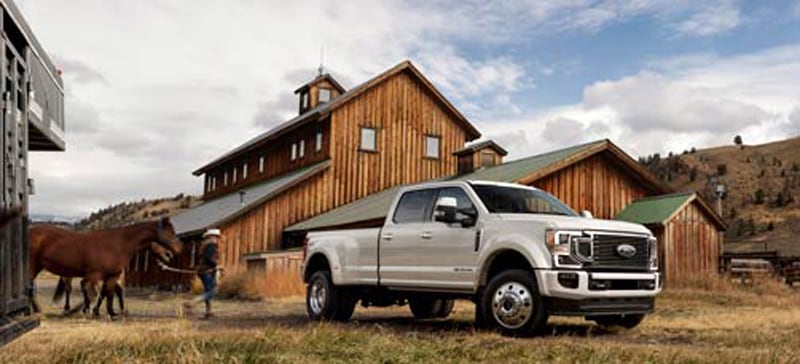 New 7.3-Liter V8 Gas Engine
For 2020, Ford is replacing its V10 gas engine with a new 7.3-liter big-block V8. Ford's 6.2-liter V8 will continue to be available as will the Power Stroke V8 diesel.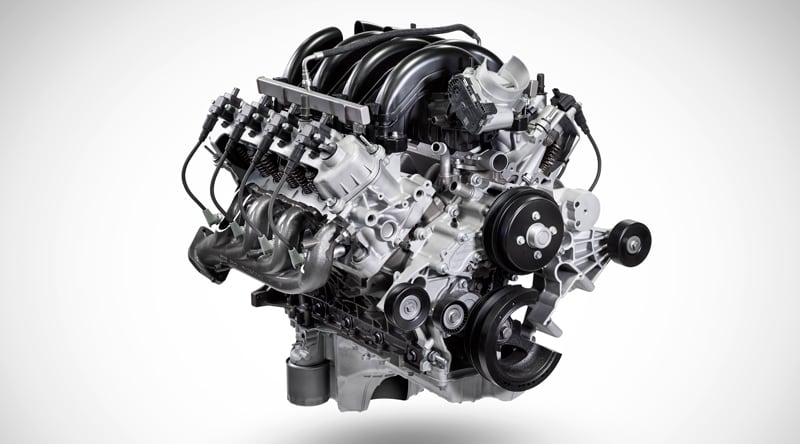 The new engine features a cam-in-block overhead valve architecture, cast-iron block and forged steel crankshaft, port injection with variable valve timing, and oil-cooled pistons.
Power, torque and fuel economy numbers have not yet been released for the new engine, but Ford has promised improvements over the outgoing V10.
Enhanced 6.7-Liter Power Stroke Diesel
Ford has made a long list of updates and enhancements to its popular 6.7-Liter Power Stroke Diesel including a new 36,000-pounds per-square-inch fuel injection system, new pistons, new heads, new block, new connecting rods and new bearings.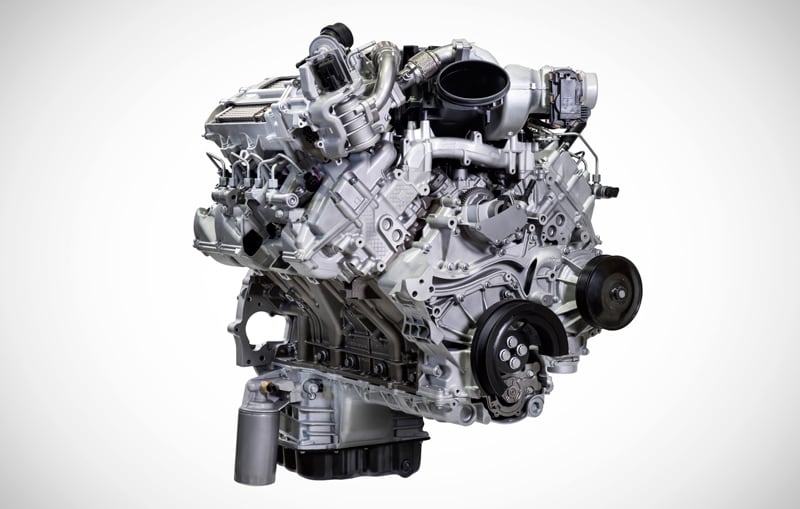 In addition, Ford has moved the exhaust to an inboard location and introduced an electronically-activated variable-geometry turbocharger.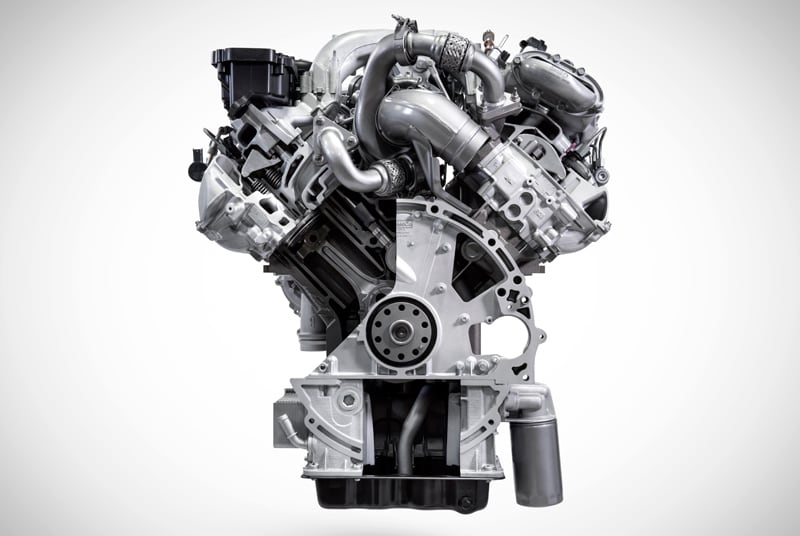 The result of these updates is not fully known as Ford has not announced power, torque and fuel economy numbers for the updated Power Stroke.  When that data is announced, we expect to see numbers that compete with the recent announcements from Ram and GM.
New 10-Speed TorqShift Transmission
All three available Super Duty engines (6.2L gas, 7.3L gas, 6.7L diesel) will be available with a new 10-speed TorqShift transmission with wider gear ratios than the 6-speed.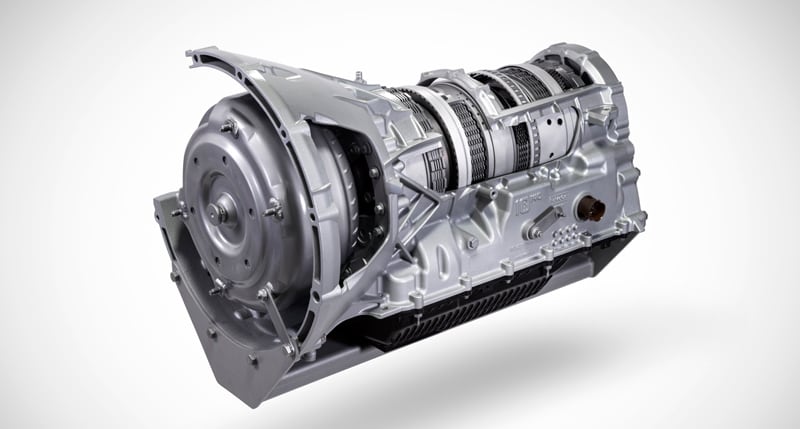 The 10-speed TorqShift offers six modes including Normal, Sport, Slippery, Eco, Tow/Haul and Deep Sand/Snow.
The 6-speed transmission will be standard for F-250 models.  The new 10-speed transmission will be standard for all F-350 models.
Exterior Design Updates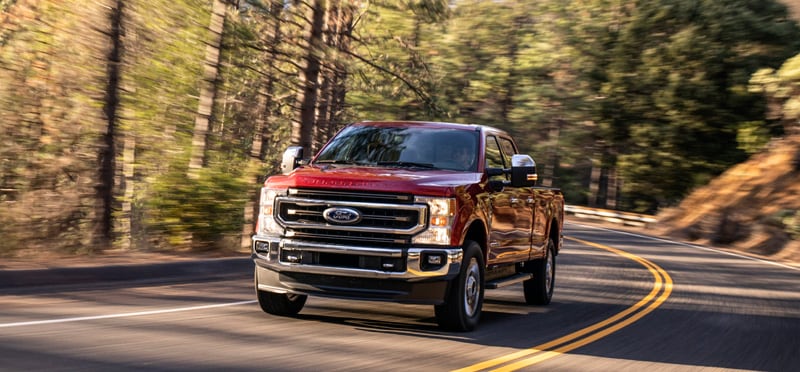 Above: 2020 Ford F-250
For 2020, Ford is abandoning the familiar two-part front grill and debuting all-new front grills for every trim level.  The new grill designs also offer improved engine cooling.  Dual-rear wheel models are getting a new high-airflow grill designed for even more cooling while towing.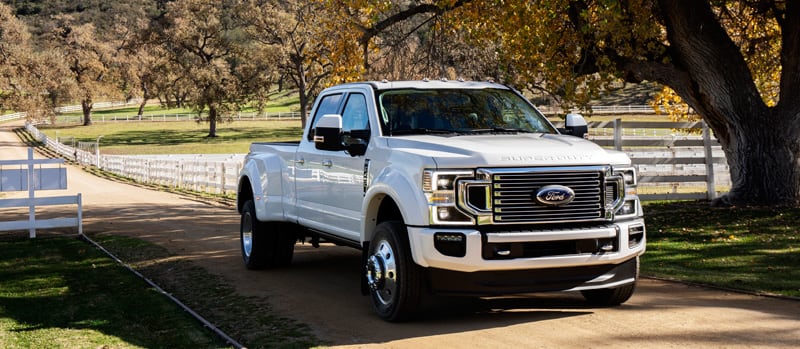 Above: 2020 Ford F-450
To further give the 2020 trim levels their own look, Ford has also announced new chrome options, new wheel patterns, a revised tail light design, and updated badging.  Beyond that, the 2020 Ford Super Duty truck exterior design remains mostly unchanged.
Interior Design Updates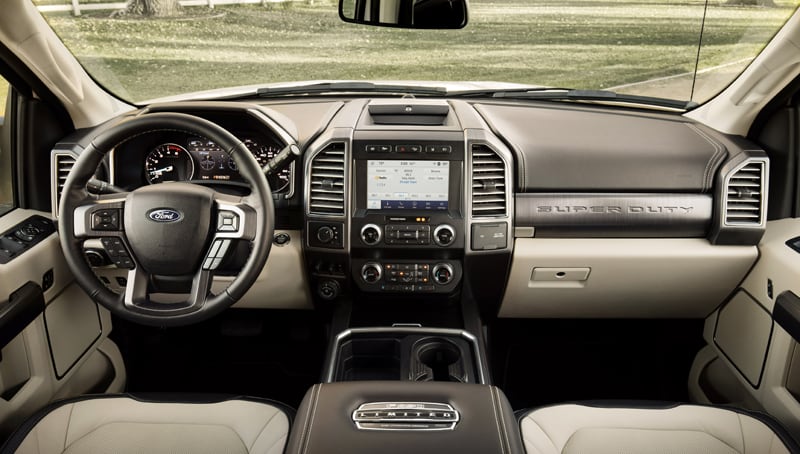 Above: 2020 Ford Super Duty Limited interior
The 2020 Ford Super Duty interior design is unchanged outside of new colors, trim pieces, materials and badging.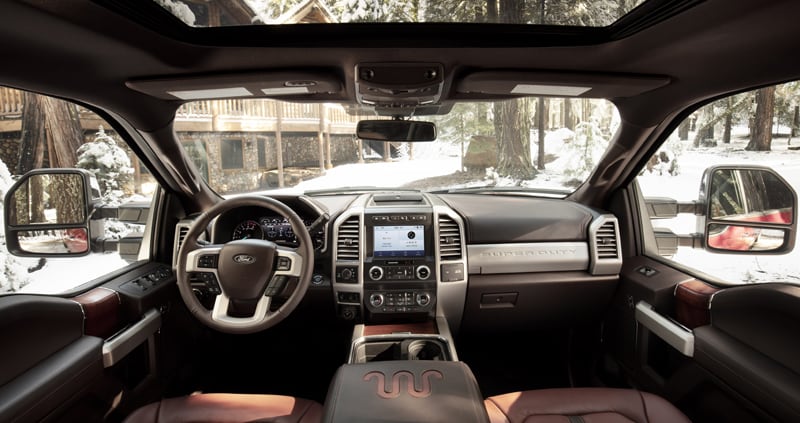 Above: 2020 Ford Super Duty King Ranch interior
The Lariat and Platinum trims get the most impressive materials including brushed aluminum, coarse black ash wood, and genuine leather.  The other trim levels get updated material colors.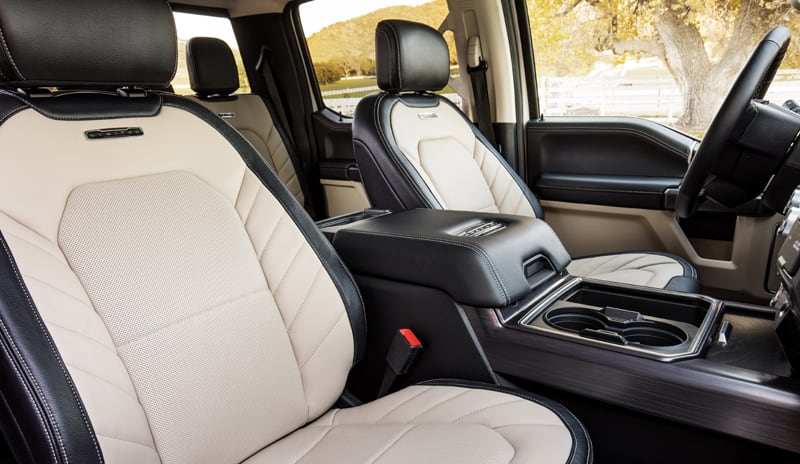 Above: 2020 Ford F450 Limited interior
Pro Trailer Backup Assist
One of the more impressive and potentially truck camper relevant technologies making its way to Ford's 2020 Super Duty line is Pro Trailer Backup Assist.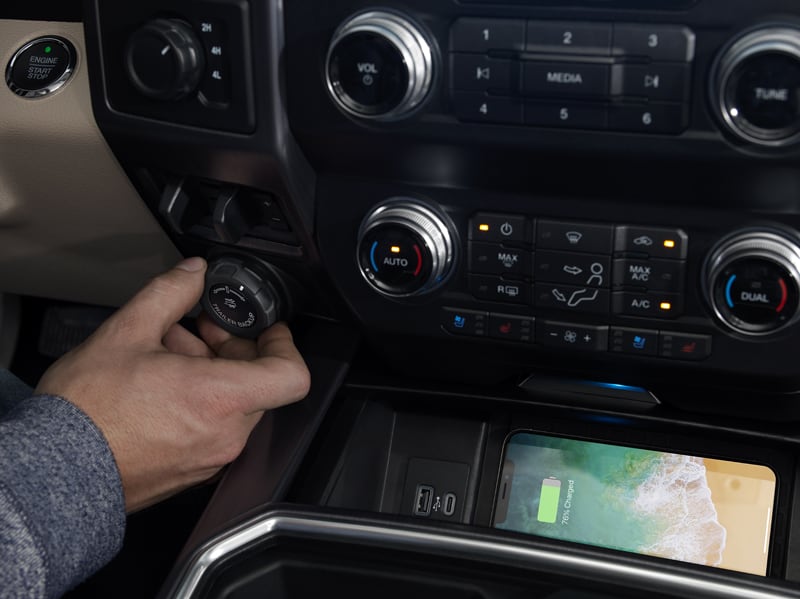 Above: Trailer Backup Assist
Pro Trailer Backup Assist is designed to allow you to backup a trailer, gooseneck or fifth wheel hands-free.  Since over 70-percent of Truck Camper Magazine's readership tows something behind their truck camper rig, this technology could be a real boon.
More Technology and Safety Features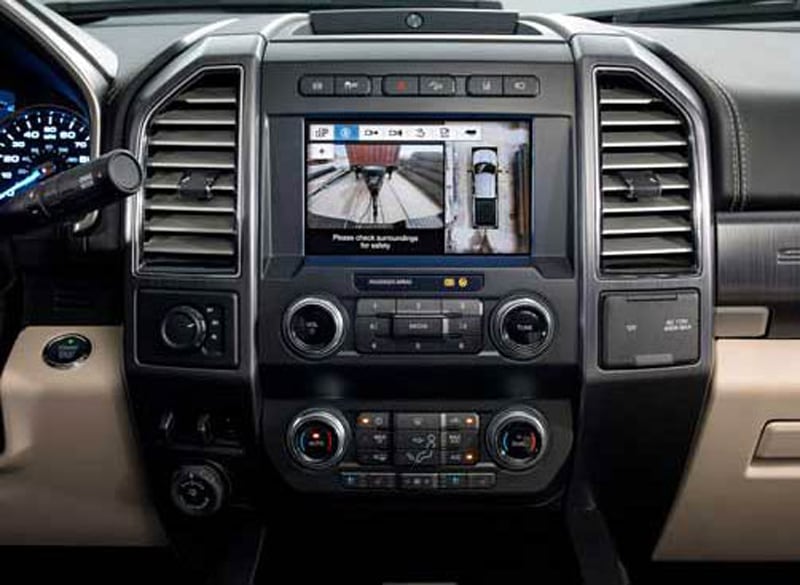 For 2020, Ford is making its FordPass SYNC Connect feature standard on all Super Duty trucks.  This includes a 4G LTE modem with WIFI connectivity for up to 10 devices (with paid activation and fees).
Also part of FordPass SYNC Connect is a Google Android and Apple iOS app.  The FordPass Connect app help you find parking, fuel, and even remotely control your truck.  Imagine being able to stop, start, lock, unlock, check fuel and fluids – all from your smartphone.  2020 Ford Super Duty trucks will also offer optional wireless device charging and USB-C ports.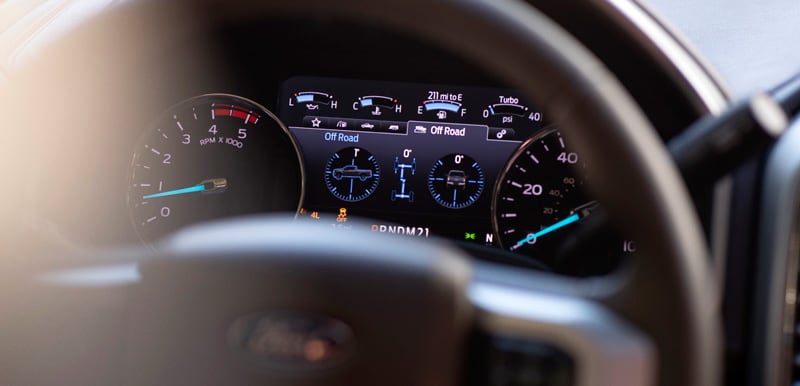 Safety technology is also taking a leap forward with sensors to keep you in your lane, keep an eye on blind spots, and avoid vehicle and pedestrian accidents.  All of these features are standard on XLT trims and up.
Truck Camper Fitment Warning
Since Ford has not reported dimensional changes to its sheet metal for 2020, we are tempted to signal an all-clear on any truck camper fitment issues.  After all, it was the 2017 Ford Super Duty redesign that sent the entire truck camper industry back the design board to accommodate Ford's taller cab, rail height and infamously smiling bumper.  The required design adjustments and riser kits are long since completed and ready to go.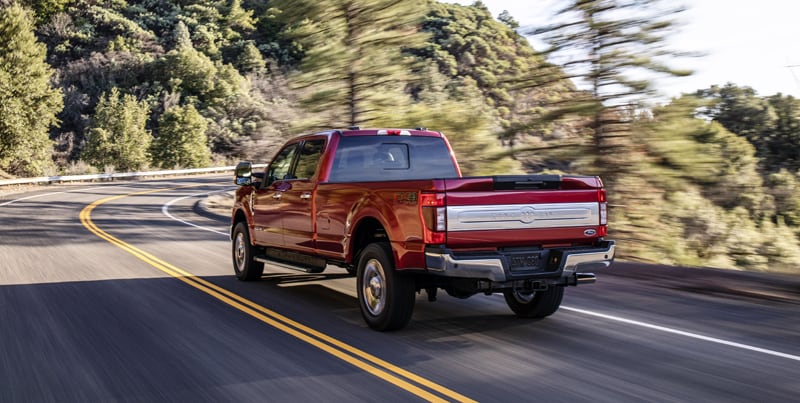 However, given the automotive industry's habit of making unannounced sheet metal, bumper and other unforeseen dimensional adjustments, we need to repeat our standard fitment warning.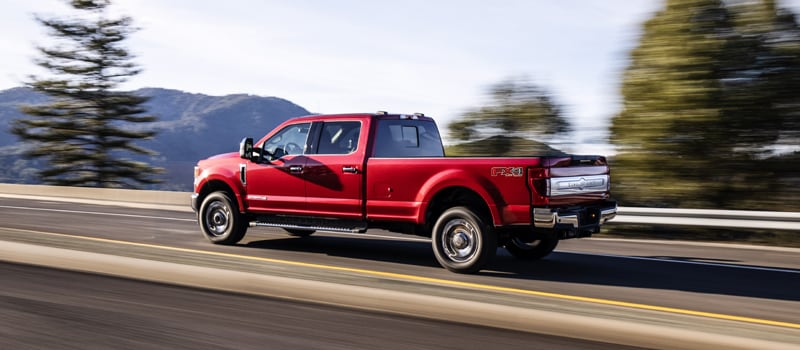 From the our must-read article, "How To Match A Truck and Camper"; always measure and verify that your truck will be fit compatible with your intended camper before purchasing and loading the camper.  The important exterior truck dimensions are bed length, bed width, rail height, cab height, and the tailgate opening.  Truck bumpers can also cause fit compatibility issues.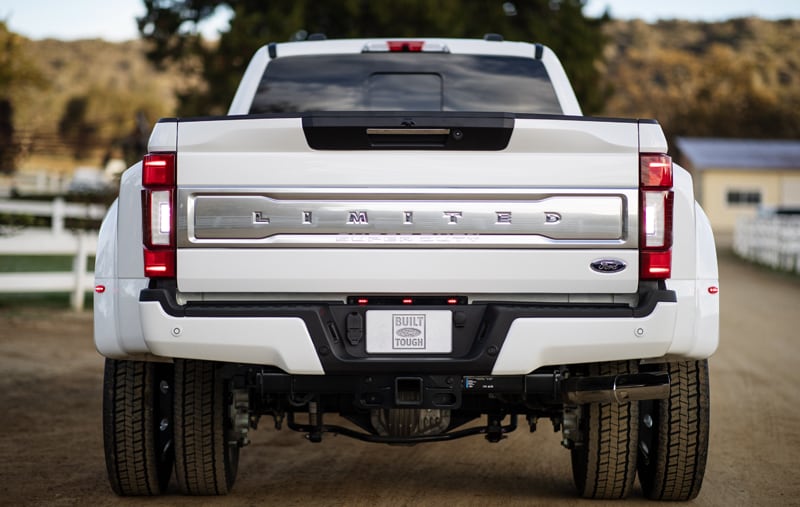 The only real clue that there could be a truck camper fitment issue with the 2020 Ford Super Duty trucks is buried in the Ford press information. There Ford describes a, "…freshened tailgate design, revised tail lamps and new rear bumper…".  These changes are probably cosmetic only, but we will be paying attention.
Wrap Up: We Need More Data
Ford's 2020 Super Duty announcements are devoid of the most important information for truck camper owners.  Specifically, the payload and towing capacities of these new trucks.  We are hopeful to see some in both numbers, but there's no official data yet.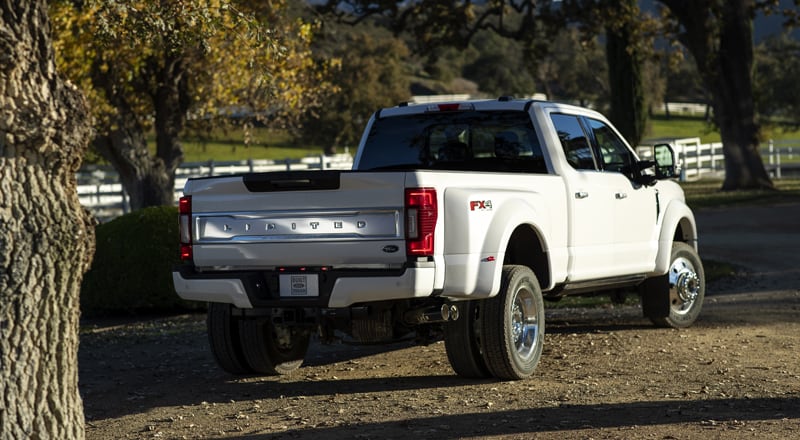 Of all the 2020 Ford Super Duty news, we are most excited about the new 7.3-liter gas engine and 10-speed transmission.  Ford's new gas engine and 10-speed transmission could narrow the power and torque gap between Ford's gas and diesel offerings.
Diesel engines will always have the better torque numbers for heavy towing and rapid mountain climbing, but gas engines offer more than enough capability for most truck camper owners at a significantly lower cost.
Naturally, Ford's new 7.3-liter gas engine won't interest the diesel converted, but everyone else should pay attention when they announce the power, torque, fuel economy and cost data for the new gasser.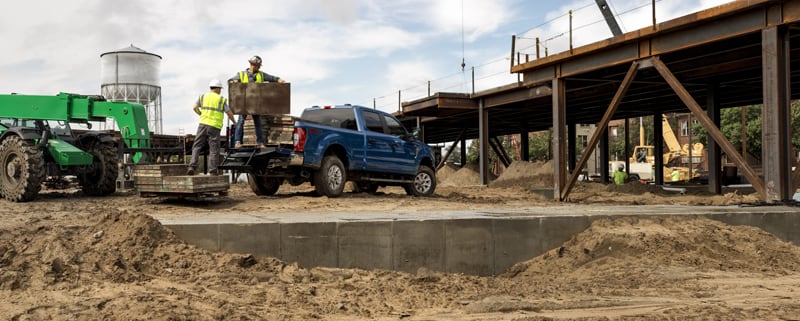 The other news is what's not new.  Ford decided to let most of the interior and exterior design ride for 2020.  That's a bold move as their direct competitors have really turned up the heat in these categories.  Whether Ford dropped the ball or the mike is something the market will have to determine.
Coming Fall 2019
These new trucks won't be available until the fourth quarter, but we expect to hear a lot more about the engine specifications before too long.  Pricing will likely wait until the lead up to the dealer debuts.