After 6,610 miles including flat highways, rolling hills, and Colorado mountain passes, Truck Camper Magazine gets a hand-calculated reality check on their 2014 Ram 3500 and 6.4L HEMI.

Late last August, Truck Camper Magazine took possession of a 2014 Ram 3500 SLT.  Our new truck features a 6.4L HEMI gas engine with cylinder deactivation, a 3.73 rear axle, dual rear wheels, and 5,851 pounds of payload.  If you missed the article announcing our new truck build and specifications, check out, "TCM Debuts 2014 Ram 3500".
About a week later, we debuted our new-to-us truck camper, a ten year old Alpenlite 1100 with a laundry list of minor repairs and maintenance issues.  We have been working on the camper repairs and maintenance items ever since, and will begin sharing what we have learned soon.  If you missed the article announcing our new-to-us camper, check out, "TCM Buys a Truck Camper".
Since marrying our new truck and camper, we have driven the rig from Pennsylvania to Indiana and back and from Pennsylvania to North Carolina and then Colorado and back.  In addition, we put a heavier truck camper on the 2014 Ram 3500 as part of an upcoming camper test and review, and tackled a few Rocky Mountain passes along the way.  As of this writing, our truck odometer reads 6,610 miles.
Needless to say, over six-thousand miles has given us a ton of fresh information on the performance and efficiency of the 2014 Ram 3500 and 6.4L HEMI.  Some of this information has shifted our overall understanding of the Ram and HEMI necessitating an in-depth follow-up.
Weighing In
About mid-way into our North Carolina and Colorado trip, we CAT scaled our rig fully loaded and wet including full-water, full-propane, full-fuel, our stuff, and ourselves (myself, Angela, and our fifteen-pound feline friend, Harley).  We were fully loaded with food, clothing, and supplies.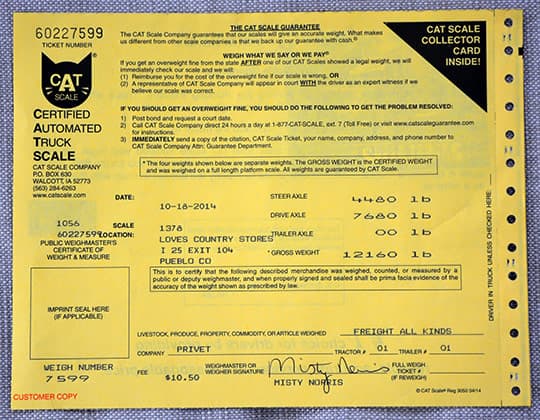 As you can see above, the total CAT Scale weight of our rig was 12,160 pounds.  When we subtracted the CAT scale weight of our empty truck (7,475 pounds) we learned the wet and loaded weight of our truck camper, 4,685 pounds.
Subtracting the 12,160 pound CAT scale weight from our Ram 3500's 13,300 GVWR tells us that we are 1,140 pounds under GVWR.  Subtracting the 4,685 pound camper weight from our 5,851 pound payload capacity tells us that we are 1,166 pounds under payload.  Where the 26 pound difference between the two numbers comes from is anyone's guess.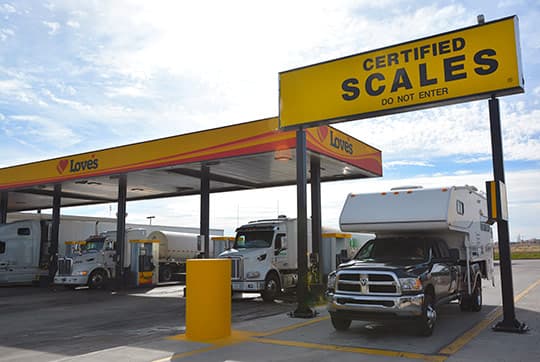 We could literally put a Palomino SS-600 (1,056 pounds dry) on top of our camper and still be more than 75 pounds under GVWR or payload.  Of course then the Center of Gravity Police would pull us over.  They're no fun.
Fuel Me Once
When we revealed our new Ram, we reported our initial fuel economy data as shown on the truck's dashboard fuel economy display.  With the truck stock and empty (no camper and no tailgate), the Ram fuel economy display read 18.2 mpg going from Pennsylvania to New Hampshire.
With the truck loaded with our empty and dry truck camper, the Ram fuel economy display read 12.8 mpg coming home from New Hampshire to Pennsylvania.  We used the same route up and back.  We were less than a 1,000 miles in, but we were already thrilled with the mpg numbers we were getting with the 6.4L HEMI.
A Hand-Calculated Reality Check from Fuelly.com
About a month later, a reader and friend, who goes by Silversands on RV.net, told us about a website called fuelly.com.  Fuelly, he explained in the camping field at Overland Expo East, would allow us to accurately calculate our miles per gallon, and track the data over time.  Thank you Silversands!
Fortunately, Angela keeps track of our odometer readings, gallons filled, and price per gallon information in a logbook inspired by another long-time reader, friend, and RV.net member Spott.  Following the Overland Expo, Angela signed us up with Fuelly and input our odometer and fuel data.  Thank you Spott!
Fuelly.com asks for your odometer readings at every fill up, the number of gallons needed to fill the tank, and the price per gallon paid.  From there, Fuelly automatically calculates the number of miles driven between fill-ups, and divides the number of gallons needed to fill by that number.
For example, if we entered 3,734 as our odometer at our last fill-up, and then entered 4,037 miles at our next fill-up, Fuelly would subtract those numbers to calculate how many miles we had traveled on that particular tank of fuel.  In this example, the miles traveled would be 303 miles.
Fuelly then automatically takes the number of gallons that were needed to fill the tank, and divides that number by the miles traveled on that tank.  For example, if the tank took 26.584 gallons to fill after 303 miles, the average miles per gallon would be 11.39 mpg.
Fuelly also allows you input other variables, like highway versus city driving, and tracks everything over time to show trends.  With Fuelly's graphs, you can see whether your truck's fuel economy is improving, or declining and may need an oil or filter change.  There's even a Fuelly app for your smartphone so you can input your fill-up and milage data on the go.
We're quite smitten with Fuelly.  Unfortunately, we're not quite as smitten with the Ram fuel economy data Fuelly is giving us.  In fact, we're fairly ticked off by what we've discovered.
"Tell me lies, tell me sweet little lies." – Fleetwood Mac
Based on the Fuelly data, our Ram fuel economy readout is overstating our miles per gallon by 11.5%.  Where our Ram fuel economy readout told us we were averaging 12.2 miles per gallon, Fuelly.com tells us we're actually averaging 10.8.  This data is based on the last twenty-six fill-ups, all of which include either our 4,685 pound camper, or a 5,185 pound review camper.
I was absolutely furious when I first saw the Fuelly data.  I had thought the "hand-calculated" data might be a little different, but I never imagined it would be 11.5% off.
These results are shameful and I personally apologize to anyone who made a decision based on the initial fuel economy data I reported.  As a magazine, we will never report an automotive fuel economy read-out again without first performing the appropriate hand calculations.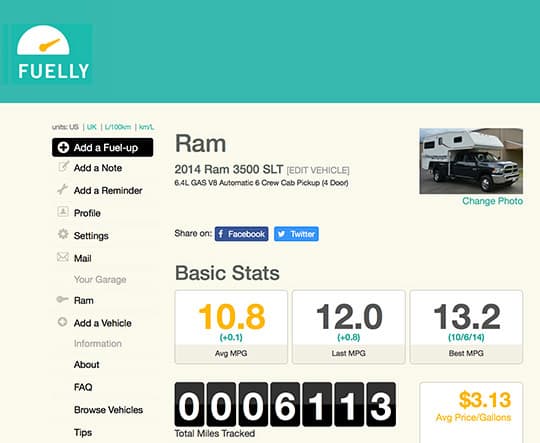 Above: The total miles tracked on Fuelly.com reflects only the miles with a truck camper loaded.  We do not enter data from fill-ups when the truck is empty.
The Fuelly.com data still stings, especially when I look down at the Ram fuel economy gauge.  That said, we have made our peace with the reality that we are actually averaging between 10-11 miles per gallon, not the 12-13 we had previously thought.
When the cylinder deactivation really kicks in on flat and/or descending highways, we can average 12.0 mpg – hand-calculated.  If the conditions are very favorable, such as coming out of the mountains in North Carolina, we can reach an average of 13.2 mpg – also hand-calculated –  but that's as good as it gets.  Most of the time we're in the 10-11 mpg range.
Keep in mind that getting these fuel economy numbers requires that we keep the RPMs around 1,500 and keep our speed to 62 miles per hour, or less.  If you can't keep the RPMs near 1,500, or drive 62 miles per hour, you will never see these higher fuel economy numbers with the 6.4L HEMI.
5K Camper, 10K Mountain Passes
An important part of our Colorado mission was to test the 6.4L HEMI with a heavier truck camper and real mountain passes.  Fortunately for us, we were offered a 2015 Arctic Fox 990 full-wall slide truck camper for a review.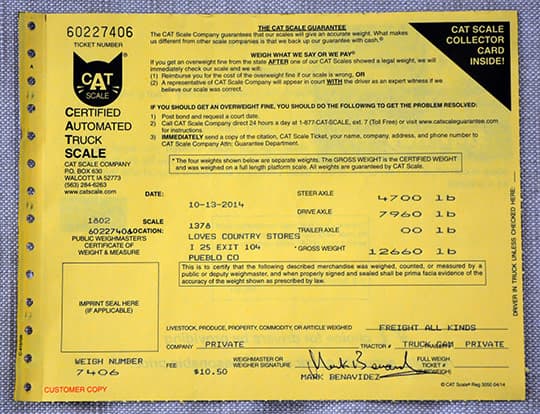 At the CAT scale, the well optioned 2015 Arctic Fox 990 weighed in at 5,185 pounds fully loaded and wet; exactly 500 pounds more than our camper.
After taking the 2015 Arctic Fox 990 over several mountain passes, the average fuel economy data (hand-calculated) did not change as much as we had anticipated.  We averaged in the low to mid 10 mpg range.
To be fair, we were going up and down mountains, not exactly ideal conditions for the 6.4L HEMI cylinder deactivation technology to make a difference.  When we were going up mountains, we averaged in the 5-7 mpg range.  When we were going down mountains, we mostly coasted.  Ideally we would have taken the same course with the Arctic Fox and our camper, but we didn't have that kind of time.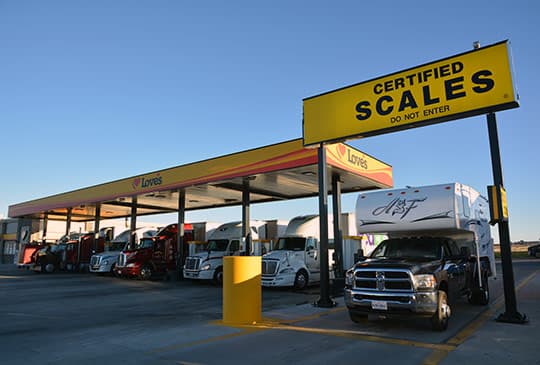 The 2015 Arctic Fox was still an excellent match for the Ram.  With the Arctic Fox, we were 640 pounds under payload and getting respectable fuel mileage for a gas dually truck, even in the mountains.  The handling and performance was not quite as rock-solid as it is with our 4,685 pound camper, but it was still very good.  Had we not experienced the Ram 3500 with our 500 pound lighter camper, we would have been extremely satisfied with the Ram/Fox combination.
The power was also more than sufficient with the Arctic Fox.  We got up the mountains with confidence, but we were passed by several diesel trucks blasting up at 75 miles per hour.  If you need to blast up mountain sides with your loaded camper, get a diesel.
The Bigger Picture
What I'm most concerned about is the habit of truck camper owners to max out the payload of their trucks.  With the 6.4L HEMI, the rig performs incredibly well 1,140 pounds under payload with our 4,685 wet and loaded camper.  It performed nearly as well in terms of handling and fuel economy with the 5,185 pound 2015 Arctic Fox 990, but there was a difference.
While we have not yet loaded an even heavier camper on this truck, I believe these changes would be progressive.  The heavier the camper, the less confident the handling and performance will become, and the less fuel economy benefits will be realized.
At the 5,851 pound payload (13,300 pound GVWR), I believe this truck would likely need more aftermarket suspension equipment to stay level and handle well.
At payload, I also believe the 6.4L HEMI could cease to be a relatively fuel-efficient gas rig.  If I had to guess, I'd say the Fuelly data would put the truck in the 9-10 mpg range with a truck camper that maxed out its 13,300 pound GVWR.
Going to the 4.10 axle ratio with its 14,000 pound GVWR takes us further down this path.  If you then max out the truck at 14,000 GVWR, expect to purchase even more aftermarket suspension equipment to keep the rig level and handling well, and be prepared to accept another potentially significant reduction in fuel economy.
Wrap It Up: We'll Still Take It
With our 4,685 pound truck camper (loaded and wet), the Ram 3500 with the 6.4L HEMI is a dream.  With only a set of Torklift Upper StableLoads, the Ram handles the camper brilliantly.  We have almost zero sway and body roll.  We might upgrade the shocks and add a rear sway bar to tighten up the handling a little, but we would be just fine-tuning an already fantastic truck and camper match.

6,610 miles in, we're still very happy with the truck, despite the 11.5% lower fuel numbers.  Our current fuelly.com average is exactly 11.0 mpg, taken from the last ten fill-ups.  That's no longer directly competitive with diesel, but it's still good for a long bed dually gas truck loaded with an eleven-foot hard sided truck camper.
Yes, diesel power and torque would be more fun, but – for us – it's not worth the significantly higher upfront diesel engine cost, significantly higher diesel fuel costs, and significantly lower diesel truck payload numbers.  Never mind diesel exhaust fluid (DEF) and diesel engine oil changes.  Besides, we don't drive our truck camper rig like a sports car or race up mountain passes.
The 6.4L HEMI represents the state-of-the-art for heavy duty gas truck engines.  When matched to a camper that's 1,000-plus pounds under payload, it's still the most economical and efficient alternative to diesel available.
When you consider that our truck has a 5,851 pound payload capacity, there's a lot of campers available in the 4,850 range (wet and loaded) including every pop-up truck camper, all non-slide hard-side truck campers, and a good number of single-slide truck campers.  If you own or are interested in a camper that fits one of these descriptions, keep the Ram 3500 with the 6.4L HEMI on your short list.