After 6,610 miles including flat highways, rolling hills, and Colorado mountain passes, Truck Camper Magazine gets a hand-calculated reality check on their 2014 Ram 3500 and 6.4L HEMI.

Late last August, Truck Camper Magazine took possession of a 2014 Ram 3500 SLT.  Our new truck features a 6.4L HEMI gas engine with cylinder deactivation, a 3.73 rear axle, dual rear wheels, and 5,851 pounds of payload.  If you missed the article announcing our new truck build and specifications, check out, "TCM Debuts 2014 Ram 3500".
About a week later, we debuted our new-to-us truck camper, a ten year old Alpenlite 1100 with a laundry list of minor repairs and maintenance issues.  We have been working on the camper repairs and maintenance items ever since, and will begin sharing what we have learned soon.  If you missed the article announcing our new-to-us camper, check out, "TCM Buys a Truck Camper".
Since marrying our new truck and camper, we have driven the rig from Pennsylvania to Indiana and back and from Pennsylvania to North Carolina and then Colorado and back.  In addition, we put a heavier truck camper on the 2014 Ram 3500 as part of an upcoming camper test and review, and tackled a few Rocky Mountain passes along the way.  As of this writing, our truck odometer reads 6,610 miles.
Needless to say, over six-thousand miles has given us a ton of fresh information on the performance and efficiency of the 2014 Ram 3500 and 6.4L HEMI.  Some of this information has shifted our overall understanding of the Ram and HEMI necessitating an in-depth follow-up.
Weighing In
About mid-way into our North Carolina and Colorado trip, we CAT scaled our rig fully loaded and wet including full-water, full-propane, full-fuel, our stuff, and ourselves (myself, Angela, and our fifteen-pound feline friend, Harley).  We were fully loaded with food, clothing, and supplies.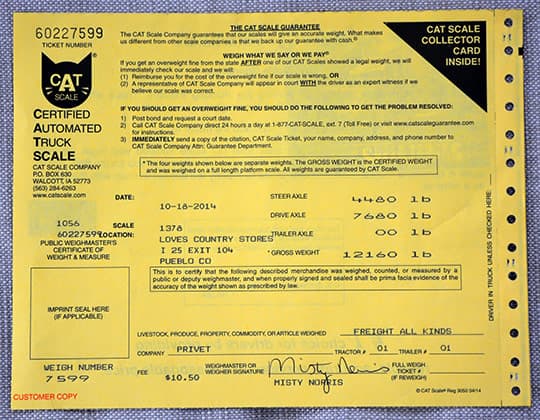 As you can see above, the total CAT Scale weight of our rig was 12,160 pounds.  When we subtracted the CAT scale weight of our empty truck (7,475 pounds) we learned the wet and loaded weight of our truck camper, 4,685 pounds.
Subtracting the 12,160 pound CAT scale weight from our Ram 3500's 13,300 GVWR tells us that we are 1,140 pounds under GVWR.  Subtracting the 4,685 pound camper weight from our 5,851 pound payload capacity tells us that we are 1,166 pounds under payload.  Where the 26 pound difference between the two numbers comes from is anyone's guess.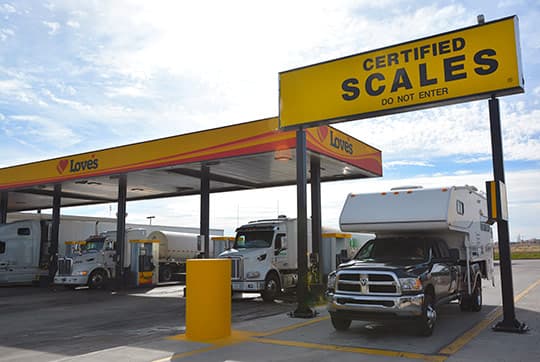 We could literally put a Palomino SS-600 (1,056 pounds dry) on top of our camper and still be more than 75 pounds under GVWR or payload.  Of course then the Center of Gravity Police would pull us over.  They're no fun.
Fuel Me Once
When we revealed our new Ram, we reported our initial fuel economy data as shown on the truck's dashboard fuel economy display.  With the truck stock and empty (no camper and no tailgate), the Ram fuel economy display read 18.2 mpg going from Pennsylvania to New Hampshire.
With the truck loaded with our empty and dry truck camper, the Ram fuel economy display read 12.8 mpg coming home from New Hampshire to Pennsylvania.  We used the same route up and back.  We were less than a 1,000 miles in, but we were already thrilled with the mpg numbers we were getting with the 6.4L HEMI.
A Hand-Calculated Reality Check from Fuelly.com
About a month later, a reader and friend, who goes by Silversands on RV.net, told us about a website called fuelly.com.  Fuelly, he explained in the camping field at Overland Expo East, would allow us to accurately calculate our miles per gallon, and track the data over time.  Thank you Silversands!
Fortunately, Angela keeps track of our odometer readings, gallons filled, and price per gallon information in a logbook inspired by another long-time reader, friend, and RV.net member Spott.  Following the Overland Expo, Angela signed us up with Fuelly and input our odometer and fuel data.  Thank you Spott!
Fuelly.com asks for your odometer readings at every fill up, the number of gallons needed to fill the tank, and the price per gallon paid.  From there, Fuelly automatically calculates the number of miles driven between fill-ups, and divides the number of gallons needed to fill by that number.