TCM asks A.J. Rosenbrock, Assistant Plant Manager at Travel Lite, about truck camper electrical systems and the five sources of truck camper power.

During our visit with Travel Lite last Spring, Assistant Plant Manager, A.J. Rosenbrock, took us to a Travel Lite truck camper and went through the basics of camper electrical systems.  This article is designed to be an introduction to the basics of truck camper electrical systems and refers to several other articles for more in-depth information.
The Five Truck Camper Power Sources
There are five primary power sources for a truck camper; 110 volt power (also known as shore power), 12 volt power from batteries, solar power, power from gas or propane generators, and power from your truck's alternator(s).
Shore Power: Shore power is also called 110 volt or AC power (alternating current), utilizes a three prong 15 or 30 amp power cord.  This cord from your truck camper is plugged into a 15 or 30 amp power outlet.
Shore power will operate all systems in your truck camper.  This includes your microwave, lights, fans, furnace, water pump, jacks, air conditioner, television, radio, slides, and appliances.  If you want to use your air conditioner and microwave at the same time, you need to be plugged into a 30 amp outlet.  If you plug into a 15 amp outlet, which is a standard household three prong outlet, you will not be able to run your air conditioner and microwave without potentially blowing a fuse or damaging the electrical system.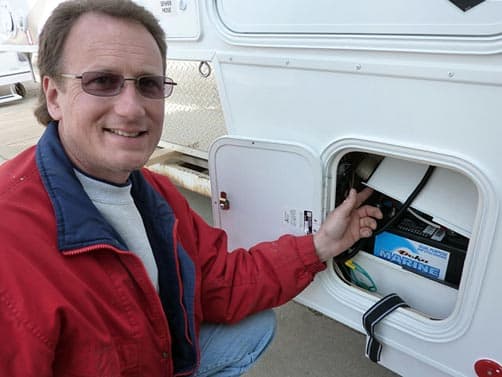 Battery Power: Battery power is also called 12 volt or DC power (direct current).  Battery power will operate all of the 12 volt appliances and systems in your camper including lights, water pump, and 12 volt televisions and entertainment systems.
Some camper systems use 12 volt power and propane such as your furnace (blower uses 12 volt power), hot water heater (ignites with 12 volt power), and two-way refrigerators.  Newbies often make the mistake of overlooking the 12 volt needs of their furnace blower and refrigerator.  A running furnace blower can drain your batteries overnight and a refrigerator running on 12 volt power will drain your batteries within a few hours.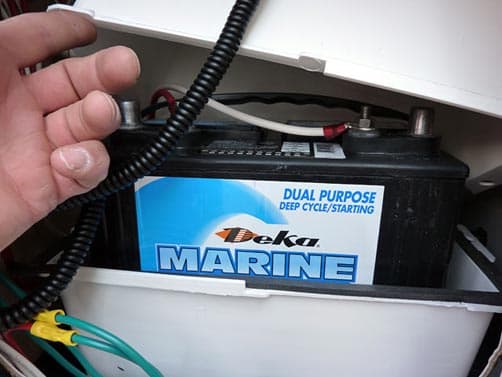 With rare exceptions, battery power will not run AC power appliances including microwaves and air conditioners or anything that requires a residential style AC outlet (shore power).  The rare exceptions involve custom installed battery systems and power inverters capable of supplying AC power without a shore power connection.
If your camper features a two-way refrigerator, it can run off shore power (110 volt) or 12 volt power and propane.  If you have a three-way refrigerator, it can run off shore power (110 Volt), 12-volt power and propane, or just 12 volt power.  Again, be careful about running a refrigerator on 12 volt power alone as it will quickly drain your batteries.  To conserve 12 volt battery power, always use propane or shore power when possible.
Traveling with propane to conserve 12 volt battery power is a controversial subject we covered in another Ask the Expert article, "ASK THE EXPERT: Propane System Maintenance and Safety".  From that article, "The safest way to travel with propane is with the propane turned off.  You lose the convenience of having your refrigerator run while driving, but you gain the peace of mind of being safe as you travel".
Truck Power: When your dealer installs your camper on your truck, they install a seven way plug and umbilical cord that runs from your truck's electrical system to your camper's electrical system.  This plug is located on the exterior of your camper and is usually located on the front driver's side under the over cab.
The seven way plug operates your camper's turn signals, brake lights, and clearance lights.  It also has a power wire that charges your truck camper's batteries while you are driving.  This "truck power" comes from your truck's alternator(s).  If you travel distances on a daily basis, truck power may be all you require to keep your camper batteries charged.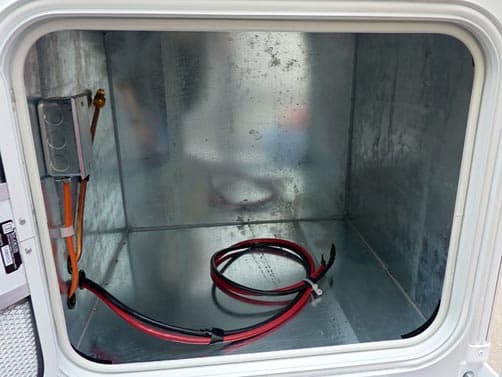 Above: A storage compartment pre-wired for a generator.
Generator Power: If you camper features a built-in or portable generator, your generator uses propane (built-in generators) or gasoline (portable generators) to produce 110 volt AC power.  The generator powers the camper's fuse box and essentially gives you the same benefits as shore power when the generator is running.
Truck campers can use their generators in remote locations where they have no access to shore power but still want the full use of the appliances in their camper including AC/shore powered microwaves and air conditioners.  Some generators are not capable of running your microwave and air conditioner at the same time so consult your generator owners manual.
Solar Power: 12 volt electricity collected by solar panels and stored in camper batteries is an option for most truck campers.  An installed solar panel and controller system trickle charges your camper batteries by producing a small wattage during daylight hours.  The benefits of a solar power system vary significantly on the size and quality of the solar panels, solar controller, and batteries.
Truck Camper Fuse Boxes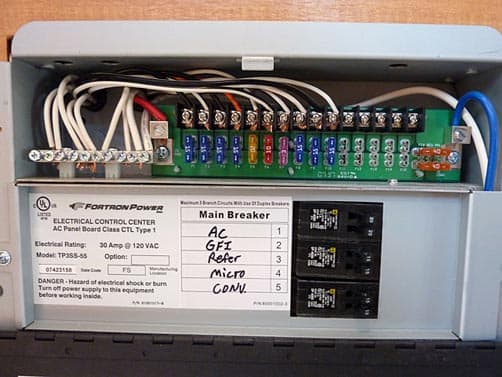 A fuse box is a built-in enclosed panel that supplies electricity to each of your truck camper's electrical appliances and systems.  Fuse boxes also protect your camper's electrical appliances and systems with fuses and/or circuit breakers.
A fuse box can be found on the inside of your truck camper and has two parts; a 12 volt DC side and an 110 volt AC side.  In the picture, you can see Travel Lite's fuse box with 12 volt DC fuses on the top and the 110 volt AC breakers on the bottom.
Travel Lite's fuse box also features a combined converter and charger.  When the camper is plugged into 110 volt AC shore power, the converter and charger convert the 110 volt AC power into 12 volt DC power and charges the camper 12 volt battery system.  Most campers feature a converter and charger.
On the AC side of the fuse box is a main breaker.  Like a house, this main breaker turns off all the power to your camper.  If you look on the fuse box in the photograph, you will see that the lights are on a 15 amp fuse and the refrigerator is on a 20 amp fuse.  The refrigerator is a bigger appliance and therefore needs a larger gauge fuse and wire to run.
Truck Camper Inverters
Inverters take your 12 volt DC power and convert it into 110 volt AC power allowing you to operate small 110 volt AC powered appliances like computers.  Some people use after market inverters in their truck campers.  It is important to know the 110 volt AC power requirements of the appliances you want to use before purchasing an inverter.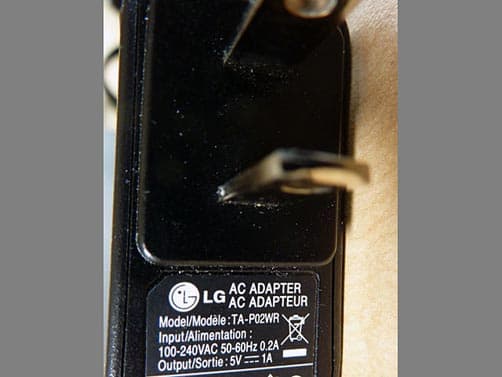 Each 110 volt AC appliance should have the information on how many watts that appliance requires on the appliance itself.  You need to carefully match your power inverter to the requirements of your 110 volt AC appliances.  For example, we have a 160 Watt, 1.4 amp portable 12 Volt to 110 volt inverter.  This is more than enough to re-charge our cell phone that requires 1.0 amp.
Disconnecting Your Electrical System
Most truck campers feature a battery disconnect switch.  This switch can be located in several different places including in the outside battery compartment to inside the rear door to inside an internal cabinet.  The function of a battery disconnect switch is to disconnect your camper electrical system from the camper battery or batteries.  The most common battery disconnect switch is a button that you push in to disconnect the battery and pull out to connect the battery.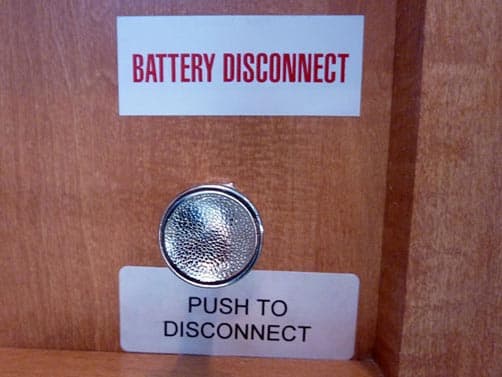 To protect your battery while you are not using it, either in the winter or between camping trips, it is a good idea to push in the battery disconnect button to disconnect your battery from your camper electrical system.  It's a worry free solution for not killing a battery accidentally while not using your camper.
A.J. recommends pulling your batteries during the winter and connecting them to a trickle charger to keep them charged.  For more information on this subject read, "Camper Batteries 101: The Basics".
Problems with your Electrical System
If a part of your electrical system is not working while plugged into shore power, there are a few things you can do before taking your camper to a RV dealer.  Here are some examples.
Your lights are not working.  First, check your main breaker by turning it off and on.  Then plug in an appliance to an outlet like a hair dryer or curling iron.  If you have power with those appliances, you have power in your camper but may have a blown fuse.  Look for the corresponding fuse in your fuse box and pull it out.  If it is blown, the wire inside of the fuse will be separated.  You can get the proper fuses by going to a hardware store like ACE Hardware or Home Depot and getting a standard automotive fuse.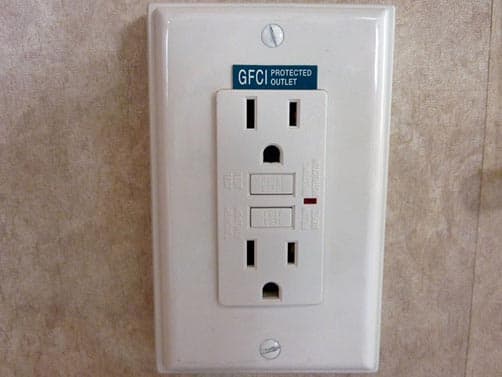 Another thing that could be an issue is the GFI, or ground fault circuit interrupter.  Any 100 volt AC outlet that might get wet, like an outlet near your sink or your entrance door, has a GFI reset button.  You may need to reset the GFI reset button if your electric is not working at those outlets.