TCM asks A.J. Rosenbrock, Assistant Plant Manager at Travel Lite, about truck camper electrical systems and the five sources of truck camper power.

During our visit with Travel Lite last Spring, Assistant Plant Manager, A.J. Rosenbrock, took us to a Travel Lite truck camper and went through the basics of camper electrical systems.  This article is designed to be an introduction to the basics of truck camper electrical systems and refers to several other articles for more in-depth information.
The Five Truck Camper Power Sources
There are five primary power sources for a truck camper; 110 volt power (also known as shore power), 12 volt power from batteries, solar power, power from gas or propane generators, and power from your truck's alternator(s).
Shore Power: Shore power is also called 110 volt or AC power (alternating current), utilizes a three prong 15 or 30 amp power cord.  This cord from your truck camper is plugged into a 15 or 30 amp power outlet.
Shore power will operate all systems in your truck camper.  This includes your microwave, lights, fans, furnace, water pump, jacks, air conditioner, television, radio, slides, and appliances.  If you want to use your air conditioner and microwave at the same time, you need to be plugged into a 30 amp outlet.  If you plug into a 15 amp outlet, which is a standard household three prong outlet, you will not be able to run your air conditioner and microwave without potentially blowing a fuse or damaging the electrical system.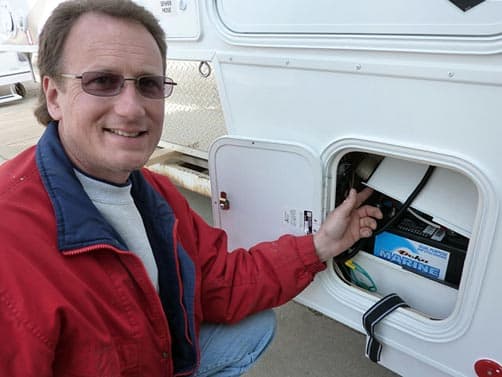 Battery Power: Battery power is also called 12 volt or DC power (direct current).  Battery power will operate all of the 12 volt appliances and systems in your camper including lights, water pump, and 12 volt televisions and entertainment systems.
Some camper systems use 12 volt power and propane such as your furnace (blower uses 12 volt power), hot water heater (ignites with 12 volt power), and two-way refrigerators.  Newbies often make the mistake of overlooking the 12 volt needs of their furnace blower and refrigerator.  A running furnace blower can drain your batteries overnight and a refrigerator running on 12 volt power will drain your batteries within a few hours.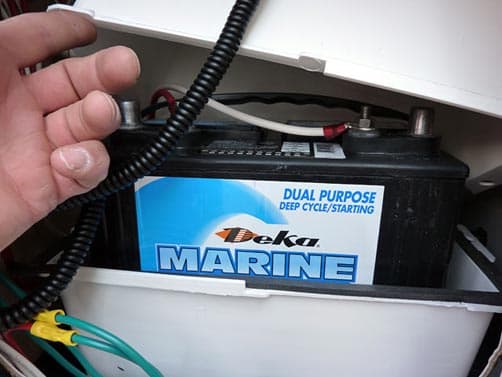 With rare exceptions, battery power will not run AC power appliances including microwaves and air conditioners or anything that requires a residential style AC outlet (shore power).  The rare exceptions involve custom installed battery systems and power inverters capable of supplying AC power without a shore power connection.
If your camper features a two-way refrigerator, it can run off shore power (110 volt) or 12 volt power and propane.  If you have a three-way refrigerator, it can run off shore power (110 Volt), 12-volt power and propane, or just 12 volt power.  Again, be careful about running a refrigerator on 12 volt power alone as it will quickly drain your batteries.  To conserve 12 volt battery power, always use propane or shore power when possible.
Traveling with propane to conserve 12 volt battery power is a controversial subject we covered in another Ask the Expert article, "ASK THE EXPERT: Propane System Maintenance and Safety".  From that article, "The safest way to travel with propane is with the propane turned off.  You lose the convenience of having your refrigerator run while driving, but you gain the peace of mind of being safe as you travel".
Truck Power: When your dealer installs your camper on your truck, they install a seven way plug and umbilical cord that runs from your truck's electrical system to your camper's electrical system.  This plug is located on the exterior of your camper and is usually located on the front driver's side under the over cab.
The seven way plug operates your camper's turn signals, brake lights, and clearance lights.  It also has a power wire that charges your truck camper's batteries while you are driving.  This "truck power" comes from your truck's alternator(s).  If you travel distances on a daily basis, truck power may be all you require to keep your camper batteries charged.