Truck Camper Magazine reviews a 2017 Travel Lite Air, a hard side, non-slide short and super short bed truck camper targeting half-ton trucks.  Is this all just hot air, or is the Air hot?

Travel Lite Campers announced the Travel Lite Air in Truck Camper Magazine on October 4th, 2016.  The idea behind the Travel Lite Air was to take the concept of a simple, light weight, and half-ton compatible short bed truck camper to the lightest, simplest, and most half-ton compatible extreme.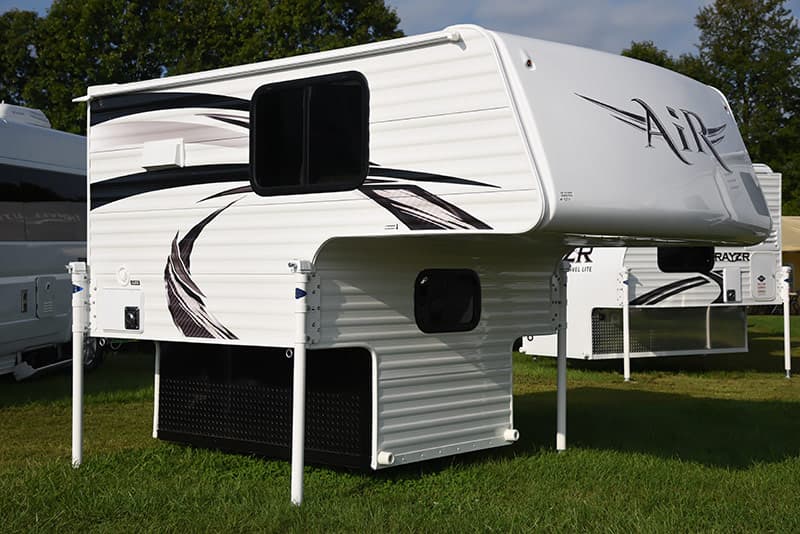 Dustin Johns, President of Travel Lite, has already charted a course down this road with the successful Travel Lite 625 (announced in 2015) and Travel Lite 770 Super Lite (announced in 2011), but he saw even more potential to streamline and light weight a half-ton short bed hard side.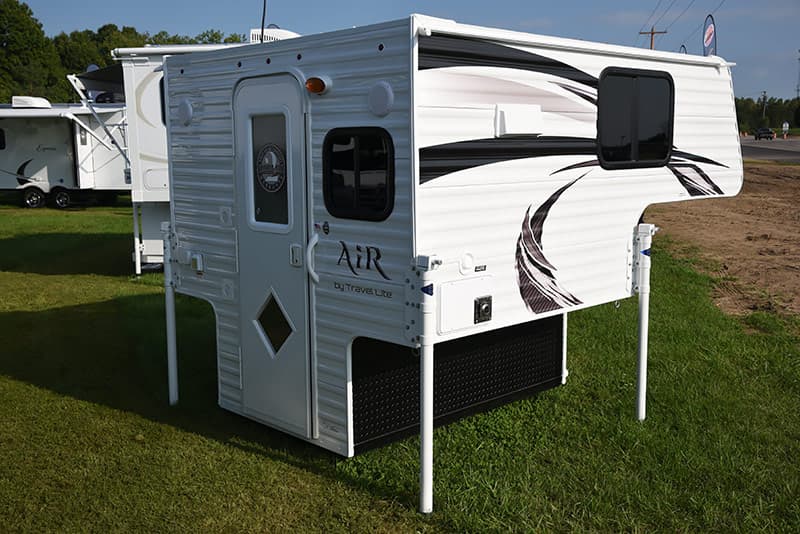 "It's quite different from the Travel Lite 625, 700, and 770 Super Lites," Dustin explained.  "It has different cabinetry, materials, netting, and standard features."
To push the weight and truck compatibility even further, Dustin also designed an all-new front-dinette floor plan for the Air.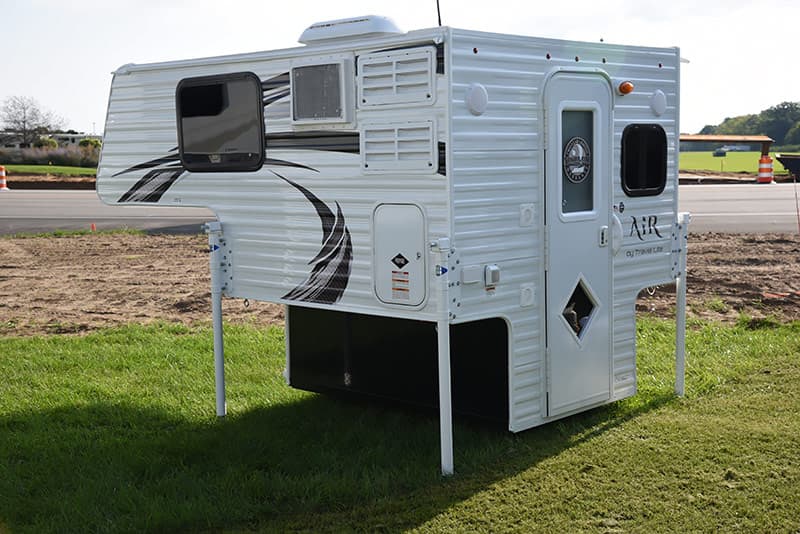 To save additional weight and production hours, the Air comes in only one configuration, and has no available options.
Softening the no-options news, the Air comes with a long list of standard features; Dometic refrigerator, Atwood furnace, Fantastic Fan, Shurflo water pump, Atwood cooktop, 20-pound propane tank, vented battery box, converter, winterizing kit, battery disconnect, removable table, and more.  For a basic unit, it's fairly loaded.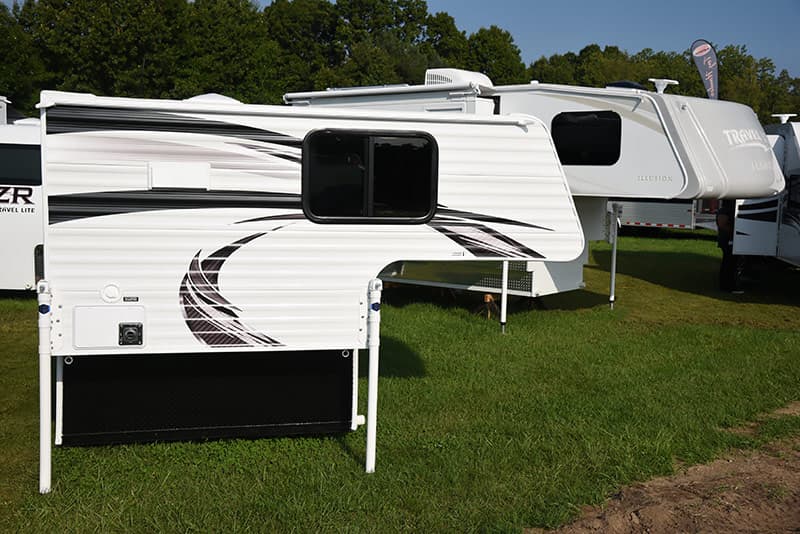 To maximize the Air's truck compatibility, the Air was based on Dustin's extensive short bed truck measurements and will fit 5'8", 6'4", 6'6", 6'8", and even 8' long bed truck beds.  On many short bed and super short bed trucks the Air is designed fit inside the tailgate allowing the owner to use the factory backup camera.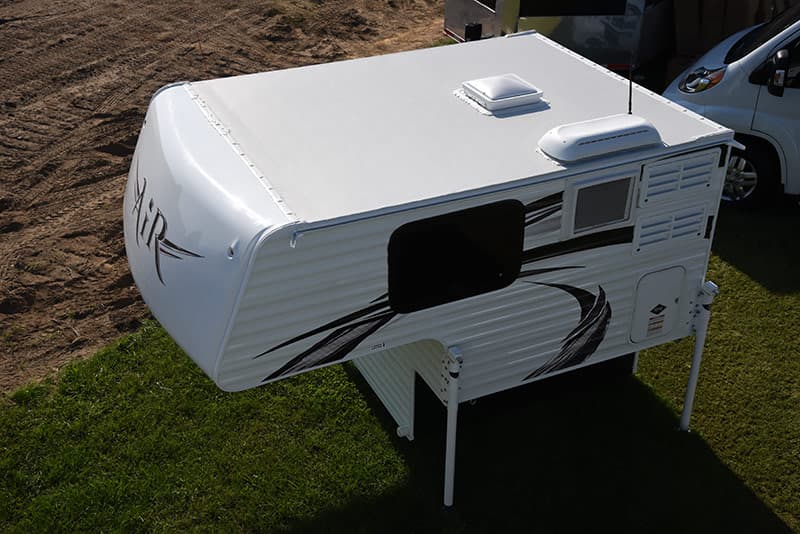 "It's the lightest hard side truck camper we've ever made!" Dustin excitedly declared over the phone during a pre-launch phone call with Truck Camper Magazine.  "In fact, I think it's the lightest weight hard side truck camper any production camper manufacturer makes, period."  Dustin is well known at TCM for his excitability, and this was no exception.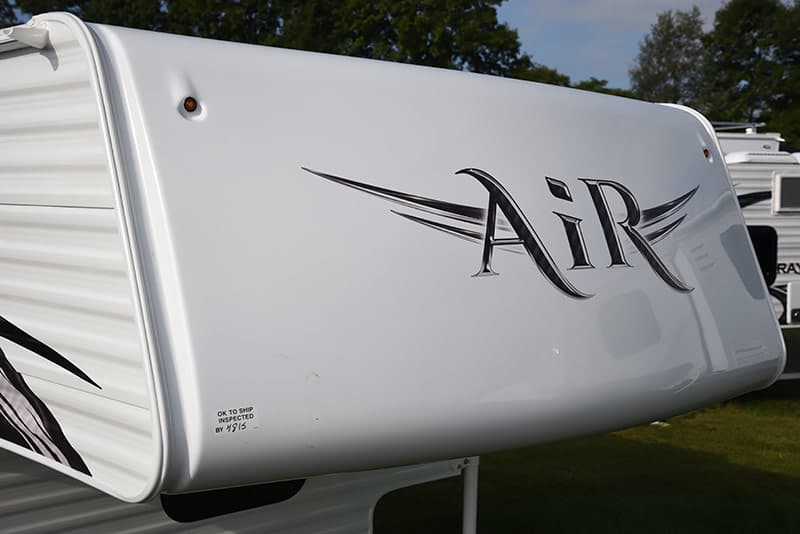 Above: The Air features a wrap around front nose cap.
Saving the best for last, Dustin hit us with perhaps his biggest Air idea, "The Air is going to be the same price anywhere in the United States, coast-to-coast."  Dustin stated that the power sports industry had adopted this progressive pricing strategy, and he was going to employ it with the Air.  If the "lightest weight hard side" comment didn't make the industry sweat, including freight into the base MSRP idea surely would.
So what does the Air weigh?  1,120 pounds.  And what does it cost?  $12,268 retail.  With no available options, and no shipping costs added, those are the numbers.  The question is, can a 1,120 pound hard side camper at $12,268 (freight included) really be worth owning?
Is there something to the Air, or is it just dust in the wind?   Let's find out.
Floor Plan Evaluation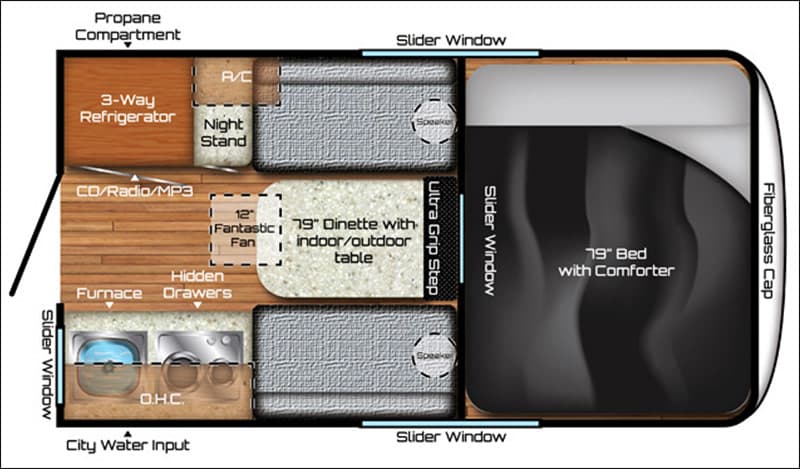 As with the Travel Lite 625 and the Travel Lite Rayzr Campers, once you step into the Travel Lite Air, everything is right there.  The direction you face determines what area you're in.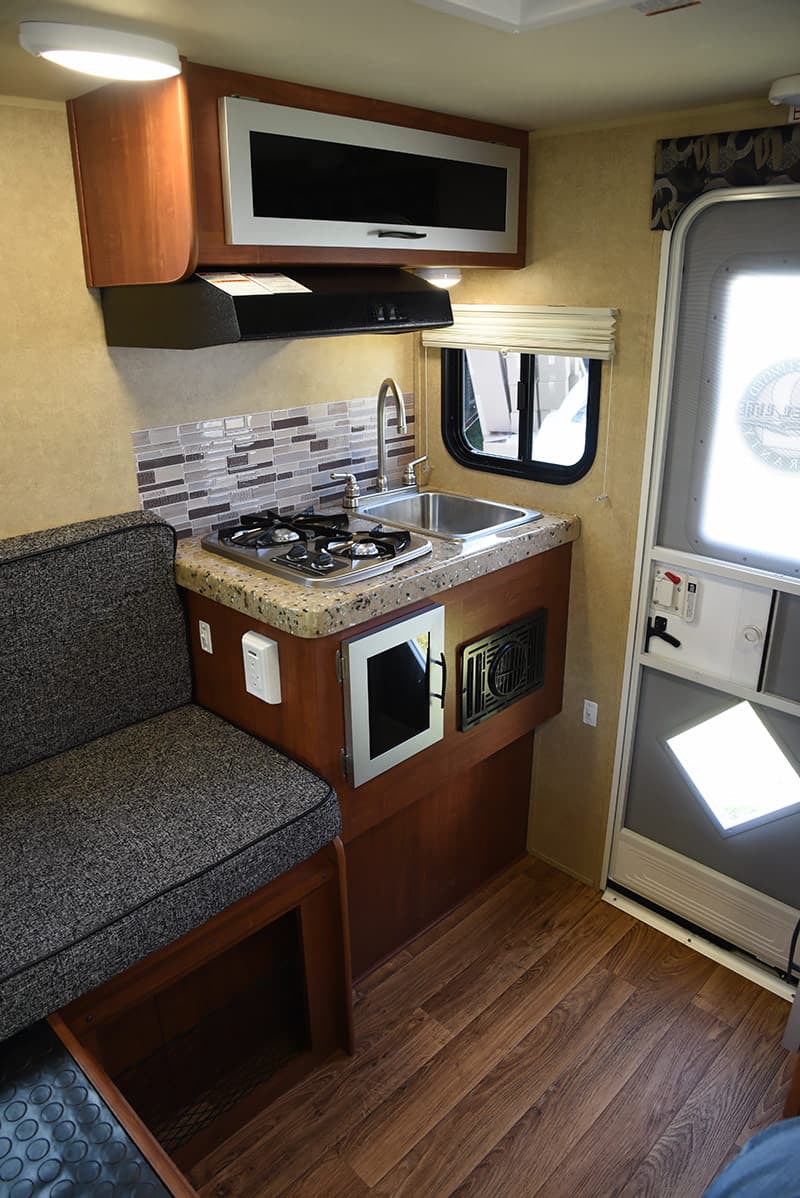 Turn to the passenger's side and you're in the kitchen.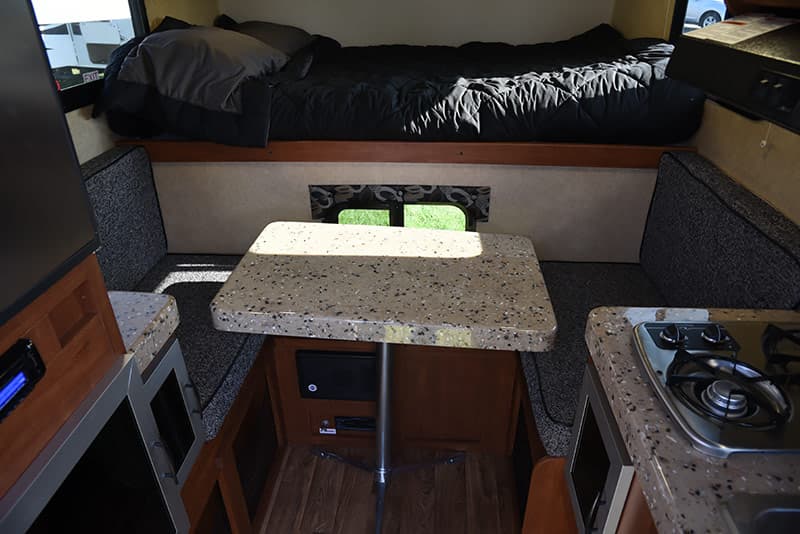 Face forward and you're at the dinette.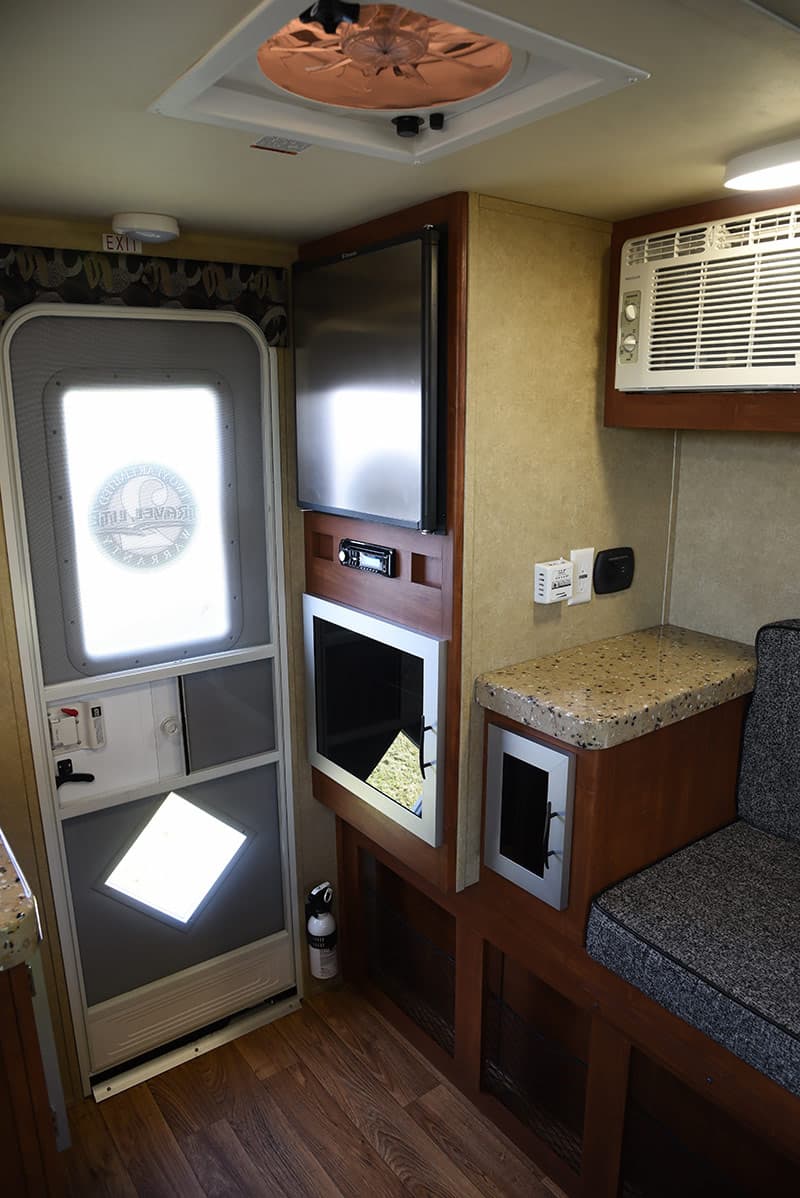 Turn to the driver's side and you're at the refrigerator, air conditioner, and side table.  From there you can sit in the full-booth dinette or move further forward into the east-west cabover bedroom.
That's the grand tour of the Air, but it's certainly not the real story.  Without a bathroom taking up precious floor space or overhead cabinetry consuming headroom mid-ship and forward, the Air actually feels quite open for a small camper.  Remove the removable table and there's even 5'9" of wide-open floor to look at.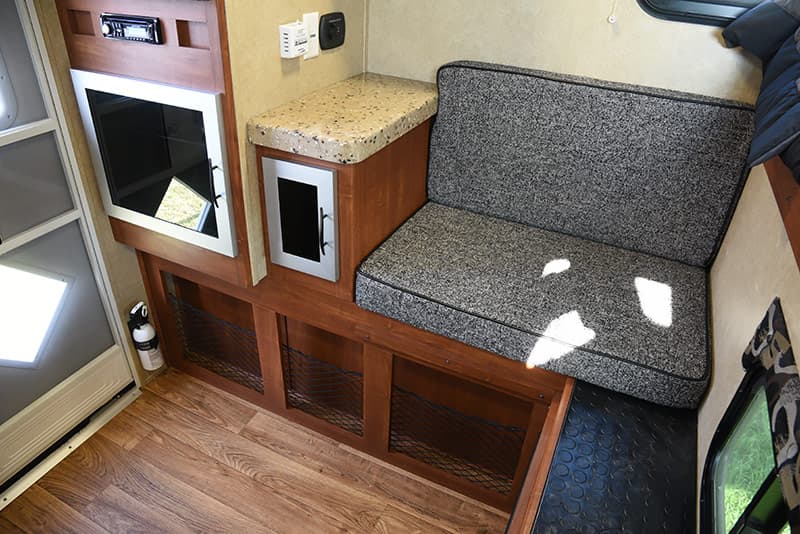 Naturally, a lot of truck camper designs would open up if you (a) removed the bathroom and (b) deleted all the overhead cabinetry from the forward two-thirds of the unit.
It's almost cheating, except when you remember the concept of the Air; simplicity, light weight, and maximum truck compatibility.  In a way, the Air's sense of openness is a direct result of these design priorities.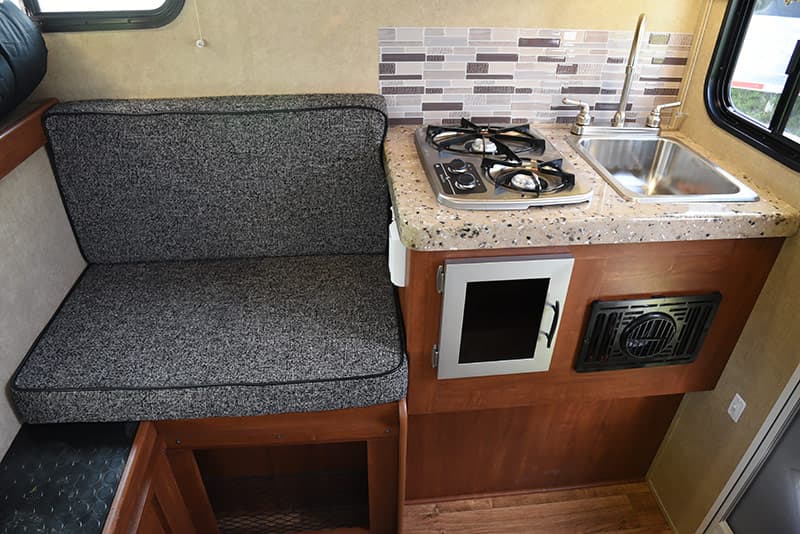 Let's back up, but not too much that we fall out the entry door.  Two steps back, and stop.  Now turn towards the passenger's side and voila, the kitchen!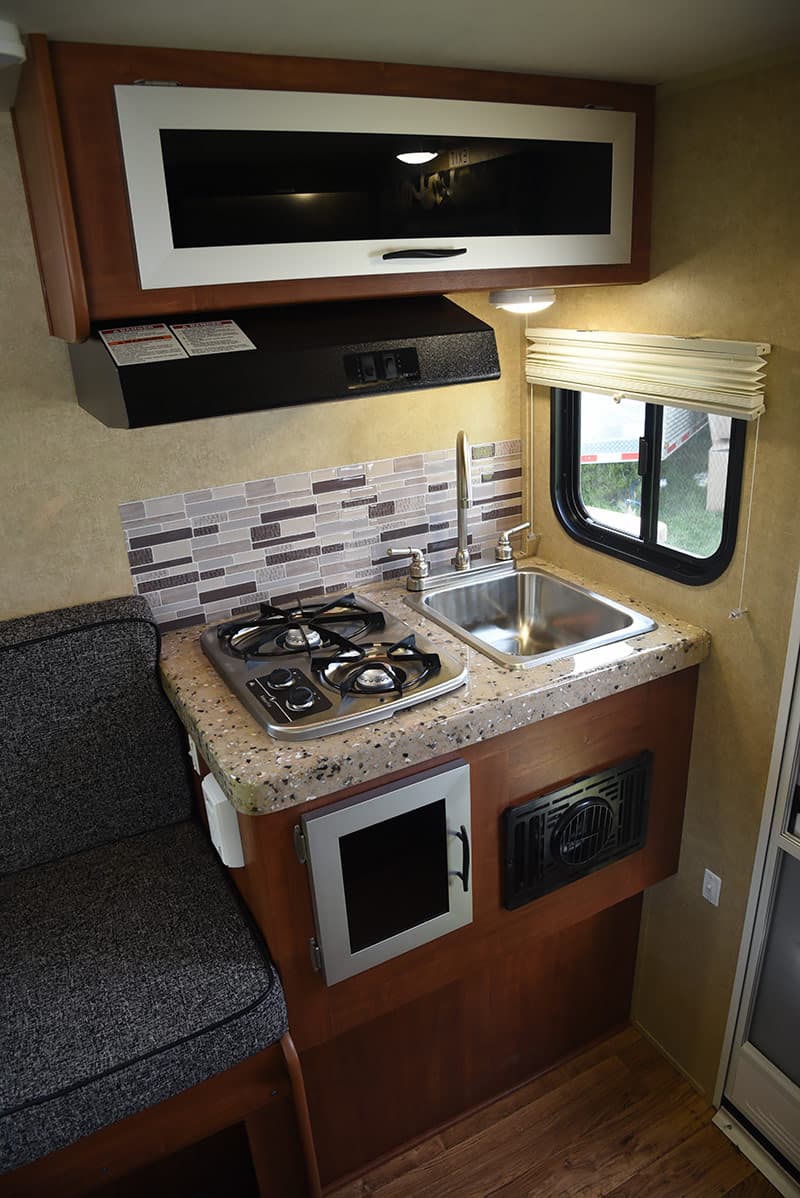 You have to admire how much function Travel Lite fit into a small space.  With a stainless steel two-burner Atwood propane cooktop, stainless steel sink with high rise faucet, Granicote fiberglass countertop, a faux tile backsplash, and a window, the kitchen attractively offers what you need to prepare simple hot beverages and meals, and clean up.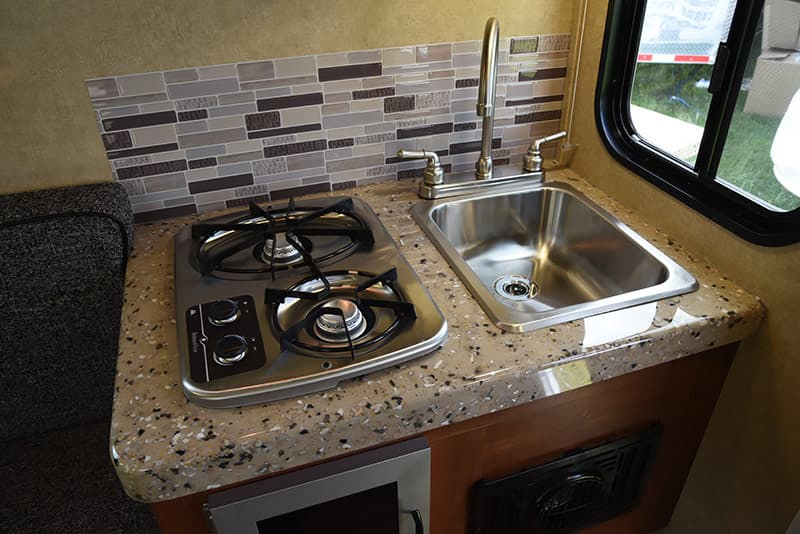 Space for meal preparation (aka counter space) is essentially non-existent, but that's what the removable table is for.  My hunch is most folks who will purchase the Air will use the cooktop for morning coffee and very simple one-pot meals.  Otherwise, they'll be grilling outside, eating at restaurants, or preparing meals that don't require cooking.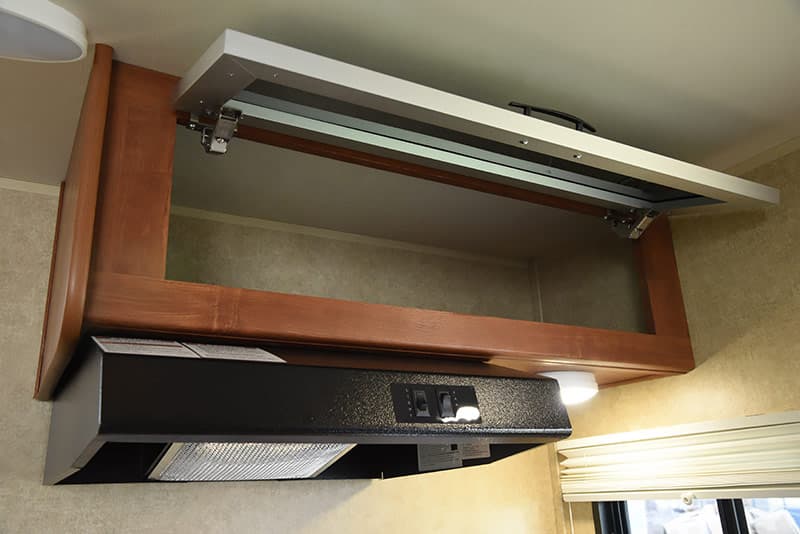 Above the cooktop and sink is a storage cabinet that seems destined to hold cups, plates, and dry food items.  Air owners will need to be very conservative about what they bring and equally clever about how they store it within the camper.  There's storage in the Air, but none to squander.
Under the cabinet and immediately over the cooktop is a metal range hood with a fan and light, and a separate LED light.  In a camper as small as the Air, the range hood light will be a perfect ambient walk-around night light.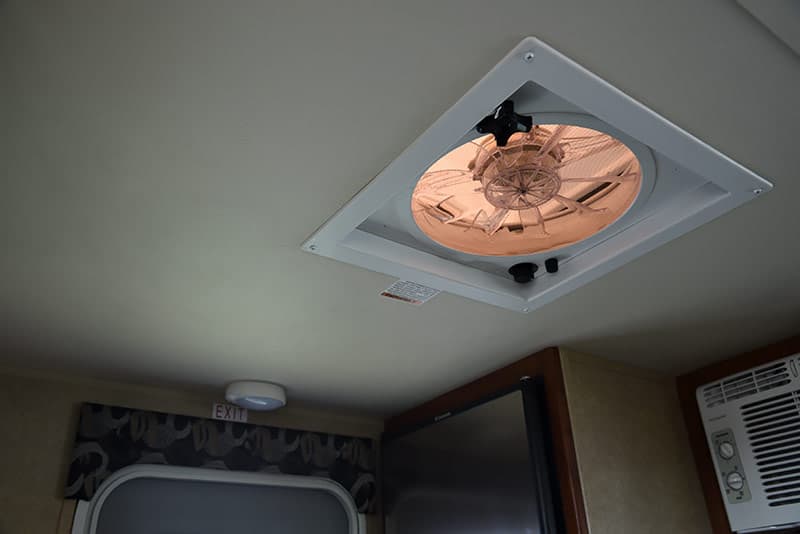 The range hood fan is a welcome feature, but probably superfluous with the much more powerful Fantastic Fan above the main area.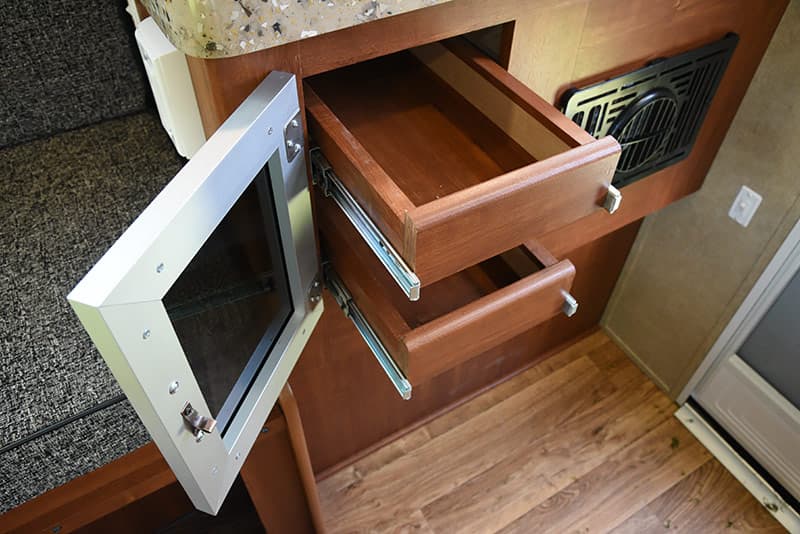 Under the countertop is a small cabinet (with two secrets) and a 12,000 BTU Atwood furnace.  When one opens the cabinet door, you discover not cabinet space, but two pull-out drawers.  These drawers are in the perfect spot for silverware and utensils and ring the "right storage in the right place" bell.
I'm not sure exactly why Travel Lite didn't just put in two drawers here.  Without the admittedly modern aluminum cabinet door, the drawers would have been more convenient for daily access and a touch bigger.  On balance, Travel Lite definitely scores on style points and the surprise factor.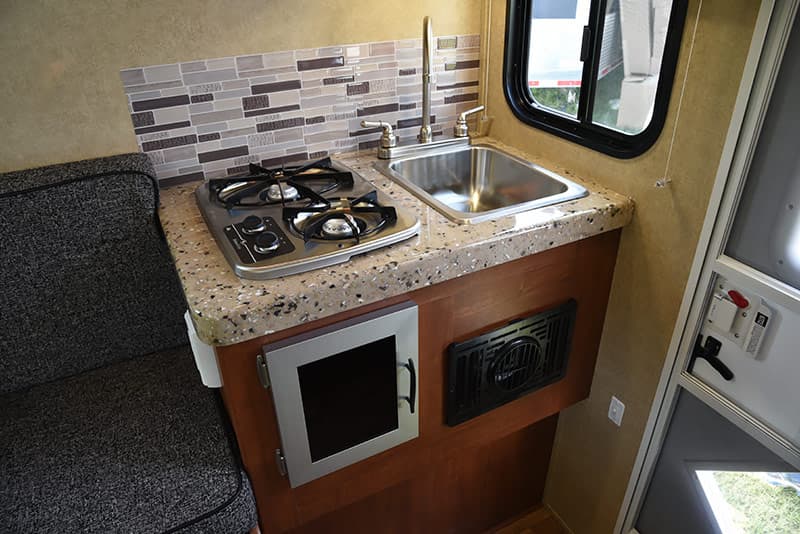 Even with single pane windows (versus insulated dual-pane), the 12,000 BTU Atwood furnace will keep the Air quite warm.  If you're looking to camp with the Air in colder weather, your only potential limitations could be propane capacity and power.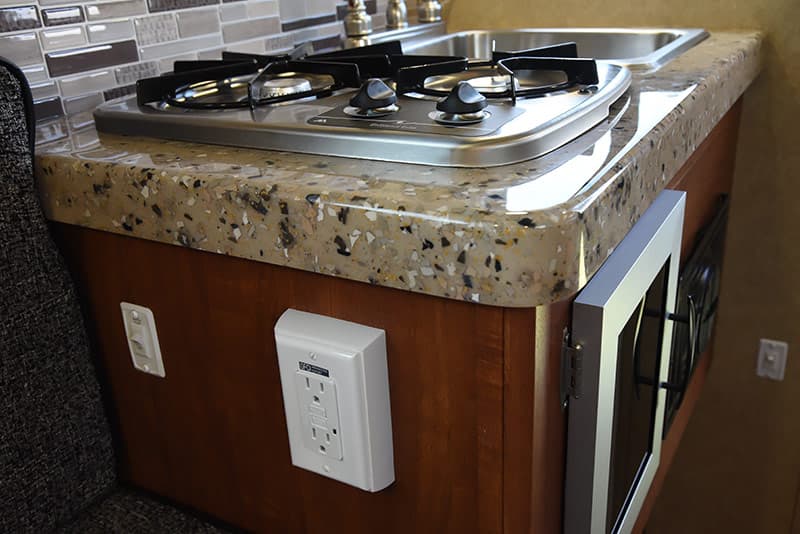 Speaking of power, there's a 110-volt GFI outlet on the forward facing side of the kitchen and the water pump switch.  With the location of these features, owners will need to be mindful of a possible spill over from the sink and cooktop above.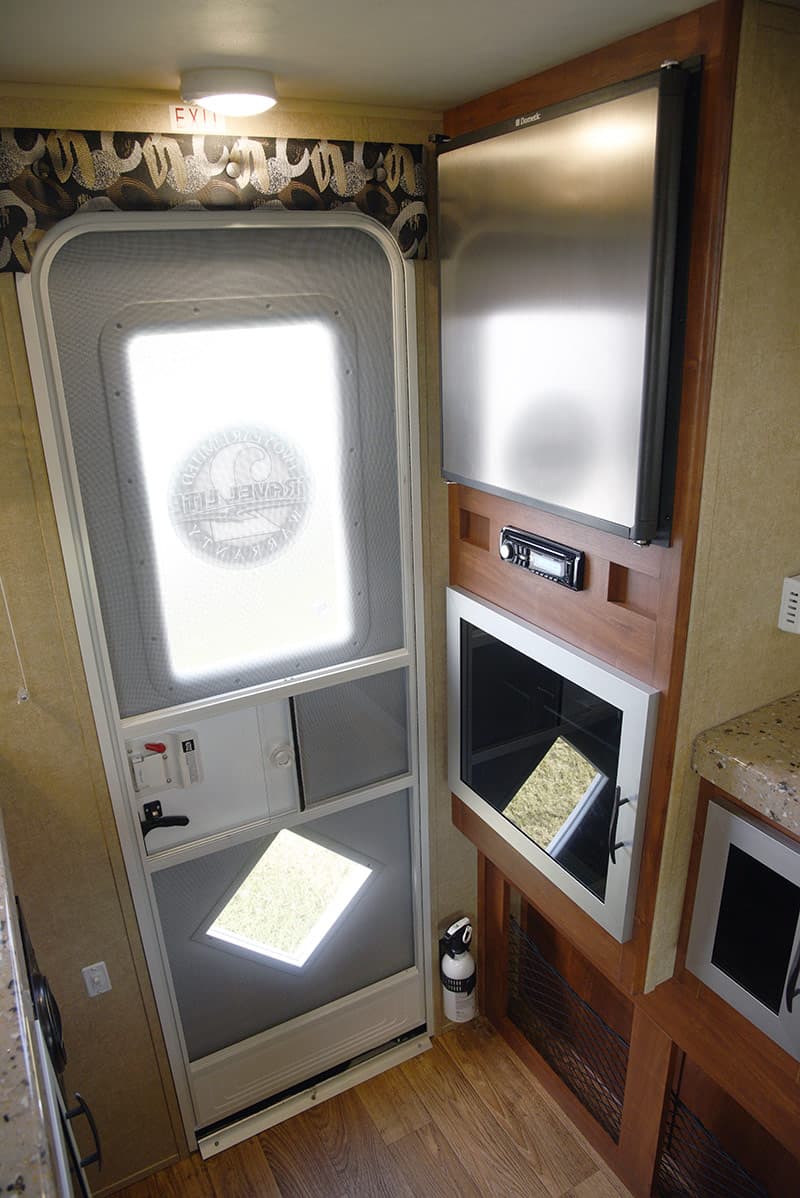 Now let's do the hokey-pokey and turn around.  Directly across from the kitchen on the driver's side is the 3-cubic foot 3-way Dometic refrigerator, Dual brand AM/FM CD stereo system, aluminum cabinet door with sealed Group-27 battery box, and storage netting.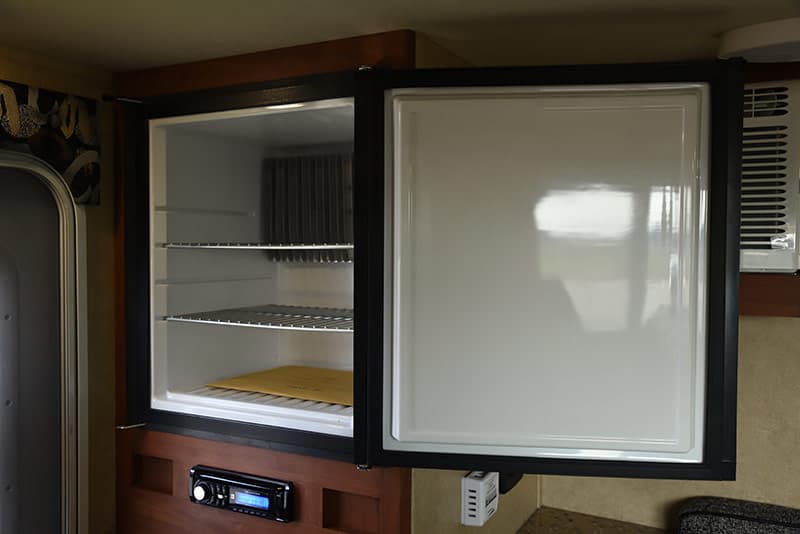 Not that long ago, a camper this small always came with an ice chest.  Having a 3-cubic foot 3-way Dometic refrigerator as standard is an amazing luxury in a unit where every inch, ounce, and penny counts.  Like the rest of the Air, storage in this camper will need to be used carefully, but the refrigerator is nice feature for an entry-level, half-ton, hard side.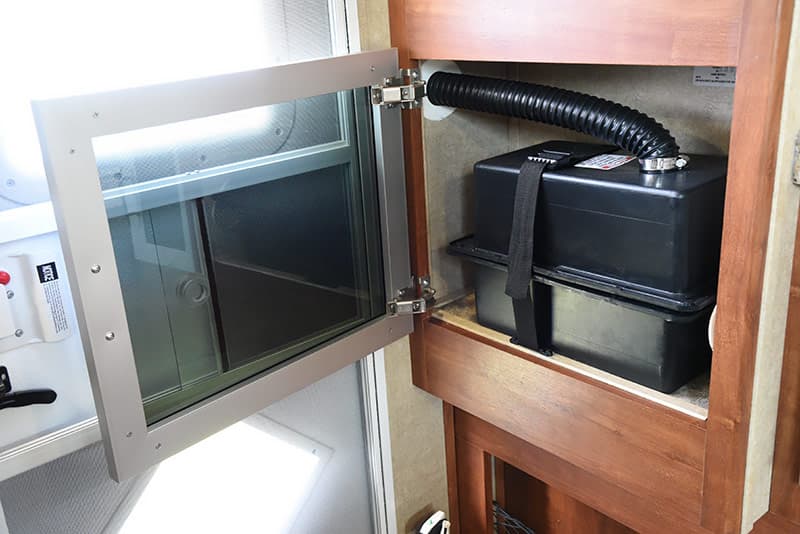 In a small camper like the Air, it's a bit disappointing to see a large cabinet used up for a battery.  That's a lot of interior storage lost.  Air owners could employ Torklift International's Extended Power or Hidden Power battery exterior battery box solutions and gain this precious interior storage space.  Given how precious storage space is in the Air, that would be a priority for us.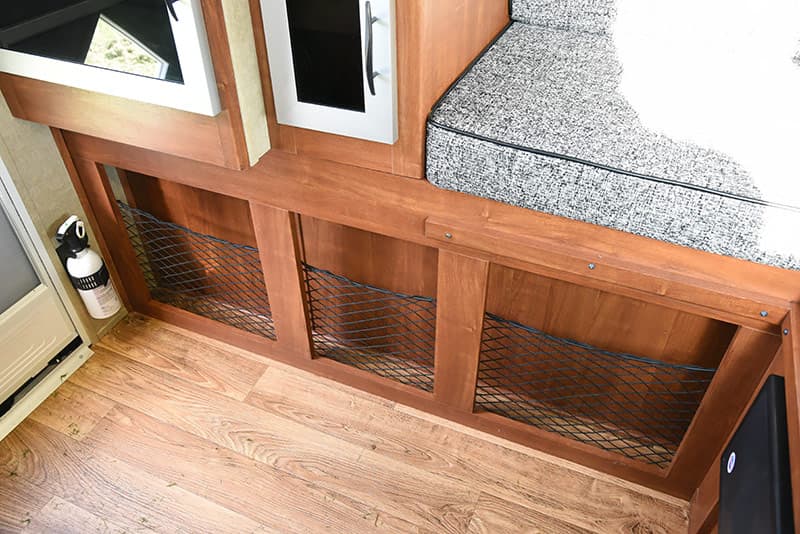 Netting is used instead of wood cabinet door faces and hardware primarily to save weight and cost.  Since those are the two goals for the Air, it only makes sense that netting was employed for the storage area along the lower driver's side.  This looks to be a good area to store shoes.
Now that your shoes are off, have a seat in the face-to-face dinette.  The fact that we're even talking about a face-to-face dinette in the Air is something of a miracle.  Travel Lite's trick was to place the dinette along the forward wall; an approach usually seen in European camper designs.  This allows for two full-booth dinette seats, and the addition of a removable table.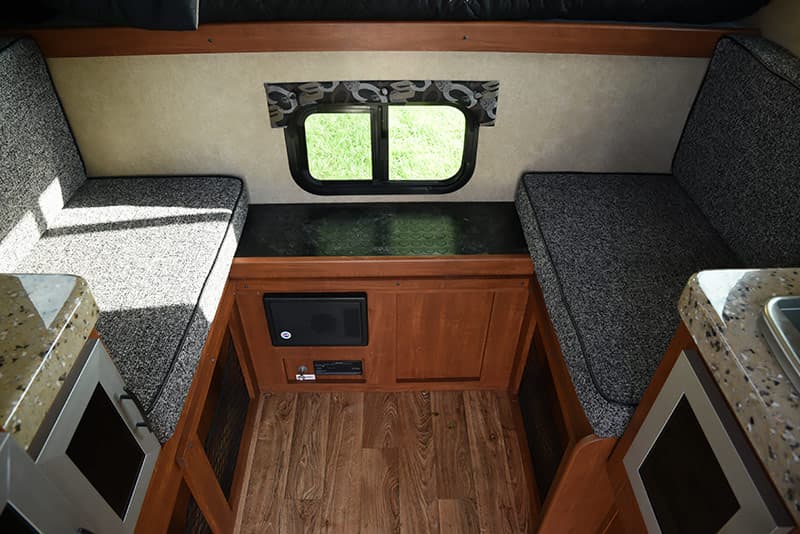 The seating was quite comfortable and generously sized for two facing adults.  Two adults on each side might fit, but it would be tight.  Without the table, I can picture two adults lounging with their feet on the opposite sides; reading and relaxing.  In a way, it's like having two small sofas.  Not too bad for a 1,120 pound super short bed camper.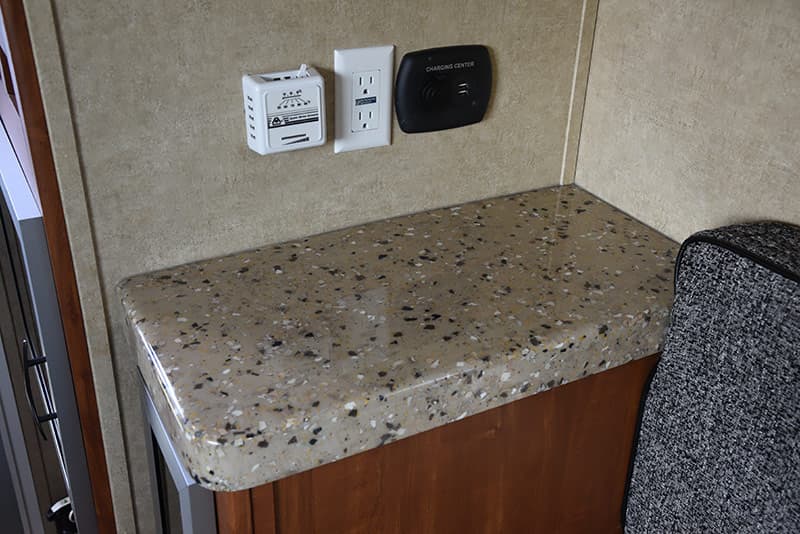 On the driver's side of the dinette area is a small table top, Atwood thermostat, 110-volt outlet, and a 12-volt and dual USB outlet.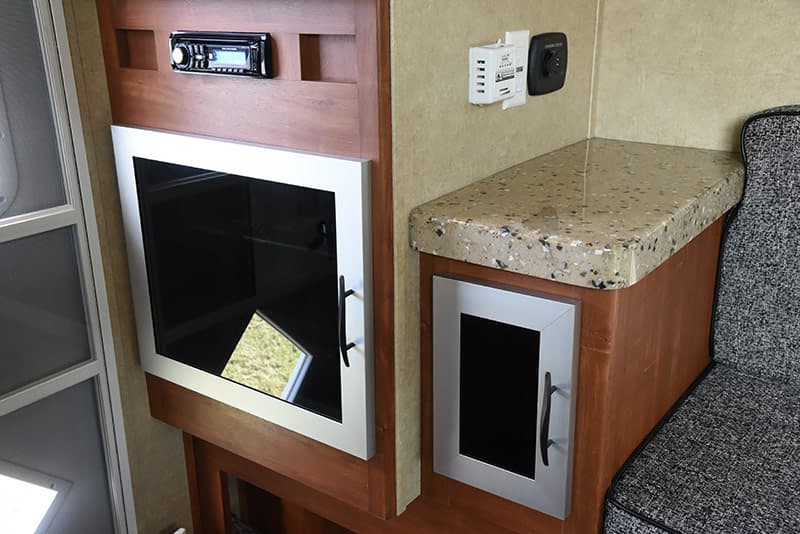 With the 12-volt and dual USB outlets, the table top is screaming, "charging station" for smartphones, tablets, and the other devices that have kidnapped our daily attention.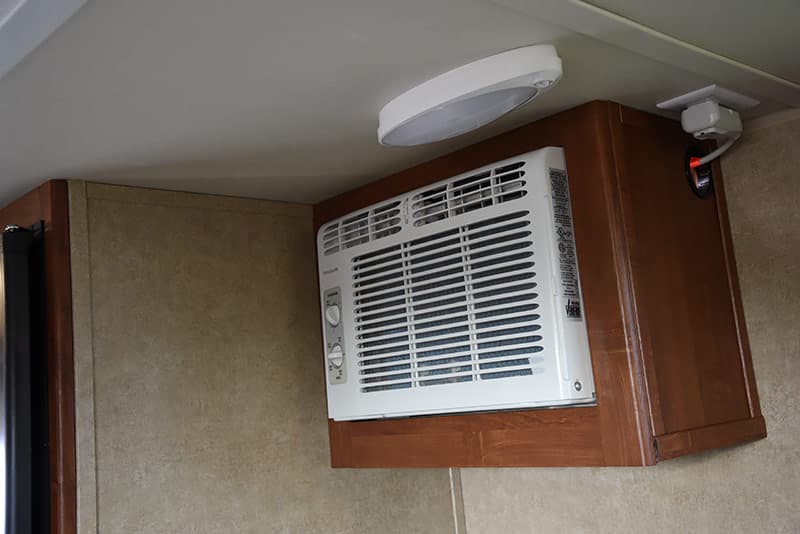 Above the table top is where the side-mounted Frigidare air-conditioner is installed.  With seven temperature levels and four settings (low fan, high fan, low cool, and high cool) the air conditioner helps the Air to be useful for hot weather camping.  The obvious caveat is the need for 110-volt power.  To use the air conditioner, you'll either need to be plugged into shore power or running a 2,000 watt generator like a Honda EU2000i.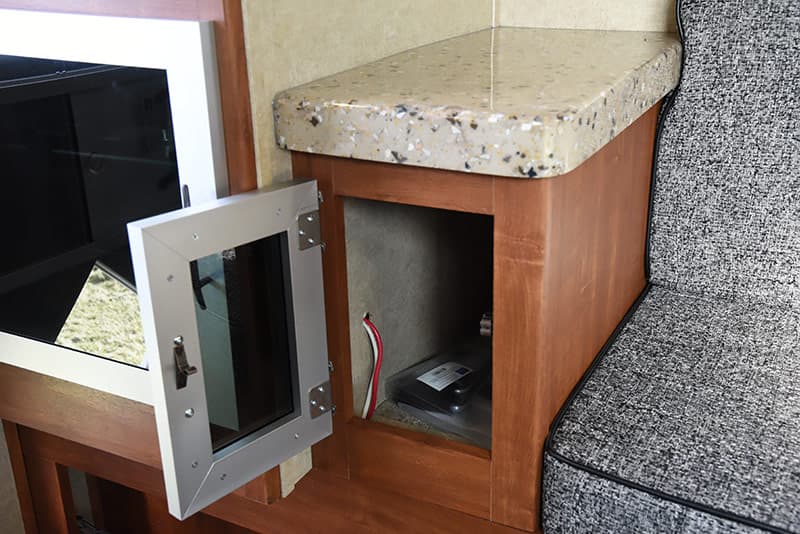 Under the table top is a small storage cabinet.  With the minimal amount of storage in the Air, it's nearly impossible to predict what this space will be for.  I'm always worried about where I can put at least two weeks of underpants.  More on that later.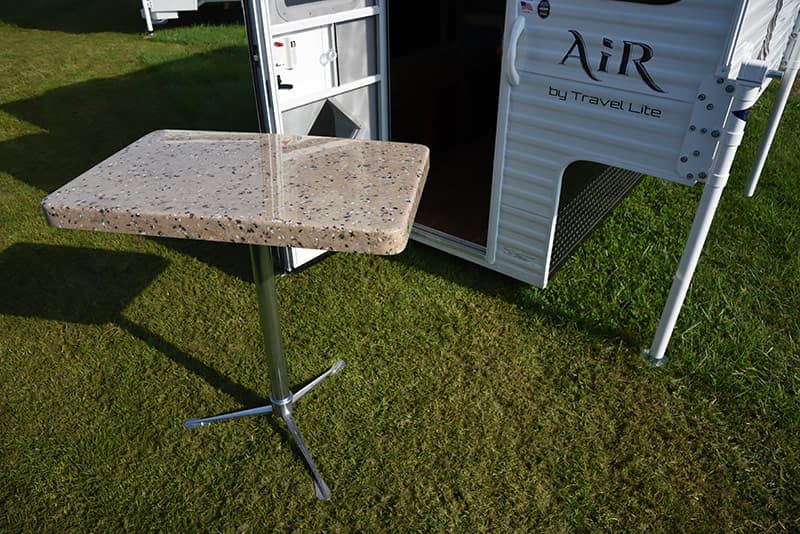 When I photographed the Air, I moved the removable table top quite a bit.  The Granicote fiberglass top, single post, and three collapsible feet didn't weigh much (maybe 10 pounds), but the three feet were a bit challenging.  Once you lift the table, the feet collapse downward and together.  That makes putting table back down a little tricky.
Installed in the camper, the collapsible legs and single post weren't quite steady, and the table wasn't quite horizontal giving the table a slightly wonky feel.  I would definitely give this system another shot, but the temptation would be to leave it at home.  I'm not 100-percent sold that this camper needs a table.  If it turned out that we did, I would look for a sturdier and more versatile solution.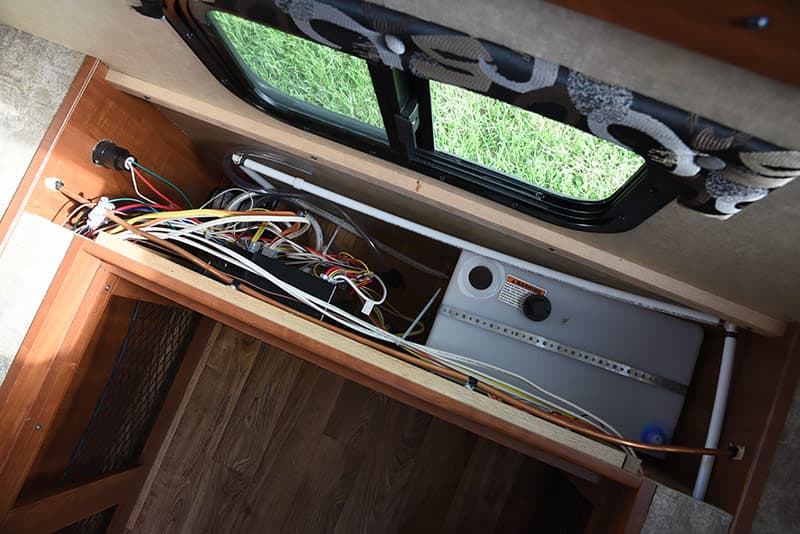 Between the face-to-face dinette is a lift-up panel that reveals the Shurflo water pump, back of the converter, and ten gallon fresh tank.  And look, the fresh tank fill is located literally on top of the tank.  That means you fill the fresh tank inside the Air.  That's something we had never seen before in a truck camper.
Dustin explained that routing the water fill from the exterior had several design compromises, and that an interior fill for a ten gallon tank made more sense.  He suggested that owners would run their fresh water hose into their unit and fill the tank.  Or, they could use gallon jugs.  Either way, it's a quick job.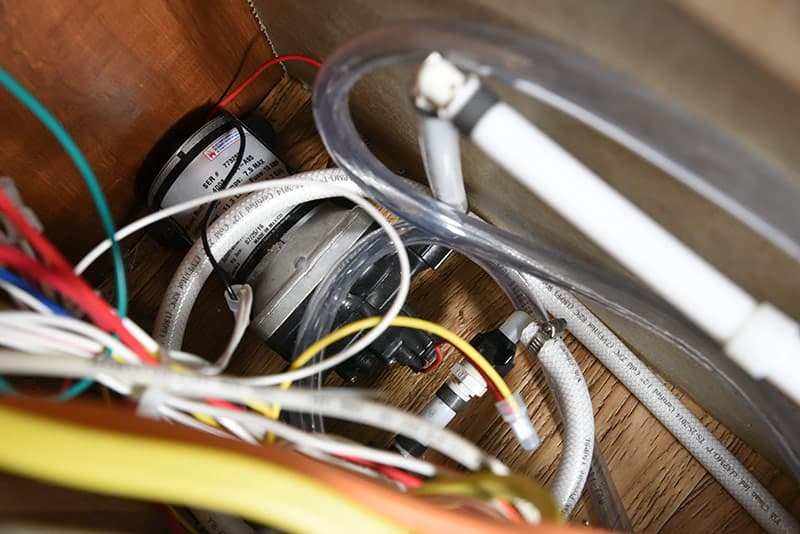 We stared at this water tank for some time and thought about what Dustin said.  It made sense, until we thought about the realities of filling a water tank.  If you're not paying attention (and sometimes even when you are), water tanks overfill and/or back pressure will push water out.  With the 110-volt converter and fuse panel inches away, this could potentially be a problem.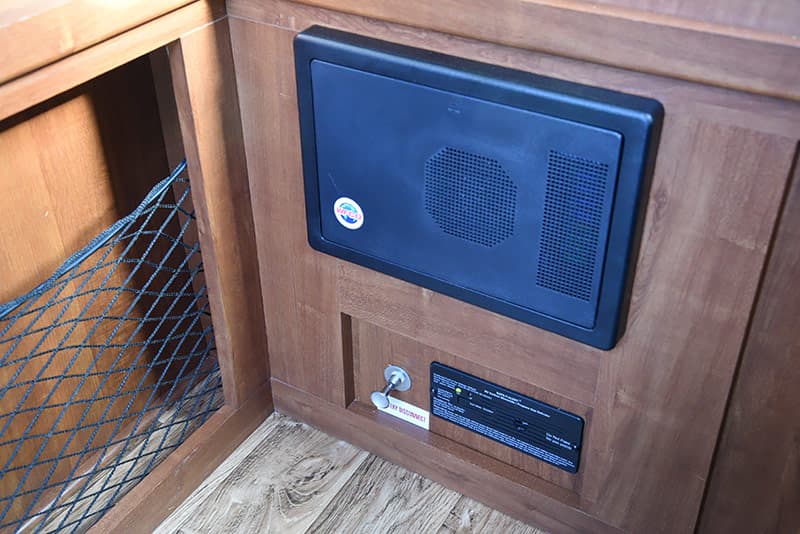 To be as safe as possible, I would not recommend filling the Air while plugged into shore power or running a generator.  Even better, pull the battery disconnect too (it's under the converter).  I would even drape a dry towel over the converter and wires for further protection.
Then carefully fill the tank with a hose adapter that physically enters the fresh tank.  We use a 5/8-inch Camco 40003 water tank filler with shut-off valve that should fit.  Once the tank is full, install the cap, dry any water on the exterior of the tank area, and you should be ready to go.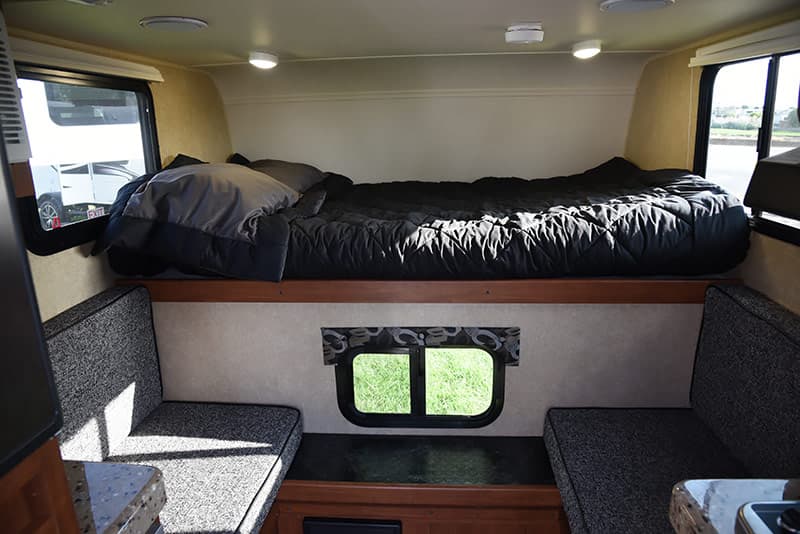 The east-west cabover bedroom further illustrates the extreme Travel Lite has gone to save weight and cost.  In short, there's a 79-inch east-west bed, two LED lights, and the fire alarm.  That's it.
With an east-west design, you'll be climbing up and over your spouse to get out.  And I'd be the first one to wake up and test the fire alarm battery with my head.  Then I'd need another pair of underpants.  Now, where did those go?
To be fair, north-south cabovers and storage cabinets add a lot of weight and cost.  It could be argued that the Air concept would not work (too heavy, too costly, not as truck compatible) with a north-south bed, and cabover cabinetry.
Duffle bags would be my preferred solution to the cabover storage challenge.  First of all, the Air really isn't intended for long term or long distance camping.  Most owners will likely camp nearby for a long weekend.  How much clothing do you really need for a long weekend?  A duffle bag of clothing per person would probably do.
Before we take three steps and exit the Air, the windows need one last look.  There's one slider window on all four sides of the camper; driver's side, passenger's side, front wall, and rear.  That's excellent for light, ventilation, and overall sense of an open camper.  The four slider windows are a nice touch on a well thought out unit.
Specifications
| | |
| --- | --- |
| Specifications | |
| Dry Weight | 1,120 pounds |
| Wet Weight* | 1,788 pounds |
| Floor Length | 5'9″ |
| Overall Length | 10'3″ |
| Width | 86″ |
| Interior Height | 6'3″ |
| Exterior Height | 6'9″ |
| Center of Gravity | N/A |
| Truck Type | Long or Short Bed |
At 1,120 pounds dry, the Travel Lite Air isn't the lightest hard side cabover camper on the market, but it is the lightest production line hard side cabover camper on the market.
Put another way, the Travel Lite Air is the lightest cabover truck camper you can buy that's been built on a production line, and that's available at a dealer network.  To get a camper lighter than the Air, you will need to forgo a cabover (like with a Travel Lite Rayzr), and/or custom order a unit from a direct manufacturer.
The most sensible truck camper to compare the Air to is the Travel Lite 625.  Where the Air has a floor length of 5'9", the 625 has a floor length of 6'2".  Does five inches really make a difference?  It does if you care about storage, weight, and cost.  When you're trying to payload match a half-ton, every ounce counts.
The overall lengths of the two campers are also a few inches apart.  The Air is 10'3" and the 625 is 10'10".  Again those seven inches come to bear for matching and move the center of gravity.  As of the writing of this review, the 625's center of gravity was 29-inches from the forward wall, but Travel Lite had not yet released the center of gravity for the Air.
The width is going to surprise folks.  In short, the Air is wider at 86-inches versus 78-inches for the 625.  The eight inches of extra width is a part of the design formula that makes the fantastic full-booth style front dinette possible.  It's probably another reason why the Air feels so open when you walk in.
The interior height of the Air is 6'3" versus 6'6" in the 625.  Funny enough, I am 6'3", or at least I am when I stand up straight.  I never noticed the ceiling was low in the Air, so clearly I'm slouching on the job again.  If you're really tall or need to sit up fully in the cabover bedroom area, this might be an issue, but otherwise you'll appreciate the lower height when driving down the road.
Capacities
| | |
| --- | --- |
| Capacities | |
| Fresh | 10 gallons |
| Grey | N/A |
| Black | N/A |
| Water Heater | N/A |
| Propane Tanks | 20 pounds |
| Batteries | 65 pounds |
The Air only has one 10 gallon fresh holding tank; no grey, no black.  Since the 10 gallon fresh tank is only being used for the kitchen sink (there's no outside shower on the Air), it's likely to last about a week with conservative teeth brushing, hand washing, and dish washing.  The 10 gallon tank of the Air is also 1 gallon more than what's in the 625.
The grey runs out of the side of the unit to be captured in a portable container, just like most pop-up truck camper designs.  As is the Air's mission, not having a grey tank saves weight and cost.
Another big difference between the Air and 625 is the absence of a water heater.  Since the Air doesn't have an outside shower (the 625 does) there's really no need for a hot water heater, unless you insist on warm water to wash hands and dishes.  At this price and weight point, most folks probably don't care enough to add the cost and weight of a hot water heater.  If they do, they can get a 625.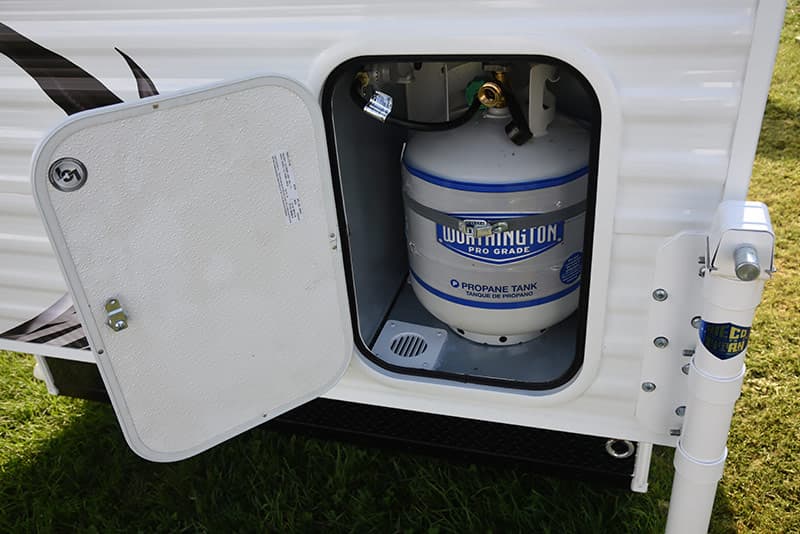 The single 20-pound vertical propane tank matches the offering on the 625 and is utterly perfect.  You can exchange 20-pound propane tanks darn near anywhere, and the 5-gallon capacity should last for at least a week of running heat, the refrigerator, and cooktop.  If it's really cold outside, maybe less than a week.  If you don't need heat, at least two weeks, probably more.
With all LED lighting, the single Group 27 battery (shown in the floor plan evaluation) is also perfect for a camper this size.  The blower in the Atwood heater poses the biggest threat to this battery.  If it's cold out and you crank the heat all night, you could drain this battery in a night or two.  Otherwise, you probably could go a week without a full charge.  If we bought an Air, we would add a single 150-watt solar panel, abstain from all-night heat (that's what extra blankets are for) and forget our power worries.
Wet Weight Calculation
With only one configuration available and no possible factory options, we only need to run one wet weight calculation for the Travel Lite Air.  If only life was always this simple!
Travel Lite Air: dry weight, 1,120 pounds + 10 gallons fresh, 83.4 pounds + one battery, 65 pounds + 20-pound full propane tank, 20 pounds + stuff, 500 pounds = 1,788.4 pounds
Having just spent a few million electrons writing about the severely limited storage in the Air, we are going to cut the stuff weight in half to 250 pounds.  This brings the total wet weight of the Air to 1,538.4 pounds.
Truck Recommendations
What would you do to remove 156.6 pounds from your truck camper?  That's the wet weight difference between the Travel Lite 625 (1,695 pounds) and the Travel Lite Air (1,538.4 pounds).  In terms of percentage, the Air is 9.23% lighter than the 625.  For a camper that was designed to save weight, you have to be impressed with a 9-percent weight reduction.
At 1,538.4 pounds wet, the Travel Lite Air is smack dab in the hot zone of the available payload of many half-ton trucks.  If you go to a truck dealership with a good number and variety of half-ton trucks on the lot, chances are you'll find one, possibly two with the payload the Air requires (or more).
We know this because we have visited truck dealerships with exactly this goal in mind.  Opening half-ton driver's side door after half-ton driver's side door, we discovered that most half-ton trucks on dealer lots hover around 1,200 pounds of payload (pathetic, isn't it?) but a few might hit the 1,500 to 1,600 pound range.
Remember, we're talking about new trucks sitting on the average dealership lot.  If you special order the same brand's half-ton and configure your order to maximize payload, you can get at least another 40-percent more payload.  That's just not what most truck dealerships order.  They fill their trucks with options and packages that compromise payload.
The bottom line is this; the Air is very half-ton compatible, but you still need to pay attention to the payload of your chosen half-ton.  You'll have many more half-ton options with the Air, but you still can't assume a safe match.  Run the numbers and check the payload stickers.
If you can, always buy more truck than you need.  Unless you are 100-percent certain that you won't want to upgrade campers in the future, or tow a boat two years from now, there's no sense in buying a truck that just barely meets the payload requirements of your chosen camper.
When it comes to trucks, always go for more payload capacity if you can.  A one-ton short bed with a Travel Lite Air?  Why not?  You would have many more options in the years to come.
The Verdict
With the Travel Lite Air, Dustin Johns set out to build the next ultimate expression of hard side simplicity, light weight, and short bed compatibility.  With the success of the Travel Lite 625 at his back, he challenged every aspect of floor plan design, material choices, and possible appliances to save a few pounds here, and shave a few ounces there.  The result was the 156.6 pound (wet weight) and 9-percent lighter Air.
So what?  Well, it ends up that those 156.6 lost pounds put the Air much deeper into the real world bulls-eye of half-ton payload compatibility.  After all, isn't the idea of building a truly half-ton compatible hard side truck camper to build a truly half-ton compatible hard side truck camper?  While certainly not universally half-ton compatible (some half-tons have less than 1,000 pounds of payload), Travel Lite has taken another leap closer to that goal.
My biggest concern about the Air is the inside water fills proximity to the power converter.  Air owners can take precautions to prevent any problems when filling the fresh tank, but there's little room for error with electricity and water.  Hopefully, Travel Lite will adjust this aspect of the Air design, possibly with a front wall fill.  Our current camper has a front wall fill next to the jack on the driver's side and that works out fine.
Beyond that, potential Air customers need to understand what the Travel Lite Air is, and is not.  To hit the remarkably low weight, low cost, and high compatibility goal for the Air (all huge benefits), a number of carefully considered compromises were worked into the design.  There's no bathroom or provision for a porta-potti cabinet.  There's no option for a hot water heater or an outside shower.  And overall storage is extremely limited.  If you get the concept of the Air, none of this is likely a deal breaker.
Flying in the face of the cost and weight compromises is the nearly unbelievable list of standard features, and an insanely great face-to-face dinette.  To have a standard 3-way Dometic refrigerator, 12,000 BTU Atwood furnace, Fantastic Fan, Shurflo water pump, stainless steel 2-burner Atwood cooktop in a truly half-ton compatible cabover camper is simply fantastic.  To have a booth-style face-to-face dinette that looks and feels like two comfy sofas is off the charts.
In the end, the Air represents the progress and compromise needed to match a hard side cabover truck camper to real world half-ton trucks.  Based on our experience with the Air, we're very impressed.  We also want to encourage Dustin and Travel Lite to continue down this path.  Keep pushing the weight and value.  Besides, there are many gases that are lighter than air.  Perhaps your next model could be the Helium.
Pros
Half-ton compatible if carefully matched
Tailgate closes on 6-foot short bed trucks
Lightest production cabover truck camper available
Well appointed standard features – see review
Face-to-face booth-style dinette is awesome
Slider windows on all four sides for light and ventilation
Cons
Inside water tank fill is close to the power converter
Very limited storage throughout; pack your duffels
No available options, but comes well equipped
No bathroom or porta-potti compartment
Hidden kitchen drawers waste potential storage space
Removable table is a bit wonky in use
Model Information
2016 Travel Lite 625
MSRP: $12,268
Warranty: 1 year from time of purchase
Travel Lite, Inc.
71913 Country Road 23
New Paris, IN 46553
Quality, Customer Service, and Long-Term Reliability
Truck Camper Magazine inspects all reviewed truck campers for design, material, and quality issues and reports what we find.  However, since Truck Camper Magazine reviews only brand new truck campers, our reviews do not address long-term quality, customer service, or reliability.
To learn about a brand's long-term quality, customer service, and reliability, Truck Camper Magazine recommends talking directly with truck camper owners at truck camper rallies and online via truck camper forums and truck camper owners groups.
Please be sure to balance your gathered feedback across multiple sources including direct correspondence with the truck camper manufacturers and your closest truck camper dealers.  Click here if you are new to truck campers.