Truck Camper Magazine reviews a 2017 Travel Lite Air, a hard side, non-slide short and super short bed truck camper targeting half-ton trucks.  Is this all just hot air, or is the Air hot?

Travel Lite Campers announced the Travel Lite Air in Truck Camper Magazine on October 4th, 2016.  The idea behind the Travel Lite Air was to take the concept of a simple, light weight, and half-ton compatible short bed truck camper to the lightest, simplest, and most half-ton compatible extreme.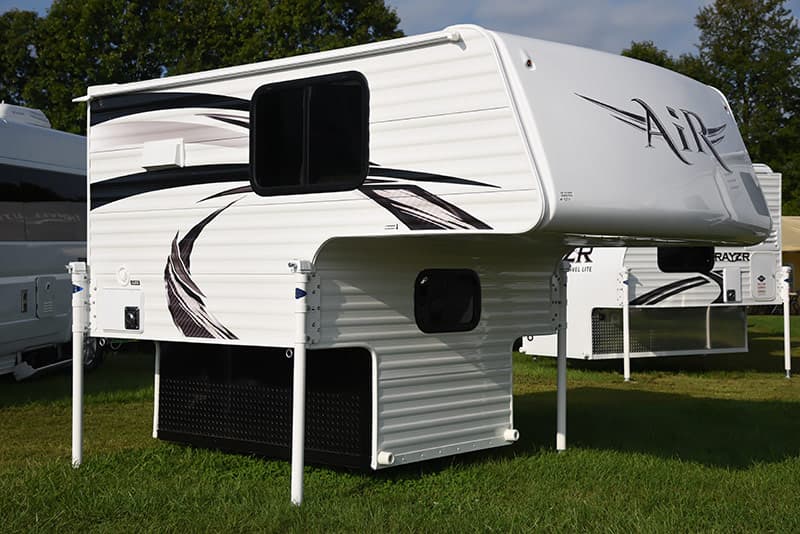 Dustin Johns, President of Travel Lite, has already charted a course down this road with the successful Travel Lite 625 (announced in 2015) and Travel Lite 770 Super Lite (announced in 2011), but he saw even more potential to streamline and light weight a half-ton short bed hard side.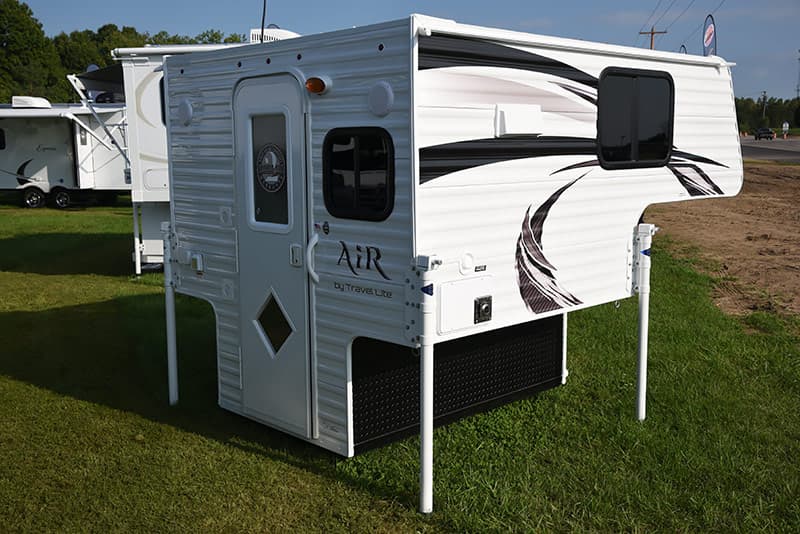 "It's quite different from the Travel Lite 625, 700, and 770 Super Lites," Dustin explained.  "It has different cabinetry, materials, netting, and standard features."
To push the weight and truck compatibility even further, Dustin also designed an all-new front-dinette floor plan for the Air.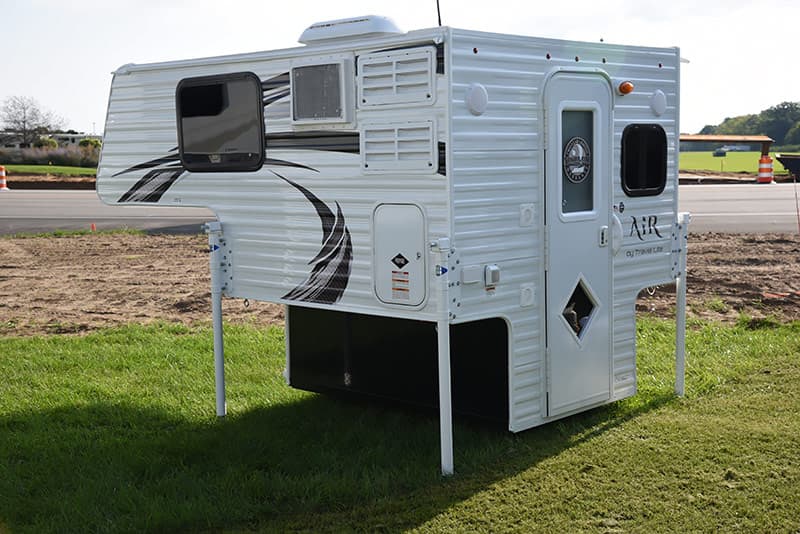 To save additional weight and production hours, the Air comes in only one configuration, and has no available options.
Softening the no-options news, the Air comes with a long list of standard features; Dometic refrigerator, Atwood furnace, Fantastic Fan, Shurflo water pump, Atwood cooktop, 20-pound propane tank, vented battery box, converter, winterizing kit, battery disconnect, removable table, and more.  For a basic unit, it's fairly loaded.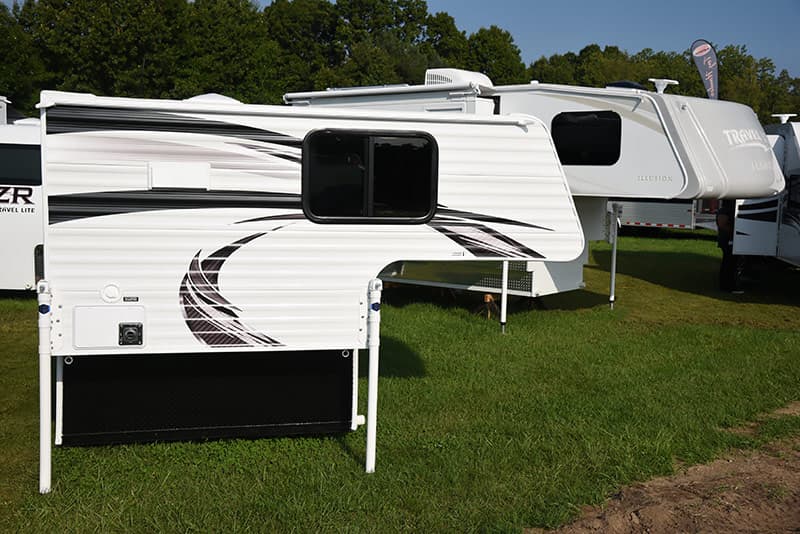 To maximize the Air's truck compatibility, the Air was based on Dustin's extensive short bed truck measurements and will fit 5'8", 6'4", 6'6", 6'8", and even 8' long bed truck beds.  On many short bed and super short bed trucks the Air is designed fit inside the tailgate allowing the owner to use the factory backup camera.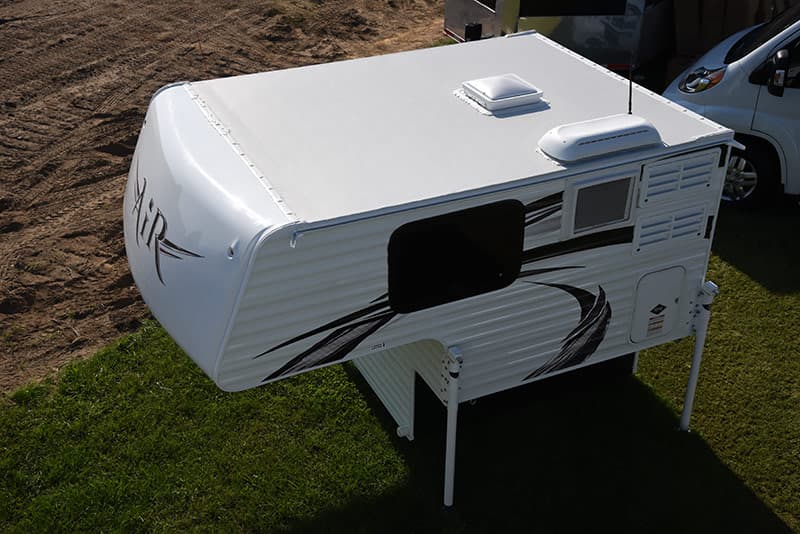 "It's the lightest hard side truck camper we've ever made!" Dustin excitedly declared over the phone during a pre-launch phone call with Truck Camper Magazine.  "In fact, I think it's the lightest weight hard side truck camper any production camper manufacturer makes, period."  Dustin is well known at TCM for his excitability, and this was no exception.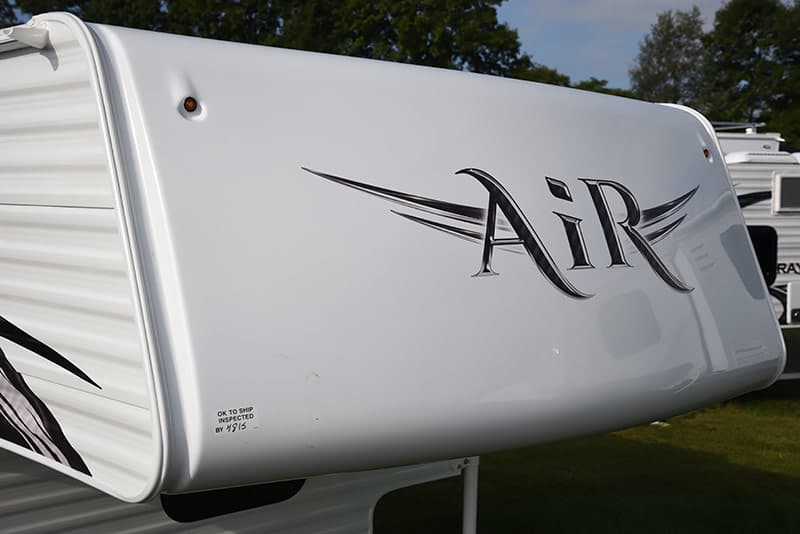 Above: The Air features a wrap around front nose cap.
Saving the best for last, Dustin hit us with perhaps his biggest Air idea, "The Air is going to be the same price anywhere in the United States, coast-to-coast."  Dustin stated that the power sports industry had adopted this progressive pricing strategy, and he was going to employ it with the Air.  If the "lightest weight hard side" comment didn't make the industry sweat, including freight into the base MSRP idea surely would.
So what does the Air weigh?  1,120 pounds.  And what does it cost?  $12,268 retail.  With no available options, and no shipping costs added, those are the numbers.  The question is, can a 1,120 pound hard side camper at $12,268 (freight included) really be worth owning?
Is there something to the Air, or is it just dust in the wind?   Let's find out.