Shut the tailgate!  Travel Lite introduces the 2016 Travel Lite 625, a lightweight truck camper for short or long bed trucks.  Go with a long bed, and get the bonus deck.

Maybe there was something in the water.  Perhaps a secret ingredient in Captain Crunch is to blame.  With my father at 5'7", and my mother standing at 5'2", I'll never quite figured how I grew to to 6'3".  Perhaps it was the mail man.
Whatever my true lineage may be, one thing is certain, if I laid on the floor of Travel Lite's all-new 625, my feet would almost dangle out the back.  With a 6'2" floor length, the 625 isn't quite the shortest hard side truck camper, but it certainly belongs in that group.
A Lightweight Truck Camper For Half Ton Trucks
Why would anyone want a camper this short?  How about these three reasons; low price, low weight, forward center of gravity, easy towing, and (in many circumstances) half-ton truck compatibility.  Okay, that's actually five reasons.
Some folks just want a simple hard side, and nothing more.  They don't want your stinking slide-outs.  They don't need a bathroom.  All they need is a dry place with heat, a comfortable place to sit, a comfortable place to sleep, a sink, stove top, and storage.  For these folks, a lightweight truck camper is happiness in a truck bed.
The deeper question is, why did Travel Lite build the 625?  To find out, we talked to Dustin Johns, President of Travel Lite Campers.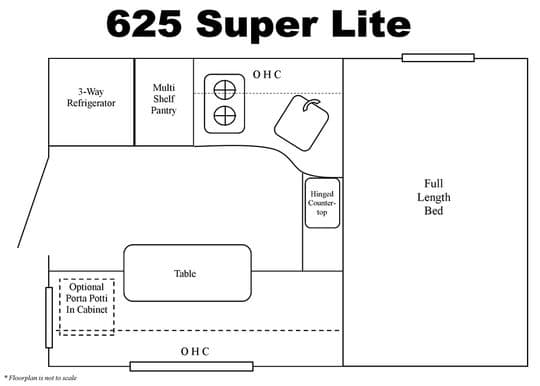 Travel Lite 625 Camper Specifications
The 2016 Travel Lite 625 is a hard side, non-slide camper made for long or short bed trucks.  The interior floor length of the 2016 Travel Lite 625 is 6'2″, the interior height is 6'6", and the center of gravity is 29″.  The 2016 Travel Lite 625 has a 9 gallon fresh tank and a porta-potti.  It can accommodate one battery and has one twenty pound propane tank.  Travel Lite is reporting the base weight of the Travel Lite 625 to be 1,285 pounds.  The base MSRP for the 2016 Travel Lite 625 is $10,495.
Click here for the Travel Lite 625 Super Lite Review.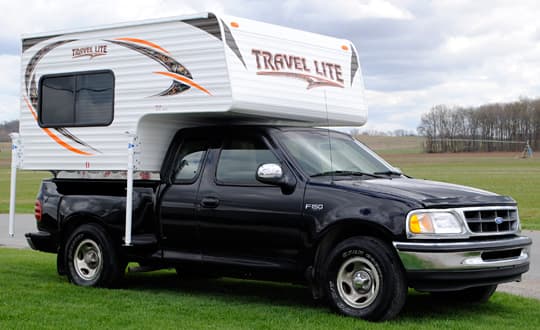 Above: The Travel Lite 625 lightweight truck camper mounted on a half ton.  For truck and camper matching information, read "How To Match a Truck and Camper".  All photos provided by Travel Lite.
TCM: Why did Travel Lite decide to build the 625?
Dustin: The majority of trucks sold in the United States are half ton short beds.  Our customers and dealers have wanted a half ton short bed camper that would allow the tailgate to be kept up, offer plenty of interior room, and feature basic amenities including a stove, sink, and refrigerator.  I was asked to build this camper many, many times.
The floor plan for the 625 has been on my mind for some time.  It will fit a standard 6'6" short bed truck with the tailgate closed.  If your truck features a rear view camera in the tailgate, you can use it with the 625.
This lightweight truck camper is perfect for towing.  With the entire camper in the bed of the truck, there's no need for an extension hitch.  That means your turning radius is excellent.
The spacious interior of the 625 is going to surprise people.  I raised the interior height and designed the 625 with flat roof giving the cabover bed area more headroom.  I also put a lot of windows in this camper.  It really feels open and spacious inside.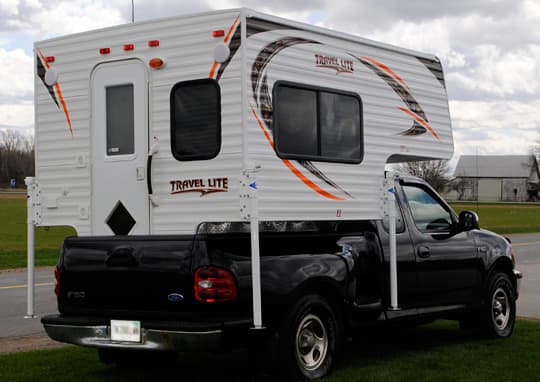 Above: The tailgate closed on a short bed truck
TCM: You don't see many truck camper rigs with closed tailgates.  In fact, they're extremely rare.  Is this really something you think folks are looking for?