TCM reviews the half-ton targeted Travel Lite 625, a short or long bed hard side, non-slide, non-bath truck camper.  Can a camper small enough to fit inside a short bed tailgate actually be worth owning?

According to Dustin Johns, President of Travel Lite, the reasons for building the Travel Lite 625 called him on the phone constantly.  When the Travel Lite 625 debuted in Truck Camper Magazine in June of 2015, Dustin explained, "Our customers and dealers have wanted a half-ton short bed camper that would allow the tailgate to be kept up, offer plenty of interior room, and feature basic amenities including a stove, sink, and refrigerator.  I was asked to build this camper many, many times."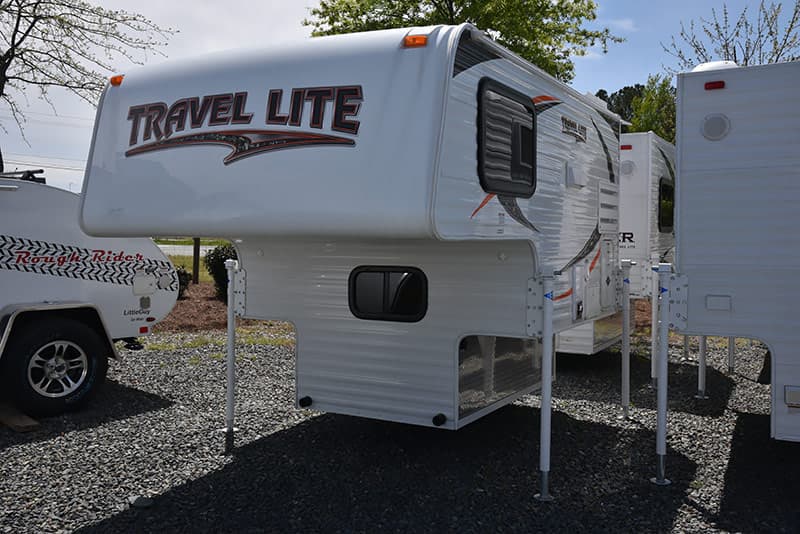 Above: The Travel Lite 625 at D&H RV Center in Apex, North Carolina
From the repeated requests, the Travel Lite team designed a hard side truck camper that would fit inside of a 6.5-foot short bed truck with the tailgate closed.  Keeping the camper inside the tailgate would allow for towing without an extension hitch and provide the best possible turning radius for the rig.  Once lowered, the tailgate could then become a small deck for sitting or gear.
Perhaps the Travel Lite 625's most impressive trick is its ability to work with short and long bed half-ton trucks.  It looks a bit odd mounted on a long bed, but the two feet of bonus truck bed storage is perfect for toys, gear, and water containers.
To keep the weight down, Travel Lite used the materials, construction approach, and design concepts of their best-selling 770 Super Lite model.  The 625 features the same overall profile, kiln-dried Banak wood from South America, and cabinetry netting as the 770.  Further eliminating weight, the 625 was designed without a bathroom, black tank, or grey tank.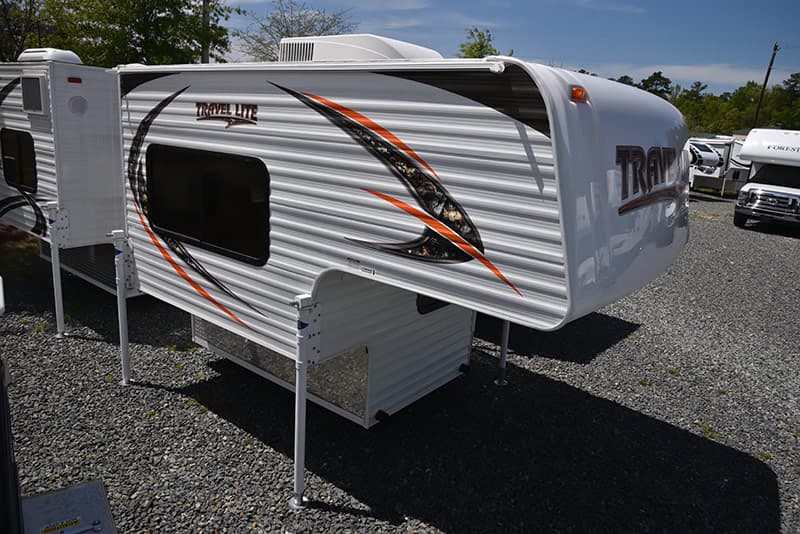 Dustin reported the initial dry weight of the 625 at 1,285 pounds and gave the camper a $10,495 MSRP with standard build options; refrigerator, sink, stove, fresh water tank, converter, and manual Rieco-Titan jacks.  Clearly Dustin was looking to put a sizable dent in the half-ton truck camper marketplace.
Of course the path to half-ton truck camper paradise is paved with good intention truck camper designs that never caught on.  These campers were usually too heavy, too expensive, or too small to become a consistent seller in the marketplace.
The question is, will the Travel Lite 625 break through where so many others have failed, or end up in the half-ton truck camper bin of history?  It's time to put the 625 under the microscope.
We photographed the 2016 Travel Lite 625 seen in this review at D&H RV Center in Apex, North Carolina.
Floor Plan Evaluation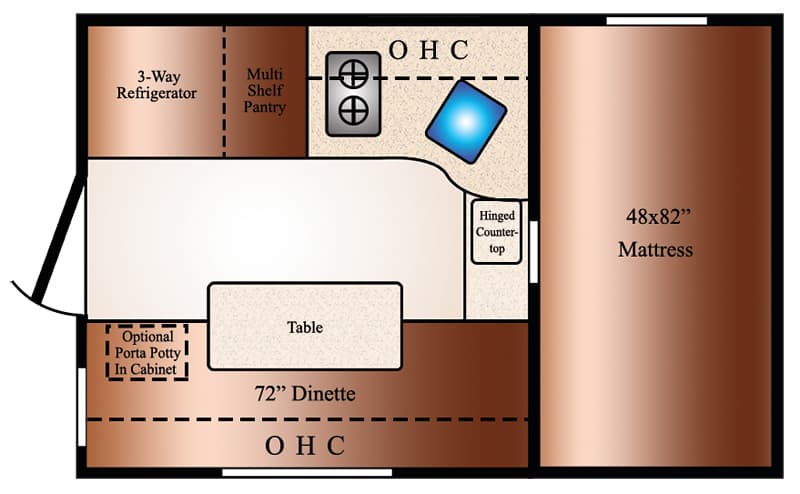 As seems to be the trend of late, the Travel Lite 625 is infused with the ideas and lessons of the past five decades of truck camper design.  This is not a fancy SolidWorks modeled multi-slide with intricate cuts and exotic amenities.  You'll find no CNC-routed curves or luxury appliances here.
What you will find is an firmly old-school, pencil-to-paper, saw-to-wood truck camper design that shoe-horns an impressive amount comfort and utility into a short bed half-ton compatible truck camper.  Shut the tailgate and that's exactly what Travel Lite's dealers and customers asked for.  As the saying goes, give them what they want.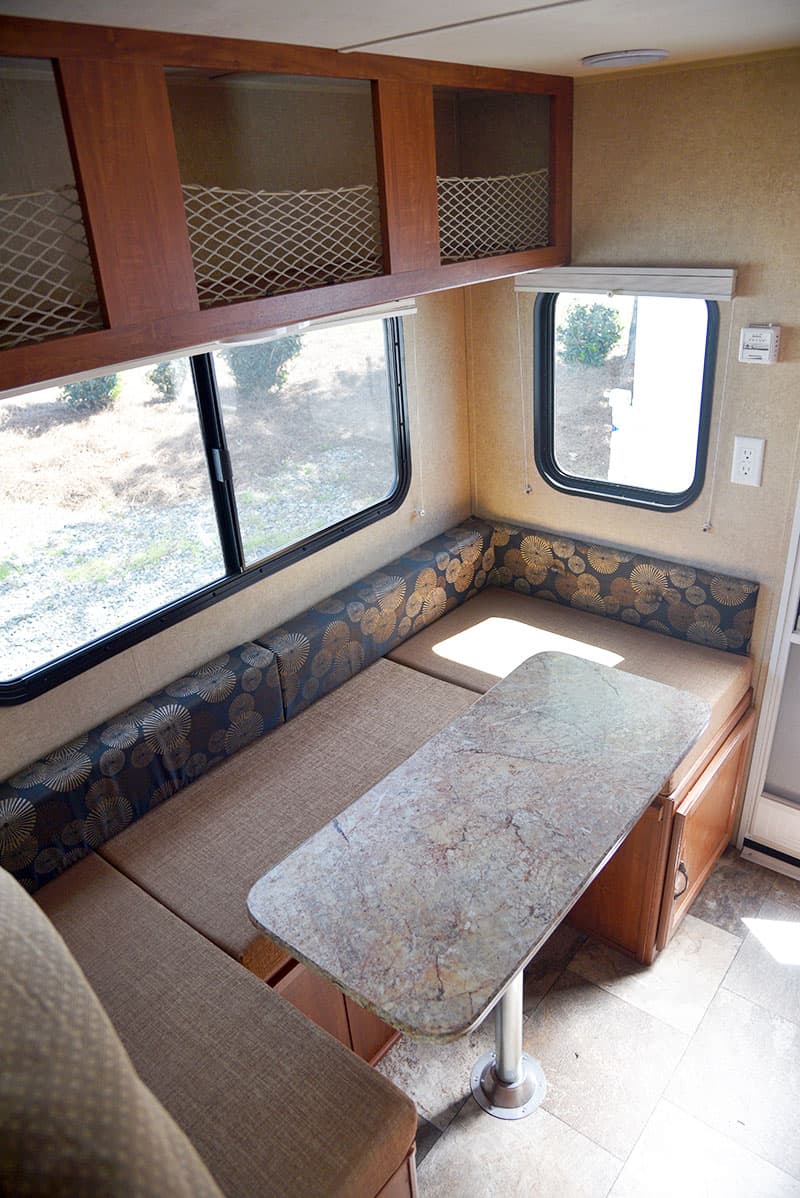 Above: The large 4-foot sliding dinette window brings in a ton of light
Stepping into the 625, the careful design decisions are everywhere.  The main living space feels open and spacious with plenty of light from a dual-window entry door, two large windows in the dinette, and a cabover side window.  Kitchen and dinette cabinetry and storage are readily available and the overall level of materials feels solid and durable.