Before settling down with a house and kids, Meg and Jed Wolfrom set out to explore Central and South America in their custom Phoenix truck camper.  Here's their story, so far.

In April of 2012, Meg (31) and Jed (33) left the comforts of their rental condominium in Jackson, Wyoming and pointed their custom Phoenix truck camper south.  Their plan was to experience Central and South America, seek out exotic climbing locations, and challenge themselves to learn surfing and Spanish along the way.
Six months later, we caught up with Meg and Jed via email as they traveled through Panama City and prepared to explore South America.  Now over four thousand miles into the journey, Meg and Jed rewind and give us the inside scoop on trip planning, truck modifications, and custom camper design.  Then they dive into the details of how they tackled the issues of language, security, border crossings, drinking water, camping spots, and bugs.
Get your passport ready.  We're driving south of the border.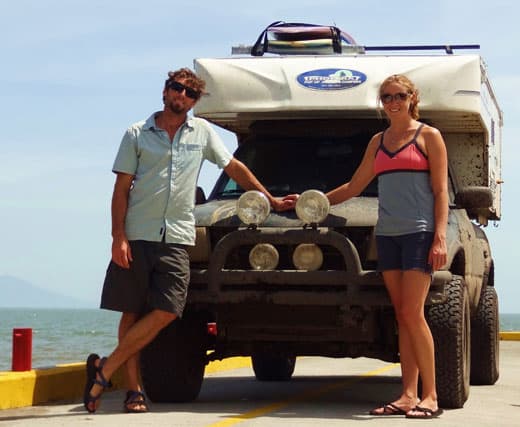 TCM: How did you plan for your Central and South America trip?
Meg: We pretty much did all of our research on the internet.  We pre-bought maps for all of the countries we planned to visit, but we didn't mark out a specific route.  We know from past travel experiences that there was no point in mapping it all out.  We would plan out the trip as we went along.  It's better that way.  You never know what you will find or what a place will actually be like.  We have found some of the best places by word of mouth or simply by getting lost.
As far as preparing for our health, we went to see a travel doctor before we left.  We received shots for Hepatitis A and B, and Yellow Fever.  He also prescribed us malaria pills to take while we are in a risky area.  Additionally, he was nice enough to write us prescriptions for antiviral medication in case we get a prolonged case of Montezuma's Revenge, a couple Z-packs to clear up an chronic coughs or respiratory issues, and just some good old painkillers in case of any accidents.  In addition to this, we stocked a pretty thorough first aid kit.
Lucky for us, all of the countries in Central and South America will easily grant tourist visas at the border so we don't have to deal with any long applications.  Each border requires our passports and the title to our truck.  Some countries also require the truck registration, your driver's license, and to purchase auto insurance in their country.
We also carry along important documents that we may need like proof of our immunization shots, a copy of our marriage certificate (since we technically still have different last names), and a title to the camper.  We also purchased International Drivers Permits from AAA.  We choose to present these to cops or any other officials when they stop us instead of handing over our passports.
TCM: It really sounds like you had your bases covered.  How far in advance did you start planning the trip?
Meg: Jed and I talked about doing this trip for about five or six years, but I think we actually turned serious about it and started saving and planning two years before we left.  Most of our planning revolved around what truck to get.  We chose the Tacoma for several reasons.
Toyotas are sold all throughout Central and South America, so parts would be available if we broke down.  Toyotas are minimalistic and easy to work on so Jed could take care of most repairs himself.  Toyotas are tough and they generally last a long time.
Toyota Tacomas are excellent for off-road travel because they are small, powerful, and have high clearance.  They can go a lot of places larger American trucks can't, like wagon paths up volcanoes.  Tacomas also get good gas mileage, comparatively speaking, to what is available from US manufacturers.
TCM: What modifications did you make to your truck for off road travel?
Jed: We did a fair amount of modifications to the truck for the trip and all have been necessary.  Making sure the truck was reliable and in good working condition was priority number one.  In all we spent nearly $3,500 replacing, fixing, and beefing up the truck.  I am proud to say that I have done all the work myself, except for front end alignment and axle bearing removal because you need a special hydraulic press to get the axle bearing off.  In all, I spent 200 dollars on outsourced truck work.
I did all my own wrenching for two reasons.  The first reason is that I couldn't afford to pay someone to fix all these problems.  And second, why would you ever drive a truck through sixteen countries in the middle of nowhere and not know how to work on it?
Here is a list of truck modifications we made to the truck that I felt were crucial to completing this trip throughout Central America successfully:
1. Extra truck bed frame supports to keep the camper in place when off-roading