Before settling down with a house and kids, Meg and Jed Wolfrom set out to explore Central and South America in their custom Phoenix truck camper.  Here's their story, so far.

In April of 2012, Meg (31) and Jed (33) left the comforts of their rental condominium in Jackson, Wyoming, and pointed their custom Phoenix truck camper south.  Their plan was to experience Central and South America, seek out exotic climbing locations, and challenge themselves to learn surfing and Spanish along the way.
Six months later, we caught up with Meg and Jed via email as they traveled through Panama City and prepared to explore South America.  Now over four thousand miles into the journey, Meg and Jed rewind and give us the inside scoop on trip planning, truck modifications, and custom camper design.  Then they dive into the details of how they tackled the issues of language, security, border crossings, drinking water, camping spots, and bugs.
Get your passport ready.  We're driving south of the border.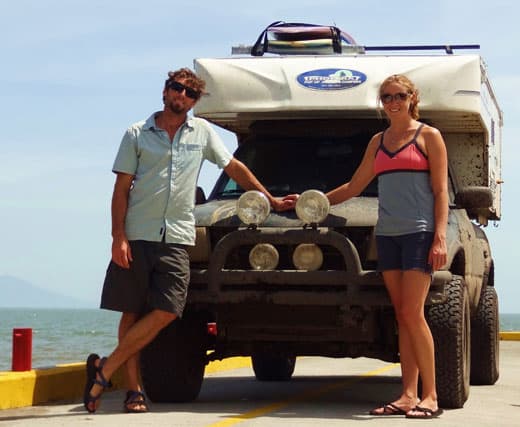 How did you plan for your Central and South America trip?
Meg: We pretty much did all of our research on the internet.  We pre-bought maps for all of the countries we planned to visit, but we didn't mark out a specific route.  We know from past travel experiences that there was no point in mapping it all out.  We would plan out the trip as we went along.  It's better that way.  You never know what you will find or what a place will actually be like.  We have found some of the best places by word of mouth or simply by getting lost.
As far as preparing for our health, we went to see a travel doctor before we left.  We received shots for Hepatitis A and B and Yellow Fever.  He also prescribed us malaria pills to take while we are in a risky area.  Additionally, he was nice enough to write us prescriptions for antiviral medication in case we get a prolonged case of Montezuma's Revenge, a couple of Z-packs to clear up chronic coughs or respiratory issues, and just some good old painkillers in case of any accidents.  In addition to this, we stocked a pretty thorough first aid kit.
Lucky for us, all of the countries in Central and South America will easily grant tourist visas at the border so we don't have to deal with any long applications.  Each border requires our passports and the title to our truck.  Some countries also require truck registration, your driver's license, and to purchase auto insurance in their country.
We also carry along important documents that we may need like proof of our immunization shots, a copy of our marriage certificate (since we technically still have different last names), and a title to the camper.  We also purchased International Drivers Permits from AAA.  We choose to present these to cops or any other officials when they stop us instead of handing over our passports.
It really sounds like you had your bases covered.  How far in advance did you start planning the trip?
Meg: Jed and I talked about doing this trip for about five or six years, but I think we actually turned serious about it and started saving and planning two years before we left.  Most of our planning revolved around what truck to get.  We chose the Tacoma for several reasons.
Toyotas are sold all throughout Central and South America, so parts would be available if we broke down.  Toyotas are minimalistic and easy to work on so Jed could take care of most repairs himself.  Toyotas are tough and they generally last a long time.
Toyota Tacomas are excellent for off-road travel because they are small, powerful, and have high clearance.  They can go a lot of places larger American trucks can't, like wagon paths up volcanoes.  Tacomas also get good gas mileage, comparatively speaking, to what is available from US manufacturers.
What modifications did you make to your truck for off-road travel?
Jed: We did a fair amount of modifications to the truck for the trip and all have been necessary.  Making sure the truck was reliable and in good working condition was priority number one.  In all, we spent nearly $3,500 replacing, fixing, and beefing up the truck.  I am proud to say that I have done all the work myself, except for front-end alignment and axle bearing removal because you need a special hydraulic press to get the axle bearing off.  In all, I spent 200 dollars on outsourced truck work.
I did all my own wrenching for two reasons.  The first reason is that I couldn't afford to pay someone to fix all these problems.  And second, why would you ever drive a truck through sixteen countries in the middle of nowhere and not know how to work on it?
Here is a list of truck modifications we made to the truck that I felt were crucial to completing this trip throughout Central America successfully:
1. Extra truck bed frame supports to keep the camper in place when off-roading
2. Heavy-duty rear bumper
3. Nine pack leaf spring by Alcan Spring
4. Rancho 9000 XL adjustable shocks in the rear
5. A new heavy-duty alternator by Mean Green that puts out 140 Amps instead of 70.  We have lots of lights to power and another battery to charge.
6. A Smitty Built air compressor mounted under the hood.  We were anticipating lots of flat tires, but haven't had any yet.
7. Six Hella lights, four on the front and two on the back of the camper.  These things turn the night into light.
8. A stereo that can charge and play the iPod or computer with only one USB cord.
9. Bose indoor/outdoor speakers.  I mounted one in the cab and one in the camper.
10. A giant lockbox in the extra cab.  We ripped out the rear seats and built a heavy-duty lockbox that takes up the whole extra cab.  This gives us tons of secure storage.
11. Miscellaneous theft deterrents that I won't mention for all the thieves reading this.
12. Scan Guage II, a dash mount OBD code reader with tons of other goodies including real-time MPG, MPG average, horsepower gauge, and coolant temp gauge.  It makes saving gas way easier which is important when you plan to spend around $8,000 on gas in one year.
At this point we have been traveling for five months and we are very pleased with everything.  There are just two things that I would love to have, a new front suspension, and a snorkel.
Tell us about how you decided on a truck camper for your Central and South America trip.
Meg: We explored many options for vehicles and living accommodations when planning our trip.  A four wheel drive truck with a custom Phoneix pop-up camper was the only answer to all our needs.
The high clearance and four wheel drive of the truck combined with the low profile of the Phoenix pop-up camper allows us to take back roads and get off the beaten path.  The camper allows us to have a home where we can easily cook, sleep, and hang out without having to spend any time setting up camp.  Plus, with our camper, we feel far more safe and secure sleeping in strange new places every night than we ever could in a tent.
We were planning on traveling off-road a lot to get to remote areas.  We needed a lightweight rugged aluminum frame pop-up that could handle off-road abuse.  The camper's low profile allows us to go so many places that a hard side camper couldn't, like tight trails with low trees, or the shipping container we needed to send our rig to Colombia.
Phoenix custom builds every truck camper to order.  What custom features and options did you order for your Phoenix camper?
Jed: Meg and I came up with a nice wish list, but we were novices in the camper world.  With his twenty-plus years in the business, Robby Rowe at Phoenix Campers helped us to pull together our custom camper details nicely.
Here's the list of custom features and options we chose for our Phoenix truck camper:
1. A large and super thin solar panel.  It's about the thickness of a piece of cardboard.  A solar panel is essential for any long-term camping electrical needs.  It charges the battery quickly and allows us to be self-sufficient in the backcountry.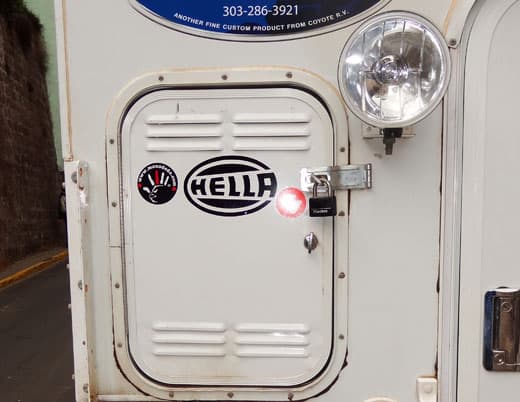 2. Two rear-mounted Hella brand lights.  One Hella light is wired up so it comes on automatically when you put the truck in reverse.  The other Hella light is wired to a switch in the camper.  It is super useful to see what that bump in the night is.  We feel far safer leaving the camper for midnight pee sessions with this super bright Hella light.
3. Our camper has rear lockable access doors to the truck bed.  The high lift jack, table, chairs, and shovel live there.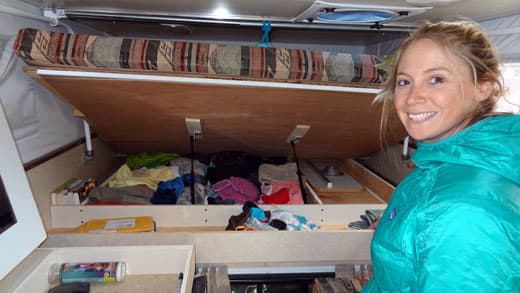 4. Phoenix Campers convinced us that we needed storage under the bed and we are so glad we listened to them.  This extra storage is the key to living comfortably with two people in this camper.  It's our dresser, library, clothes hamper, and miscellaneous storage.  It adds a lot of storage for its seemingly small size.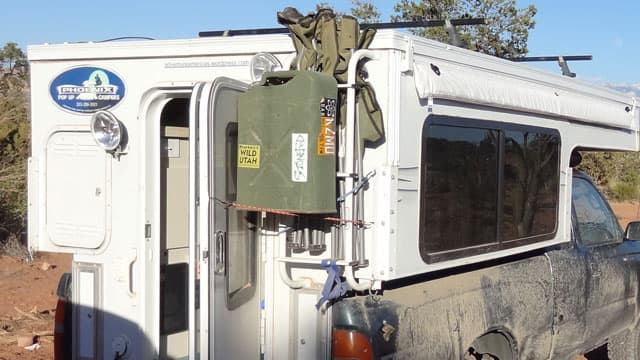 5. Our camper has an auxiliary gas can mount.  It was another custom fabrication by Phoenix campers.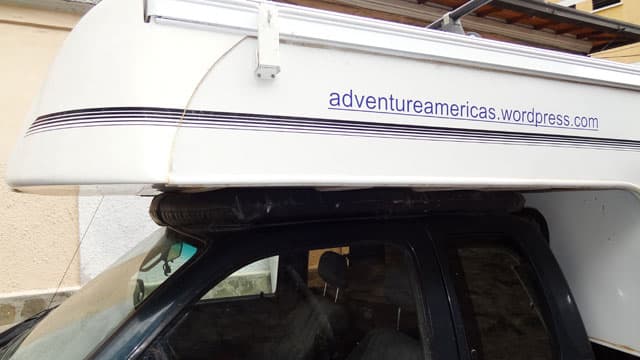 6. An aerodynamic front profile nose cone and cab bubble were added to our camper.  The cab bubble is an inflatable cushion that is wedged between the top of the cab and the sleeper.  It keeps the wind noise and drag down.  We have been really surprised by how quiet the camper is during travel and we can still hit 80 MPH with no problem.  Plus we are averaging 17.5 mpg (with conservative driving) which is not too bad for a four wheel drive home on wheels.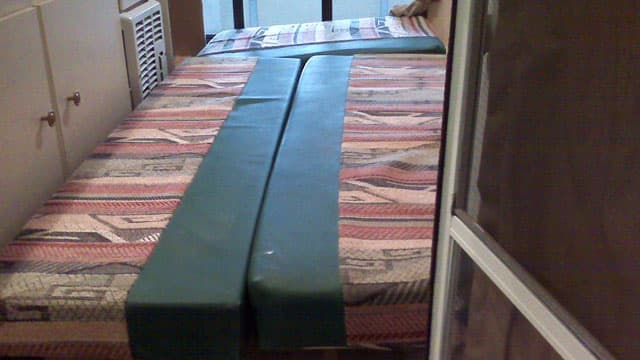 7. We have an extra, double fold-out bed.  This bed is for when we are trying to keep a low profile.  It allows us to sleep in the camper without it popped up.  It's good for super-secret pirate camping.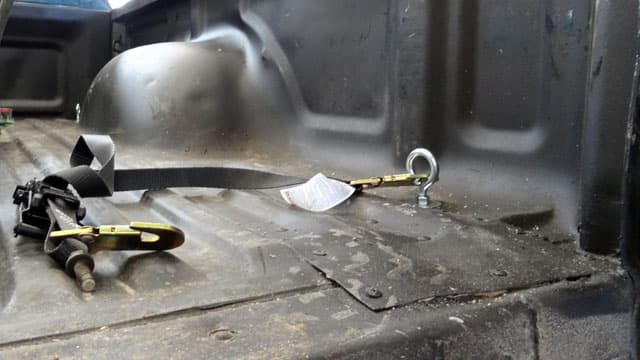 8. We have an eight way camper tie-down system.  This keeps the camper attached to the truck and has not failed us yet.  It is a system of heavy-duty ratchet straps that are connected in the bed of the truck.  They are out of view and out of the wind.  With over 10,000 miles of rough driving and a lot of hardcore off-road travel, we have had no issues with camper movement.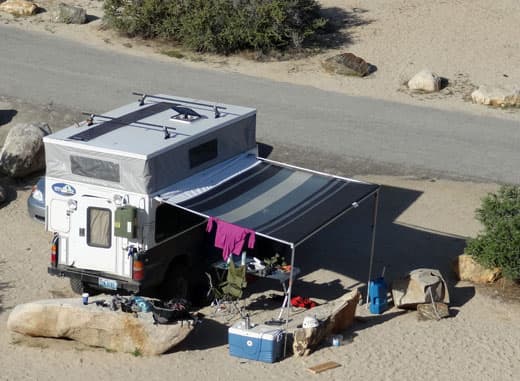 9. Phoenix also recommended an awning.  Again, we're glad they did because it's amazing and we would have suffered many hot, shadeless days on the beach without it.  It helps keep the camper far cooler as well.  The awning is our outdoor living room, dining room, and bar.  Your camping neighbors will be jealous!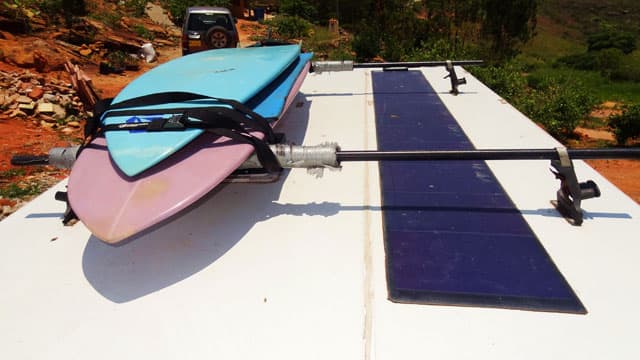 10. A roof rack with a ladder, which is where the surfboards live.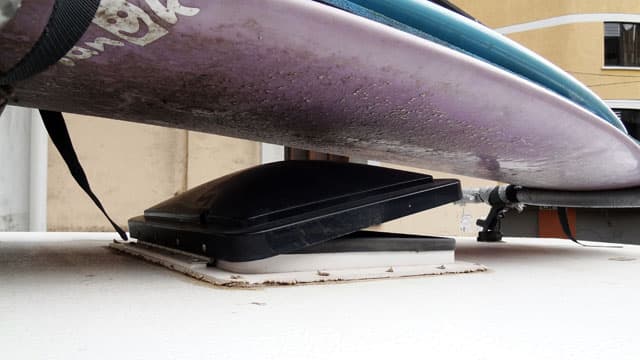 11. Our camper has a roof-mounted fan that keeps the camper surprisingly cool day and night.  This fan is extremely necessary if you plan on living comfortably in hot weather.
12. A heater that has kept us toasty during a week-long ice climbing trip in Montana.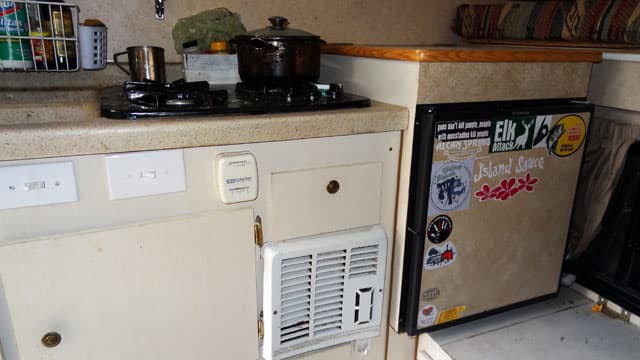 13. Our refrigerator runs off electricity and propane.  We primarily run it on propane and it keeps the food cold even in ninety-plus degree temperatures outside.  The refrigerator is a must if you don't plan on shopping every single day.  Plus there is nothing better than getting to the beach after a long day of hectic driving and grabbing an ice-cold beer out of the camper to enjoy.
14. We also have a three burner stove, double sink with hand pump and electric pump, a twelve gallon water tank that will last us about three days, and a five gallon propane tank which lasts us about a month.  The queen size bed is more comfortable than my bed at home.
Other than a few womanly touches in the kitchen, like spice racks, dish racks, and a toothbrush holder, we didn't have to make any modifications to the camper for our journey.  It was made custom for us to be exactly what we needed and nothing more; a simple, lightweight, comfortable, rugged, and secure home to live in while we drive through sixteen countries, over terrible roads, for a year or more.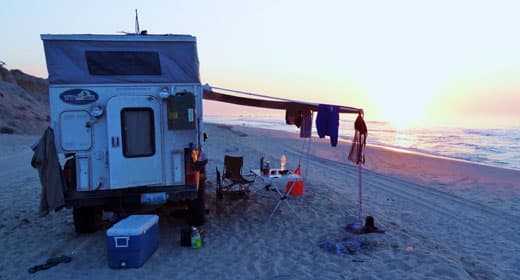 Meg: Our custom Phoenix camper allows us to live in the backcountry with no outside support for long periods of time.  We have solar power, a refrigerator, and a stove.  With these amenities, we are not restricted to campground living or needing electricity or gas for a noisy, polluting generator.
We have spent many weeks on remote beaches or in the mountains with nothing around and done so in total comfort.  Every night we have lights, hot food, cold beer, and a fan for the heat, or a heater for the cold.  By far, we prefer sleeping in our camper than any hotel.  And not getting hotels and having a kitchen to cook in allows us to save a lot of money.
What was your general trip route?
Meg: Our trip route started in Wyoming and then traveled south into Baja, Mexico.  Then we took the ferry from Southern Baja to the mainland of Mexico.  We followed the Pacific Coast down through the majority of Mexico before heading inland towards the mountains around Oaxaca.
We joined up with the true Pan-American highway in Chiapas before crossing the border into Guatemala.  In Guatemala, we explored the highlands before heading back towards the Pacific in El Salvador.  We primarily hugged the Pacific through the rest of Central America.  We shipped our truck on a cargo boat from Panama to Colombia.
Future plans have us traveling down through Colombia in the Andes Mountains and then on to Ecuador, Peru, Bolivia, Chile, Argentina; all the way to the southernmost tip where we hope to see penguins.  From that point on we are unsure of our plan and route.  It will be determined by the amount of money we have left.  We would like to drive back up through the other side and explore Brazil, Uruguay, and Venezuela.
Tell us about how you have faced the language barrier and the challenges of bugs and finding safe drinking water.
Meg: Wow, you hit the head on the nail with two of our biggest challenges.  The language barrier is becoming less of a problem as we are learning more Spanish and we have found that most people will take the time to try to understand our broken Spanish.  People are generally patient with us.  If they aren't patient with us, we simply move on to someone else.
Going in to this trip, I knew we were going to have to deal with mosquitoes, gnats, and spiders, but I never really considered our biggest enemy, ants!  They are everywhere and they are vicious.  We even got an infestation in our camper at one point.  After several various failed attempts to get rid of them, we finally had to pull everything out and manually kill/sweep them out.
In the Colombia town we are in now, the local specialty is large fried ants.  We decided that we owe it to the ants to at least take a bite as they have taken their fair share of bites out of us over the last five months.
As far as keeping other bugs out, we have screened windows and a screen door that we try to keep closed at all times.  We have bug spray but don't like to use it unless we absolutely have to.  We have only had one night where the biting bugs were so small they could fly through the screens and they attacked us all night.
Finding propane for our camper has proved to be more of an issue than finding safe drinking water.  Propane is everywhere down here, but the problem lies in the valve for our propane tank.  It makes it so that we can only refill our tank at the large filling stations which are few and far between in Central America and typically on the outskirts of the large cities, which we otherwise try to avoid.
How do you navigate and find places to stay for the night?
Meg: We only use maps for our navigation and have gotten by fine thus far.  Make sure you have good maps before you leave the United States because you won't find them in Latin America.  The only time we wish we had a GPS is when we are in big cities and have to search out a particular place.
When we're away from cities and in the country, we find places to stay simply by looking.  We have a rule that we always begin our search for a place to camp by 4:30pm because we like to be settled before dark.  This doesn't always happen, but it's a good goal.
Throughout most of Central America and all of Mexico the beach is considered public land.  If we can find a way to the beach, we camp for free.  If we are in an area where the beach is lined with residences and hotels, or in an area that didn't feel quite safe, we would simply ask either a family with land or a hotel/hostel if we could camp.  They typically say yes.  Sometimes we would have to pay a small fee and sometimes they would invite us to stay for free.
In and around cities it is always harder.  We always have the dilemma of needing parking.  We try to use the Lonely Planet book to find cheaper places to stay, but the guide book is typically geared towards backpackers, so parking is not usually mentioned or included.  So again, we just end up blindly searching.  We refuse to leave our truck camper parked on the streets overnight.  It is not worth the risk of being broken into.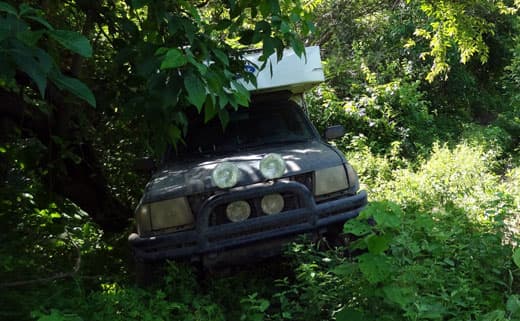 What kinds of things do you do when you're traveling and camping?
Meg: Well, we spend a lot of time asking for directions as Central America hasn't quite picked up on road signs yet.  But seriously, we like to be active when we travel.  We have found that when we gear our travels around a sport, such as climbing or surfing, that we enjoy the interactions that come along with it in addition to the off-the-map places it takes us.
When we are near the coast, we are typically looking for a good place to surf or spearfish.  When we are in the mountains, we are typically searching out rock climbing or hiking opportunities.  Plus, the more active we are, the less we feel bad about all the delicious food we eat, and eating is probably our number one pastime.
Other than that, we do a lot of reading in hammocks, exploring new towns, and attempting to speak Spanish.  We both have a goal to speak decent Spanish, so we stopped for two weeks of Spanish classes in Guatemala and plan to stop for more somewhere in South America.
Jed spends a lot of time at camp tinkering with and maintaining the truck.  I brought along a small travel guitar and spend some time picking at that.  Meeting new people and exploring new beautiful places and cultures is the whole point of our adventure.  Driving our own truck provided us more freedom to do so, but we don't like to spend too much time driving.  Our average day of driving is about four hours.  We pick our way through and stop a lot.  If we like a place we will set up camp for a bit.
Do you have any advice for crossing Central and South American borders in a truck camper?
Meg: We have not had any trouble crossing borders.  Sometimes they take a long time and the processes and requests make absolutely no sense to us, but, as long as we keep our patience, the borders are no big deal.
On the same note, there are always people at the borders trying to make money off you, whether it's offering you a bad exchange rate for your money, or demanding money for showing you where a building is.  We have learned to always look up the exchange rate online before we get there and to be firm with the beggars.  We tell them no and then ignore them.
Previously you mentioned various security measures you took when designing your rig.  Has safety been a concern during your trip?
Meg: Jed and I are always cautious, but we have had no problems.  So far, in five months of travel, we have had one pair of flip-flops stolen and one parking ticket in Costa Rica.
Ninety-nine percent of our interactions with people are positive.  We go off our gut feelings most of the time with places we travel through.  If we enter a town or meet someone and we just get a bad vibe from the situation, we trust that feeling and drive away.  Usually we try to stay away from large cities and any touristy spots because these places seem to have more unfriendly people.
Jed and I try to stick to the countryside, small towns, and more out of the way spots.  We always wave while driving and we always get a wave and a smile back.  People are constantly inviting us to stay at their houses or on their land and are generally really excited to see and meet us.  It is always the people that have the least who offer the most.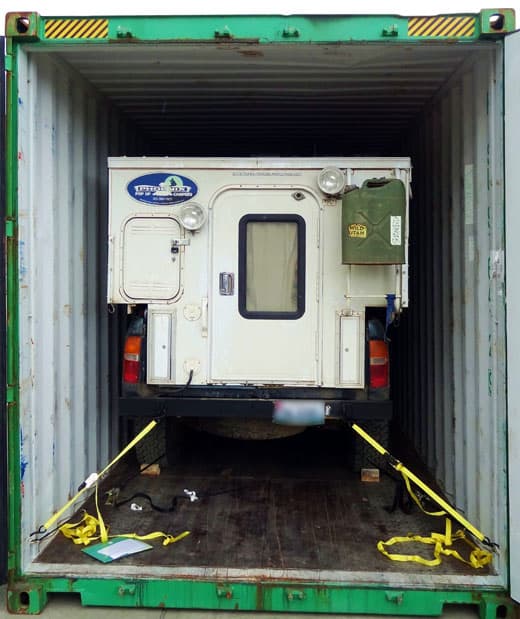 Above: Meg and Jed's Phoenix pop-up camper in a shipping container en route to South America
How long has the trip been so far and how much longer are you going to be on the road?
Meg: We have been traveling for a little over five months at this point and we just made it to South America.  We would like to travel for at least eight or nine more months.  It all depends on how long we can make our money last.  We have thought about stopping to work somewhere.
That's the second time you mentioned money shaping the trip.  Relatively speaking, you are young.  How are you paying for this trip?
Meg: We saved money for about two years for this trip.  We are just average people with average jobs.  Jed is a carpenter and I am in marketing.  We don't have trust funds.
We live fairly cheap in the first place, so saving came pretty easily with steady jobs.  We went out to eat less and didn't take any other big vacations during this time.  We had cheap rent.  We learned that if you cut out the little unnecessary spending like cable and eating out, it is really easy to save.
Once you start seeing money in the bank it gets addictive.  You just want to put more in.  While saving, I never felt like we went without.  Our biggest sacrifice was moving back in with roommates to cut living costs.
"I have been more scared riding a subway in Los Angeles than I have ever been traveling in a foreign country."
What would you say to someone who was fascinated by your trip through Central and South America and considering such a trip?
Meg: Don't be scared.  The media in the United States fills us with these negative thoughts and ideas about the countries south of the border.  Sure, they have their bad areas and thugs, but so does the United States.  I have been more scared riding a subway in Los Angeles than I have ever been traveling in a foreign country.
Don't stay somewhere you don't feel safe, don't flash valuables or money around, and don't do drugs as that means you having interactions with people who sell drugs,  Just use your common sense in general and you will be fine.  It is my belief and experience that people are primarily good.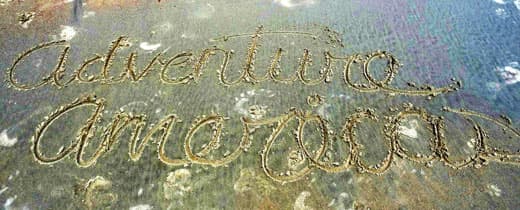 MEG AND JED WOLFROM'S TRUCK CAMPER RIG
Truck: 1998 Toyota Tacoma, extended cab, single rear wheel, 4×4, gas
Camper: 2011 Phoenix six-foot pop-up truck camper
Tie-downs and Turnbuckles: Phoenix tie-down and turnbuckle system

Suspension Enhancements: Nine leaf pack in rear (Alcan spring), Rancho 9000 XL adjustable shocks
Gear:3 inch lift in rear, 1.5 inch lift in front