After Key West, Lucien and Helen Langlois explored Utah and New Mexico, supported the Bataan Death March Memorial Marathon, and discovered Fisher Towers.  Then they went to Labrador.

Our past year of truck camping has been a very intense one.  Let me start with our departure from New Hampshire in January to our winter snowbird location in Key West, Florida.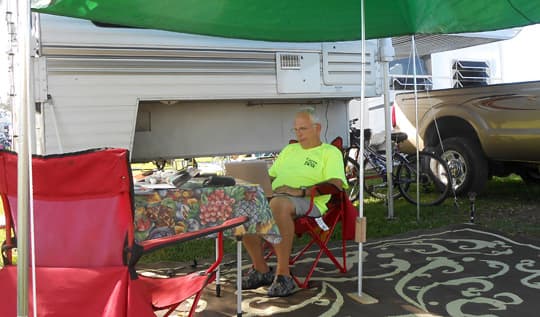 Above: Hanging out in Key West, Florida
We stayed in Key West until late March.  Our original plan was to camp in Key West until the first week of May, but a dear friend participated in the "Bataan Death March Memorial Marathon" at White Sands Missile Range in New Mexico.  We wanted to be on his support team and elected to leave Florida mid-March and head to New Mexico.
Along the way we visited Guadalupe Mountain National Park in Texas, Carlsbad Caverns National Park in New Mexico, and White Sands National Monument in New Mexico.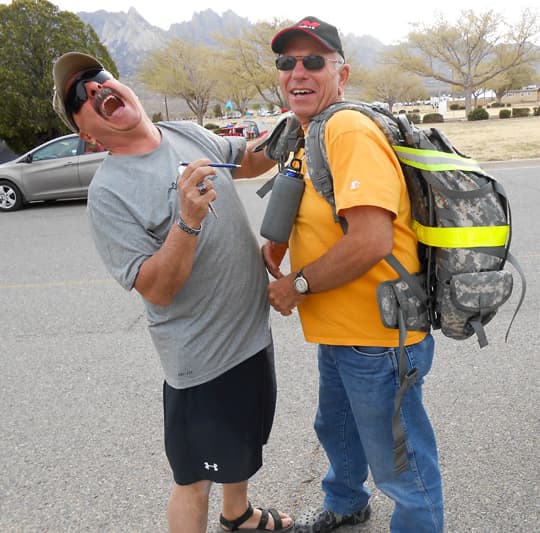 Above: The Marathon, New Mexico
Being on the military support team was an eye opener.  Running 26.5 miles is one thing, but with a minimum thirty-five pound rucksack, in the desert, is just mind blowing!
From New Mexico, we headed into Arizona.  Saguaro National Park was next on our list of interesting places to visit.  On our way to Apache Junction to visit friends, we ran into a blinding dust storm.  Visibility was near zero with alerts coming on both cell phones and radio.  We later found out that pulling over is good advice, but turning on your four way flashers is not.  We didn't stop and were able to arrive at our destination without incident.
Heading north, our next stop was Monument Valley Navajo Tribal Park.  With the windy conditions, we didn't experience the perfect photo opportunities as the red dust clouded the sky.  What we did experience was having wild horses roaming around our campsite!
Go west, young man!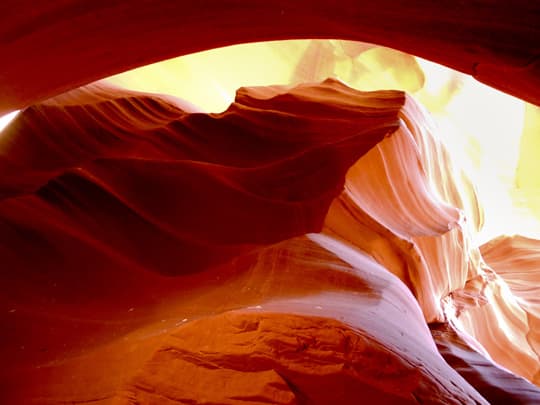 Above: Antelope Slot Canyon, Arizona
Off towards Page, Arizona, the Colorado River and the famous slot canyons.  Now here is the place to photograph.  The Colorado River makes a horse shoe bend and, from the cliffs above, is picture perfect.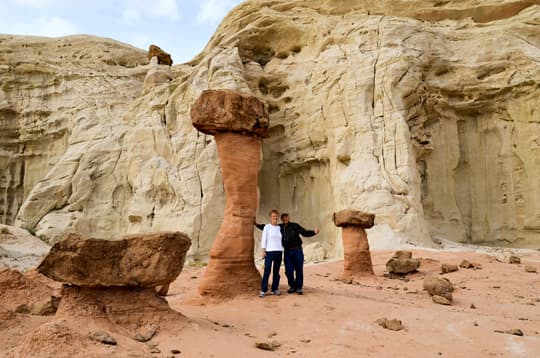 Above: Grand Staircase Escalante National Monument, Utah
Our direction was now north into Utah and Grand Staircase Escalante National Monument.  Here we did some hiking and checked out the unusual landscape.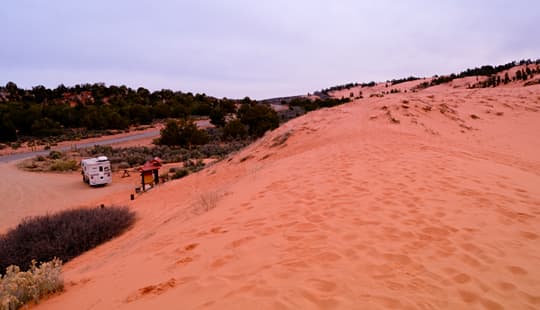 Above: Coral Pink Sand Dunes State Park, Utah
In Coral Pink Sand Dunes State Park, we compared the sand color with White Sands National Monument.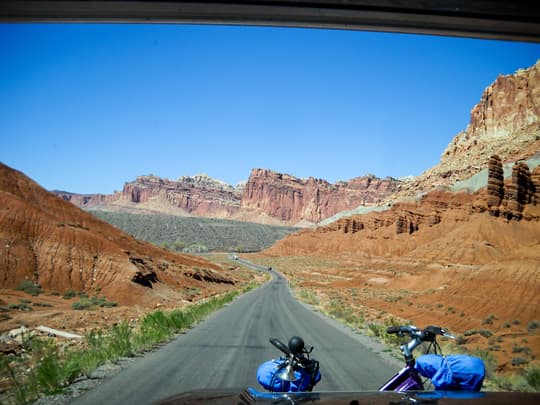 Above: Capitol Reef National Park, Utah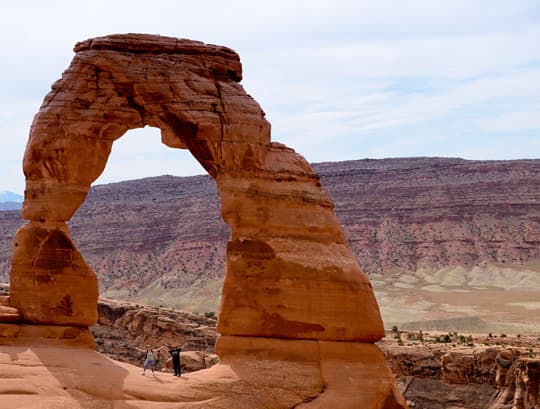 Above: Arches National Park, Utah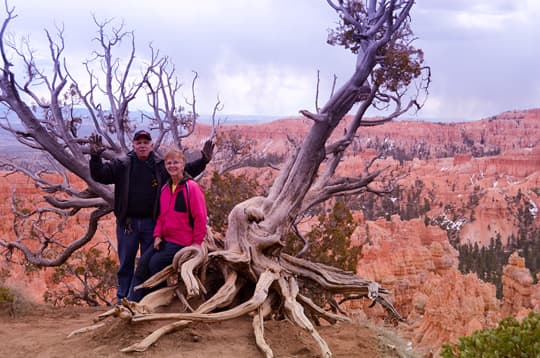 Above: Bryce Canyon National Park, Utah
Utah is, in my opinion, the state with the most natural beauty.  Bryce Canyon National Park, Capitol Reef National Park, Canyonlands National Park, and Arches National Park were all visited and immensely enjoyed.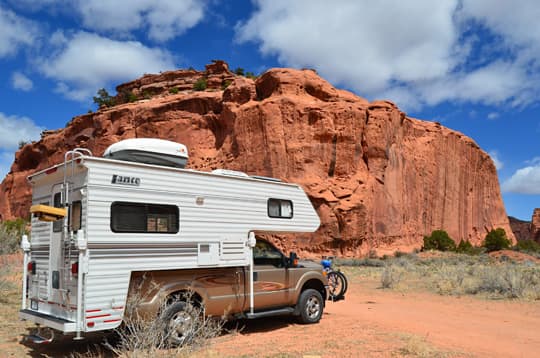 Above: The Burr Trail in Boulder Town, Utah
You know all of the National Parks are super, but some of our most memorable places are just off the beaten path.  We took a side road called Burr Trail in Boulder Town, Utah.  The road descends from high cliffs into narrow red rock slot canyons.  Rounding a bend, we came across a cow and then another.  Pretty soon, we were surrounded by a major cattle drive.  We just stopped and watched four young teenage cowboys, along with their grandfather, herding all these cattle.  Lassos spinning in the air, the young cowboys whistling and the cows getting the message.  I hollered, as they rode by "Go get them cowboys!".  They all laughed and continued to move the herd down the middle of the deserted Burr Trail.
That night, we camped at a small six site BLM campground called Deer Creek.  During the night, I got up to go outside and view the billions of stars.  I was thinking of those young cowboys who were sleeping somewhere outside under those very stars.  Were they in awe, looking up at the stars as I was?  I took my Milky Way photos and reflected on our travels.
I would say timing your visit should be an important consideration.  We were in our west in early April.  It was moderately warm, but I think traveling in this part of the country would be best in early to mid-May.  The rattlesnakes were starting to come out in mid-April.  We didn't actually see any snakes on our hiking trips, but our local native friends have.
On the positive side of this time of the year is that the desert was in full bloom. Remember some cactus plants only bloom for one day.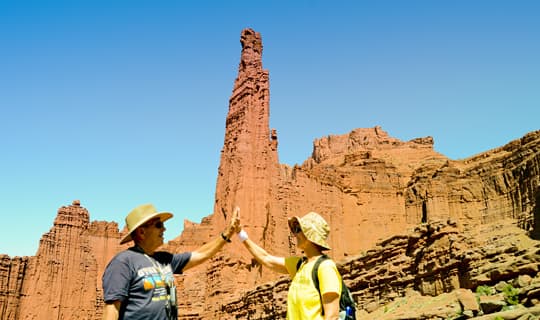 Above: Fisher Towers northeast of the Moab, Utah
I would say visiting Fisher Towers northeast of the Moab, Utah was my favorite part of the trip.  Fisher Towers are some of the tallest monolithic rock formations in the United States.  I had never heard of Fisher Towers until I happened to stumble across a promotional video for Go Pro cameras.
I certainly didn't or couldn't climb Fisher Towers at my age, but my wife and I wanted to hike to the base.  We accomplished this task and headed back to our truck camper.  There are only six sites at the trail head and they all had reservations tags on the site markers.  Fortunately, one of the neighboring campers walked over and said, "This site vacant.  The last guy just forgot to pull his reservation ticket when leaving".  We soon filled the self-reservation form and were on site.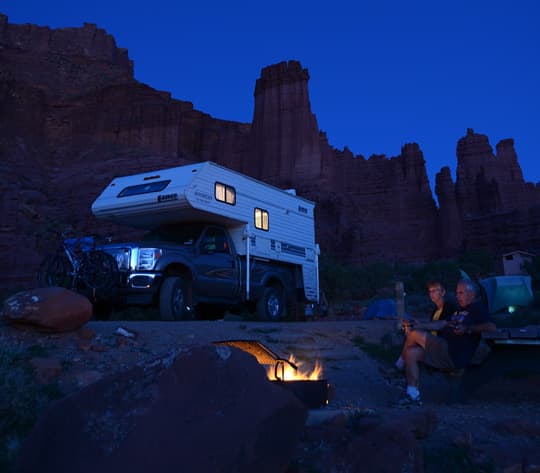 Above: Lucien and Helen's calendar entry for the 2015 calendar contest
That evening, the moon was shining over the Towers, the truck camper was oriented just right, the landscape was lower below our site, and the fire pit and picnic table also oriented perfectly.  I could see a Truck Camper Calendar Contest entry.
I setup the tripod and camera, and actually had to scramble around to find twigs to manifest a campfire.  I had to crop the original photo from portrait to landscape in order to meet the calendar contest rules.  Now, this year I didn't make it to the deserving thirteen winners, but I did make the runners-up list, and proud of it!
After returning home in late spring, the sense of adventure was still brewing inside me.  We headed up north in mid-summer to try and finish a trip to Labrador that we had started the year earlier, but had gotten stopped by a large forest fire.
It was an epic truck camping year!  I know that our adventure travels wouldn't have been possible without a truck camper.  If you have a burning desire to see what's on the other side of the hill, a truck camper is the cup of tea to get you there!
My travel blog will give you more details: 2boomersonthemove.blogspot.com.
Truck: 2012 Ford F-250 Super Duty, long bed, single rear wheel
Camper: 2004 Lance 1025
Tie-Downs/Turnbuckles: Torklift
Suspension: Air Ride air bags
Gear: Front bumper rack for generator and bikes