Truck Camper Magazine reviews a 2022 Cirrus 620, a hard side, non-slide short bed truck camper intended for half-ton trucks.  Did nuCamp RV hit the half-ton target with a compelling camper?  Here's our verdict.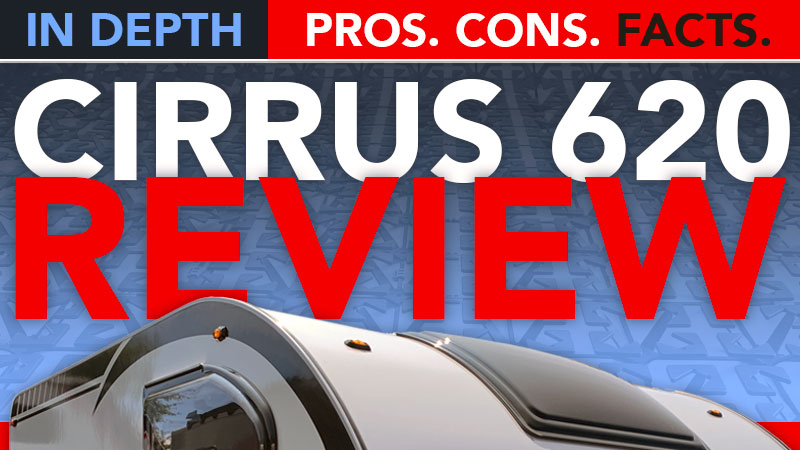 Click here to read nuCamp's response to this Cirrus 620 review.
How difficult is it to build a hard-side truck camper that fits within the half-ton payload range?  Ask nuCamp RV.
Their first attempt debuted at the 2018 Hershey RV Show and Elkhart Open House as the Cirrus 670 prototype.  The camper was teeming with exciting and innovative design concepts and earned high praise from the attendees.  Unfortunately, it also overshot the half-ton weight mark by hundreds of pounds.
nuCamp meticulously digested the 670 feedback and debuted the 720 six months later.  This time they side-stepped the half-ton objective deciding to present the 720 as a lighter alternative to their own 820.  They had shaved weight by trimming the height, length, and cabinetry from the 670 prototype, but still couldn't reach the half-ton range.  In the subsequent head-to-head contest between the 720 and 820, the Cirrus 820 was victorious.
Undeterred, nuCamp returned to their Sugarcreek, Ohio skunkworks, drew a 1,500-pound line in the design sand, and publicly vowed to hold it.  With everything they had learned from the 670 prototypes, 720 prototypes, and vanquished 720 production units, they were going to build a true half-ton possible truck camper.
The moment we saw the Cirrus 620, we knew nuCamp meant business.  For starters, the camper was 2.5-feet shorter than the 720 and eliminated the wet bath for a hide-a-way cassette toilet.  As a result of these design decisions and many others, the Cirrus 620 prototype weighed in at 1,491-pounds.
After the congratulations comes the question that has thrown so many truck camper leadership teams and design teams off the half-ton hunt.  Does a hard-side truck camper that eschews popular features in order to hit a half-ton compatible weight go on to find success in the marketplace?
All suspense aside, the answer is yes.  The 620 was a strong seller in 2021 with orders reaching well into 2022.  That's impressive, and undoubtedly a relief in Ohio, but now it's time to put the 620 through yet another grueling challenge; a formal Truck Camper Magazine review.
The question remains the same with a twist; Does a hard side truck camper that eschews popular features in order to hit a half-ton compatible weight result in well made, well-designed, well-executed truck camper?  Let's find out.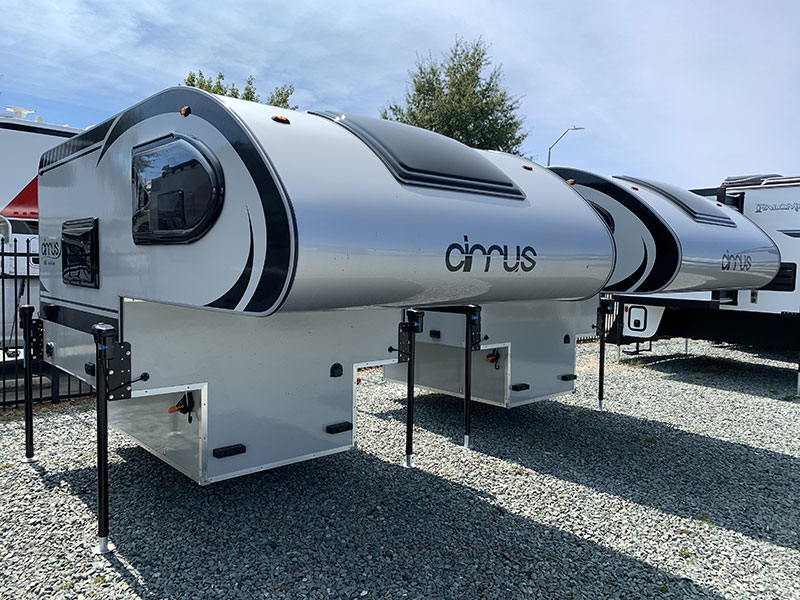 Above: All photography taken by Truck Camper Magazine at D&H RV & Marine in Apex, North Carolina
Nobody will mistake the Cirrus 620 for another brand.  Looking like a Cirrus 820 that spent an extra minute in the dryer, the 620 is a more compact Cirrus; right down to the laminated fiberglass, Azdel and aluminum-framed structure, seamless aluminum roof, and signature insulated front "stargazer" window.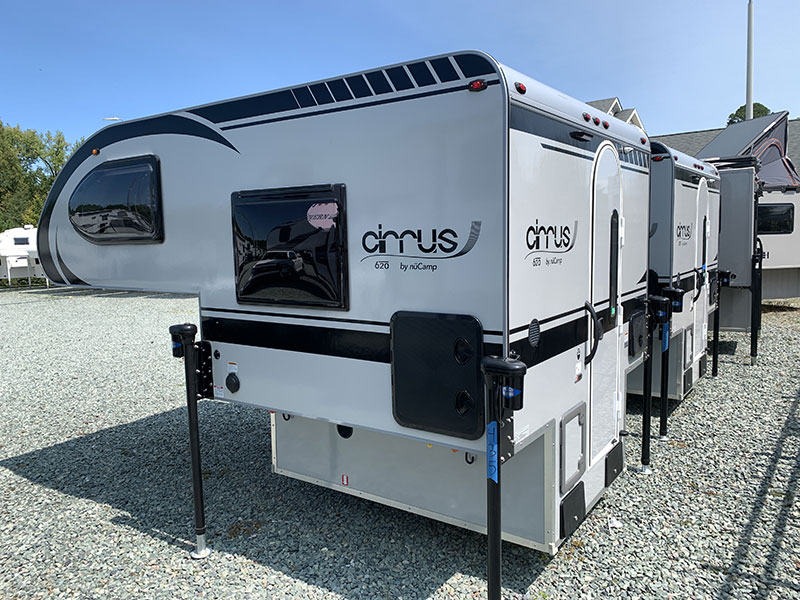 The monotone graphics, compartment doors, Rieco-Titan jacks, and exterior features are clean and tasteful with more than a hint of modern European styling.  In other words, exactly what we've come to expect from the Sugarcreek, Ohio manufacturer since debuting Cirrus in 2015.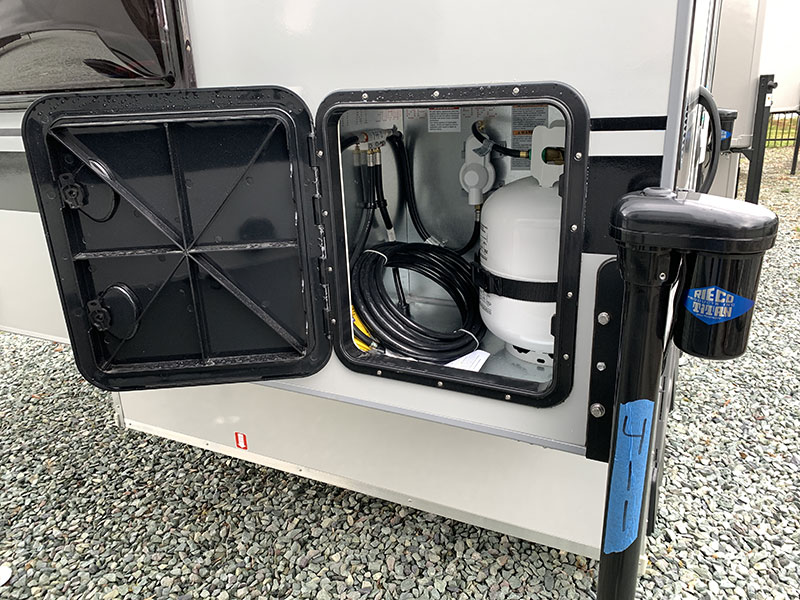 Opening a large SeaFlo exterior door on the rear driver's side reveals one 20-pound vertical propane tank.  Underneath the driver's side wing wall is an external LP connection for gas grills.
Some might question only having one propane tank.  To that, I would counter first with the need for a lower weight in a half-ton focused design, and then the exceptionally fuel-efficient nature of nuCamp's Alde hydronic heat and hot water system.  One tank is the right choice here, but 620 owners will need to be mindful of their propane levels to avoid the dreaded middle-of-the-night empty LP tank.  Been there.
As a side note, I like how this compartment offers sufficient storage for the coiled power cord.  However, I would be careful about storing more here given the critical nature of the propane connections and manifold.  Undoubtedly the modders among us could create a secured storage solution that would protect these vital connections and expand this compartments versatility.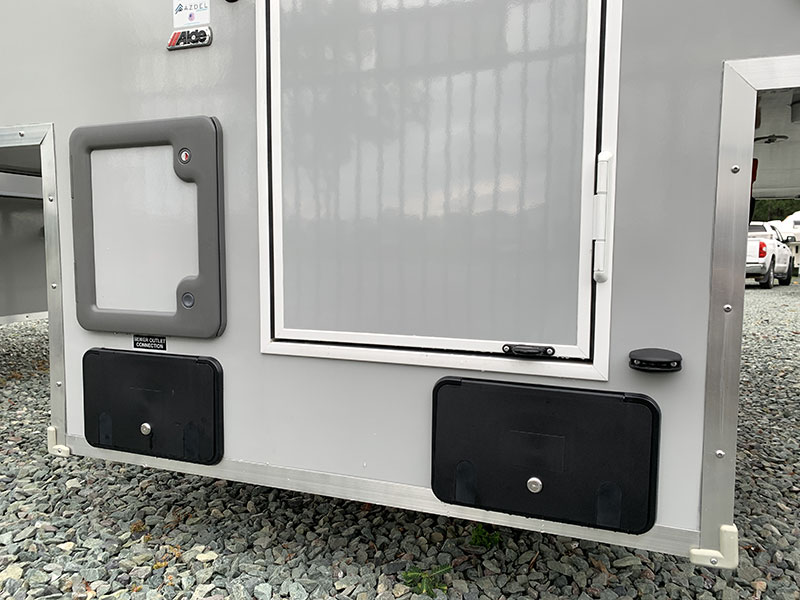 Here we are looking at the lower half and business end of 620's rear.  On the top left is the cassette toilet compartment.  The bottom left is the grey water dump compartment.  And on the bottom right is a storage compartment.  Keys please.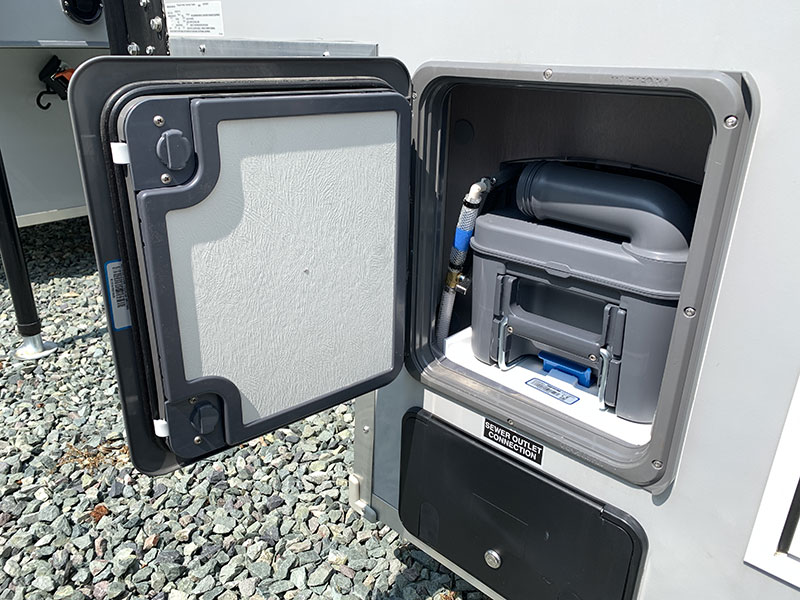 Open the cassette compartment and you're presented with the removable 4.75-gallon cassette.  Note the blue latch under the cassette and the handle above it.  When it's time, you release the latch, slide out the cassette, and dump it into a residential-style toilet.  This important feature is discussed in more detail later in this review.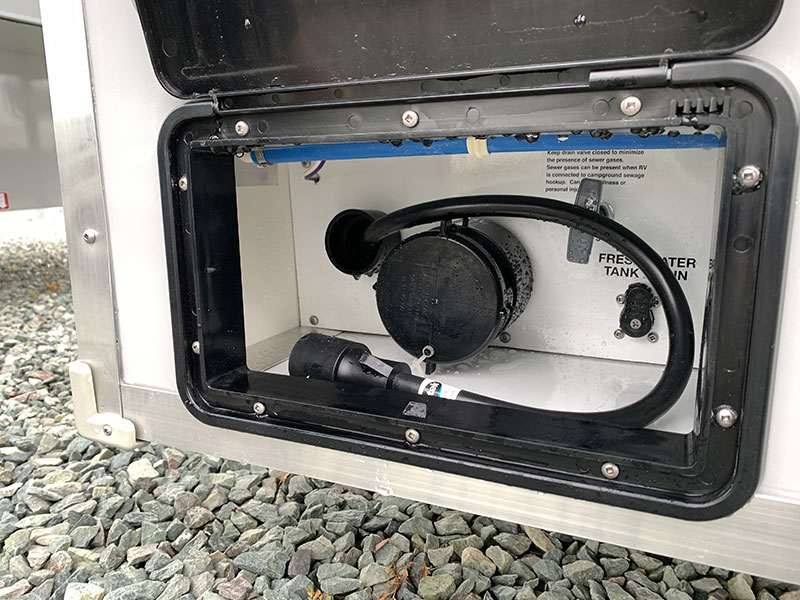 Under the cassette compartment is the grey water dump and valve.  Note the fresh water tank drain is also located in this compartment.  Dump facilities located inside campers make me a bit nervous.  Owners will need to be very careful to secure the dump hose to this connection before pulling the grey knife valve.
Ideally, this dump would elbow down and through the floor underneath it preventing a potential spill.  At a minimum, I would be tempted to use exterior sealant in this compartment to prevent grey water from possibly running into the unit.  And maybe a drain hole or two.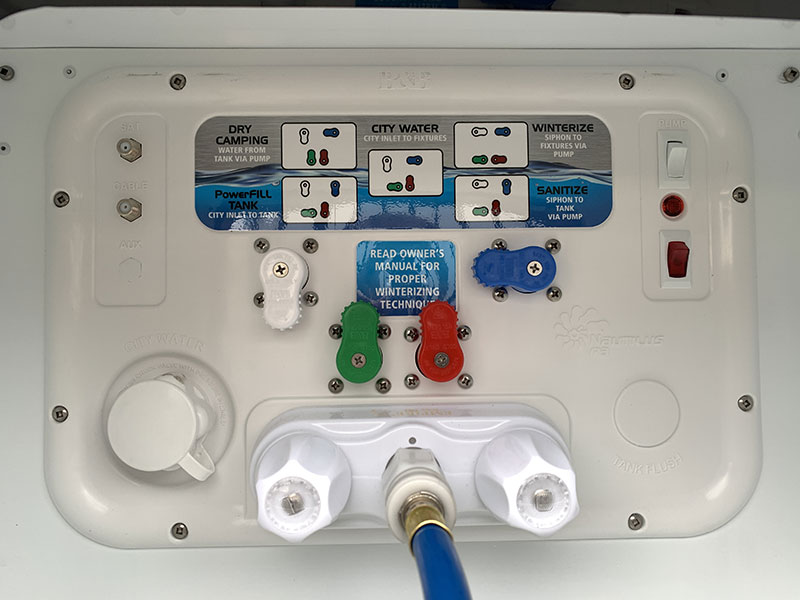 Across from the Thetford cassette compartment on the passenger side is a black Seaflo door with the Nautilus P3 water management system (shown above).
In 2020, nuCamp introduced the Nautilus P3 water management system with an extensive round of Cirrus 820 updates.  From this panel, you can fill fresh water, connect to city water, sanitize the fresh tank, connect an outside shower and – although not water-related – connect to coax cable television (top left).  Note the black tank flush (bottom right) is not used as there is no black tank in a Cirrus 620.
The configuration instructions appear like an Arthur Murray dance step diagram.  Thankfully for my two left feet, the four corresponding color-coded handles are easy to follow and light years ahead of the scattered hodge-podge that most other campers and RVs present.  One, two, three… sanitize.  And one, two, three… winterize.  One, two, three… city water.  See, it's easy!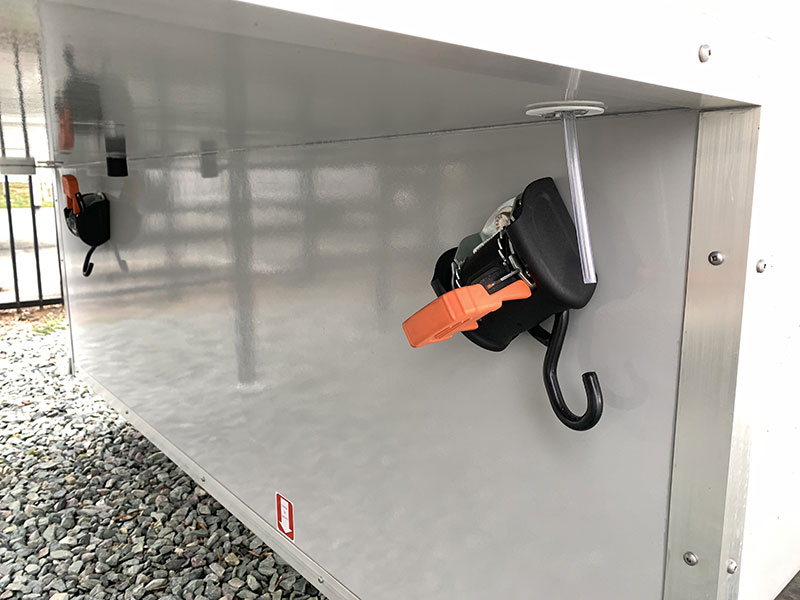 So many of the design choices showcased on the Cirrus 620 are to save an ounce or pound (or two) here and there.  In yet another example of this lightweighting approach, nuCamp has selected an internal anchor and ratchet-style hold-down system for the 620.  By using tie-down points inside your truck bed and eliminating the need for traditional turnbuckles, nuCamp shaves even more weight off your rig.
Internal ratchet straps have been successfully employed on other camper rigs, but we have yet to load a camper with this system.  Like the cassette toilet system, we recommend getting a ratchet tie-down lesson or two at your nuCamp Cirrus dealer before leaving the lot.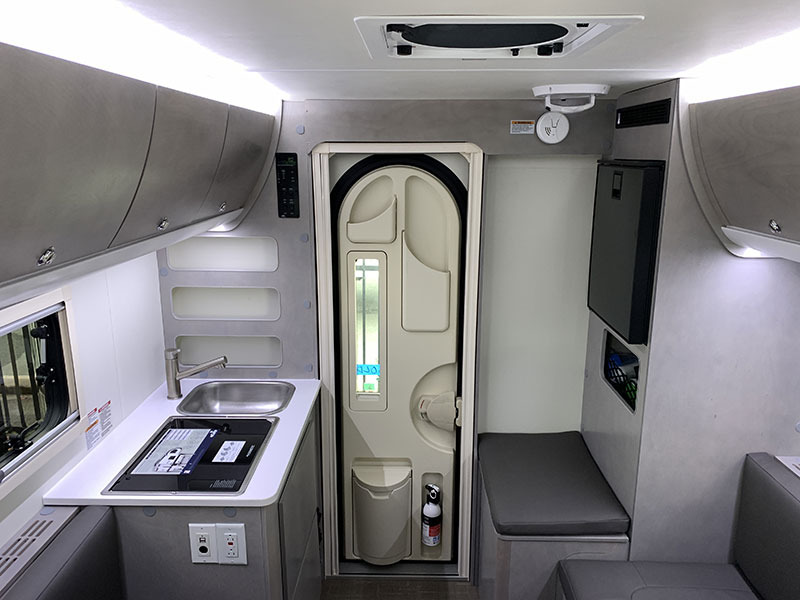 From the rounded multi-purpose door, curved upper cabinetry, CNC-cut storage opportunities, Hazelwood Granite tone decor, and daylight white ambient LED lighting, the Cirrus 620 presents a distinctly modern interior.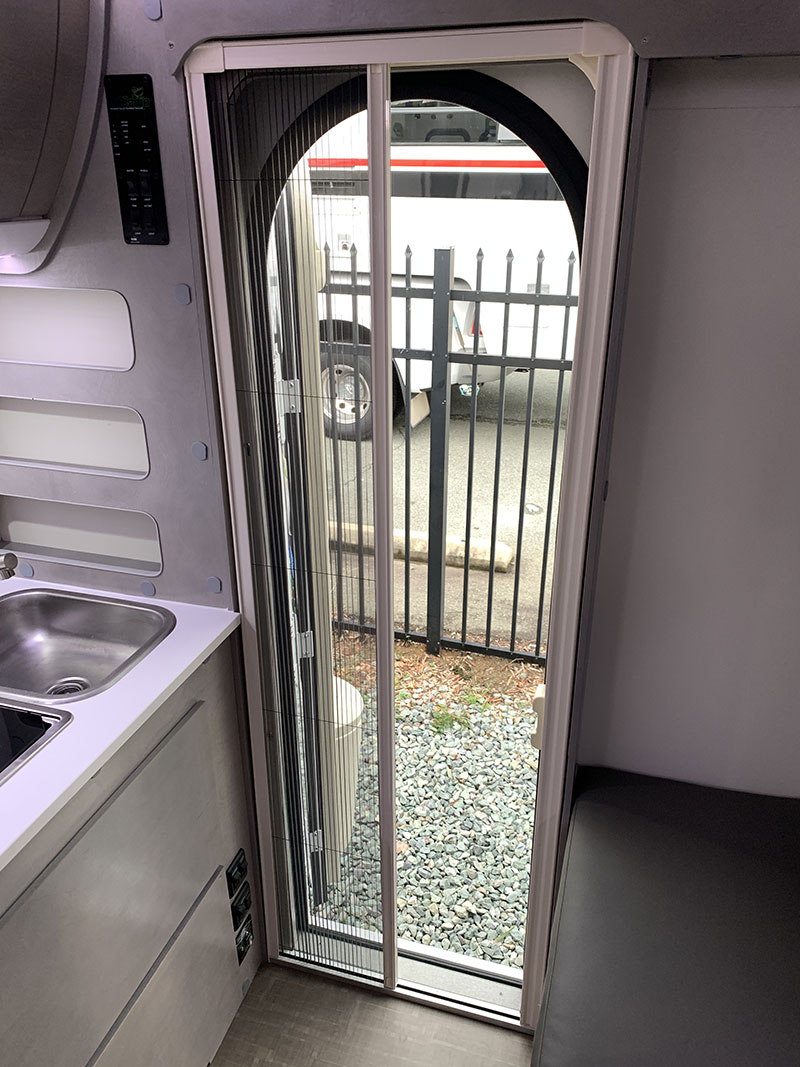 One disadvantage of nuCamp's fancy door system is the lack of a built-in screen.  To compensate, nuCamp includes a sliding screen and track system.  We had this same system in a Cirrus 920 for a winter in Florida and it worked well.
Normally I don't comment on camper door locks but this beefy number could solve a daily situation in Casa Blanca.  If the lock indicator simply had an (admittedly strong) glow-in-the-dark sticker, I would be able to see if it was up (locked) or down (unlocked) from the cabover.
When Angela invariably asks, "Is the door locked?" moments before I fall asleep, I could see it from the bed; "Yes, dear."  Call it, "Glow Lock" and list it as a feature for 2022.  I bet I'm not the only one who would appreciate the cross-camper visible lock check.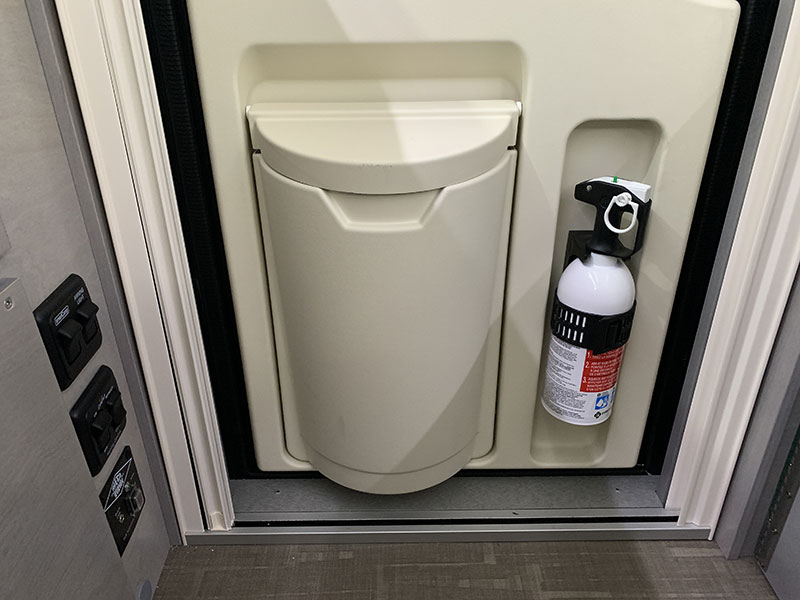 The "trash can" built into the door is a very welcome storage opportunity, but (a) I'm not sure it's big enough for trash and (b) I'm not sure I'd want to use it for trash.  What if, over time, it got a bit gross and the original can was no longer available to replace it?  I would rather use this container for outdoor items; short umbrellas, tall flashlights, dog and cat leashes, etc.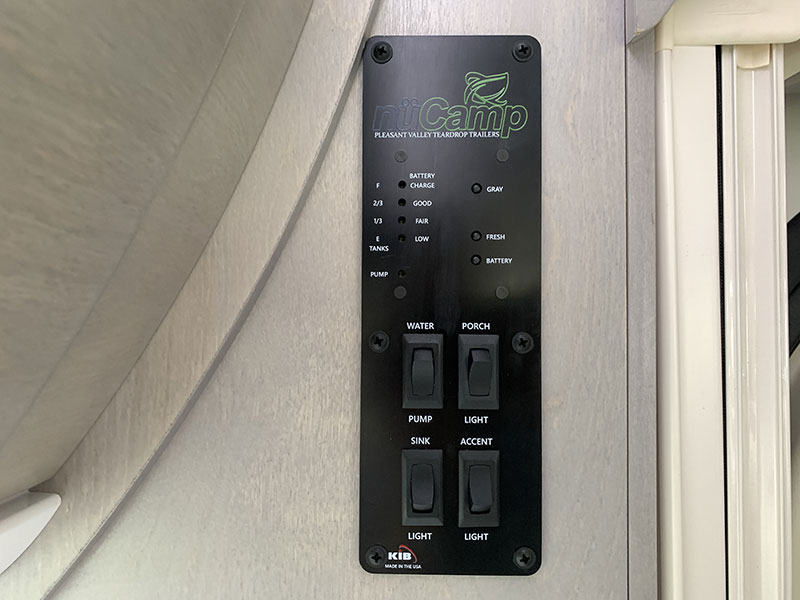 The nuCamp control panel is located on the immediate passenger side of the entry way door.  Three small buttons activate LED lights for grey, fresh, and battery levels (due to the use of a cassette toilet system, there is no black tank).  Below these indicators are switches to activate the water pump and porch, sink, and accent lights.
The design and location of the control panel are excellent.  Far too often control panels are challenging to reach or read.  This is eye level and right where it's needed.  Ideally, the tank level monitor would be a more advanced system like SeeLevel's excellent product.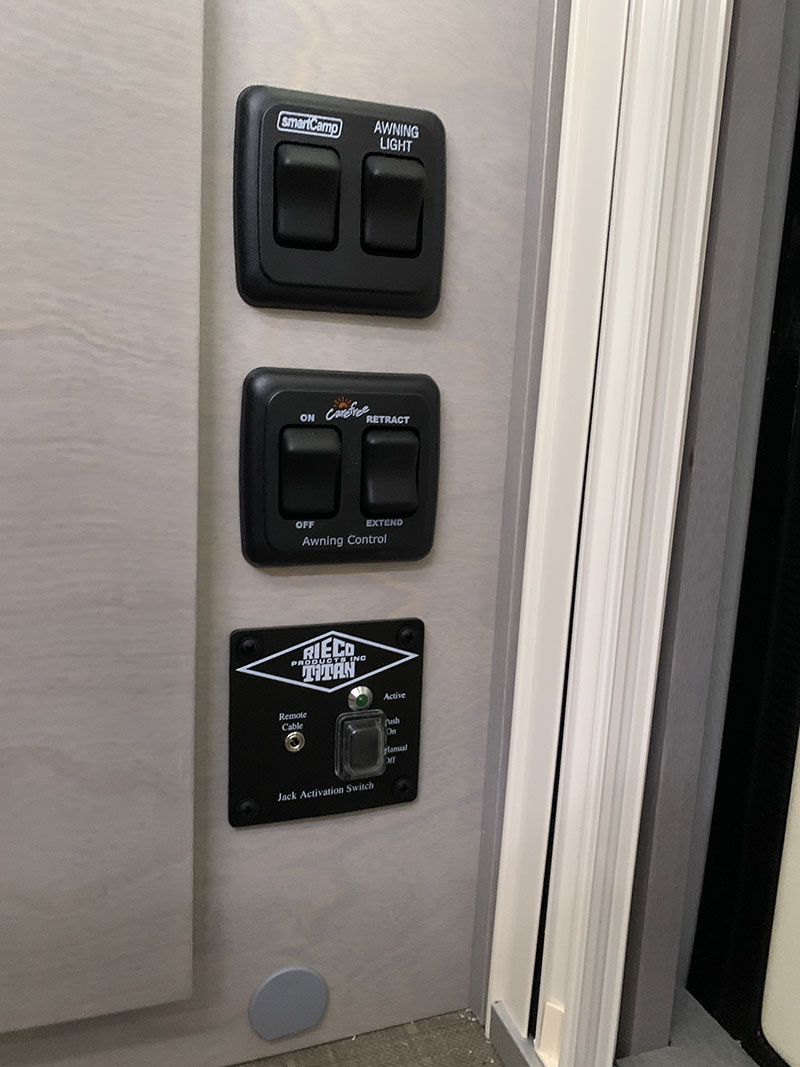 Within reach inside the entry way are the nuCamp smartCamp, awning light, Carefree electric awning, and the Rieco-Titan jack activation controls.  Again, these are exactly the right controls in exactly the right places.
Except for one.  To this area, I would like to have seen the addition of an interior light switch.  Hang on, I'm receiving a transmission…
"Hey, Gordon!  Team nuCamp here.  Don't you know the smartCamp app activates the camper's built-in smartCamp system allowing you to turn on the interior, exterior, and accent lights as well as the fan from your smartphone?"
Yes, nuCamp, I do.  However, as someone who prefers real switches, knobs, buttons, and tactile controls, I would still prefer the addition of a light switch.  I may be a dinosaur, but I don't want to need my phone to turn on a light.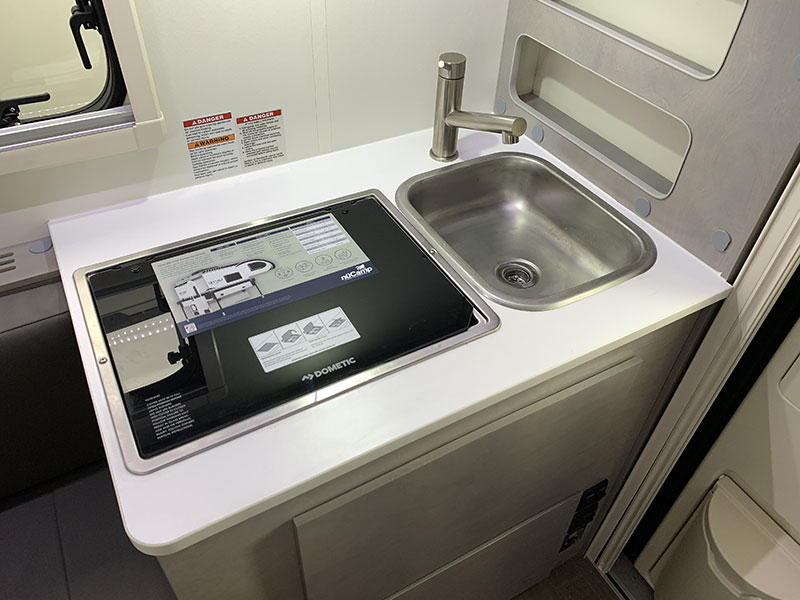 The kitchen is about as compact as possible while offering a built-in two-burner propane cooktop and single bowl sink.  This tightly packed set would be perfect for making coffee in the morning or cooking simple meals.  Anything more could be a challenge with minimal counter space on tap.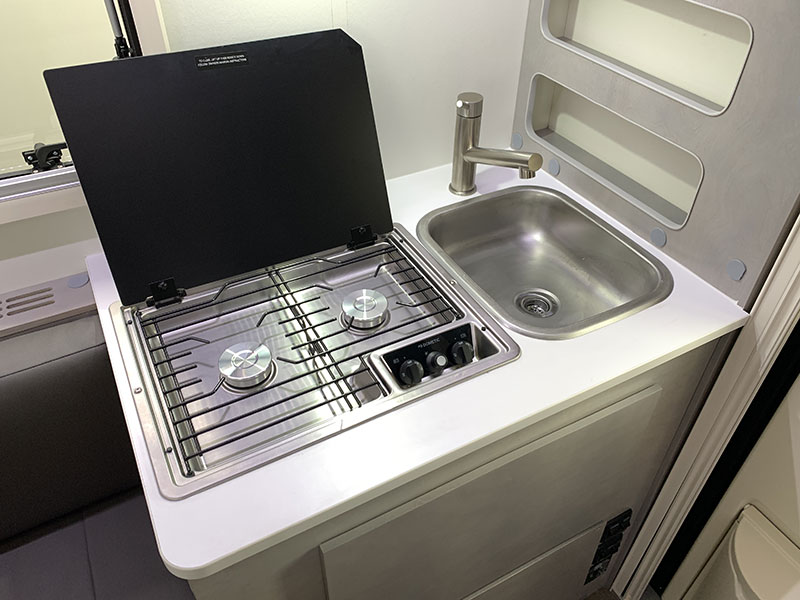 The modern sink faucet is a nice touch, but the sink bowl dimensions are more appropriate for hand washing and teeth brushing than anything resembling full-size plates, pots, and pans.  You can find small yet useful plates, pots, and pans that could work in this small sink.  For example, a single egg nonstick pan and a one-quart pot might be a good start.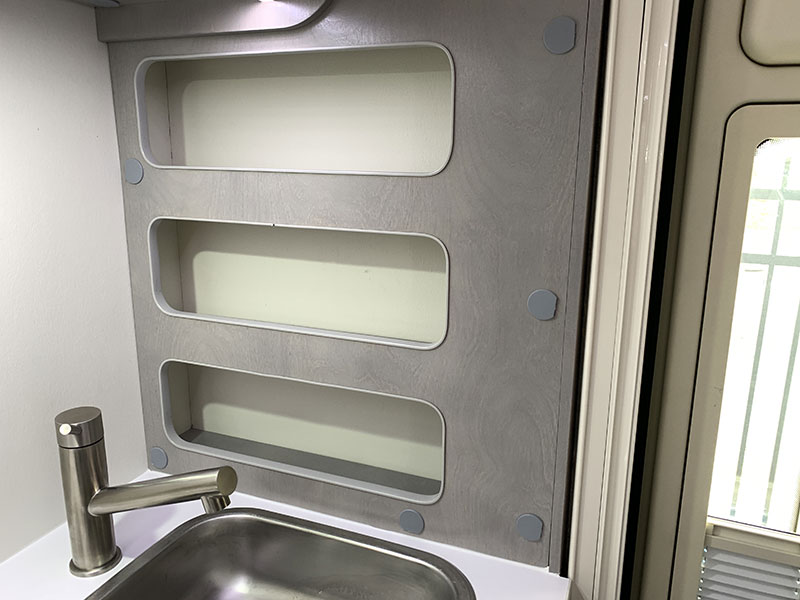 For one of the smaller truck campers, the Cirrus 620 has one of the most generous built-in spice racks we've ever seen.  Far beyond mere salt and pepper, this could host quite the McCormick collection.  Of course, these cubbies would work well for anything from vitamin bottles to utensils to napkins.  And they look fantastic.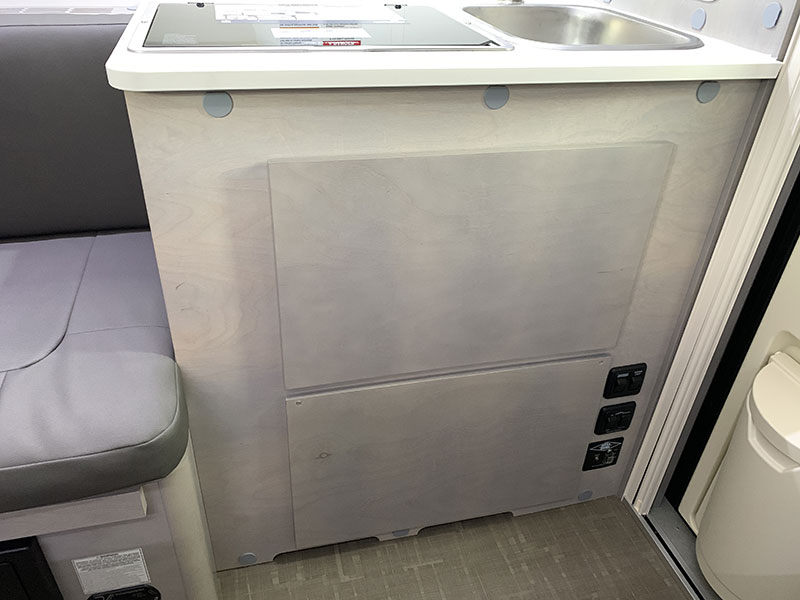 Under the sink are two panels for access to the Alde hydronic heat and hot water system, the water pump, and electrical and plumbing.  If this particular camper hadn't been sold, I would have retrieved my tools and opened this area for a look.  To see what's behind doors number one and two, check out the Cirrus 620 announcement.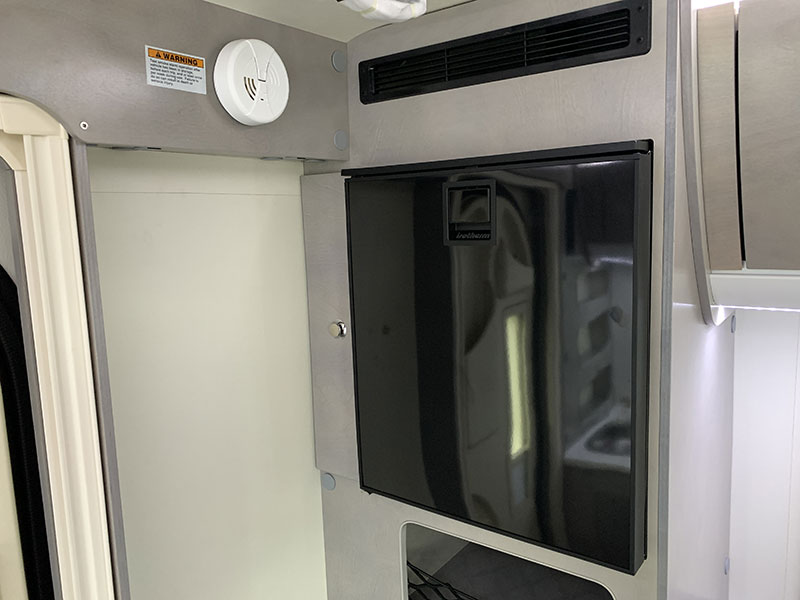 For the 620, Cirrus selected a compact 2.3 cubic foot West Marine Isotherm 12-volt compressor refrigerator.  This premium unit draws 2.5-amp-hours on 12-volts, and also operates on 110-volt shore power.
To be clear on that premium description, the Isotherm currently sells for about $1,300 USD.  That's approaching what some two-door 6 cubic foot absorption refrigerators cost.  The upside is the incredible efficiency for extended off-grid camping and light weight.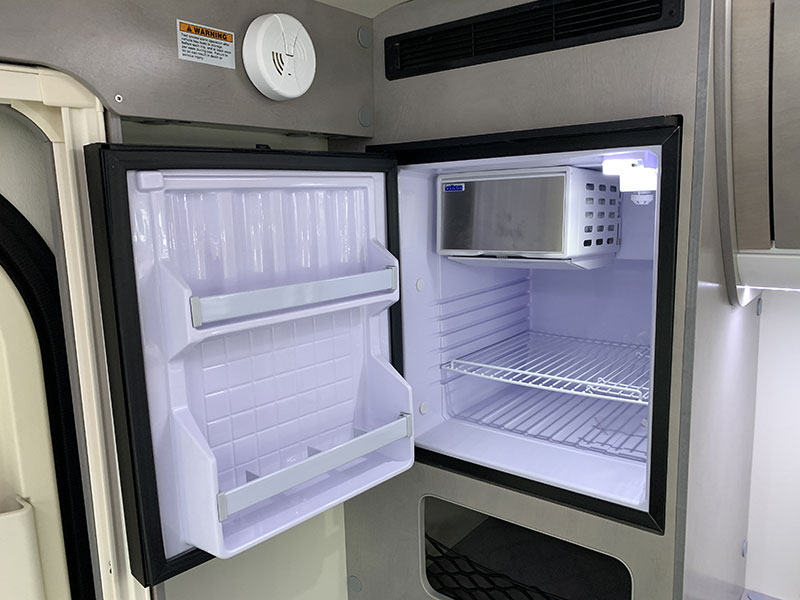 Inside there's a four-liter freezer compartment.  While perfect for a weekend adventure, nobody would describe this as a large refrigerator.  For Cirrus 620 owners who need more capacity, a portable 12-volt compressor refrigerator would be an obvious choice.  We have a Dometic model and love it.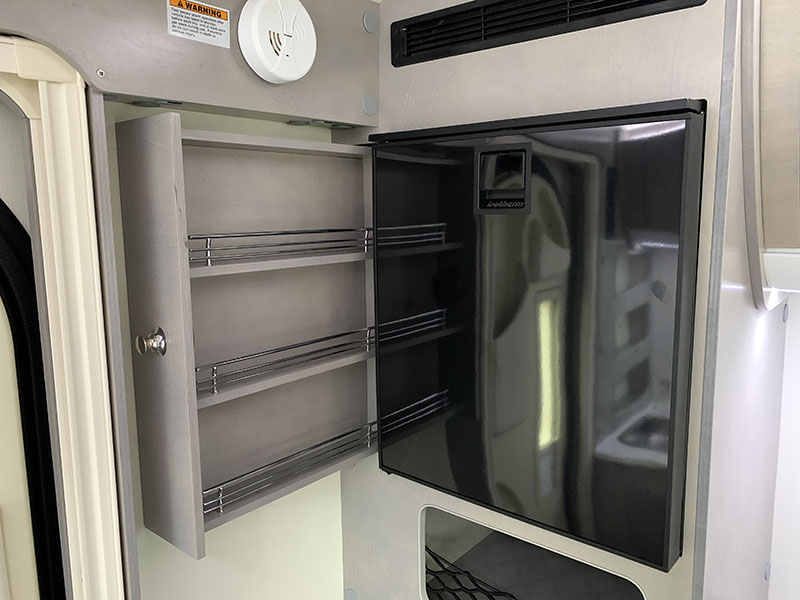 This is the kind of feature born of computer-aided design.  A decade ago, this space might have been a flat cabinet wall.  And nobody would have said a word.
Thankfully, Cirrus gives us a three-shelf pull-out spice-rack.  The shelf depth is limited and might be challenging to fully utilize, but I doubt any 620 owners would give it up.  Think spices, rice packets, and narrow boxes of pasta; food for thought.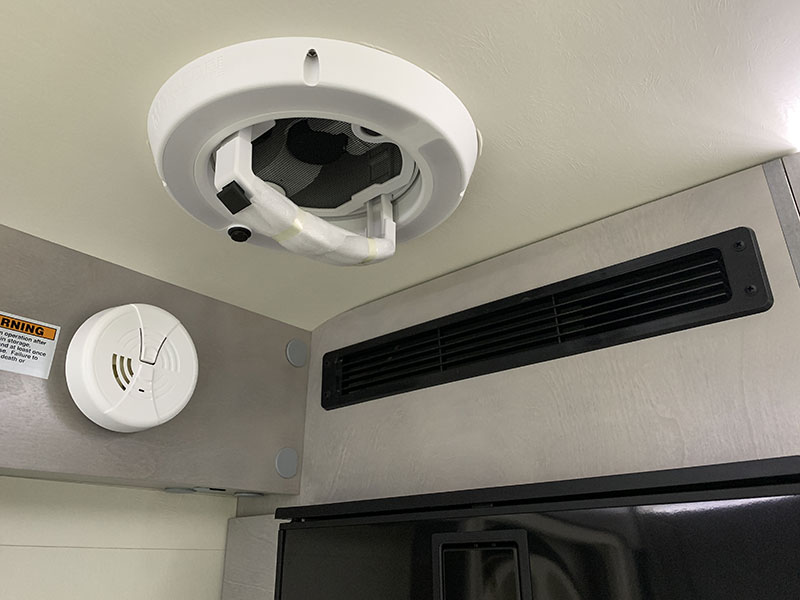 Immediately above the refrigerator is a compact vent and fan.  This is in close proximity to the adjacent cooktop and, most notably, the star feature that follows.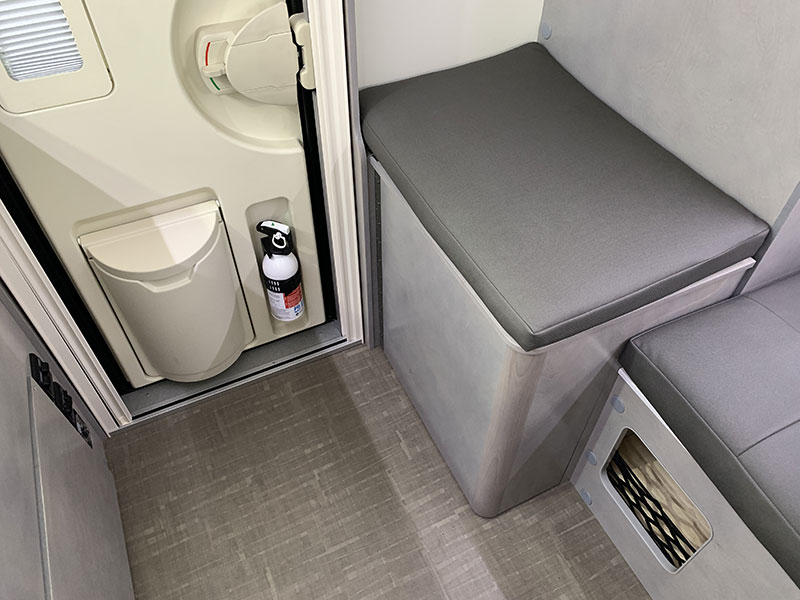 On the driver's side just inside the entry door is what appears to be a seat.  It is indeed a seat, but it cleverly hides the kind of functionality that can tip a purchasing decision one way or another.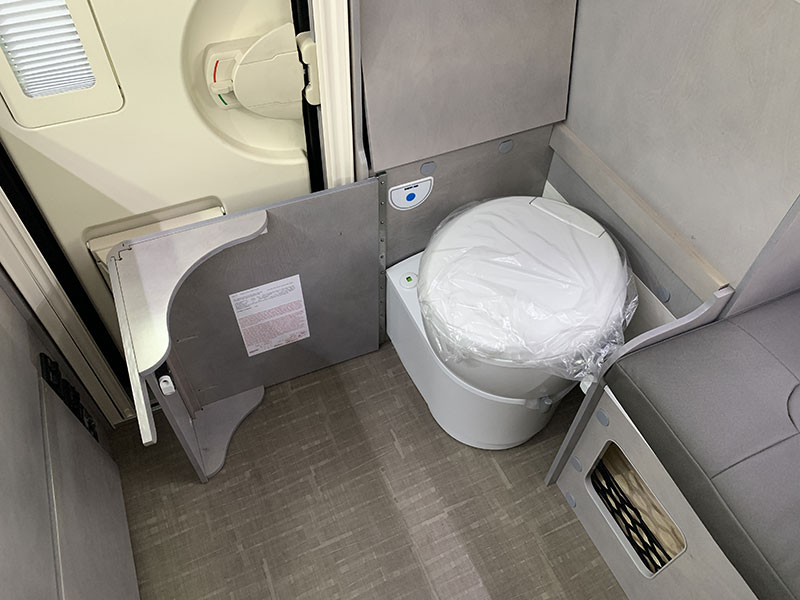 Opening this seat compartment reveals a built-in 4.75-gallon Thetford C-223S cassette toilet system.  This feature alone sets the 620 apart from many competing half-ton targeting truck camper models and adds a degree of convenience and versatility that many will find irresistible.
As always, I encourage potential cassette toilet owners to think through the ownership experience.  If possible, go to a Cirrus dealer, remove a cassette and learn how it works.  If your dealer is amenable, fill the cassette with water and dump it into a toilet.  That will give you a sense of the weight of a full cassette and the experience of dumping it.
We know a lot of cassette toilet owners who wouldn't even consider a standard RV black tank and the required dump stations.  They're weekend campers and dump when they return home.  They're winter campers and camp where dump stations are closed for the season.  They just prefer being able to dump their cassette into any residential toilet.  If your truck camping lifestyle requires that level of convenience and versatility, a cassette toilet is unbeatable.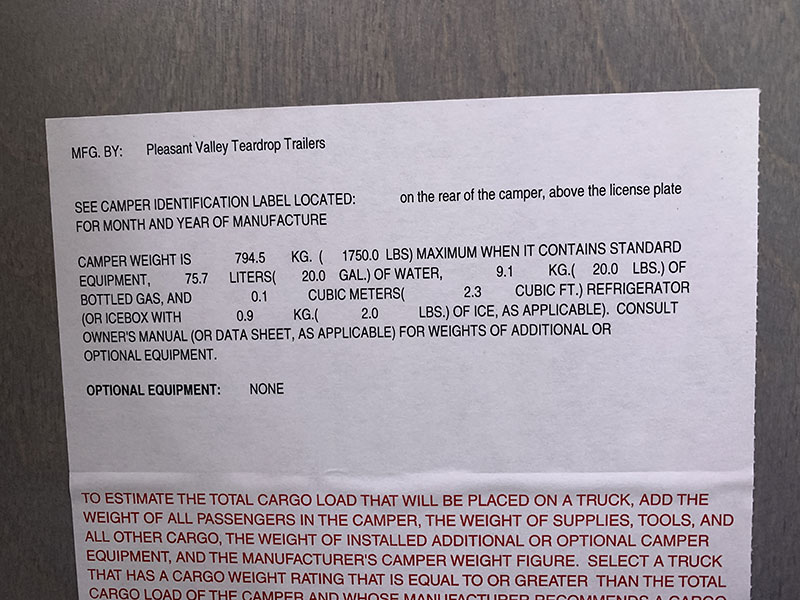 For some light reading while you're on the throne, nuCamp has affixed the inside weight sticker on the interior of the cassette toilet's cabinet.  The numbers are identical to what's posted on the exterior weight sticker.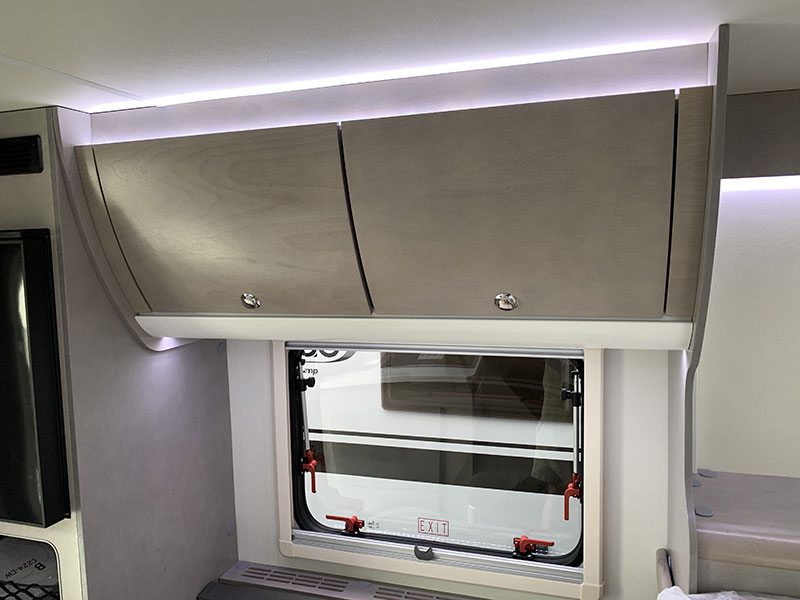 Appearing more like overhead bins on an aircraft, the upper cabinetry in the Cirrus 620 opens vertically and features ambient lighting.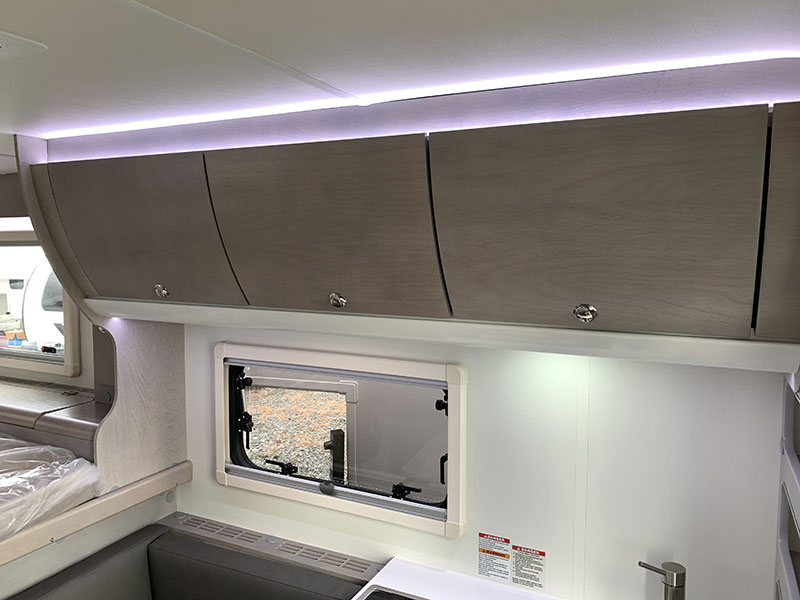 The passenger's side upper cabinet closest to the door is where the optional microwave would be located.  Beyond the obvious storage capacity, the gently curved cabinetry fronts and push-button latches give the Cirrus 620 a decidedly high-end modern aesthetic.  These cabinets would not be out of place on a Gulfstream, Dassault, or Bombardier.  Wheels up high rollers.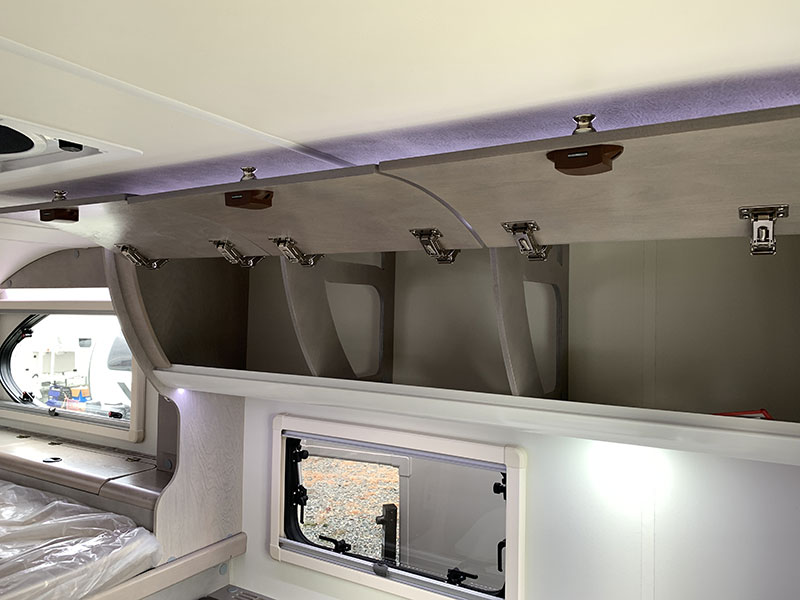 Inside the cabinets reveal an impressive volume of storage.  Fully utilizing this space could be tricky as the space curves up and out and lacks any provision for shelving.  Solutions like plastic containers and possibly netting come to mind, but I'd be curious to see what other nuCamp owners have done.  nuCamp could even hold a contest for the best storage ideas in a nuCamp truck camper, if they only had a way to announce it.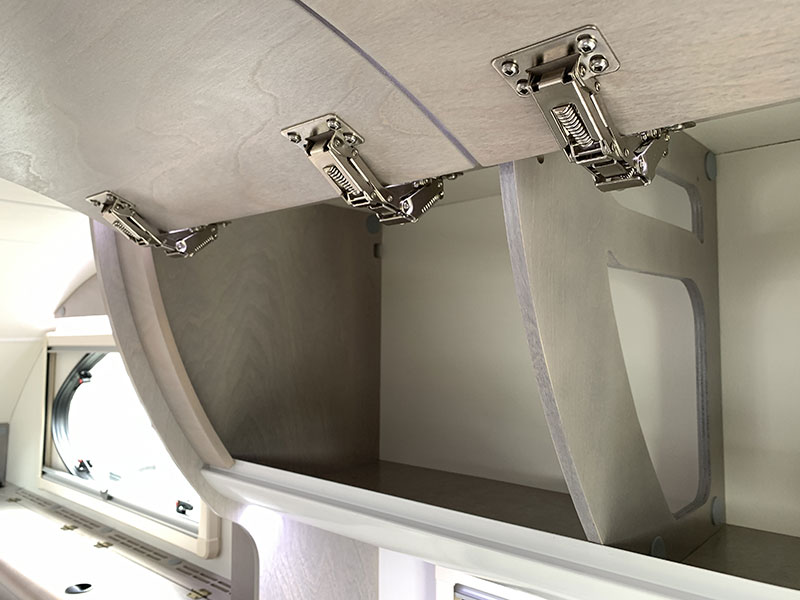 Cleverness and quality abound.  Note how the cabinet dividers are CNC cut to pull weight out the structure while adding to the modern design.  The inside of the cabinets are finished to the same level as the exterior, and the stainless steel hinges feature springs to hold the doors up.  This is a company that cares about how their campers hold up and present themselves long after the sale.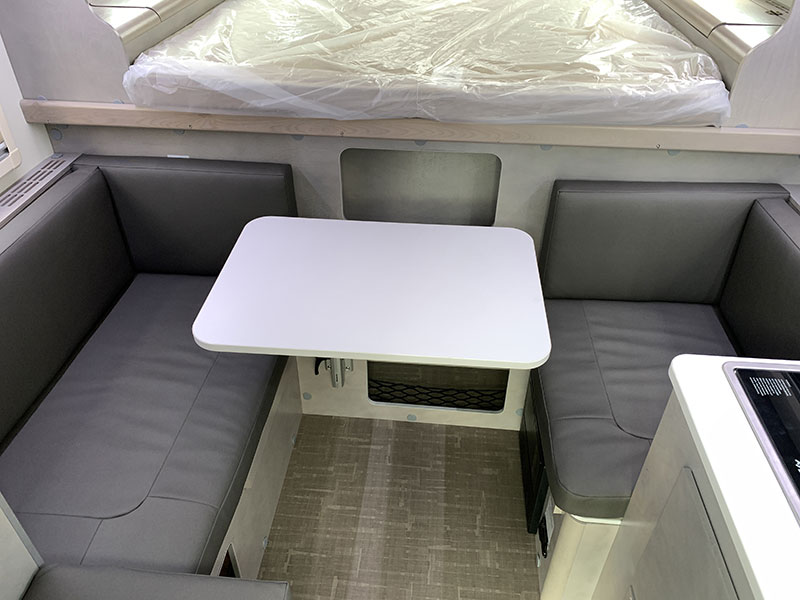 Mid-ship is where we find the face-to-face dinette and Lagun table system.  Far from the awkwardly proportioned benches featured in early Cirrus units, these seats are right-sized and truly comfortable.  In fact, they made what was an initial weakness into a present-day strength.  As they say, somebody got the memo.
The dinette converts into something approximating a twin bed; 30-inches wide by 76-inches long.  The converted bed will also benefit from nuCamp's exceptional cushions.  We don't want our guests (or beloved cats and pooches) to be uncomfortable.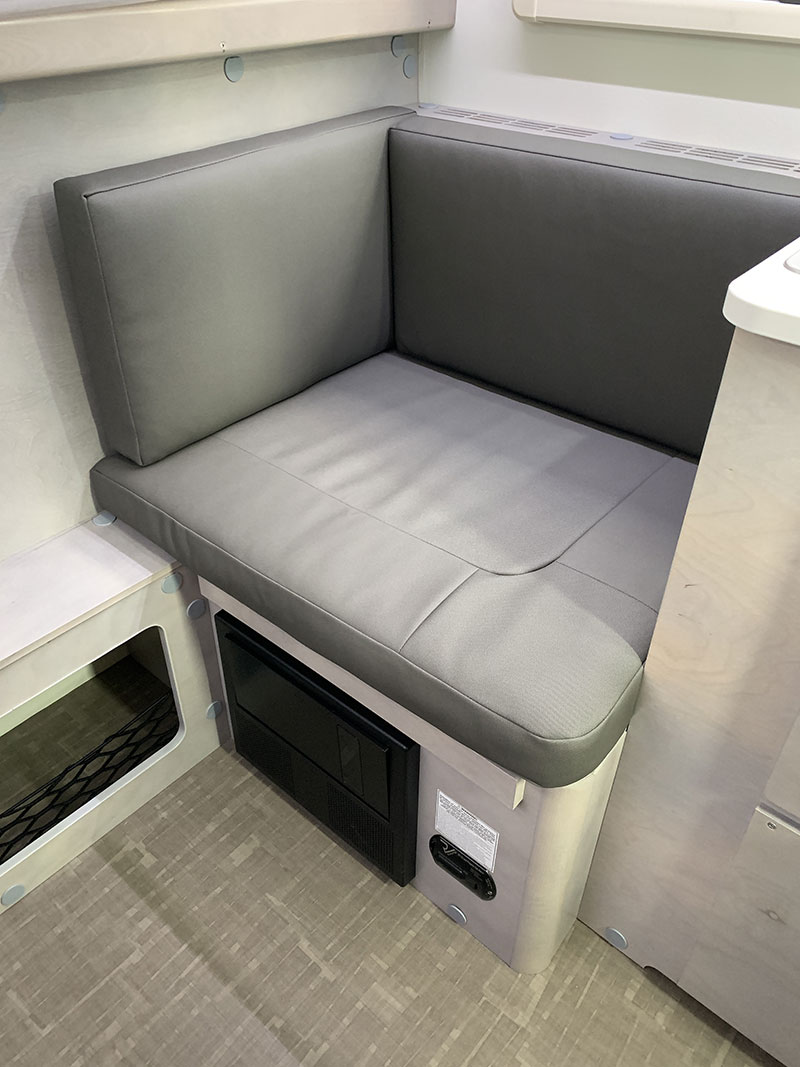 The neutral cushion color, modern style, and clean stitch patterns are also big improvements from where the company seating began.  One sit and your posterior will confirm it.  If only every truck camper were this comfy.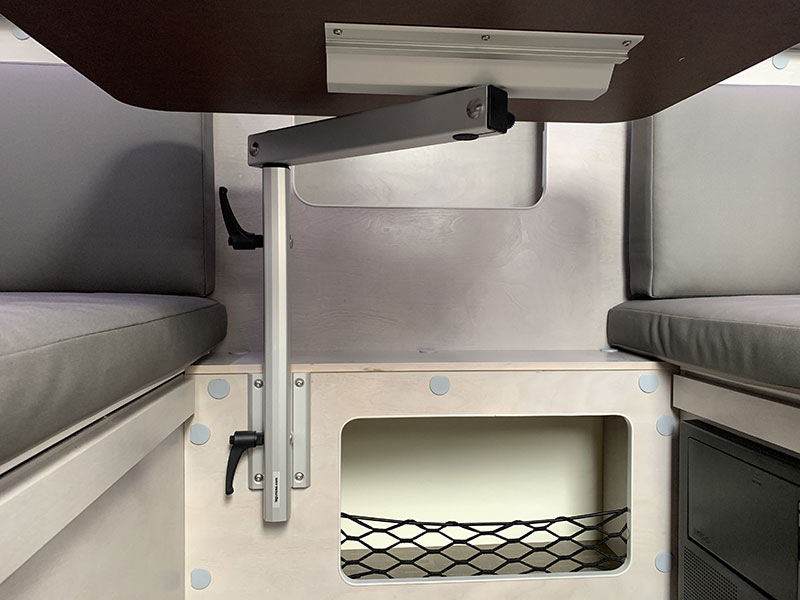 The Lagun table system has become the premium table system for small spaces; campers, RVs, boats, and beyond.  The reason is its inherent sturdiness, position flexibility and ability to be locked down.
It takes a bit of practice to learn the two Lagun hand locks but, once that becomes familiar, you can quickly unlock, move and re-lock the table almost anywhere you need it.  The leg also mounts to the camper structure itself avoiding a table leg post that consumes valuable floor space.  In a camper like the 620, it's the best available system.
As a side note, check out the netted cubby under the table. nuCamp has done an excellent job of taking advantage of available storage space.  Thank you, CAD and CNC.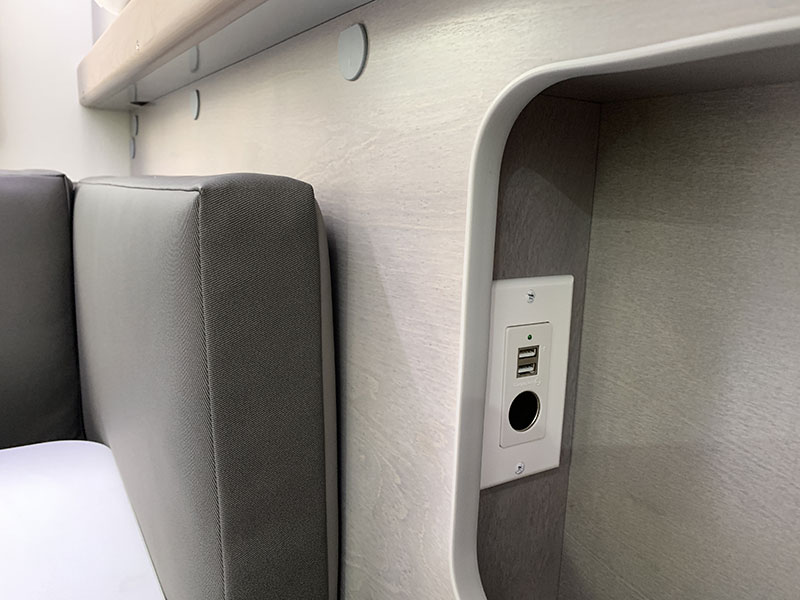 Speaking of CNC spaces, behind the dinette nuCamp has installed USB, 12-volt, and (on the other side) 110-volt outlets.  These will be especially convenient for charging phones, tablets, and even computers while sitting in the dinette.  As folks who often work on the road, we would definitely be using these outlets.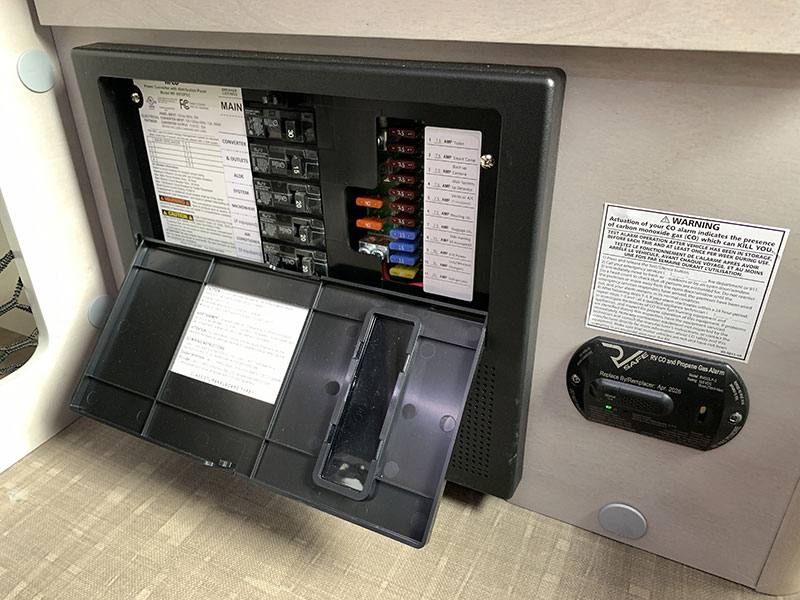 Under the dinette is where we found the circuit breakers, fuse panel, and combination CO and LP detector.  It may be hard to make it out in this photograph, but the breaker and fuses are all neatly labeled including what that breaker or fuse is for, and what value fuse is required.
This might be the best-labeled breaker and fuse box we have ever seen.  This may seem like a small detail to some but will save Cirrus camper owners a huge amount of time when troubleshooting becomes necessary.  Bravo, nuCamp!  I wish our electrical system looked like this.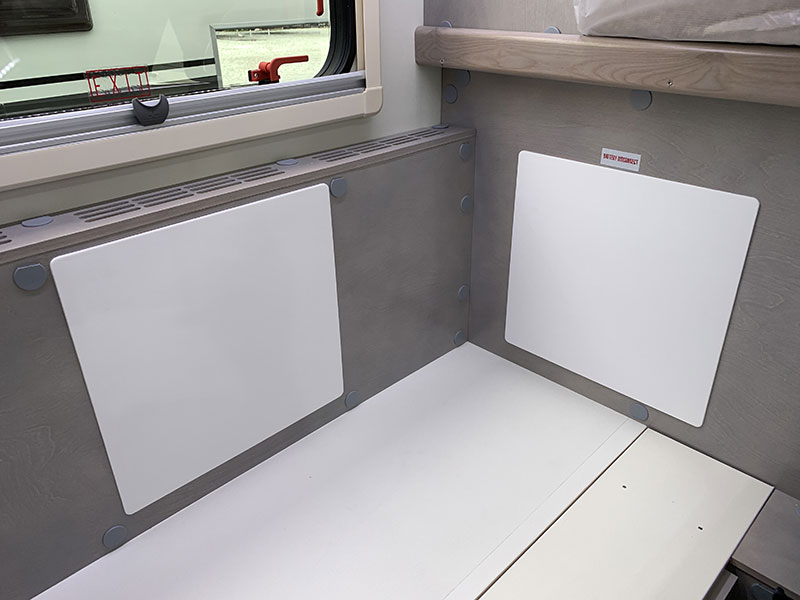 Remove the passenger side dinette cushions and you'll discover two white plastic access panels.  These snap off with a little pressure.  These same removable white plastic panels are used in other places in the unit and provide quick and easy access to vital systems.  This kind of access can be make or break when camper systems inevitably need maintenance.
I applaud nuCamp for providing access where ever possible.  Having lived with campers that lack this kind of access, these panels will be worth their weight in gold when the turnbuckles hit the fan.  It happens.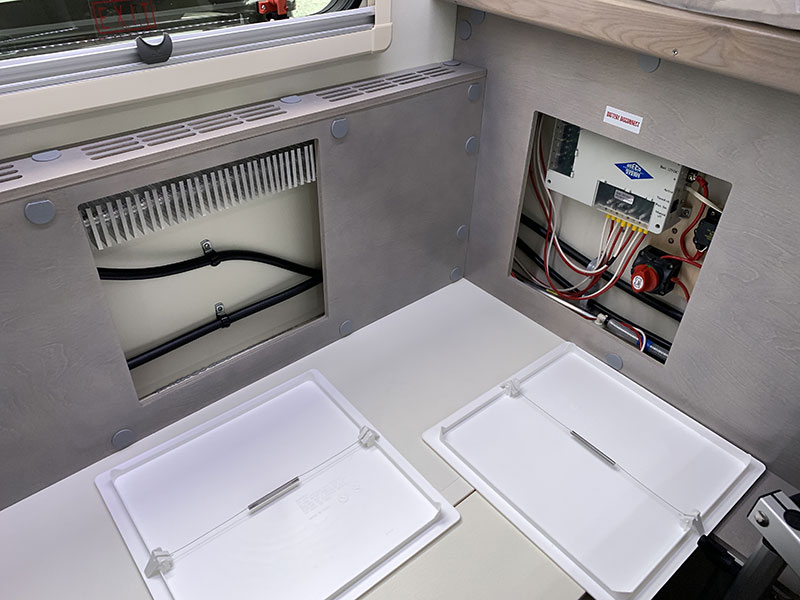 Here we have removed the two plastic access panels to reveal access to convectors for the Alde hydronic heating system, the Rieco-Titan jack controller, and battery disconnect.  Take a moment and admire the clean installations on display here.  This is first-rate work.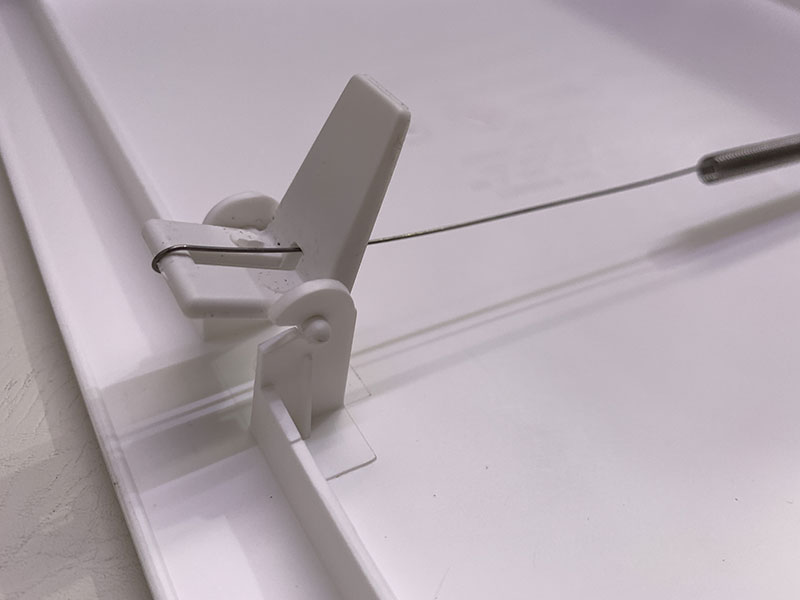 The access panels have a spring-activated latch system that literally snaps when replaced.  Call me weird (you wouldn't be the first) but it was kinda fun to set these spring latches and then snap them into position.  When they snap, the panels pull themselves in tight.  Snap!  Ten bucks says you'll secretly enjoy it too.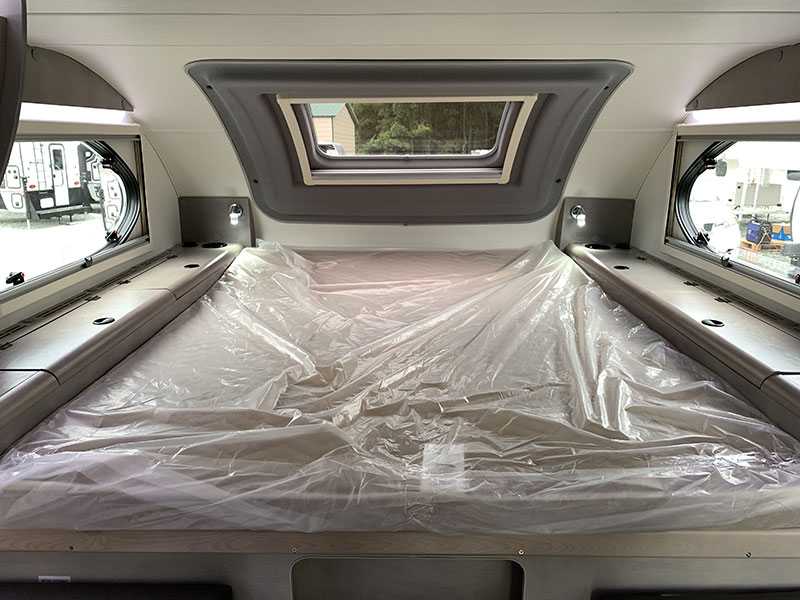 The first thing to note in the cabover is the North-South layout of the bed.  A North-South layout allows you to crawl directly out of bed without possibly needing to climb over your partner.  For anyone who has ever woken up their significant other from a sound sleep, you understand that this situation is to be avoided.
Most campers anywhere near the half-ton hard side category go with an East-West cabover to save weight.  The fact that we're looking at a North-South cabover in the 620 further sets this design apart in an increasingly crowded field.  Of course, it also adds weight.
The cabover reminds us that this camper was built to a weight point.  First, there are no penguins.  Penguins, for those who don't obsess over industry jargon, are the cabinets you often see on the forward-most driver's and passenger's sides of a cabover.  You also don't see any upper cabinets, but nuCamp has made ample provisions for long hampers with split lids.  With a little laundry origami, you should be able to fit your shirts, pants, socks, and skivvies in these dueling bedside chutes.
Since day one, Cirrus campers have come standard with a Froli bed system.  As you can see above, the Froli bed system is comprised of interlocking spring "flowers" that create something of a box spring mattress.  By suspending the top mattress, the Froli system allows airflow to warm the mattress and prevent under bed condensation.
We literally bought the exact Froli system and mattress that was in the Cirrus 920 we borrowed and put it into our personal camper.  It's the most comfortable sleeping situation we've ever had in a truck camper.  The Froli system also solved an under bed condensation issue.  Another benefit is that the total height of the Froli system and the Cirrus supplied mattress was about 25-percent less than our previous mattress creating more cabover headroom.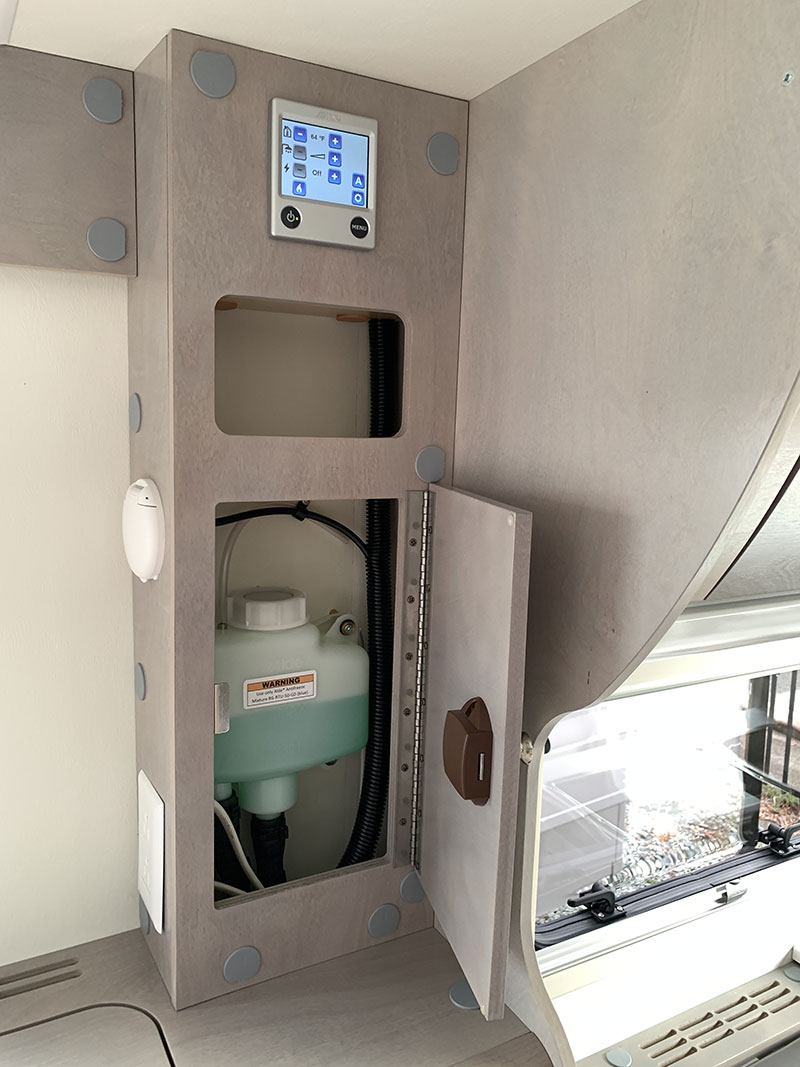 Like all nuCamp and Cirrus products, the Cirrus 620 employs the Alde hydronic heating system for heat and hot water.  The Alde system uses heated glycol and a series of convectors located throughout a unit to heat the camper and provide hot water.  In this photo, you see the system's glycol reservoir tucked into a cabinet immediately inside the cabover.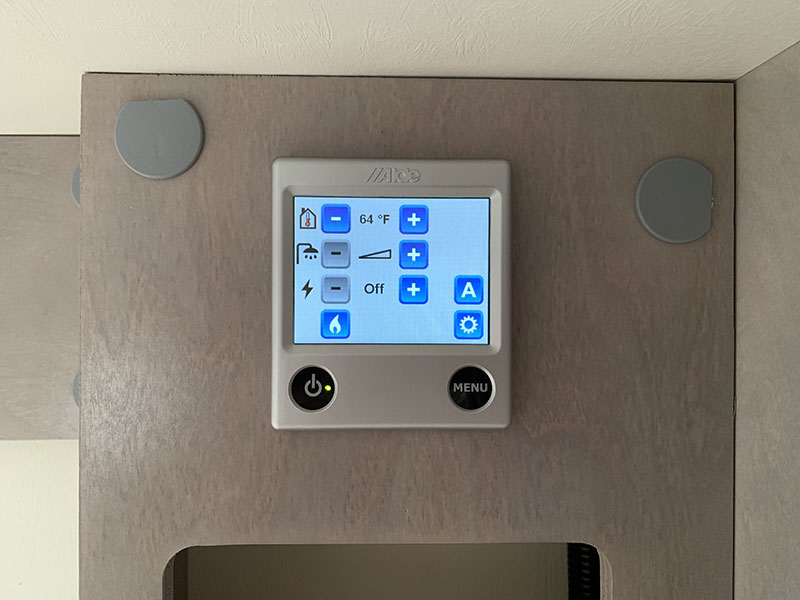 The Alde control panel provides the inside ambient temperature adjustment, water temperature adjustment, propane or 110-volt electric power source selection and more.
In 2019, we reviewed the Alde system during a long-term test in a Cirrus 920.  If you are considering a camper equipped with an Alde system, I highly recommend checking out the Alde review and Alde's manufacturer response.  It's an incredible system.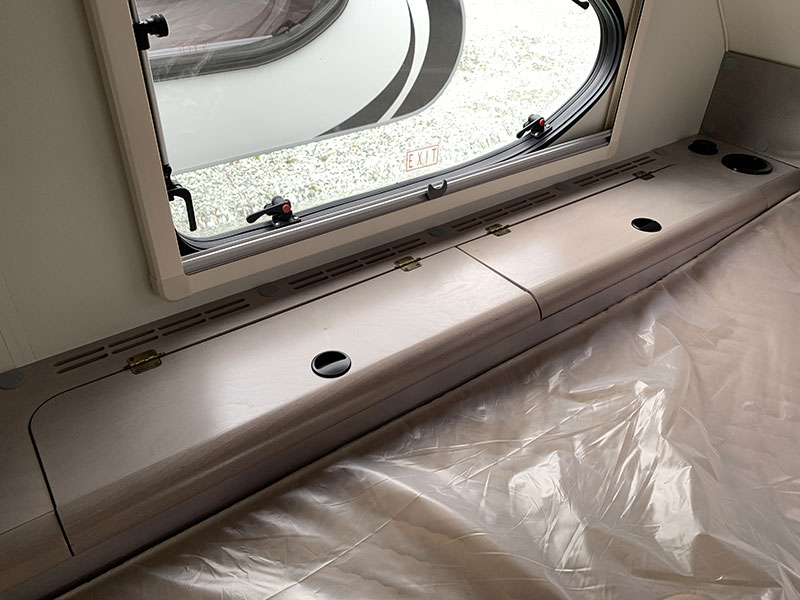 Again we see the split hamper lids we have every reason to believe were inspired by David Pellegrini's October 2017 modification of his Cirrus 820.  In the original Cirrus 820 and 920 design, this long hamper lid was one piece requiring anything on the surface to be cleared prior to opening.  By cutting the lid in half, it becomes a more convenient storage solution.  And you thought the mods were just fun content.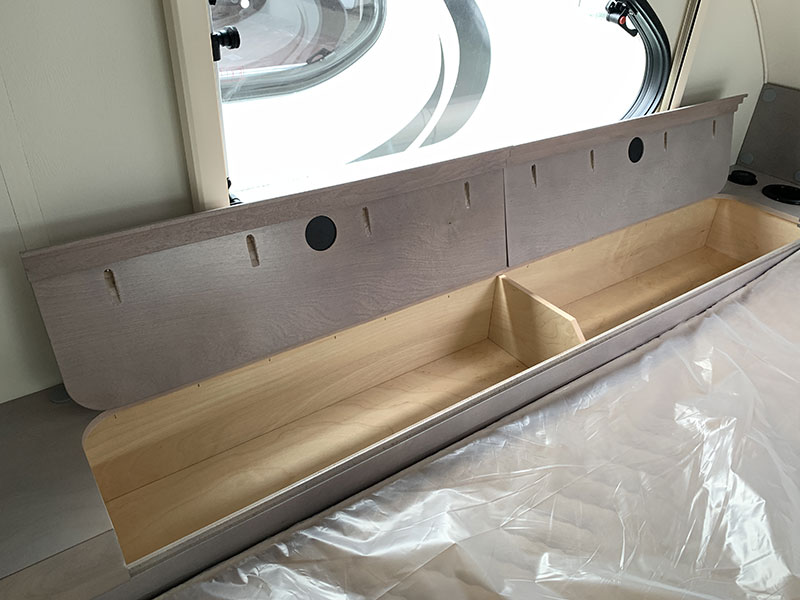 With both lids open you get an idea of how much storage space these hampers offer.  The 620's hamper size is similar to what we had in the 920 and swallowed the majority of our clothing.
That stated, the Cirrus 920 (and 820) have the aforementioned front penguins cabinets, a small headboard cabinet, and a considerable overhead drivers' side cabinet.  None of those are present in the 620.  This painstakingly calculated omission is exactly the kind of leadership, design, and marketing decision that results in a truck camper that truly meets a half-ton possible weight category.  So many truck camper manufacturers fail this test and give in to the temptation and pressure to add back what's been removed.  Well done, nuCamp.  Hold the line.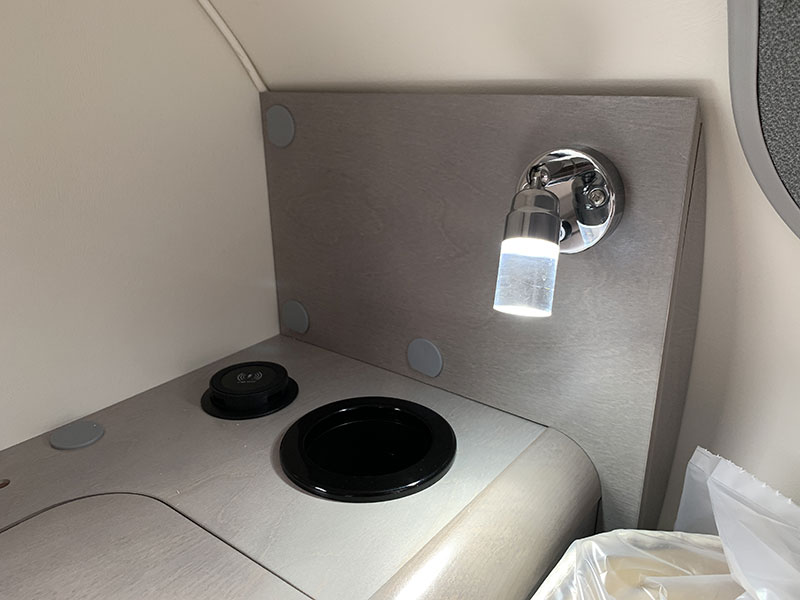 I once got into quite the kerfuffle with a manufacturer when I publicly called out how silly it is to have cup holders in a camper cabover.  When I first saw the cup holders in the 620, I paused to consider my options; and promptly dug in my admittedly stubborn heels.  I still believe the idea of open liquid containers in a camper cabover is asking for trouble.  Of course, so is driving in an age where humans have been all but enslaved by their rectangular cellphone overloads.  We found that one out the hard way.
Rather than tempt another contest, I suggest this "cup" could be used to hold your Apple or Samsung tyrant, or smartwatch, or reading glasses, or whatever it is that you need to keep by your bedside.  For that purpose, I give this cup holder my coveted stamp of approval.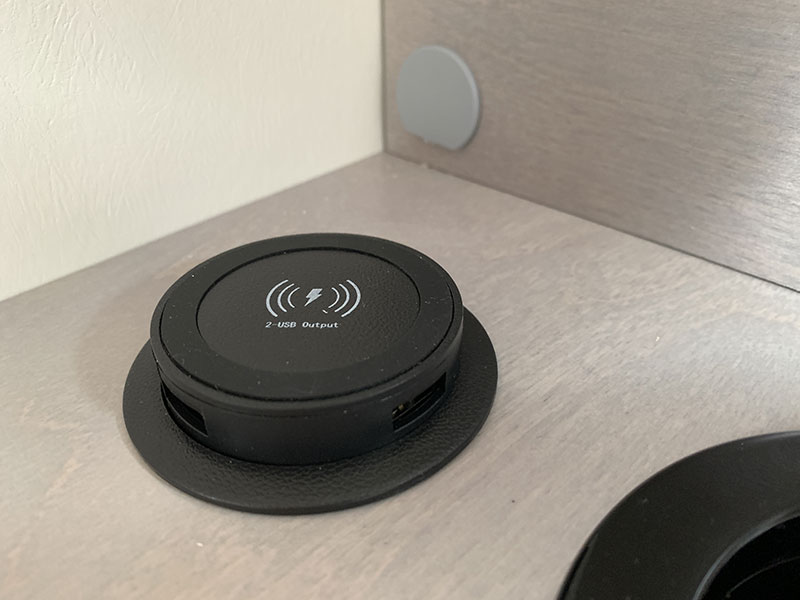 Two USB outlets on either side of the cabover bed are quite a luxury.  Most of us would likely use this pop-up power for our smartphones and maybe a tablet or Kindle.
The Cirrus 820 and 920 add a 110-volt and 12-volt outlet at the front of the cabover nose, but that's yet another sacrifice necessary to save weight.  While the outlets themselves are relatively light, the required cabinetry and wiring are not.
All of the windows in the Cirrus 620 are thermal pane acrylic.  These are the same windows utilized for the Cirrus 820 and 920 models.  nuCamp employs thermal pane acrylic windows for their insulation performance in cold and hot weather, lightweight compared to glass equivalents, and the built-in blackout shades and bug screens (shown above).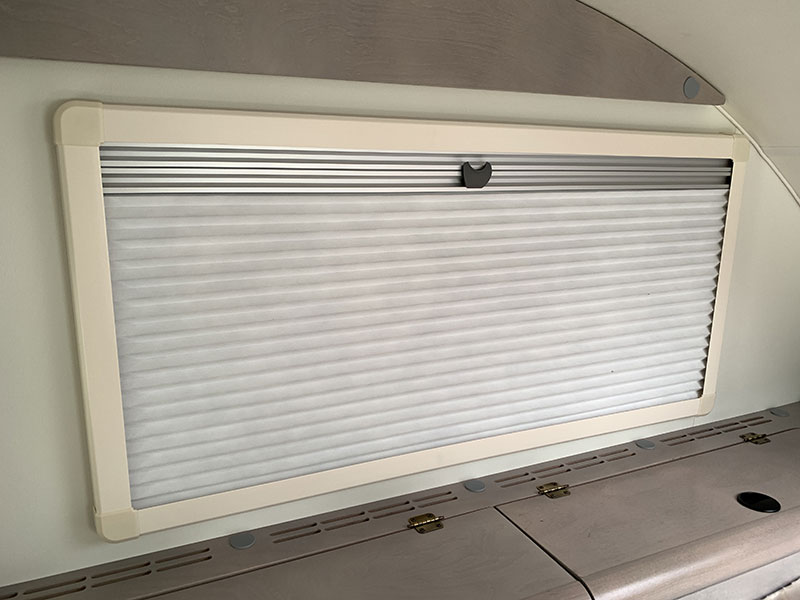 Having experienced thermal pane acrylic windows in multiple camper designs, we can confirm their exceptional performance in the temperature extremes.  They really help to hold in the heat in cold weather, and air conditioning in the summer.
The built-in black-out shade feature is very useful for both privacy and low-profile boondocking.  Traditional Venetian blinds never block all of the light, but the blackout shades are almost perfect in this regard.  Dim your nighttime lights to comfortable levels and your camper will be dark outside.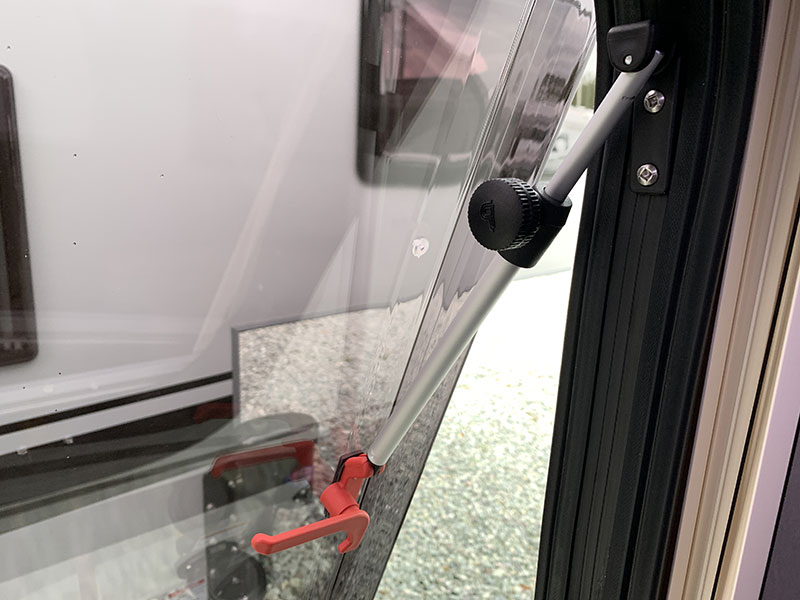 The only caveat to this window style is that you can't close them without opening the bug screen first.  In bug-heavy situations, you might accidentally let in a bug or two no matter how fast you close the window.  Everything has trade-offs.
There are only three options on a Cirrus 620; the air conditioner, a 7-foot motorized side awning, and a microwave.  The 210-watt Sunflare solar package, Rieco-Titan electric jacks, Froli sleep system, Thetford cassette toilet system and pictured Voyager backup camera, and Bose Soundlink Bluetooth speaker are all standard equipment.
This is all on target with the prevailing trends in the hard-side truck camper marketplace.  From various surveys and personal experience, truck campers simultaneously want more features, more versatility, and more flexibility.  By loading the 620 from the factory and making the included options more removable and portable, nuCamp is on point for this niche.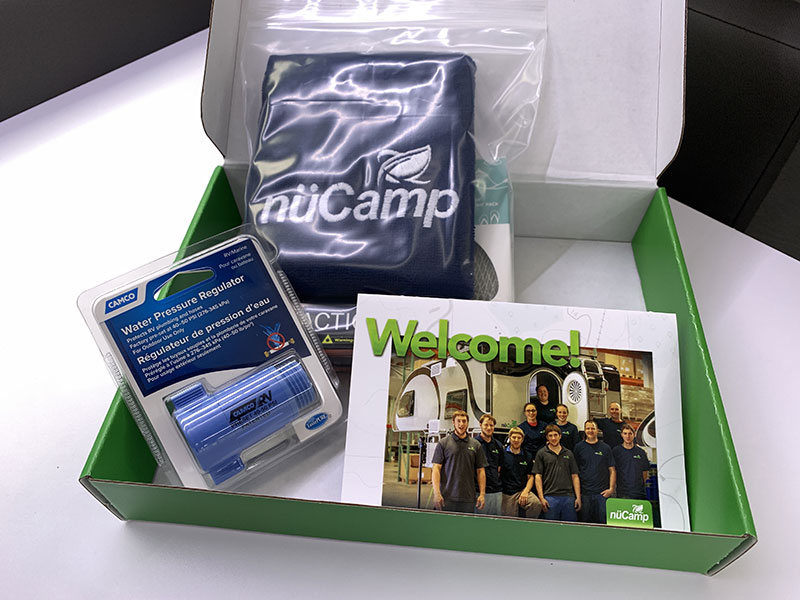 Nobody does a welcome kit like nuCamp.  With a fun welcome letter and useful gifts, this box thanks Cirrus customers for purchasing a nuCamp product.  It's a small touch that reflects the positive and forward-thinking culture we've seen at nuCamp since day one.
Cirrus 620 Specifications
| | |
| --- | --- |
| Specifications | |
| Dry Weight | 1,491 pounds |
| Wet Weight* | 2,312 pounds |
| Floor Length | 6'0″ |
| Overall Length | 12'8″ |
| Width | 98″ |
| Interior Height | 6'5″ |
| Exterior Height | 8'2″ |
| Center of Gravity | 25″ |
| Truck Type | Short Bed |
For both the Cirrus 920 and Cirrus 720 reviews, we have publicly asked nuCamp to share with us how and where they weigh truck campers.  We haven't seen scales on their camper line, nor have we ever seen a certified scale ticket presented with their camper weights.
In all fairness, their stated camper weights are well within the realm of expectation and they have often reported weights higher than they had wished.  They are also great about responding to our reviews and are open about their successes and various challenges along the way.  Still, we would like to know how they weigh truck campers at nuCamp HQ.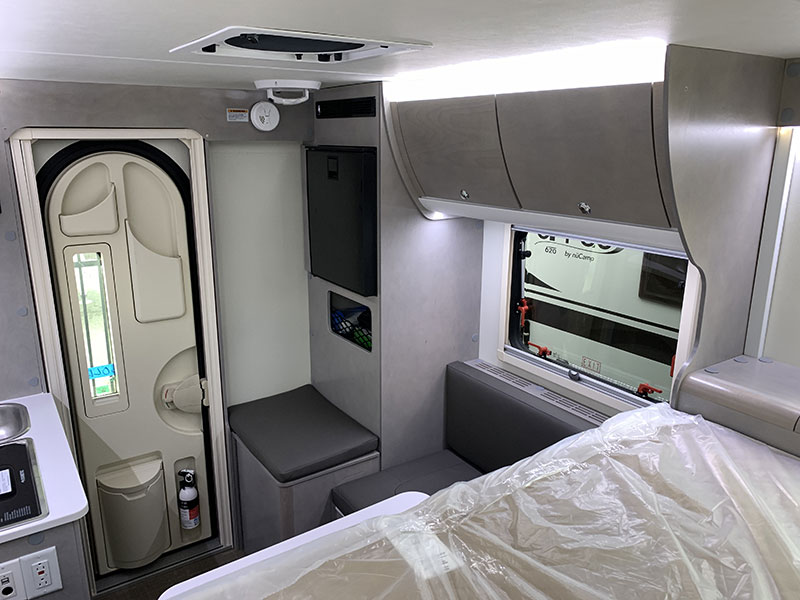 Interior height is an excellent 6-feet 5-inches, enough for most tall individuals including my 6-foot 3-inch frame.  That height also translates to a comfortable sit-up height in the cabover.
The 25-inch center of gravity should be far forward of the rear axle on any truck the 620 might be matched with.  That's important for proper weight distribution and handling.
As we encourage the industry to do, the center of gravity is marked on the 620 with a red arrow sticker, but the sticker is located on the lower part of the camper where it can't be seen once the unit is loaded.  We would like to see Cirrus move this sticker to the sidewall where it will be visible once the camper is loaded.
Cirrus 620 Capacities
| | |
| --- | --- |
| Capacities | |
| Fresh | 17 gallons |
| Grey | 12 gallons |
| Black | 4.75 gallon cassette |
| Water Heater | 2.2 gallon |
| Propane Tanks | 20 pounds |
| Batteries | Two Batteries |
The 17-gallons of fresh water, 12-gallons of grey water, and a 4.75-gallon cassette toilet are probably more appropriate for three and four-day off-grid adventures than a week.  For example, when Angela and I use a 4.75-gallon cassette toilet system, we need to dump it every three to four days.
Unless you are traveling alone and are extremely efficient in your tank use, the 620 tank capacities will probably need to be dumped and replenished about twice a week.  As many of the competing campers in this size and weight category do not have holding tanks or cassette toilet systems, the given capacity is actually fantastic.
The single propane tank is a more difficult call. In the 620, propane can be used by the propane cooktop and the Alde hydronic heating system, and the water heater.  During our experience with the Alde system in a Cirrus 920, we found the propane use was much lower than with a traditional furnace and water heater.  The 620 also has a 12-volt refrigerator that does not use propane, so that's also going in favor of impressively low propane draw.
If I had a concern it would be in forgetting about the propane and finding out the tank is empty at an inconvenient location or time.  One suggestion would be to fill the propane tank on a regular schedule to avoid these trip interruptions; say every two weeks.  If, for example, you find you're filling a half-full tank, try going to every three weeks.
The batteries need a special comment.  First, the camper does not come with batteries.  There is a 7.5-inch wide, 12-inch deep, and 23-inch long storage space under the left seating area for two Group 24 batteries, possibly bigger.
Given the 12-volt refrigerator, this might be a good place for a lithium battery system.  The 620 comes standard with 210-watts of solar, so the combination should adequately power the refrigerator indefinitely.  That is until it clouds over for a week.  That's when a portable generator or a campground overnight is a good backup plan.
Wet Weight Calculation
Using our standardized Truck Camper Magazine wet weight calculation, let's run the numbers on the 2021 Cirrus 620.  As noted previously, the base dry weight is loaded but does not include three specific options; an air conditioner, a 7-foot motorized side awning, and a microwave.  The Cirrus 620 we reviewed did not have these options.  If you select all three options, add approximately 120-pounds to the dry weight below.
Base Dry Weight – As Reviewed
Cirrus 620: dry weight, 1,491 pounds + 18 gallons fresh, 150.2 pounds + 2.2 gallon full hot water heater, 18.3 pounds + 20-pound full propane tank, 20 pounds + 2 batteries, 130 pounds + stuff, 500 pounds = 2,309.5 pounds
Truck Recommendations
The great majority of half-ton trucks, new or used, late model or vintage, have 1,500-pounds of payload or less.  Unless you plan on taking a camper out minus water, clothing, food, or any other belongings, the 620 requires a particularly stout version of the half-ton type.
The good news (and it's very good news) is that it's easy to design and order a particularly stout half-ton with more than enough payload for the wet and loaded Cirrus 620.  For example, a 2021 Ford F-150 SuperCrew, 6.5-foot bed, 3.5L EcoBoost V6, 4×4 with the Heavy-Duty Payload Package has 2,640 pounds of payload.  Yes, you need to be that specific.
After subtracting our 2,309.5-pound wet weight calculation for the 620, that leaves a full 330.5-pounds of additional payload.  Even if you added the optional air conditioner, 7-foot motorized awning, and microwave (approximately 120-pounds), that exact F-150 configuration has more than enough payload capacity for a proper 620 match.
If you're going to tow anything or collect wrought iron anvils on the road, you will need to step up to a three-quarter or one-ton truck.  One-ton short bed trucks, like our own 2013 Chevy 3500 from a few years ago, offer upwards of 4,000-pounds of payload capacity.  That's where we would lean if we towed anything.
Note that the T-shape of the 620 allows it to be loaded into long or short bed trucks.  Basically, any full-size truck is a potential fit, if not a payload match.  For trucks with 6-foot or longer beds, you can even close the tailgate and then use it as a porch.  Very few truck campers offer this kind of truck fit versatility.
No matter what truck and camper you choose, always follow the truck and camper matching calculations and paths outlined in the article, "How To Match A Truck and Camper".
The Verdict
Without a doubt, the 620 is the Cirrus model the truck camper marketplace and community needed.  More than any previously presented Cirrus prototype or production model, the 620 succeeds in bringing the winning simplicity, elegance, style, and versatility of nuCamp's celebrated teardrop trailer line to the truck camper category.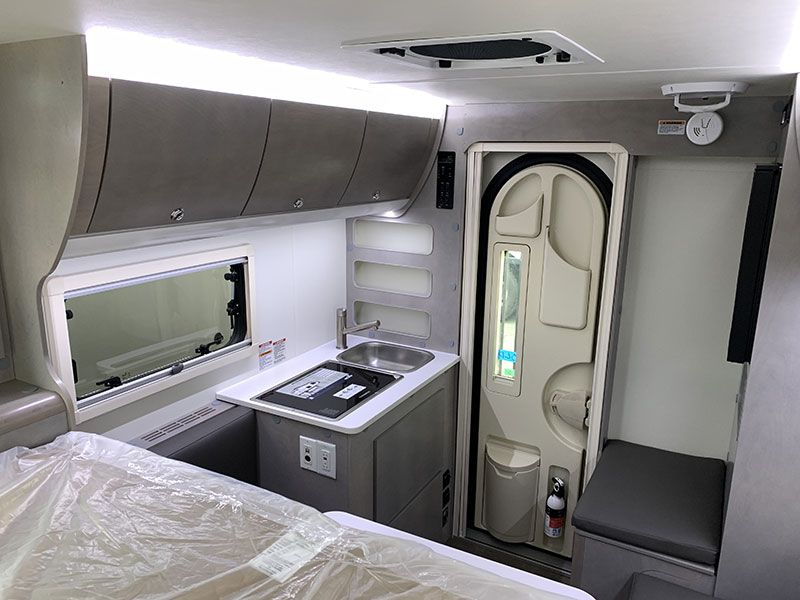 Most importantly, they hit the half-ton weight range.  No, you can't take your tired 1999 half-ton and payload match it to this camper.  What you can do is design and order a half-ton that will more than handle this camper, even fully wet and optioned to the hilt.  What's even more impressive is that the 620 has a North-South cabover, decent holding tanks, a cassette toilet system, an Alde heating system, and a long list of standard features.  This is no stripped bare shell.  It's a full-blooded camper.
That's not to say that the 620 is perfect.  Its 6-foot floor plan is obviously tight quarters for more than a friendly couple.  Add a dog or two and one might not have a place to put themselves.
The kitchen, two-burner cooktop, and sink are almost too small; especially the sink.  Cirrus 620 owners will likely need to adapt their kitchen supplies and meal prep expectations to accommodate the minimal countertop and puny basin.
Storage opportunities abound in the 620, but much of it matches the limited capacity showcased by the sink.  Thankfully, the appropriately sized overhead cabinets and cabover hampers should absorb the lion's share of food, clothing, and supplies.
While not necessarily a negative, the absence of a television, standard main battery, and entry step system should all be taken into consideration.  nuCamp does provide for a television mounting area but suggests its customers might prefer watching entertainment on their tablets and phones.  The omission of a battery was done to allow you to select the battery type, size, and brand you prefer.  Given the standard 12-volt compressor refrigerator, I would lean towards a lithium battery system.  Whichever battery you choose, add that cost to your projections.
Since the 620 allows for a tailgate to be left in place on most truck applications, nuCamp suggests the built-in step system many trucks now offer.  My concern here is the higher cost and lower payload the trucks with this feature often provide.  I would prioritize a truck with the needed payload, and then use a three-step ladder or a hitch step depending on the particulars of the designated truck.  These solutions may not be ideal for some prospective 620 customers.
And finally, we can't look past the rather high price; $38,591 USD is a lot for a 6-foot floor-length camper, even if it is peppered with high-end appliances and luxury appointments.  I know everything has gone up in price of late due to the rising cost of materials and parts.  Even so, the Cirrus 620 is a luxury camper with a luxury price.
All of that aside, the 620 is a stunning truck camper.  It's easy to forget it includes the remarkable Alde hydronic heating system, West Marine Isotherm 12-volt compressor refrigerator, Froli bed system, electric Rieco-Titan jacks, Nautilus water management system, Thetford cassette toilet, 210-watts of solar and essentially every other forward-thinking feature nuCamp truck campers are known for; all standard.
For the person who wants a half-ton truck and demands the built-in features modern truck campers provide, the 620 belongs on your very short list.  If I had to bet, the Cirrus 620 will quickly become their leading truck camper product.
Pros
Payload matches specific half-tons (see Truck Recommendations above)
All-aluminum, composite, and fully laminated walls, floor and roof
In-house Amish cabinetry and build-quality is exceptional
Cutting edge tech: Alde hydronic system, Isotherm 12-volt refrigerator, etc.
Impressive tank capacities for a half-ton hard side design
Brilliant hide-a-way 4.7-gallon Thetford cassette toilet system
Cons
The $38,591 USD base MSRP is high for a 6-foot camper
Inside living space, features and cabinetry are relatively small
Lower inside doorway needs an interior light switch
Lacks a built-in or provided entry step system
Batteries are not included and need to be factored into final cost
Not everyone will be comfortable with the bathroom location
Model Information:
2022 Cirrus 620
MSRP: $38,591
Warranty: One year warranty
nüCamp Recreational Vehicles
Phone: 330-852-4811
Request a Cirrus 620 Brochure
Web: nuCamprv.com/cirrus-truck-camper
Quality, Customer Service, and Long-Term Reliability
Truck Camper Magazine inspects all reviewed truck campers for design, material, and quality issues and reports what we find.  However, since Truck Camper Magazine reviews only brand new truck campers, our reviews do not address long-term quality, customer service, or reliability.
To learn about a brand's long-term quality, customer service, and reliability, Truck Camper Magazine recommends talking directly with truck camper owners at truck camper rallies and online via truck camper forums and truck camper owners groups.
Please be sure to balance your gathered feedback across multiple sources including direct correspondence with the truck camper manufacturers and your closest truck camper dealers.  If you are new to truck campers, please start in the Newbie Corner.