The secret research and development labs at nuCamp RV have produced a forward thinking glimpse into the future of truck camper technology.  Like it or not, truck campers are about to get "Smart".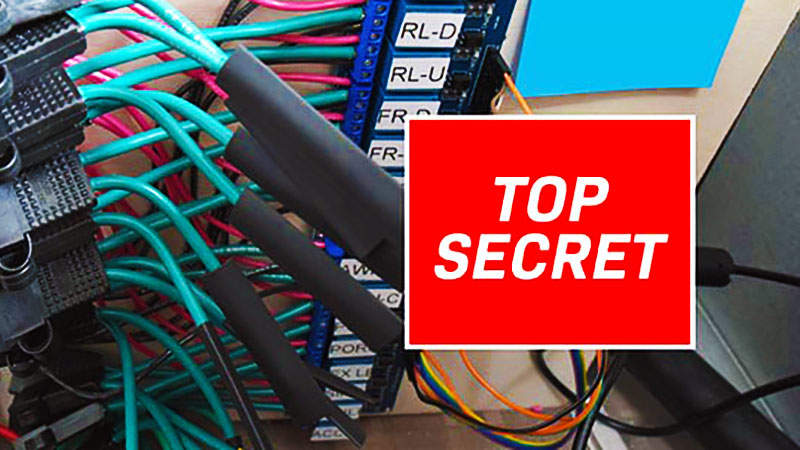 nuCamp brought only one truck camper to this year's Elkhart Open House in Elkhart, Indiana; a "Smart" Cirrus 820.  nuCamp had informed us of this mysterious "Smart" debut ahead of time, but hadn't mentioned what it was.  What could a "Smart" camper be?
Dictionary.com defines smart as, "having or showing quick intelligence or ready mental capability".  None of that describes what we typically associate with a truck camper.  Truck camper owners are certainly smart (which explains their product choice) but the campers they purchase lack the mental capabilities of a carrot.
When we finally arrived in Indiana, there it was.  A Cirrus 820.  Just sitting there.  It looked perfectly nice, but it didn't strike us as particularly intelligent.  Crafty maybe, but brainy?  Are we being punked?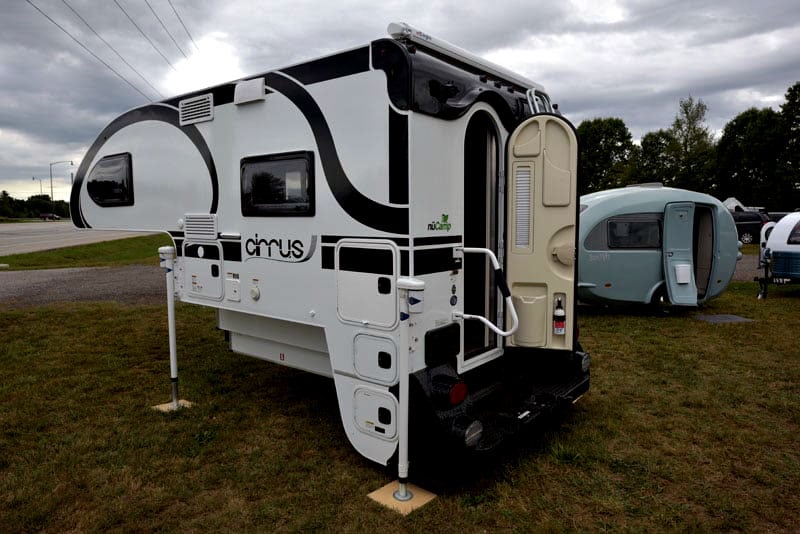 Above: The Cirrus 820 Smart Camper at the Elkhart Open House
"Would you like to see how it works?"
The question came from a new-to-me member of nuCamp's team, Tanner Guy.  Fresh from nuCamp's Sugarcreek skunkworks, he presented an Android-based smartphone and proceeded to flick electrons across its screen.
In a split second the Cirrus 820 clicked to life.  LED lights switched on.  The electric awning pushed out.  The water pump cranked to pressure.  Wait, what?  Oh no…
Someone else should probably be writing this article.  You see, I'm something of a curmudgeon on new technology.  If it were up to me, music would still be played on vinyl, screens would be for porches, and automobiles would still have real keys.  I mean what was so hard about putting a key in the ignition for goodness' sakes?
Alas, smartphones have literally enslaved humanity, yours truly included.  It only makes sense that this would eventually happen.  Truck campers controlled by smartphones?  That day is evidently upon us.
Admittedly, I was fascinated when Tanner showed me the prototype breadboard with the well sorted array of servo switches, in-line fuses and a few significant things he asked us not to divulge.
It has a flux capacitor!  Darn, I said it.  Sorry fellas.
To dig into the Smart Cirrus 820, its capabilities and implications, we interviewed Tanner Guy, IT Director for nuCamp RV.  Welcome to the future.
The Test Bed: Tanner's Personal Cirrus 920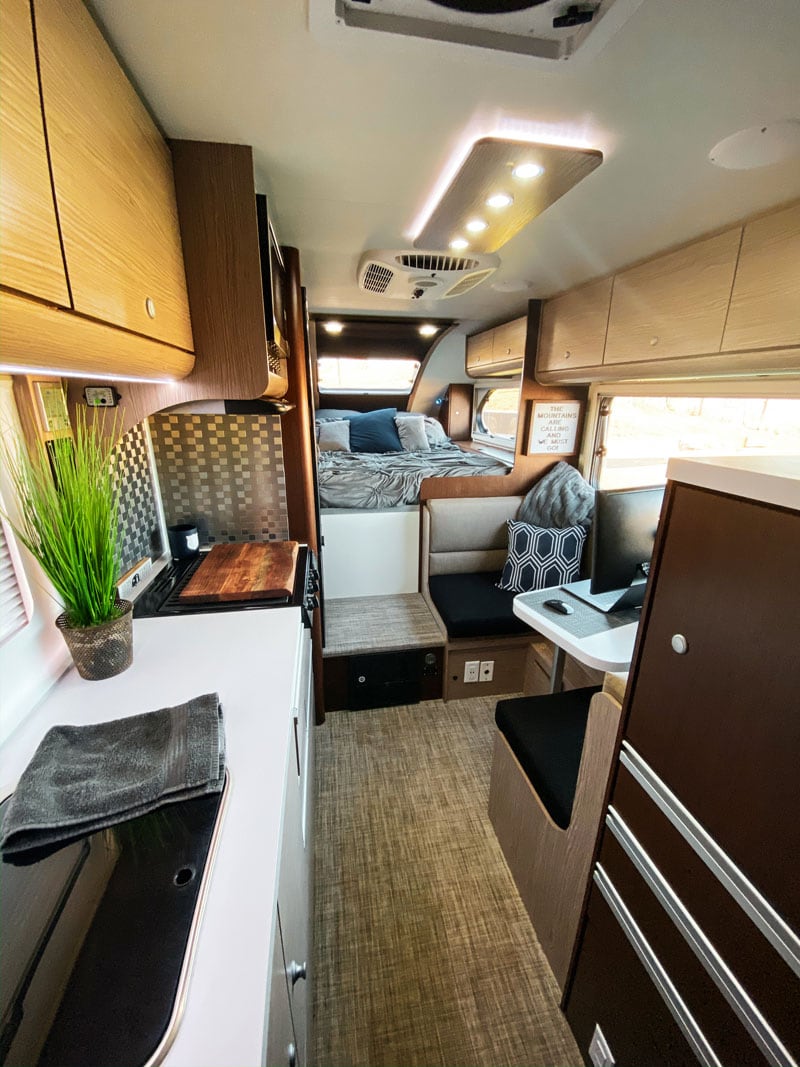 Above: Inside Tanner's Cirrus 920
Before we talk about the prototype Smart 820, you yourself are a truck camper owner.  Tell us about your truck and camper, and why you prefer a truck camper?
I wanted to live the truck camping lifestyle before I developed a product for it.  I wanted to camp in a Cirrus and find the issues that a person camping in a truck camper faces.
I bought a 2019 Cirrus 920.  I have been using nuCamp's truck, but I have a one-ton Chevy 3500 dually on order.
Since getting the 920, we have gone out about a dozen times to state parks in Michigan and Ohio.  I'm very excited to put my new truck and camper together and take my family truck camping even more.
Has your truck camping experience influenced truck camper design at nuCamp?
Yes, I think so.  For starters, we are going to put smart products in all our truck campers going forward.  I have also made many modifications to my truck camper that I have shared with nuCamp's Research and Development team.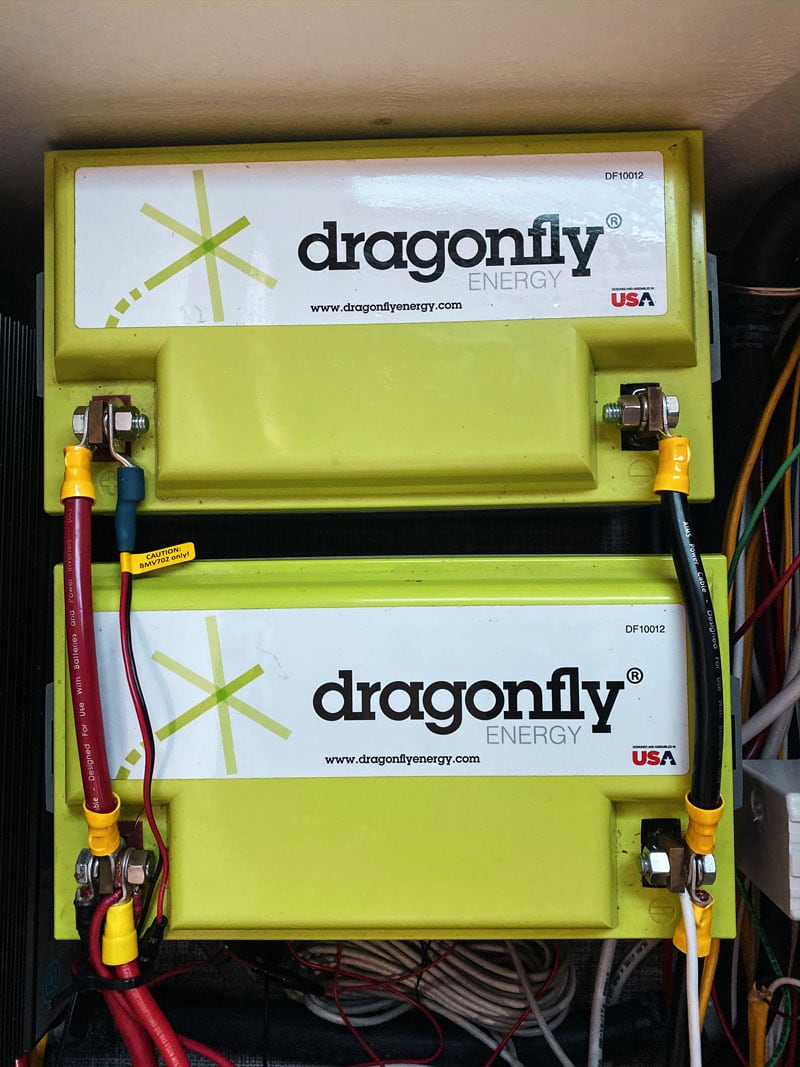 Can you give us some examples of the mods you have made to your Cirrus 920?
It's quite a list.  I removed the sealed AGMs from my 920 and installed two 100-amp hour Dragonfly lithium-ion batteries.  I like that I can drain the lithium batteries to zero and their reduced weight.  Keeping the weight down is important to me.
Dragonfly batteries work with the converter that comes standard with Cirrus campers because they have a built-in BMS (Battery Management System).  As long as you provide 14-volts to the batteries, they will charge appropriately and not hurt themselves.
I am currently working with a company on the possibility of installing two 200-amp hour batteries in series.  That would double my battery bank capacity, but there are a number of challenges to resolve before that happens.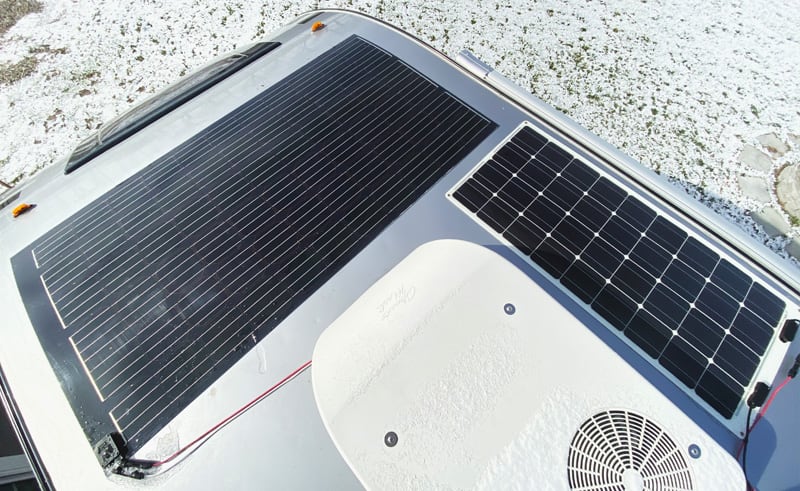 Another big addition was the amount of solar on the 920's roof.  I took one panel off and put on two 125-watt Renergy panels and a Sunflare 210-watt flex panel.  I like the Sunflare flex panel because it conforms to the 920's front nose curve.  Combined with the two Renergy panels I am coming up on 500-watts of solar.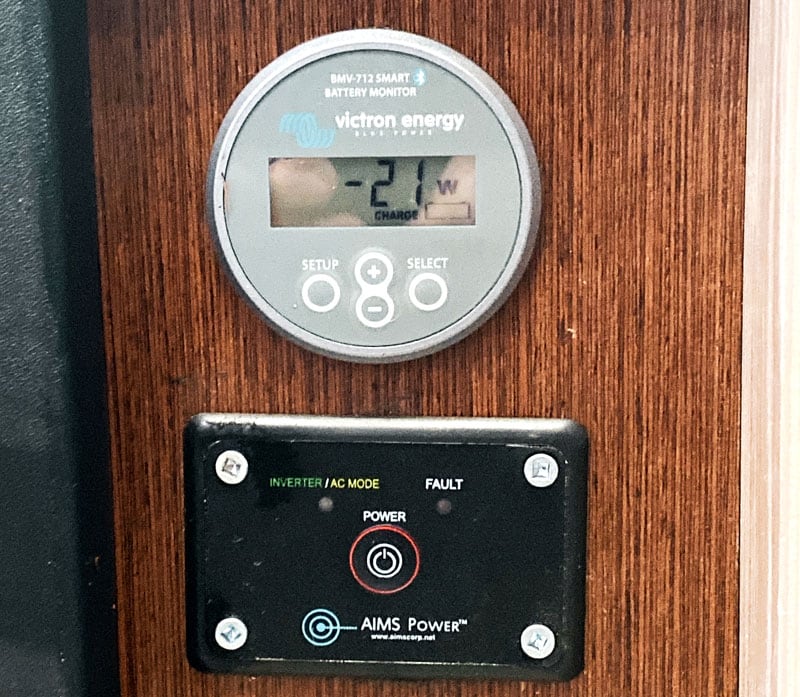 I also added a Victron solar charge controller and Victron digital shunt that gives me detailed feedback on my battery usage.  For example, the Victron system calculates how long I can run my 140-watt laptop using the 920's battery bank.  You can also connect the Victron to your charge controller and have it incorporate the input of your solar panel to its projection.  It's amazing.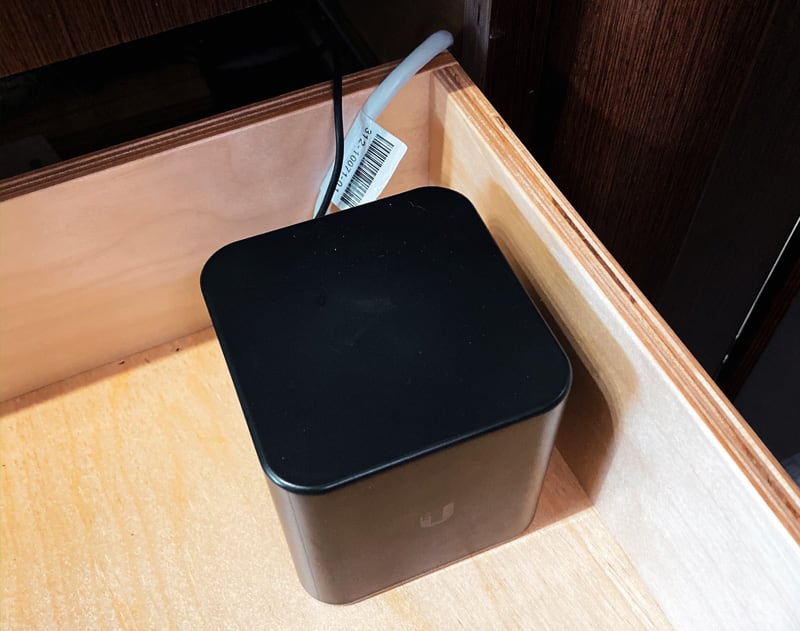 Above: The Ubiquiti Cube is a wireless router that is used to broadcast WIFI
For communications, I installed a WIFI system so I can work remotely.  It works alongside a WeBoost 25-foot mast (see below)  with cell phone and WIFI antenna.  The system allows me to grab 4G cell phone signals from great distances and repeats it inside camper.  It also picks up and repeats WIFI connection from incredible distances.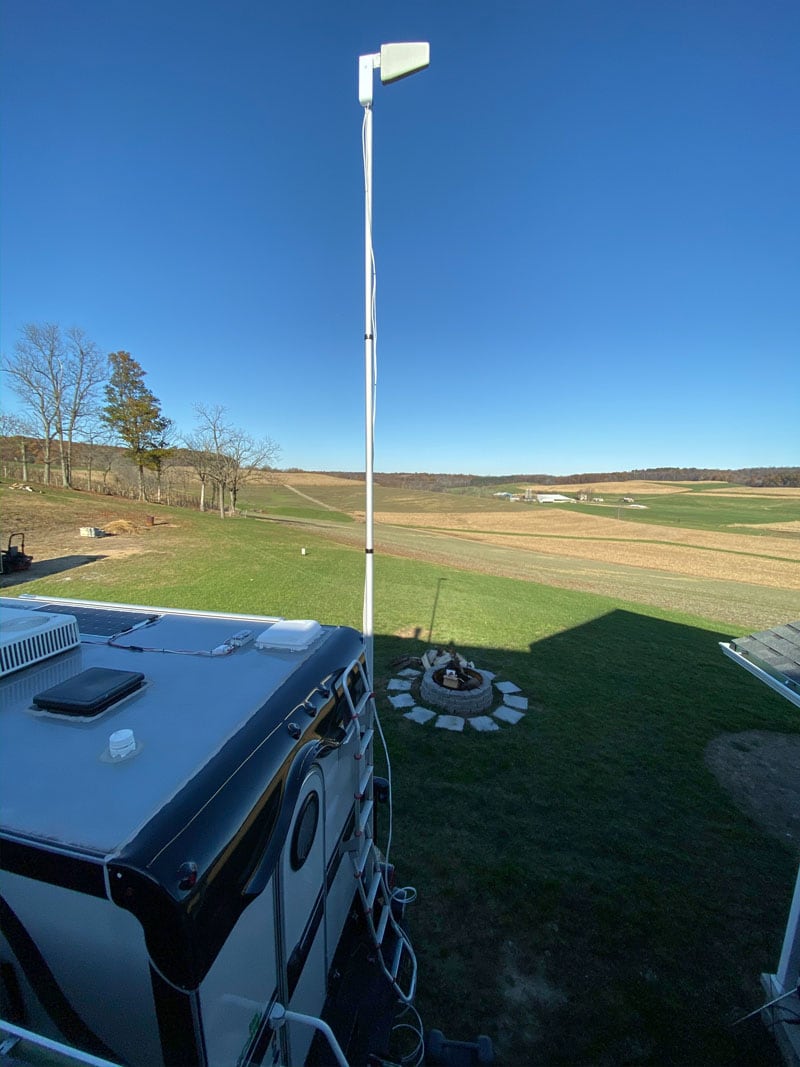 We were weekend camping in a campground that didn't have good service, but there was a town a couple of miles away with a Wendy's with free WIFI.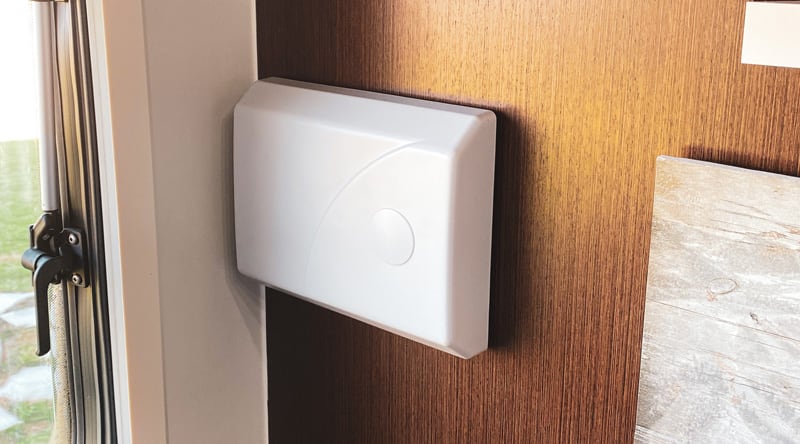 Above: A WIFI repeater rebroadcasts local WIFI inside the camper
It connected to it and rebroadcasted the WIFI inside the camper.   I also used the system at Overland Expo East and was able to get WIFI from a vender a mile away.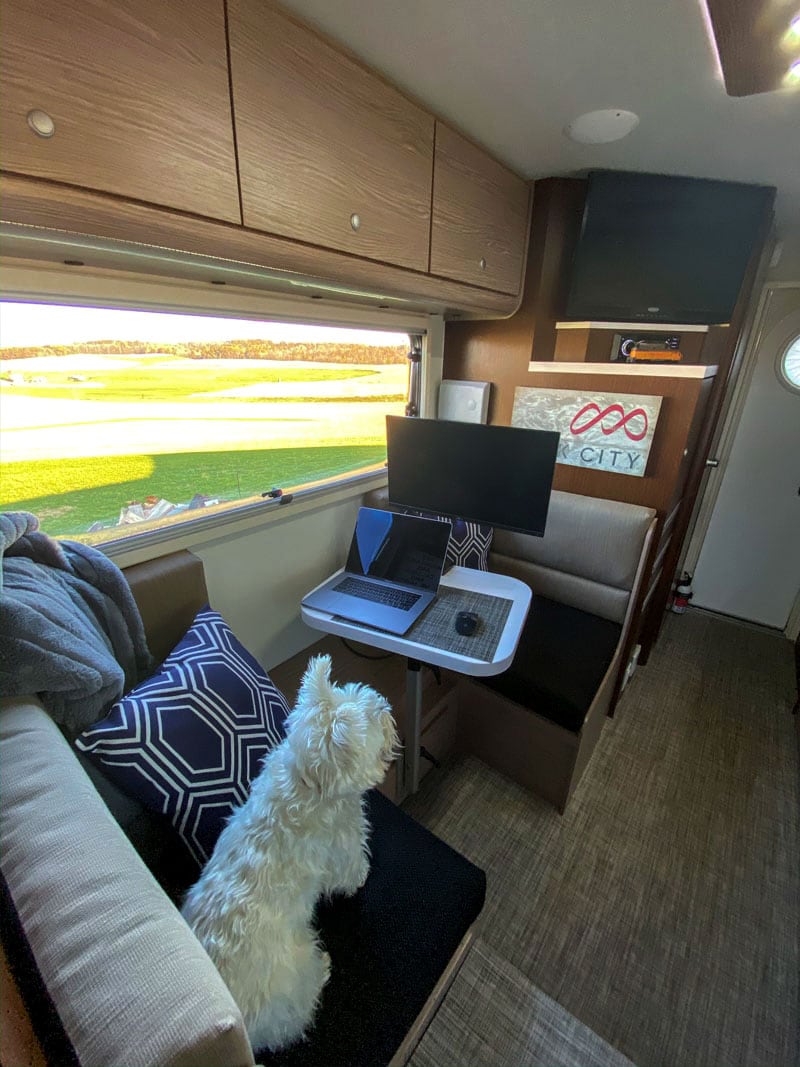 The only bad thing about the WIFI system is that it requires 45-watts on the inverter.  It's not 12-volt.  I power it with a 1200-watt, 2000-watt peak inverter.  I cabled all the plugs in the unit so that it can run off that inverter.
From a cell phone perspective, the WeBoost set-up is very affordable.  What got expensive is the telescoping WeBoost mast which is several hundred dollars for the mast and 4G repeater.
Fortunately, a solution can be easily done without the mast.  You will not get the distance, but you will get most of the benefits.   Out in the middle of nowhere I can get full bars.
I think we'll be talking to you more in the future about your lithium battery, solar panel and WIFI set-ups.  I'm sure many readers will want to know more.  I know we do.  How did you get into these types of technology?
I have always tinkered, pulled things apart, and automated things that don't need to be automated.  I attended Michigan State and have an engineering degree with a specialty in computer design.  While attending classes, I worked in the data center as a Network Engineer.  That was how I paid for college.  When I was done with school I had the opportunity to move home and worked for a local IT company.
I found out through a friend that nuCamp was looking for an IT Director.  It's been a lot of fun working here and couldn't see myself anywhere else.  They give me the opportunity to show off my skills.  In addition to IT, I also edit all the videos and work with marketing.
The Smart Cirrus 820 Prototype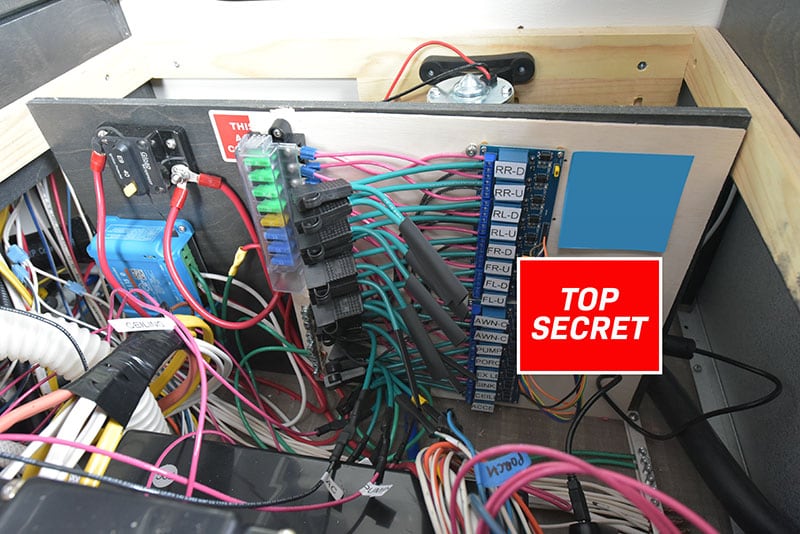 Above: Under the step to the overcab; the Smart Camper's micro-controller and relay board.  The top secret part is shown in red.
Where did the concept behind the Smart 820 come from?
Evan Debevec and I work together here in nuCamp's IT department.  One day we said, "We should make Cirrus campers smart".  We toyed with options and drew things out on a marker board in our office.  If we do make it smart, what would it control and why?
The ideas came from my camping experience.  If it's too hot at night, instead of waking everyone up in the camper, I could use my phone to turn the fan on.  All I'd have to do is open the app we designed and turn on the fan, or any other connected device or appliance in the camper.  It's all about convenience.
What do you mean when you say, "smart"?
Smart technology is when you take a previously analog or manual object and combine it with various sensors, remote switches and communication devices for automation and remote control.
For example, using smart technology you can turn on the fan in our Smart 820 with a smartphone.  You can also turn lights on and off, push out and retract the electric awning, and control the jacks – all from your iOS or Android phone.
Smart phones are not always the easiest to use, so we kept all of the physical and hard-wired controls in the unit.  Modern homes are often so "smart" that they're stupid.
I didn't want to wire everything into the phone and lose the manual controls.  Some folks prefer the way their lights, fans, awnings and jacks work now, and don't want to control them from their phone.  With the Smart 820, you have the option to use the phone, or not.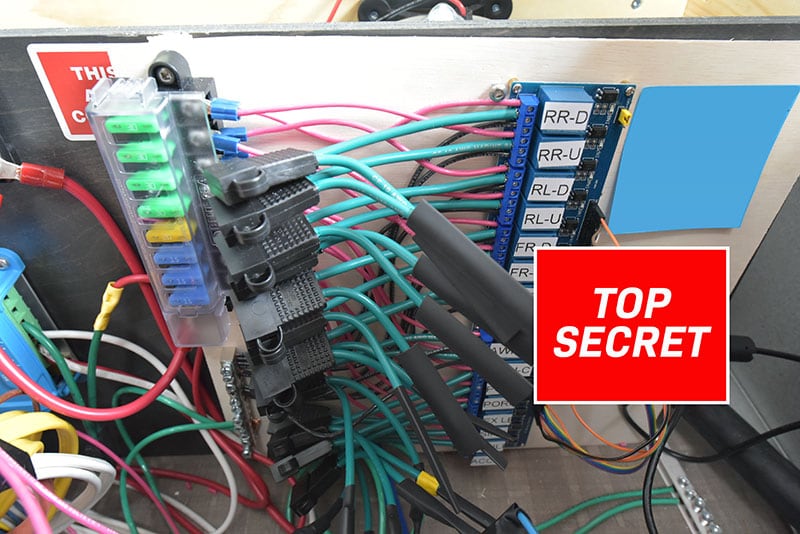 How does the smart technology physically turn on and off these items?
The heart of the system is a micro-controller and a relay board.  The micro-controller broadcasts WIFI in the camper that connects to your smartphone.  When you tap the lights on our smartphone app, that command is received by the micro-controller via WIFI which triggers the relay board that controls the lights.  It's actually a very simple system, by design.
How did you develop the smartphone app?
Evan and I built the web app in a week.  It is a basic webpage that interfaces with the micro-controller.  It's not the prettiest presentation, but that's okay because it is easy to use and fast.  Once you start adding fancy graphics, you slow things down.  When you push the button on your phone, the device will instantaneously respond.
Is it a phone app?
No, it's a webpage.  That's how we beat developing an actual app.  From an Apple perspective, it could take upwards of a year to get an app in the app store.  I'm not saying we won't go that route eventually, but the initial version is simply a webpage. We call it a web app.
Do you need internet access to use the web app?
No.  The system broadcasts it's own WIFI signal that we call, "Smart Camp".  You connect to that wireless signal on your laptop, phone, or tablet.  As soon as you connect, it redirects to the Smart Camp web app.  You do not need internet for the system to work.
The micro-controller works as a web server.  The app is essentially on an intranet on that web server.  It's off-grid ready because it is not on the internet.  If you were parked far from the reaches of cellular data, the system would still work.
Let's say you have a friend who thinks it's funny to grab your corner jacks and shake your camper on a daily basis.  Could this same friend use his smartphone to turn my lights on at 3:00am?
When you connect to Smart Camp it asks for a password just like any other network.  It's not a generic password.  You won't have your friends turning lights on and off.
What if someone loses their phone?  Or their phone battery dies?
Everything in the unit has redundant controls.  You will always have the original button, switch or knob to control the lights, fan, awning, jacks, etc.  That was important to me.  Using your smart phone is not always a possibility.
Above: All the switches and knobs will still be in a Smart Cirrus camper
When do you foresee this technology making into a nuCamp or Cirrus product consumers can buy?
It will be available in production units at some point in 2021.
Will owners of previous generation non-Smart Cirrus truck campers be able to retrofit this technology into their truck campers?
I hope so, but that has not yet been determined.
What about folks with non-nuCamp products?  Our 2004 Project Camper debuted several years before the first iPhone launched.  Can it be smart too?
It definitely could.  We would need to know the electrical schematics of your camper.  However, the product is simple to install.  You run a few cables and that's about it.
Where do you see smart technology in truck campers and RVs going over the next few years?
Everybody is coming out with proprietary smart technology right now.  Airstream just came out with their version, but it's proprietary.  Dometic has a version, but it's proprietary.  Everybody is trying to corner the market and make theirs proprietary.  What's needed is a communication protocol standard.
We would like to integrate smart technology into all of our products, not just our truck campers.  We started with campers because that's what I have with my 920.  It's where the idea stemmed from.
Are you planning to integrate future truck campers with Amazon's Alexa, Apple's Siri or Google Assistant?  Is artificial intelligence coming to a boondock spot near us?
Smart Camp is already capable of doing that.  You could talk to it and turn on any light or turn on a fan.  For the foreseeable future, I don't think we're going to be offering Alexa, Siri or Google Assistant integration, but it's definitely possible.
The Smart Camper concept is still a baby.  In the future we will continue to advance with new technologies and innovations.  Our Alde hydronic heating system is the best on the market.  Now our smart technology will lead the pack.
For more information on Cirrus Campers, visit their website at nucamprv.com/cirrus-camper.  Click here to get a free Cirrus truck camper brochure.