Four years ago, nuCamp RV rocked the truck camper marketplace with the Alde hydronic heating system for Cirrus truck campers.  In a long-term test, Truck Camper Magazine reviews the system and asks the big question; is the Alde better than a traditional RV furnace and water heater?

*Click here to read nuCamp and Alde's response to the following review, including comments about camping with the Alde 3010 system in altitudes over 5,000 feet.
I would love to tell you that we planned the following Alde (pronounced all-Dee) hydronic system review months in advance, but that's not exactly how this went down.  In truth, a number of our 2018 priorities – including this review – flew out the window (and all over the Oregon pavement) after last July's encounter with a certain Toyota Camry.
By the time we reached the Elkhart Open House in September, our project camper was showing more and more signs of accident-related damage; cracks in the walls, separating cabinetry, and a softening floor.  Our camper was literally coming apart right before our eyes.
Realizing that our beloved project camper would not last the winter, we made a tough decision.  We delivered it to a company that specializes in major RV repairs and restoration.  In the end, it would be less expensive to have the camper repaired than purchase a new one.  Plus, we love our camper and everything we've done to it over the past four years.  It's our home and magazine HQ – on wheels.
Our New Ship: 2018 Cirrus 920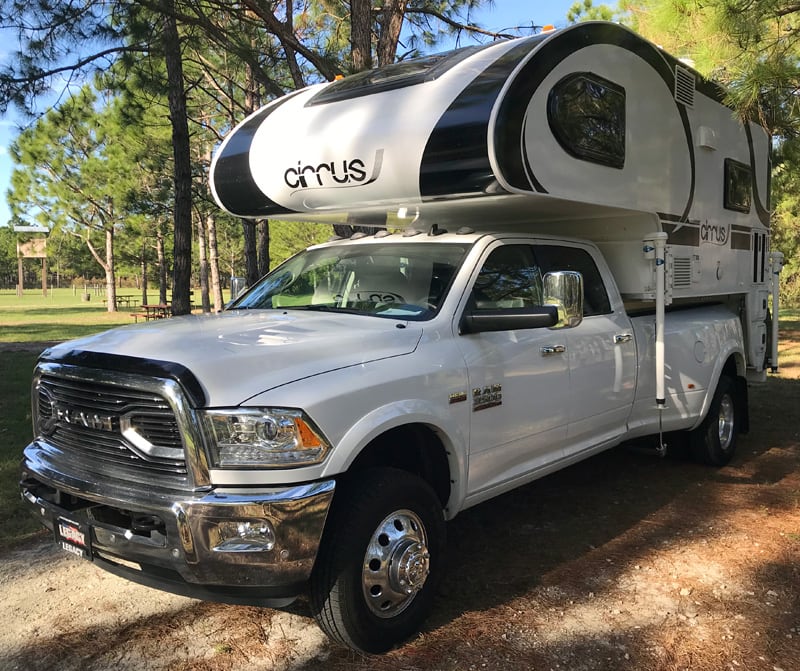 We have been extremely fortunate to borrow and camp long-term in just about every truck camper brand in the United States and Canada – with one glaring exception.
In our 2018 Cirrus 920 Review, I stated:
"While we have spent days at the nuCamp factory on the Cirrus production line, and been through multiple Cirrus 800, 820, and 920 units, we have not actually camped in a Cirrus truck camper.  With that experience we would learn about the day to day realities of the Froli system, Alde system, and other unique design, material, and component choices of the Cirrus truck camper line.  This is a priority for 2018."
Enter Toyota Camry stage left.  With our damaged camper in the hands of the repair shop, we turned to nuCamp for the loan of a Cirrus 920.  They graciously agreed, and supplied us with a unit less than 500-feet from our Elkhart Open House campsite.  The timing and opportunity were almost too good to be true.  Even better, we would finally get the chance to experience a Cirrus and its unique systems.
First up, the Alde hydronic heating system.
Who Is Alde?  And What's Hydronic Heating?
Alde may be a relatively new name in the United States and Canada, but the Swedish company has been in business for over 68-years.  Founded by Alde Rask in 1949, Alde Corporation manufactures approximately 23,000 hydronic heating systems per year for travel trailers, fifth wheels, motorhomes, and truck campers across the globe.  According to Alde, most of the leading European trailer and motorhome manufacturers use their hydronic heating systems as standard or optional equipment.
The Alde system is based on the concept of hydronic heating.  If you've ever lived in a house with radiators, you have lived with hydronic heat.  A hydronic heating system consists of a boiler and pump that circulates hot water via dedicated plumbing to a series of radiators that emit heat throughout a home.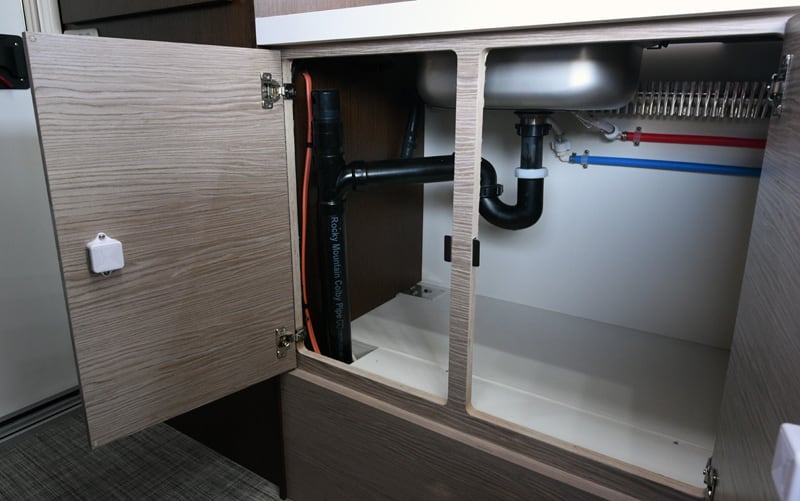 Above: An Alde convector (top right) behind the Cirrus 920 kitchen sink
The Alde 3010 in the Cirrus 920 works on the same concept, with a decidedly modern twist.  The Alde 3010 boiler heats about a gallon of propylene glycol antifreeze which in turn heats 2.2 gallons of hot water and then runs through a series of metal-finned convectors (radiators).  The Alde convectors are located behind the walls and cabinetry in the wet bath, kitchen, dinette and cabover to evenly heat the unit.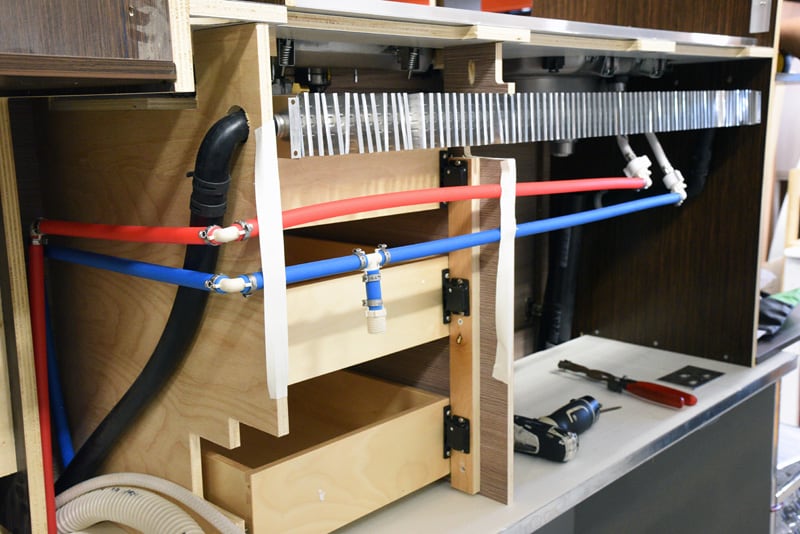 Above: Metal-finned convectors being installed at the nuCamp/Cirrus factory
The stated advantages of the Alde hydronic system are that it's clean (no forced air blowing dirt and dust), quiet (no furnace fan to wake you up), and comfortable (even heat).