How we selected our new 2013 truck including brand, gas versus diesel, long bed versus short, extended cab versus crew, and much, much more.

Immediately after the 2012 Mid-Atlantic Truck Camper Rally this past April, we set out for a two-week truck camping trip to North Carolina's Outer Banks.  Angela nor I had ever been to the Outer Banks and were really looking forward to spending time with several other truck camping friends in the pre-season surf, sand, and sun.
About an hour after setting out from the rally, our 1998 Dodge Ram 3500 Cummins diesel dually began to intermittently lose power.  It didn't take long before we realized that the truck might not make the Outer Banks and we needed to get help.  After two days and two diesel service centers, the erratic power problem persisted and we decided to limp back to Pennsylvania to see a diesel repair shop at home.
That experience cemented our decision to finally buy a new truck.  Angela said, "This truck just cost us a life experience, time with our friends, and something I was really looking forward to.  We are getting a new truck."  Who was I to argue with that?
When we decided what truck we wanted, I realized we would have some serious explaining to do.  After all, we were not about to purchase the truck that won our 2012 Dream Truck Survey; a Ford F-350, diesel, crew cab, long bed, automatic, four-wheel drive, dually.  Of the eight choices in that survey, our new truck would agree with only four; one ton, crew cab, automatic, and four-wheel drive.
Have we lost our minds?  Well, maybe, but after many months of intensive research and careful decision making, we are certain that we now have the right truck for us.  This article details our decision making process and models our approach to selecting a truck for a truck camper rig.  We can't wait to tell you the whole story.
Above: The 2013 Chevrolet Silverado HD 3500.  Click thumbnails to enlarge.
Choice 1: Truck Brand
There are five mainstream truck brands that are capable of holding a standard truck camper; GM Chevrolet Silverado/GMC Sierra, Dodge Ram, Ford F-Series, Toyota's Tundra and Tacoma, and the Nissan Titan.  We were not looking to assemble a custom truck, so no cab and chassis model, custom storage bed, flat bed, Mitsubishi Fuso, Jeep Brute, Land Rover Defender, or Unimog for us.  We wanted a simple pick-up truck with a factory bed.
The Nissan Titan and Toyota Tacoma are excellent trucks for lightweight pop-up truck campers, but do not offer enough payload for a loaded and wet hard side model.  Toyota Tundra is also an excellent truck for a pop-up truck camper, and can accommodate the very lightest wet and loaded hard side truck campers on the market, if you properly specify the truck, and payload match the camper.
As a magazine, we need to be able to payload match our truck with fully-self contained and fully-featured hard side truck campers.  Given their limited payload capacities, this requirement excluded Nissan and Toyota trucks, for us.
Since maximizing payload was a top priority, Dodge was also out of the running when compared to their direct competition from GM and Ford.  To illustrate this, we checked the websites for Chevrolet, Dodge, and Ford, and looked up the maximum possible payload for a one-ton, crew cab, long bed, four wheel drive truck for Chevrolet, Dodge, and Ford.
In the above configuration, the Dodge Ram 3500 offers 4,546 pounds of payload, the Chevrolet Silverado/GMC 3500 offers 5,856 pounds of payload, and the Ford F-350 offers 5,990 pounds of payload.  In this example, Dodge is 1,310 pounds (22%) behind GM and 1,444 pounds (24%) behind Ford.
Different head-to-head truck configurations will alter the results, but Dodge is consistently behind on payload capacity.  With payload being a top priority for our needs, we had to eliminate Dodge and narrow our choices down to the GM Silverado/Sierra 3500 and the Ford F-350.  Now comes the hard part.
GM or Ford
We were very fortunate to have visited the GM Flint Truck Assembly Plant in August of 2011, and the Ford Kentucky Truck Plant the following December.  Both manufacturers gave us incredible and relatively unrestricted access to their truck plants resulting in two of the most exciting stories we've ever published.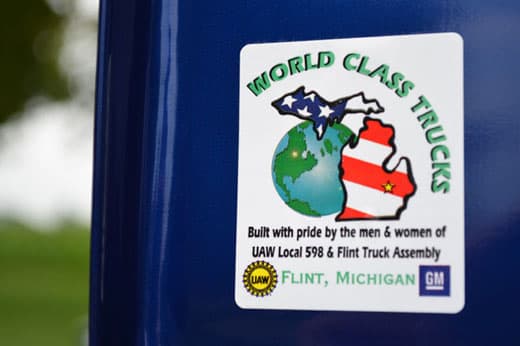 All of the political noise that surrounds the American automotive industry goes right out the window when you're at the factory and meet the American workers face-to-face on the assembly lines.  We want to encourage all of our readers to visit an American truck factory, take a tour, and meet the teams of American men and women who build American trucks.  I guarantee you'll walk away proud of our American auto industry and the American workers who are producing world-class vehicles.  Go USA.