Truck Camper Magazine tours the Ford Kentucky Truck Plant in Louisville, Kentucky, wears Kevlar, watches the Demon Drop, and takes the squeak and rattle test, twice!

After Ford won our 2012 Dream Truck Survey last September, we renewed our efforts to tour the Ford Kentucky Truck Plant in Louisville, Kentucky.  As luck would have it, we were granted permission to tour the facility on the Friday after the National RV Trade Show in Louisville closed.
There were no restrictions on where we could go or what we could photograph during our four hour behind-the-scenes tour.  Within the limitations of safety, we had free rein of the facility and full access to anything we wanted to see.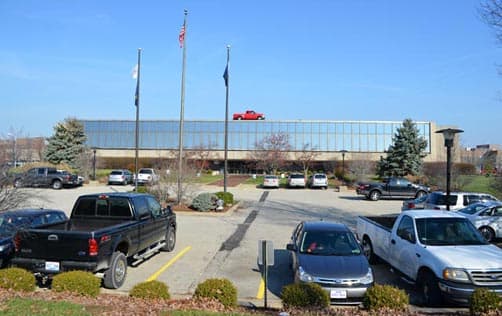 We arrived at the plant about ten minutes early and parked our 2009 Ford Focus in the Ford Visitor Parking lot.  As you would expect, the building complex was enormous.  What you wouldn't expect is that someone put a red Ford truck on the roof.  Now that's go anywhere!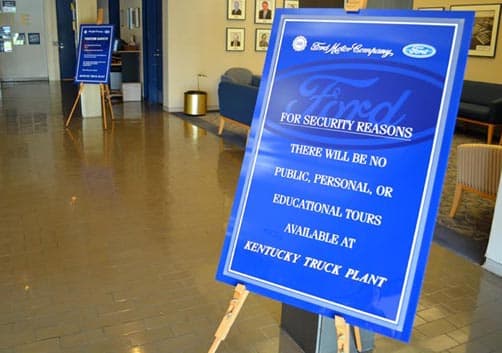 Upon entering the building, we found a large room with historical photographs, portraits, and awards from the plant's forty-three year history.  There was also a prominently placed blue sign that stated (in all caps), "FOR SECURITY REASONS, THERE WILL BE NO PUBLIC, PERSONAL, OR EDUCATIONAL TOURS AVAILABLE AT KENTUCKY TRUCK PLANT".
With no receptionist in sight and no one else in the room, we were starting to feel like we were in the wrong place.  Then Angela saw an old computer and phone complete with instructions on how to contact someone within the plant.  Navigating the computer and its heavily burned-in CRT monitor, she looked up our contact, Todd Ashton, New Model Launch Manager.
Angela was unable to reach Todd, but we were soon rescued by Tim Sanders, Hazmat Safety Trainer, who came through a door within the facility.  Tim's broad smile and warm greeting quickly put us at ease.  Yes, we were in the right place.  Yes, they were expecting us.  And yes, Tim was going to take us to meet Todd for our tour.
Tim led us though a small labyrinth of cubicles to Todd's office a short distance later.  Todd was also very welcoming and brought us to an auditorium that appeared ready for at least two hundred people.  Angela and I took two front row seats and Tim fired up a projector for a plant safety video followed by a few slides about the history and statistics of the facility.  The safety video said to stay within the designated yellow paths, to stay out of the areas marked in red, and to wear protective gear.  Got it.
The slides gave us an overview of the history and scope of the Kentucky Truck Plant.  The six million square foot facility is located on 400 acres and employs 4,012 employees (3,829 hourly and 183 salaried).  Since opening in 1969, the factory has produced about seven million vehicles and currently manufactures the Ford F-250, F-350, F-450, and F-550 Super Duty pickup trucks as well as the Ford Expedition and Lincoln Navigator.
It was also interesting to note that Ford Super Duty trucks are manufactured in eleven colors and take approximately twenty-three hours to produce.  For those interested in the gas versus diesel debate, 65% of Ford Super Duty trucks are built with 6.7L Ford Power Stroke diesel engines and 35% are built with either the 6.2L V8 or 6.8 V10 gas engines.  I was most struck by the fact that there are no less than twenty-seven different truck frames manufactured for the Super Duty product line.
Once the presentation was over, Tim brought out the safety gear; kevlar arm socks, ear protection, safety goggles, and yellow mesh vests.  The kevlar arm socks are essentially fingerless gloves that go up to your elbows to help prevent cutting wounds.  They were a little itchy, but not too bad.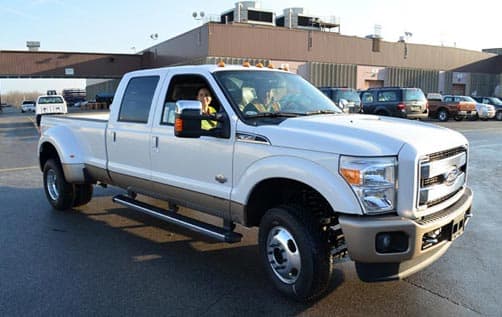 Suited up and ready to go, Todd and Tim took us out the front door where Todd had a brand new 2012 Ford F-350 King Ranch, Diesel, Crew Cab, Long Bed, Automatic, Four-Wheel Drive, Dually.  Wait a minute!  This is exactly the truck that won our 2012 Dream Truck Survey.  I think Todd's been reading Truck Camper Magazine.  The truck had driven off the production line a few hours earlier and had less than five miles on its odometer.  I found myself fighting the urge to say, "Can I have it?  Please?"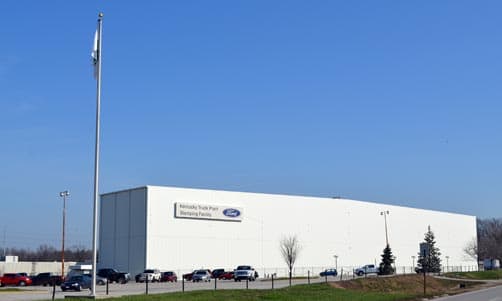 Less than a mile later into this gorgeous new truck's life, we arrived at the stamping plant to meet Chris Pereira, Stamping Plant Manager.
Above: The Schuler press line at the Kentucky Truck Plant
Chris explained that his facility is responsible for taking coils of steel and stamping them into Ford Super Duty roofs, hoods, fenders, box sides, body sides, floor pans, tailgates, and doors.  We also learned that the stamping plant exports stamped parts to Venezuela, Mexico, Brazil, and Canada.  Go USA manufacturing!