Truck Camper Magazine tours the GM Flint Truck Assembly Plant in Michigan with unrestricted access to the Chevy Silverado and GMC Sierra assembly line.

During our tour of Michigan's thumb in a 2011 Palomino Maverick Max 2902 last month, we stopped by the General Motors Flint Truck Assembly Plant for what has to be one of the most amazing things we've ever experienced as a magazine.
The GM Flint Truck Assembly Plant Factory Tour
We arrived at the assembly plant at 1:00pm for a personal behind the scenes tour. GM had granted Truck Camper Magazine permission to take photographs in the plant, something that they otherwise strictly forbid. More impressively, GM placed no restrictions on what we could photograph or where we could go. This was a no holds barred plant tour.
The enormity of the GM Flint Truck Assembly Plant is something you have to see for yourself to truly understand. The 3.7 million square foot factory opened in 1947 and has assembled over 13 million cars and trucks including 300 1953 Chevrolet Corvettes.  I sure wish I had one of those.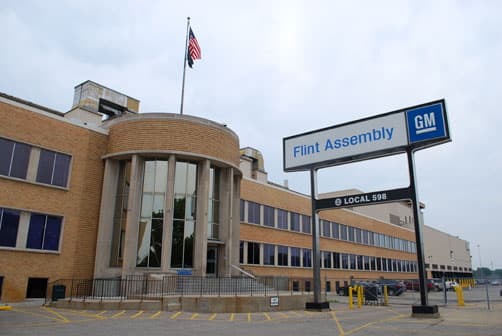 Here's the GM Flint Truck Assembly Plant entrance where we were cleared by security and met Tom Wickham, Plant Communications Manager, and Bob Hooks, Joint Activities Director for Local 598 of the UAW.  Bob was to be our tour guide and completely floored us by clearing the rest of his day so he could give us the most complete and thorough plant tour possible.
Not only was Bob a walking talking encyclopedia of seemingly everything in the GM Flint Truck Assembly Plant (he has worked there for over thirty years), but he was also a wonderful communicator who never hesitated to answer our barrage of questions, or stop to show us exactly what was going on at each station.  He really cared that we understood the people, process, materials, and culture of the plant.
Just inside the factory floor, the 2011 Motor Trend Truck of the Year award is proudly on display.  Bob explained that ever since the 2011 Silverado HD won the 2011 Motor Trend Truck of the Year award, GM truck sales have sky rocketed.  In fact, the assembly team was busy training an almost unheard of third shift to keep up with demand.
We saw the trainees during our tour and were excited to learn that 750 employees went to work on the third shift a mere five days after we left the factory.  Today the plant employs 2,753 hourly and salaried employees.  Now that's America moving ahead.
Throughout the enormous GM Flint Assembly Plant, there are multiple production lines building multiple parts making a linear step-by-step story almost impossible.  To make this article as coherent and complete as possible, I have reassembled our tour into something that resembles a linear flow.  Let's start with the engines.
GM offers a wide assortment of gas and diesel engines in their Chevy Silverado and GMC Sierra trucks.  These engines are brought into the GM Flint Assembly Plant on metal palettes and placed at the front of an engine and transmission assembly line.  Above you can see both the diesel engines (red plugs) and the gas engines (green plugs) waiting to be placed on the production line.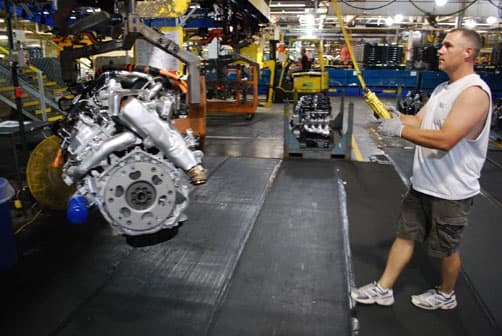 To place the engines onto the engine and transmission assembly line, a GM team member monitors the production schedule and uses a robotic arm to pickup an engine and hang it onto an overhead conveyor.  There the engines are literally suspended at an ergonomically correct height for the production team to work on.  It's really amazing to see these large and heavy engines suspended and gently moving down the line in mid-air.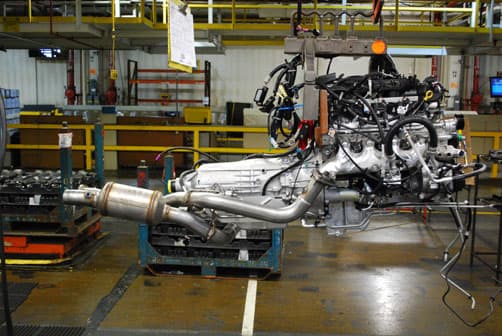 We are a broken record at Truck Camper Magazine when it comes to the importance of safe truck and camper matching (see, "Matching a Truck and Camper").  A critical part of a safe truck and camper match is carefully optioning a truck to give you the payload necessary for a specific camper.  What you may not know is how much the engine and transmission choice can factor into a truck's payload capacity.
On the engine and transmission assembly line, we found ourselves face to face with suspended gas and diesel engines lined up for easy visual comparison.  Compared to the gas engines, the diesel engines were enormous.  The difference between the Allison transmission and standard transmissions was also clearly evident based on size.  Finally, the four wheel drive transfer cases were right there to see adding yet more mass.  Just compare the gas and standard transmission above to the diesel engine and Allison transmission below.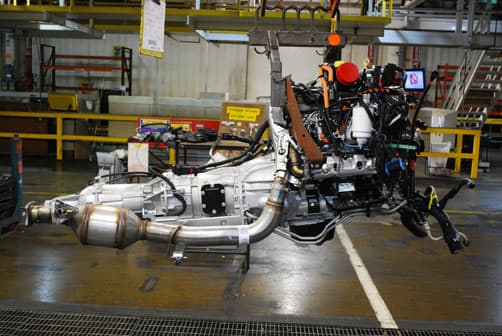 Before anyone makes a judgement about the merits of a diesel over a gas engine based on a "bigger must be better" mentality, consider this; our first truck was a 2005 Chevrolet Silverado 3500 extended cab, dually, 4×2, work truck with an 8.1L V8 gas engine.  With our then 2004 Lance 1030, we took that truck cross country for six months up and down mountains, through rain, snow, wind, and everything in between.