20-pound vertical tanks are relatively easy to unload for re-filling, and lift back into position.  While we would prefer you maintain your own tanks for quality reasons, you can exchange 20-pound vertical propane tanks at any Home Depot, Lowes, and many other locations.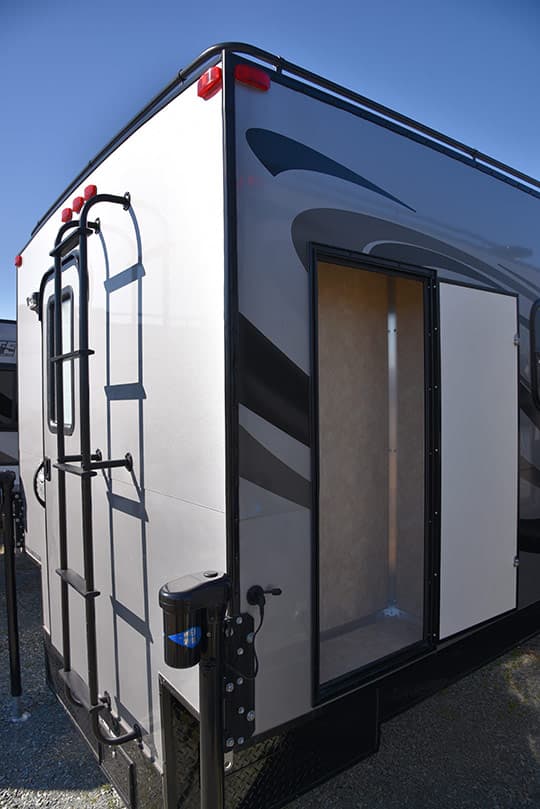 On the passenger's side of the 8.6 is an exterior storage compartment.  This is an exceptionally large compartment, which is always welcome, but has us wondering exactly what it would be used for.  My initial thought would be to add a peg board system and hang the 30-amp power cord, fresh water hose, tools, and various adaptors in this space.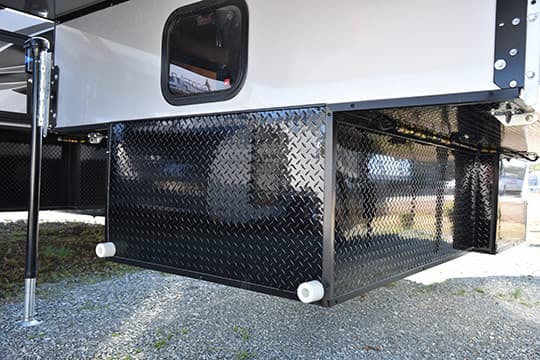 The front wall features a window.  Unfortunately, there isn't a corresponding window on the camper entry door allowing the driver to see straight through the camper.  That's a feature we would like to see incorporated into future versions of the 8.6.
Introducing the ZEV
The rear of the CampLite 8.6 features a ladder, porch light, entry grab handle, and the sewer control access compartment on the lower right.  Since the 8.6 does not feature a built-in step system, a scissor step system – like Torklift International's popular GlowSteps – will need to be installed once the camper is matched to a truck.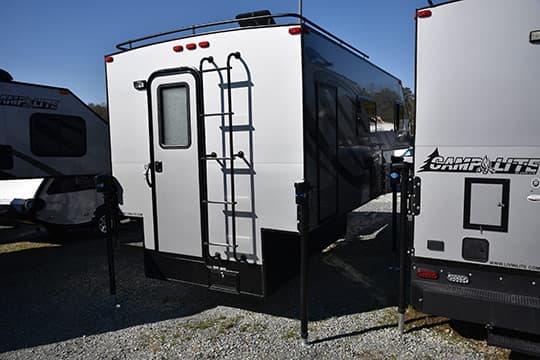 While some folks might prefer the non-branded look, I would prefer to see a CampLite logo on the rear of the camper (like the unit on the right).  If not, a future owner could always get the 17-piece "Zombie Outbreak Response Team" automotive sticker set and tell everyone their rig is a ZEV – Zombie Escape Vehicle.  Link: Zombie Escape Vehicle automotive stickers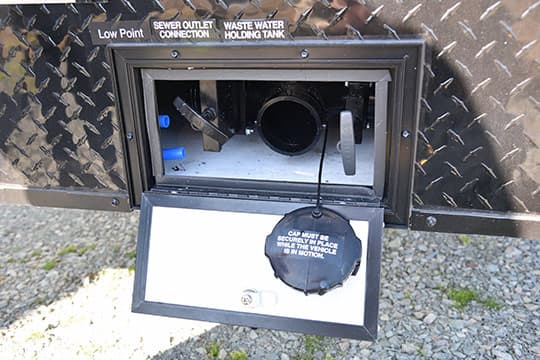 The insulated dump compartment contains both the color-coded knife valves for the grey and black tanks, and also the dump itself.  This makes sense since the 8.6 is designed to go just beyond the tailgate with no overhang, perfect for towing.
Our concern with this compartment is that dumping in general is not always the neatest activity.  Not to be too graphic, but this compartment may need to be cleaned now and then.  Of course this is not a problem when the camper is wood-free.  Just hose it out, and let it dry.
Note: Please do not hose out any other brand of truck camper.  Hosing is strictly for wood-free, all-aluminum and composite CampLite products.  Even then, hosing should done carefully.
One thing we didn't find on the CampLite 8.6 was a designated sewer hose compartment or tube.  Maybe we missed it, or maybe it's something that's installed after the camper is matched, but it was nowhere to be found on the 8.6 before us.
Our Standard Weight Sticker Warning
According to the exterior weight sticker, the dry weight of the CampLite 8.6 is 2,095 pounds.  Do we believe this?  Absolutely not.  We're not questioning LivinLite's integrity, but we make it a practice to never believe an exterior weight sticker.  They are almost always low, and fail to include options of any kind.  As one industry leader said to us recently, "Some companies put what they wish their campers weigh, not what they actually weigh."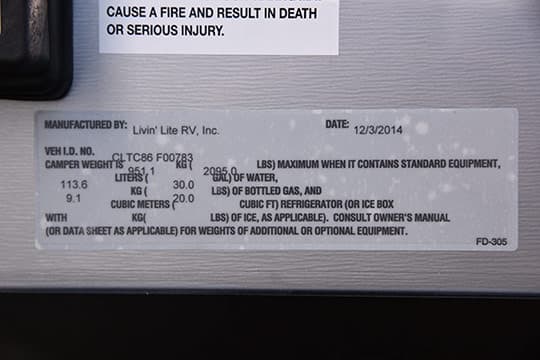 When we back out the water weight (250.2 pounds) and 20-pound propane weight (only one tank is included) from the posted sticker on the CampLite 8.6, we get a 1,824.8 pound dry weight.  That sounds reasonable for a hard-side truck camper of this length and floor plan.  Given that this camper is well optioned (microwave, air conditioner, etc.), it's possible that the actual dry weight is one to two hundred pounds more.
Our strongest recommendation is to not assume anything when it comes to camper weight for any truck camper make or model.  Before making a new or used camper purchase, have the dealer weigh it on a portable racing scale system like the Intercomp E-Z 500, or take it to a local CAT scale.  No dealer should hesitate to fulfill this request and help you make a safe and proper truck and camper match.
Matching the 2015 CampLite 8.6