Welcome to the second entry in May's Medium Mod Contest.  One Medium Mod will be published in every Email Alert in May.  At the end of the month, we'll hold a reader vote to determine May's winner.  Click here for information about the 2022 Mod Contest, including how to enter.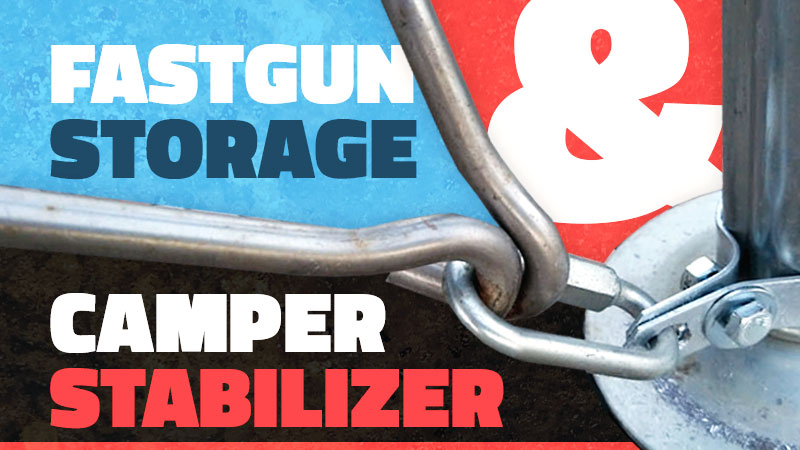 Fred Bennett, Port Huron, Michigan
Fastgun Storage and Camper Stabilizer
2011 Ford F-350
2007 Arctic Fox 990
I wanted a way to store and secure my Fastguns when my camper is off my truck. While thinking of ways to do so, it occurred to me that they could be used to add some stability as well.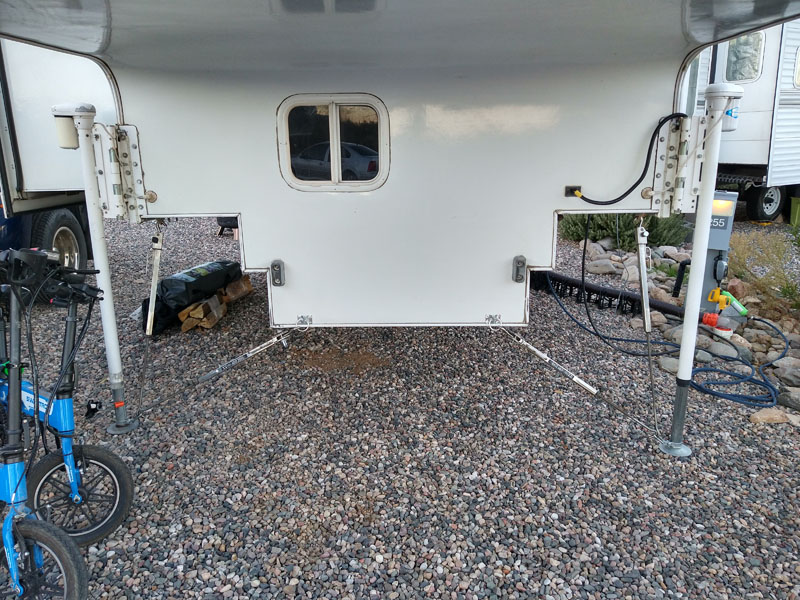 First, I acquired the necessary parts. I drilled an additional set of holes in the chain-link tensioning bands to accept nuts and bolts. Then, I attached a quick link ring to the original hole. Depending on the size of the quick link chosen, you may need to enlarge this hole slightly as well.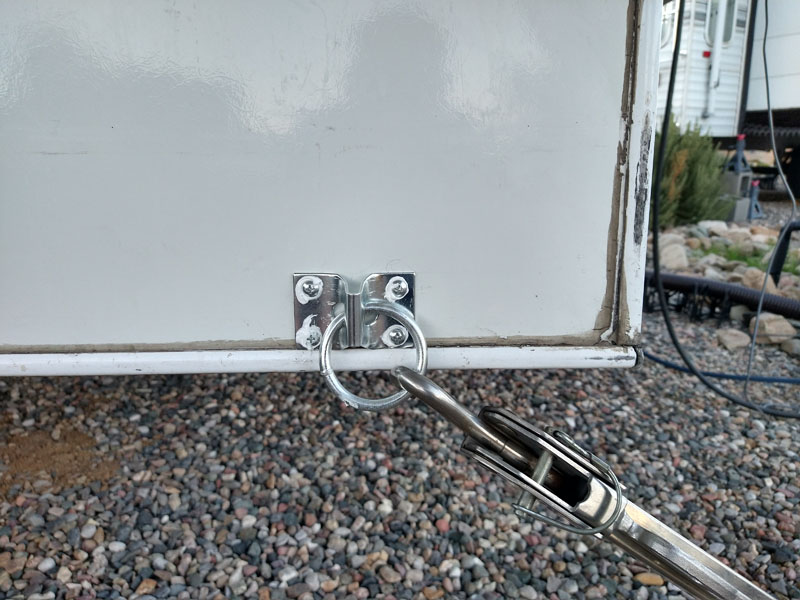 Choose the position of the hitching ring on the front of the camper. I chose a position that didn't require me to shorten any Fastguns. I may need to extend them so that they can easily be put back in place for the tie-down by adjusting them back to the O-rings. I also chose near the bottom to get some extra structure to secure to.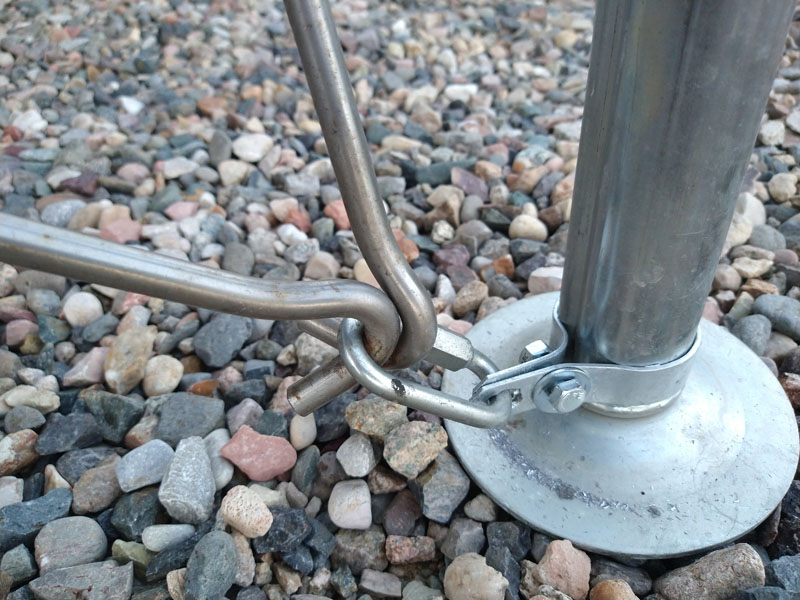 Then I mounted the hitching rings in my desired location. I added some sealant to the screw threads to prevent water intrusion. I hung my Fastguns between the hitching ring and quick link using very little closing force. There is just enough force to be tight to the internal spring, but minimal compression. I adjusted as necessary.
You can hang additional Fastguns between the quick link and forward camper tie-down locations in the same manner. Small sections of the chain can be added to extend the length as necessary. Mine fit perfectly without it. Because I chose to mount the ring so that it can hang below the camper to prevent rubbing on the fiberglass, I will be adding adhesive magnets to hold the rings up for loading.
So far, the mod is working great. Once attached it gives a great way to store and secure the Fastguns as a reasonable theft deterrent.
Because the front Fastguns work in opposing directions, by limiting their extension, it makes for a huge reduction in the side to side off-camper wobble. Because the side pair both pull in the same direction, the front to back wobble isn't reduced as significantly, but it does seem to help.
For the minimum cost, in my opinion, the combination of storage, securing, and some additional stability is well worth it.
All items are available at Home Depot. Materials Used:
2x 7/8-inch galvanized metal chain link tension band (that's what fits mine best, different legs may require different sizes) – $2.26 each
2x Zinc-plated hitching ring with wall mount – $4.90 each
2x Zinc-plated quick link – $3.30 each
2x nuts, bolts, washers, lock washers – $2.00
2x magnets – $3.00
Use your sealant of choice.  You will also need Torklift Fastguns.
I resist linking exact items used as each person should choose the parts that work best for them and their mounting situation. I chose these parts because they're what seemed best for me.
It took me one hour to complete this modification and cost me under $25.  In my opinion, the skill level of this modification is easy.
Disclaimer: The modifications above are submitted by Truck Camper Magazine readers. It is your responsibility to make sure that any do-it-yourself modification project you undertake is safe, effective, and legal for your situation.
Enter Your Mods Now!
If you'd like to enter a modification you've done on your truck camper, click here. You can enter as many mods as you want, at any time.  Good luck mod makers!